Road bike disc brakes - how to choose the best mechanical or hydraulic disc brakes for your road bike
Disc brakes are now in the majority on road bike builds, so here are the best mechanical and hydraulic options around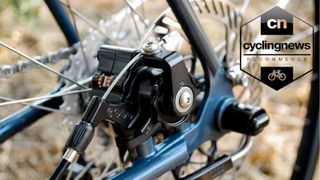 (Image credit: Courtesy)
Road bike disc brakes are now the norm on almost all new builds, save for single-speed bikes where rim brakes are still usually fitted, retro models where rim brakes match the period and look better, and many of the best budget road bikes where rim brakes are a cheaper option and hence keep the cost down.
There's no denying that the best disc brakes improve absolute stopping power, brake modulation and control regardless of weather conditions. As a result, for the majority of road bikes, disc brakes have taken over and many of the best road bikes launched in the last few years are available with disc brakes only.
When fitted with disc brakes, road bikes are routinely equipped with thru-axles as well, which help ensure that the disc brake rotor is always positioned correctly, which a quick release can't guarantee. Thru-axles also greatly increase the rigidity of the bike-to-wheel interface, so that the lateral stiffness of bikes has increased too. Bike manufacturers have also been able to pare some weight from their frames without compromising rigidity, so that many of the best disc brake equipped road bikes are now as light as rim brake bikes, despite the extra weight from the brakes.
Another result of the switch to disc brakes is that tyres and rims no longer have to fit between the brake caliper, so that the best road bike wheels can be more aero and tyres can be wider, run at lower pressure and give us a more comfortable ride.
The choice for road bike disc brakes is between cable operated (often called 'mechanical) and hydraulic disc brakes, although a few hybrid systems exist that use both cables and fluid. Cable disc brakes are a cheaper option and are usually found on lower priced bikes, whereas the majority of mid-price and more expensive bikes will have hydraulic stoppers.
The Cyclingnews test team has been using disc brakes on road bikes from the very early days, as well as before on mountain bikes, so we know which systems are durable, powerful, easily adjusted and more, and we've rounded up our top picks below.
Best road bike disc brakes
Why you can trust Cyclingnews Our expert reviewers spend hours testing and comparing products and services so you can choose the best for you. Find out more about how we test.
Shimano Dura-Ace R9200
The best for flagship Shimano performance
Specifications
Weight:
233g (pair, without rotors)
Adjustment:
Lever reach, free stroke
Reasons to buy
+
No brake fade
+
No squeal
+
Extremely precise
Reasons to avoid
-
More expensive than Ultegra with the same tech
The flagship model from Shimano brought mountain bike concepts to the road with shared disc rotors, wider pad gaps and better lever actuation thanks to Servo Wave.
Thanks to trickle down tech through the range all of this can now be found at Ultegra level, but the pinnacle of the Shimano range still has a weight (and bling factor) advantage over its lower range sibling.
The braking is precise and extremely powerful, with exceptional modulation and feel, and best of all it's silent too. If you want the absolute best from the Shimano universe then these are the brakes for you.
Shimano Ultegra R8100
The best road bike disc brakes for reliable performace
Specifications
Weight:
282g (pair, without rotors)
Adjustment:
Lever reach, free stroke
Reasons to buy
+
Mineral Oil hydraulics
+
Long term reliability with minimal maintenance
+
Bigger pad gap to reduce rubbing
Reasons to avoid
-
Designed to work with 12sp shifter
The latest Ultegra groupset, 8100, made some subtle tweaks to an already excellent braking system. The latest brakes, nominally BR-8170, feature innovation from Shimano's experience in the world of MTB; a 10 per cent wider pad gap reduces brake rub and heat build up in the rotors, while the levers utilise 'Servo Wave', a system designed to reduce the dead space at the start of the lever stroke (and to aid in the takeup of the increased pad gap).
The result of this, combined with an easier to bleed system thanks to newly located ports, is a quiet, confident set of brakes with excellent modulation that's easy to live with.
SRAM Red AXS
Great for easy bleeding
Specifications
Claimed Weight:
480g (pair)
Adjustment:
Lever reach, free stroke
Reasons to buy
+
Bleed Procedure
+
Reach and bite point adjustment
SRAM's AXS brake is the latest evolution of the brand's hydraulic anchors, and interestingly, despite the industry's large scale adoption of the flat mound standard, are also available in a post-mount variety.
The caliper itself features contact point adjustment, as well as reach-adjust at the levers, although you'll need an Allen key for both. The Red AXS calipers and levers also feature the Bleeding Edge system, which sees the bleed port moved to the bottom of the caliper, so gravity naturally fills the entire system. The updated fluid circuit also allows all four piston bores to respond perfectly in time.
SRAM Force AXS
Good for Red performance but at an easier price
Specifications
Claimed Weight: :
346g (lever included)
Reasons to buy
+
Mechanically the same as RED 11-speed
+
Easy bleed procedure
Much like it's Ultegra cousin, the SRAM Force HRD braking system borrows heavily from the top tier Red groupset with much the same internals, but at a more manageable pricepoint.
The lever adjust, both for bite point and the start of the lever stroke is a bonus for the small handed rider, and the latest 12 speed system is backwards compatible with older 11sp SRAM components that also bear the AXS moniker.
TRP HY/RD
Best hydraulic disc brake upgrade to mechanical levers
Specifications
Adjustment:
Depends on brake levers used
Reasons to buy
+
Feels like the real thing
+
Automatic pad wear compensation
Reasons to avoid
-
Heavy
-
Hydraulics block easy access to bolts
It's no secret that hydraulic disc brakes offer superior power and modulation to their cable-actuated siblings; however, there is a sizable difference in price. Over the years there have been quite a few brake systems that have sought to combine the two, to offer the best of both worlds. There was a major sticking point, the converter, and these usually came in the form of bar-mounted monstrosities that were a mess of cables and hoses.
So, to solve this problem, TRP just mounted the converter directly onto the brake caliper. The HY/RD is universally compatible with cable-actuated drop bar levers, which means if you're on a budget and you want to upgrade to hydraulic braking but you don't want to upgrade your shifters at the same time, then this is your best option.
With pre-stretched cables, the HY/RD calipers feel pretty darn close to the real thing in terms of power and braking control, and the only major downside is the weight. While we do appreciate the simplicity of making two components one, the master cylinder and fluid reservoir located on the post mount caliper do make the mounting bolts challenging to access.
Shimano BR-785
Good for non-series upgrading to save some cash
Specifications
Claimed Weight:
271g (pair)
Reasons to buy
+
As close to set and forget as you can get
+
Price
While Shimano's non-series components don't quite have the same exterior finishing as their Ultegra, Dura-Ace or 105 compatriots, they offer near equal performance without the price tag. The BR-785 falls in at the Ultegra level spec (6800 series) and offers consistent braking after thousands of miles, and basically no maintenance other than a couple of sets of brake pads.
Speaking of brake pads, the post-mount calipers are compatible with Shimano's IceTech finned pads which assist in dissipating heat, for improved power and pad life. They are a bit heavier than their Ultegra R8000 family members, however, in our experience, they offer just about equal performance and reliability, without the price tag.
Campagnolo Record/Super Record
The best discs for fans of a quiet ride
Specifications
Claimed Weight:
420g (pair)
Adjustment:
Lever reach, free stroke
Reasons to buy
+
Quiet
+
Ergonomics of the levers universal
Reasons to avoid
-
Price
-
Each bike requires different mounting bolts which can be tricky
Campagnolo was VERY late to the road disc brake game. It turned out to be a savvy move from the Italian outfit though because it allowed the company to watch the growing pains experienced by the other two manufacturers and avoid them altogether.
Campagnolo's disc brakes are available with the brand's higher-end Chorus, Record, and Super Record groupsets, with the calliper seen here shared between both Record and Super Record. A magnetic pad return spring and wear indicators make for a quiet ride and easy maintenance, and having the same ergonomics as the rim brake levers is a big plus for style fans.
TRP Spyre SLC
The best cable actuated brakes for those on a budget
Specifications
Claimed Weight:
146g (per caliper)
Adjustment:
Depends on brake levers used
Reasons to buy
+
Low price
+
Power and modulation
+
Low weight
Reasons to avoid
-
Compressionless housing required for a good feel
While most road bikes with disc brakes have hydraulic systems, TRP's Spyre disc brakes are some of the best cable-actuated disc brakes money can buy. Using a cable to pull a carbon arm allows for dual-sided pad actuation, nipping any warping or uneven pad wear in the bud.
They feature a barrel adjuster for tool-free roadside adjustments, and the calipers are compatible with both TRP and Shimano pads, so you'll be able to find spares at just about any shop. The Spyre are available in both flat and post mount options; they are also universally compatible with drop bar brake levers — just make sure you pick up some compressionless brake housing to improve the lever feel. It's a costly investment but well worth it.
Hope RX4+
The best performing aftermarket option
Specifications
Claimed Weight:
Not specified
Adjustment:
Depends on brake levers used
Reasons to buy
+
Superb performance
+
Four pistons rather than two
+
The colours!
Hope has been machining its brake calipers for MTBs for over 25 years and the RX4+ transfers this expertise to road bikes, with models compatible with both Shimano and Campagnolo mineral oil and SRAM DOT fluid actuated calipers.
With four pistons and a monobloc design, the RX4+ gives aggressive stopping power and helps eliminate soft brake feel and avoid brake rub. You can also use it with 180mm rotors in addition to 140mm and 160mm and the pads are swapped out from the top rather than needing to fiddle under your fork legs and chainstays. Black isn't the only colour either, for fans of matchy-matchy.
Paul Klamper
The best cable callipers on the market
Specifications
Claimed Weight:
216g (each)
Adjustment:
Depends on brake levers used
Reasons to buy
+
Available in anodized colours
+
Flat or post mount
+
Adjustability
+
Smooth lever feel and power
Reasons to avoid
-
Not easy to find
-
One side actuation
As a whole, disc brake calipers all look pretty similar but the Paul Components Klamper is more than just a distinct looking conversation piece. The Klamper is made from CNC machined aluminium and heat-treated steel, and the caliper was designed to be a brake that offered heaps of power, and field serviceability, without the need for hydraulic fluid.
The brand says it took 20 prototypes to land on the oversized ball bearings and steel pistons which are the secret sauce behind the Klamper. Paul also opted for a single-piston for its design and uses a needle bearing on the pad actuator for silky smooth lever action. With this particular design, it is imperative that the inboard stationary pad is situated close to the rotor to limit flex, which is why the Klamper features its distinct oversized notched dial.
How to choose road bike disc brakes
Like many bike parts, disc brakes are subject to loads of different standards, with just a few basics that are the same throughout; most road bike disc brakes now use a Centerlock mount to fix the rotor to the wheel, for example.
So here's a run-down of the major questions to consider when buying road bike disc brakes.
Do I need flat mount or post mount?
When disc brakes first made the cross over from mountain bikes, the post mount designs used on forks and rear triangles were more or less copy and pasted across.
Flat mount is a more recent standard that is lighter, stiffer and more compact than post mount. When adapting discs across to road bikes, designers had to get pretty creative because space was at a premium in the rear triangle, especially when it came time to get in there with an Allen key and make adjustments. With flat-mount, on the other hand, the caliper sits flush on the rear chainstay, taking up minimal space.
For the most part, drop bar bikes have adopted flat-mount brake calipers, however, there are still some post mount roadies getting around. Adaptors are available to make post mount calipers usable on flat-mount frames, however flat mount to post mount adaptors can be tricky to find.
What rotor standards do road bike disc brakes use?
Disc brake rotors are available in a variety of sizes. For MTBs that can stretch up as large as 220mm, but for road bike disc brakes 160mm is the most normal size.
Some road bikes use 140mm rotors and some have a 160mm at the front and a 140mm out back. It's worth noting that a 160mm rotor will give you 30 percent more braking surface than a 140mm rotor, so braking performance and heat build up are much less likely to be an issue and they're likely to be a better bet for heavier riders.
Most road bike disc brake rotors have a floating design where the braking surface is attached to a carrier which mounts to the wheel. This makes the rotor much less likely to deform as it heats up and should help avoid brake rub once you release the brake.
Are hydraulic brakes better than cable?
Hydraulic road bike disc brakes are the be-all-and-end-all when it comes to stopping. A properly bled brake will offer oodles of power and modulation and will perform well for an extended period with little to no maintenance. There is minimal friction and additional leverage can be engineered into the system to make a light lever action translate into major stopping power.
Cable actuated systems still offer superior braking to rim brakes. Still, some of the power from the lever is lost in the cable and housing and the pads will need to be adjusted as they wear down to keep braking performance consistent. Spongy brake performance can be alleviated by fitting quality, compressionless brake housings; it's an upgrade that's likely ten times the price of budget housing, but will massively improve lever feel.
Brake levers are also not interchangeable between cable and hydro systems as the internals are entirely different.
There are a few hybrid cable to hydraulic systems out on the market. Some involve converters, while others place the master cylinders directly on the calliper. It's not quite the best of both worlds, but they do work pretty well.
Do my brakes need mineral oil or DOT fluid?
Your brakes will specify either a specific type of mineral oil or DOT fluid. While these both perform the same task, they are not cross-compatible, and using the wrong fluid can cause damage to seals and even brake failure.
SRAM uses DOT fluid while Shimano and Campagnolo both use mineral oil, and the main difference between the two is how they manage water, which inevitably finds its way into your brake lines over time. DOT fluid absorbs water, while mineral oil does not. As DOT fluid takes on moisture over time it can cause your brakes to feel spongy.
Mineral oil does not absorb water, which over time can create pockets of water which can have an effect on overall viscosity inside the brake line. Mineral oil is also safe on your skin, won't destroy paint jobs and is environmentally friendly, whereas that's not the case with DOT fluid.
DOT fluid is more resistant to boiling under prolonged braking than mineral oil though, so it might be a better option if your rides feature long descents.
While it may seem tempting to buy a non-specified brake fluid when carrying out your own repairs, it's genuinely not worth the risk.
Can I mix and match brakes from different brands?
For cable operated brakes, the answer is yes, as the cable just pulls a lever on the caliper. So you'll routinely see mechanical calipers from TRP and others fitted to bikes with Shimano drivetrains.
For hydraulics it's different. The difference in brake fluid used means that Shimano/Campagnolo and SRAM brakes are incompatible. Potentially you could use Shimano calipers with Campagnolo levers and vice versa if you wanted and Hope's RX4+ calipers designed for mineral oil (see above) are compatible with both.
Within brands you can mix calipers and levers though, so you could run Ultegra calipers with Dura-Ace levers for example.
Which brake pads should I use?
Brake pads are something to keep in mind as they can have a major effect on braking performance, especially when the weather gets nasty.
Organic or resin pads are typically quieter and offer improved modulation and fine braking control. Some brands also claim they are better at managing heat too.
Metallic or sintered pads are made of harder materials and see a higher concentration of metal in the pad itself. They offer considerably more power and last longer than resin pads, but are also much louder and harder on disc rotors too. Metallic pads also offer more consistent braking power in wet weather.
There's also the option of semi-metallic pads that look to offer the advantages of both and there's nothing to stop you mixing organic pads up front and metallic ones at the rear either. Mostly backing plates are made of steel but if you really want to get flashy you can buy pads with titanium backing plates to save you a couple of grams.
Also note that there are loads of different sizes and shapes of brake pads for different brake calipers, so it's important to make sure that any replacement will fit your brakes.
How often do disc brake pads need to be changed?
Keep an eye on pad wear and make sure that it's even, realigning the brake caliper on the rotor if it looks as if wear is happening more at one side of the pad.
In general, you should replace the pad once the thickness of the braking material gets down to 1.5mm or less. How quickly this happens will depend on the conditions in which you're riding and the type of pad you use. Wet and dirty rides will go through pads quicker than riding in the dry.
How often do I need to bleed my hydraulic disc brakes?
Hydraulic disc brakes need regular maintenance to keep them working effectively. If you feel that your brakes are getting squishy or there's a long lever pull before they start to bite, this may be a sign of contamination, air or water in the system, so you should bleed the brakes to see if this helps.
As a routine you should aim to have the brakes bled every 6 to 12 months to keep them sweet. This is a lot easier than it used to be, with bleed ports on the latest road bike disc brakes situated where they're easy to access and fluid will flow through the system under gravity.
Can I fit disc brakes to a rim brake frame?
Short answer: No. Disc brakes need specific mounting points on your frame that most rim brake bike frames won't have. There are a very few frames that are set up for both and only if you have one then a swap over might be an option.
The only caveat to this would be if you're running a steel frame, where a competent framebuilder will be able to add mounts for discs on the frame. You'd still need to replace the forks, even if they're steel, as steel fork legs for rim brakes aren't necessarily designed to take the load of a disc brake. You'll also need a new paint job too after the work is done.
The latest race content, interviews, features, reviews and expert buying guides, direct to your inbox!
Based on the Gold Coast of Australia, Colin has written tech content for cycling publication for a decade. With hundreds of buyer's guides, reviews and how-tos published in Bike Radar, Cyclingnews, Bike Perfect and Cycling Weekly, as well as in numerous publications dedicated to his other passion, skiing.
Colin was a key contributor to Cyclingnews between 2019 and 2021, during which time he helped build the site's tech coverage from the ground up. Nowadays he works full-time as the news and content editor of Flow MTB magazine.
The latest race content, interviews, features, reviews and expert buying guides, direct to your inbox!
Thank you for signing up to The Pick. You will receive a verification email shortly.
There was a problem. Please refresh the page and try again.