Winter cycling: How to get through the grim months in comfort
Winter cycling means different things to different people. Whether it's indoors or outdoors, here's everything you need to know.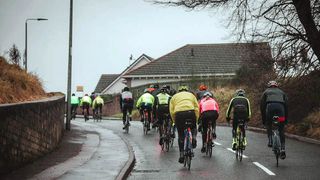 (Image credit: Future)
Whether you see winter cycling as an excuse to sit indoors on the trainer and get some quality structured riding in while it's blowing a gale outside, or whether the sight of a downpour causes a masochistic grin to spread across your face, the winter months have particular requirements for both clothing and equipment.
If you take shelter indoors you'll need specific gear to stay cool and you power through intervals or tour virtual landscapes, while if you're heading outside staying warm and dry often takes precedence over speed.
Whether this is your first winter riding and you want to make sure you get it right, or if you've had a bad time in the past and want to improve things for yourself then you've come to the right place. We've got you covered for clothing, equipment, training and commuting.
Jump ahead to:
Clothing choices for winter cycling
Appropriate clothing is often the first port of call, but getting through the winter in style and comfort extends beyond having the best waterproof cycling jackets at your disposal. Consideration for mudguards (fenders) and a change of tyres can make a huge difference.
The more you ride the more you'll come to know how your body reacts at different temperatures. Some riders will need the absolute best winter cycling gloves money can buy, while some pros like Heinrich Haussler eschew all hand coverings even when the mercury dips below zero.
If you're just getting started then most clothing will have a recommended temperature range, which should give you a good indication of what to expect.
The key to staying warm and avoiding overheating is to opt for a layering system, the basis of which comes from a great base layer. The best cycling base layers for winter months will be long-sleeved and occasionally feature a roll neck, a hood, and integrated windproof panels. Some riders prefer merino, while others opt for synthetics, but in either case, wicking properties will be important to ship moisture away from your skin and avoid you feeling clammy.
Due to the movement of - and heat generated by - your legs while riding, layering on your lower half isn't common. Instead, making sure you have a set of the best winter bib tights will ensure you stay warm and comfortable once you put your shorts and knee warmers away for a few months. It is possible to double-glaze your upper legs by opting for unpadded tights over a set of bib shorts, and if you're really struggling to get some heat into your legs then a generous smear of embrocation, a heat-inducing cream rub, might just be what you need to stave off the cold. For the wettest of winters, a hardshell rain trouser (pant) is the port of call for some of our reviewers.
While most riders can stomach having wet legs, opinion is split on the most appropriate option for wet and cold weather for your upper half. Many, like this writer, would prefer to be warm and wet than too hot and dry, and so opt for a softshell option such as any of the best winter cycling jackets. Those who want to stay dry at all costs though should opt for a hardshell.
Gloves
Why you can trust Cyclingnews Our expert reviewers spend hours testing and comparing products and services so you can choose the best for you. Find out more about how we test.
They say the secret to keeping your hands warm on a bike is to keep your core warm, but without winter cycling gloves, you're putting yourself at an immediate disadvantage. The same goes for doubling up, too - two pairs of gloves isn't necessarily warmer than one, especially if it means they're squeezing the circulation in your fingers. The best winter cycling gloves manage the holy grail between comfort and protection without a loss in dexterity.
Gloves are notoriously difficult to keep waterproof, given their many seams and panels. Some gloves, such as neoprene ones, do away with any pretence of keeping you dry and focus on keeping your hands warm instead. If you really struggle with cold hands make sure you get a pair that covers your wrists, or insulate them further with a pair of sweatbands; all the blood to your hands passes through the inside of your wrists very close to the surface of the skin, so this is a top tip for those with icy paws.
Socks
Just like in all walks of life, your choice of socks may change with the weather, however, with the repetitive motion of cycling, a bad choice of socks can easily lead to discomfort. Add in the inevitable water ingress and that discomfort can quickly lead to blisters. Our guide to the best winter cycling socks covers the colder months, while our separate guide to the best cycling socks covers all bases.
A word of caution - most riders opt for snug-fitting shoes that work best with lightweight summer socks. While some hyper-thick winter socks may on paper appear warmer, if they cause your foot to be so compressed as to reduce blood flow they will in all likelihood do more harm than good, and you should instead opt for additional foot insulation over your shoes.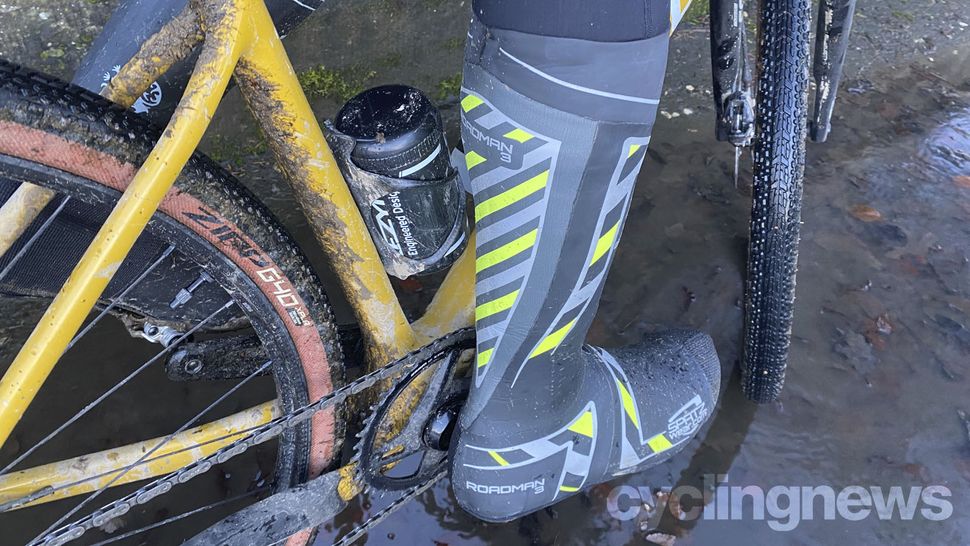 Shoes and overshoes
When it comes to cycling in winter, there are two main options for footwear. Option one is to pair your current cycling shoes with a pair of overshoes. The best cycling overshoes will offer a level of waterproofing paired with insulation to keep the rain on the outside and the warmth inside. This is usually suitable down to around zero degrees Celcius (32 F). If you regularly ride at temperatures below this, then the second option is to invest in some winter-specific shoes. When the going gets cold don't be afraid to experiment with unusual layering; double oversocks under a neoprene set of overshoes isn't unheard of, and neither are layers of tin foil to reflect head inwards, or even plastic bags for the ultimate crinkly experience.
The best winter cycling shoes essentially combine a shoe and an overshoe into one sealed system, offering maximum warmth and waterproof protection, often at the detriment of weight and breathability (usually a small price to pay when riding in winter). If you find that this still doesn't cut it, then there's nothing to say you can't then add a pair of overshoes on top, but expect most of the moisture to be coming from your sweating feet.
And if you're not sure which option you prefer, check out our comparison of overshoes vs winter boots.
Equipment choices for winter cycling
Whether you have a bike for every month of the year or a single trusty steed that does the job year-round, you'll want to make sure your bike has some level of winter-appropriate tech. Not only will it keep you more comfortable, it'll make your riding safer and stop your componentry wearing out so fast.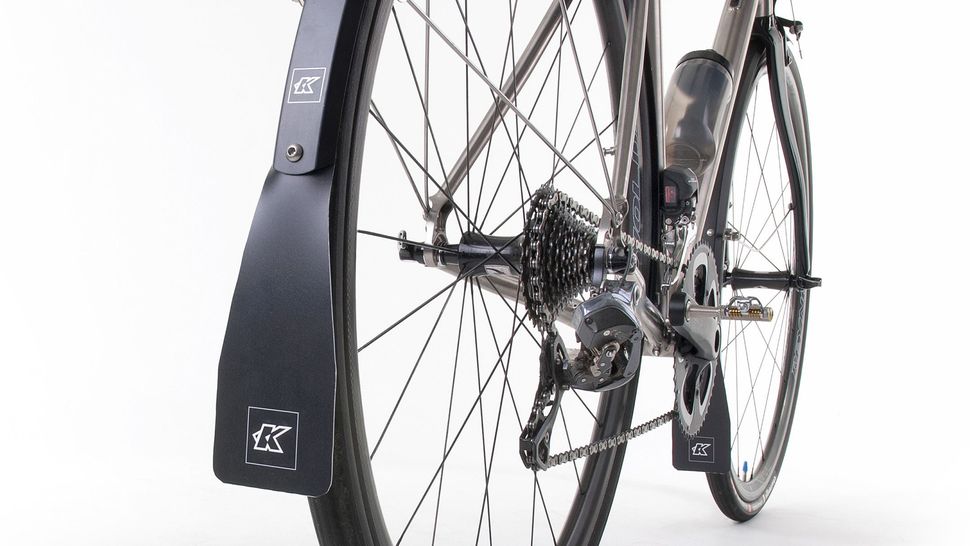 Mudguards
As any experienced Brit will tell you, the trick to keeping your feet warm on a ride is to keep them dry. This is easier said than done, and in some conditions, it's nigh on impossible, but the longer you can keep the spray at bay, the longer you remain comfortable on your ride. No matter how well made your choice of shoes, overshoes and socks are, nothing will withstand a constant torrent of water that will be ejected from your front wheel on wet roads. That's why one of the most important winter accessories is a set of full-length mudguards, ideally with added extra flaps.
Not only will this keep standing road water from hosing your feet for the duration of your ride, but it will also keep the same water away from your bottom bracket (which will extend the life of your bearings), as well as your backside and perhaps most importantly, the face of the person sat on your wheel who used to be your friend. It'll also importantly help to keep anything horrendous spraying off the road surface and onto your bottles - field runoff is a particular nuisance in rural areas, and so a set of the best road bike mudguards could well be the difference between having a good ride and spending a few days stuck in the bathroom.
Many British cycling clubs or group rides swear by mudguards so strongly that without a set fitted to your bike, you'll either be banished to the back of the group or worse, refused from joining altogether.
Tyres
As the weather takes a turn for the worse, it will often result in an increased risk of punctures as wind and rain wash debris into the road. While your best road bike tyres might be three seconds faster over 40km at 252 watts, there's nothing slower than standing at the side of the road fixing a puncture. For this reason, the increased popularity of tubeless tyres begins to make even more sense during winter, and many of the best winter road bike tyres adopt the technology. If you're a convert, check out our guide to the best tubeless road tyres.
In addition to puncture resistance, grip is an important consideration in your tyre choice. Grip is affected by the tyre's tread pattern and the rubber compound, but can also be altered with tyre width. The width will be limited by the clearance offered by your frame, as well as brake calliper clearance, for those who are still part of the rim brake party.
As roads deteriorate further through the action of constant freezing temperatures and salt corrosion, wider tyres could also save your rims from having an unplanned meeting with the edge of a surprise pothole that has appeared on your local route too.
Lights
As winter looms, the days shorten and the night draws in sooner and sooner every day. For much of the northern hemisphere, the number of daylight hours is slashed in half, and it's not uncommon for the only available outdoor training time to be during these darkened hours. We recommend running lights all year round in all conditions, but while you can get away without them during daylight, the same cannot be said once the sun has set.
Your choice of brightness - typically measured in lumens - will depend on where you ride. For well-lit city streets a simple set for the front and rear should suffice to make sure you're seen by other road users.
We recommend a minimum of 50 lumens for rear lights. For those looking to 'be seen', 300 should suffice upfront, but if you wish to see clearly on unlit roads, then a minimum of 800 lumens would be our recommendation.
Even though the best bike lights come with many hundreds - sometimes thousands - of lumens, if it fails, you'll be plunged into darkness. For this reason, we suggest running a backup at all time.
Given that colder temperatures mean batteries drain much more rapidly than they do in the warm, it's good to get in the habit of topping up the charge on your lights after every ride, so if you're after a new set of lights we recommend rechargeable over battery-operated.
Indoor cycling during winter
Perhaps if you're Belgian and winter cycling means a nationally mandated block headwind and driving rain for four months of the year, a wardrobe replete with the best cycling clothing brands on the market, and constantly numb toes, this next section may not be for you.
However, thanks to the advent of Zwift and Zwift alternatives, the winter months can now mean a retreat indoors to explore fantasy worlds via the medium of a smart trainer. While there is more of a crossover with summer gear, indoor cycling has some unique requirements of its own.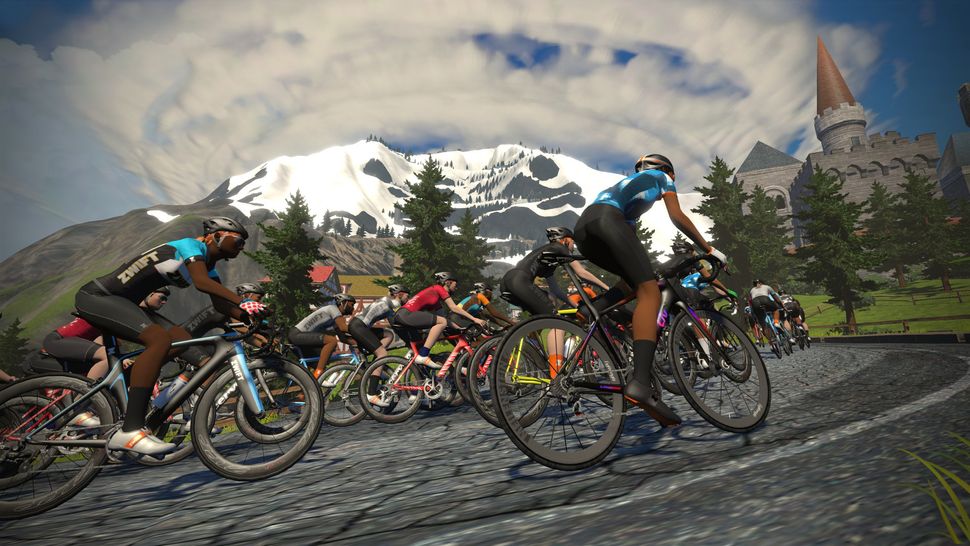 The continual improvement of the best turbo trainers has changed the game from a discipline reserved for the most committed of athletes to an interactive (dare we say fun?) experience with social interaction, competition and structure. Our guide to indoor cycling explains everything on the subject, including all the tech you need to get yourself started.
If that's you, your list of clothing requirements will be shorter than those outdoor rides in the warmest of conditions. You'll find solace in our guide to the best cycling shorts and maybe you'll add a base layer at a push. But for some who take it seriously, many brands are starting to offer indoor cycling clothing and indoor cycling shoes, but any of the best cycling shoes will perform dutifully indoors and out.
But aside from the bike, you'll need to invest in your indoor cycling setup. Our guide to the best turbo trainers is the first place to start, but if you're on a budget (aren't we all?) then we've already explained the best way to get the cheapest Zwift setup, which essentially explains everything you actually need to make Zwift work (and subsequently, other indoor cycling apps too). At the other end of that scale, the best exercise bikes are great for those whose budgets can stretch that bit further.
Once you're set up, the next question is 'what do you want from your time cycling indoors?' If you want to capitalise on newfound fitness, then you may be interested in racing on Zwift, using ZwiftPower, what those Zwift PowerUps do and the little indoor cycling hacks that make it a more successful experience. Alternatively, you might want to use your turbo trainer to get fit for the new year. For that, you could follow the Zwift training plans and Zwift workouts, or you could use TrainerRoad's plan builder.
Winter cycling training
To many, winter presents an opportunity to introduce a training plan. The official 'off-season' is regularly used to introduce long, slow base miles to build the foundations upon which event-specific training can be built.
Our winter cycling training tips will explain the basics of everything you need to know, including what is FTP, how to periodise your training and the benefits of training indoors, and if you want to add gym work, we've also got a guide to strength training for cyclists.
But whether you're training indoors or out, it's important to focus on your cycling nutrition. Immune systems are often weaker in the winter months, and riding in the cold and rain can exacerbate this. Staying on top of eating and drinking properly, both on and off the bike, can make all the difference between success and illness.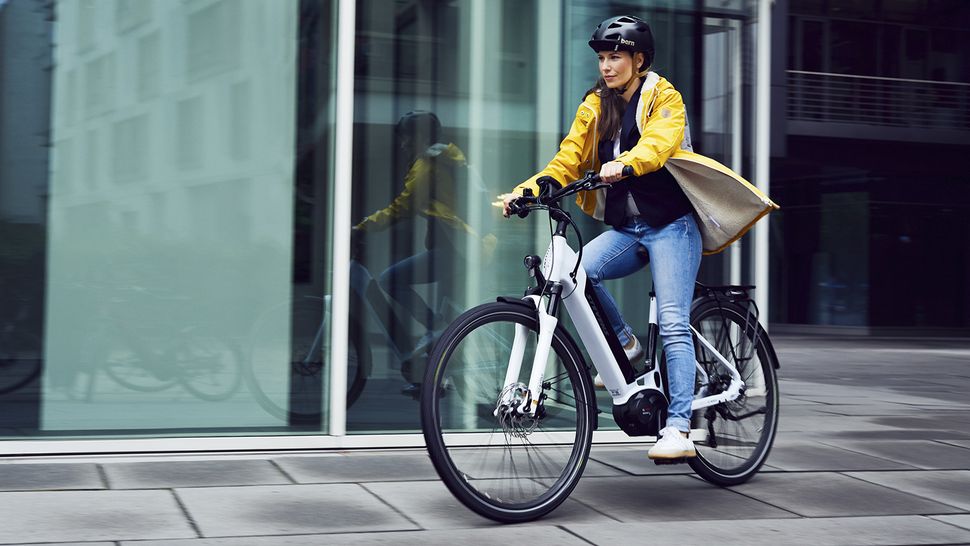 Commuting
Perhaps you're not cycling through winter by choice, or at least, you're not doing it for the sake of cycling. Perhaps you're one of the millions of people who took to two wheels during the pandemic and is now commuting to work by bike. Or perhaps you were already doing it before it was cool.
If that's you, then there's a good chance that weather doesn't stop the boat from rocking. If you see rain out of the window, then the decision isn't 'ride or no ride?', it's 'one jacket or two?'.
We've already gone through our recommendations for winter cycling clothing and equipment above, but there are a few additional pieces of equipment that are pertinent to commuters, especially those who cycle through all weathers and seasons. Perhaps most importantly, the best bike lights will enable you to continue riding as the days become shorter and the commutes become darker. In addition, anyone cycling through winter on the road will benefit from mudguards. We know some people think they look dorky, but cyclists aren't exactly known for their fashion sense, are we? So bite the bullet, you'll be glad you did when you get to work with a dry backside.
Commuting, perhaps more than any other kind of cycling, leads to dirty bikes. Maybe it's left outside all day in the rain, maybe you just don't have the energy to keep it spotless after a hard day in the office. Whatever happens, you're likely to end up with some dirt and grime, and so if you don't know how to clean your bike then there's no better time than winter to get the bucket and sponge out and learn.
Motivation
Whether you're facing another wet and windy ride or another set of intervals in your shed, there will likely come a point during your winter cycling when you begin to question why you're putting yourself through all this.
At these times it's important to focus on what you enjoy; if you get satisfaction from performance increases then remind yourself that the effort you put in during the dark months could be what makes all the difference when the sun begins to shine once more.
If it's the social aspect of riding that you crave then call on a friend for a café ride; take the focus off the ride and make it the backdrop to something more enjoyable.
Finally, burnout can be an ever-looming presence in the winter. Stay in touch with your body and mind, and if you need to take a step back from the bike for a time to make sure you continue to enjoy riding in the long run then make sure you do. You'll thank yourself for it later.
As the Tech Editor here at Cyclingnews, Josh leads on content relating to all-things tech, including bikes, kit and components in order to cover product launches and curate our world-class buying guides, reviews and deals. Alongside this, his love for WorldTour racing and eagle eyes mean he's often breaking tech stories from the pro peloton too.
On the bike, 30-year-old Josh has been riding and racing since his early teens. He started out racing cross country when 26-inch wheels and triple chainsets were still mainstream, but he found favour in road racing in his early 20s and has never looked back. He's always training for the next big event and is keen to get his hands on the newest tech to help. He enjoys a good long ride on road or gravel, but he's most alive when he's elbow-to-elbow in a local criterium.
The latest race content, interviews, features, reviews and expert buying guides, direct to your inbox!
Thank you for signing up to The Pick. You will receive a verification email shortly.
There was a problem. Please refresh the page and try again.