Best cycling socks: colourful, comfortable and cleverly constructed socks for cycling
The best cycling socks feature many design cues such as style, fit, construction and colour. Here's a roundup of our favourites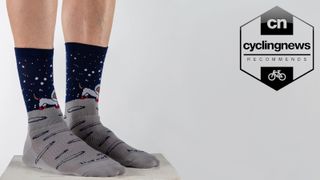 (Image credit: DeFeet)
For such a seemingly insignificant piece of kit, cyclists have a strange affinity for finding the best cycling socks, and riders stress over every detail, from the material, cuff height and colour scheme.
The market for cycling socks is ever-expanding, with super-techy socks that offer compression, carbon-fibre construction and aero benefit, to those that turn the saturation up to 11. Beyond just being a fashion faux pas, running or ankle socks are designed around footsteps rather than pedal strokes, often having extra padding in the wrong place, which can wrinkle and cause hotspots over the course of a ride. Some of the best cycling socks also provide a small layer of protection for your ankle bone, so it doesn't get shredded by the tarmac should you hit the deck.
Socks have been quite a source of controversy over the past few years within cycling, with the UCI enacting, scrapping and then re-instating its rules regarding height. When done correctly, socks can offer an aero advantage, although it's marginal at best and dependent on variables, some of which can be controlled, like fabric texture, and some that can't, like leg speed and size.
The UCI is intent on smoking out the #sockdopers and officials are now present at WorldTour races with a purpose-built measuring device to ensure socks don't "rise above the height defined by half the distance between the middle of the lateral malleolus and the middle of the fibula head" – their words – deemed by some as a farcical priority considering other battles currently facing the sport of cycling.
For many of us, a good pair of cycling socks need to feel comfortable, look good and can also be matched to go with the best cycling shoes, if it's that ultra-suave look you're after. Socks with a four-to-seven-inch cuff seem to be the sweet spot for length, and while some tend to gravitate towards bright and colourful socks, others will argue there's no classier look than a pair of new white socks.
Let us not also forget about the important part they play in keeping our feet warm during the winter. The best winter cycling socks will keep the warmth in and the wet out, pad you where you need padding, and provide an even layer of thermal insulation that prevents the dreaded onset of numbness. Combined with the best cycling overshoes and the best winter cycling shoes, you're sure to make the most of your winter epics.
Read on for our list of the best cycling socks for all seasons, and jump to the bottom if you need convincing about the other benefits of the best cycling socks.
Our pick of the best cycling socks
Swiftwick Aspire Seven
The most comfortable socks on the market
RRP: £20.00 / $18.990 / AU$35.00 | Cuff height: 7in
Other cuff heights available too
Renowned quality and design
An enormous range of colours
High price compared to other similar options
When we first read the technical claims that Swiftwick makes about its fibres and knitting process, we thought it was typical over-hyped marketing. They are just socks, after all. Then we tried them.
The Aspire socks are available in a number of cuff lengths and have a thin profile with minimal cushioning, seamless construction, and the Olefin fibre is lightweight, highly breathable, and quick-drying. Over the years the Brentwood, Tennessee-based outfit has cultivated a fervent following, so much so that one of our former colleagues even travelled to the US so that he could replenish his supply before they were available in the UK.
DeFeet Aireator
Benchmark performance with countless styles
RRP: £12.99 / $12.99 / AU$26.00 (Approx) | Cuff height: 6in
Almost unlimited style options
Good breathability
Used as a base model for other brands, the Aireator is the original DeFeet sock. It really is the gold standard.
Besides performance and comfort benefits, which we'll get to in a moment, the Aireator socks are manufactured in North Carolina, USA, from recycled water bottles.
Comfort is unparalleled, and the Aireator mesh that adorns the forefoot increases breathability to prevent overheating. You can get Aireator socks in a range of styles, from classy white with a simple Defeet logo, or more extravagant designs including one called Moon Doggo, which is literally a dog on the moon.
Castelli Fast Feet
RRP: £36.00 / $39.00 / AU$67.00 | Cuff height: ~7in
Can genuinely make you faster
They stay up, unlike some aero socks
High price compared to standard socks
Castelli's Fast Feet socks are designed with aerodynamic efficiency in mind. Made using 83% nylon and 17% elastane, the Castelli Fast Feet socks were developed with input from Team Sky.
The sock is split into two halves. The foot portion is made for comfort, based around the brand's Rosso Corsa race socks, the upper portion uses Lycra with engineered grooves which decrease drag.
Three colours are available, including black, white or a garish monochrome-spiral, and despite Castelli's stock image above making them look like wannabe football socks, they're actually around seven inches tall, so don't make you look like you're about to compete in an Ironman whenever you wear them.
They're also rather expensive for socks, but with the promise of extra speed, there will always be an argument in favour of spending the extra.
Assos Mille GT Socks
Durable socks with classy aesthetic and a superb fit
RRP: £12.00 / $18.00 / AU$28.00 | Cuff height: ~6in
Durable construction
Compressive, comfortable fit
Odour-reducing tech
Slightly short cuff by modern standards
The Mille GT socks are designed primarily for warmer weather. They use a combination of polyamide, polypropylene and elastane for the construction, which basically means it offers a breathable material that is stretchy enough to remain super comfortable, but compressive enough to stay put over many hours of riding and months of use.
Assos' clever innovation here is the introduction of silver microparticles, which according to the brand, is designed to reduce odours. We're not scientists, but we can attest to the pong-free performance.
With a selection of six colours to choose from, all of Assos' Mille GT socks manage to provide a classy aesthetic, thanks to the minimalist design and rear-facing Assos logo. The subtle options of black, white and navy are available, but if you're fashion- or safety-focussed, there's also a host of options that turn the saturation up to 11.
Castelli Superleggera T 18
RRP: £16.00 / $16.95 / AU$27.00 | Cuff height: 7in
Durable construction
Modern 18cm cuff height
Odour-reducing tech
White sock wearers look away now
With the same odour-reducing silver technology as Assos' Mille GT socks also featured in this guide, Castelli's Superleggera T 18 also feature what it calls a 200-needle construction for extra stretch. We can confirm the stretch is ample, making them easy to get on and, more importantly, off again after cold, wet rides.
They feature lightweight mesh on the ankle and the top of the foot, which is great for warm-weather riding, and a midfoot support band means they're supportive and they stay put, even after months of use.
The 18cm / 7in cuff makes them ideal for the fashion conscious who like the modern tall-sock trend, however, those who like the bright-white sock style will want to look elsewhere, as Castelli's 'white' socks look like they've been washed in a mixed load one too many times.
Giro Comp Racer High Rise
RRP: £13.99 / $14.95 / AU$24.99 | Cuff height: 6in
High-stretch without bagginess
Various styles on offer
Not as high-rise as the name suggests
Thanks to a combination of polypropylene, polyamide, elastane and lycra, the Giro Comp Racer socks offer a light compression with high-stretch. This means they're really easy to get on and off again, but they don't fall down half way through your ride.
They feature a cuff height of six inches, which despite the name, isn't as high rise as others here such as Castelli's 7-inch Superleggera and Rapha's 8inch Pro Team Tall socks.
Nonetheless, they do well to remain comfortable over long distances and despite wearing them in all conditions and washing them at all manner of temperatures, they're holding up - both literally and figuratively - perfectly well.
Rapha Pro Team Socks
Still going strong after 9 months of use
RRP: From £15.00 / $20.00 / AU$27.00 | Cuff height: 4 / 6 / 8in
Durable and hardwearing
Range of heights to choose from
Countless colour choice
Slightly over-compressive
Available in three different cuff heights, the Rapha Pro Team socks are likely to have a variant to suit all style preferences. Design remains along the subtle lines rather than in-your-face, with a single colour complemented by the Rapha stripes. Colours are largely from the same school of thought, however, those who want to add a bit of hue to their ride are catered for with bright orange or yellow options.
Having received a few of Rapha's different socks around 18 months ago, the Pro Team performed best in the longevity test and are still holding strong without a single hole, loose thread, or construction problem to speak of.
Made from 50% Meryl Skinlife, 25% nylon and 25% elastane, they are quite compressive in their nature, which is certainly noticeable after long days in the saddle, but it's not to the level that they're tough to get on and off.
SaKO7 socks
RRP: £8.00 / $10.00 / AU$15.00 (Approx) | Cuff height: 7in
Modern cuff height
More colours than Joseph's technicolour dreamcoat
Affordable price
Ours didn't last beyond a year
Sean 'Sako' Sakinofsky's overarching theory of cycling clothing is centred around the phrase, "The socks maketh the kit." According to the brand, socks should have a "leg and welt height of no less than 4in", so all of SaKO7's socks are closer to the modern trend of around seven inches in length.
As for design, you can well and truly have your cake and eat it, as Sako7 offers more design options than most. Initial compression and fit were fantastic, however, they did loosen a little after around 12 months. That said, at almost half the price of some of the bigger names, we'd still happily recommend them.
Le Col 'Cycling Socks'
RRP: £15.00 / $22.00 / AU$‌28.00 | Cuff height: 7in
Range of colours to choose from
Compressive fit
Plain designs only
Le Col's founder, Yanto Barker, knows a thing or two about what makes clothing ready for the rigours of professional riding, thanks to a long career racing on the British circuit. The brand's simply-named 'Cycling Socks' are the basics in the range, but that doesn't mean you should overlook them.
Designed for everyday riding, racing, and training, they are made from 100% Polyamide with a honeycomb construction. This makes them breathable, compressive, yet stretchy enough that it doesn't take an hour to get them on and off.
They feature an approximately seven-inch cuff, which is bang on trend if fashion is important to you, but more prominently, they feature comfort-enhancing padding on the heel and underfoot, as well as reinforcement on heel and toe seams.
HUUB Aero socks
Best for those looking for aero gains
RRP: From £29.99 / $36.00 / AU$54.00 | Cuff height: ~6in
Can genuinely make you faster
Designed by aerodynamicists at the cutting edge of performance
Available in any colour you want, as long as it's black
Expensive
The HUUB Aero Cycling Socks are designed and enhanced by Dan Bigham, and tested by the record-breaking HUUB Wattbike track team. The socks claim to save between five and 10 watts by virtue of improved aerodynamics.
They're not for the fashionistas out there, as only one colour - black - is available, but black's faster anyway, right? The best bit is they're UCI legal.
Sealskinz All-Weather mid-length sock
The best waterproof socks for when it's raining cats and dogs
RRP: £37.50 / $45.00 / AU$65.00 | Cuff height: ~7in
Hydrostop waterproofing
Merino wool
Prolonged wear or poor fit can cause skin irritation
Expensive
There's nothing worse than being caught out in the rain with soggy feet. Thankfully the good folks at SealSkinz have mastered the art of waterproof socks specifically for cycling. These all-weather mid-length socks are created with Hydrostop technology, which creates a barrier between your skin and the sock cuff, effectively sealing it shut and not allowing any water to run down the leg and into the sock.
The three-layer construction is designed to provide thermal insulation, waterproofing, and durability. Even with heavy use, these socks will last a long time. Merino wool also features to deliver comfort, as well as superior moisture control. It's naturally antibacterial as well, so that helps to stop the build-up of nasty odours.
Endura Baabaa Merino Stripe II
Itch-free woolly socks for year-round warmth
RRP: £9.99 / $14.99 / €17.99 | Cuff height: ~6in
Easy care
High warmth-to-weight ratio
Limited colour options
Treat your feet to some woolly warmth, minus the unpleasant itch. Scottish outfit Endura's Baabaa Merino socks are silky smooth to the touch, thanks to the rich merino weave. Merino not only resists odours to stay fresh for longer, it also has a high warmth-to-weight ratio, so you don't need to strap thick layers to your feet to keep your toes toasty.
These socks fit like any other, while keeping your feet from freezing, so they'll fit under any cycling shoes without creating hotspots, or bunching uncomfortably.
They're available in three colours - forest green, black, and red - all with stripes that wrap around the calf.
Velocio Winter Wool Socks
Incredible performance and warmth-to-weight ratio
RRP: £24.00 / $28.00 / AU$38.00 | Cuff height: 8in
Incredible warmth and comfort
Ultralight and fine knit
Velocio's Winter Wool Socks are specially designed to take on hard efforts in the colder and darker months of the year, while also remaining ultralight and thin enough to wear comfortably beneath your favourite pair of cycling shoes.
Constructed from a blend of ultrafine merino wool, nylon and elastane, they provide all the warmth without the heft. Alongside the beloved properties of merino: moisture management, odour-resistance and thermoregulation, the nylon adds longevity and durability, particularly in areas prone to wear and tear, while the elastane gives it a comfortable stretch.
Velocio's winter socks also deliver strategic padding in the footbed and toe for extra warmth and support, while the cuff and instep are constructed from a flat knit to reduce bulk and offer a comfortable fit. They're more expensive than some of those listed here, granted, but they're a great investment for any serious winter cyclist.
There is more to colourful socks than just fashion
While the fashionistas among us have long accented kits with tall bright socks, they're improving their visibility on the road whether they know it or not.
A 2013 study conducted by the University of Queensland found the best place for reflective detailing to help drivers identify riders in low light situations more quickly is moving parts like the knees and ankles.
Studies conducted by Clemson University and Trek Bikes into visible perception found through a phenomenon called sensitivity bio-motion (humans are really good at seeing other humans) that we are especially good at picking out human movement against cluttered backgrounds. The studies concluded with this acuity for human motion, drawing attention to major movable joints with reflective accents or bright and contrasting colours (during the day) helps drivers to see us.
So by slipping into a colourful pair of socks, you're also increasing your visibility on the road.
Sign up to the Cyclingnews Newsletter. You can unsubscribe at any time. For more information about how to do this, and how we hold your data, please see our privacy policy
Thank you for signing up to Cycling News. You will receive a verification email shortly.
There was a problem. Please refresh the page and try again.