Best tubeless road tyres 2023: Faster, more comfortable and less puncture-prone
The best tubeless road tyres incorporate top tech and are easier than ever to mount and ride with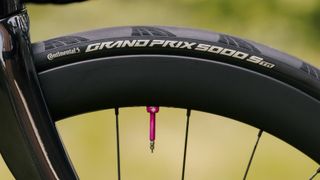 (Image credit: Alex Duffill)
The best tubeless road tyres are rapidly gaining traction as the best option for road riders.
In the past, tubeless road bike tyres had a dubious reputation for awkward set-up and low reliability, but tyre makers have put a lot of effort into improving manufacturing precision, lowering weight and improving the ease of set-up for the best tubeless road bike tyres. They've also put their latest tech into their tubeless tyres, so you can expect a quality ride, durability and, above all, puncture protection.
There are less tangible benefits too: tubeless tyres are also usually more comfortable and faster than even the best road bike tyres run with inner tubes. There's a reason why even the conservative pros have converted from racing on tubular tyres to riding tubeless clinchers over the last few years.
The best tubeless road tyres come in a range of different specs, designed for everything from time trial use to four-season riding, making them some of the best winter road bike tyres. You can even use some for light mixed-surface rides, if you don't want to fit a gravel tyre.
Here at Cyclingnews, we've used tubeless road tyres for years, testing to see which are the fastest, the most durable, the easiest to fit, the longest lasting and more. We've covered a range of use cases among our tubeless road tyre recommendations below, but if you're looking for more advice, head further down the page for our buyer's guide on how to choose the best tubeless road tyres for you.
Best tubeless road tyres available today
You can trust Cyclingnews Our experts spend countless hours testing cycling tech and will always share honest, unbiased advice to help you choose. Find out more about how we test.
The best tubeless road tyre when you are looking for the ultimate performance
Specifications
Size:
700x25c, 700x28c, 700x30c, 700x32c
Added Puncture Protection:
Vectran breaker
Reasons to buy
+
Low rolling resistance
+
Great levels of grip
+
Hookless rim compatible
Continental's GP5000S TR is a superb road tyre that's now well established as our benchmark ultra-high-performance choice. It's obviously super-fast, with a joyously lively feel that handles all situations from fresh tarmac to ancient acne backroads with effort-shrinking ease. It's grippy in all conditions, richly communicative and works with hookless rims at low pressures.
You are paying a high price for all these superlatives though and if you can get your local shop to fit them, you'll be saving yourself a fight.
Continental has expanded its tubeless-ready GP5000 tyre range too, with the GP5000 AS TR offering four-season reliability, with thicker tread and sidewalls and a reformulated rubber compound to increase wet/cold weather grip. There's also the GP5000 TT TR, which is designed for time trial use and weighs a claimed 220g, but still incorporates a Vectran breaker for puncture protection. Reviews incoming.
Read how the S TR tyres earned a top score in our Continental Grand Prix 5000 S TR road tyre review.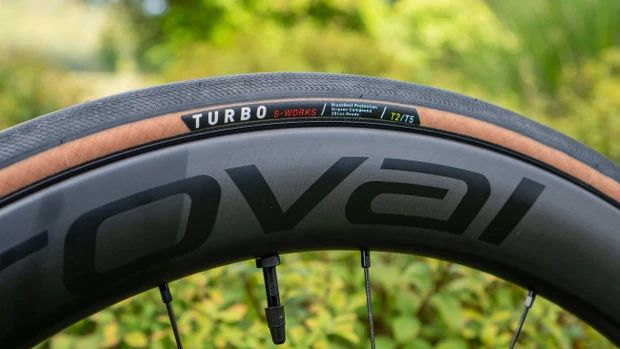 Best tubeless road tyre for road racing
Specifications
Added Puncture Protection:
BlackBelt puncture protection layer
Reasons to buy
+
Low rolling resistance
+
Impressive grip in all conditions
+
Low weight
The S-Works Turbo RapidAir 2BR is the tubeless-ready race tyre from Specialized, whose Turbo Cotton clincher is immensely popular. The newer variant, shown here, only comes in 26c, and it's one of the lighter tyres in this list, with the 26c tipping our scales at just 230 grams. The slightly heavier S-Works Turbo 2BR, which is still a great tubeless tyre, is available in three sizes (26c, 28c or 30c) with the 26c weighing 260g.
Despite this, in our testing, the levels of puncture protection have been impeccable. However, the one downside to the minimalist construction is that the tyre will wear down faster than others. They're not the cheapest, but at £65 / $90, there are certainly more expensive options on this list.
Nonetheless, if you're after a balance of race-ready speed and grip in all conditions, the Turbo RapidAir is the tyre for you.
Want to know more? Check out our Specialized S-Works Turbo RapidAir review.
The best tubeless tyre for easy setup
Specifications
Size:
700x25c, 700x28c, 700x30c, 700x30c, 700x32c, 650x25b, 650x28b
Added Puncture Protection:
V-Guard puncture protection belt
Reasons to buy
+
Reasonably lightweight
+
Fantastic floated ride feel
+
Reliably grippy
+
Super easy tubeless installation
Reasons to avoid
-
Not as fast as the best in class
-
Sizing is smaller than before
The current version of the popular Schwalbe Pro One tubeless road tyre comes with Schwalbe's latest Addix compound and Souplesse casing that promise decreased rolling resistance and increased comfort over the previous version.
When translated onto the road, that makes for a tyre that rolls well, offers good levels of puncture protection and impressive levels of grip, resulting in a great all-around road tyre. It's not the fastest-feeling tyre on this list, but it is a decent weight and was durable beyond our expectations.
What's more, the tubeless setup was a breeze, which is less common than we'd like, even today. Read our detailed review of the Schwalbe Pro One TLE tyres to see how they earned their spot in this guide.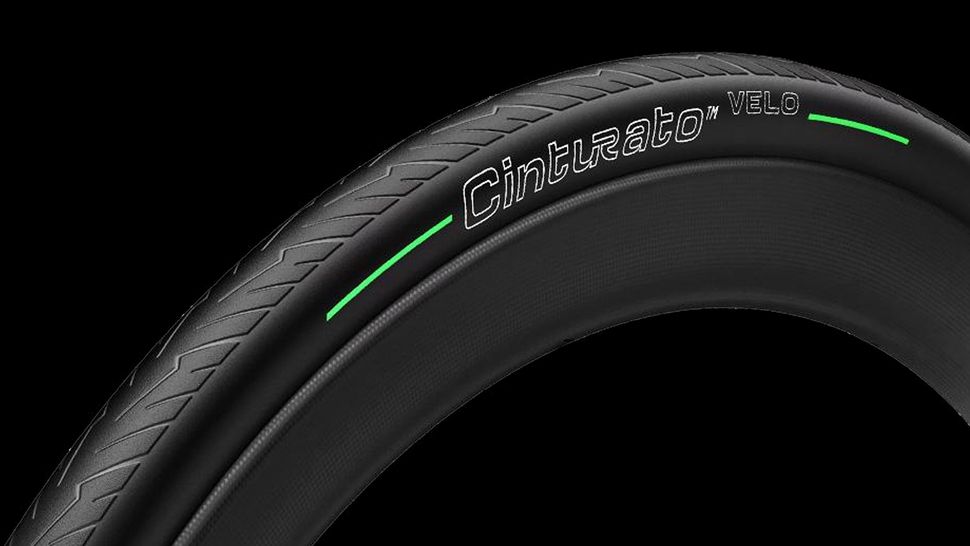 The best tubeless road tyre for bad weather
Specifications
Size:
700x26c, 700x28c, 700x32c, 700x35c
Added Puncture Protection:
Aramid breaker strip and bead-to-bead nylon protection layer
Primary Purpose:
All-weather
Reasons to buy
+
Great levels of puncture protection
+
High-mileage compound
The Pirelli Cinturato was the first tyre to use a wrap-around, radial structure. Originally designed for Pirelli's motorsports use, it's the design that almost all modern tyres are based on.
So Pirelli knows a thing or two about making tyres, and it shows with the Cinturato Velo TLR. Designed specifically as a puncture-proof road tyre, it has a compound designed for high mileage, an aramid breaker strip beneath the tread and a bead-to-bead puncture protection layer.
It's available in sizes ranging from 26mm to 35mm widths, and despite being designed with a greater focus on grip, durability and puncture protection in mind, it still manages to be reasonably competitive on weight.
In our Pirelli Cinturato Velo TLR review, Guy Kesteven admitted that there was some trade-off in terms of rolling speed compared to the fastest 28mm all-rounders in back-to-back test rides, but it's still faster than the Continental Gatorskin, which is another popular super-puncture-proof tyre, and it doesn't feel as wooden and numb either.
Overall, they are well priced, given their premium performance, especially with their increased lifespan as a result of their durability.
Best tubeless road tyres if you are looking for a good value all-around option
Specifications
Size:
700x25c, 700x28c, 700x30c, 700x32c
Added Puncture Protection:
1/2 Ply TC Liner
Primary Purpose:
All-around
Reasons to buy
+
Easy to set up
+
Good price to performance ratio
+
Supple ride quality
The easy tubeless setup sets these tyres apart. Thanks to the cleverly designed dual-angle bead, the Goodyear Eagle F1 tyres pop over the bead easily and quickly form a tight seal against the rim bed. They seated onto these old Mavic rims with little more than a mediocre track pump.
What's more, once set up, the ratio of performance to price has been excellent. They're not the fastest rolling tyres out there, but their grip, supple ride feel and durability has been impressive, and we're yet to notice a single puncture, even one that has self-sealed.
For more details on how the Goodyear Eagle F1 performed during testing, read our full review.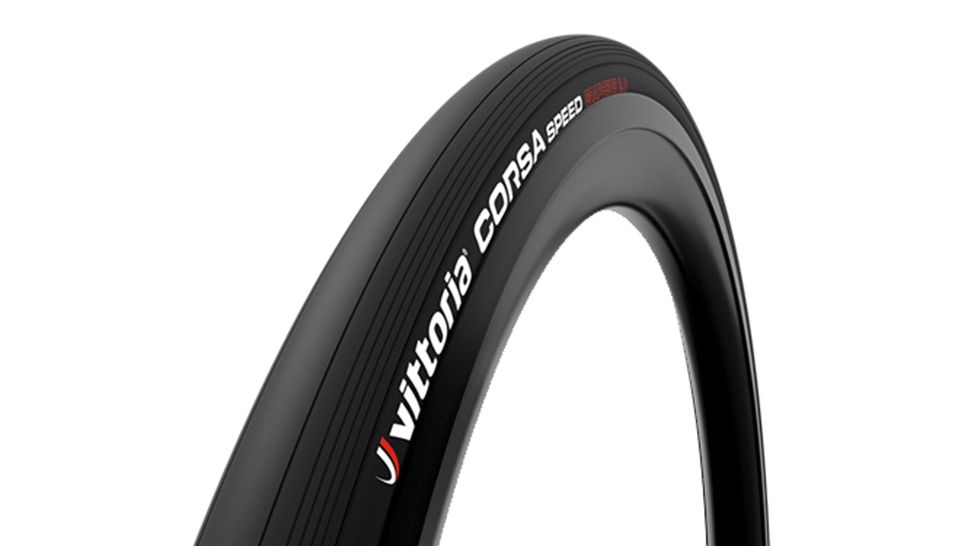 6. Vittoria Corsa Speed
The best tubeless road tyre for time trials
Specifications
Added Puncture Protection:
Ultra-lightweight puncture protection belt
Reasons to buy
+
Incredibly fast
+
Extremely supple casing
Reasons to avoid
-
Prone to cuts despite Graphene 2.0 compound
The Vittoria Corsa Speed TLR is designed with one goal in mind, speed. It is generally regarded as one of the fastest tyres in the world, and you can see that when bicycle rolling resistance tested the performance, they agreed. To say it simply, if you want to go as fast as possible, you've come to the right place.
There's no such thing as a free lunch however and the trade-off for all this speed is puncture durability, or more accurately, lack thereof. With Vittoria's thinnest and lightest casing, and only an ultra-lightweight puncture protection belt, it's designed as a race-day-only tyre, and is probably best reserved for time trials.
Vittoria does offer its Corsa tyre range in two other variants with incremental increases in puncture protection. The Corsa Control TLR is the sturdiest and grippiest, but heaviest and slowest of the three, while the Corsa TLR strikes a balance between.
There's also a Corsa Pro tyre in the works. Although this has not yet been launched, we've spotted it under the pros of Jumbo-Visma and EF Education-Easypost early in 2023.
Being tubeless, you do of course get extra protection against small punctures, but the tread nevertheless wears out at a fast rate, so don't expect miracles. Look after it though, and you'll be setting personal records in no time.
7. Vittoria Rubino
Best tubeless road tyre for training
Specifications
Size:
700x25, 700x28, 700x30
Added Puncture Protection:
PRB anti-puncture layer
Primary Purpose:
Training
Reasons to buy
+
Weight
+
Performance
+
Variety
Reasons to avoid
-
Prone to puncturing despite protection measures
The Rubino represents the middle ground of Vittoria's tyre collection, doubling up as training and all-weather racing option. The five-prong line-up offers tyres of varying functionality and weight class - a standard Rubino weighs in at a portly 335g while the race-focussed Rubino Pro Speed just 200g (25mm).
Graphene 2.0 features throughout the model line-up, a compound claimed to add life and improved levels of performance to the mix. The Rubino offers impressive levels of grip and puncture protection, the trade-off of which is straight-line speed.
Best tubeless road tyre when you want every aero advantage
Specifications
Size:
700x25, 700x27, 700x29, 700x31
Added Puncture Protection:
Vectran Protection Barrier
Primary Purpose:
All-around
Reasons to buy
+
Aero optimised
+
Weight
+
Hookless compatible
+
Wide options available
There are marginal gains to be had by making sure even your tyres are aero-optimised, with Enve claiming that the SES tyre will add roughly one watt of aero advantage over competing tyres. The concept is truly for those looking for every bit of optimisation possible but that's not the only advantage. In the same way that it makes sense to grab one of the best aero helmets because these are great helmets that happen to be aero, the Enve SES tyres are great tyres too.
Enve understands that a fast tyre has to be an all-around tyre and it's that useability that the design team narrowed in on. The tyres are light for their size but not the lightest out there. Instead, they've included a Vectran Protection Barrier because no tyre is fast when it's flat. There are also wide sizes available that allow you to tailor the ride feel in a way that makes sense to you. These tyres are fast but not to the point that they become a race-day-only option.
What you need to know about tubeless road tyres
When deciding which tubeless tyres to get for your road bike, first consider whether or not you actually need (and want) tubeless tyres. There are numerous benefits to going tubeless, but even the best tubeless road tyres come with a few negatives that you need to be aware of.
Will I still experience flat tyres with tubeless road tyres?
One of the main benefits of tubeless road tyres is increased puncture protection, but that doesn't necessarily mean fewer punctures.
However, when an object pierces the tyre, the pressurised air tries to escape through that hole. As it does, sealant is pushed through the hole. The best tubeless sealant will clog up rapidly, plugging the hole and fixing the puncture with only a small loss of pressure. Most of the time, with the kind of punctures you tend to pick up from small bits of glass, rocks or thorns, you might not even notice it happening and can just keep riding along as if it didn't, although you may find a spray of sealant on your frame next time you wash your bike.
Sealant alone won't be able to fix larger cuts in the tyre (anything over about 5mm) but what makes tubeless tyres different is that you've not got extra layers of flat protection. Your first layer is the tyre itself but that's the same as a tube-type tyre. Without an inner tube, you avoid many of those roadside repair jobs.
The next layer of protection is the sealant, which is usually enough to solve the problem. If your tubeless sealant fails then your next step of puncture protection is a plug system such as those offered by Dynaplug.
Do I still need to carry a tube when using tubeless road tyres?
It can sometimes happen that you find yourself unable to fix a flat. The hole may be too big for the sealant and for one reason or another, the plug repair may not hold.
The nice thing about tubeless tyres is that you still aren't stuck. You should always carry a tube with you as a last line of defence. There's nothing that says you can't put a tube in a tubeless tyre and get yourself home, although it can be a messy business due to the sealant.
Even more convenient is the fact that with tubeless you may go for years never using your emergency tube. A TPU inner tube like those from Tubolito, Schwalbe and Vittoria might be more expensive but given the rarity of use, they start to make a lot of sense for their compact size and low weight.
How much pressure should I run in tubeless road tyres?
In the eyes of this writer, there is no bigger advantage to running tubeless road tyres than the ability to run lower pressures. With a tube in a tyre you run the risk of pinch flatting any time your wheel experiences low pressure.
Removing that obstacle means you can run the right pressure for your weight with your wheels and it's probably a lot less than you think it is. My favourite place to look up the right pressure is on the Enve Tyre Pressure Chart.
Running a lower pressure isn't just about comfort. Sure, you'll have a more comfortable ride when you don't overinflate your tyres but there's more to it. Running lower pressure also helps with flat resistance. If you want to visualize this, think about a balloon that's as full as possible vs a balloon that's a bit flat. Given the extra ability to stretch and conform, the flatter balloon is harder to pop.
Are tubeless tyres faster?
This question follows the lower-pressure question because it tends to be the next question in the discussion.
No road is perfectly smooth, it will always have small bumps and imperfections, and however small they may be, they deflect forward motion upwards as you and your bike roll over it. Each of those deflections causes a small loss in momentum, resisting the wheel's ability to roll. By lowering that resistance, a wheel (and therefore the bike and its rider) will be faster for a given power output.
There are a couple of ways that tubeless tyres enable this. First, the lower tyre pressures enable more suppleness overall, meaning the tyre can more easily conform to those imperfections, rather than deflecting over them.
Secondly, removing the inner tube from the equation means there's no sliding friction between the inside of the tyre and the tube inside, which makes it easier for the rubber to contort around the bump and lower frictional loss.
If you want to dive even deeper into this then Silca will take you about as deep as anyone would want to go. They have an article that explains their tyre pressure calculator and gets very detailed. Their tyre pressure calculator is also another resource although I tend to use the Enve reference because it's less complex.
Are there downsides to the best tubeless road tyres?
The main downsides revolve around installation. There's no getting around the fact that putting a tubeless road tyre on a rim is almost always a more difficult process than mounting a tubed tyre. You may need an (expensive) reservoir pump to get the tyre to seat properly and sometimes even the best tubeless sealant doesn't ensure a leak-free seal to the rim.
Tubeless tyres aren't maintenance-free either. The sealant will dry up over time, so you need to check it regularly and keep it topped up to preserve your puncture protection.
Not only that but if you are changing a tyre it's likely to be a messy experience. The upside is that it's only getting easier as the manufacturers of wheels and tyres iron out standards that mean every tyre fits every wheel in the way you'd expect.
Are my wheels tubeless compatible?
Before buying any of the best tubeless road tyres, you'll need to check that your wheels are actually tubeless compatible. Some wheels will say this on the rim sidewall, while others will hide the info on the rim bed beneath the inner tube. If you can't find it on the wheel itself, check with the manufacturer.
If the wheels aren't tubeless compatible, they will be less likely to offer the tight fit needed to remain airtight, and even though you can sometimes get them to seal, you run the risk of them failing later down the line, potentially whilst descending at speed. It's not recommended to try to set up tubeless unless both your wheels and rims are tubeless-ready.
The good news is that most of the best road bike wheels are now tubeless-ready, so if you're looking to upgrade your wheelset this is unlikely to be a problem.
What are hookless rims?
The latest new wheel tech is hookless rims, which have actually been ported over from mountain bike wheels, where they've been a feature of top spec wheels for years. They're designed to be used with tubeless tyres.
A normal wheel rim has a lip to help retain the tyre, but a hookless rim has straight sides without the lip. This makes the wheel lighter (and also cheaper to manufacture), but it also dictates a more precise fit between the tyre and the rim. There are horror stories of tyres blowing off hookless rims and destroying expensive carbon wheels.
But tyre and wheel makers have worked together to ensure the precise tolerances needed in both their products and many tubeless tyres are now hookless rim compatible.
Nevertheless, it's wise to ensure that your wheel-tyre combination is compatible - check the websites for both - before mounting a tyre on a hookless rim. Also observe the recommended tyre pressures, as both wheel and tyre makers will have a safe maximum.
What size tubeless tyres should I get?
This depends on a number of factors, including the internal width of your rims, the clearance offered by your bike, your riding habits, and ultimately your preferences. Of course, we're talking road tyres, so we're going to assume you're riding a bike with 700c wheels, but when it comes to width, there are plenty of factors to consider.
If you're riding all-day epics on a disc brake-equipped road bike, you'll probably have enough clearance to run wider tyres, and would likely benefit from anything between around 28c and 32c. However, if you're riding a rim brake road bike, your brake calipers will limit you to narrower widths.
If you're racing, you probably don't need the comfort of a 32c tyre and would find greater benefit in the lower weight and increased aerodynamics of going narrower. But of course, this all depends on the width and shape of your rim, as most modern rims are designed for optimal use with a specific tyre size - which the manufacturer will no doubt be happy to tell you, if it's not already published.
How much puncture protection do I need from my tubeless tyres?
Given all tubeless road tyres are designed to self-seal punctures, you might be forgiven for thinking that you no longer need to worry about the level of puncture protection, but the reality is that they can still be susceptible to damage.
Like tube-type tyres, the best tubeless road tyres come in various forms. Some are designed as a fit-and-forget solution to punctures, while others are almost paper-thin and designed to minimise rolling resistance. These thin tyres will still seal punctures, but as they are more fragile, they will be more prone to larger tears and they will typically wear out more quickly.
Exactly how much puncture protection you need will depend on your riding habits. If you're fitting tubeless tyres for your commute, then durability and high levels of protection will likely be more important than the few watts you might save.
In contrast, if you're fitting tubeless tyres to your time trial bike, then thinner, more supple tyres will help you go faster. Those are the extremes, but there are plenty of options that balance speed and protection well.
Which tubeless sealant should I use?
This depends, because the best tubeless sealant comes in various forms. Some are designed to seal very quickly at high pressures, but these will usually dry out more quickly in the tyre.
Others prioritise longevity, meaning they can last for six months and more before drying out inside the tyre, but they will usually be a little slower at sealing the puncture, resulting in a probable need to top the air up before continuing your ride.
Get The Leadout Newsletter
The latest race content, interviews, features, reviews and expert buying guides, direct to your inbox!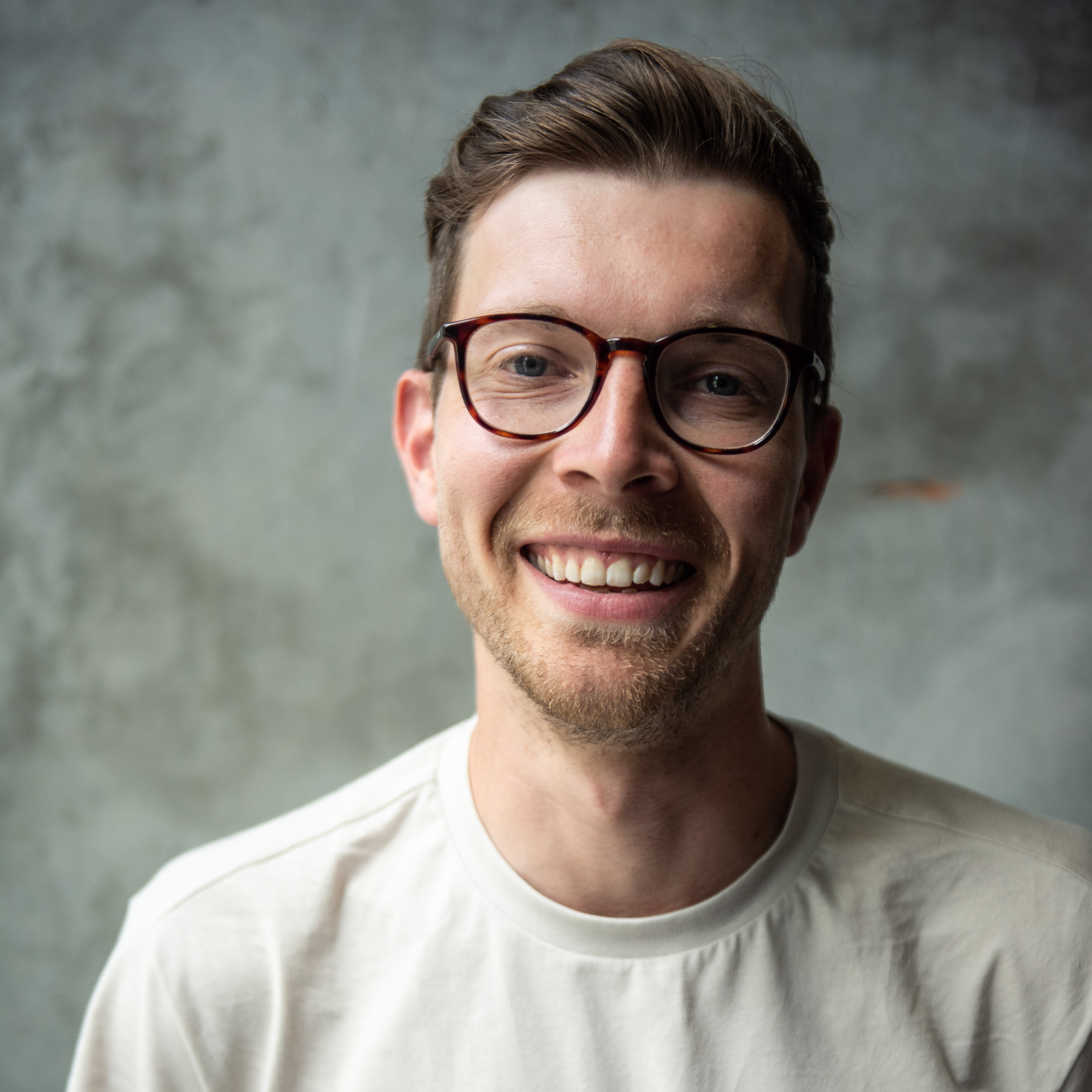 As the Tech Editor here at Cyclingnews, Josh leads on content relating to all-things tech, including bikes, kit and components in order to cover product launches and curate our world-class buying guides, reviews and deals. Alongside this, his love for WorldTour racing and eagle eyes mean he's often breaking tech stories from the pro peloton too.
On the bike, 30-year-old Josh has been riding and racing since his early teens. He started out racing cross country when 26-inch wheels and triple chainsets were still mainstream, but he found favour in road racing in his early 20s and has never looked back. He's always training for the next big event and is keen to get his hands on the newest tech to help. He enjoys a good long ride on road or gravel, but he's most alive when he's elbow-to-elbow in a local criterium.