Best winter bib tights 2022: Keep warm and dry as winter sets in
The best winter bib tights to keep you warm and toasty on the bike when the temperatures drop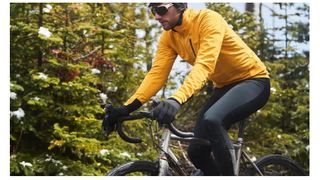 (Image credit: Future)
As we move into winter proper, especially for those of us in the Northern Hemisphere, our best winter bib tights are starting to get used regularly as the temperatures dwindle and lightweight summer kit is retired for the next few months.
In spring and autumn, the best cycling shorts and leg warmers ensure full leg coverage and keep you warm. It's possible to ride with shorts and leg warmers all year round, I certainly have in years gone by. However, the best winter bib tights on the market can give you another level of protection and warmth during the winter months that can make heading out the door for a winter ride a far more appealing prospect when it's really chilly. Technical features like Windstopper material and soft fleece linings can provide a whole other level of comfort when out on the bike.
Winter tights in our opinion are one of the most difficult pieces of cycling kit to get right from both the manufacturer's and consumers' perspectives. There is a range of choices and weights so it's best to research before you invest in some winter bib tights.
Bibtights are all for wearing when the temperature drops, but there are quite a few branches to the tree. Bibtights will vary in weight, chamois design, weather and waterproofing and fit and cut. Some bib tights also come without a chamois and are mainly worn over bib tights by some riders.
Bibtights on average tend to be a little more expensive than bib shorts, it's important before you make an investment to ensure your buying the best set for your riding demands. Explore this buyer's guide for an in-depth look at our pick of the best bib tights for winter cycling. If you are overhauling your winter wardrobe have a look at the best winter cycling jackets and best winter cycling gloves to go with them.
Our team at Cyclingnews have years of combined experience in product testing. We have put the hard yards in, in cold, wet conditions to test bib tights and find out which ones are worth including in our buyer's guide here.
Best winter bib tights available today
Why you can trust Cyclingnews Our expert reviewers spend hours testing and comparing products and services so you can choose the best for you. Find out more about how we test.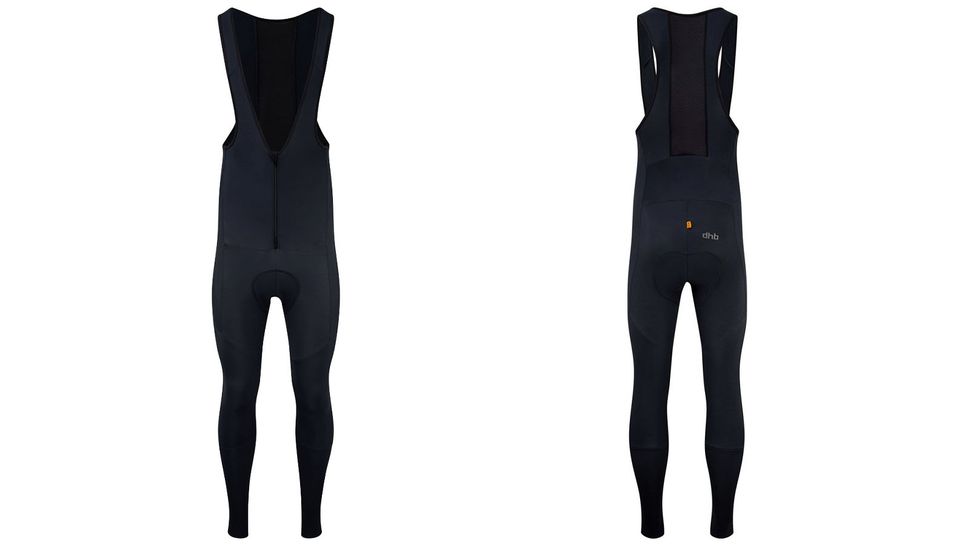 dhb Classic Thermal bib tights
Best winter bib tights for high value performance and warmth
Reasons to buy
+
Great performance for the price
+
Fleece fabric comes up high for added warmth
+
Super soft fleece lining
Reasons to avoid
-
May struggle slightly with sub zero temperatures
The vast majority of bib tights command a heavy price tag, but you don't have to spend a bundle to stay warm this winter. dhb's Classic Thermo bib tights are comfortable and do a great job of keeping you warm and comfy on the bike. Like all the rest, they are made from soft fleece-lined fabric, which comes up well above your waist to keep your core warm and feeling cosy. The rear back section is a thinner mesh. For these tights, in particular, dhb has partnered with the MITI Spa textile mill, using its Lombardia 235gsm Roubaix fabric, which is bluesign-approved.
Inside, you'll find an Elastic Interface Giro Air custom chamois, which dhb says is ideal for rides over three hours. The latest version of these tights features a lengthened front zipper to make taking the tights on and off easier and comfort breaks easier. The zipper also has a cover at the top to prevent potential irritation which is a nice touch. Ankle zippers and grippers have been replaced with a more straightforward compression stitching that holds the hem firmly in place. Branding is subtle with a silver dhb logo on the right leg and rear.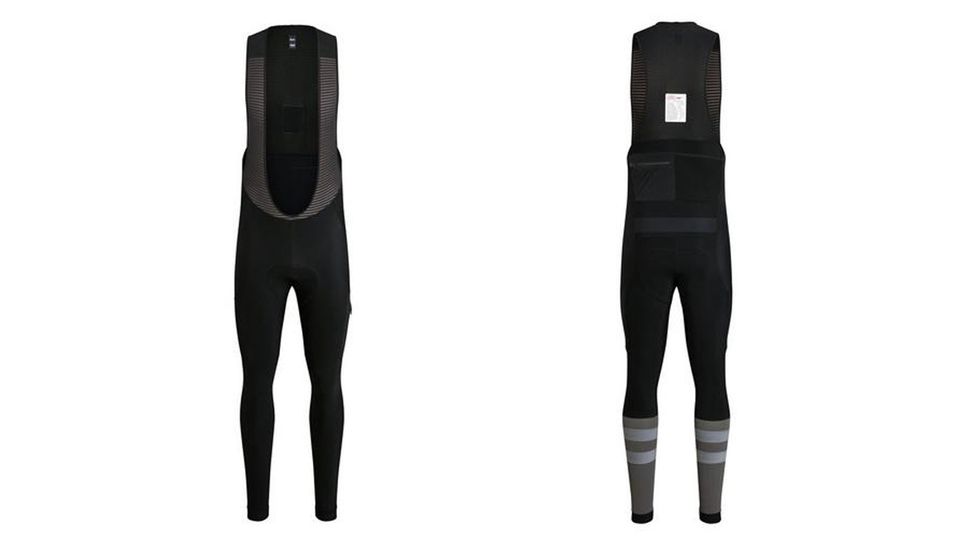 Rapha Cargo Winter bib tights
Best winter bib tights if you want to carry a little more or for longer expeditions
Reasons to buy
+
Cargo pockets on the right leg and the lower back
+
Big reflective panels
+
DWR coating
Made from a fleece-backed Roubaix-style fabric, Rapha's Cargo Bib Tights are a winter-ready version of its popular cargo riding shorts. There's a pocket on the right leg and lower back so you can easily access snacks, and two pockets on the lower back to carry things that you don't need at a moment's notice. Both pockets on the left-hand side are both zippered and lined with water-resistant fabric.
The bib tights are DWR-treated to shed light rain and road spray, and there are two large reflective panels on the back of either calf to draw attention which should aid visibility in the gloom.
Sportful Fiandre NoRain Team bib tights
Best winter bib tights for riding hard in the rain
Reasons to buy
+
Will protect you from rain and spray
+
Lightweight enough to ensure you dont overheat on hard rides
Reasons to avoid
-
May still be a little chilly in freezing conditions
The Sportful Fiandre No Rain tights are aimed at keeping you warm and dry in cold and wet conditions. The NoRain thermal fabric has a nanotechnology treatment which isn't completely waterproof but aims to keep the worst of the spray and water away. The tights are still thin enough that they won't be restrictive during a hard club run or training efforts. So could be a good choice if you're riding hard and want to stay warm in foul weather.
The have a distinctive red stripe on the left leg which matches the Fiandre overshoes if you want to match. The ankles have zippers and some small and neat reflective logos.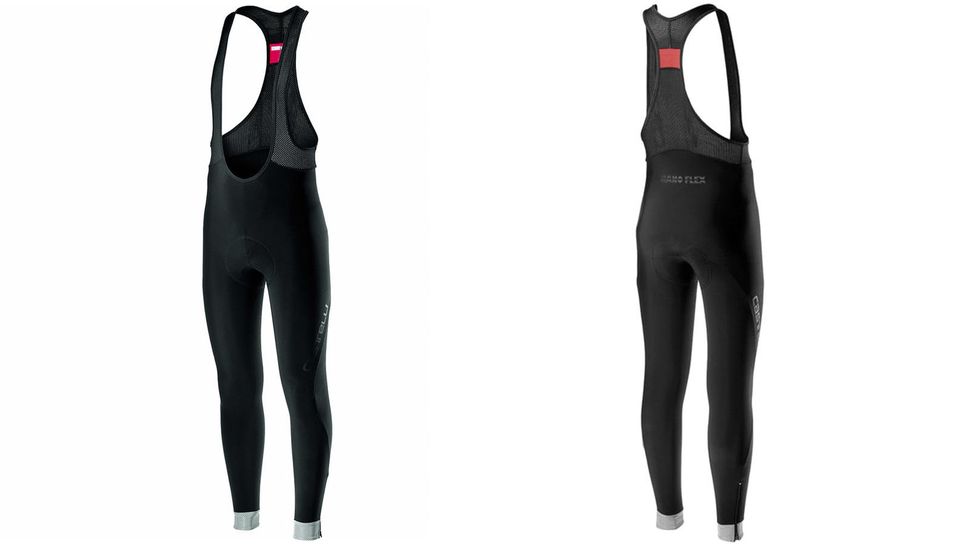 Castelli Tutto Nano bib tights
Best winter bib tights for all around riding in milder conditions
Reasons to buy
+
The highly renowned Kiss Air2 chamois pad is comfortable for a wide range of riders
+
DWR treated for rain protection
+
Reflective ankles
Reasons to avoid
-
Not warm enough for sub-zero temperatures
Warm, stretchy, and luxurious are words we would use to describe Castelli's Tutto Nano Bibtight. Which is a do-everything bib tight from Castelli. With a recommended temperature range of 4°C - 16°C / 39°F - 61°F and Made from the Italian outfit's Nano Flex 3G fabric, the brand says the exterior DWR treatment introduces a 'nanotechnology mechanical repellency' to enhance droplet-shedding ability. They aren't waterproof but will handle a decent amount of rain, all without sacrificing breathability.
The interior is brushed to trap heat, and Castelli has reduced the number of seams and improved the tailoring to lessen pinching and chafing. The brand has also included its Kiss Air2 seat pad to keep you sitting pretty for many hours when the weather is less than enticing.
Assos Equipe RS S9 Winter bib tights
Best money-no-object winter bib tights
Reasons to buy
+
High-compression insulating material
+
DWR treatment
+
Pelvis-stabilising bib straps
+
Waterproof shin and calf panels
If you're looking for a statement piece this winter, or something to truly motivate you to get outside when the weather is foul, then Assos' Equipe RS S9 bib tights are sure to do that, if for no other reason than to get your money's worth.
These bib tights feature all of Assos' top-tier tech, including a combination of Sphere Ultra and Sphere Medium fabrics, which are used strategically to offer maximum weatherproofing, insulation and breathability wherever it's needed most.
They feature the A-Lock bib strap design, which anchors lower down to support and stabilise the pelvis and lower back. They also come with a waterproof panel around the full circumference of the lower half of the legs, to keep the road spray at bay, and it doubles up as a safety measure with its reflectivity.
MAAP Apex Deep Winter Bib tights
Best winter bib tights if you are riding all winter
Reasons to buy
+
Stylish design with two colour options
+
Wide, seamless bibs are very comfortable
+
Windproof upper panels add extra protection
The MAAP Deep winter bib tights are designed to allow you to keep riding and training throughout the winter period. Recommended for use from below freezing up to around 10 degrees or 50 Fahrenheit. You could by all means use them in warmer temperatures but may find yourself getting a little warm.
The Italian-made Deep winter tights use fleece-lined bluesign-approved fabric, which means they use chemicals and production processes that are safe for the environment. The lower legs and rears use a fleece-lined fabric with a DWR water-resistant coating whilst forward-facing fabric is a heavier weight windproof fabric to keep you warmer in the depths of winter. The Chamois is a black, anatomically designed multi-layer number which was comfortable from the off.
Finally, the MAAP Apex tights are certainly a stylish pair, especially in their Navy colourway with larger white logo's on the thighs and ankles. Elastic ankle hems keep the tights in place at the ankle, and the bibs themselves are seamless and nice and wide to help prevent any pinching or bunching up.
Best winter bib tights for sub-zero conditions
Reasons to buy
+
Windproof material offers incredible performance
+
Excellent chamois
+
Better than average visibility
Reasons to avoid
-
Reasonably expensive
-
Could have warmer material on the lower back
Velocio Zero Bib tights are deep winter bib tights designed for the coldest temperatures. They are made from a combination of weatherproof materials at the front and more breathable materials at the rear to create a product designed to battle freezing temperatures. The front-facing panels are made using a material that is both windproof and water-resistant, while the rear uses a DWR-coated ThermoRoubaix Power, which is fleece backed for added warmth.
While the back panel could offer a little extra warmth, the overall performance is exceptional, keeping us warm and comfortable on multi-hour rides in all conditions. Reflective panels extend halfway up the calves for increased low-light visibility, backed up by a couple of small reflective Velocio logos. The legs also feature an ankle loop to keep them in place.
Available in men's and women's cuts, they get a gender-specific chamois that is proprietary to Velocio but designed in conjunction with chamois experts, Cytech. The women's version sees Velocio's FlyFree back, which allows for nature breaks without also having to take off all your layers, while the low-cut front offers a similar solution for men.
Take a look at our Velocio Zero bib tights review.
Best winter bib shorts for comfort on long rides
Reasons to buy
+
High quality chamois
+
Second layer on leg panels aids warmth
+
More regular fit will suit more riders
The Assos MILLE GT Ultraz have a slightly more relaxed cut than the racing fit of the Equipe RS model. With a focus on total comfort on the bike. The GT Ultraz use Assos RX heavy fabric on the skin-facing side of the legs, which is a brushed fabric to provide high warmth and wicking properties.
Externally the tights get interesting with the inclusion of the NEOS ULTRA windproof, water-repellant second layer along the leg panels. This makes the upper leg sections almost feel like a jacket with its double layer of fabric. This only adds a small amount of weight but adds a lot more water repellency and wind protection.
The chamois is the MILLE GT EVO insert and features 8mm of memory foam in its makeup which should keep you comfortable on the longest rides. Externally there are some subtle button logos in a few places and reflective bands on the rear of the calves.
Rapha Pro Team Winter bib tights
Best winter bib tights for cold and wet weather training
Reasons to buy
+
Reflective logo and detailing aid visibility on dark days or at night
+
Size-specific chamois
+
Classic Rapha styling and good looks
Reasons to avoid
-
You may be tempted into wearing them on warmer days and pay the price
The Rapha Pro Team winter bib tights are a heavy-duty winter offering from Rapha. Designed for cold weather training and racing the Pro Team bib tights feature a brushed fleece nylon and polyester mix. The Material above the calves gets a thicker gridded internal design which Rapha say helps lock in warmth and wick sweat away. In-person this takes the shape of very small squares of raised material in grids which does a good job of increasing warmth. Similar to the MAAP Apex deep winter tights the front panels of the Pro Team tights feature heavier-weight wind-blocking fabric and a DWR water-resistant coating.
The Pro Team chamois pad is another top-end offering from Rapha and is also size specific which is a nice touch. Externally the tights are available with black or white colour bibs which are elastic and a nice width, something I find really adds comfort.
It seems visibility has been taken seriously by Rapha with a large reflective logo on the right thigh and a white one on the left, white stripes on the calves and some additional reflective tabs at the rear. Which should all help riders stay that little bit more visible whilst out riding on dark winter days.
Best winter bib tights for spring, autumn and winter
Reasons to buy
+
Nanoflex materials offer light but high-warmth insulation and water-resistance
+
Reflective panel on calves
+
Long zipper for easy fitment and removal
Reasons to avoid
-
Suitable down to freezing, not beyond
-
Printed-on Castelli logos peel off eventually
RoS stands for 'rain or shine' and that is precisely where the Sorpasso RoS tights are designed to excel. The base fabric is made from the same NanoFlex 3G weather-resistant fabric as the Tutto bibs up above, but Castelli has also integrated NanoFlex Xtra Dry fabric across the front panel, over the thighs, and at the rear to increase water resistance.
Castelli rates them for use down to freezing (0C/32F), which is about as cold as many cyclists will go before turning to the indoor trainer, but in our experience, they can go a few degrees cooler without issue. They benefit from the Progetto X2 Air pad, which almost everyone seems to get on with, and the layflat bib straps stay comfortable as you pile on the layers. They also come in four different versions with slightly different colour options.
They do size up smaller than average, so we recommend sizing up, and our only gripe is that the Castelli logos are printed on and very quickly peel off. This doesn't affect their otherwise exceptional performance in any way, though.
Galibier Energie 2 bib tights
Best winter budget friendly bib tights if you want a cargo pocket
Reasons to buy
+
Affordable price
+
Additional cargo pocket for carrying supplies
+
Non-slip ankle grippers
Reasons to avoid
-
Cargo pocket may put some purists off
-
Not suitable for sub zero rides
Galibier has been quietly making good quality, affordable cycling kit for the last 13 years and the Energie 2 bib tights certainly meet this brief. They are an affordable pair of winter bib tights with a cargo pocket on the right-hand thigh so you can stow snacks, spares or litter.
Rated for use between 4C/39F and 14/57F, the Energie bib tights are made from Thermoroubaix fabric which has a soft fleece lining, and ankle zippers allow you to put the tights on quickly. Ergonomic flat stitched panels should help prevent bunching in areas such as behind the knee too.
The feel and look of the bib tights compete with more expensive offerings, with a quality chamois and subtle single logo on the rear the Energie 2 could be a strong choice for all but the coldest rides.
Endura Pro SL II bib tights
Best winter bib tights for on bike comfort
Specifications
Chamois:
Yes (available without)
Reasons to buy
+
Choice of chamois width
+
Available without chamois to wear over shorts
+
The clever placing of Windproof panels
Reasons to avoid
-
Sizing does run a bit large
The winters in Scottland are the opposite of mild, so it's no surprise to see Endura making some of the best bib tights out there. The bulk of the Pro SL II bib tights is made from ThermoRoubaix fabric with a plush brushed interior, while the outside gets a DWR treatment to stave off the elements, and on the front, Endura has added windproof panels in critical areas to ensure the cold doesn't make its way inside. However, it sets itself apart by using a DWR-M treatment, free from PFC (per-fluorinated chemicals), which are man-made and harmful to the environment.
Endura offers the Pro SL II bib tights with three widths of its 700-series chamois to tailor the fit to your sit bones and saddle which is something you don't see featured on every pair of tights. On the back, you'll find reflective stripes on the calves for added lowlight visibility. There are no ankle zippers, but there is one front zipper to make nature breaks a bit less awkward.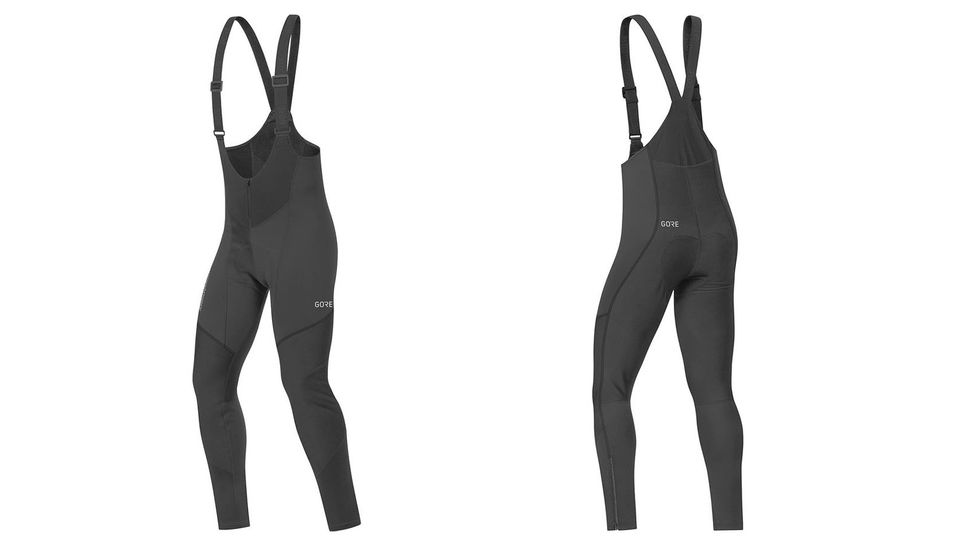 Gore Wear C3 Windstopper bib tights
Best winter bib tights for fine tuning fit thanks to the adjustable bibs
Reasons to buy
+
Windstopper fabric
+
Adjustable bib straps
+
Available in men's and women's cuts
Reasons to avoid
-
High-vis colour doesn't reflect light
If you're the type of person who heads out for a ride even if it's snowing sideways and the mercury has dropped through the bottom of the thermometer, then the Gore Wear C3 Windstopper Bib tights should have a place in your closet.
Large panels of Windstopper fabric across the front of the tights defang biting winds, the face fabric is also DWR-treated to protect from showers. On the inside, a brushed lining traps warmth to make the most of the heat your legs and core generate.
Windstopper fabric isn't quite as elastic as ThermoRoubaix or other unlaminated textiles, so Gore has tailored the C3 bib tights with an articulated fit to allow a full range of motion, without binding or pinching as you pedal. What's more, the C3 is one of very few bib tights to offer adjustable straps, so those with short or long torsos will benefit from perfectly fitting straps.
How to choose the best winter bib tights for you
There are a few things that will influence your buying decision regarding the best pair of winter bib tights for you. Firstly your riding conditions and winter temperatures if you are somewhere where it's below freezing for long periods a heavyweight warmer pair of tights will be a good idea. If things are a little warmer you can get away with more of an all-rounder paired with some of the best winter socks to help keep your legs and feet warm. Secondly consider the type of riding you will be doing outside. If you're out commuting and doing long base miles whatever the weather again consider some heavyweight, super-warm tights. If once the dark nights roll in a lot of your riding is indoors with perhaps a few faster club bashes or chain gangs you can probably get away with a thinner pair of tights or even a pair of leg warmers.
What's best for cycling, waist tights or bib tights?
Just like standard shorts are available in waist or bib style, so are winter tights. We prefer the latter because they're less likely to ride down as you ride, nor do they require elastic around your waist. Beyond just holding the tights in place, the knock-on advantage of bibs is the straps allow the insulating fabric to come up over your stomach and back to keep your core warm. Also if you ride in tights without bibs and the tights the ride down, a gap exposing bare flesh between the hem of your jacket and the tight waistband isn't a great look.
Weatherproofing
While the best winter cycling jackets have perfected the art of combining windproofing with breathability, and the best waterproof cycling jackets have nailed keeping the water out at all costs, the best winter bib tights aren't quite there yet. When you think about the motion your legs go through as you pedal, the fabrics used for bib shorts and tights need to be dynamic and extremely malleable to allow a full range of movement. The nature of the laminated materials and perforated membranes haven't quite reached this level of stretch, and for something to be truly waterproof, the entire garment needs to be made from such a fabric — so a pair of tights made from three-layer Gore-Tex wouldn't be all that comfortable, and a pair made from Shakedry wouldn't have enough flexibility, so would likely rip in the first ride.
With that said, strategically placing Windstopper on the areas that are exposed to the breeze can do wonders for adding warmth. Many bib tights also receive a DWR treatment - Durable Water Repellent - which will cause water to bead and roll off rather than soak in. This is not quite the same thing as waterproofing and DWR will be overcome in a deluge.
How much insulation do my bib tights need?
Most bib tights will be made from what's commonly referred to as Roubaix fabrics, similar to what your arm and leg warmers are likely made from. This fabric comes in different weights and has a brushed interior for on-skin comfort and to trap some heat.
It's probably a statement of the obvious, but the thicker this material, the warmer your bib tights are likely to be and to make it easier to comprehend, almost all brands stipulate a recommended temperature range for their bib tights. Match this temperature range with the conditions you're likely to ride in most often to find the right material weight for you.
Should I buy bib tights with or without a chamois pad?
The age-old question is whether or not they should have a chamois. It seems that brands are generally moving towards bib tights with chamois.
The argument for with-chamois is that you're wearing fewer things and there are fewer grippers, seams and changes in fabric to rub, chafe, bunch, or cause other discomforts.
However, if you go chamois-free, you can wear your summer bib shorts beneath, which means, in addition to the second layer of insulating material, your tights don't need to be washed after every use (assuming they don't get caked in mud, of course), and you can cycle your bib shorts through the washing machine instead preventing you from needing to invest in quite so many pairs of bib tights. If you really get on with a particular chamois and pair of shorts this could also be a good solution to keep riding in comfort.
Should I buy bib tights with zippers?
Many bib tights will have zippers at the ankles and some at the stomach. These are simply to assist with getting the bib tights on and off — which they do.
Bear in mind that zippers can also cause some discomfort or chafing if they are poorly placed, so bear this in mind if you have sensitive skin or are prone to irritation, but it's worth noting that the zipper will usually sit on top of another layer of clothing - your socks or your base layer, depending on where it's placed.
Tom joined the Cyclingnews team in late 2022 as tech writer. Tom has over 10 years experience as a qualified mechanic with 5 or so of those being spent running an independent workshop. Tom has ridden and raced bikes from an early age up to a national level on the road and track and has ridden and competed in most disciplines, even the odd bit of bike polo. Tom is as happy tinkering away in the garage as he is out on the road bike exploring the Worcestershire lanes.
The latest race content, interviews, features, reviews and expert buying guides, direct to your inbox!
Thank you for signing up to The Pick. You will receive a verification email shortly.
There was a problem. Please refresh the page and try again.