Virtual Tour of the Gila: Comeau wins stage 2
By Cyclingnews
Saris + Pros Closet rider beats McGlinchey and Venhuizen
Stage 2 Men: Big Foot Hills - Watopia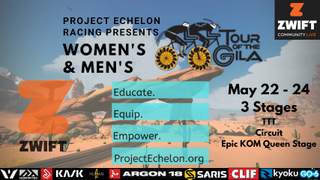 (Image credit: Project Echelon)
Holden Comeau (Saris + The Pros Closet) won the second stage at the Virtual Tour of the Gila on Saturday. He took the sprint victory ahead of Chris McGlinchey (Vitus Pro Cycling P/B Brother) and Austin Venhuizen (Subaru Santa Monica Racing).
McGlinchey was solo with eight kilometres to go, but he wasn't able to hold off the main field during the closing kilometres of the circuit race. L39ION of LA teammates Cory Lockwood and Tyler Williams counter-attacked with six kilometres to go, but they too, weren't able to gain enough time on the field.
Twenty riders sprinted toward the finish line where Comeau took the victory. It was the second victory for Saris + The Pros Closet after they won the team time trial on stage 1.
Stage 2 featured five difficult KOMs, three of which required more than 7w/kg to stay with the lead group, according to a statement from Saris + The Pros Closet. Five riders fro the Saris + The Pros Closet team made it to the final sprint, setting up team sprinter, Comeau, with the perfect lead up with only 300 metres to go.
"They brought me in close to the line so I only needed a short kick. I hit over 16 w/kg for about 12 seconds. It was one of the closest finishes I've ever been in. We won by 0.003s, but I'll take it," Cameau said.
The Virtual Tour of the Gila continues with stage 3 on Sunday, with racing for the men at 11:00 CDT and the women at 1:00PM CDT.
Virtual Tour of the Gila stage 2 - video replay
Brief Results

| Pos. | Rider Name (Country) Team | Result |
| --- | --- | --- |
| 1 | Holden Comeau (Saris + Pros Closet) | 1:28:44 |
| 2 | Chris McGlinchey (Vitus Pro Cycling P/B Brother) | |
| 3 | Austin Venhuizen (Subaru Santa Monica Racing) | |
| 4 | Tyler Williams (L39ION of LA) | |
| 5 | Cormac McGeough (Wildlife Generation) | |
| 6 | Ryan Larson (Saris + Pros Closet) | |
| 7 | Alex Fraser-Maraun (Red Truck Racing) | |
| 8 | Gavin Dempster (Saris + Pros Closet) | |
| 9 | Olly Moors (E-Stellas) | |
| 10 | Tucker Wetmore (Support Clean Sport/ Guttenplan Coaching) | |
Sign up to the Cyclingnews Newsletter. You can unsubscribe at any time. For more information about how to do this, and how we hold your data, please see our privacy policy