Virtual Tour of the Gila: Saris-The Pros Closet win opening team time trial
By Cyclingnews
Toronto Hustle second and Vitus Pro Cycling-Brother third
Stage 1 Men - TTT: Sand to Sequoias Watopia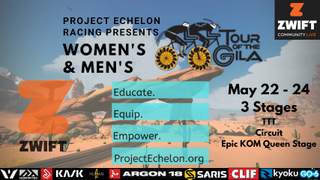 (Image credit: Project Echelon)
Saris-The Pros Closet won the opening team time trial at the Virtual Tour of the Gila on Friday. The team covered the 20km course in 27:32, besting Toronto Hustle by 22 seconds and Vitus Pro Cycling-Brother by 27 seconds.
In a team statement, Saris-The Pros Closet noted that their win was a testament to strategy as other teams averaged considerably higher power, but the team's practice in holding single straight lines paid off, just like in real-life racing. It's difficult to execute, and this skill was key to their success.
As teammate Matt Gardner explained in a statement, "We aimed for 30 second pulls at 6.5w/kg or more, rotating to the back of the group after your turn was up. The result was an average for our 8 riders of 5.1w/kg! What drove our success was our ability to maintain our 8-rider group from start to finish.
"Many other teams put out more power, but our ability to coordinate to maintain speed allowed us to conserve energy for the rest of the weekend.
"This race was some of the most fun we've had racing. Mike Egan took on the role of director sportif, instructing us throughout the race so we wouldn't have to think. It was exactly what we needed. The team all rode their hearts out the second they got to the front of the line, and the coordination took us to the top of the podium."
The Virtual Tour of the Gila continues with stage 2 on Saturday and stage 3 on Sunday, with racing for the men at 11:00 CDT and the women at 1:00PM CDT.
All stages will be streamed through Zwift Community Live and on Cyclingnews.
Virtual Tour of the Gila stage 1 - video replay
Brief Results

| Pos. | Rider Name (Country) Team | Result |
| --- | --- | --- |
| 1 | Saris and The Pros Closet | 0:27:32 |
| 2 | Toronto Hustle | 0:00:22 |
| 3 | Vitus Pro Cycling-Brother | 0:00:27 |
| 4 | Project Echelon Racing | 0:00:32 |
| 5 | Team Tor 2000-Kalas | 0:00:58 |
| 6 | L39ION of LA | 0:01:14 |
| 7 | Red Truck Racing | 0:01:26 |
| 8 | Wildlife Generation | 0:01:33 |
| 9 | Hamilton United | 0:02:02 |
| 10 | CS Velo Racing-Cannondale | 0:02:03 |
Sign up to the Cyclingnews Newsletter. You can unsubscribe at any time. For more information about how to do this, and how we hold your data, please see our privacy policy