Joe Martin: Schneider wins stage 4 criterium and overall title for women
Ewers holds on for second overall while Franz takes third in US stage race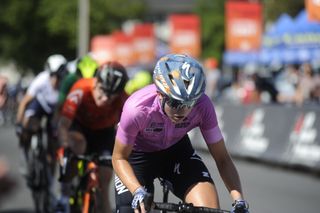 (Image credit: Tom Ewart/ Joe Martin Stage Race)
Skylar Schneider (L39ION of Los Angeles) won the stage 4 Experience Fayetteville Criterium on Sunday and claimed the overall title at the 2021 Joe Martin Stage Race. She grabbed the pink leader's jersey with a win on the opening day of racing in the four-day UCI stage race and never let go.
"I'm extremely happy that we were able to bring home the pink (leader's) jersey. This has pretty much been my biggest goal all year," Schneider said. "To bring this one home feels really good. It shows the L39ION is more than just a crit team, and the women's team is definitely on the right path to becoming bigger and better next year."
Veronica Ewers (Team TIBCO-Silicon Valley Bank) finished second overall in the general classification with a podium finish all four days, including second place in the technical criterium. Rally Cycling's Heidi Franz took third on GC.
The L39ION of Los Angeles squad started their first-ever stage race with a four-rider squad, but lost Amber Joseph and US Pro criterium champion Kendall Ryan after the hilly stage 1.
"I'm really grateful to Julyn [Aguila Hernandez] for being here and helping me. Unfortunately we lost the rest of the squad after the first day so it was the two of us against full teams. We gave everything and it was enough. I think we spoke with our legs this week, and we made a big statement and now we get to celebrate," Schneider added.
Team TIBCO-Silicon Valley Bank had a solid week, Emma Langley took home a pair of stage wins, plus the Queen of the Mountains jersey in addition to Ewers' success. It was all TIBCO on the uphill stage 3 time trial as the team swept the podium, Langley taking the win.
DNA Pro Cycling's Maggie Coles-Lyster led start to finish in the best young rider classification, adding a fourth-place finish in the criterium to two other top 10s.
The Joe Martin Stage Race is a four-day, four-stage professional men and women's cycling race typically held in early spring in Fayetteville, Arkansas. After cancellation last year due to the COVID-19 pandemic, organisers moved the race to the August time slot for its 44th anniversary. 2021 marked the seventh year the race has been part o f the UCI America Tour.
Swipe to scroll horizontally
Full results

| Pos. | Rider Name (Country) Team | Result |
| --- | --- | --- |
| 1 | Skylar Schneider (USA) L39ION of Los Angeles | 50:44:00 |
| 2 | Veronica Ewers (USA) Team Tibco-Silicon Valley Bank | |
| 3 | Emma White (USA) Rally Cycling | |
| 4 | Maggie Coles-Lyster (Can) DNA Pro Cycling Team | |
| 5 | Samantha Runnels (USA) 3T/Q+M Cycling | |
| 6 | Rachel Langdon (GBr) Instafund Racing | |
| 7 | Heidi Franz (USA) Rally Cycling | |
| 8 | Holly Henry (Can) Instafund Racing | |
| 9 | Clara Honsinger (USA) Team Tibco-Silicon Valley Bank | 0:00:08 |
| 10 | Kaitlyn Rauwerda (Can) Team Desjardins Ford | |
| 11 | Caitlin Conyers (Ber) Lux/Sideshow p/b Specialized | |
| 12 | Anet Barrera Esparza (Mex) 3T/Q+M Cycling | 0:00:12 |
| 13 | Sommers Creed (USA) Classic Cycling p/b B-Line | 0:00:15 |
| 14 | Erica Clevenger (USA) DNA Pro Cycling Team | 0:00:18 |
| 15 | Hannah Dalsing (USA) Roxo Racing | |
| 16 | Madeline Bemis (USA) Rally Cycling | 0:00:33 |
| 17 | Emma Langley (USA) Team Tibco-Silicon Valley Bank | 0:00:36 |
| 18 | Kathryn Aman (USA) 3T/Q+M Cycling | 0:00:45 |
| 19 | Lauren Stephens (USA) Team Tibco-Silicon Valley Bank | 0:00:53 |
| 20 | Nicole Frain (Aus) Team Tibco-Silicon Valley Bank | 0:01:16 |
| 21 | Camille Primeau (Can) Team Desjardins Ford | 0:04:02 |
| 22 | Allison Mrugal (USA) Classic Cycling p/b B-Line | 0:05:04 |
| 23 | Yael Klein (Can) Automatic Racing | 0:05:43 |
| 24 | Kira Payer (USA) Lux/Sideshow p/b Specialized | |
| 25 | Holly Breck (USA) Rally Cycling | |
| 26 | Sara Poidevin (Can) Rally Cycling | |
| 27 | Gillian Ellsay (Can) Instafund Racing | 0:06:36 |
| 28 | Brenna Wrye-Simpson (USA) DNA Pro Cycling Team | 0:07:00 |
| 29 | Margot Clyne (USA) DNA Pro Cycling Team | |
| 30 | Jane Tullis (USA) Roxo Racing | 0:07:14 |
| 31 | Julyn Renee Aguila Hernandez (Mex) L39ION of Los Angeles | |
| 32 | Katy Sorrell (USA) Classic Cycling p/b B-Line | |
| 33 | Emma Delisle (Can) Team Desjardins Ford | |
| 34 | Maddy Ward (USA) Team Tibco-Silicon Valley Bank | |
| 35 | Noemie Fortin (Can) Team Desjardins Ford | 0:07:32 |
| 36 | Nicole Shields (NZl) DNA Pro Cycling Team | |
| 37 | Claire Windsor (USA) Lux/Sideshow p/b Specialized | |
| 38 | Elizabeth Gin (Can) Instafund Racing | |
| 39 | Merrill Thierman (USA) Classic Cycling p/b B-Line | |
| OTL | Maeghan Easler (USA) Lux/Sideshow p/b Specialized | |
| OTL | Staci McCudden (Aus) Lux/Sideshow p/b Specialized | |
| OTL | Tracy Carrington (USA) Roxo Racing | |
| OTL | Casandra Cardoza (USA) Classic Cycling p/b B-Line | |
| OTL | Emily Marcolini (Can) 3T/Q+M Cycling | |
| OTL | Rachel Jordan (USA) 3T/Q+M Cycling | |
| OTL | Christie Tracy (USA) 3T/Q+M Cycling | |
| OTL | Kara Lilly (Can) Automatic Racing | |
| DNF | Olivia Ray (NZl) Rally Cycling | |
| DNF | Kimberly Lucie (USA) DNA Pro Cycling Team | |
| DNF | Florence Howden (USA) Classic Cycling p/b B-Line | |
| DNF | Lucy Hempstead (Can) Team Desjardins Ford | |
| DNS | Isabella Bertold (Can) Instafund Racing | |
Swipe to scroll horizontally
General classification after stage 4

| Pos. | Rider Name (Country) Team | Result |
| --- | --- | --- |
| 1 | Skylar Schneider (USA) L39ION of Los Angeles | 6:39:58 |
| 2 | Veronica Ewers (USA) Team Tibco-Silicon Valley Bank | 0:00:13 |
| 3 | Heidi Franz (USA) Rally Cycling | 0:00:39 |
| 4 | Clara Honsinger (USA) Team Tibco-Silicon Valley Bank | 0:00:42 |
| 5 | Anet Barrera Esparza (Mex) 3T/Q+M Cycling | 0:01:55 |
| 6 | Emma Langley (USA) Team Tibco-Silicon Valley Bank | 0:02:25 |
| 7 | Samantha Runnels (USA) 3T/Q+M Cycling | 0:05:11 |
| 8 | Erica Clevenger (USA) DNA Pro Cycling Team | 0:05:32 |
| 9 | Maggie Coles-Lyster (Can) DNA Pro Cycling Team | 0:05:33 |
| 10 | Holly Henry (Can) Instafund Racing | 0:05:49 |
| 11 | Kaitlyn Rauwerda (Can) Team Desjardins Ford | 0:05:52 |
| 12 | Sommers Creed (USA) Classic Cycling p/b B-Line | 0:06:33 |
| 13 | Lauren Stephens (USA) Team Tibco-Silicon Valley Bank | 0:07:05 |
| 14 | Emma White (USA) Rally Cycling | 0:07:24 |
| 15 | Madeline Bemis (USA) Rally Cycling | 0:07:30 |
| 16 | Rachel Langdon (GBr) Instafund Racing | 0:07:53 |
| 17 | Sara Poidevin (Can) Rally Cycling | 0:10:08 |
| 18 | Kira Payer (USA) Lux/Sideshow p/b Specialized | 0:11:20 |
| 19 | Allison Mrugal (USA) Classic Cycling p/b B-Line | 0:11:40 |
| 20 | Caitlin Conyers (Ber) Lux/Sideshow p/b Specialized | 0:13:46 |
| 21 | Kathryn Aman (USA) 3T/Q+M Cycling | 0:14:16 |
| 22 | Margot Clyne (USA) DNA Pro Cycling Team | 0:14:25 |
| 23 | Holly Breck (USA) Rally Cycling | 0:14:51 |
| 24 | Nicole Frain (Aus) Team Tibco-Silicon Valley Bank | 0:17:05 |
| 25 | Yael Klein (Can) Automatic Racing | 0:18:13 |
| 26 | Brenna Wrye-Simpson (USA) DNA Pro Cycling Team | 0:21:39 |
| 27 | Gillian Ellsay (Can) Instafund Racing | 0:22:49 |
| 28 | Maddy Ward (USA) Team Tibco-Silicon Valley Bank | 0:23:55 |
| 29 | Emma Delisle (Can) Team Desjardins Ford | 0:24:11 |
| 30 | Jane Tullis (USA) Roxo Racing | 0:24:21 |
| 31 | Julyn Renee Aguila Hernandez (Mex) L39ION of Los Angeles | 0:25:34 |
| 32 | Camille Primeau (Can) Team Desjardins Ford | 0:26:44 |
| 33 | Hannah Dalsing (USA) Roxo Racing | 0:27:22 |
| 34 | Nicole Shields (NZl) DNA Pro Cycling Team | 0:27:41 |
| 35 | Noemie Fortin (Can) Team Desjardins Ford | 0:29:39 |
| 36 | Elizabeth Gin (Can) Instafund Racing | 0:31:26 |
| 37 | Claire Windsor (USA) Lux/Sideshow p/b Specialized | 0:38:08 |
| 38 | Merrill Thierman (USA) Classic Cycling p/b B-Line | 0:39:28 |
| 39 | Katy Sorrell (USA) Classic Cycling p/b B-Line | 1:03:54 |

Thank you for reading 5 articles in the past 30 days*
Join now for unlimited access
Enjoy your first month for just £1 / $1 / €1
*Read any 5 articles for free in each 30-day period, this automatically resets
After your trial you will be billed £4.99 $7.99 €5.99 per month, cancel anytime. Or sign up for one year for just £49 $79 €59

Join now for unlimited access
Try your first month for just £1 / $1 / €1