Joe Martin Stage Race: Skylar Schneider wins stage 1
L39ION of LA rider takes leader's jersey in four-day UCI race ahead of Franz, Ewers and Honsinger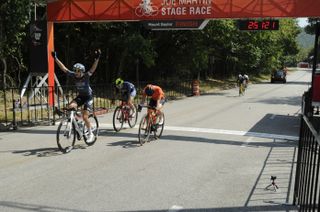 (Image credit: Tom Ewart/NWAPhoto.com)
Skylar Schneider (L39ION of Los Angeles) won the hilly opening day of the Joe Martin Stage Race, outkicking Heidi Franz (Rally Cycling) and Veronica Evers (Team TIBCO-Silicon Valley Bank) at the line in Fayetteville, Arkansas. The trio finished the 60-mile route in 2:51:22.
Two seconds back were Clara Honsinger (Team TIBCO-Silicon Valley Bank) and Anet Barrera Esparaz (3T/ Q+M Cycling), who finished two seconds back. The next groups of riders would cross the finish more three minutes later.
"TIBCO was setting the pace so I stayed behind them. We were nine riders coming into the QOM, and I countered after the QOM points, which took us to five riders going to the line," Schneider said.
"I was patient and waited until about 200 metres to start my sprint, and in the end it worked out. Looking forward to the next three days, it only gets harder so we will have a big job to do but we will try our best."
The women's route for the Mount Gaylor Road Race included 3,700 feet of climbing, starting in Cedarville, Arkansas. After a one-year hiatus because of COVID-19 pandemic, the Joe Martin Stage Race returns as the first of two UCI stage races for men and women in the US this year, having moved from a spring time slot to August 26-29.
Franz earned honours as the mountains classification leader, while Maggie Coles-Lyster (DNA Pro Cycling), sixth on the stage, took the lead in the best young rider classification. Ewers will wear the points classification jersey on stage 2, as race leader Schneider is on top of that competition.
Once across the finish line in Fayetteville, Schneider enjoyed her first UCI win in four years.
"It's been a long time, with a lot of ups and downs since then," Schneider said. "I came here confident, I've been training really hard and using the crits to gain fitness. I conserved energy as long as possible until we got to the main climb."
Swipe to scroll horizontally
Results

| Pos. | Rider Name (Country) Team | Result |
| --- | --- | --- |
| 1 | Skylar Schneider (L39ION of Los Angeles) | 2:51:22 |
| 2 | Heidi Franz (Rally Cycling) | |
| 3 | Veronica Evers (Team TIBCO-Silicon Valley Bank) | |
| 4 | Clara Honsinger (Team TIBCO-Silicon Valley Bank) | 0:00:02 |
| 5 | Anet Barrera Esparza (3T/ Q+M Cycling) | 0:00:03 |
| 6 | Maggie Coles-Lyster (DNA Pro Cycling Team) | 0:03:13 |
| 7 | Rachel Langdon (InstaFund Racing) | 0:03:14 |
| 8 | Olivia Ray (Rally Cycling) | 0:03:16 |
| 9 | Samantha Runnels (3T/ Q+M Cycling) | |
| 10 | Florence Howden (Classic Cycling p/b B-Line) | |
| 11 | Emma White (Rally Cycling) | |
| 12 | Erica Clevenger (DNA Pro Cycling Team) | |
| 13 | Kaitlyn Rauwerda (Team-Desjardins Ford) | 0:03:17 |
| 14 | Allison Mrugal (Classic Cycling p/b B-Line) | |
| 15 | Julyn Hernandez Aguila (L39ION of Los Angeles) | |
| 16 | Sara Poidevin (Rally Cycling) | |
| 17 | Sommers Creed (Classic Cycling p/b B-Line) | 0:03:18 |
| 18 | Lauren Stephens (Team TIBCO-Silicon Valley Bank) | |
| 19 | Nicole Shields (DNA Pro Cycling Team) | |
| 20 | Maddy Ward (Team TIBCO-Silicon Valley Bank) | 0:03:19 |
| 21 | Emma Delisle (Team-Desjardins Ford) | 0:03:20 |
| 22 | Isabella Bertold (InstaFund Racing) | 0:03:21 |
| 23 | Yael Klein (Automatic Racing) | |
| 24 | Kira Payer (LUX/Sideshow p/b Specialized) | 0:03:22 |
| 25 | Madeline Bemis (Rally Cycling) | 0:03:23 |
| 26 | Emma Langley (Team TIBCO-Silicon Valley Bank) | 0:03:25 |
| 27 | Margot Clyne (DNA Pro Cycling Team) | 0:03:26 |
| 28 | Holly Henry (InstaFund Racing) | 0:03:28 |
| 29 | Kathryn Aman (3T/ Q+M Cycling) | 0:03:31 |
| 30 | Gillian Ellsay (InstaFund Racing) | 0:03:41 |
| 31 | Emily Marcolini (3T/ Q+M Cycling) | |
| 32 | Christie Tracy (3T/ Q+M Cycling) | 0:03:43 |
| 33 | Holly Breck (Rally Cycling | 0:04:01 |
| 34 | Elizabeth Gin (InstaFund Racing) | 0:08:33 |
| 35 | Noemie Fortin (Team-Desjardins Ford) | 0:11:15 |
| 36 | Kimberly Lucie (DNA Pro Cycling Team) | |
| 37 | Camille Primeau (Team-Desjardins Ford) | |
| 38 | Brenna Wrye-Simpson (DNA Pro Cycling Team) | 0:11:16 |
| 39 | Claire Windsor (LUX/Sideshow p/b Specialized) | |
| 40 | Iris Gabelier (Team-Desjardins Ford) | 0:11:17 |
| 41 | Casandra Cardoza (Classic Cycling p/b B-Line) | 0:11:20 |
| 42 | Kaitlin Keough (L39ION of Los Angeles) | 0:11:26 |
| 43 | Caitlin Conyers (LUX/Sideshow p/b Specialized) | 0:11:35 |
| 44 | Nicole Frain (Team TIBCO-Silicon Valley Bank) | 0:13:51 |
| 45 | Jane Tullis (ROXO Racing) | 0:13:52 |
| 46 | Jaime Larmer (ROXO Racing) | |
| 47 | Kara Lilly (Automatic Racing) | |
| 48 | Merrill Thierman (Classic Cycling p/b B-Line) | 0:15:54 |
| 49 | Hannah Dalsing (ROXO Racing) | 0:17:31 |
| 50 | Whitney Surgenor (Automatic Racing) | |
| 51 | Staci McCudden (LUX/Sideshow p/b Specialized) | |
| 52 | Maeghan Easler (LUX/Sideshow p/b Specialized) | |
| 53 | Rachel Jordan (3T/ Q+M Cycling) | 0:17:37 |
| 54 | Alison Merner (Automatic Racing) | 0:19:27 |
| 55 | Leah Thorvilson (3T/ Q+M Cycling) | 0:27:24 |
| 56 | Amber Smolik (ROXO Racing) | 0:29:06 |
| 57 | Lucy Hempstead (Team-Desjardins Ford) | 0:31:10 |
| 58 | Katy Sorrell (Classic Cycling p/b B-Line) | |
| 59 | Tracy Carrington (ROXO Racing) | 0:42:26 |
| DNF | Heather Fischer (DNA Pro Cycling Team) | |
| DNF | Kendall Ryan (L39ION of Los Angeles) | |
| DNF | Amber Joseph (L39ION of Los Angeles) | |
| DNS | Cara O'Neill (Automatic Racing) | |
Swipe to scroll horizontally
General classification - top 10 after stage 1

| Pos. | Rider Name (Country) Team | Result |
| --- | --- | --- |
| 1 | Skylar Schneider (L39ION of Los Angeles) | 2:51:11 |
| 2 | Heidi Franz (Rally Cycling) | 0:00:04 |
| 3 | Veronica Evers (Team TIBCO-Silicon Valley Bank) | 0:00:06 |
| 4 | Clara Honsinger (Team TIBCO-Silicon Valley Bank) | 0:00:12 |
| 5 | Anet Barrera Esparza (3T/ Q+M Cycling) | |
| 6 | Maggie Coles-Lyster (DNA Pro Cycling Team) | 0:03:21 |
| 7 | Rachel Langdon (InstaFund Racing) | 0:03:23 |
| 8 | Olivia Ray (Rally Cycling) | |
| 9 | Lauren Stephens (TIBCO-Silicon Valley Bank) | 0:03:25 |
| 10 | Samantha Runnels (3T/ Q+M Cycling) | 0:03:26 |

Thank you for reading 5 articles in the past 30 days*
Join now for unlimited access
Enjoy your first month for just £1 / $1 / €1
*Read any 5 articles for free in each 30-day period, this automatically resets
After your trial you will be billed £4.99 $7.99 €5.99 per month, cancel anytime. Or sign up for one year for just £49 $79 €59

Join now for unlimited access
Try your first month for just £1 / $1 / €1