Lucas Plapp wins under-23 men's time trial at Australian National Championships
Kelland O'Brien second, Carter Turnbull third
Under-23 men's individual time trial: Ballarat - Ballarat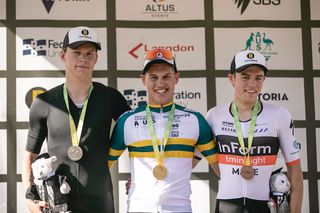 (Image credit: Con Chronis / Zac Williams)
Last year's silver medallist, Lucas Plapp (InForm TM Insight Make), went one better to win the under-23 time trial at the Australian Road Championships on Wednesday afternoon, beating St Kilda's Kelland O'Brien by 15 seconds, with Plapp's InForm teammate Carter Turnbull almost a minute back in third.
Mackenzie Edwardson (Team CCS Canberra Men) made the early running with a fine 41:08 over the 28.6km race, and his time held until it was swept decisively aside by the arrival of new Hagens Berman Axeon signing Jarrad Drizners, who won the under-23 criterium title in 2019, and had finished fifth in the time trial, but was starting mid-way through the 38 starters this year.
His 38:52 would give him fifth place once more by the end of the afternoon, but it held until Turnbull came home in 38:38.
Third-to-last man off, Alastair Christie-Johnston (Team BridgeLane), was unable to unseat Turnbull, which guaranteed Turnbull at least a bronze medal, which was indeed what he would end up with.
O'Brien then set the new best time with 37:58, leaving just Plapp – the silver medallist in the junior men's time trial at the 2018 World Championships in Innsbruck, Austria – to bring it home as the last man left on the course, and with ample time up his sleeve to celebrate a job well done.
Full results

| | | |
| --- | --- | --- |
| 1 | Lucas Plapp (Aus) InForm TM Insight Make | 0:37:43 |
| 2 | Kelland O'Brien (Aus) St Kilda Cycling Club | 0:00:15 |
| 3 | Carter Turnbull (Aus) InForm TM Insight Make | 0:00:54 |
| 4 | Alastair Christie-Johnston (Aus) Team BridgeLane | 0:00:58 |
| 5 | Jarrad Drizners (Aus) Hagens Berman Axeon | 0:01:08 |
| 6 | Riley Fleming (Aus) Oliver's Real Food Racing | |
| 7 | Tyler Lindorff (Aus) Team BridgeLane | 0:01:10 |
| 8 | Rudy Porter (Aus) InForm TM Insight Make | 0:1:45 |
| 9 | Tom Benton (Aus) InForm TM Insight Make | 0:01:50 |
| 10 | Connor Sens (Aus) X Speed United | 0:02:08 |
| 11 | Sebastian Presley (Aus) Oliver's Real Food Racing | 0:02:14 |
| 12 | Sebastian Berwick (Aus) St George Continental Cycling Team | 0:02:30 |
| 13 | Elliot Schultz (Aus) Memil-CCN Pro Cycling | 0:02:49 |
| 14 | James Moriarty (Aus) Balmoral Cycling Club | 0:02:56 |
| 15 | Mackenzie Edwardson (Aus) Team CCS Canberra Men | 0:03:25 |
| 16 | Rhys Robotham (Aus) Futuro Pro Cycling | 0:03:38 |
| 17 | Campbell Jones (Aus) Oliver's Real Food Racing | 0:03:43 |
| 18 | Rohan Haydon-Smith (Aus) St George Cycling Club | 0:03:47 |
| 19 | Oliver Stenning (Aus) South Perth Cycling Club | 0:04:06 |
| 20 | Sebastian Barrett (Aus) Pro Racing Sunshine Coast | 0:04:08 |
| 21 | Thomas Gough (Aus) Darling Downs Cycling Club | 0:04:17 |
| 22 | Luke Wight (Aus) Midland Cycle Club | 0:04:21 |
| 23 | Oliver Murray (Aus) Rauland Development Team | 0:04:48 |
| 24 | Liam Walsh (Aus) Futuro Pro Racing | 0:05:06 |
| 25 | Jared Madsen (Aus) Avantias Pro Cycling | 0:05:15 |
| 26 | Tom Chester (Aus) Rauland Development Team | |
| 27 | Callum Pearce (Aus) Oliver's Real Food Racing | |
| 28 | Kael Thomas (Aus) Norwood Cycling Club | 0:05:41 |
| 29 | William Pender-Buchan (Aus) Avantias Pro Cycling | 0:05:48 |
| 30 | Hayden Turton (Aus) Midland Cycle Club | 0:05:56 |
| 31 | Will Thomas (Aus) Hawthorn Cycling Club | 0:06:19 |
| 32 | Edwin Britts (Aus) Dulwich Hill Cycling Club | 0:06:38 |
| 33 | Tom Sharp (Aus) Albury Wodonga Panthers Cycling Club | 0:07:19 |
| 34 | Travis O'Brien (Aus) Ballarat Sebastapol Cycling Club | 0:10:07 |
| 35 | James Thomas (Aus) Bundaberg Cycling Club | 0:10:48 |
| 36 | Nicholas Torney (Aus) Cobram Barooga Cycling Club | 0:13:42 |
| DNF | Jordan Louis (Aus) Memil-CCN Pro Cycling | |
| DNF | Daniel Di Domenico (Aus) Pro Racing Sunshine Coast | |
Cyclingnews Newsletter
Sign up to the Cyclingnews Newsletter. You can unsubscribe at any time. For more information about how to do this, and how we hold your data, please see our privacy policy