Australian Road Championships: Durbridge again beats Dennis to defend elite men's time trial title
World champion finishes 18 seconds down, Harper takes third
Elite men's individual time trial: Ballarat - Ballarat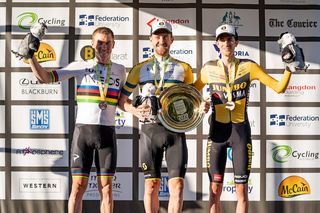 (Image credit: Con Chronis / Zac Williams)
Mitchelton-Scott's Luke Durbridge won the elite men's time trial at the 2020 Australian Road Championships in Ballarat, Victoria, on Wednesday evening, again bettering time trial world champion Rohan Dennis (Team Ineos) – this year by 18 seconds – to defend the title he took last year.
Chris Harper – who made the step up to WorldTour level with Jumbo-Visma for 2020 – finished in third place, somewhat off the pace of the top two over the 37.5km course, another 1:34 down on Dennis.
How it unfolded
The second man to start, St Kilda's Nick Bensley, set an excellent marker of 51:38, and wouldn't be unseated until Drew Morey (Terengganu Cycling Team) – midway down the list of 29 starters – overhauled him by some way to record 50:27, who in turn gave way to Team Sapura's Marcus Culey, who became the first rider to duck under the 50-minute mark with 49:01.
From there, with the WorldTour riders starting to come home, the times quickly plummeted, with Mitchelton-Scott's Damien Howson lowering the best time to 48:52, which would eventually give him sixth place.
Harper, with only Callum Scotson (Mitchelton-Scott), new Cofidis signing Nathan Haas, Durbridge and Dennis to come behind him, then recorded his 48:11 to take the race lead, which would eventually give him third place.
Race favourite Dennis, as last man off, started fast, and appeared to initially have the measure of defending champion Durbridge, who had started one place in front of the world champion.
However, the tide turned soon after the halfway mark, where just three tenths of a second separated the two riders at the time check as the riders headed out for a second lap of the 18.8km course.
As Durbridge tightened the screw, the outcome soon became inevitable for the second year in a row, and the 28-year-old eventually came home for what was an emphatic victory over his WorldTour counterpart.
More to come
Full results

| | | |
| --- | --- | --- |
| 1 | Luke Durbridge (Aus) Mitchelton-Scott | 0:46:19 |
| 2 | Rohan Dennis (Aus) Team Ineos | 0:00:18 |
| 3 | Chris Harper (Aus) Jumbo-Visma | 0:01:52 |
| 4 | Michael Hepburn (Aus) Mitchelton-Scott | 0:02:04 |
| 5 | Nathan Haas (Aus) Cofidis | 0:02:11 |
| 6 | Damien Howson (Aus) Mitchelton-Scott | 0:02:33 |
| 7 | Marcus Culey (Aus) Team Sapura Cycling | 0:02:42 |
| 8 | Jordan Villani (Aus) Subaru-Giant | 0:02:55 |
| 9 | Michael Freiberg (Aus) Pro Racing Sunshine Coast | 0:03:05 |
| 10 | Dylan Sunderland (Aus) NTT Pro Cycling | 0:03:38 |
| 11 | Drew Morey (Aus) Terengganu Cycling Team | 0:04:08 |
| 12 | Callum Scotson (Aus) Mitchelton-Scott | 0:04:14 |
| 13 | Angus Lyons (Aus) Oliver's Real Food Racing | 0:04:40 |
| 14 | Nicholas Squillari (Aus) Geelong Cycling Club | 0:04:50 |
| 15 | Peter Milostic (Aus) Penrith Cycling Club | 0:04:55 |
| 16 | Nick Bensley (Aus) St Kilda Cycling Club | 0:05:19 |
| 17 | Harrison Bailey (Aus) GPM-Stulz | 0:06:09 |
| 18 | Antonino Calabro (Aus) Hamilton Wheelers Cycling Club | 0:06:13 |
| 19 | Cameron Fraser (Aus) Eastern Suburbs Cycling Club | 0:06:15 |
| 20 | Lucas Hoffman (Aus) Whyalla Cycling Club | 0:06:18 |
| 21 | Matthew Byrne (Aus) Tasmania | 0:06:21 |
| 22 | Patrick Saccani-Williams (Aus) South Perth Cycling Club | 0:06:50 |
| 23 | Sam Greenwood (Aus) Hawthorn Cycling Club | 0:07:22 |
| 24 | Christopher Ball (Aus) Manly Warringha Cycling Club | 0:08:13 |
| 25 | Stuart Grieve (Aus) Northern Sydney Cycling Club | 0:09:11 |
| 26 | Paul Speed (Aus) St Kilda Cycling Club | 0:09:46 |
| 27 | Francois Balland (Aus) St Kilda Cycling Club | 0:10:54 |
| 28 | Jock McOrist (Aus) Armidale Cycling Club | 0:11:31 |
| 29 | Simon Pearce (Aus) Beach Road Cycling Club | 0:12:56 |
| DNS | Samuel Jenner (Aus) Team BridgeLane | |
| DNS | Benjamin Cureton (Aus) Brunswick Cycling Club | |
Cyclingnews Newsletter
Sign up to the Cyclingnews Newsletter. You can unsubscribe at any time. For more information about how to do this, and how we hold your data, please see our privacy policy