Gigante takes Australian elite women's time trial title from defending champion Brown
Tibco-SVB youngster beats Mitchelton-Scott rider by nine seconds, Herfoss takes third
Elite/Under-23 women's individual time trial: Ballarat - Ballarat
Image 1 of 2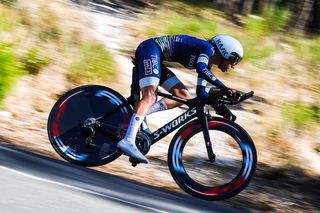 Image 2 of 2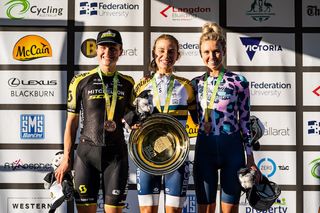 Nineteen-year-old Sarah Gigante (Tibco-SVB) won the elite women's Australian time trial title – and by default the under-23 title – by beating defending champion Grace Brown (Mitchelton-Scott) and Roxsolt Attaquer's Emily Herfoss in Ballarat, Victoria, on an undulating 28.6km course on Wednesday afternoon.
Gigante held on to the race lead as faster time triallists – at least on paper – continued to come home after her, with Brown pushing the new champion closest, missing out by just nine seconds, while Herfoss was a further second back to complete the podium.
Gigante was the revelation of last year's Australian 'summer of cycling', winning the elite women's road race – a title that she'll attempt to defend on Sunday.
"I just can't believe I won the elite women's time trial. I don't think I've ever beaten any of the elite ladies that came in the top five in the time trial before, and have probably only beaten them once in a race before," Gigante said, referring to the 2019 road race.
How it unfolded
With eight of the biggest names still to finish behind her, eventual bronze medallist Herfoss set the fastest time of the day with 42:52, and she then weathered the storm as another of the race favourites, Amanda Spratt (Mitchelton-Scott) – who eventually took fourth – proved that she wasn't on her best day, finishing 31 seconds off Herfoss's time.
However, it was Gigante who would get the better of Herfoss, shaving another 10 seconds off the best time. But with other, supposedly faster, time triallists still to finish, could she hold on? The answer was an emphatic 'yes' as first Shara Gillow (FDJ Nouvelle-Aquitaine Futuroscope) and then Lucy Kennedy (Mitchelton-Scott) were unable to go close.
When last year's bronze medallist, Kate Perry (Specialized Women's Racing), was unable to unseat Gigante, it finally came down to Brown to try to topple the teenager – but to no avail.
By virtue of winning the race, Gigante also took the under-23 women's title, ahead of Jaime Gunning (Specialized Women's Racing) and Emily Watts (Subaru Giant Women).
Full results

| | | |
| --- | --- | --- |
| 1 | Sarah Gigante (Aus) Team TibcoSilicon Valley Bank | 0:42:41 |
| 2 | Grace Brown (Aus) Mitchelton Scott | 0:00:09 |
| 3 | Emily Herfoss (Aus) Roxsolt Attaquer | 0:00:10 |
| 4 | Amanda Spratt (Aus) Mitchelton-Scott | 0:00:41 |
| 5 | Shara Gillow (Aus) FDJ Nouvelle-Aquitaine Futuroscope | 0:00:53 |
| 6 | Lucy Kennedy (Aus) Mitchelton-Scott | 0:00:58 |
| 7 | Kate Perry (Aus) Specialized Women's Racing | 0:01:10 |
| 8 | Nicole Frain (Aus) Sydney Uni-Staminade | 0:02:03 |
| 9 | Bree Wilson (Aus) Roxsolt Attaquer | 0:02:15 |
| 10 | Jaime Gunning (Aus) Specialized Women's Racing | 0:02:21 |
| 11 | Alana Forster (Aus) Vikings Cycling Club | 0:02:31 |
| 12 | Kirsty Deacon (Aus) Veris Racing Women's Team | 0:03:14 |
| 13 | Emily Watts (Aus) Subaru Giant Women | 0:04:08 |
| 14 | Chloe Moran (Aus) Central Districts Cycling Club | 0:05:02 |
| 15 | Katie Banerjee (Aus) Harlequin Cycling Club | 0:05:26 |
| 16 | Ashlee Jones (Aus) Specialized Women's Racing | 0:05:28 |
| 17 | Amber Pate (Aus) Norwood Cycling Club | 0:05:36 |
| 18 | Rhianon Norton (Aus) Shepparton Cycling Club | 0:05:45 |
| 19 | Chelsea Holmes (Aus) South Coast Cycling Club | 0:06:31 |
| 20 | Lucia Azzopardi (Aus) Subaru-Giant Women | 0:07:20 |
| 21 | Pia Smith (Aus) Gusto Step FWD KOM powered by Sukuzi | 0:08:59 |
| 22 | Sharni Morley (Aus) Brunswick Cycling Club | 0:10:58 |
| 23 | Tania Launder (Aus) St Kilda Cycling Club | 0:11:57 |
| 24 | Erin MacDonald (Aus) Sydney Uni Velo Club | 0:12:54 |
Cyclingnews Newsletter
Sign up to the Cyclingnews Newsletter. You can unsubscribe at any time. For more information about how to do this, and how we hold your data, please see our privacy policy