MTB Worlds: France takes record seventh Team Relay title
USA best Germany for silver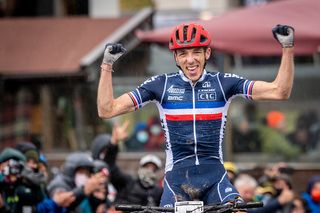 (Image credit: Rob Jones)
Team France took the first rainbow jerseys of the 2021 Mountain Bike World Championships on Wednesday, in Val di Sole, Italy, dominating the Team Relay. The defending champions won a record seventh title in the event, breaking a tie with Switzerland in the standings. The USA came from behind to take silver, catching Germany in the final lap.
This is the second year that the Team Relay has featured riders from all six cross country (XCO) categories - men and women in junior, under-23 and elite. The lead changed hands three times during the race.
Team USA pulled out to an early lead on the strength of elite man Christopher Blevins, followed by junior rider Brayden Johnson. However, on the third lap, Sweden jumped to the front on the strength of the lap by Hugo Sandin (junior men). Their lead wouldn't last long, as the French machine was just getting started. They took the lead with their fourth rider, junior woman Tatiana Tournut, and then extended it with another junior woman (instead of a U23), Line Burquier. After that, it was almost a formality, as current elite world champion Jordan Sarrou was the final rider for France.
"It is a very good way to start the week," Sarrou said. "After some disappointment at the Olympics, I am very happy to keep this rainbow jersey, and my lap gives me some confidence for Saturday [the men's XCO]."
The US, after dropping to seventh by the end of lap 4, then had two impressive rides to finish their race off. 2019 elite women's world champion Kate Courtney moved them back to third, 15 seconds behind Germany, with U23 man Riley Amos catching his rival, Luca Schwarzbauer of Germany in the final 300 metres and then out sprinting him on the final straightaway. Amos collapsed after crossing the finish line.
Courtney, who has struggled this season with an injury, said "I think this is the perfect way to start off this week for me. It's been about getting back into my rhythm and finding my form, but also about finding the flow of this course. I think it is the perfect preparation for all of our riders to give our best later in the week in our cross-country races. And we got to do something great as Team USA."
Full Results

| Pos. | Rider Name (Country) Team | Result |
| --- | --- | --- |
| 1 | Mathis Azzaro (France) | 1:25:51 |
| | Adrien Boichis (France) | |
| | Lena Gerault (France) | |
| | Tatiana Tournut (France) | |
| | Line Burquier (France) | |
| | Jordan Sarrou (France) | |
| 2 | Christopher Blevins (United States Of America) | 0:00:48 |
| | Brayden Johnson (United States Of America) | |
| | Savilia Blunk (United States Of America) | |
| | Ruth Holcomb (United States Of America) | |
| | Kate Courtney (United States Of America) | |
| | Riley Amos (United States Of America) | |
| 3 | Leon Reinhard Kaiser (Germany) | 0:00:49 |
| | Paul Schehl (Germany) | |
| | Sina Van Thiel (Germany) | |
| | Nina Benz (Germany) | |
| | Ronja Eibl (Germany) | |
| | Luca Schwarzbauer (Germany) | |
| 4 | Luca Braidot (Italy) | 0:01:39 |
| | Marco Betteo (Italy) | |
| | Martina Berta (Italy) | |
| | Sara Cortinovis (Italy) | |
| | Marika Tovo (Italy) | |
| | Juri Zanotti (Italy) | |
| 5 | Reto Indergand (Switzerland) | 0:02:04 |
| | Finn Treudler (Switzerland) | |
| | Nicole Koller (Switzerland) | |
| | Jacqueline Schneebeli (Switzerland) | |
| | Noëlle Rüetschi (Switzerland) | |
| | Alexandre Balmer (Switzerland) | |
| 6 | Harry Birchill (Great Britain) | 0:02:27 |
| | Charlie Aldridge (Great Britain) | |
| | Isla Short (Great Britain) | |
| | Ella Maclean-Howell (Great Britain) | |
| | Anna Kay (Great Britain) | |
| | Corran Carrick-Anderson (Great Britain) | |
| 7 | Jan Vastl (Czech Republic) | 0:03:05 |
| | Jan Zatloukal (Czech Republic) | |
| | Tereza Tvarůžková (Czech Republic) | |
| | Tereza Sásková (Czech Republic) | |
| | Karolína Bedrníková (Czech Republic) | |
| | Filip Konečný (Czech Republic) | |
| 8 | Gregor Raggl (Austria) | 0:04:06 |
| | Samuel Gabl (Austria) | |
| | Katharina Sadnik (Austria) | |
| | Mona Mitterwallner (Austria) | |
| | Daniel Churfürst (Austria) | |
| | Laura Stigger (Austria) | |
| 9 | Jarne Vandersteen (Belgium) | 0:04:52 |
| | Tim Rex (Belgium) | |
| | Githa Michiels (Belgium) | |
| | Julia Grégoire (Belgium) | |
| | Pierre De Froidmont (Belgium) | |
| | Emeline Detilleux (Belgium) | |
| 10 | Carter Woods (Canada) | 0:05:54 |
| | Zorak Paille (Canada) | |
| | Nicole Bradbury (Canada) | |
| | Emilly Johnston (Canada) | |
| | Jennifer Jackson (Canada) | |
| | Leandre Bouchard (Canada) | |
| 11 | Oscar Lind (Sweden) | 0:06:22 |
| | Jakob Söderqvist (Sweden) | |
| | Hugo Sandin (Sweden) | |
| | Tilda Hylén (Sweden) | |
| | Malin Oskarsson (Sweden) | |
| | Linn Gustafzzon (Sweden) | |
| 12 | Mateusz Nieboras (Poland) | 0:06:58 |
| | Filip Brzoska (Poland) | |
| | Katarzyna Solus-Miskowicz (Poland) | |
| | Kinga Zur (Poland) | |
| | Matylda Szczecinska (Poland) | |
| | Krzysztof Lukasik (Poland) | |
| 13 | Matej Ulik (Slovakia) | 0:09:23 |
| | Jakub Jenčuš (Slovakia) | |
| | Tereza Kurnická (Slovakia) | |
| | Janka Keseg Stevkova (Slovakia) | |
| | Radka Paulechová (Slovakia) | |
| | Martin Hrtánek (Slovakia) | |
| 14 | David Domingo Campos Motos (Spain) | 0:09:55 |
| | Aniol Morell Coll (Spain) | |
| | Lucia Gomez Andreu (Spain) | |
| | Sara Mendez Berlanga (Spain) | |
| | Nuria Bosch Pico (Spain) | |
| | David Valero Serrano (Spain) | |
| 15 | Kai Von During (South Africa) | |
| LAP | Madison Mann (South Africa) | |
| LAP | Andrea Schöfmann (South Africa) | |
| LAP | Luca Ruwiel (South Africa) | |
| LAP | Danielle Strydom (South Africa) | |
| LAP | Johan Van Zyl (South Africa) | |

Thank you for reading 5 articles in the past 30 days*
Join now for unlimited access
Enjoy your first month for just £1 / $1 / €1
*Read any 5 articles for free in each 30-day period, this automatically resets
After your trial you will be billed £4.99 $7.99 €5.99 per month, cancel anytime. Or sign up for one year for just £49 $79 €59

Join now for unlimited access
Try your first month for just £1 / $1 / €1