Bay Crits: Spratt takes victory in women's opening race on Ritchie Boulevard course
Roseman-Gannon second, Hosking leads home peloton in third place in race 1 of three-race series
Race 1 - Elite Women: Ritchie Boulevard, Geelong - Ritchie Boulevard, Geelong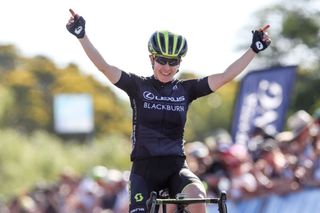 (Image credit: Con Chronis)
Amanda Spratt, riding for the Lexus of Blackburn composite team, won the opening race of the 2020 Bay Crits on the Ritchie Boulevard course in Geelong, Australia, on Friday, easily despatching her breakaway companion Ruby Roseman-Gannon (Appselec) in the sprint for the line.
Spratt's Lexus of Blackburn teammate, Chloe Hosking, was the best of the rest, winning the reduced-bunch sprint for third place, 32 seconds down.
It had been yet another member of the strong Lexus squad, Jessica Allen, who spent much of the 45-minute criterium out on her own until Peta Mullens (Roxsolt Attaquer) eventually provoked a reaction from the others, with Allen's teammates, including Spratt and Chloe Hosking, having done their best to discourage a chase.
Matilda Raynolds took on the mantle to finally reel Allen in, but the Lexus team then proved their strength in depth at the mid-way point of the race by putting Spratt on the attack alongside Roseman-Gannon, and the pair held an unassailable 41-second gap with five laps to go.
"I'm so, so happy," said Spratt on SBS's live feed following her victory. "It's the perfect way to start the year, and I'm happy to get the win for the Lexus of Blackburn team.
"Ruby was very impressive out there, so kudos to her – she had a great race. But we have a very strong line-up here, so we're very happy to get the win," she said.
Results

| # | Rider Name (Country) Team | Result |
| --- | --- | --- |
| 1 | Amanda Spratt (Lexus of Blackburn) | 0:44:34 |
| 2 | Ruby Roseman-gannon (Appselec) | 0:00:03 |
| 3 | Chloe Hosking (Lexus of Blackburn) | 0:00:32 |
| 4 | Teneal Attard | |
| 5 | Lotta Lepisto | |
| 6 | Peta Mullens (Roxsolt) | |
| 7 | Matilda Raynolds | |
| 8 | Natalie Redmond (Novotel - Mitchelton) | |
| 9 | Emma Viotto (Novotel - Mitchelton) | |
| 10 | Charlotte Culver (Appselec) | |
| 11 | Shannon Malseed (Lexus of Blackburn) | |
| 12 | Lauren Kitchen (Lexus of Blackburn) | |
| 13 | Emily Watts (Subaru Giant Women's Team) | |
| 14 | Jessica Allen (Lexus of Blackburn) | |
| 15 | Lizzie Stannard | |
| 16 | Nicola Macdonald (Roxsolt) | |
| 17 | Rebecca Wiasak (Novotel - Mitchelton) | 0:00:37 |
| 18 | Molly Patch (Appselec) | |
| 19 | Alana Forster | 0:00:41 |
| 20 | Sarah Gigante (Lexus of Blackburn) | 0:00:43 |
| DNF | Emma Roberts (Novotel - Mitchelton) | |
| DNF | Emma Chilton (Roxsolt) | |
| DNF | Lucia Azzopardi (Subaru Giant Women's Team) | |
| DNF | Ella Falzarano (Subaru Giant Women's Team) | |
| DNF | Jordyn Hassett (Subaru Giant Women's Team) | |
| DNF | Gemma Mollenhauer (Subaru Giant Women's Team) | |
| DNF | Saffron Button (Appselec) | |
| DNF | Kerry Jonker (Appselec) | |
| DNF | Chloe Moran (Appselec) | |
| DNF | Annie Bramley | |
| DNF | Dharlia Haines | |
| DNF | Jade Haines | |
| DNF | Abigail van Twisk | |
| DNF | Eloise Vaughan | |
| DNS | Justine Barrow (Roxsolt) | |
| DNS | Kasuga Watabe | |
General classification

| # | Rider Name (Country) Team | Result |
| --- | --- | --- |
| 1 | Amanda Spratt (Lexus of Blackburn) | 12pts |
| 2 | Ruby Roseman-gannon (Appselec) | 10 |
| 3 | Chloe Hosking (Lexus of Blackburn) | 8 |
| 4 | Teneal Attard | 7 |
| 5 | Lotta Lepisto | 6 |
| 6 | Peta Mullens (Roxsolt) | 5 |
| 7 | Matilda Raynolds | 4 |
| 8 | Natalie Redmond (Novotel - Mitchelton) | 3 |
| 9 | Emma Viotto (Novotel - Mitchelton) | 2 |
| 10 | Charlotte Culver (Appselec) | 1 |
Cyclingnews Newsletter
Sign up to the Cyclingnews Newsletter. You can unsubscribe at any time. For more information about how to do this, and how we hold your data, please see our privacy policy