Welsford takes overall Bay Crits victory as Groves wins final race
By Cyclingnews
Groves laps field then out-sprints Freiberg
Race 3 - Elite Men: Williamstown - Williamstown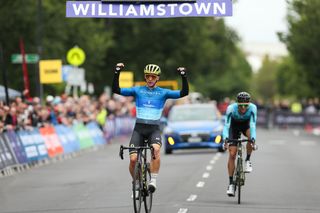 (Image credit: Con Chronis Photography)
Kaden Groves (Novotel-Mitchelton) won the final race of the 2020 Bay Crits after he out-sprinted Michael Freiberg (Sunshine Coast ACA), while Sam Welsford (Lexus of Blackburn) sealed overall victory by placing third.
A rain shower delayed the start of racing on the final day, but once the roads dried, the action was as keenly-contested as ever, as Groves and Freiberg forged clear on the opening laps of the 900m-long circuit. Neither man was a threat to the yellow jersey of Nick White (BridgeLine) and they quickly established a sizeable lead over the peloton.
After half an hour of racing, they were within touching distance of the back of the bunch and they duly lapped their fellow competitors after 45 minutes, settling into the peloton before resuming their duel after the bunch had contested the sprint for third place.
In the final reckoning, Groves delivered a fine sprint to beat Freiberg to the stage honours. By then, Welsford had already won the sprint for third ahead of teammate Cameron Scott, and he also beat Brenton Jones (Novotel-Mitchelton) and White to the line to secure overall victory.
"It's always good to start the year off with a win, there's a lot of history in this race, I used to watch this race at home on TV as a kid, so to be on the top step and wearing this yellow jersey on the final day is pretty special to me," Welsford said.
In the final standings, he finished 3 points clear of Jones, while White had to settle for third overall.
Groves, meanwhile, was pleased to have something to show for his efforts over the three days of the Bay Crits. "On Friday, I had a late dig at the [Ritchie Boulevard] criterium and messed up that final corner, I thought it might have been my only opportunity," he said. "But I thought today my dad's down here watching and my aunty and uncle, so I thought I better put on a show and try again."
Results

| # | Rider Name (Country) Team | Result |
| --- | --- | --- |
| 1 | Kaden Groves (Novotel - Mitchelton) | 1:00:36 |
| 2 | Michael Freiberg (Sunshine Coast Aca) | |
| 3 | Sam Welsford (Lexus Of Blackburn) | 0:56:18 |
| 4 | Cameron Scott (Lexus Of Blackburn) | |
| 5 | Brenton Jones (Novotel - Mitchelton) | |
| 6 | Nicholas White (Bridgelane) | |
| 7 | Jensen Plowright (Bridgelane) | |
| 8 | Benjamin Hill (Bridgelane) | |
| 9 | Matthew Rice (Sunshine Coast Aca) | |
| 10 | Thomas Bolton (Oliver's Real Food Racing) | |
| 11 | Cameron Ivory (Gpm Stulz) | |
| 12 | Tom Chapman (Bridgelane) | |
| 13 | Taj Jones (Sunshine Coast Aca) | 0:00:01 |
| 14 | Liam White (Novotel - Mitchelton) | 0:00:06 |
| 15 | Ben Perry (Cyclehouse) | |
| 16 | Carter Turnbull (Inform Tm Insight Make) | |
| 17 | Nicholas Spratt (Gpm Stulz) | |
| 18 | Mathew Ross (Cyclehouse) | |
| 19 | William Hodges (Oliver's Real Food Racing) | 0:00:15 |
| 20 | Luke Durbridge (Novotel - Mitchelton) | |
| 21 | Leigh Howard (Lexus Of Blackburn) | 0:00:41 |
| 22 | Lucas Plapp (Lexus Of Blackburn) | |
| DNF | Stevo Michalicka (Novotel - Mitchelton) | |
| DNF | Matthew Sherwin (Novotel - Mitchelton) | |
| DNF | Alexander Porter (Lexus Of Blackburn) | |
| DNF | Zack Gilmore (Sunshine Coast Aca) | |
| DNF | Patrick Eddy (Inform Tm Insight Make) | |
| DNF | Samual Eddy (Inform Tm Insight Make) | |
| DNF | David Williams (Inform Tm Insight Make) | |
| DNF | Karl Michelin-Beard (Oliver's Real Food Racing) | |
| DNF | Sean Whitfield (Oliver's Real Food Racing) | |
| DNF | Harrison Bailey (Gpm Stulz) | |
| DNF | Alex Lack (Gpm Stulz) | |
| DNF | Tasman Nankervis (Gpm Stulz) | |
| DNF | Benjamin Spenceley (Gpm Stulz) | |
| DNF | Tatsuyoshi Nakamura (Team Japan) | |
| DNF | Tomoki Saito (Team Japan) | |
| DNF | Tetsuo Yamamoto (Team Japan) | |
| DNF | Chris Ball (Team Japan) | |
| DNF | Tom Leaper (Cyclehouse) | |
| DNF | Patrick Drapac (Cyclehouse) | |
| DNF | Callan Douglas (Cyclehouse) | |
| DNF | Aiden Buttigieg (Cyclehouse) | |
| DNS | Kelland O'brien (Lexus Of Blackburn) | |
| DNS | Mark O'brien (Inform Tm Insight Make) | |
| DNS | Benjamin Andrews (Oliver's Real Food Racing) | |
| DNS | Angus Lyons (Oliver's Real Food Racing) | |
Final general classification

| # | Rider Name (Country) Team | Result |
| --- | --- | --- |
| 1 | Sam Welsford (Lexus Of Blackburn) | 27 |
| 2 | Brenton Jones (Novotel - Mitchelton) | 24 |
| 3 | Nicholas White (Bridgelane) | 24 |
| 4 | Jensen Plowright (Bridgelane) | 18 |
| 5 | Cameron Ivory (Gpm Stulz) | 16 |
| 6 | Michael Freiberg (Sunshine Coast Aca) | 14 |
| 7 | Kaden Groves (Novotel - Mitchelton) | 12 |
| 8 | Benjamin Hill (Bridgelane) | 10 |
| 9 | Cameron Scott (Lexus Of Blackburn) | 7 |
| 10 | Taj Jones (Sunshine Coast Aca) | 7 |
| 11 | Kelland O'brien (Lexus Of Blackburn) | 5 |
| 12 | Thomas Bolton (Oliver's Real Food Racing) | 4 |
| 13 | Matthew Rice (Sunshine Coast Aca) | 2 |
| 14 | Rudy Porter (Inform Tm Insight Make) | 2 |
| 15 | Nicholas Spratt (Gpm Stulz) | 1 |
| 16 | Mathew Ross (Cyclehouse) | 1 |
Sign up to the Cyclingnews Newsletter. You can unsubscribe at any time. For more information about how to do this, and how we hold your data, please see our privacy policy