Welsford wins men's Bay Crits opener in Geelong
Ivory second, Jones third
Race 1 - Elite Men: Ritchie Boulevard, Geelong - Ritchie Boulevard, Geelong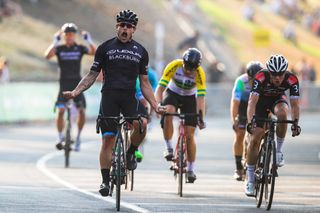 (Image credit: Con Chronis)
Reigning track scratch race and team pursuit world champion Sam Welsford streaked to victory for his Lexus of Blackburn team in the opening race of the 2020 Bay Crits in Geelong on Friday, out-sprinting Cameron Ivory (GPM Stultz) and Australian criterium champion Brenton Jones (Novotel-Mitchelton) at the end of what was a frenetic race.
Just as Jessica Allen had done in the women's race, Team BridgeLane's Ben Hill animated the early part of the race with a solo breakaway, and was joined just over half-way through the hour-long race by Australian road race champion Michael Freiberg (ARA Pro Racing Sunshine Coast).
However, the pair were caught by the ever-reducing peloton just a couple of laps later, when Hill's BridgeLane teammate Nick White attacked off the front to take over from where Hill had left off.
With just under 10 minutes left to race, Luke Durbridge took control with Kaden Groves on his wheel, looking to set things up for their Novotel-Mitchelton teammate Jones, while, at the same time, sprint rival Cam Scott (Lexus of Blackburn) saw his race end early after he crashed on the tight first corner of the 650m course.
Hill found the strength to return to the head of the peloton with five laps to go, but it was Groves who took over with a lap to go, constantly looking back for teammate Jones, who was still back in fifth or sixth wheel.
Welsford made it look easy, leading the sprint out from the final corner, but still had to hold off a fast-finishing Ivory, while Jones made up for lost ground to take the final podium position.
Just 19 finishers from 43 starters gave a good indication of how tough the Ritchie Boulevard course was, but it will be Welsford who'll wear the leader's yellow jersey into Saturday's race at Geelong's Eastern Gardens.
| # | Rider Name (Country) Team | Result |
| --- | --- | --- |
| 1 | Sam Welsford (Lexus of Blackburn) | 0:59:54 |
| 2 | Cameron Ivory (gpm Stulz) | |
| 3 | Brenton Jones (Novotel - Mitchelton) | |
| 4 | Nicholas White (Bridgelane) | |
| 5 | Jensen Plowright (Bridgelane) | |
| 6 | Kelland o'Brien (Lexus of Blackburn) | |
| 7 | Michael Freiberg (Sunshine Coast Aca) | |
| 8 | Taj Jones (Sunshine Coast Aca) | |
| 9 | Benjamin Hill (Bridgelane) | 0:00:06 |
| 10 | Nicholas Spratt (gpm Stulz) | 0:00:09 |
| 11 | Ben Perry (Cyclehouse) | |
| 12 | Mathew Ross (Cyclehouse) | 0:00:13 |
| 13 | Liam White (Novotel - Mitchelton) | |
| 14 | Kaden Groves (Novotel - Mitchelton) | 0:00:19 |
| 15 | Tom Chapman (Bridgelane) | |
| 16 | William Hodges (Oliver's Real Food Racing) | 0:00:26 |
| 17 | Carter Turnbull (Inform tm Insight Make) | 0:00:43 |
| 18 | Harrison Bailey (gpm Stulz) | 0:00:51 |
| 19 | Luke Durbridge (Novotel - Mitchelton) | 0:01:01 |
| DNF | Stevo Michalicka (Novotel - Mitchelton) | |
| DNF | Matthew Sherwin (Novotel - Mitchelton) | |
| DNF | Leigh Howard (Lexus of Blackburn) | |
| DNF | Alexander Porter (Lexus of Blackburn) | |
| DNF | Cameron Scott (Lexus of Blackburn) | |
| DNF | Zack Gilmore (Sunshine Coast Aca) | |
| DNF | Matthew Rice (Sunshine Coast Aca) | |
| DNF | Patrick Eddy (Inform tm Insight Make) | |
| DNF | Samual Eddy (Inform tm Insight Make) | |
| DNF | William Moloney-morton (Inform tm Insight Make) | |
| DNF | Thomas Bolton (Oliver's Real Food Racing) | |
| DNF | Karl Michelin-beard (Oliver's Real Food Racing) | |
| DNF | Sean Whitfield (Oliver's Real Food Racing) | |
| DNF | Alex Lack (gpm Stulz) | |
| DNF | Tasman Nankervis (gpm Stulz) | |
| DNF | Benjamin Spenceley (gpm Stulz) | |
| DNF | Tatsuyoshi Nakamura (Team Japan) | |
| DNF | Tomoki Saito (Team Japan) | |
| DNF | Tetsuo Yamamoto (Team Japan) | |
| DNF | Chris Ball (Team Japan) | |
| DNF | Tom Leaper (Cyclehouse) | |
| DNF | Patrick Drapac (Cyclehouse) | |
| DNF | Callan Douglas (Cyclehouse) | |
| DNF | Aiden Buttigieg (Cyclehouse) | |
| DNS | Lucas Plapp (Lexus of Blackburn) | |
| DNS | Benjamin Andrews (Oliver's Real Food Racing) | |
| DNS | Angus Lyons (Oliver's Real Food Racing) | |
General classification

| # | Rider Name (Country) Team | Result |
| --- | --- | --- |
| 1 | Sam Welsford (Lexus of Blackburn) | 12pts |
| 2 | Cameron Ivory (gpm Stulz) | 10 |
| 3 | Brenton Jones (Novotel - Mitchelton) | 8 |
| 4 | Nicholas White (Bridgelane) | 7 |
| 5 | Jensen Plowright (Bridgelane) | 6 |
| 6 | Kelland o'Brien (Lexus of Blackburn) | 5 |
| 7 | Michael Freiberg (Sunshine Coast Aca) | 4 |
| 8 | Taj Jones (Sunshine Coast Aca) | 3 |
| 9 | Benjamin Hill (Bridgelane) | 2 |
| 10 | Nicholas Spratt (gpm Stulz) | 1 |
Cyclingnews Newsletter
Sign up to the Cyclingnews Newsletter. You can unsubscribe at any time. For more information about how to do this, and how we hold your data, please see our privacy policy