Hosking seals 2020 Bay Crits title with victory on final day
By Cyclingnews
Australian beats Lepisto and Mullens in sprint
Race 3 - Elite Women: Williamstown - Williamstown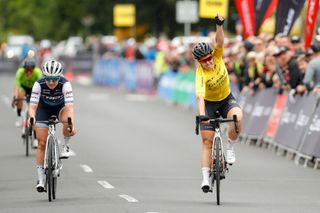 (Image credit: Con Chronis Photography)
Chloe Hosking (Lexus of Blackburn) secured overall victory in the 2020 Bay Crits by winning the final stage of the event in Williamstown. The Australian delivered a powerful finishing sprint to take out the stage honours ahead of Lotta Lepisto and Peta Mullens (Roxsolt Attaquer).
In the overall standings, Hosking finished 5 points clear of Ruby Hoseman-Gannon (Appselec), who had to settle for 4th on the final stage.
"I actually didn't come in with any expectation to win," Hosking said afterwards. "I came in to the week feeling a bit flat and just haven't been thrilled with my pre-season preparation, I feel like I've ridden into it and starting to feel more fresh, more explosive, more powerful so it's all positive."
Hosking's Lexus of Blackburn teammates Amanda Spratt and Lauren Kitchen were forced out the final stage after crashing during the warm-up, though neither rider reported major injury following the incident.
"Instead of having an aggressive race like what we wanted to have, we had to go into more crisis management," Hosking said. "It was just one of those incidents that happened in training, someone ran into someone else. I think Spratty might have hit her head. She's ok, she's just resting and I'm confident they'll both be up and racing at the nationals."
Once the race began, Kerry Jonker (Appselec) was quickly on the offensive, opening a lead of 20 seconds before the peloton, led by Sarah Gigante (Lexus of Blackburn) reeled her in after 30 minutes of racing.
In the last quarter of an hour, Lexus continued to control affairs in the peloton, paving the way for Hosking to unleash her sprint in the finishing straight to claim stage honours and seal overall victory. She previously won the Bay Crits series in 2015.
"Chloe, I think, is the fastest sprinter in the world right now," said race director John Trevorrow. "She definitely has been this week."
Results

| # | Rider Name (Country) Team | Result |
| --- | --- | --- |
| 1 | Chloe Hosking (Lexus Of Blackburn) | 0:44:57 |
| 2 | Lotta Lepisto | |
| 3 | Peta Mullens (Roxsolt) | |
| 4 | Ruby Roseman-Gannon (Appselec) | |
| 5 | Teneal Attard | |
| 6 | Nicola Macdonald (Roxsolt) | |
| 7 | Charlotte Culver (Appselec) | |
| 8 | Abigail Van Twisk | 0:00:05 |
| 9 | Rebecca Wiasak (Novotel - Mitchelton) | |
| 10 | Emily Watts (Subaru Giant Women's Team) | 0:00:06 |
| 11 | Sarah Gigante (Lexus Of Blackburn) | |
| 12 | Lizzie Stannard | |
| 13 | Alana Forster | |
| 14 | Natalie Redmond (Novotel - Mitchelton) | |
| 15 | Emma Viotto (Novotel - Mitchelton) | |
| 16 | Eloise Vaughan | |
| 17 | Jessica Allen (Lexus Of Blackburn) | |
| 18 | Justine Barrow (Roxsolt) | 0:00:15 |
| 19 | Gemma Mollenhauer (Subaru Giant Women's Team) | |
| 20 | Kerry Jonker (Appselec) | 0:00:27 |
| 21 | Elizabeth Nuspan | 0:00:45 |
| 22 | Saffron Button (Appselec) | 0:00:46 |
| 23 | Jordyn Hassett (Subaru Giant Women's Team) | |
| DNF | Emma Roberts (Novotel - Mitchelton) | |
| DNF | Lucia Azzopardi (Subaru Giant Women's Team) | |
| DNF | Isla Bradbury | |
| DNF | Annie Bramley | |
| DNF | Dharlia Haines | |
| DNF | Jade Haines | |
| DNF | Bree Playel | |
| DNF | Courtney Sherwell | |
| DNF | Kasuga Watabe | |
| DNS | Amanda Spratt (Lexus Of Blackburn) | |
| DNS | Shannon Malseed (Lexus Of Blackburn) | |
| DNS | Lauren Kitchen (Lexus Of Blackburn) | |
| DNS | Emma Chilton (Roxsolt) | |
| DNS | Ella Falzarano (Subaru Giant Women's Team) | |
| DNS | Chloe Moran (Appselec) | |
| DNS | Molly Patch (Appselec) | |
| DNS | Carina Newman | |
| DNS | Matilda Raynolds | |
Final general classification

| # | Rider Name (Country) Team | Result |
| --- | --- | --- |
| 1 | Chloe Hosking (Lexus of Blackburn) | 32 |
| 2 | Ruby Roseman-Gannon (Appselec) | 27 |
| 3 | Amanda Spratt (Lexus of Blackburn) | 19 |
| 4 | Lotta Lepisto | 17 |
| 5 | Peta Mullens (Roxsolt) | 17 |
| 6 | Teneal Attard | 13 |
| 7 | Matilda Raynolds | 12 |
| 8 | Alana Forster | 6 |
| 9 | Nicola Macdonald (Roxsolt) | 5 |
| 10 | Charlotte Culver (Appselec) | 5 |
| 11 | Jessica Allen (Lexus of Blackburn) | 5 |
| 12 | Emily Watts (Subaru Giant Women's Team) | 4 |
| 13 | Abigail Van Twisk | 3 |
| 14 | Natalie Redmond (Novotel - Mitchelton) | 3 |
| 15 | Rebecca Wiasak (Novotel - Mitchelton) | 2 |
| 16 | Emma Viotto (Novotel - Mitchelton) | 2 |
| 17 | Lauren Kitchen (Lexus of Blackburn) | 2 |
Sign up to the Cyclingnews Newsletter. You can unsubscribe at any time. For more information about how to do this, and how we hold your data, please see our privacy policy