White claims men's race on day two at Bay Crits
Race 2 - Elite Men: Eastern Gardens, Geelong - Eastern Gardens, Geelong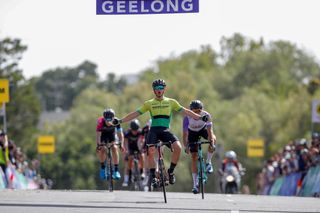 (Image credit: Con Chronis Photography)
Nick White (BridgeLane) took the overall lead at the Bay Crits after he sprinted to victory on stage 2. The Australian under-23 champion claimed the bunch sprint after he produced a fine acceleration to beat Brenton Jones (Novotel-Mitchelton) and Jensen Plowright (BridgeLane).
The race was delayed by an hour following a crash in the women's race, and when proceedings got underway, it was decreed that the race would be reduced in length from one hour to 45 minutes.
"It was tough, there was a lot of hanging around before the race due to the ambulances on course, give them the respect they deserve but there was definitely a bit of hanging around so the anticipation was building up and the nerves were building up," White said. "Being a shorter race it was raced a lot more aggressively so it was raced pretty hard."
The evening was marked by a flurry of breakaway attempts, but no group managed to gain any real traction in a high-speed event, although Luke Durbridge briefly split the field with a searing effort with three laps remaining. Lexus of Blackburn helped to bring the race back for a bunch sprint, where White's fierce acceleration carried him to victory, while stage 1 winner Sam Welsford (Lexus of Blackburn) had to settle for 4th.
White carries the yellow jersey into Sunday's final stage, though Welsford is level on points with him, while Jones is just a point behind in third place.
"It will definitely be a challenge tomorrow, by no respect am I going to think it's going to be easy to hold onto this jersey but we'll give it everything we've got and go down swinging," White said. "We've still got a pretty strong team here in Jensen [Plowright], he's a classy sprinter in his own rights and to have him in front of me tomorrow will be a huge confidence booster."
Results

| # | Rider Name (Country) Team | Result |
| --- | --- | --- |
| 1 | Nicholas White (Bridgelane) | 0:46:20 |
| 2 | Brenton Jones (Novotel - Mitchelton) | |
| 3 | Jensen Plowright (Bridgelane) | |
| 4 | Sam Welsford (Lexus Of Blackburn) | |
| 5 | Cameron Ivory (Gpm Stulz) | |
| 6 | Benjamin Hill (Bridgelane) | |
| 7 | Taj Jones (Sunshine Coast Aca) | |
| 8 | Thomas Bolton (Oliver's Real Food Racing) | 0:00:03 |
| 9 | Rudy Porter (Inform Tm Insight Make) | |
| 10 | Mathew Ross (Cyclehouse) | |
| 11 | Ben Perry (Cyclehouse) | 0:00:07 |
| 12 | Tasman Nankervis (Gpm Stulz) | 0:00:10 |
| 13 | Sean Whitfield (Oliver's Real Food Racing) | |
| 14 | Aiden Buttigieg (Cyclehouse) | |
| 15 | Matthew Rice (Sunshine Coast Aca) | |
| 16 | Alex Lack (Gpm Stulz) | |
| 17 | Thomas Benton (Inform Tm Insight Make) | |
| 18 | Liam White (Novotel - Mitchelton) | 0:00:15 |
| 19 | Tom Leaper (Cyclehouse) | 0:00:19 |
| 20 | Stevo Michalicka (Novotel - Mitchelton) | |
| 21 | Kaden Groves (Novotel - Mitchelton) | |
| 22 | Luke Durbridge (Novotel - Mitchelton) | |
| 23 | Harrison Bailey (Gpm Stulz) | |
| 24 | Tom Chapman (Bridgelane) | |
| 25 | Michael Freiberg (Sunshine Coast Aca) | |
| 26 | Nicholas Spratt (Gpm Stulz) | 0:00:31 |
| 27 | Chris Ball (Team Japan) | 0:00:43 |
| 28 | Leigh Howard (Lexus Of Blackburn) | 0:00:51 |
| 29 | Patrick Eddy (Inform Tm Insight Make) | 0:00:54 |
| 30 | Callan Douglas (Cyclehouse) | |
| 31 | Benjamin Spenceley (Gpm Stulz) | |
| 32 | Kelland O'Brien (Lexus Of Blackburn) | 0:01:02 |
| 33 | Zack Gilmore (Sunshine Coast Aca) | |
| 34 | Cameron Scott (Lexus Of Blackburn) | 0:01:31 |
| 35 | William Hodges (Oliver's Real Food Racing) | 0:02:05 |
| 36 | Samual Eddy (Inform Tm Insight Make) | |
| DNF | Matthew Sherwin (Novotel - Mitchelton) | |
| DNF | Alexander Porter (Lexus Of Blackburn) | |
| DNF | Angus Lyons (Oliver's Real Food Racing) | |
| DNF | Tatsuyoshi Nakamura (Team Japan) | |
| DNF | Tomoki Saito (Team Japan) | |
| DNF | Tetsuo Yamamoto (Team Japan) | |
| DNF | Patrick Drapac (Cyclehouse) | |
| DNS | Lucas Plapp (Lexus Of Blackburn) | |
| DNS | Benjamin Andrews (Oliver's Real Food Racing) | |
| DNS | Karl Michelin-Beard (Oliver's Real Food Racing) | |
General classification after stage 2

| # | Rider Name (Country) Team | Result |
| --- | --- | --- |
| 1 | Nicholas White (Bridgelane) | 19 |
| 2 | Sam Welsford (Lexus Of Blackburn) | 19 |
| 3 | Brenton Jones (Novotel - Mitchelton) | 18 |
| 4 | Cameron Ivory (Gpm Stulz) | 16 |
| 5 | Jensen Plowright (Bridgelane) | 14 |
| 6 | Benjamin Hill (Bridgelane) | 7 |
| 7 | Taj Jones (Sunshine Coast Aca) | 7 |
| 8 | Kelland O'Brien (Lexus Of Blackburn) | 5 |
| 9 | Michael Freiberg (Sunshine Coast Aca) | 4 |
| 10 | Thomas Bolton (Oliver's Real Food Racing) | 3 |
| 11 | Rudy Porter (Inform Tm Insight Make) | 2 |
| 12 | Mathew Ross (Cyclehouse) | 1 |
| 13 | Nicholas Spratt (Gpm Stulz) | 1 |
Sign up to the Cyclingnews Newsletter. You can unsubscribe at any time. For more information about how to do this, and how we hold your data, please see our privacy policy