Giro di Sicilia: Molano goes back-to-back with stage 2 victory
UAE Team Emirates rider extends GC lead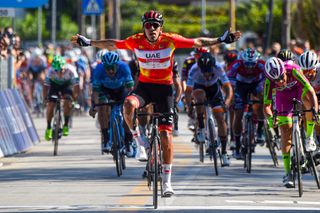 (Image credit: Bettini Photo)
Juan Sebastián Molano (UAE Team Emirates) won stage 2 of the Giro di Sicilia to Mondello near Palermo with yet another perfect lead out from teammate Maximiliano Richeze.
Vincenzo Nibali and Trek-Segafredo guided the peloton to the Mondello seafront and through a final chicane but then UAE Team Emirates and Richeze took control in the final 500 metres before Molano accelerated to victory.
Filippo Fiorelli (Bardiani-CSF) was second but was then relegated for moving off his line in the sprint. Matteo Moschetti (Trek-Segafredo) was promoted to second place.
Thanks to the time bonuses, Molano extended his overall race lead to 14 seconds. Moschetti is second and Vincenzo Albanese (Eolo-Kometa) is third at the same time.
"I've got to thank the team yet again, not only for the finish but for all the day, in the way they controlled the race," Molano said.
"The lead out was perfect with Brandon McNulty doing a great job and then Maxi Richeze leading me out until 150 metres to go. Yesterday's win was great but today's was perfect."
Molano confirmed that UAE Team Emirates will now ride for McNulty in the decisive mountain stages on Thursday and Friday. The American won the 2019 Giro di Sicilia while riding for Rally Cycling.
Yet again, the early breakaway of the stage was allowed to hang out front until the final kilometres of the stage.
Txomin Juaristi (Euskaltel – Euskadi), Emerson Oronte (Rally Cycling), Giacomo Cassarà (Amore e Vita), Niccolò Salvietti (MGKvis), Eric Paties Montagner (Work Service Marchiol) and Stefano Gandin (Zalf Euromobil Fior) were allowed to open a four minute lead after 50km but UAE Team Emirates lead the chase, with the USA's Joe Dombrowski doing a lot of the work as the stage climbed inland and north towards Palermo.
Later Trek-Segafredo also helped the chase, with only Juaristi staying away on the second categorised climb of the stage with 20km to go.
Giovanni Bortoluzzi (Work Service Marchiol Vega) was allowed to hang out front along the spectacular coast road and past the memorial that remembers anti-mafia magistrate Giovanni Falcone, his wife Francesca Morvillo, and three police escort agents who were killed by a roadside bomb in 1992.
Marc Soler (Movistar) tried to split the peloton with six kilometres to go and caught Bortoluzzi but the sprinters' teams and especially UAE Team Emirates had no intention of letting another victory escape their grasp.
Swipe to scroll horizontally
Full Results

| Pos. | Rider Name (Country) Team | Result |
| --- | --- | --- |
| 1 | Juan Sebastian Molano Benavides (Col) UAE Team Emirates | 4:25:41 |
| 2 | Matteo Moschetti (Ita) Trek-Segafredo | |
| 3 | Jakub Mareczko (Ita) Vini Zabu' Brado KTM | |
| 4 | Emanuele Onesti (Ita) Giotti Victoria Savini Due | |
| 5 | Manuel Belletti (Ita) Eolo-Kometa Cycling Team | |
| 6 | Francesco Carollo (Ita) Mg.k Vis VPM | |
| 7 | Samuele Zambelli (Ita) Iseo-Rime-Carnovali | |
| 8 | Nicolas Nesi (Ita) D'Amico um Tools | |
| 9 | Omer Goldstein (Isr) Israel Start-up Nation | |
| 10 | Mattia Bais (Ita) Androni Giocattoli-Sidermec | |
| 11 | Luca Colnaghi (Ita) Bardiani CSF Faizane' | |
| 12 | David Gonzalez Lopez (Spa) Caja Rural-Seguros RGA | |
| 13 | Andrea Guardini (Ita) Giotti Victoria Savini Due | |
| 14 | Jokin Aranburu Arruti (Spa) Euskaltel-Euskadi | |
| 15 | Paolo Simion (Ita) Giotti Victoria Savini Due | |
| 16 | Francesco Di Felice (Ita) Mg.k Vis VPM | |
| 17 | Maximiliano Richeze (Arg) UAE Team Emirates | |
| 18 | Cristian Scaroni (Ita) Gazprom-RusVelo | |
| 19 | Alberto Serrano Alvarez (Spa) Caja Rural-Seguros RGA | |
| 20 | Mattias Skjelmose (Den) Trek-Segafredo | |
| 21 | Paolo Toto (Ita) Amore e Vita | |
| 22 | José Rojas (Spa) Movistar Team | |
| 23 | Davide Gabburo (Ita) Bardiani CSF Faizane' | |
| 24 | Simone Velasco (Ita) Gazprom-RusVelo | |
| 25 | Romain Bardet (Fra) Team DSM | |
| 26 | Reto Hollenstein (Swi) Israel Start-up Nation | |
| 27 | David de la Cruz (Spa) UAE Team Emirates | |
| 28 | Vincenzo Nibali (Ita) Trek-Segafredo | |
| 29 | Vincenzo Albanese (Ita) Eolo-Kometa Cycling Team | |
| 30 | Niklas Eg (Den) Trek-Segafredo | |
| 31 | Stefano Di Benedetto (Ita) Work Service-Marchiol-Dynatek | |
| 32 | Maksym Bilyi (Ukr) D'Amico um Tools | |
| 33 | Einer Rubio Reyes (Col) Movistar Team | |
| 34 | Joan Bou Company (Spa) Euskaltel-Euskadi | |
| 35 | Davide Villella (Ita) Movistar Team | |
| 36 | Lorenzo Quartucci (Ita) D'Amico um Tools | |
| 37 | Kevin Vermaerke (USA) Team DSM | |
| 38 | Riccardo Verza (Ita) Zalf Euromobil Fior | |
| 39 | Marco Tizza (Ita) Amore e Vita | |
| 40 | Alessio Martinelli (Ita) Team Colpack Ballan | |
| 41 | Michele Gazzoli (Ita) Team Colpack Ballan | |
| 42 | Jhonatan Restrepo Valencia (Col) Androni Giocattoli-Sidermec | |
| 43 | Alejandro Valverde (Spa) Movistar Team | |
| 44 | Brandon McNulty (USA) UAE Team Emirates | |
| 45 | Daniel Muñoz Giraldo (Col) Androni Giocattoli-Sidermec | |
| 46 | Davide Orrico (Ita) Vini Zabu' Brado KTM | |
| 47 | Luca Rastelli (Ita) Team Colpack Ballan | |
| 48 | Giacomo Garavaglia (Ita) Work Service-Marchiol-Dynatek | |
| 49 | Raul Colombo (Ita) Work Service-Marchiol-Dynatek | |
| 50 | Eduardo Sepulveda (Arg) Androni Giocattoli-Sidermec | |
| 51 | Mattia Frapporti (Ita) Eolo-Kometa Cycling Team | |
| 52 | Jefferson Cepeda (Ecu) Androni Giocattoli-Sidermec | |
| 53 | Jhojan Garcia Susa (Col) Caja Rural-Seguros RGA | |
| 54 | Marc Soler (Spa) Movistar Team | |
| 55 | Thymen Arensman (Ned) Team DSM | |
| 56 | Abner González Rivera (PuR) Movistar Team | |
| 57 | Ivan Rovny (Rus) Gazprom-RusVelo | |
| 58 | Edward Ravasi (Ita) Eolo-Kometa Cycling Team | |
| 59 | Samuel Quaranta (Ita) Team Colpack Ballan | |
| 60 | Chris Froome (GBr) Israel Start-up Nation | |
| 61 | Asbjorn Hellemose (Den) Trek-Segafredo | |
| 62 | Stefano Gandin (Ita) Zalf Euromobil Fior | |
| 63 | Sergio Roman Martin Galan (Spa) Caja Rural-Seguros RGA | |
| 64 | Matteo Zurlo (Ita) Zalf Euromobil Fior | |
| 65 | Paul Double (GBr) Mg.k Vis VPM | |
| 66 | Txomin Juaristi Arrieta (Spa) Euskaltel-Euskadi | |
| 67 | Gavin Mannion (USA) Rally Cycling | |
| 68 | Mikel Bizkarra Etxegibel (Spa) Euskaltel-Euskadi | |
| 69 | Simone Ravanelli (Ita) Androni Giocattoli-Sidermec | |
| 70 | Christopher Hamilton (Aus) Team DSM | |
| 71 | Enrico Zanoncello (Ita) Bardiani CSF Faizane' | |
| 72 | Mikel Iturria Segurola (Spa) Euskaltel-Euskadi | |
| 73 | Florian Stork (Ger) Team DSM | |
| 74 | Ben King (USA) Rally Cycling | |
| 75 | Lorenzo Fortunato (Ita) Eolo-Kometa Cycling Team | |
| 76 | Mark Christian (GBr) Eolo-Kometa Cycling Team | |
| 77 | Roman Kreuziger (Cze) Gazprom-RusVelo | |
| 78 | Alessandro Covi (Ita) UAE Team Emirates | |
| 79 | Orluis Alberto Aular Sanabria (Ven) Caja Rural-Seguros RGA | |
| 80 | James Piccoli (Can) Israel Start-up Nation | |
| 81 | Adriano Brogi (Ita) Giotti Victoria Savini Due | |
| 82 | Nikolay Cherkasov (Rus) Gazprom-RusVelo | |
| 83 | Antonio Nibali (Ita) Trek-Segafredo | |
| 84 | Unai Iribar Jauregi (Spa) Euskaltel-Euskadi | |
| 85 | Marco Brenner (Ger) Team DSM | |
| 86 | Kristian Javier Yustre Rodriguez (Col) Giotti Victoria Savini Due | |
| 87 | Alex Tolio (Ita) Zalf Euromobil Fior | |
| 88 | Alessandro Monaco (Ita) Bardiani CSF Faizane' | |
| 89 | Marco Frapporti (Ita) Vini Zabu' Brado KTM | |
| 90 | Edoardo Faresin (Ita) Zalf Euromobil Fior | |
| 91 | Sergio Meris (Ita) Team Colpack Ballan | |
| 92 | Julen Amezqueta Moreno (Spa) Caja Rural-Seguros RGA | |
| 93 | Kyle Murphy (USA) Rally Cycling | |
| 94 | Alessandro Tonelli (Ita) Bardiani CSF Faizane' | |
| 95 | Charles-Etienne Chretien (Can) Rally Cycling | |
| 96 | Nathan Brown (USA) Rally Cycling | |
| 97 | Andreas Leknessund (Nor) Team DSM | |
| 98 | Kamil Gradek (Pol) Vini Zabu' Brado KTM | |
| 99 | Cristian Camilo Muñoz Lancheros (Col) UAE Team Emirates | |
| 100 | Joe Dombrowski (USA) UAE Team Emirates | |
| 101 | Antonio Pedrero (Spa) Movistar Team | |
| 102 | Nicola Plebani (Ita) Team Colpack Ballan | |
| 103 | Emerson Oronte (USA) Rally Cycling | |
| 104 | Emil Dima (Rom) Giotti Victoria Savini Due | |
| 105 | Alvaro Cuadros Morata (Spa) Caja Rural-Seguros RGA | |
| 106 | Francesco Zandri (Ita) Work Service-Marchiol-Dynatek | |
| 107 | Filippo Fiorelli (Ita) Bardiani CSF Faizane' | |
| 108 | Mason Hollyman (GBr) Israel Start-up Nation | 0:01:16 |
| 109 | Keegan Swirbul (USA) Rally Cycling | 0:01:22 |
| 110 | Pavel Kochetkov (Rus) Gazprom-RusVelo | |
| 111 | Samuele Rivi (Ita) Eolo-Kometa Cycling Team | 0:01:39 |
| 112 | Fabio Di Guglielmo (Ita) Mg.k Vis VPM | |
| 113 | Jacopo Cortese (Ita) Mg.k Vis VPM | |
| 114 | Alessio Acco (Ita) Zalf Euromobil Fior | 0:01:55 |
| 115 | Giacomo Cassara (Ita) Amore e Vita | |
| 116 | Giovanni Bortoluzzi (Ita) Work Service-Marchiol-Dynatek | |
| 117 | Mattia Benedetti (Ita) Amore e Vita | |
| 118 | Eric Paties Montagner (Ita) Work Service-Marchiol-Dynatek | |
| 119 | Jacopo Mosca (Ita) Trek-Segafredo | 0:02:19 |
| 120 | Damiano Cima (Ita) Gazprom-RusVelo | |
| 121 | Iuri Filosi (Ita) Giotti Victoria Savini Due | 0:03:31 |
| 122 | Federico Burchio (Ita) Work Service-Marchiol-Dynatek | 0:05:55 |
| 123 | Guy Sagiv (Isr) Israel Start-up Nation | 0:06:32 |
| 124 | Davide Appollonio (Ita) Amore e Vita | |
| 125 | Alastair Mackellar (Aus) Israel Start-up Nation | |
| 126 | Iker Ballarin Manso (Spa) Euskaltel-Euskadi | |
| 127 | Besnik Islami (Ita) D'Amico um Tools | |
| 128 | Simone Bevilacqua (Ita) Vini Zabu' Brado KTM | |
| 129 | Paul Wright (NZl) Mg.k Vis VPM | |
| 130 | Johnatan Cañaveral Vargas (Col) Bardiani CSF Faizane' | |
| 131 | Daniel Smarzaro (Ita) D'Amico um Tools | |
| 132 | Niccolo Salvietti (Ita) Mg.k Vis VPM | |
| DNF | Davide Persico (Ita) Team Colpack Ballan | |
Swipe to scroll horizontally
Sprint 1 - Capaci km. 160.5

| Pos. | Rider Name (Country) Team | Result |
| --- | --- | --- |
| 1 | Davide Gabburo (Ita) Bardiani CSF Faizane' | 5 |
| 2 | David de la Cruz (Spa) UAE Team Emirates | 3 |
| 3 | Romain Bardet (Fra) Team DSM | 2 |
| 4 | Alejandro Valverde (Spa) Movistar Team | 1 |
Swipe to scroll horizontally
Sprint 2 - Mondello km. 173

| Pos. | Rider Name (Country) Team | Result |
| --- | --- | --- |
| 1 | Juan Sebastian Molano Benavides (Col) UAE Team Emirates | 12 |
| 2 | Matteo Moschetti (Ita) Trek-Segafredo | 10 |
| 3 | Jakub Mareczko (Ita) Vini Zabu' Brado KTM | 8 |
| 4 | Emanuele Onesti (Ita) Giotti Victoria Savini Due | 7 |
| 5 | Manuel Belletti (Ita) Eolo-Kometa Cycling Team | 6 |
| 6 | Francesco Carollo (Ita) Mg.k Vis VPM | 5 |
| 7 | Samuele Zambelli (Ita) Iseo-Rime-Carnovali | 4 |
| 8 | Nicolas Nesi (Ita) D'Amico um Tools | 3 |
| 9 | Omer Goldstein (Isr) Israel Start-up Nation | 2 |
| 10 | Mattia Bais (Ita) Androni Giocattoli-Sidermec | 1 |
Swipe to scroll horizontally
Mountain 1 - Portella della Ginestra km. 82.1

| Pos. | Rider Name (Country) Team | Result |
| --- | --- | --- |
| 1 | Stefano Gandin (Ita) Zalf Euromobil Fior | 5 |
| 2 | Txomin Juaristi Arrieta (Spa) Euskaltel-Euskadi | 3 |
| 3 | Emerson Oronte (USA) Rally Cycling | 2 |
| 4 | Niccolo Salvietti (Ita) Mg.k Vis VPM | 1 |
Swipe to scroll horizontally
Mountain 2 - Carini km. 152.9

| Pos. | Rider Name (Country) Team | Result |
| --- | --- | --- |
| 1 | Txomin Juaristi Arrieta (Spa) Euskaltel-Euskadi | 5 |
| 2 | Stefano Gandin (Ita) Zalf Euromobil Fior | 3 |
| 3 | Christopher Hamilton (Aus) Team DSM | 2 |
| 4 | Romain Bardet (Fra) Team DSM | 1 |
Swipe to scroll horizontally
Young Riders

| Pos. | Rider Name (Country) Team | Result |
| --- | --- | --- |
| 1 | Matteo Moschetti (Ita) Trek-Segafredo | 4:25:41 |
| 2 | Francesco Carollo (Ita) Mg.k Vis VPM | |
| 3 | Samuele Zambelli (Ita) Iseo-Rime-Carnovali | |
| 4 | Nicolas Nesi (Ita) D'Amico um Tools | |
| 5 | Omer Goldstein (Isr) Israel Start-up Nation | |
| 6 | Mattia Bais (Ita) Androni Giocattoli-Sidermec | |
| 7 | Luca Colnaghi (Ita) Bardiani CSF Faizane' | |
| 8 | David Gonzalez Lopez (Spa) Caja Rural-Seguros RGA | |
| 9 | Jokin Aranburu Arruti (Spa) Euskaltel-Euskadi | |
| 10 | Francesco Di Felice (Ita) Mg.k Vis VPM | |
| 11 | Cristian Scaroni (Ita) Gazprom-RusVelo | |
| 12 | Alberto Serrano Alvarez (Spa) Caja Rural-Seguros RGA | |
| 13 | Mattias Skjelmose (Den) Trek-Segafredo | |
| 14 | Vincenzo Albanese (Ita) Eolo-Kometa Cycling Team | |
| 15 | Stefano Di Benedetto (Ita) Work Service-Marchiol-Dynatek | |
| 16 | Maksym Bilyi (Ukr) D'Amico um Tools | |
| 17 | Einer Rubio Reyes (Col) Movistar Team | |
| 18 | Joan Bou Company (Spa) Euskaltel-Euskadi | |
| 19 | Lorenzo Quartucci (Ita) D'Amico um Tools | |
| 20 | Kevin Vermaerke (USA) Team DSM | |
| 21 | Riccardo Verza (Ita) Zalf Euromobil Fior | |
| 22 | Alessio Martinelli (Ita) Team Colpack Ballan | |
| 23 | Michele Gazzoli (Ita) Team Colpack Ballan | |
| 24 | Brandon McNulty (USA) UAE Team Emirates | |
| 25 | Daniel Muñoz Giraldo (Col) Androni Giocattoli-Sidermec | |
| 26 | Luca Rastelli (Ita) Team Colpack Ballan | |
| 27 | Giacomo Garavaglia (Ita) Work Service-Marchiol-Dynatek | |
| 28 | Raul Colombo (Ita) Work Service-Marchiol-Dynatek | |
| 29 | Jefferson Cepeda (Ecu) Androni Giocattoli-Sidermec | |
| 30 | Jhojan Garcia Susa (Col) Caja Rural-Seguros RGA | |
| 31 | Thymen Arensman (Ned) Team DSM | |
| 32 | Abner González Rivera (PuR) Movistar Team | |
| 33 | Samuel Quaranta (Ita) Team Colpack Ballan | |
| 34 | Asbjorn Hellemose (Den) Trek-Segafredo | |
| 35 | Stefano Gandin (Ita) Zalf Euromobil Fior | |
| 36 | Sergio Roman Martin Galan (Spa) Caja Rural-Seguros RGA | |
| 37 | Matteo Zurlo (Ita) Zalf Euromobil Fior | |
| 38 | Paul Double (GBr) Mg.k Vis VPM | |
| 39 | Enrico Zanoncello (Ita) Bardiani CSF Faizane' | |
| 40 | Florian Stork (Ger) Team DSM | |
| 41 | Lorenzo Fortunato (Ita) Eolo-Kometa Cycling Team | |
| 42 | Alessandro Covi (Ita) UAE Team Emirates | |
| 43 | Orluis Alberto Aular Sanabria (Ven) Caja Rural-Seguros RGA | |
| 44 | Nikolay Cherkasov (Rus) Gazprom-RusVelo | |
| 45 | Unai Iribar Jauregi (Spa) Euskaltel-Euskadi | |
| 46 | Marco Brenner (Ger) Team DSM | |
| 47 | Alex Tolio (Ita) Zalf Euromobil Fior | |
| 48 | Alessandro Monaco (Ita) Bardiani CSF Faizane' | |
| 49 | Edoardo Faresin (Ita) Zalf Euromobil Fior | |
| 50 | Sergio Meris (Ita) Team Colpack Ballan | |
| 51 | Charles-Etienne Chretien (Can) Rally Cycling | |
| 52 | Andreas Leknessund (Nor) Team DSM | |
| 53 | Cristian Camilo Muñoz Lancheros (Col) UAE Team Emirates | |
| 54 | Nicola Plebani (Ita) Team Colpack Ballan | |
| 55 | Emil Dima (Rom) Giotti Victoria Savini Due | |
| 56 | Francesco Zandri (Ita) Work Service-Marchiol-Dynatek | |
| 57 | Mason Hollyman (GBr) Israel Start-up Nation | 0:01:16 |
| 58 | Samuele Rivi (Ita) Eolo-Kometa Cycling Team | 0:01:39 |
| 59 | Fabio Di Guglielmo (Ita) Mg.k Vis VPM | |
| 60 | Jacopo Cortese (Ita) Mg.k Vis VPM | |
| 61 | Alessio Acco (Ita) Zalf Euromobil Fior | 0:01:55 |
| 62 | Giacomo Cassara (Ita) Amore e Vita | |
| 63 | Giovanni Bortoluzzi (Ita) Work Service-Marchiol-Dynatek | |
| 64 | Mattia Benedetti (Ita) Amore e Vita | |
| 65 | Eric Paties Montagner (Ita) Work Service-Marchiol-Dynatek | |
| 66 | Federico Burchio (Ita) Work Service-Marchiol-Dynatek | 0:05:55 |
| 67 | Alastair Mackellar (Aus) Israel Start-up Nation | 0:06:32 |
| 68 | Iker Ballarin Manso (Spa) Euskaltel-Euskadi | |
| 69 | Besnik Islami (Ita) D'Amico um Tools | |
| 70 | Simone Bevilacqua (Ita) Vini Zabu' Brado KTM | |
| 71 | Paul Wright (NZl) Mg.k Vis VPM | |
| 72 | Johnatan Cañaveral Vargas (Col) Bardiani CSF Faizane' | |
| 73 | Daniel Smarzaro (Ita) D'Amico um Tools | |
| DNF | Davide Persico (Ita) Team Colpack Ballan | |
Swipe to scroll horizontally
Teams

| Pos. | Rider Name (Country) Team | Result |
| --- | --- | --- |
| 1 | Giotti Victoria Savini Due | 13:17:03 |
| 2 | UAE Team Emirates | |
| 3 | Trek-Segafredo | |
| 4 | Androni Giocattoli-Sidermec | |
| 5 | D'Amico um Tools | |
| 6 | Caja Rural-Seguros RGA | |
| 7 | Eolo-Kometa Cycling Team | |
| 8 | MG.K Vis VPM | |
| 9 | Movistar Team | |
| 10 | Israel Start-up Nation | |
| 11 | Gazprom-RusVelo | |
| 12 | Bardiani CSF Faizane' | |
| 13 | Euskaltel-Euskadi | |
| 14 | Team DSM | |
| 15 | Work Service-Marchiol-Dynatek | |
| 16 | Team Colpack Ballan | |
| 17 | Vini Zabu' Brado KTM | |
| 18 | Zalf Euromobil Fior | |
| 19 | Rally Cycling | |
| 20 | Amore e Vita | 0:01:55 |
Swipe to scroll horizontally
General classification after stage 2

| Pos. | Rider Name (Country) Team | Result |
| --- | --- | --- |
| 1 | Juan Sebastian Molano Benavides (Col) UAE Team Emirates | 9:02:42 |
| 2 | Matteo Moschetti (Ita) Trek-Segafredo | 0:00:14 |
| 3 | Vincenzo Albanese (Ita) Eolo-Kometa Cycling Team | |
| 4 | Jakub Mareczko (Ita) Vini Zabu' Brado KTM | 0:00:16 |
| 5 | Maximiliano Richeze (Arg) UAE Team Emirates | |
| 6 | Davide Gabburo (Ita) Bardiani CSF Faizane' | |
| 7 | Matteo Zurlo (Ita) Zalf Euromobil Fior | 0:00:17 |
| 8 | David de la Cruz (Spa) UAE Team Emirates | 0:00:18 |
| 9 | Charles-Etienne Chretien (Can) Rally Cycling | |
| 10 | Romain Bardet (Fra) Team DSM | 0:00:19 |
| 11 | Manuel Belletti (Ita) Eolo-Kometa Cycling Team | 0:00:20 |
| 12 | Andrea Guardini (Ita) Giotti Victoria Savini Due | |
| 13 | Luca Colnaghi (Ita) Bardiani CSF Faizane' | |
| 14 | Francesco Di Felice (Ita) Mg.k Vis VPM | |
| 15 | David Gonzalez Lopez (Spa) Caja Rural-Seguros RGA | |
| 16 | Nicolas Nesi (Ita) D'Amico um Tools | |
| 17 | Omer Goldstein (Isr) Israel Start-up Nation | |
| 18 | Paolo Simion (Ita) Giotti Victoria Savini Due | |
| 19 | Alberto Serrano Alvarez (Spa) Caja Rural-Seguros RGA | |
| 20 | José Rojas (Spa) Movistar Team | |
| 21 | Simone Velasco (Ita) Gazprom-RusVelo | |
| 22 | Jokin Aranburu Arruti (Spa) Euskaltel-Euskadi | |
| 23 | Mattia Bais (Ita) Androni Giocattoli-Sidermec | |
| 24 | Kevin Vermaerke (USA) Team DSM | |
| 25 | Jhonatan Restrepo Valencia (Col) Androni Giocattoli-Sidermec | |
| 26 | Emanuele Onesti (Ita) Giotti Victoria Savini Due | |
| 27 | Michele Gazzoli (Ita) Team Colpack Ballan | |
| 28 | Francesco Carollo (Ita) Mg.k Vis VPM | |
| 29 | Mattias Skjelmose (Den) Trek-Segafredo | |
| 30 | Samuele Zambelli (Ita) Iseo-Rime-Carnovali | |
| 31 | Riccardo Verza (Ita) Zalf Euromobil Fior | |
| 32 | Marco Tizza (Ita) Amore e Vita | |
| 33 | Mattia Frapporti (Ita) Eolo-Kometa Cycling Team | |
| 34 | Alessio Martinelli (Ita) Team Colpack Ballan | |
| 35 | Maksym Bilyi (Ukr) D'Amico um Tools | |
| 36 | Raul Colombo (Ita) Work Service-Marchiol-Dynatek | |
| 37 | Giacomo Garavaglia (Ita) Work Service-Marchiol-Dynatek | |
| 38 | Stefano Di Benedetto (Ita) Work Service-Marchiol-Dynatek | |
| 39 | Luca Rastelli (Ita) Team Colpack Ballan | |
| 40 | Vincenzo Nibali (Ita) Trek-Segafredo | |
| 41 | Cristian Scaroni (Ita) Gazprom-RusVelo | |
| 42 | Lorenzo Quartucci (Ita) D'Amico um Tools | |
| 43 | Reto Hollenstein (Swi) Israel Start-up Nation | |
| 44 | Samuel Quaranta (Ita) Team Colpack Ballan | |
| 45 | Sergio Roman Martin Galan (Spa) Caja Rural-Seguros RGA | |
| 46 | Edward Ravasi (Ita) Eolo-Kometa Cycling Team | |
| 47 | Jefferson Cepeda (Ecu) Androni Giocattoli-Sidermec | |
| 48 | Paolo Toto (Ita) Amore e Vita | |
| 49 | Thymen Arensman (Ned) Team DSM | |
| 50 | Davide Orrico (Ita) Vini Zabu' Brado KTM | |
| 51 | Filippo Fiorelli (Ita) Bardiani CSF Faizane' | |
| 52 | Paul Double (GBr) Mg.k Vis VPM | |
| 53 | Kristian Javier Yustre Rodriguez (Col) Giotti Victoria Savini Due | |
| 54 | Einer Rubio Reyes (Col) Movistar Team | |
| 55 | Alejandro Valverde (Spa) Movistar Team | |
| 56 | Lorenzo Fortunato (Ita) Eolo-Kometa Cycling Team | |
| 57 | Mark Christian (GBr) Eolo-Kometa Cycling Team | |
| 58 | Simone Ravanelli (Ita) Androni Giocattoli-Sidermec | |
| 59 | Marco Brenner (Ger) Team DSM | |
| 60 | Daniel Muñoz Giraldo (Col) Androni Giocattoli-Sidermec | |
| 61 | Alex Tolio (Ita) Zalf Euromobil Fior | |
| 62 | Ben King (USA) Rally Cycling | |
| 63 | Damiano Cima (Ita) Gazprom-RusVelo | |
| 64 | Davide Villella (Ita) Movistar Team | |
| 65 | Chris Froome (GBr) Israel Start-up Nation | |
| 66 | Abner González Rivera (PuR) Movistar Team | |
| 67 | Brandon McNulty (USA) UAE Team Emirates | |
| 68 | Alessandro Covi (Ita) UAE Team Emirates | |
| 69 | Orluis Alberto Aular Sanabria (Ven) Caja Rural-Seguros RGA | |
| 70 | Asbjorn Hellemose (Den) Trek-Segafredo | |
| 71 | Jhojan Garcia Susa (Col) Caja Rural-Seguros RGA | |
| 72 | Mikel Bizkarra Etxegibel (Spa) Euskaltel-Euskadi | |
| 73 | Niklas Eg (Den) Trek-Segafredo | |
| 74 | Stefano Gandin (Ita) Zalf Euromobil Fior | |
| 75 | Joan Bou Company (Spa) Euskaltel-Euskadi | |
| 76 | Eduardo Sepulveda (Arg) Androni Giocattoli-Sidermec | |
| 77 | Unai Iribar Jauregi (Spa) Euskaltel-Euskadi | |
| 78 | Nathan Brown (USA) Rally Cycling | |
| 79 | Adriano Brogi (Ita) Giotti Victoria Savini Due | |
| 80 | Edoardo Faresin (Ita) Zalf Euromobil Fior | |
| 81 | Marc Soler (Spa) Movistar Team | |
| 82 | Christopher Hamilton (Aus) Team DSM | |
| 83 | Antonio Nibali (Ita) Trek-Segafredo | |
| 84 | Francesco Zandri (Ita) Work Service-Marchiol-Dynatek | |
| 85 | Gavin Mannion (USA) Rally Cycling | |
| 86 | Alvaro Cuadros Morata (Spa) Caja Rural-Seguros RGA | |
| 87 | Emil Dima (Rom) Giotti Victoria Savini Due | |
| 88 | Txomin Juaristi Arrieta (Spa) Euskaltel-Euskadi | |
| 89 | James Piccoli (Can) Israel Start-up Nation | |
| 90 | Ivan Rovny (Rus) Gazprom-RusVelo | |
| 91 | Marco Frapporti (Ita) Vini Zabu' Brado KTM | |
| 92 | Alessandro Tonelli (Ita) Bardiani CSF Faizane' | |
| 93 | Florian Stork (Ger) Team DSM | |
| 94 | Nikolay Cherkasov (Rus) Gazprom-RusVelo | |
| 95 | Alessandro Monaco (Ita) Bardiani CSF Faizane' | |
| 96 | Mikel Iturria Segurola (Spa) Euskaltel-Euskadi | |
| 97 | Julen Amezqueta Moreno (Spa) Caja Rural-Seguros RGA | |
| 98 | Roman Kreuziger (Cze) Gazprom-RusVelo | |
| 99 | Sergio Meris (Ita) Team Colpack Ballan | |
| 100 | Kamil Gradek (Pol) Vini Zabu' Brado KTM | |
| 101 | Cristian Camilo Muñoz Lancheros (Col) UAE Team Emirates | |
| 102 | Andreas Leknessund (Nor) Team DSM | |
| 103 | Kyle Murphy (USA) Rally Cycling | |
| 104 | Antonio Pedrero (Spa) Movistar Team | |
| 105 | Nicola Plebani (Ita) Team Colpack Ballan | |
| 106 | Joe Dombrowski (USA) UAE Team Emirates | |
| 107 | Pavel Kochetkov (Rus) Gazprom-RusVelo | |
| 108 | Emerson Oronte (USA) Rally Cycling | |
| 109 | Enrico Zanoncello (Ita) Bardiani CSF Faizane' | 0:00:50 |
| 110 | Mason Hollyman (GBr) Israel Start-up Nation | 0:01:36 |
| 111 | Keegan Swirbul (USA) Rally Cycling | 0:01:42 |
| 112 | Jacopo Cortese (Ita) Mg.k Vis VPM | 0:01:58 |
| 113 | Fabio Di Guglielmo (Ita) Mg.k Vis VPM | 0:01:59 |
| 114 | Samuele Rivi (Ita) Eolo-Kometa Cycling Team | |
| 115 | Giacomo Cassara (Ita) Amore e Vita | 0:02:15 |
| 116 | Alessio Acco (Ita) Zalf Euromobil Fior | |
| 117 | Giovanni Bortoluzzi (Ita) Work Service-Marchiol-Dynatek | |
| 118 | Mattia Benedetti (Ita) Amore e Vita | |
| 119 | Eric Paties Montagner (Ita) Work Service-Marchiol-Dynatek | |
| 120 | Jacopo Mosca (Ita) Trek-Segafredo | 0:02:39 |
| 121 | Iuri Filosi (Ita) Giotti Victoria Savini Due | 0:03:51 |
| 122 | Federico Burchio (Ita) Work Service-Marchiol-Dynatek | 0:06:15 |
| 123 | Guy Sagiv (Isr) Israel Start-up Nation | 0:06:52 |
| 124 | Paul Wright (NZl) Mg.k Vis VPM | |
| 125 | Davide Appollonio (Ita) Amore e Vita | |
| 126 | Besnik Islami (Ita) D'Amico um Tools | |
| 127 | Niccolo Salvietti (Ita) Mg.k Vis VPM | |
| 128 | Johnatan Cañaveral Vargas (Col) Bardiani CSF Faizane' | |
| 129 | Iker Ballarin Manso (Spa) Euskaltel-Euskadi | |
| 130 | Alastair Mackellar (Aus) Israel Start-up Nation | |
| 131 | Simone Bevilacqua (Ita) Vini Zabu' Brado KTM | |
| 132 | Daniel Smarzaro (Ita) D'Amico um Tools | |
Swipe to scroll horizontally
Points classification

| Pos. | Rider Name (Country) Team | Result |
| --- | --- | --- |
| 1 | Juan Sebastian Molano Benavides (Col) UAE Team Emirates | 24 |
| 2 | Matteo Moschetti (Ita) Trek-Segafredo | 17 |
| 3 | Jakub Mareczko (Ita) Vini Zabu' Brado KTM | 13 |
| 4 | Vincenzo Albanese (Ita) Eolo-Kometa Cycling Team | 10 |
| 5 | Manuel Belletti (Ita) Eolo-Kometa Cycling Team | 9 |
| 6 | Maximiliano Richeze (Arg) UAE Team Emirates | 8 |
| 7 | Emanuele Onesti (Ita) Giotti Victoria Savini Due | 7 |
| 8 | Davide Gabburo (Ita) Bardiani CSF Faizane' | 5 |
| 9 | Matteo Zurlo (Ita) Zalf Euromobil Fior | 5 |
| 10 | Francesco Carollo (Ita) Mg.k Vis VPM | 5 |
| 11 | Andrea Guardini (Ita) Giotti Victoria Savini Due | 4 |
| 12 | Samuele Zambelli (Ita) Iseo-Rime-Carnovali | 4 |
| 13 | David de la Cruz (Spa) UAE Team Emirates | 3 |
| 14 | Charles-Etienne Chretien (Can) Rally Cycling | 3 |
| 15 | Nicolas Nesi (Ita) D'Amico um Tools | 3 |
| 16 | Filippo Fiorelli (Ita) Bardiani CSF Faizane' | 3 |
| 17 | Romain Bardet (Fra) Team DSM | 2 |
| 18 | Francesco Di Felice (Ita) Mg.k Vis VPM | 2 |
| 19 | Omer Goldstein (Isr) Israel Start-up Nation | 2 |
| 20 | Jacopo Cortese (Ita) Mg.k Vis VPM | 2 |
| 21 | Mattia Bais (Ita) Androni Giocattoli-Sidermec | 1 |
| 22 | Jhonatan Restrepo Valencia (Col) Androni Giocattoli-Sidermec | 1 |
| 23 | Alejandro Valverde (Spa) Movistar Team | 1 |
| 24 | Cristian Camilo Muñoz Lancheros (Col) UAE Team Emirates | 1 |
Swipe to scroll horizontally
Mountains classification

| Pos. | Rider Name (Country) Team | Result |
| --- | --- | --- |
| 1 | Stefano Gandin (Ita) Zalf Euromobil Fior | 8 |
| 2 | Txomin Juaristi Arrieta (Spa) Euskaltel-Euskadi | 8 |
| 3 | Charles-Etienne Chretien (Can) Rally Cycling | 5 |
| 4 | Matteo Zurlo (Ita) Zalf Euromobil Fior | 3 |
| 5 | Christopher Hamilton (Aus) Team DSM | 2 |
| 6 | Emerson Oronte (USA) Rally Cycling | 2 |
| 7 | Jacopo Cortese (Ita) Mg.k Vis VPM | 2 |
| 8 | David de la Cruz (Spa) UAE Team Emirates | 1 |
| 9 | Romain Bardet (Fra) Team DSM | 1 |
| 10 | Niccolo Salvietti (Ita) Mg.k Vis VPM | 1 |
Swipe to scroll horizontally
Young riders classification

| Pos. | Rider Name (Country) Team | Result |
| --- | --- | --- |
| 1 | Matteo Moschetti (Ita) Trek-Segafredo | 9:02:56 |
| 2 | Vincenzo Albanese (Ita) Eolo-Kometa Cycling Team | |
| 3 | Matteo Zurlo (Ita) Zalf Euromobil Fior | 0:00:03 |
| 4 | Charles-Etienne Chretien (Can) Rally Cycling | 0:00:04 |
| 5 | Luca Colnaghi (Ita) Bardiani CSF Faizane' | 0:00:06 |
| 6 | Francesco Di Felice (Ita) Mg.k Vis VPM | |
| 7 | David Gonzalez Lopez (Spa) Caja Rural-Seguros RGA | |
| 8 | Nicolas Nesi (Ita) D'Amico um Tools | |
| 9 | Omer Goldstein (Isr) Israel Start-up Nation | |
| 10 | Alberto Serrano Alvarez (Spa) Caja Rural-Seguros RGA | |
| 11 | Jokin Aranburu Arruti (Spa) Euskaltel-Euskadi | |
| 12 | Mattia Bais (Ita) Androni Giocattoli-Sidermec | |
| 13 | Kevin Vermaerke (USA) Team DSM | |
| 14 | Michele Gazzoli (Ita) Team Colpack Ballan | |
| 15 | Francesco Carollo (Ita) Mg.k Vis VPM | |
| 16 | Mattias Skjelmose (Den) Trek-Segafredo | |
| 17 | Samuele Zambelli (Ita) Iseo-Rime-Carnovali | |
| 18 | Riccardo Verza (Ita) Zalf Euromobil Fior | |
| 19 | Alessio Martinelli (Ita) Team Colpack Ballan | |
| 20 | Maksym Bilyi (Ukr) D'Amico um Tools | |
| 21 | Raul Colombo (Ita) Work Service-Marchiol-Dynatek | |
| 22 | Giacomo Garavaglia (Ita) Work Service-Marchiol-Dynatek | |
| 23 | Stefano Di Benedetto (Ita) Work Service-Marchiol-Dynatek | |
| 24 | Luca Rastelli (Ita) Team Colpack Ballan | |
| 25 | Cristian Scaroni (Ita) Gazprom-RusVelo | |
| 26 | Lorenzo Quartucci (Ita) D'Amico um Tools | |
| 27 | Samuel Quaranta (Ita) Team Colpack Ballan | |
| 28 | Sergio Roman Martin Galan (Spa) Caja Rural-Seguros RGA | |
| 29 | Jefferson Cepeda (Ecu) Androni Giocattoli-Sidermec | |
| 30 | Thymen Arensman (Ned) Team DSM | |
| 31 | Paul Double (GBr) Mg.k Vis VPM | |
| 32 | Einer Rubio Reyes (Col) Movistar Team | |
| 33 | Lorenzo Fortunato (Ita) Eolo-Kometa Cycling Team | |
| 34 | Marco Brenner (Ger) Team DSM | |
| 35 | Daniel Muñoz Giraldo (Col) Androni Giocattoli-Sidermec | |
| 36 | Alex Tolio (Ita) Zalf Euromobil Fior | |
| 37 | Abner González Rivera (PuR) Movistar Team | |
| 38 | Brandon McNulty (USA) UAE Team Emirates | |
| 39 | Alessandro Covi (Ita) UAE Team Emirates | |
| 40 | Orluis Alberto Aular Sanabria (Ven) Caja Rural-Seguros RGA | |
| 41 | Asbjorn Hellemose (Den) Trek-Segafredo | |
| 42 | Jhojan Garcia Susa (Col) Caja Rural-Seguros RGA | |
| 43 | Stefano Gandin (Ita) Zalf Euromobil Fior | |
| 44 | Joan Bou Company (Spa) Euskaltel-Euskadi | |
| 45 | Unai Iribar Jauregi (Spa) Euskaltel-Euskadi | |
| 46 | Edoardo Faresin (Ita) Zalf Euromobil Fior | |
| 47 | Francesco Zandri (Ita) Work Service-Marchiol-Dynatek | |
| 48 | Emil Dima (Rom) Giotti Victoria Savini Due | |
| 49 | Florian Stork (Ger) Team DSM | |
| 50 | Nikolay Cherkasov (Rus) Gazprom-RusVelo | |
| 51 | Alessandro Monaco (Ita) Bardiani CSF Faizane' | |
| 52 | Sergio Meris (Ita) Team Colpack Ballan | |
| 53 | Cristian Camilo Muñoz Lancheros (Col) UAE Team Emirates | |
| 54 | Andreas Leknessund (Nor) Team DSM | |
| 55 | Nicola Plebani (Ita) Team Colpack Ballan | |
| 56 | Enrico Zanoncello (Ita) Bardiani CSF Faizane' | 0:00:36 |
| 57 | Mason Hollyman (GBr) Israel Start-up Nation | 0:01:22 |
| 58 | Jacopo Cortese (Ita) Mg.k Vis VPM | 0:01:44 |
| 59 | Fabio Di Guglielmo (Ita) Mg.k Vis VPM | 0:01:45 |
| 60 | Samuele Rivi (Ita) Eolo-Kometa Cycling Team | |
| 61 | Giacomo Cassara (Ita) Amore e Vita | 0:02:01 |
| 62 | Alessio Acco (Ita) Zalf Euromobil Fior | |
| 63 | Giovanni Bortoluzzi (Ita) Work Service-Marchiol-Dynatek | |
| 64 | Mattia Benedetti (Ita) Amore e Vita | |
| 65 | Eric Paties Montagner (Ita) Work Service-Marchiol-Dynatek | |
| 66 | Federico Burchio (Ita) Work Service-Marchiol-Dynatek | 0:06:01 |
| 67 | Paul Wright (NZl) Mg.k Vis VPM | 0:06:38 |
| 68 | Besnik Islami (Ita) D'Amico um Tools | |
| 69 | Johnatan Cañaveral Vargas (Col) Bardiani CSF Faizane' | |
| 70 | Iker Ballarin Manso (Spa) Euskaltel-Euskadi | |
| 71 | Alastair Mackellar (Aus) Israel Start-up Nation | |
| 72 | Simone Bevilacqua (Ita) Vini Zabu' Brado KTM | |
| 73 | Daniel Smarzaro (Ita) D'Amico um Tools | |
Swipe to scroll horizontally
Teams classification

| Pos. | Rider Name (Country) Team | Result |
| --- | --- | --- |
| 1 | Bardiani CSF Faizane' | 27:09:05 |
| 2 | Giotti Victoria Savini Due | 0:00:01 |
| 3 | UAE Team Emirates | |
| 4 | Eolo-Kometa Cycling Team | |
| 5 | Trek-Segafredo | |
| 6 | Androni Giocattoli-Sidermec | |
| 7 | Caja Rural-Seguros RGA | |
| 8 | D'Amico um Tools | |
| 9 | Team DSM | |
| 10 | Team Colpack Ballan | |
| 11 | MG.K Vis VPM | |
| 12 | Movistar Team | |
| 13 | Israel Start-up Nation | |
| 14 | Gazprom-RusVelo | |
| 15 | Work Service-Marchiol-Dynatek | |
| 16 | Euskaltel-Euskadi | |
| 17 | Zalf Euromobil Fior | |
| 18 | Vini Zabu' Brado KTM | |
| 19 | Rally Cycling | |
| 20 | Amore e Vita | 0:01:56 |

Thank you for reading 5 articles in the past 30 days*
Join now for unlimited access
Enjoy your first month for just £1 / $1 / €1
*Read any 5 articles for free in each 30-day period, this automatically resets
After your trial you will be billed £4.99 $7.99 €5.99 per month, cancel anytime. Or sign up for one year for just £49 $79 €59

Join now for unlimited access
Try your first month for just £1 / $1 / €1