Best budget gravel bikes 2022 – Gravel grinding without breaking the bank
Our pick of the best budget gravel bikes that offer the greatest value for money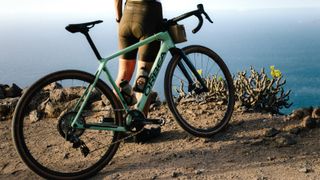 (Image credit: Orbea)
When it comes to recommending the best budget gravel bikes, we need to establish first what we mean by 'budget', because it can mean many different things to different people. You can be sure that your idea of 'budget' is different to someone else's, so rather than setting a specific price limit to what can be considered among the best budget gravel bikes, we've listed bikes that we think offer good value for money. This takes into account the specification, the ride quality, and aftercare service such as warranties.
Luckily for gravel riders on more modest budgets, technology from the best gravel bikes at the upper end of the pricing spectrum is starting to trickle down towards the best entry-level gravel bikes and all the ranges in between. There are cheap gravel bikes that may not stand up to the beating you want to give them, there are premium gravel bikes that most of us will only ever ride in our dreams, and then in between are the best budget gravel bikes, which hit a sweet spot between the two and offer the best value for money. That's what we're looking at here.
However, if you have a specific price in mind and none of the bikes here are right for you, come back and check out our guides for the best gravel bikes under £1,000 or the best gravel bikes under £2,000.
Best budget gravel bikes
Why you can trust Cyclingnews Our expert reviewers spend hours testing and comparing products and services so you can choose the best for you. Find out more about how we test.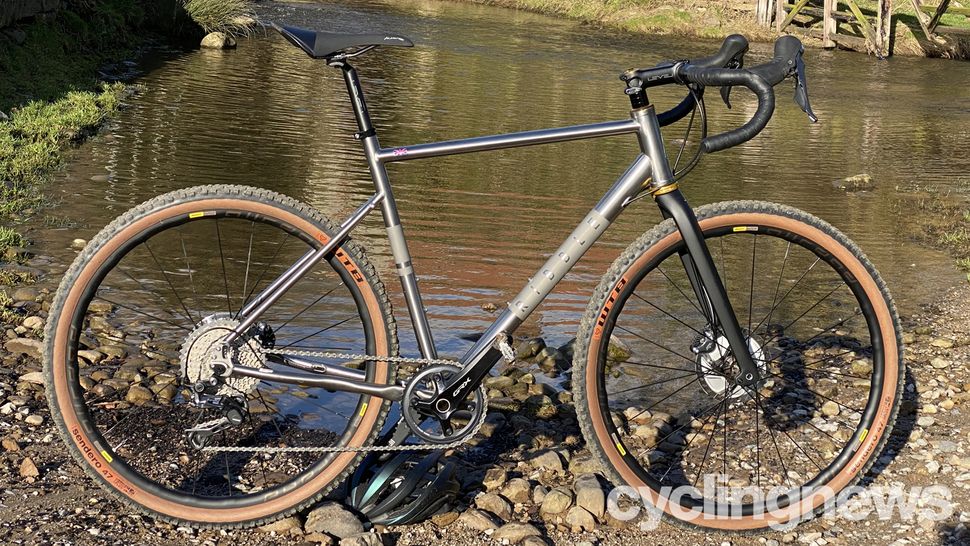 The best budget gravel bike for titanium frame lovers
Reasons to buy
+
Beautiful glide ride
+
Responsive 'relaxed road' handling
+
Corrosion and scratch-proof finish
+
Grippy 650b tyres
While there are cheaper ways of getting a versatile titanium bike, you'd be hard pushed to find something that looks and feels this luxurious. With its triple-butted, multi-shaped pipework, Ribble's titanium gravel bike hits that sweet spot, offering all-around versatility and a ride-feel that simply glides over the terrain.
Despite being built from a classic material, there's plenty of contemporary flair to deliver the ride you want from a bike like this. From the dropped seat stays and CNC-machined 3D dropouts, to the bolt-through rear axle that doubles as a mech mount to mitigate damage in the event of a crash.
Add to this clearance for 47mm tyres on 650b wheels, plus 700c compatibility, the option for a single or double chainset at the front, and Shimano's flagship 1x GRX groupset, and you're in for a really good time. The CGR Ti rolls on a set of Mavic Allroad Elite wheels shod with chunky WTB tyres (the Byway comes stock, ours had Senderos), and up front are Ribble's own-brand Level handlebars. At 420mm, however, some may find the bars far too narrow, so check your required measurement before you purchase.
Read how it earned four stars in our Ribble CGR Ti review.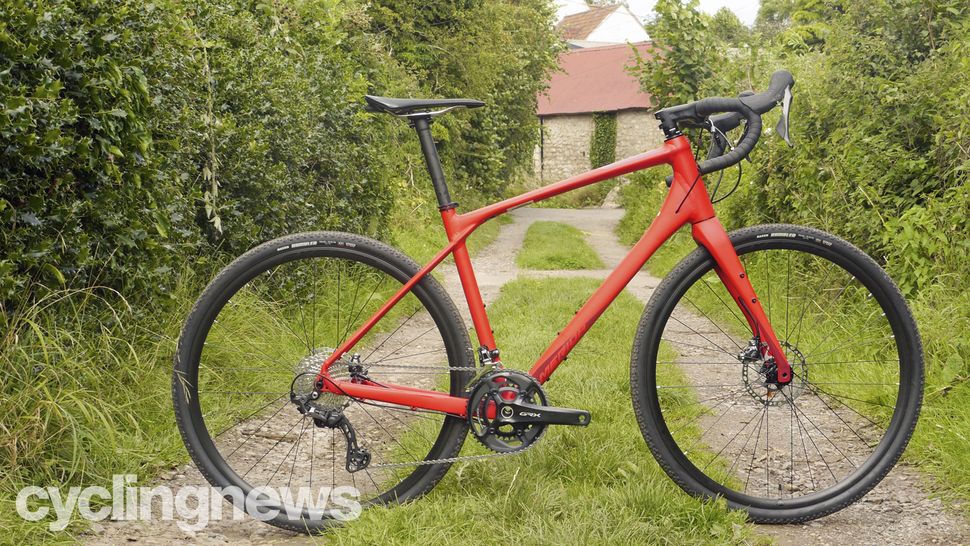 Best for an off-road friendly platform
Specifications
Tyre clearance:
700 x 42, 650b x 50
Sizes available:
XS to XL
Reasons to buy
+
11-speed Shimano GRX
+
Mounts for fenders, racks and more
+
Carbon fibre fork and seatpost
+
Easy-service brake hose splitters
Reasons to avoid
-
No mounts on the top tube
-
Tubeless valves not included
-
Wheels are heavy and hard to set up tubeless
-
Pressfit bottom bracket doesn't like the mud
The Merida Silex 700 is an alloy gravel bike designed with a frame geometry that leans more towards off-road capability than on-road speed. It's capable, fun, and comfortable for hours and hours in the saddle, and the ever-impressive 11-speed Shimano GRX provides smooth shifting and powerful, well-modulated braking.
It has mounting points on the forks, under the down tube and in all the usual places, so it's good for long-haul bikepacking rides, and its long-reach/short-stem means handling is sharp, without being twitchy.
Maintenance is made easier thanks to barrel adjusters and hose splitters on the cables, however, the press-fit bottom bracket can cause creaks if not serviced regularly, and the wheels are difficult to set up tubeless without the right tools, so this may present an additional cost to consider.
The best budget gravel bike for those who regularly adventure
Reasons to buy
+
Feels balanced and stable
+
Accelerates quickly and maintains speed
+
Smooths out the bumps well
+
High quality durable components
+
Excellent value thanks to consumer-direct model
Reasons to avoid
-
UK pricing has been affected by Brexit, so expect to pay a little more
The second gravel bike to join Canyon's line-up, the Grizl, is all about loading up and heading out into the wilderness. The Grizl adopts some very clever tube wall profiling and composite construction keeps the weight down significantly, while also maintaining some chunkiness to certain parts of the frame which, in partnership with some big volume tyres from Schwalbe, delivers a comfortable and surefooted ride that still feels fun.
Unlike its sibling, the Grail, the Grizl comes with a lot more frame mounts (including three mounts on each side of the fork), custom bikepacking bags and a conventional handlebar, spelling out its purpose very clearly. This is an excellent steed for bikepacking, and one that not only rides confidently over rough ground, but also offers great value for money.
The specced components are not to be sniffed at, with a full hydraulic Shimano GRX 800-series groupset, tubeless-ready DT Swiss G100 wheels, and a Fizik Argo Terra X5 saddle.
Sizing, meanwhile, is incredibly inclusive, ranging from XXS to XXL, making the Grizl an option that will fit most people's needs.
If you want to know more, check out our Canyon Grizl CF SL 8 1by review.
Rondo Ruut ST 1
Best steel budget gravel bike for versatility
Specifications
Tyre clearance:
40mm (700c) / 2.1in (650b)
Reasons to buy
+
Adjustable fork geometry
+
Controlled and stable ride-feel
+
Super supple steel frame that smooths out the chatter
+
650b compatible
The Rondo Ruut ST1 is a steel-framed gravel machine designed to double up as a classic commuter and weekend bikepacking rig, to offer the best of all worlds in one. Not only is it built around a high-quality Tange steel frame, that feels supple and smooth while riding off-road, it also features the brand's clever TwinTip 2.0 fork that offers adjustable geometry.
The TwinTip geometry system effectively allows for two different settings: Hi and Lo. The Hi setting creates a steeper head and seat angle and shortens the fork trail, providing a more aggressive riding position. Conversely, when you switch it to the Lo position, you'll get the opposite: a slacker head and seat angle, longer fork trail and higher placed handlebars for a more relaxed position.
So with the Rondo Ruut you effectively get two bikes in one. Use it for all manner of things, from commuting and bikepacking in the Lo position, to weekend racing or fast-paced shredding in the Hi.
Nukeproof Digger 275 Comp
Best for short and fast singletrack sessions
Specifications
Frame material::
Aluminium
Reasons to buy
+
Playful ride quality
+
Solid spec including a GRX drivetrain
+
50cm wide handlebars are great for off-road control
Reasons to avoid
-
Stock wheel and tyre set-up is sluggish on the road compared to narrower 700c set-ups
Nukeproof has updated the Digger range with new geometry and a staggering spec for the money. The essence of the Digger hasn't been lost, however, with its very wide handlebars and agile 650b Plus wheelset as standard, the Digger is a bike that is all about having fun on any trail that is pointed in front of it. This hooligan attitude isn't at the cost of practicality, though, as the Digger comes with all the fixtures for dreary daily winter riding.
Nukeproof has done a fantastic job of building the Digger Comp up with an impressive array of componentry. The headline here is the Shimano GRX 11-speed drivetrain and brakes that offer a significant improvement in off-road performance over bikes with road groupsets. Nukeproof has equipped the bike with its own brand kit, apart from the rolling stock, which comes from WTB, using WTB Serra wheels and grippy Sendero 650x47 tyres. These well-treaded tyres continue the trend of wild-child off-road shredding, but they do suffer when the surface smooths out.
Orro Terra C LTD-ED 7020 RR9
Best for light gravel and fast-road fun
Reasons to buy
+
Stiff frame offers fast acceleration and efficient power transfer
+
Still delivers a comfortable ride
+
A versatile 'do it all' bike
Reasons to avoid
-
Could do with more tyre clearance
While the name doesn't exactly roll off the tongue, this limited edition model of the Orro Terra C offers excellent value for money and, despite its race DNA, would make an ideal 'do it all' bike for those who have limited storage space at home.
It's constructed around a stiff carbon fibre frame that allows the rider to put down sufficient power to accelerate quickly and maintain momentum. Within the carbon layup, high-modulus fibres are interwoven to provide enhanced strength and protect the frame from impact damage, which results in the light, fast and durable beast most gravel racers rely upon.
However if racing isn't the only reason you're looking at this bike, you'll be pleased to know that it comes with the potential to make an excellent commuter and road bike as well. It's powered by the reliable Shimano 105 7020 2x11 groupset, offering smooth shifting capabilities, a wide range of gears and the longevity required from a bike that's going to be seeing a lot of use.
The stock tyres are 700cx28mm Vittoria Zaffiros, narrow for singletrack and chunky gravel, yes, but ideal for finer gravel segments interlaced with long sections of tarmac.
Specialized Diverge Comp E5
A great carbon fibre do-it-all choice
Specifications
Frame material:
Aluminium
Tyre clearance:
47mm (700c) / 2.1in (650b)
Reasons to buy
+
The alloy frame makes it easier to spec with quality components
+
Rides fast and fun, on road or off
+
Low and slack geometry for off-road composure
+
Features Future Shock 1.5 suspension technology
+
Plenty of tyre clearance
Reasons to avoid
-
Expensive for an aluminium frame
-
Roadie handlebars aren't flared
Specialized's gravel machine comes in a range of models, with the E5 Comp sitting third from the bottom. This makes it lower-mid-range, meaning it doesn't have all the cheapest parts, but is definitely very affordable.
The Diverge E5 Comp is designed to be versatile enough to offer an escape onto gravel back roads away from urban traffic, as well as a place on the start line of a gravel race.
It features Future Shock 1.5 - the brand's proprietary built-in suspension, to smooth over the bumps and provide a comfortable ride no matter how rough the terrain gets. The FACT carbon fork is paired with an aluminium frame, delivering a light and lively ride. Specialized equipped the Diverge with what it claims to be its most progressive geometry, meaning a relatively slack head angle and long reach to help you feel planted and confident.
It comes specced with 700c Axis Elite Disc wheels, but is also compatible with 650B if you wish to add on some wider rubber (up to 2.1in to be precise), and is driven by Shimano's GRX hydraulic groupset, delivering smooth gravel-specific shifting and powerful braking.
Cannondale Topstone 2
A great do-it-all alloy gravel bike
Specifications
Tyre clearance:
700 x 42mm
Reasons to buy
+
Shimano GRX 400 series groupset and hydraulic disc brakes
+
Mudguard and rear pannier rack mounts
+
Durable WTB wheels and tyres
+
Dropper-post compatible
Reasons to avoid
-
Non-series crankset is a cost-cutting measure
The Topstone 2 makes this list as a versatile bike that is good both on the road and off it. The 700 x 42mm tyre clearance isn't breaking any ground, and the design won't be winning any awards - despite the nice paint schemes - but with mounting points for bottles, bags, racks and mudguards, it's a bike that can see you through a week of commutes, loaded up for a weekend in the wilderness, and stripped back to basics for a road bike that will happily tap out the miles on the tarmac. If you're looking for a one-bike solution, this might just be it.
Giant Revolt 1
Great ratio of spec vs price
Specifications
Tyre clearance:
700 x 45mm
Sizes available:
S, M, ML, L, XL
Reasons to buy
+
Good value compared to closest rivals
+
Adventure-ready geometry
+
Shimano GRX hydraulic brakes
Reasons to avoid
-
Not designed for speed on the roads
-
Press-fit bottom bracket
The Revolt earns a place on this list for a few reasons. Chief among which is the impressive price-to-spec ratio, with a price that's between 10 and 20 per cent better than similarly specced bikes from Trek, Specialized and the Cannondale Topstone 1 also listed here.
Talking of spec, the 10-speed GRX 400 groupset and hydraulic brakes never fail to impress us. The wheels are Giant's own-brand S-X2 alloy hoops, which might not be on everyone's wishlist, but given all Giant bikes come ready and set up tubeless, all you need to do is add sealant and they're ready to shred. It won't be for everyone though. Like the Merida Silex, the Revolt is designed with off-road capability at the forefront of priorities, with on-road speed coming second.
How to choose the best budget gravel bike for you
What material should I choose for my budget gravel bike?
When it comes to the best budget gravel bikes, foregoing carbon fibre in favour of lower-cost steel or aluminium is a good way to save a good amount of money. Carbon options may be available, but at lower price points are usually best avoided as manufacturers will need to make compromises to keep the costs down. That will probably mean the spec is worse, and it will also usually be with a lower quality of carbon fibre and in our opinion good alloy trumps bad carbon.
The majority of the lower-priced gravel bikes will be made from aluminium. Aluminium technology is constantly evolving, and despite being a stiffer material, frame designers are able to now build aluminium frames with increasing levels of compliance and comfort. Meanwhile, steel is well established as a forgiving yet durable material. It is generally a little heavier than alloy, but the ride quality it delivers garners a dedicated following.
The answer to this will depend on how you define 'budget'. If you can stretch to a carbon fibre frame from a reputable brand with good components, then you'll undoubtedly be happy with your choice, but the answer to this question lies in your response to the next question.
On which components should I prioritise my spend?
There will be undoubtedly be compromises that you are forced to make to ensure you get the best budget gravel bike without spending more than you can afford, but exactly where those compromises should take place depends on your desires.
Generally, a top-tier frame will ride worse with base-level components than a mid-tier frame with mid-tier components, so unless you plan on aggressively upgrading components in the near future, you shouldn't sacrifice a good quality groupset and wheels in favour of a carbon fibre frame.
As for the rest of the bike, think of it in a cost+complexity=priority calculation. Groupsets are both expensive and complex to upgrade, so make this a higher priority. Wheels are also expensive, but they are much easier to upgrade, so these can be slightly lower in the list.
Things like saddles, seatposts, stems and handlebars are much lower in cost and easier to upgrade, and you might find you need to upgrade them anyway in order to make the bike more comfortable, so these can be further down the list.
Consumables like tyres, chains and bar tape will probably not come into the equation, but if they do, remember that you will be forced to upgrade them at some point in the future when they wear out, so keep these near the bottom of the list.
Which components should I look for?
There are some components that will categorically improve the performance of a gravel bike that, outside of really niche use cases, should be a prerequisite on your budget gravel bike.
Disc brakes is the standout component in this regard. Mechanical disc brakes offer a marked improvement over rim brakes, but hydraulic disc brakes are well worth the extra investment. They not only give you more power but also offer improved modulation control. They generally require little to no maintenance either, although if you do snag a hydraulic hose on a tree, it's probably going to need a trip to the bike shop to be fixed, so bear this in mind if you're going off into the wilderness for days on end.
Tubeless tyres are the other key component. Punctures, sadly, go hand-in-hand with riding off road, so choose a bike that requires no additional spend to allow you to ditch the inner tube.
Thirdly, consider your chainset. The gravel bikes in our guide use either 1x, or 2x drivetrains, and the number here denotes the number of chainrings connected to your pedals. A 1x drivetrain uses a single chainring with a wide-range mountain-bike-style cassette to simplify the drivetrain and save weight. A 2x chainset offers two chainrings, and thus offers twice as many gears, however, the spread of gears is usually similar.
Should I choose 650b or 700c wheels and tyres?
The advantages and disadvantages of 700c vs 650b-sized wheels have been long debated and will continue to be discussed for a long time. Riders who are looking for on- and off-road versatility will be best served by the lower weight and better obstacle rollover of 700c wheels. Those riding rougher terrain will find that the increased tyre size and volume of 650b wheels offer a significant advantage in grip and comfort.
Many gravel bikes will be able to accommodate both wheel sizes, giving riders who invest in a spare set of wheels the option of 'two bikes in one': a 700c wheelset set-up with fast-rolling tyres for the road and a 650b wheelset with large, knobbly tyres for more adventurous riding.
Graham has been part of the Cyclingnews team since January 2020. He has mountain biking at his core and can mostly be found bikepacking around Scotland or exploring the steep trails around the Tweed Valley. Not afraid of a challenge, Graham has gained a reputation for riding fixed gear bikes both too far and often in inappropriate places.
The latest race content, interviews, features, reviews and expert buying guides, direct to your inbox!
Thank you for signing up to The Pick. You will receive a verification email shortly.
There was a problem. Please refresh the page and try again.