Best budget gravel bikes: Gravel grinding without breaking the bank
Our pick of the best budget gravel bikes for riding beyond the tarmac without living beyond your means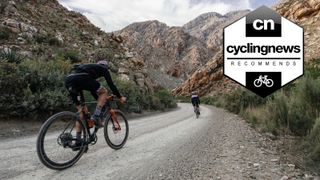 (Image credit: Switchback Sports (South Africa))
The best budget gravel bikes make it easier for everyone to get outdoors and explore their local area, and thankfully there are more and more affordable options becoming available all the time. 
Gravel-bike technology is expanding at an exponential rate, with new features and designs regularly being released. Luckily for gravel riders on modest budgets, the best beginner's gravel bikes are starting to receive trickle-down technology from the best gravel bikes at the upper end of the range.
Not long ago, a budget gravel bike would come with some serious compromises, whether that be in geometry or components. Now bikes are coming equipped with hydraulic disc brakes, 1x drivetrains and the best gravel tyres. Not only are components of higher quality, but geometry and frame details are now on par with top-shelf bikes, with internal cable-routing, dropper compatibility and tyre-clearance features that open up the possibility for radical gravel riding without having to empty your wallet.
Not only are budget gravel bikes becoming more capable, but they are proving to be massively versatile as well. While the best budget road bikes and cyclo-cross bikes have previously taken care of workhorse duties, the stable ride quality, large tyres and durability are quickly seeing gravel bikes become the preferred bike to take on these duties. For those who are looking for a single, do-everything bike, it's likely that a gravel bike is going to be the one that meets your criteria. 
Keep reading for our pick of the best budget gravel bikes, or, if you're unsure about what you should be looking for, skip to the bottom for a breakdown of what to look for when buying a gravel bike.
Jump to: How to choose a budget gravel bike
Best budget gravel bikes
Cube Nuroad Pro Fe
Touring-ready off the shelf
Frame material: Aluminum | Wheel size: 700 | Tyre clearance: 700 x 45 | Weight: 11.9kg | Sizes available: 50, 53, 56, 58, 61cm
Comes complete with kickstand, mudguards and rear rack
Schwalbe G-One Allround tyres
Reliable Shimano Tiagra
Mechanical disc brakes
Very heavy
If you're looking for a do-it-all gravel adventure bike, you could do much worse than the Cube Nuroad Pro Fe, which comes ready for off-road touring the moment it's built. Equipped with a very tidy-looking rear rack, full-length front and rear mudguards, and even a kickstand, the Nuroad Pro Fe is practical and versatile in every way. 
It's fairly heavy at just under 12kg, so it's unlikely to be a racy whip-around-the-lanes gravel bike if that's what you're after. However if you want adventure, overnight bivvies under the stars and multiple days in the saddle to cover a lot of ground, then the Nuroad Pro Fe has you covered. With a reasonably long wheelbase it provides a stable and comfortable ride for hours on end, enabling you to munch up the miles.
The aluminium frame is mated with a carbon fork and powered by a reliable Shimano Tiagra drivetrain, tamed by cable-actuated TRP Spyre disc brakes and rolls along on 40mm Schwalbe G-One Allroad tyres. If you want a bit more cushion, there's ample space for 45mm tyres.
Vitus Substance SRS-1
A steel adventure bike with a great build
Frame material: Steel | Wheel size: 650B | Tyre clearance: 650B x 47 | Weight: 9.2kg | Sizes available: XS-XXL
Reynolds 725 steel tubing
SRAM Apex 1x11 gearing
SRAM Apex hydraulic disc brakes
Very low gearing can be a hindrance if unladen
Whether you're taking on some rough local singletrack or planning a multiday bikepacking trip, the Reynolds 725 steel tubing of the Vitus Substance SRS-1 should provide all the comfort you need. A forgiving frame material, steel can absorb some of the chatter from rough ground, plus it's extremely durable. If you want something that will last for years no matter what you throw at it, opt for steel.
The Vitus Substance SRS-1 is backed up by a SRAM Apex groupset, with wide-ranging 1x11 gearing and powerful hydraulic disc brakes. The 40t front chain ring combined with the 11-42t cassette provides a very low climbing gear which can be a blessing if you're ascending while loaded down with all your belongings. However if you're just out on a jaunt and want to pick up some speed, you'll find this setup very limiting.
The 650B wheels are paired with the plush 47mm WTB Venture TCS Road Plus tyres which come tubeless ready and feature a semi-slick semi-knobbly tread pattern to see you through most road surfaces you're likely to encounter.
Ribble CGR 725 SRAM Apex 1x 650B
Capable modern gravel-grinder dressed in a traditional aesthetic
Frame material:: Steel | Wheel Size: 650b | Tyre clearance: Unpublished | Weight: 10kg | Sizes available: XS-XL
Classic look of steel
Custom options when purchasing
Steel adds weight
There is something about a steel bike that just looks right, and the Ribble CGR 725 is no different. Built from Reynolds 725, and finished in a pleasant dark blue/orange paint scheme with bulbous tan walls, it's certainly a bike that is favourable on the eyes. The combination of steel and large volume tyres also helps the CGR 725 glide over imperfections, whether that be gravel or terribly maintained tarmac.
We have chosen the 650b version for our list, but for £100 less, Ribble do a 700c-wheeled model with Schwalbe G-One tyres for those looking for a little more legs on tarmac sections. The rest of the bike is a functional collection of goods from SRAM, Mavic and WTB, which doesn't have any glaring compromises. If there is anything that you would like to change, Ribble offers a customisation service at purchase that allows specs to be altered to a rider's preference.
Genesis Croix De Fer 10
A genre-defying boundary-blurring classic
Frame material: Steel | Wheel size: 700 (650B compatible) | Tyre clearance: 700x42 / 650Bx47 | Weight: 11.87kg | Sizes available: XS-XL
Incredibly versatile
650B compatibility
Huge tyre clearance
Heavy
Sizing comes up long
Genesis' Croix De Fer has - in the UK at least - been a go-to steel workhorse for many cyclists looking to head off the beaten track and blur the boundaries between disciplines. The steel frame and fork form a long-lasting and robust chassis to soak up the bumps and smooth out the ride.
The Croix De Fer 10 is at the lower end of the line-up, so if you're willing to spend more, there are higher specs available. However for the sake of not spending an absolute fortune, the 10 offers a great setup, with Shimano Sora 2x9 gearing, TRP Spyre disc brakes, and Kenda Booster 700x40mm tyres. 
While the Croix De Fer comes stock with 700c wheels, if you want even more cushion you can swap those out for some 650B wheels paired with plus 47mm wide tyres, so you can feel like you're riding on air.
All City Super Professional
Flat-bar bike equally at home tearing up everything from the town to gravel trails
Frame material:: Steel | Wheel Size: 700c | Tyre clearance: 700c x 45mm and 650b x 47mm | Weight: 11.6kg | Sizes available: 43cm-61cm
Adjustable dropouts
Lovely frame details
Super-tough frame
Very heavy
Choosing a riser bar for gravel riding might seem like an odd choice, but if you've ever ridden a gravel bike with a flat bar, you'll know the added feeling of control and leverage that it offers. For riders who prefer longer distances, the reduced choice of hand positions will be a deal-breaker. For riders who are looking to tear about on gravel roads and mellow singletrack, choosing riser bars helps extract every last drop of fun from a flowing set of corners.
The flickable cyclo-cross-inspired geometry is further enhanced with the added control, and encourages a lively riding style. All gravel essentials are accounted for, including decent tyre clearance, stealth dropper-post routing and a 1x drivetrain. All City has specced a SRAM Apex 11-speed drivetrain, but if you're feeling adventurous, the adjustable Master Dropout system allows the Super Professional to be set up as a single-speed.
Nukeproof Digger 275 Comp
Wild-child gravel bike that will appeal to mountain bikers
Frame material:: Aluminium | Wheel Size: 650b | Tyre clearance: 700c x unpublished and 650B x 47 | Weight: Unpublished | Sizes available: S-XL
Playful ride quality
Solid spec including a GRX drivetrain
Stock wheel and tyre set-up sluggish on the road compared to narrower 700c set-ups
Nukeproof has updated the Digger range for 2020 with new geometry and a staggering spec for the money. The essence of the Digger hasn't been lost, however, with its very wide handlebars and agile 650b Plus wheelset as standard means the Digger is a bike that is all about having fun on any trail that is pointed in front of it. This hooligan attitude isn't at the cost of practicality, though, as the Digger comes with all the fixtures for dreary daily winter riding.
Nukeproof has done a fantastic job of building the Digger Comp up with an impressive array of componentry. The headline here is the Shimano GRX 11-speed drivetrain and brakes that offer a significant improvement in off-road performance over bikes with road groupsets. Nukeproof have equipped the bike with their own brand kit, apart from the rolling stock, which comes from WTB, using WTB Serra wheels and grippy Sendero 650x47 tyres.
Cannondale Topstone Tiagra
Balanced and controlled handling whether blasting fire roads or loaded for adventures
Frame material:: Aluminium | Wheel Size: 700c | Tyre clearance: 700 x 42 | Weight: 10kg | Sizes available: XS-XL
OutFront Steering Geometry sharpens steering characteristics
Dependable Tiagra groupset
Unconfirmed 650b compatibility
Cannondale's Topstone is a versatile on- or off-road option that is based around a SmartForm C2 alloy frame and has a full-carbon fork. Cannondale deploys its OutFront Steering Geometry, using a 55mm fork offset, to keep steering sharp and snappy, as well as reducing toe overlap on smaller models. While not as comfortable as their Kingpin-suspension-equipped carbon frame, the aluminium Topstone does get flattened chainstays to help absorb vibrations.
Cannondale has opted for a 2x10 Tiagra groupset, which is ready to offer many miles of dependable gear changes. Tiagra hydraulic brakes are also a nice touch for a bike that is verging on a price point that is dominated by mechanical stoppers. A Formula hub and WTB rim combo makes up the wheels, and they're paired with tubeless compatible WTB Riddler tyres.
Canyon Grail AL 6.0
Price, performance and components: pick three
Frame material:: Aluminium | Wheel Size: 700c | Tyre clearance: 700x42 | Weight: 9.5kg | Sizes available: 2XS-2XL
Staggering value for money
Capable and stable mile-muncher
Smallest sizes get 650b wheels for a better fit
Long wheelbase limits playful characteristics
Difficult to try before you buy due to direct-to-consumer retail model
The Grail AL 6.0 is the cheapest of Canyon's gravel bikes, but the bike hardly screams budget. In fact, it's one of the most well-finished bikes on our list, although this shouldn't come as a surprise to anyone who is accustomed to Canyon's range of bikes.
The direct-to-consumer model used by Canyon means that they can spec the Grail AL 6.0 to a level that seems well beyond its means. Shimano GRX 400 brings gravel-specific performance to the drivetrain and brakes. The tough DT Swiss C 1850 Spline db wheels are gravel-specific as well, and shod with Schwalbe's G-One Bite 40mm tyres, which are supplied in a trendy tan wall.
The Grail doesn't stop at the spec sheet, either. With a riding position similar to their endurance road bikes, and a long wheelbase, the Grail offers a comfortable and stable ride characteristic, whether covering miles on- or off-road – so much so, in fact, that our tech writer Josh Croxton choose the slightly more expensive AL 7.0 in our best all-rounder bikes.
Kona Rove
A sturdy and reliable all-rounder
Frame material: Chromoly | Wheel size: 650b | Tyre clearance: 700c x 40mm or 650b x 47mm | Weight: 12.2kg | Sizes available: 48, 50, 52, 54, 56, 58cm
Lots of mounts for accessories
Fun and confidence-inspiring
Dual wheel size compatibility
12mm thru-axles
Smooth ride feel
Mechanical disc brakes
Heavy
The Kona Rove is a simple, affordable and dependable workhorse that can wear all hats from commuting to blasting over gravel at the weekends. The Chromoly steel frame and fork offers a smooth and supple ride that soaks up some of the bumps, while the 650b x 47mm WTB Venture Comp tyres help to further cushion bumpy terrain.
Kitted out with Shimano's 9-speed Sora drivetrain, the components on the Rove are good quality and dependable, as well as easily replaceable, should you decide to take it out into the wilderness.
The WTB rims come tubeless ready, while the wheels are secured with sturdy 12mm Thru Axles for reinforcement as well as mounting precision. Speaking of mounting, there are plenty of bolts on the frame for attaching a rear rack, mudguards and two bottle cages.
The only real downside is that the Tektro brakes are cable-actuated as opposed to hydraulic, which you can get your hands on at this sort of price point.
Specialized Diverge Base E5 2021
The third generation of Spesh's adventure-ready gravel offering
Frame material: Aluminium | Wheel size: 700c | Tyre clearance: 700c x 47mm or 650b x 2.1in | Weight: Unpublished | Sizes available: 44, 49, 52, 54, 56, 58, 61cm
As fast on gravel as it is on the road
Dual wheel size compatibility
Huge tyre clearances
Low BB height for stability
Mechanical disc brakes
35mm tyres aren't wide enough
For the third generation of the Diverge, Specialized has overhauled its geometry to create the fastest and most capable version possible, even in this entry-level alloy model. This iteration boasts and increased reach, slacker head tube and longer fork offset, creating a ride that feels planted and stable, but still hugely fun.
The stem lengths are shorter as well, while the overall cockpit length remains the same, offering lively steering.
It's compatible with both 700c and 650b wheels, with a huge tyre clearance to match. Unfortunately the 35mm Specialized RoadSport tyres that come stock with the bike aren't enough to cut it off-road, so we'd recommend upgrading them.
The Diverge comes with lots of mounting options for a front and rear rack, top tube bag, mudguards and bottle cages, offering plenty of storage space where it's needed.
Boardman ADV 8.9
Designed specifically for the UK's gravel network
Frame material: Aluminum | Wheel size: 700c | Tyre clearance: 700c x 42mm | Weight: 10.5kg | Sizes available: S, M, L, XL
Shimano GRX groupset
Schwalbe G-One Allround tyres
Hydraulic disc brakes
Clearance could be better
'Gravel' means something different depending on where you look for it. In the US there are miles and miles of open dirt roads where you can spend the entire day on your bike and not see any tarmac at all. In the UK, on the other hand, 'gravel' is something you seek out via bridleways, byways, fire roads and towpaths, and more often than not, you need to knit them all together using the tarmac roads in between.
Because of this, UK gravel cycling is made much easier when the bike you ride is built to handle the rough as well as the smooth. That's where the Boardman ADV 8.9 comes in. It's designed to meet that sweet spot between weight, handling and comfort both on- and off-road.
The aluminium frame and carbon fork is equipped with Shimano GRX  components, and Schwalbe G-One Allround tyres in 38mm width, and combines a 48/32T chainset with an 11-36T cassette for a wide range of gears.
Pinnacle Arkose 3 2021
A versatile adventure bike with huge tyre clearance
Frame material: Aluminium | Wheel size: 700c | Tyre clearance: 700c x 47mm or 650b x 50mm | Weight: Unpublished | Sizes available: XS-XL
Full Shimano GRX 400 groupset
Huge tyre clearance
Dual wheel size compatibility
Hydraulic disc brakes
Handlebars could do with more flare
Pinnacle offers excellent value for money and its Arkose range has always produced competitive gravel options for the more budget-aware buyer. The 2021 Arkose 3 is designed to be versatile enough to cover all bases, whether that's a multi-day adventure or the daily commute.
The aluminium frame is mated with a carbon fork with dynamo routing and mudguard mounts. The full Shimano GRX 400 series groupset offers smooth and efficient shifting alongside powerful hydraulic braking.
The bike comes stock with 700c x 45mm WTB Riddler tyres, which are already more than adequate to do the job, but if you're wanting more width, there's clearance for a set of 650b wheels paired with 50mm rubber.
Triban RC120 Disc Gravel
A sub-£600 gravel bike that's sure to open a lot of new avenues
Frame material: Aluminium | Wheel size: 700c | Tyre clearance: 700c x 38mm | Weight: 10.9kg | Sizes available: XS-XL
Possibly the cheapest gravel bike you'll find
Tubeless ready wheels
Carbon fork
Not enough clearance
The Triban RC120 Disc Gravel bike will stand out as the cheapest option on this list, and at £599.99 it's incredible that Decathlon has managed to pull this off. The aluminium frame is paired with a full carbon fork, the rims are tubeless-ready, the stopping power comes courtesy of mechanical disc brakes, and the handlebars even boast a 16-degree flare.
There are plenty of mounting points for racks, mudguards and bottle cages, including inserts in the carbon fork to carry up to 9kg of cargo.
Components are obviously not top-of-the-line quality, but they're not to be sniffed at for the overall RRP. The RC120 Disc Gravel is powered by a Microshift H100 10-speed drivetrain, mating a 1x 38T chainring with an 11/42T cassette.
There's even a clutch system built into the rear derailleur to prevent the chain from jumping. An absolute bargain, we just wish it would take thicker tyres.
Fuji Jari 2.3 Gravel Bike
An all-round touring, adventure and gravel machine
Frame material: Aluminium | Wheel size: 700c | Tyre clearance: 700c x 43mm or 650b x 47mm | Weight: Unpublished | Sizes available: 48, 52, 54, 55.5, 57.5, 60cm
All-round versatility
Wide tyre clearance
25-degree flare handlebars
Could come with wider tyres
The Fuji Jari 2.3 is a versatile gravel bike that can take on many tasks, whether that's touring, commuting, or blasting along your local fire roads. The aluminium frame is paired with a steel fork, which may add a bit of weight but it does wonders to soak up the road chatter and smooth out the ride.
The dependable 9-speed Shimano Sora drivetrain includes a cyclocross-specific FSA chainset, geared towards adventure, gravel and touring with 46/30T chainrings alongside an 11/36T cassette.
While the bike comes equipped with 38mm WTB Riddler tyres, it can comfortably accommodate rubber up to 43mm wide with a 700c wheelset, or even wider at 650b x 47mm.
Cable-actuated Tektro Mira disc brakes provide the stopping power, while the Oval Concepts 325 handlebars offer an impressive 25-degree flare for extra grip and comfort when descending off-road.
Scott Speedster Gravel 20
A great all-rounder for on- and off-road
Frame material: Aluminium | Wheel size: 700 | Tyre clearance: 700 x 38 | Weight: 10.05kg | Sizes available: XXS - XXL
Shimano GRX RX600 22-speed
Schwalbe G-One Allround Tyres
Huge size range
Not enough tyre clearance
This is the gravel version of Scott's Speedster Disc road bike, with slightly shorter chainstays for a whippier back end, slapping on some 35mm Schwalbe G-One Allround tyres, and swapping out the Shimano Tiagra groupset for the GRX RX600, the mechanical disc brakes for hydraulic.
Because it shares almost the same geometry with its roadie sibling, the Speedster Gravel is a great choice if you're joining up scattered gravel paths with roads, as you'll not lose much momentum. The 35mm tyres may be significantly more plush than you'd find on a regular road bike, however in the grand gravel scheme of things, they're fairly narrow and will help power you through the road sections in search of your next bit of crunch.
If you don't plan to go any wider than 38mm tyres, the Scott Speedster Gravel makes a great option, however the clearance ends there, so it's not so good if you're looking to throw on some 45s and take on your local singletrack.
Rondo Ruut AL 2
Adjustable geometry makes the Ruut a two-in-one bike
Frame material:: Aluminium | Wheel Size: 700c | Tyre clearance: 700c x 40C and 650B x 52 (2.1in) | Weight: 9.82kg | Sizes available: S-XL
Adjustable flip-chip fork
Large 650b clearance
700c clearances only have space for a 40mm tyre
Rondo have looked to make the Ruut as versatile as possible, whether you're commuting, winter training or on bikepacking adventures. This is in part due to Rondo's Vario Geo Concept, which bolsters the Ruut's do-everything capabilities.
The Twin Tip fork allows the geometry to be altered using a flip-chip in the fork dropout, which changes the head angle, seat angle, trail figures and stack height. The steeper angles of the 'hi' position are suited to fast road riding while the 'lo' setting relaxes the handling and stability for endurance and rougher off-road riding.
Beyond the fork, the Ruut can accommodate 2.1in tyres, and has rack and fender mounts, and features internal cable routing to keep cables hidden from dirt and grit. The spec is well-considered, running SRAM's Apex 1 groupset, and it has Juintech F1 cable-actuated hydraulic disc brakes as a compromise between ease of maintenance and power. The bike comes with WTB's Nano 40mm gravel tyre, so it's ready to hit the gravel trails straight from the box.
Marin Nicasio 2
Steel all-road adventure bike for those that like to ride long distances
Frame material:: Steel | Wheel Size: 700c | Tyre clearance: 700c x 35 and 650B x 47 | Weight: Unpublished | Sizes available: 50cm-58cm
Endurance bike with all-road capability
Steel adds weight
Minimal 700c tyre clearance limits off road capabilities
External routing is poorly positioned on the downtube and will require more maintenance
Marin has two gravel bikes on their books that qualify for our best budget gravel bike guide, but we've chosen to include the Nicasio 2 for a couple of reasons. The alternative option, Marin's Gestalt X10, is certainly more suited to rough gravel riding, with its short, flickable rear end and large tyre clearance, but its mechanical brakes and short stays make the bike feel unsure on open cannonball sections. The Nicasio's slightly more conservative geometry figures mean it's a bike perfect for those whose gravel rides consist of less gnar and more far. 
The Nicasio 2 trumps the Gestalt by coming specced with hydraulic disc brakes; the Tiagra brakes offer a huge stopping advantage over mechanical alternatives. These are complemented with a matching Tiagra drivetrain, featuring a double chainset, which will likely appeal to the long-distance rider. For those wanting a bit more cushioning than the rather small 35mm tyre clearances, Marin says that the Nicasio will clear a 47mm tyre if using 650b wheels.
Merida Silex 300
A gravel bike built with off-road adventures in mind
Frame material:: Aluminium | Wheel Size: 700c | Tyre clearance: 700c x 45 and 650B x 50 | Weight: 10.01kg | Sizes available: XS-XL
Tall stack gives superb off-road control
Fork mounts give more options for luggage and accessory mounting
The upright riding position isn't suited for tempo road riding
Looks are an acquired taste
Mechanical disc brakes lack power of hydro alternatives
We have the top of the range Silex+ 8000-E currently in for testing, and have been having a lot of fun riding every trail we can find. Although it doesn't feature a carbon frame, the aluminium Silex 300 has all the same features and clearances as its premium iteration. Its geometry shares similarities to Merida's cross-country mountain bike range, which makes it very capable on singletrack and rough trails. The fork mounting points are a nice touch, extending riders' options when attaching dry bags or bottles for adventures.
A SRAM Apex 1x11 drivetrain takes care of the moving, and Tektro handles the stopping. The brakes aren't hydraulic but the Tektro Spyres are one of the better performing options. Merida's Comp SL rims and the Maxxis Rambler tyres are both tubeless ready, so all you need is valves and sealant.
Cinelli Zydeco LaLa Sora
A bold and colourful adventure machine
Frame material: Aluminium | Wheel size: 700 | Tyre clearance: 700 x 42 | Weight: 11.2kg | Sizes available: XS-XL
Versatile all-rounder
Big tyre clearance
Fairly heavy
Slightly under-specced for the price
The Cinelli Zydeco Lala could definitely be billed as a do-it-all kind of bike, and it's been known to perform well in various situations, including sprints, endurance rides and gravel. It features a more race-oriented geometry, with a short reach, lowered bottom bracket and nimble steering, making this a great option if you're looking for something to compete on. You could also use it for commuting and light touring if you wished, thanks to the mounts for mudguards and a rear rack, making it a versatile option.
The Shimano Sora 2x9 setup provides a wide range of gears to help with climbing off-road, while the mechanical disc brakes from Tektro provide adequate stopping power for all weather conditions. It comes stock with 35mm Kenda Flintridge tyres, but has massive clearance for 42mm tyres if you want to up the ante.
NS Bikes RAG+ 2
Road and gravel, the RAG+ will take it all on
Frame material:: Aluminium | Wheel Size: 700c | Tyre clearance: 700c x 45 and 650B x 55 (2.2in) | Weight: 10.2kg | Sizes available: S-XL
Excellent tyre clearance
Bombproof frame
Short chainstays give a lively ride quality
Heavy wheelset
Tyres are not tubeless ready
It might seem like an odd departure for Polish bike brand NS Bikes to make a gravel bike, best known as it is for its dirt jumpers, and the RAG+ certainly stands out as their only drop-bar bike. Don't write the RAG off, though, as it is a hugely capable bike. RAG stands for 'road and gravel', and it's a bike that can bridge the gap between road riding and the point that you wished you had a suspension fork. 
Solid ride characteristics, spec and tyre clearance that can match almost any other gravel bike make the NS RAG+ an excellent option for riders who don't want the fun to stop when a ride takes an unexpected turn off the beaten track.
What to look for in a gravel bike
1. Frame and geometry
Budget gravel bikes generally come in two options: steel or aluminium. Carbon options may be available, but at lower price points are usually best avoided as manufacturers will need to make compromises to lower costs. Low-modulus carbon frames are likely to actually be heavier and less compliant than equivalent metal frames, and have lower-quality components.
Steel is well established as a forgiving yet durable material, and is generally a little heavier, but the classically twangy frame-quality garners a dedicated following. It's easy to forget that aluminium is still a relatively new material in regards to frame building. Aluminium technology is constantly evolving, and despite being a stiffer material, frame designers are able to now build aluminium frames with increasing levels of compliance and comfort.
Gravel-bike geometry numbers fill the entire spectrum between road bike and mountain bike, so it's important to consider the type of riding that you want to do. Some gravel bikes will share similar geometry to endurance road bikes for comfort over long distances. Slacker head angles and longer wheelbases increase a bike's stability and control over rough terrain.
2. Components 
All the gravel bikes in our guide use either 1x or 2x drivetrains. A 2x drivetrain is the same as those commonly found on road bikes and uses two chainrings at the front to offer a wider spread of gears. A 1x drivetrain uses a single ring with a wide-range mountain-bike-style cassette to simplify the drivetrain and save weight. 
Disc brakes are standard equipment on gravel bikes, and while mechanical disc brakes offer a marked improvement over rim brakes, hydraulic disc brakes are well worth the extra investment as they not only give you more power but also offer improved modulation control.
At lower price points, bikes will often feature a manufacturer's own-branded components, and while this equipment may not offer the finesse of branded components, they do generally offer no-thrills functionality.
3.  Wheels and tyres 
The advantages and disadvantages of 700c vs 650b-sized wheels have been long debated, and will continue to be discussed for a long time. Riders who are looking for on- and off-road versatility will be best served by the lower weight and better obstacle rollover of 700c wheels. Those riding rougher terrain will find that the increased tyre size and volume of 650b wheels offer a significant advantage in grip and comfort. 
Most gravel bikes will be able to accommodate both wheel sizes, giving riders who invest in a spare set of wheels the option of 'two bikes in one': a 700c wheelset set-up with fast-rolling tyres for the road and a 650b wheelset with large, knobbly tyres for more adventurous riding.
Don't forget to keep it safe and well-maintained
Once you've taken the plunge and invested in a new gravel bike, your journey is only just beginning. 
Riding on gravel is rarely a clean affair, so it'll be imperative that you keep your bike clean and well maintained. If cleaning it after every muddy ride seems like a daunting chore, then at the very least ensure you keep the chain lubricated with the best bike chain lubes.
Also, the last thing you want to happen is for it to be stolen so ensure you take steps to reduce this risk. We have an article dedicated to advising how to prevent bike theft, but the key takeaways are to ensure you choose the best bike lock, know how to lock a bike correctly, and shop around to compare bicycle insurance to ensure you are covered by the best bike insurance policy for your needs. 
Sign up to the Cyclingnews Newsletter. You can unsubscribe at any time. For more information about how to do this, and how we hold your data, please see our privacy policy
Thank you for signing up to Cycling News. You will receive a verification email shortly.
There was a problem. Please refresh the page and try again.