Festival Elsy Jacobs: Emma Norsgaard wins stage 1
Movistar sprinter moves into the overall lead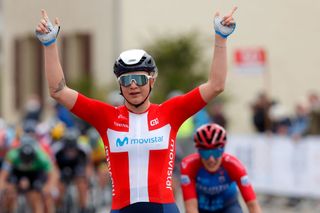 (Image credit: Getty Images)
Emma Norsgaard (Movistar) took her first victory of the season at stage 1 of the Festival Elsy Jacobs in Steinfort. Norsgaard won the bunch sprint ahead of Maria Giulia Confalonieri (Ceratizit-WNT) and Leah Kirchmann (Team DSM) in third.
Norsgaard has moved into the overall race lead ahead of the finale stage 2 on Sunday.
"When I crossed the finish line I actually felt more relieved than happy, I was like "finally", the feeling that I've been waiting the whole season to this victory so first it was relief, but then I saw my teammates and then I was so happy, they did an amazing job for me today, they all sacrificed themselves for me today so I'm super proud of this team, it's amazing to be part of Movistar Team," Norsgaard said.
After a short prologue the previous day, stage 1 offered the peloton a 125.1-kilometre race that started and finished in Steinfort on Saturday.
The peloton raced a 44.7-kilometre loop followed by four laps of a 20.1-kilometre circuit that included a climb each lap and a rise to the finish line. There were also four GPM ascents for points along the route toward the mountain classification.
Two breakaway riders emerged over the second mountain pass - Thalita de Jong (Bingoal Casino-Chevalmeire) and Kathrin Hammes (Ceratizit-WNT) - they initially built a lead up to one minute but that grew to nearly three minutes with 60 km to go.
The gap dropped but the duo still held 1:30 gap with 27km to go, approaching the final lap.
Jumbo-Visma led the chase from the main field along with teams Parkhotel-Valkenburg and Liv Racing, and the pair were reeled back into the main field on the last lap.
Trek-Segafredo's Tayler Wiles pushed the pace at the front of the field to set up her teammates for a sprint, but last-minute attacks caused some disruption among the front of the peloton.
Overnight leader and prologue winner Lorena Wiebes (Team DSM), who had crashed earlier in the race, was unable to contest the final.
Movistar, Jumbo-Visma, Valcar Travel & Service were all organised through the penultimate corner with with 900 metres to go, but Movistar proved strongest and led through the final bend and into the last few hundred metres.
Norsgaard started her sprint early and put a huge distance between herself and runner-up Confalonieri and Kirchmann to take her first win of the season.
"It was awesome, because we had a talk before the race about how it could be and they just did it perfectly. We almost didn't talk about it in the moment and they came flying on the last corner and positioning me perfectly, I went on the wheel and everything was just perfect, I had the perfect finish, and this is what made the victory," Norsgaard said.
"I wasn't calm during the stage, I felt I wanted to do something, I wanted to go in the break but Aude [Biannic] was really good at calming me down, she said: 'Emma, relax, you need to wait.' So I tried to wait but it was a bit difficult to be honest.
"I want to dedicate this victory to the whole team, at 100 per cent, they always go so hard for me, they always sacrifice and finally it's not for a second place anymore."
The peloton will resume racing for the finale stage 2 to close out the Festival Elsy Jacobs with a 105.3-kilometre race that starts and finishes in Garnich on Sunday.
The race will begin on a 61.3-kilometre loop, followed by five laps of an 8.8-kilometre circuit in Garnich. There are four GPM ascents for points during the race and it promises an explosive finale to the Festival Elsy Jacobs.
"We are going to try anything to defend my leader's jersey, it can be super hard but now I have a lot of confidence, and I think the team is happy and confident, so tomorrow is going to be fun, as well as a 100 per cent effort," Norsgaard said.
Results

| Pos. | Rider Name (Country) Team | Result |
| --- | --- | --- |
| 1 | Emma Norsgaard (Den) Movistar Team Women | 3:14:06 |
| 2 | Maria Giulia Confalonieri (Ita) Ceratizit-WNT Pro Cycling Team | |
| 3 | Leah Kirchmann (Can) Team DSM | 0:00:02 |
| 4 | Elise Chabbey (Swi) Canyon-SRAM Racing | |
| 5 | Juliette Labous (Fra) Team DSM | |
| 6 | Christine Majerus (Lux) Team SD Worx | |
| 7 | Karlijn Swinkels (Ned) Jumbo-Visma Women Team | |
| 8 | Ruth Winder (USA) Trek-Segafredo | |
| 9 | Riejanne Markus (Ned) Jumbo-Visma Women Team | |
| 10 | Pauliena Rooijakkers (Ned) Liv Racing | |
| 11 | Mikayla Harvey (NZl) Canyon-SRAM Racing | |
| 12 | Tatiana Guderzo (Ita) Ale' BTC Ljubljana | |
| 13 | Elisa Balsamo (Ita) Valcar-Travel & Service | |
| 14 | Coryn Rivera (USA) Team DSM | |
| 15 | Leah Thomas (USA) Movistar Team Women | |
| 16 | Mischa Bredewold (Ned) Parkhotel Valkenburg | |
| 17 | Valerie Demey (Bel) Liv Racing | |
| 18 | Anastasiia Chursina (Rus) Ale' BTC Ljubljana | |
| 19 | Elena Cecchini (Ita) Team SD Worx | |
| 20 | Lonneke Uneken (Ned) Team SD Worx | |
| 21 | Anouska Koster (Ned) Jumbo-Visma Women Team | |
| 22 | Julie Leth (Den) Ceratizit-WNT Pro Cycling Team | |
| 23 | Laura Asencio (Fra) Ceratizit-WNT Pro Cycling Team | |
| 24 | Niamh Fisher-Black (NZl) Team SD Worx | |
| 25 | Thalita De Jong (Ned) Bingoal Casino-Chevalmeire | |
| 26 | Clara Copponi (Fra) FDJ Nouvelle-Aquitaine Futuroscope | |
| 27 | Noemi Rüegg (Swi) Stade Rochelais Charente-Maritime Women Cycling | |
| 28 | Anna Shackley (GBr) Team SD Worx | |
| 29 | Ella Harris (NZl) Canyon-SRAM Racing | |
| 30 | Shirin van Anrooij (Ned) Trek-Segafredo | |
| 31 | Sofia Bertizzolo (Ita) Liv Racing | |
| 32 | Spela Kern (Slo) Massi Tactic Women Team | |
| 33 | Jeanne Korevaar (Ned) Liv Racing | |
| 34 | Kathrin Hammes (Ger) Ceratizit-WNT Pro Cycling Team | |
| 35 | Eugénie Duval (Fra) FDJ Nouvelle-Aquitaine Futuroscope | 0:00:13 |
| 36 | Lara Vieceli (Ita) Ceratizit-WNT Pro Cycling Team | |
| 37 | Femke Gerritse (Ned) Parkhotel Valkenburg | |
| 38 | Olivia Baril (Can) Massi Tactic Women Team | |
| 39 | Marta Jaskulska (Pol) Liv Racing | |
| 40 | Hannah Ludwig (Ger) Canyon-SRAM Racing | |
| 41 | Marie Le Net (Fra) FDJ Nouvelle-Aquitaine Futuroscope | |
| 42 | Tayler Wiles (USA) Trek-Segafredo | |
| 43 | Julia van Bokhoven (Ned) Parkhotel Valkenburg | |
| 44 | Amber van der Hulst (Ned) Parkhotel Valkenburg | 0:00:23 |
| 45 | Silvia Persico (Ita) Valcar-Travel & Service | 0:00:25 |
| 46 | Aude Biannic (Fra) Movistar Team Women | 0:00:37 |
| 47 | Omer Shapira (Isr) Canyon-SRAM Racing | 0:00:52 |
| 48 | Romy Kasper (Ger) Jumbo-Visma Women Team | |
| 49 | Jade Wiel (Fra) FDJ Nouvelle-Aquitaine Futuroscope | 0:01:08 |
| 50 | Ilaria Sanguineti (Ita) Valcar-Travel & Service | |
| 51 | Neve Bradbury (Aus) Canyon-SRAM Racing | 0:01:31 |
| 52 | Amalie Dideriksen (Den) Trek-Segafredo | |
| 53 | Chiara Consonni (Ita) Valcar-Travel & Service | |
| 54 | Alice Maria Arzuffi (Ita) Valcar-Travel & Service | |
| 55 | Silvia Pollicini (Ita) Valcar-Travel & Service | |
| 56 | Vita Heine (Nor) Massi Tactic Women Team | 0:04:34 |
| 57 | Mie Bjørndal Ottestad (Nor) Andy Schleck-CP NVST-Immo Losch | 0:04:41 |
| 58 | Nancy van der Berg (Ned) Jumbo-Visma Women Team | 0:04:44 |
| 59 | Elizabeth Bennett (GBr) Drops-le Col Supported by Tempur | |
| 60 | Manon Souyris (Fra) Stade Rochelais Charente-Maritime Women Cycling | |
| 61 | Rylee McMullen (NZl) Andy Schleck-CP NVST-Immo Losch | |
| 62 | Maëlle Grossetete (Fra) FDJ Nouvelle-Aquitaine Futuroscope | |
| 63 | Georgia Danford (NZl) Andy Schleck-CP NVST-Immo Losch | |
| 64 | Mae Lang (Est) Andy Schleck-CP NVST-Immo Losch | |
| 65 | Kelly Van Den Steen (Bel) Bingoal Casino-Chevalmeire | |
| 66 | Mireia Benito Pellicer (Spa) Massi Tactic Women Team | |
| 67 | Justine Ghekiere (Bel) Bingoal Casino-Chevalmeire | |
| 68 | Maaike Coljé (Ned) Massi Tactic Women Team | |
| 69 | Natalie van Gogh (Ned) Bingoal Casino-Chevalmeire | |
| 70 | Lea Lin Teutenberg (Ger) Ceratizit-WNT Pro Cycling Team | |
| 71 | Laura Tomasi (Ita) Ale' BTC Ljubljana | |
| 72 | Evy Kuijpers (Ned) Liv Racing | |
| 73 | Alessia Patuelli (Ita) Ale' BTC Ljubljana | 0:04:56 |
| 74 | Lourdes Oyarbide Jimenez (Spa) Movistar Team Women | 0:05:06 |
| 75 | Barbara Guarischi (Ita) Movistar Team Women | |
| 76 | Elynor Backstedt (GBr) Trek-Segafredo | 0:05:23 |
| 77 | Lauretta Hanson (Aus) Trek-Segafredo | |
| 78 | Lorena Wiebes (Ned) Team DSM | |
| 79 | Esmée Peperkamp (Ned) Team DSM | |
| 80 | Marjolein Van'T Geloof (Ned) Drops - Le Col s/b TEMPUR. | 0:06:54 |
| 81 | Belle de Gast (Ned) Parkhotel Valkenburg | |
| 82 | Anastasiya Kolesava (Blr) WCC Team | |
| 83 | Dani Christmas (BGr) Drops - Le Col s/b TEMPUR | |
| 84 | Gabrielle Pilote-Fortin (Can) Massi Tactic Women Team | |
| 85 | Nina Berton (Lux) Andy Schleck-CP NVST-Immo Losch | |
| 86 | Anna Christian (GBr) Drops-le Col Supported by Tempur | |
| 87 | Sandra Weiss (Swi) Andy Schleck-CP NVST-Immo Losch | |
| 88 | Alba Teruel Ribes (Spa) Movistar Team Women | |
| 89 | Julie Van De Velde (Bel) Jumbo-Visma Women Team | 0:11:04 |
| 90 | Finja Smekal (Ger) Drops-le Col Supported by Tempur | |
| DNF | Sofie van Rooijen (Ned) Parkhotel Valkenburg | |
| DNF | Coralie Demay (Fra) Stade Rochelais Charente-Maritime Women Cycling | |
| DNF | Ayan Khankishiyeva (Aze) WCC Team | |
| DNF | Akvil_ Gedraityte (Lit) WCC Team | |
| DNF | Séverine Eraud (Fra) Stade Rochelais Charente-Maritime Women Cycling | |
| DNF | Magdeleine Vallieres-Mill (Can) WCC Team | |
| DNF | Demi De Jong (Ned) Bingoal Casino-Chevalmeire | |
| DNF | Emilie Moberg (Nor) Drops-le Col Supported by Tempur | |
| DNF | Lauren Kitchen (Aus) FDJ Nouvelle-Aquitaine Futuroscope | |
| DNF | Nikola Noskova (Cze) Team SD Worx | |
| DNF | Elodie Le Bail (Fra) Stade Rochelais Charente-Maritime Women Cycling | |
| DNF | Tereza Medvedova (Svk) WCC Team | |
| DNF | Wilma Olausson (Swe) Team DSM | |
| DNF | Fatima Zahra El Hayani (Mar) WCC Team | |
| DNF | Celia Le Mouel (Fra) Stade Rochelais Charente-Maritime Women Cycling | |
| DNF | Claudia Jongerius (Ned) Bingoal Casino-Chevalmeire | |
General classification after stage 1

| Pos. | Rider Name (Country) Team | Result |
| --- | --- | --- |
| 1 | Emma Norsgaard (Den) Movistar Team Women | 3:17:15 |
| 2 | Leah Kirchmann (Can) Team DSM | 0:00:04 |
| 3 | Karlijn Swinkels (Ned) Jumbo-Visma Women Team | 0:00:08 |
| 4 | Maria Giulia Confalonieri (Ita) Ceratizit-WNT Pro Cycling Team | 0:00:10 |
| 5 | Thalita De Jong (Ned) Bingoal Casino-Chevalmeire | |
| 6 | Lonneke Uneken (Ned) Team SD Worx | |
| 7 | Anouska Koster (Ned) Jumbo-Visma Women Team | |
| 8 | Ruth Winder (USA) Trek-Segafredo | 0:00:11 |
| 9 | Christine Majerus (Lux) Team SD Worx | |
| 10 | Riejanne Markus (Ned) Jumbo-Visma Women Team | 0:00:12 |
| 11 | Clara Copponi (Fra) FDJ Nouvelle-Aquitaine Futuroscope | 0:00:13 |
| 12 | Juliette Labous (Fra) Team DSM | |
| 13 | Elise Chabbey (Swi) Canyon-SRAM Racing | 0:00:14 |
| 14 | Coryn Rivera (USA) Team DSM | 0:00:15 |
| 15 | Jeanne Korevaar (Ned) Liv Racing | |
| 16 | Shirin van Anrooij (Ned) Trek-Segafredo | |
| 17 | Elisa Balsamo (Ita) Valcar-Travel & Service | 0:00:16 |
| 18 | Pauliena Rooijakkers (Ned) Liv Racing | |
| 19 | Elena Cecchini (Ita) Team SD Worx | 0:00:17 |
| 20 | Leah Thomas (USA) Movistar Team Women | 0:00:19 |
| 21 | Sofia Bertizzolo (Ita) Liv Racing | 0:00:20 |
| 22 | Tatiana Guderzo (Ita) Ale' BTC Ljubljana | 0:00:22 |
| 23 | Noemi Rüegg (Swi) Stade Rochelais Charente-Maritime Women Cycling | |
| 24 | Niamh Fisher-Black (NZl) Team SD Worx | 0:00:23 |
| 25 | Marie Le Net (Fra) FDJ Nouvelle-Aquitaine Futuroscope | 0:00:24 |
| 26 | Julie Leth (Den) Ceratizit-WNT Pro Cycling Team | |
| 27 | Anastasiia Chursina (Rus) Ale' BTC Ljubljana | 0:00:25 |
| 28 | Mischa Bredewold (Ned) Parkhotel Valkenburg | |
| 29 | Kathrin Hammes (Ger) Ceratizit-WNT Pro Cycling Team | |
| 30 | Ella Harris (NZl) Canyon-SRAM Racing | 0:00:26 |
| 31 | Mikayla Harvey (NZl) Canyon-SRAM Racing | |
| 32 | Laura Asencio (Fra) Ceratizit-WNT Pro Cycling Team | 0:00:27 |
| 33 | Valerie Demey (Bel) Liv Racing | |
| 34 | Anna Shackley (GBr) Team SD Worx | |
| 35 | Femke Gerritse (Ned) Parkhotel Valkenburg | 0:00:29 |
| 36 | Spela Kern (Slo) Massi Tactic Women Team | 0:00:32 |
| 37 | Eugénie Duval (Fra) FDJ Nouvelle-Aquitaine Futuroscope | |
| 38 | Hannah Ludwig (Ger) Canyon-SRAM Racing | 0:00:33 |
| 39 | Amber van der Hulst (Ned) Parkhotel Valkenburg | 0:00:35 |
| 40 | Julia van Bokhoven (Ned) Parkhotel Valkenburg | 0:00:36 |
| 41 | Marta Jaskulska (Pol) Liv Racing | |
| 42 | Tayler Wiles (USA) Trek-Segafredo | 0:00:37 |
| 43 | Lara Vieceli (Ita) Ceratizit-WNT Pro Cycling Team | |
| 44 | Olivia Baril (Can) Massi Tactic Women Team | |
| 45 | Silvia Persico (Ita) Valcar-Travel & Service | 0:00:41 |
| 46 | Aude Biannic (Fra) Movistar Team Women | 0:01:00 |
| 47 | Romy Kasper (Ger) Jumbo-Visma Women Team | 0:01:09 |
| 48 | Omer Shapira (Isr) Canyon-SRAM Racing | 0:01:21 |
| 49 | Jade Wiel (Fra) FDJ Nouvelle-Aquitaine Futuroscope | 0:01:27 |
| 50 | Ilaria Sanguineti (Ita) Valcar-Travel & Service | 0:01:31 |
| 51 | Chiara Consonni (Ita) Valcar-Travel & Service | 0:01:49 |
| 52 | Silvia Pollicini (Ita) Valcar-Travel & Service | 0:01:50 |
| 53 | Amalie Dideriksen (Den) Trek-Segafredo | |
| 54 | Neve Bradbury (Aus) Canyon-SRAM Racing | 0:01:52 |
| 55 | Alice Maria Arzuffi (Ita) Valcar-Travel & Service | 0:02:01 |
| 56 | Vita Heine (Nor) Massi Tactic Women Team | 0:04:58 |
| 57 | Nancy van der Berg (Ned) Jumbo-Visma Women Team | 0:05:00 |
| 58 | Laura Tomasi (Ita) Ale' BTC Ljubljana | 0:05:04 |
| 59 | Maëlle Grossetete (Fra) FDJ Nouvelle-Aquitaine Futuroscope | 0:05:05 |
| 60 | Kelly Van Den Steen (Bel) Bingoal Casino-Chevalmeire | 0:05:08 |
| 61 | Elizabeth Bennett (GBr) Drops-le Col Supported by Tempur | |
| 62 | Natalie van Gogh (Ned) Bingoal Casino-Chevalmeire | |
| 63 | Mireia Benito Pellicer (Spa) Massi Tactic Women Team | 0:05:10 |
| 64 | Lea Lin Teutenberg (Ger) Ceratizit-WNT Pro Cycling Team | |
| 65 | Manon Souyris (Fra) Stade Rochelais Charente-Maritime Women Cycling | 0:05:11 |
| 66 | Mie Bjørndal Ottestad (Nor) Andy Schleck-CP NVST-Immo Losch | 0:05:12 |
| 67 | Evy Kuijpers (Ned) Liv Racing | 0:05:13 |
| 68 | Rylee McMullen (NZl) Andy Schleck-CP NVST-Immo Losch | |
| 69 | Georgia Danford (NZl) Andy Schleck-CP NVST-Immo Losch | 0:05:14 |
| 70 | Justine Ghekiere (Bel) Bingoal Casino-Chevalmeire | 0:05:15 |
| 71 | Maaike Coljé (Ned) Massi Tactic Women Team | 0:05:16 |
| 72 | Mae Lang (Est) Andy Schleck-CP NVST-Immo Losch | 0:05:17 |
| 73 | Barbara Guarischi (Ita) Movistar Team Women | |
| 74 | Lourdes Oyarbide Jimenez (Spa) Movistar Team Women | 0:05:20 |
| 75 | Lorena Wiebes (Ned) Team DSM | 0:05:26 |
| 76 | Alessia Patuelli (Ita) Ale' BTC Ljubljana | 0:05:28 |
| 77 | Esmée Peperkamp (Ned) Team DSM | 0:05:37 |
| 78 | Lauretta Hanson (Aus) Trek-Segafredo | 0:05:41 |
| 79 | Elynor Backstedt (GBr) Trek-Segafredo | 0:05:44 |
| 80 | Marjolein Van'T Geloof (Ned) Drops - Le Col s/b TEMPUR. | 0:07:09 |
| 81 | Alba Teruel Ribes (Spa) Movistar Team Women | 0:07:13 |
| 82 | Belle de Gast (Ned) Parkhotel Valkenburg | 0:07:15 |
| 83 | Dani Christmas (BGr) Drops - Le Col s/b TEMPUR | 0:07:19 |
| 84 | Anna Christian (GBr) Drops-le Col Supported by Tempur | 0:07:20 |
| 85 | Gabrielle Pilote-Fortin (Can) Massi Tactic Women Team | 0:07:22 |
| 86 | Nina Berton (Lux) Andy Schleck-CP NVST-Immo Losch | 0:07:25 |
| 87 | Sandra Weiss (Swi) Andy Schleck-CP NVST-Immo Losch | 0:07:26 |
| 88 | Anastasiya Kolesava (Blr) WCC Team | 0:07:28 |
| 89 | Julie Van De Velde (Bel) Jumbo-Visma Women Team | 0:11:20 |
| 90 | Finja Smekal (Ger) Drops-le Col Supported by Tempur | 0:11:32 |

Thank you for reading 5 articles in the past 30 days*
Join now for unlimited access
Enjoy your first month for just £1 / $1 / €1
*Read any 5 articles for free in each 30-day period, this automatically resets
After your trial you will be billed £4.99 $7.99 €5.99 per month, cancel anytime. Or sign up for one year for just £49 $79 €59

Join now for unlimited access
Try your first month for just £1 / $1 / €1