Best electric bikes 2023 - Assisted bikes for road, gravel, commuting and more
A roundup of the best electric bikes from all disciplines of pedal-assisted cycling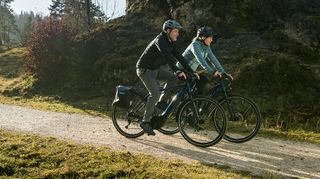 (Image credit: Giant)
The best electric bikes cover a bewildering range of different styles and prices. If you're not looking to spend too much, we've found a selection of the best electric bikes under £1,000 / $1,000, and the best electric bike under $2,000 / £2,000, but you can pay over £10,000 / $10,000 for the best lightweight electric bikes which can weigh little more than a normal drop bar race bike.
As well as drop bar electric bikes, there's a wide range of flat bar hybrid electric bikes, designed for commuting and leisure use, while for a trip to work via public transport or if space is limited, riders might be best served by the best folding electric bikes.
You'll find our picks of the best electric bikes by price point and by type below, or head to the bottom of the page for our buyer's guide to how to choose the best electric bike for your needs.
Best electric bikes available today
Why you can trust Cyclingnews Our expert reviewers spend hours testing and comparing products and services so you can choose the best for you. Find out more about how we test.
First of all, we've broken down our choice of the best electric bikes by price. But electric bikes come in a variety of different types. Just like pedal-powered bikes, you can find e-bikes designed for commuting, for performance road use and for gravel biking, so we've got our picks in these categories too.
If you're looking for the best electric mountain bikes, check out our sister site Bike Perfect for all things MTB.
Best electric bikes under £1,000 / $1,000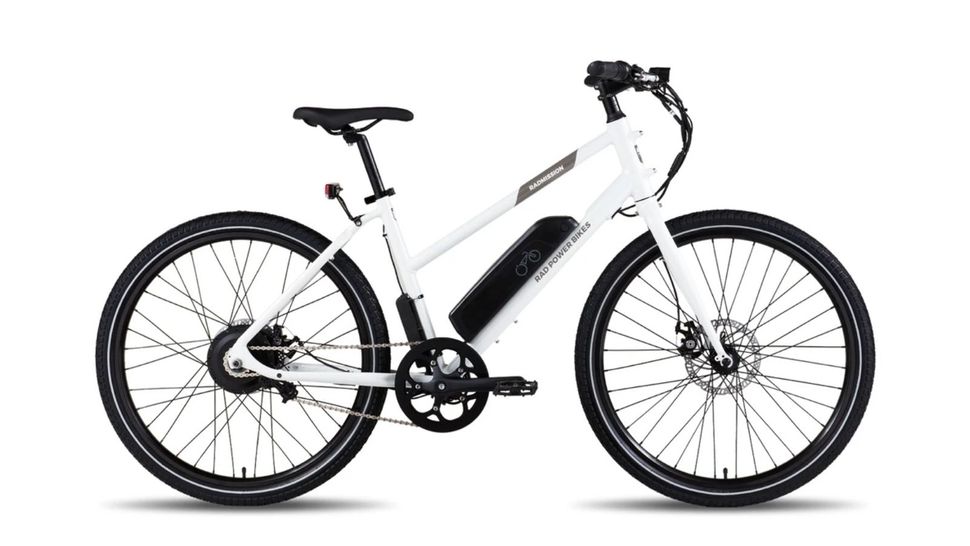 Rad Power Bikes RadMission 1
A lightweight and affordable electric hybrid
Specifications
Drive System:
Unbranded rear hub
Quoted range:
45 miles / 72km
Claimed weight :
22kg / 48lb
Reasons to buy
+
Lightweight at 22kg for an e-bike at this price
+
Six colour options
+
Attachment points for mudguards, racks, baskets, bottle cages and frame locks
+
Low maintenance
+
Puncture resistant tyres
+
Reflective details and integrated lights
Reasons to avoid
-
Single-speed gearing won't work for everyone
-
Sold in the US only
The RadMission Electric Metro bike is an e-hybrid designed for getting around town, to work, and taking on leisure rides at the weekend. With mounts galore for all the accessories you can think of - mudguards/fenders, a rear pannier rack, bottle cage and a basket, you can customise this bike to suit your needs.
With an internal hub motor and single-speed gearing, the RadMission is relatively low-maintenance, with fewer drivetrain components exposed to the elements. Having a single gearing reduces the complexity for those who aren't used to using them, and the grip-twist throttle (making this a US Class 2 e-bike, see below for more on this) will make it easy to get up hills when you need to.
It's US only though.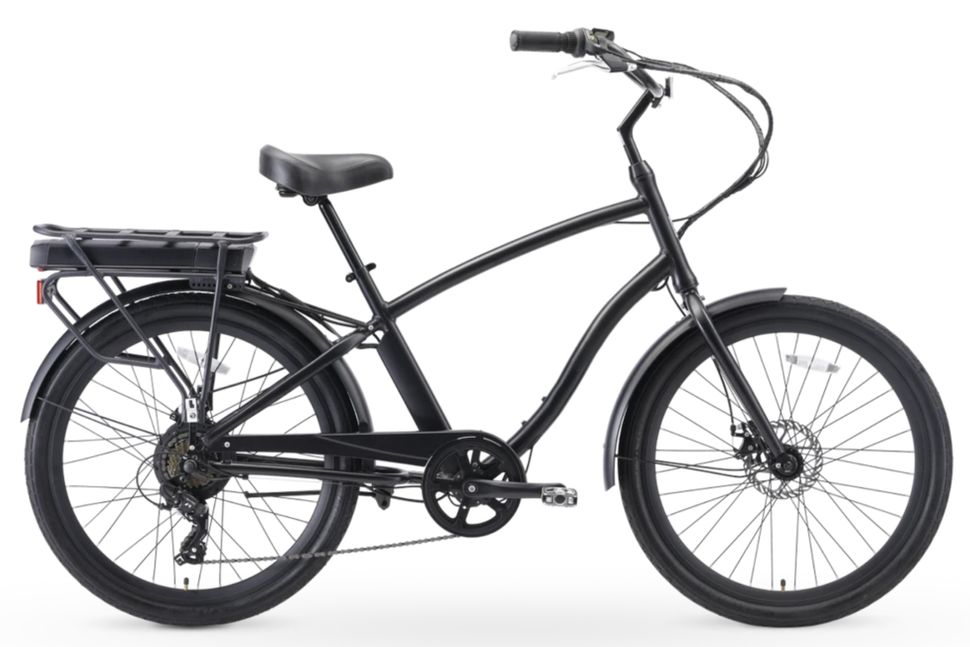 Sixthreezero EVRYjourney
Still a cruiser but you've got the power and speed of a class III electric bike for those who want it
Specifications
Drive System:
Unbranded rear hub
Quoted range:
20 miles full electric and 40 miles with pedal assist
Claimed weight :
17kg / 38lb
Reasons to buy
+
Included fenders
+
Removable battery
Different people have different needs. If you live somewhere where the regulations allow for a Class-III bike then this might be worth considering. When you've got to mix with vehicle traffic the max 28mph might feel safer. If that all sounds like it's speaking to your needs and you want the style of a beach cruiser then Sixthreezero has a bike for you. The Sixthreezero EVRYjourney 500W is a 7-speed bike with twist grip shifting and mechanical disc brakes. The battery is removable for charging and if you don't want to pedal at all you can use full-electric power up to 20mph.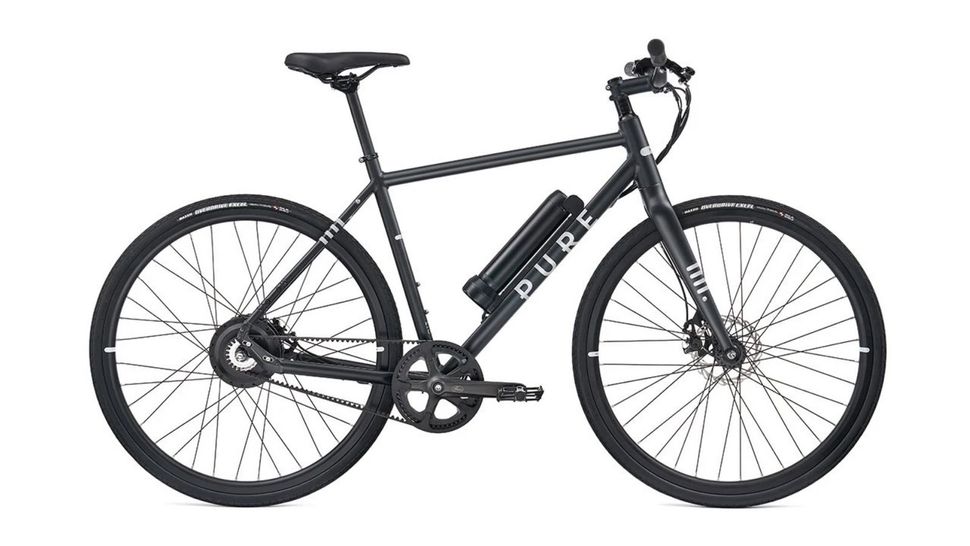 Pure Flux One Electric Hybrid Bike
Smart-looking low-key e-bike for a great price
Specifications
Drive System:
Vision rear hub
Quoted range:
25 miles / 40km
Reasons to buy
+
Lightweight, at 18kg
+
Belt drive for mess-free maintenance
+
Sleek aesthetic
+
Doesn't stand out as an e-bike
Reasons to avoid
-
Short 25-mile range
-
One size only (5ft 7in / 1.7m to 6ft 2in / 1.88m)
-
Singlespeed won't suit everyone
-
UK only
The Pure Flux One is an electric hybrid bike that looks like a regular bike frame with a hidden motor in the back wheel and a battery that sits where a bottle cage would normally be, helping it to blend in. If you don't want to ride something that stands out as an electric bike, this could be the one for you.
Thanks to the Gates belt drive in place of the usual metal chain, there's no oil or lubricant to worry about when you're tinkering, meaning you won't get your hands (or clothes) dirty.
Finally, at 18kg, the Pure Flux One is extremely lightweight for an e-bike at this price point, and represents excellent value for money. It's only sold in the UK though.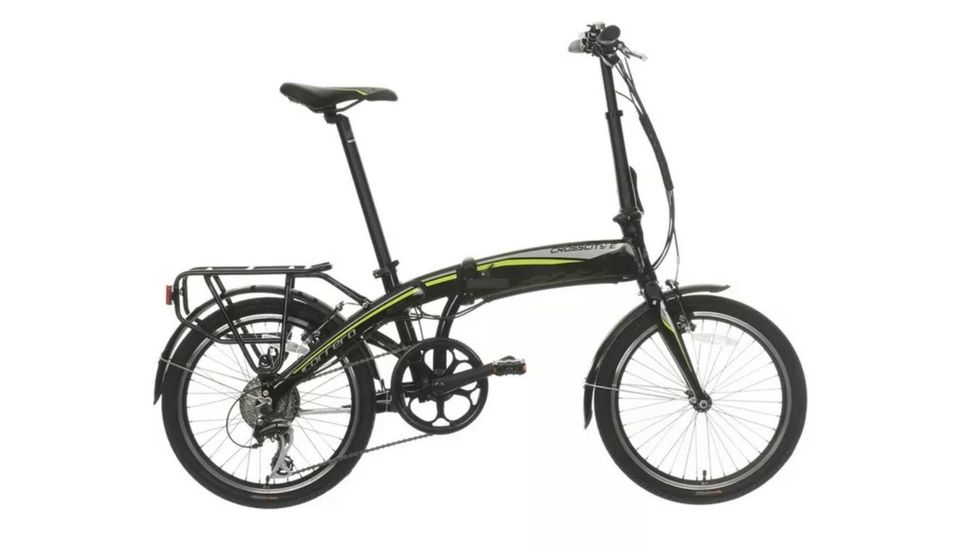 Carrera Crosscity folding bike
The commute just got easier
Specifications
Quoted range:
30 miles / 50km
Reasons to avoid
-
Six-hour charge time
-
UK only
If you have limited space for storing bikes in your office or need to take your bike on a train at any point, then this bike is an ideal choice for you. When you consider that this has a motor and a host of great features, the value is incredible.
The rear hub motor has a range of up to 30 miles and can push you up to speeds of 25km/h, which should make light work of any commute. The discreetly hidden battery has a recharge time of six hours, which will take longer than most here, but you can still fully charge it at the office before heading home again. Plus, it even has a USB port that can be used to power lights or charge your phone. The motor is controlled by a mini LED display on the handlebars which allows you to choose from three assistance levels.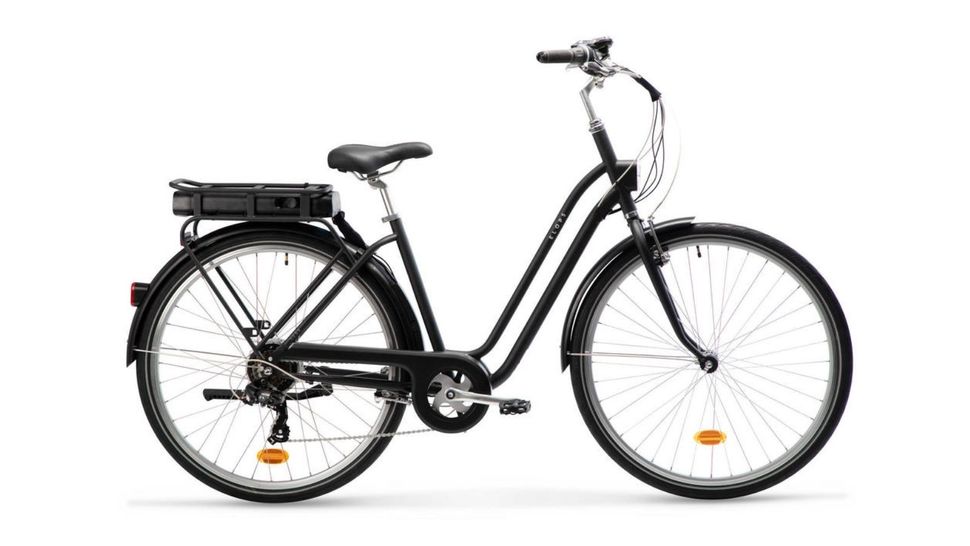 Elops 120 E Step Over Classic
Classy-looking town bike with 35 miles of assistance
Specifications
Quoted range:
35 miles / 50km
Reasons to buy
+
Built-in lights, rack and mudguards
+
About the lowest price electric bike out there
Reasons to avoid
-
Only six gears
-
Not sold in US
This traditionally styled electric bike from Decathlon comes with a whole host of features that make it perfect for getting about town on. First and foremost, it comes with a removable battery that can power you for between 20 and 50km depending on how much assistance you choose to have. This is all controlled by a simple console on the bars which also shows you the remaining battery life. The power is intelligently pedal-assisted, so it'll kick in naturally when you start to cycle and switch off when you come to a halt. There's even a walk mode to help you push your bike when you need to do so.
It comes with six gears to keep you rolling both on the flat and uphill, and front and rear lights and mudguards already installed to keep you riding during the winter months. To finish it off, 45mm tyres and a wide saddle mean you'll be as comfortable as possible when cycling.
Decathlon doesn't sell the Elops 120 in the US, but it's available Europe-wide.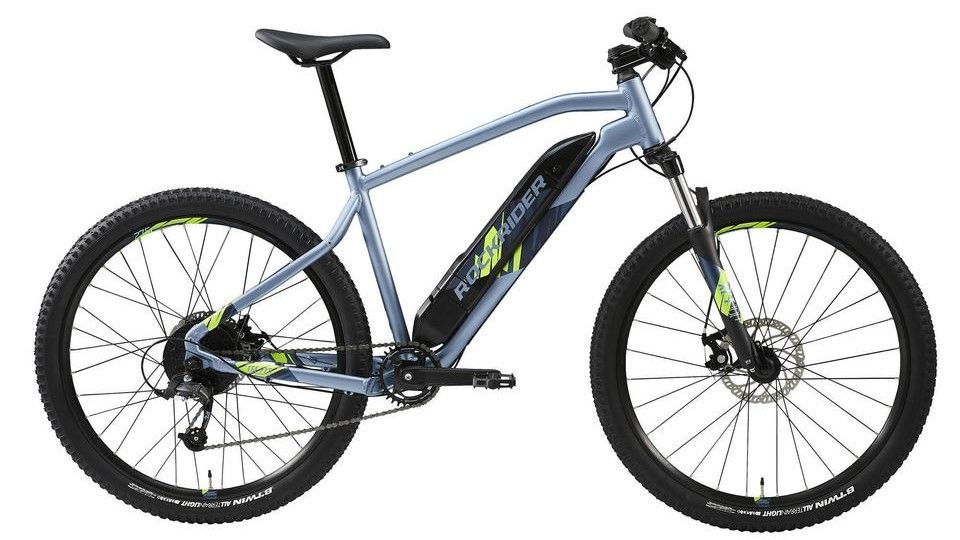 Rockrider E-ST 100 Electric Mountain Bike
Front suspension 1x hardtail that makes your life easier on the uphills
Specifications
Quoted range:
2 hr 15 min
Reasons to buy
+
100mm front suspension
+
Tubeless-ready rims
Reasons to avoid
-
Cheap components might not last
-
Not tubeless-ready tyres
-
Not sold in US
Another Europe-only option from Decathlon, the Rockrider E-ST100 is a well-equipped trail mountain bike with 100mm of front suspension travel in a Suntour fork and 2.2-inch all-terrain tyres. It comes complete with 720mm wide bars for close control on the bike, and 180mm disc brakes for impressive stopping power. Although it doesn't come with tubeless tyres fitted, the wheels are tubeless compatible; a perfect upgrade to make should you wish to do so.
Alongside the eight-speed gears, electrical power is delivered via a pedal assist of up to 250w of power helping you to get to the top of trails with ease. The motor has three power modes and if there is a bit of trail you can't pedal up, the walk-assist feature makes sure you can walk the bike uphill with ease. The average battery life of 2.25 hours means should get plenty of time out on the trails.
Best electric bikes under £2,000 / $2,000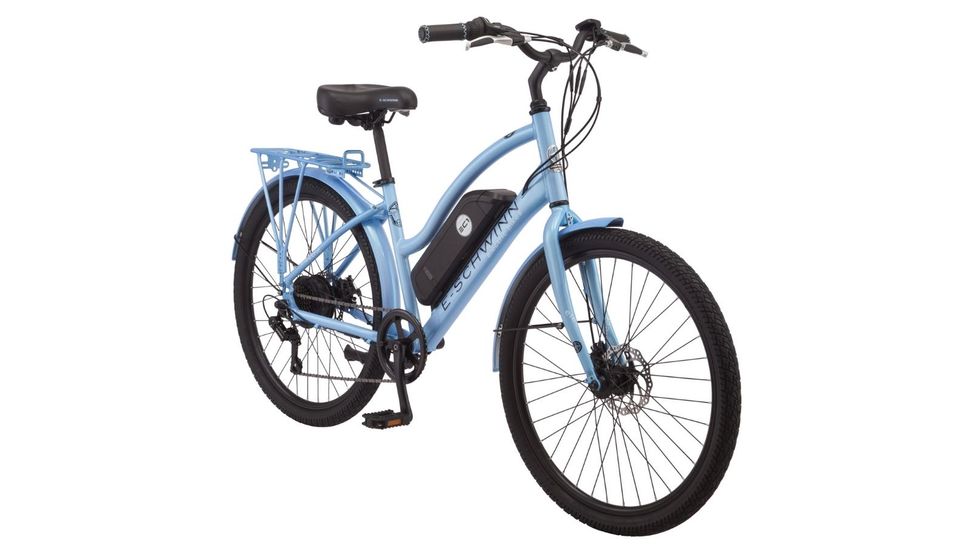 Schwinn EC1
Cruiser-style bike perfect for a trip to the shops or down the bike path
Specifications
Quoted range:
40 miles / 64km
Reasons to buy
+
Five assistance levels
+
Seven gears
+
Disc brakes
+
Comfortable cruising position
+
Finance available
Reasons to avoid
-
Small 26in wheels
-
Shortish, 40-mile range
-
US-only
The Schwinn EC1 is a bike that will give you the joy of riding a classic cruiser but with little of the effort normally involved. Whilst the bike might not have any top-of-the-range components, it does have a 250W electric motor and offers fantastic value for money.
The bike will assist you up to 20mph in its top power mode, but if you use the motor in its eco mode, you'll be able to get almost 40 miles of assisted riding. The bike comes with wide tyres for a plush ride on the road, or if you're feeling more adventurous, they should handle some loose ground, should you wish to head down the bike path.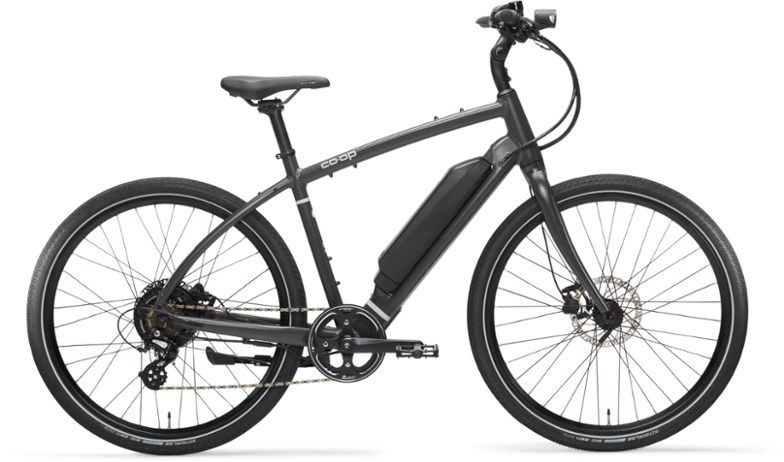 Co-op Cycles CTY e1.1 Electric Bike
A rear hub-drive motor with a bargain price
Specifications
Drive System:
Bafang rear hub
Quoted range:
40 miles / 64km
Reasons to buy
+
Hydraulic disc brakes
+
Name brand hub motor
+
Lights included
Over the last few years, REI has been making some of the best bikes in their categories under the Co-op brand name. The bikes have a reputation for being better than their price and the CTY e1.1 follows the pattern. It's a Class-I bike without a throttle and powered by a Bafang rear hub motor. The battery is removable for charging and shifting through the seven gears uses Shimano components.
The CTY e1.1 is marked as REI members only, but membership only adds £30 to the price.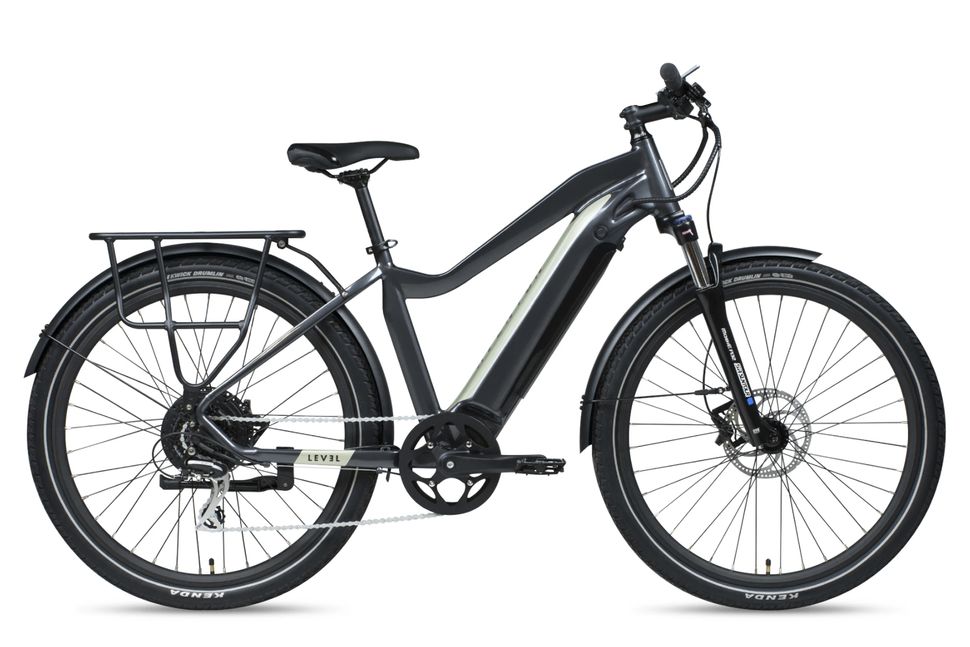 Aventon Level Commuter
A good looking bike with high-end features at an amazing price point
Specifications
Drive System:
Unbranded rear hub
Quoted range:
40 miles / 64km
Reasons to buy
+
Both torque and speed sensor pedal assist
+
Keep up with traffic and gain high speeds
+
Available in stores or shipped
Reasons to avoid
-
No lights included
-
No chain guard
-
US only
Most low-cost electric bikes fall into a range of a few styles. The Aventon Level is for the commuter, meaning it's a do-it-all kind of city bike. Being a class III bike, it will feel comfortable mixing with traffic if you ride at rush hour and there's a throttle when you need it.
The included fenders are quality alloy pieces and the frame has a lifetime guarantee. There's even a dealer network if you want to see how the bike feels before having one sent your direction.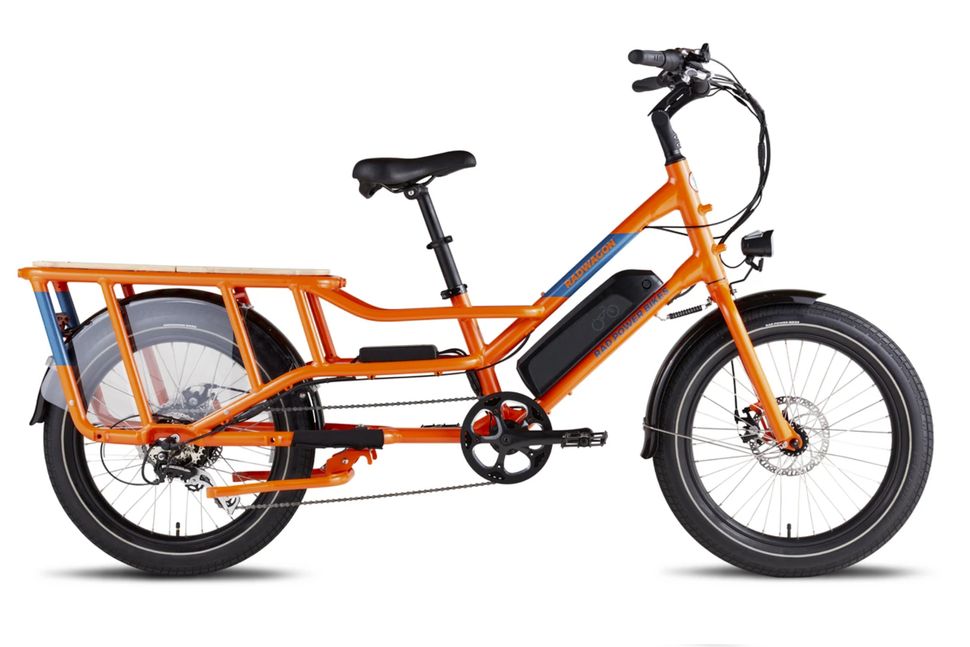 Rad Power Bikes RadWagon 4
If there was a minivan bike this would be it
Specifications
Drive System:
Unbranded rear hub
Reasons to buy
+
Excellent kickstand
+
High payload capacity
Rad Power bikes is a go-to name in the marketplace. If you are looking for a low price and high quality, they are tough to beat. The Rad Power Bikes RadWagon 4 is the bike that makes it possible to haul two kids and a load of groceries all while staying within budget.
Total payload capacity comes in at 350lbs and the rear rack can take 120lbs. Other cargo centric features include a sturdy double-sided kickstand and a low standover height. The long slender rear rack does lend itself to passengers over cargo but pick up a few accessories and you can carry as much as a car.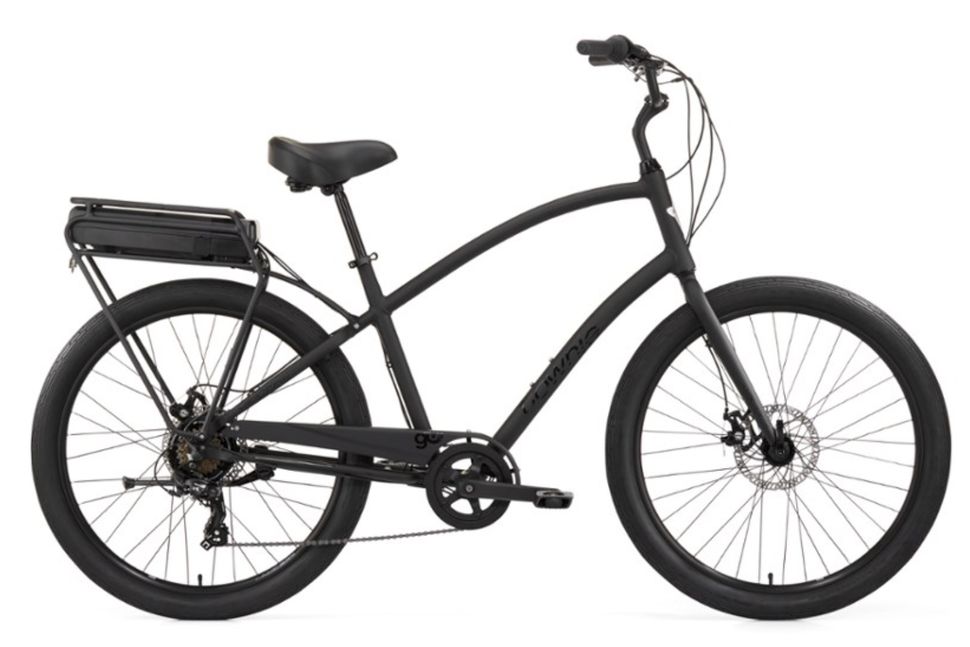 Electra Townie Go! 7D Electric Cruiser Bike
A stylish cruiser from Trek's electric brand
Specifications
Drive System:
Hydrive rear hub motor
Quoted range:
40 miles / 64 km
Reasons to buy
+
Internal Cable Routing
+
Flat Foot Technology
Trek is one of the largest bike brands in the world. It is well known, has a large dealer network, and is easy to deal with. If you like the idea of sticking with a trusted brand name like Trek then it makes sense to take a look at the electric bikes it produces. Electra is the brand name that covers the most stylish cruiser electric bikes Trek has available.
The Townie Go! 7D is a low-cost class I bike that might be mistaken for a standard pedal bike. It looks great and makes it easy to enjoy a day on the boardwalk.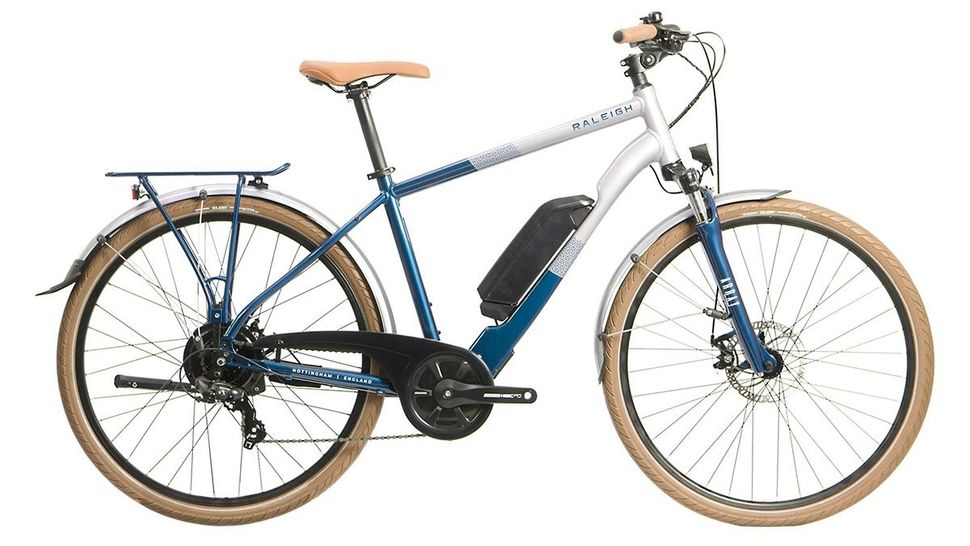 Raleigh Array
An entry-level e-bike with a classic aesthetic
Specifications
Drive System:
Suntour Canbus E25 rear hub
Quoted range:
60 miles / 96km
Reasons to buy
+
Comes complete with mudguards, front and rear lights, a kickstand and a rack
+
Fun retro aesthetic
+
Three frame shapes to choose from
Reasons to avoid
-
Relatively short range
-
Limited gearing
The Raleigh Array makes for a great entry-level e-bike, thanks to its simple and user-friendly build, as well as its affordable price tag. Available in three different frame shapes - a low step-through, a staggered top tube, or a horizontal top tube - there's something to suit most people's abilities and preferences.
Off the shelf it's ready to roll straight into its commuting and carrying duties, thanks to the inclusion of front and rear mudguards, a rear pannier rack, a kickstand and integrated front and rear lights. Just throw on your helmet and go.
Plus if you want a bike that looks good, it's hard to deny the fun and retro style of this bike from Raleigh, with its classic tan-coloured tyres and matching saddle and grips.
Meanwhile the Suntour e25 Hub Drive motor system at its core offers three different assist levels, combined with seven gears to help you conquer your local landscape.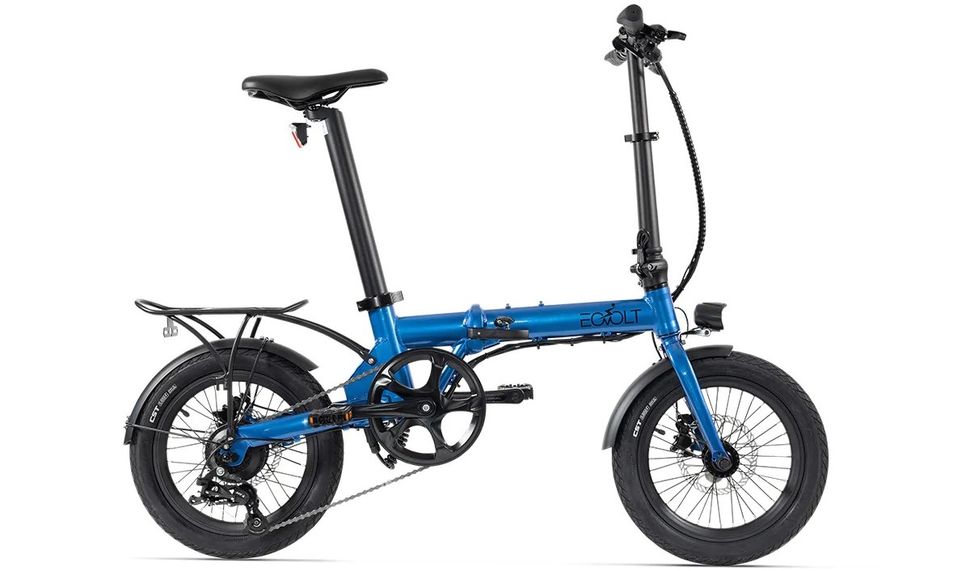 Eovolt City Four
An affordable folding e-bike for commuting and storing
Specifications
Drive System:
EOVolt rear hub
Quoted range:
31 miles / 50 km
Reasons to buy
+
Folds down to compact size for easy storage and taking on public transport
+
Complete with front and rear lights, mudguards and a rear rack
+
Five power assist modes to choose from
Reasons to avoid
-
Small wheels make it less efficient on the roads
-
Limited gearing
Leaving the car at home to commute by bike is great for your health and for the environment, however it's not always practical for those who live too far away to make it feasible. Combining cycling with catching a bus or train certainly makes it more achievable, but doing so with a full-sized bike can be incredibly frustrating (or even impossible) thanks to some train companies' policies.
That's where a folding e-bike really gets to shine. You have all the benefits of riding a pedal-assisted bike to work, and you can also fold it down in mere seconds to hop on a train before finishing your journey on two wheels. Eovolt's folding mechanism is said to be so fast and user-friendly, you can fold it down in 10 seconds.
The City Four is ready for your commute, with a full set of mudguards, a rear rack and integrated front and rear lights. Its 16 inch wheels are shod with chunky, puncture-resistant tyres to help you tackle potholed streets, while the brand's proprietary motor offers five levels of assistance and up to 50km range.
Best electric commuter bikes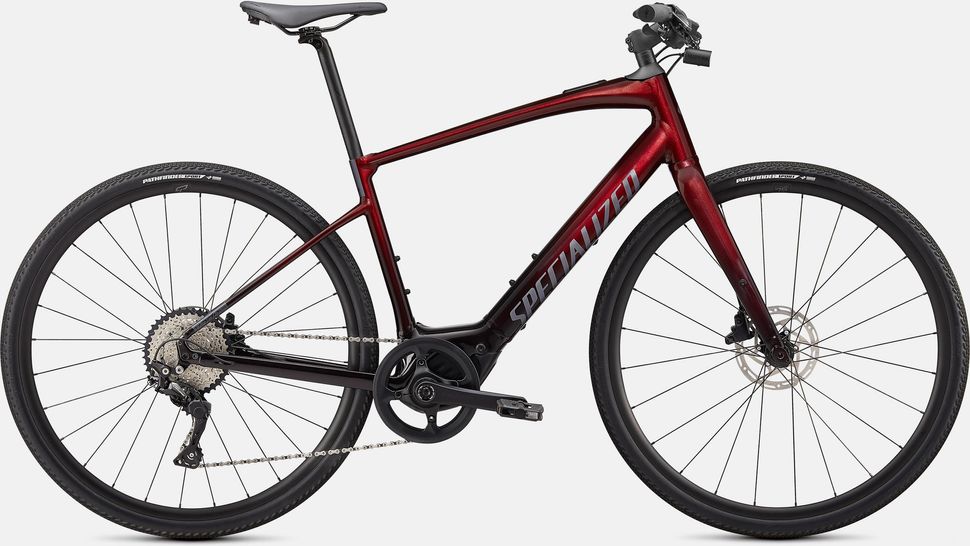 Commuter that comes with all the bells and whistles
Specifications
Drive System:
Specialized SL 1.1
Reasons to buy
+
Natural ride feel
+
Reasonably low weight
+
1x drivetrain
+
Relaxed, upright riding position
+
Integrated lights
Reasons to avoid
-
Can feel underpowered on particularly hilly rides
With an upright riding position, robust alloy frame, integrated lights and a lightweight design, the Specialized Turbo Vado SL 4.0 is a great option for the everyday commuter and urban cyclist running errands by bike. The drive system is the brand's own and sees a 320Wh battery integrated into the frame.
The mid-drive motor system makes the bike a 1x design but that only simplifies shifting, and coming with the 11-speed 11-42 cassette it can mountain goat up many a city climb. Rolling on 700c wheels, the 38mm Specialized Pathfinder Sport tyres will take the sting out of kerbs and potholes and when you need to drop the anchors, Tektro hydraulic disc brakes and 160mm rotors will stop you on a dime.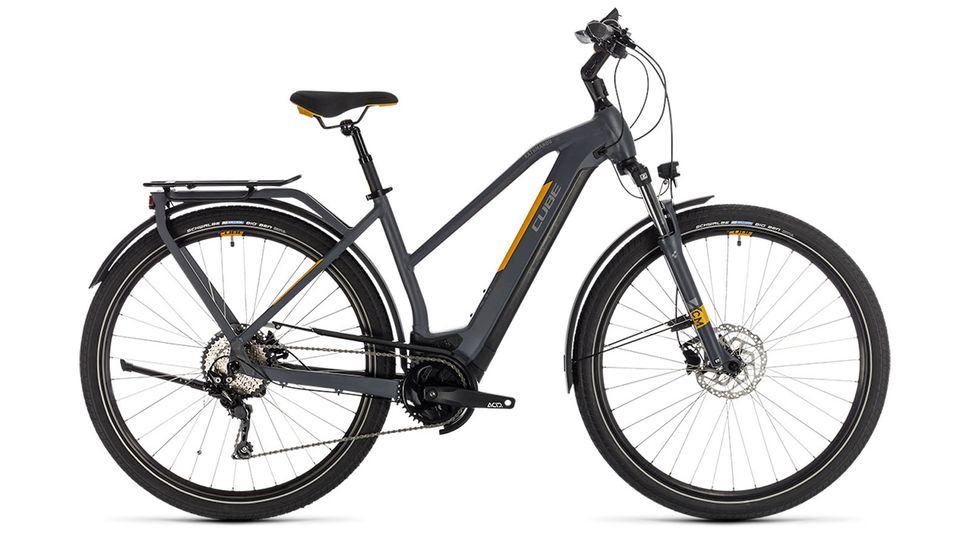 Cube Kathmandu Hybrid Pro 625
Ideal for carrying heavy gear
Specifications
Drive System:
Bosch Performance CX
Quoted range:
Not specified
Reasons to buy
+
Integrated rack
+
Expandably battery capacity
+
Bosch Gen 4 drive unit
Available in standard, dropped top tube, and step through versions, the Cube Kathmandu Hybrid Pro is a commuter bike built for riders of all shapes and sizes. Using Bosch's fourth-generation GX drive unit and Cube's Modular Battery system, the Kathmandu hides the battery behind an easy-access cover on the down tube, which not only protects it from the elements but also leaves space should you want to slot in a bigger battery.
Instead of the typical bolt-on racks you find on most commuter bikes; Cube has opted to make the Integrated Carrier 2.0 over the rear wheel a permanent fixture of the bike. This provides a more stable platform for whatever you may be carrying, and makes for a clean, integrated look.
At the front, the bike sees a tapered head tube and 100mm SR Suntour fork. The cables are routed internally, and shifting duties are looked after by a Shimano Deore 10-speed drivetrain.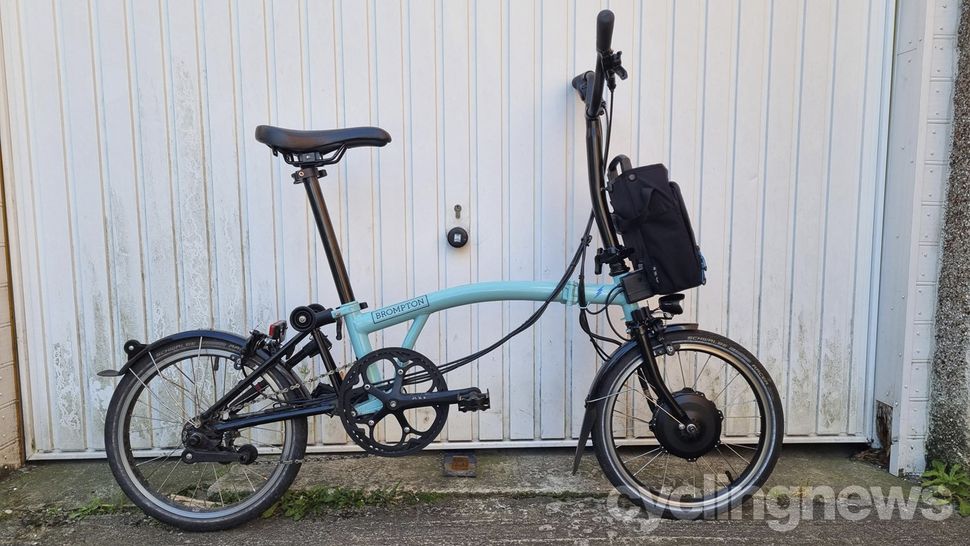 Pedal assist from the big name in folding bikes
Specifications
Drive System:
Brompton front hub
Reasons to buy
+
Light weight
+
Compact & foldable
+
Removable battery
Reasons to avoid
-
Front-wheel drive systems can get squirrely
Whether you live in a small apartment, use multiple forms of transport on your commute, or your destination doesn't have secure bike storage, a folding bike might just be your best option. Brompton has long been the gold standard in folding bikes, and its electric version takes the origami bike you know and love, and adds pedal assist. The bike still gets a choice of handlebars, six-speed wide range gearing, and even the rear damper to improve ride comfort.
It uses a 250-watt front hub-based motor and a handlebar-mounted 300Wh removable battery pack, that Brompton says has enough juice for between 30km and 70km, and takes four hours to recharge. What's most surprising is Brompton says the bike only weighs 17.4kg, which is on par with some non-pedal assist folders
Have a read of our Brompton Electric C-Line review to find out more.
Best electric road bikes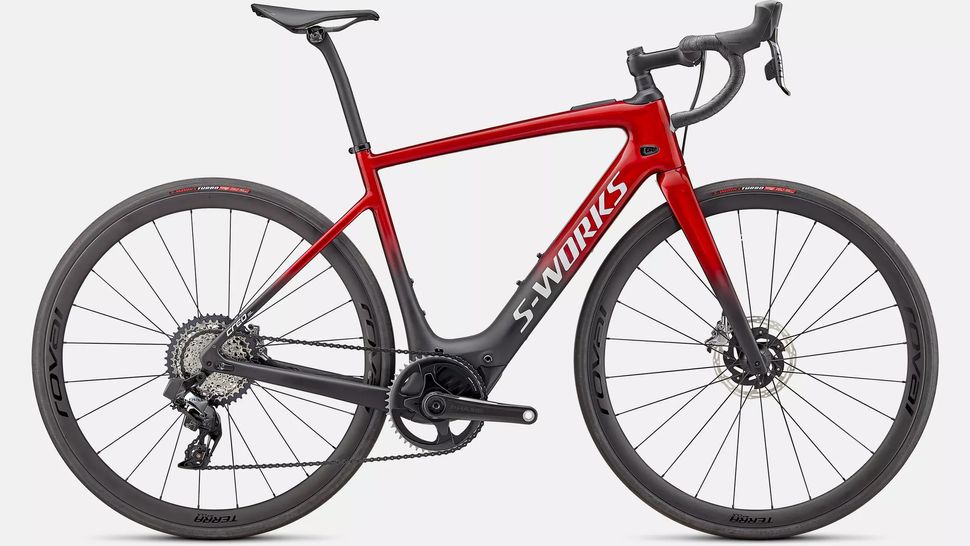 Specialized S-Works Turbo Creo
One of the lightest electric road bikes you can buy
Specifications
Drive System:
Specialized SL 1.1 mid-drive
Reasons to buy
+
Lightweight
+
Mission control app
+
Future Shock
Reasons to avoid
-
Battery not removable from the frame
-
Expensive
The Specialized S-Works Turbo Creo SL looks almost identical to a standard road bike, and thanks to the nifty SL1.1 drive system it isn't all that much heavier. Specialized worked with Brose to design its own motor, which is claimed to weigh just 1.96kg and produce 240 watts of assistance. Integrated into the downtube is a 320Wh battery, which Specialized says weighs 1.8kg. There's a 60Wh range extender available that fits into a bottle cage should you be headed out for an epic adventure.
Specialized has integrated its e-bike system with its Mission Control App, which allows you to run diagnostics and customize how much pedal assist is on offer.
The S-Works Turbo Creo SL is the brand's top-tier model and sees a top spec Fact11r carbon frame and the Future Shock 2.0 with tunable dampening. The frame uses thru-axles front and rear and is kitted out with a SRAM Red eTap AXS drivetrain with a 10-44T cassette.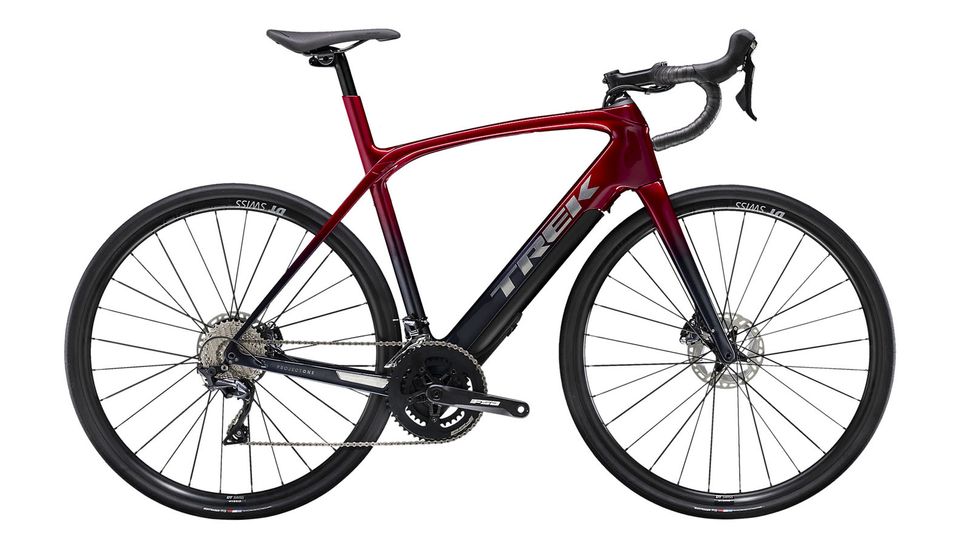 Trek Domane + LT
Endurance assisted platform with premium comfort
Specifications
Drive System:
Fazua mid-drive
Quoted range:
Not specified
Reasons to buy
+
Isospeed front and rear
+
Stable handling
+
Resistance free pedalling
The Trek Domane LT platform takes almost everything we love about Trek's endurance road bike and gives you a bit of extra oomph to get you up any climb. The frame is made from 500 Series OCLV carbon, features the brand's IsoSpeed decoupler, clearance for up to 38c tyres, and sees a nearly identical geometry to the non-assisted version.
Using a Fauza drive system, the motor can output 250W and is powered by a 250Wh removable battery stored in the downtube, which means you don't have to charge your entire bike, but also that you can ride the bike without the battery if you want.
The Domane + LT sees almost all the bells and whistles the non-pedal-assist version offers including the dual IsoSpeed decouplers, although it doesn't get the downtube storage as that is where the battery is located.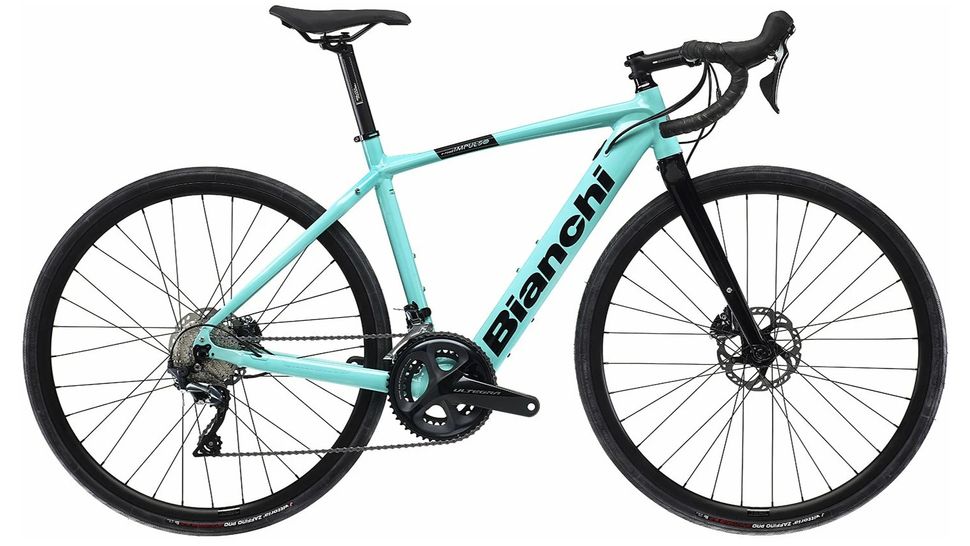 Bianchi E-Impulso
The best looking electric bike out there
Specifications
Drive System:
Mahle ebikemotion X35+
Quoted range:
Not specified
Claimed weight :
Not specified
Reasons to buy
+
Nearly indistinguishable from the standard bike
Reasons to avoid
-
Battery is fixed inside the downtube
The Bianchi e-Impulso takes advantage of the Mahle ebikemotion drive system and is one of the most stealthy-looking electric bikes on the market. The power button on the top tube gives the game away; the 250Wh battery is hidden inside the downtube, and the rear hub-based motor provides up to 40Nm of torque at full bore.
The aluminium frame is mated with a carbon fork, while the bike sees an 11-speed Ultegra drivetrain, Vision Velomann tubeless-ready wheels finished in 32mm Vittoria rubber, and Velomann finishing kit.
It's a road bike at heart, but Bianchi also makes the bike with a gravel-friendly build that will tackle the rough stuff.
Best electric gravel bikes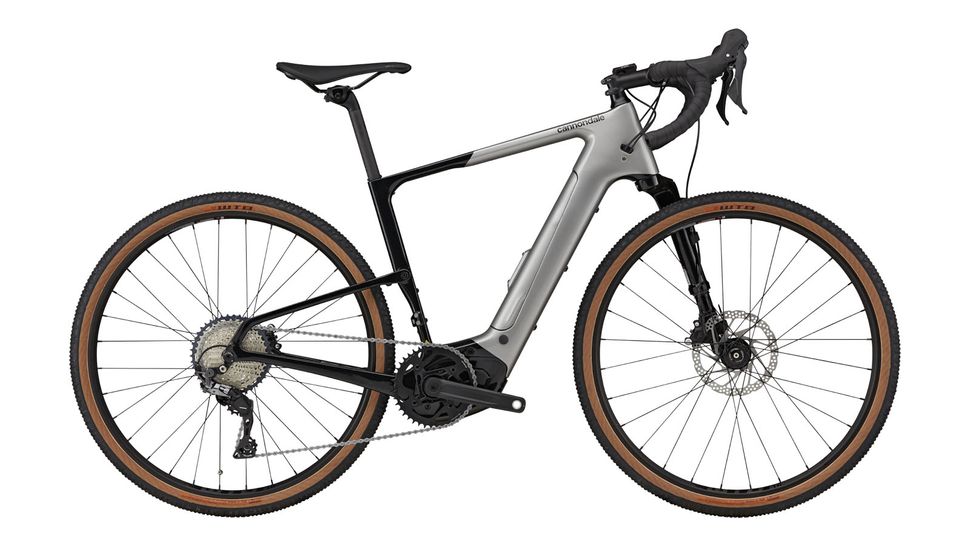 Cannondale Topstone Neo Lefty 3
Almost full suspension gravel bike sure to polarise opinion
Specifications
Drive System:
Bosch Performance Line Speed
Reasons to buy
+
Handling and grip
+
Torque Lefty Oliver fork
Cannondale's Topstone Neo is a spiritual descendant on steroids of the venerable Slate. Based on the chassis of the carbon Topstone Lefty, the 30mm KingPin pivot based rear suspension is matched with the Lefty Oliver single stanchion fork, offering 30mm of air-spring suspension. The Lefty fork is a bit of an engineering marvel, and is one of the stiffest forks on the market, and sees hydraulic damping and lockout. Suspension on a gravel bike always induces eye-rolls from drop bar purists, but the fact is it adds considerable improvements to both comfort and grip.
In the middle of the triangles is Bosch's Performance Line Speed motor and removable 500Wh battery. With up to 250 watts of assistance and 85Nm of torque on tap, the Bosch drive unit will help you crawl up that impossibly steep fire road, while a bar-mounted Purion display keeps all the vitals at your fingertips.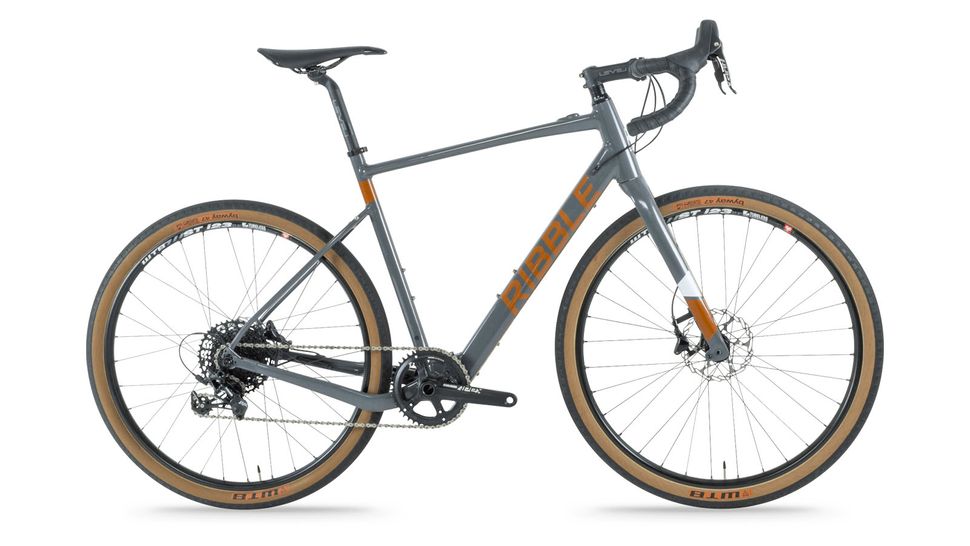 Ribble CGR AL e
Bang for your buck gravel e-bike
Specifications
Drive System:
Mahle ebikemotion
Quoted range:
Not specified
Claimed weight :
Not specified
Reasons to buy
+
Alloy frame
+
Price
+
Rack and fender mounts
Our favourite thing about Ribble is the way it sells its bikes. Its Bikebuilder platform allows you to customise every component from drivetrain to wheels, tyres and touchpoints. The CGR AL e is the brand's alloy e-gravel platform. The alloy frame will take both 700x35c and 650bx2in wheels and tyres with mudguards, and sees rack and fender mounts too.
Taking advantage of the Mahle ebikemotion system, the motor is rear hub-based, and the 250Wh battery is integrated into the downtube. This system is lightweight and doesn't change the frame's silhouette, but most of all is friction-free when the motor is not in use. The Ribble CGR AL e is also one of the most affordable e-gravel bikes, with stock builds including a SRAM Apex version and a less expensive Shimano Tiagra build, although here the rear derailleur is not clutched.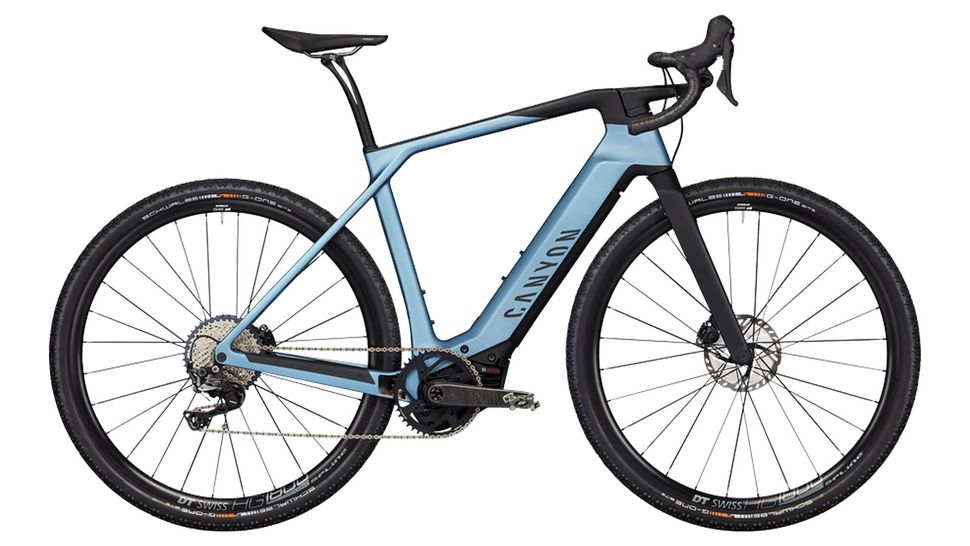 Canyon Grail:ON
Gravel e-bike from the future
Specifications
Drive System:
Bosch Performance Line CX
Quoted range:
Not specified
Reasons to buy
+
Hover bar offers numerous hand positions
+
Plenty of tyre clearance
+
Drag free pedalling
Reasons to avoid
-
Its looks won't be for everyone
-
Heavy
With room for 50mm tyres, the eclectic hover bar, and a Bosch Performance Line CX motor, the Canyon Grail:ON e-gravel bike is anything but vanilla. Based on the ever-successful Grail, the geometry has been tweaked ever so slightly for a more upright riding position. While Canyon's other drop bar e-bikes utilised the sleeker-looking Fauza system, the brand says it opted for the Bosch motors for the additional torque on offer, which is what you need to get up and over those steep techy features.
With the new geometry, the wheelbase is a tad longer to increase stability and make room for mudguards and the balloon-like 50mm tyres. The Grail:ON CF7 sits in the middle of the pricing spectrum and comes equipped with a Shimano GRX drivetrain and an FSA carbon crankset with a 44t chainring at the front and 11-42 cassette out the back.
How to choose the best electric bike for you
As you'll see from our picks above, there are many different types of electric bike and a whole range of prices from the inexpensive to the very pricy, so there are a range of questions to consider when looking for the best electric bike for your needs, that will help to narrow down your search. We'll go through them.
What kind of riding do I want to use my e-bike for?
The first thing to narrow down is the tyre of riding you expect to do on your electric bike. Are you predominantly riding it on road? Is that for recreation or commuting? Do you want a bike with drop bars or flat bars?
That's going to dictate whether you need an electric road bike or an electric hybrid bike.
If you're more interested in riding off-road, the same questions apply and will decide if you'll be better off with an electric gravel bike or an electric mountain bike. E-MTBs tend to have burlier tyres and suspension too, so they're more competent on more technical terrain. To muddy the waters, many electric hybrid bikes have wheels and tyres that make them suitable for gentler off-road use as well as on tarmac.
How will I use and store my electric bike?
How far are you going to want to ride your e-bike? If you're just using it for commuting the distance might be lower than if you're planning on recreational use. Sometimes a lower priced electric bike will have a lower capacity battery with more limited range, so it's worth considering if the claimed range will meet your needs.
In general, electric bikes are quite heavy, so if you're going to have to carry your e-bike up stairs or onto public transport, it's worth looking for a lighter weight model. Public transport options for non-folding bikes may be limited to specific hours when it's less crowded, so you might want to consider a folding electric bike.
Do you have electric power where you're going to store your e-bike? If not, you'll need to be able to remove your battery easily and take it somewhere to charge it. Conversely, you don't want it to be too easy to remove your battery if you're going to leave your e-bike in a public place. Batteries are pricy to replace if they're stolen and some e-bikes have locks on their removable batteries.
What are the regulations regarding e-bikes?
Regardless of whether your electric bike has a Shimano, Bosch, Fazua, or any other drive system, it will be limited to comply with regional laws and restrictions. This will affect the maximum wattage, pedal-assist speed, and the need for licensing and insurance.
These vary depending on whereabouts in the world you reside and ride your bike, so here are the key things you need to know about regional restrictions in the UK, the US and Australia:
UK
In the UK, eBikes are classed as regular non-pedal assist bikes provided the motor cuts out a 25kph, does not generate more than 250 watts of assistance, and does not kick in until the bike is already in motion. Riders must also be at least 14 years old. If your bike meets these criteria, you can legally ride it anywhere a bike can be ridden.
If your eBike doesn't meet these standards, it will need to be registered and insured as a motor vehicle, and you will need a license and a helmet.
Australia
Australians love simplicity and that is why eBikes are split into throttle operated and non-throttle operated. Throttle operated eBikes must be limited to 200 watts and 25kph, while pedal assist can provide up to 250 watts of assistance but is limited to the same speed limit. In keeping with this simplicity, anything that doesn't abide by the above is considered a motorbike by law, and must be licensed and insured.
USA
The US is one of the more difficult countries to navigate e-bike regulations because the rules will vary depending on what state you live in, and even then, the laws are written in legalese that just about requires a member of your local bar association to translate.
According to federal legislation enacted by congress in 2002, an eBike is defined as, "A two- or three-wheeled vehicle with fully operable pedals and an electric motor of less than 750 watts (1 h.p.), whose maximum speed on a paved level surface, when powered solely by such a motor while ridden by an operator who weighs 170 pounds, is less than 20 mph."
Unfortunately, state laws surrounding eBikes often supersede this legislation. Currently, 33 states have statutes that define an eBike in some manner while the rest lack a specific definition, and may lump them in with another vehicle class. To make things even more confusing, in states like Mississippi there is no mention of eBikes in the wording of the laws, but a general opinion issued by the Attorney General says an electric bicycle should be classified as a regular bike. Thirteen states have taken up the three-tiered system outlined by The Bicycle Product Suppliers Association which divides electric bikes up based on their maximum assisted speed:
Class 1: the motor provides assistance only when the rider is pedalling and cuts out a 20mph
Class 2: the motor can contribute regardless of pedalling but is governed to 20mph
Class 3: the motor provides assistance when the rider is pedalling but cuts out at 28mph and must be equipped with a speedometer.
Regardless of class, the motor can only generate a maximum of 750 watts, and the class must be labelled clearly.
In the 17 states that lump eBikes in with other classes of vehicles, licensing and registration may be required to operate an eBike.
If your head is spinning trying to keep these rules straight, our friends over at People for Bikes have a handy state by state guide.
Which e-bike motor and battery do I need?
The best e-bike motors can be located in several areas of the bike, depending on which brand and model you opt for, and generally consist of a front-drive, mid-drive or rear-drive motor system, located in the front hub, bottom bracket and rear hub respectively.
While any of the three options will serve you fine, the motor system location will often have an impact on the handling of your bike, so it's worth considering whether or not you would have a preference.
Generally, a mid-drive motor system is the best of the three, as it spreads the weight more evenly throughout the bike. Since the motor and battery are the heaviest parts, it's better to have that heft closer to the ground and between the wheels, so as not to throw off your centre of gravity. A rear hub motor is generally preferable to a front hub motor too, as you'll be sitting over it to give it traction and it's unlikely to affect steering.
Battery capacity is described in Wh (watt-hours). The larger the number, the further your battery will take you on a single charge, and the heavier it will be. Some motor systems let you purchase a separate range extender battery which plugs into the main battery, increasing range, in some cases doubling it.
What's torque and how much do I need?
With most electric bike motors being limited to 250 watts output, it's their torque figures that are more significant in comparing electric bikes. That's a measure of how much push the motor will give you as you ride.
In general, electric bikes start at around 40Nm torque. That's enough to give you a light push and help you up hills, but you'll need to put in quite a bit of your own effort. Electric bikes with this range of torque also tend to have smaller batteries, because they're not providing as much assistance, so they'll usually be lighter than an electric bike with a more torquey motor.
Many city hybrid electric bikes have a motor with around 60Nm torque output. That gives you more help with starts and when carrying loads, but results in a heavier bike and needs a larger battery.
The highest torque electric motors can provide up to 95Nm and are usually reserved for electric mountain bikes and some electric gravel bikes, where you need the turning power to keep you moving up steep gradients. They're also found on electric cargo bikes and some electric city bikes, where the extra torque helps with stops and starts when loaded. These motors are usually paired with even larger batteries and add even more weight.
The latest race content, interviews, features, reviews and expert buying guides, direct to your inbox!
Mildred joined as Reviews Writer for Cyclingnews and BikePerfect in December 2020. She loves all forms of cycling from long-distance audax to daily errand-running by bike, and does almost everything on two wheels, including moving house, and started out her cycling career working in a bike shop. For the past five years she's volunteered at The Bristol Bike Project as a mechanic and session coordinator, and now sits on its board of directors.
Since then she's gone on to write for a multitude of cycling publications, including Bikeradar, Cycling Plus, Singletrack, Red Bull, Cycling UK and Total Women's Cycling. She's dedicated to providing more coverage of women's specific cycling tech, elevating under-represented voices in the sport, and making cycling more accessible overall.
Height: 156cm (5'2")
Weight: 75kg
Rides: Stayer Groadinger UG, Triban RC520 Women's Disc, Genesis Flyer, Marin Larkspur, Cotic BFe 26, Clandestine custom bike
The latest race content, interviews, features, reviews and expert buying guides, direct to your inbox!
Thank you for signing up to The Pick. You will receive a verification email shortly.
There was a problem. Please refresh the page and try again.