Best electric bike under $2,000 / £2,000
Our pick of the best affordable e-bikes for commuting and city riding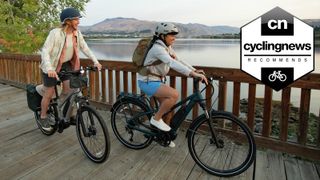 (Image credit: REI)
There are so many great reasons to start riding one of the best electric bikes, especially when you can get your hands on one that won't cost an arm and a leg, which is why it's worth checking out the best electric bikes for under £2,000 / $2,000.
Like a traditional pedal bike, they are great for your health and happiness, and make it easier for you to get to know your community and surroundings. They are also great if you feel like riding a traditional bike has always been out of reach for you because of health and fitness-related issues. An electric bike offers similar health benefits to a standard pedal bike, and, bar the cost, comes with fewer physical barriers to entry.
Whether you're looking to limber up a little, or you're in the prime of your life, investing in one of the best electric bikes for under £2,000 / $2,000 will open up a new world to you. The right electric bike is practically an SUV that flattens hills and opens up the landscape.
If you've got some cash burning a hole in your pocket there's never been a better time to drive less and ride more with the right electric bike. There are electric gravel bikes, electric folding bikes, electric road bikes, electric mountain bikes, and electric cargo bikes everywhere.
Of course, as with anything, the options become a little less plentiful as you start to shrink your budget. Sure, it saves money over time to ride an electric bike and drive less, but you still have to make the purchase. You could think about using one of the best electric bike conversion kits to upgrade a bike you already own, but if you want a quick win, then we've put together a list of electric bikes under $2,000 / £2,000.
Jump down to read what to look for when choosing an e-bike or keep reading to see our recommendations.
In the USA? Jump down to the best electric bikes under $2,000.
In the UK? Skip to the best electric bikes under £2,000.
US: Best electric bikes under $2,000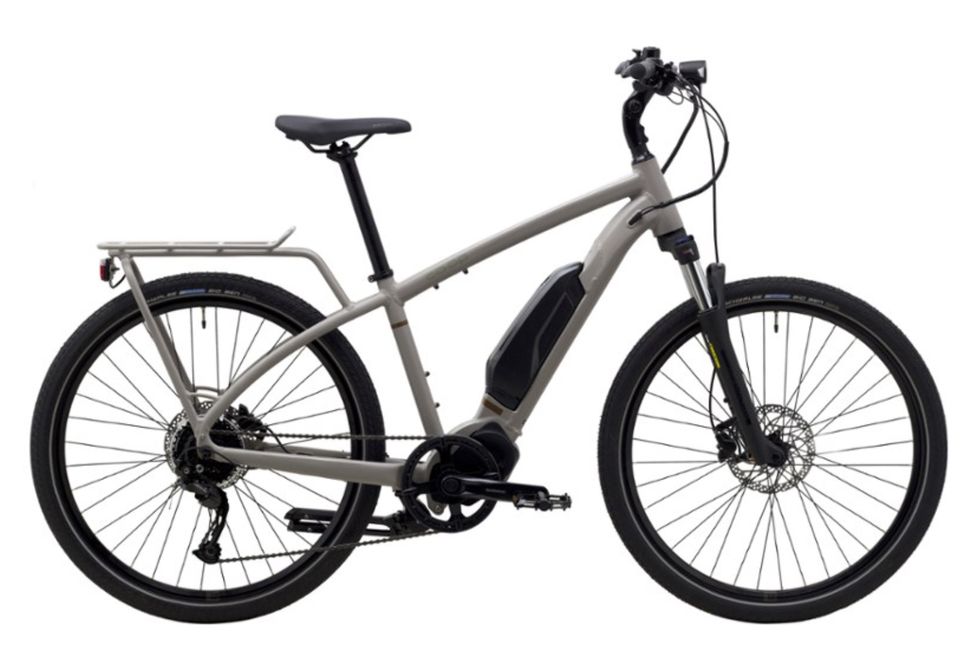 Co-op Cycles CTY e2.1 Electric Bike
A mid-drive motor with a bargain price
Reasons to buy
+
Hydraulic disc brakes
+
Mid-drive motor
+
Lights included
Over the last few years, REI has been making some of the best bikes in their categories under the Co-op brand name. The bikes have a reputation for being better than their price and the CTY e2.1 follows the pattern. It's a Class-I bike without a throttle and powered by the Shimano Steps e5000 system. The battery is removable for charging and shifting through the nine gears happens with more Shimano pieces. It's not specifically a cargo bike but the double-sided kickstand and sturdy welded rear rack are convenient for a modest payload.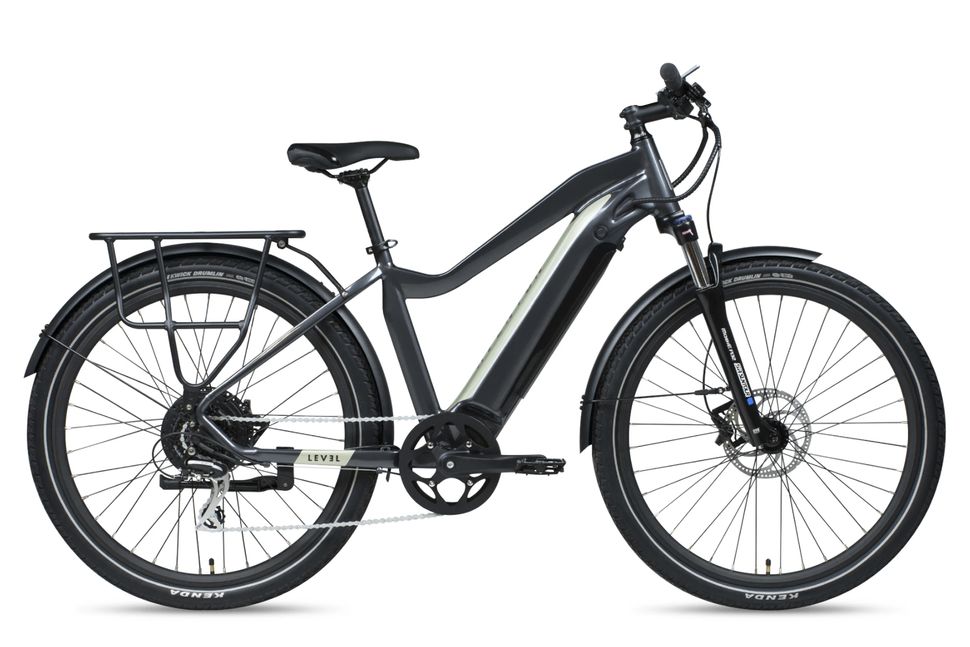 Aventon Level Commuter
A good looking bike with high-end features at an amazing price point
Specifications
Quoted range:
40 miles / 64km
Reasons to buy
+
Both torque and speed sensor pedal assist
+
Keep up with traffic and gain high speeds
+
Available in stores or shipped
Reasons to avoid
-
No lights included
-
No chain guard
Most low-cost electric bikes fall into a range of a few styles. The Aventon Level is for the commuter. That really means it's a do it all kind of city bike. Being a class III bike, it will feel comfortable mixing with traffic if you ride at rush hour and there's a throttle when you need it. Aventon understands the market and makes it easy to jump in. The included fenders are quality alloy pieces and the frame has a lifetime guarantee. There's even a dealer network if you want to see how the bike feels before having one sent your direction.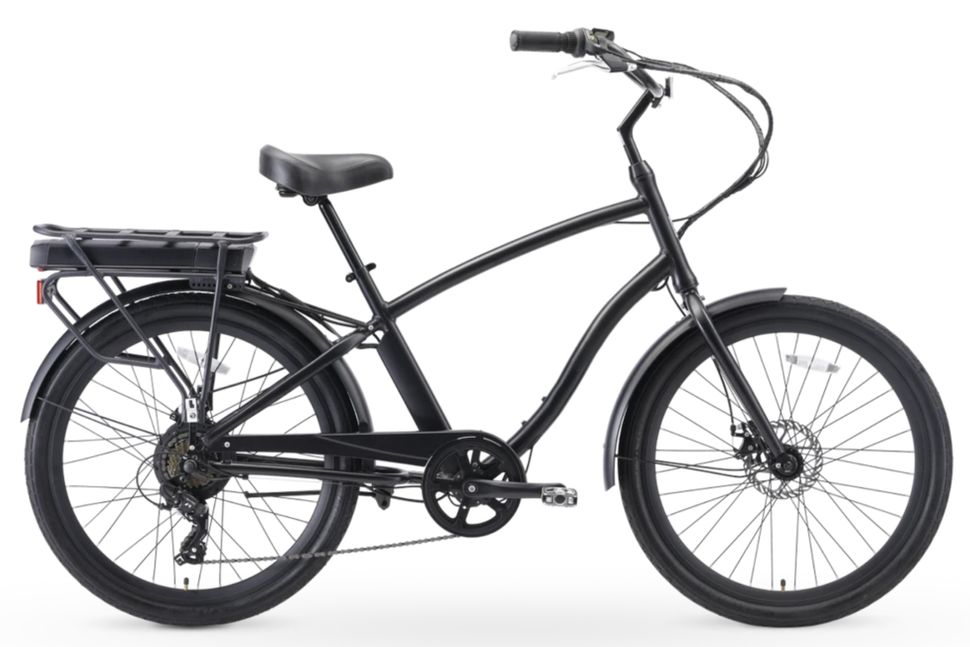 Sixthreezero EVRYjourney
Still a cruiser but you've got the power and speed of a class III electric bike for those who want it
Specifications
Quoted Range:
20 miles full electric and 40 miles with pedal assist
Reasons to buy
+
Included fenders
+
Removable battery
Different people have different needs. If you live somewhere that the regulations allow for a Class-III bike then it might be worth considering. When you've got to mix with vehicle traffic the max 28mph might feel safer. If that all sounds like it's speaking to your needs and you want the style of a beach cruiser then Sixthreezero has a bike for you. The Sixthreezero EVRYjourney 500W is a 7-speed bike with twist grip shifting and mechanical disc brakes. The battery is removable for charging and if you don't want to pedal at all you can use full-electric power up to 20mph.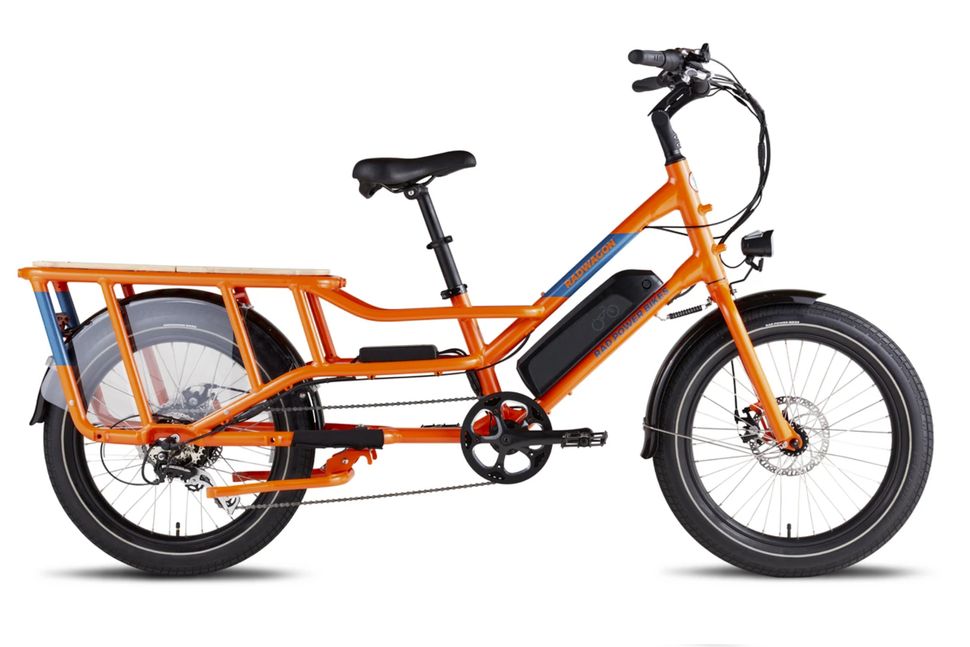 Rad Power Bikes RadWagon 4
If there was a minivan bike this would be it
Reasons to buy
+
Excellent kickstand
+
High payload capacity
Rad Power bikes is a go-to name in the marketplace. If you are looking for a low price and high quality, they are tough to beat. The Rad Power Bikes RadWagon 4 is the bike that makes it possible to haul two kids and a load of groceries all while staying within budget. Total payload capacity comes in at 350lbs and the rear rack can take 120lbs. Other cargo centric features include a sturdy double-sided kickstand and a low standover height. The long slender rear rack does lend itself to passengers over cargo but pick up a few accessories and you can carry as much as a car.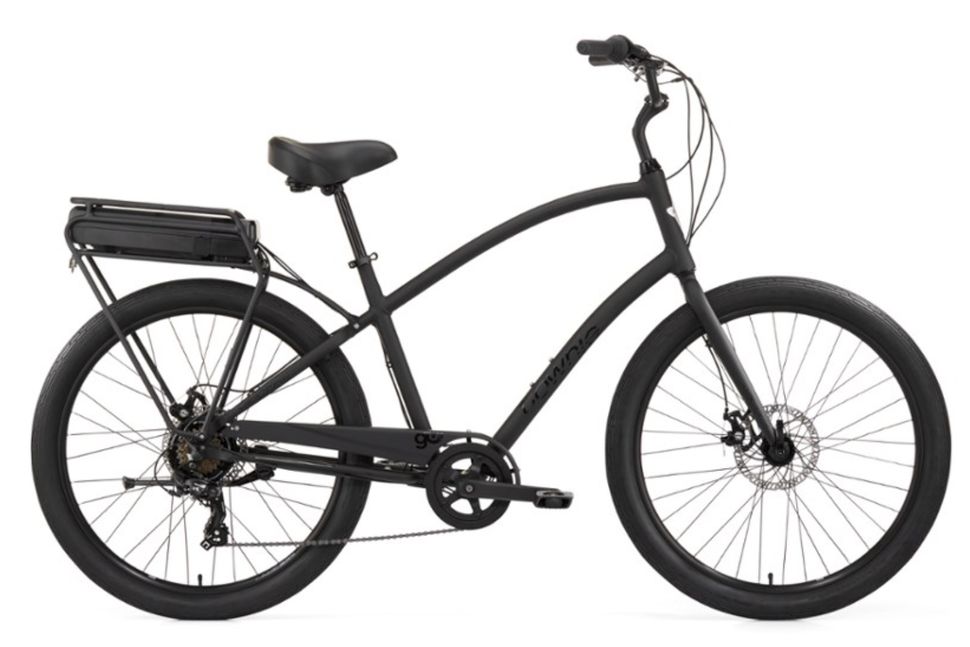 Electra Townie Go! 7D Electric Cruiser Bike
A stylish cruiser from a well-known brand
Specifications
Motor:
Hydrive rear hub motor
Reasons to buy
+
Internal Cable Routing
+
Flat Foot Technology
Trek is one of the largest bike brands in the world. It is well known, has a large dealer network, and is easy to deal with. If you like the idea of sticking with a trusted brand name like Trek then it makes sense to take a look at the electric bikes it produces. Electra is the brand name that covers the most stylish cruiser electric bikes Trek has available. The Townie Go! 7D is a low-cost class I bike that might be mistaken for a standard pedal bike. It looks great and makes it easy to enjoy a day on the boardwalk.
UK: Best electric bikes under £2,000
Lapierre E-Sensium 2.2
A flat-bar e-road bike with a hidden motor for stealthy pedalling
Specifications
Quoted range:
Unpublished
Motor:
Ebikemotion System X35
Reasons to buy
+
Integrated motor for sleek and stealthy appearance
+
Internal cable routing keeps things tidy
+
Reliable Shimano Sora shifting
Reasons to avoid
-
Cheaper competitors with better value for money are out there if you can find them
If you're looking for something sleek and efficient that doesn't scream 'e-bike' when you pass people, Lapierre's eSensium 2.2 flat-bar e-road bike could be the one for you. Boasting road-friendly geometry that runs efficiently on tarmac, while coming equipped with a flat handlebar for comfort and and a more relaxed, upright riding position, the eSensium 2.2 will make a very good commuter, leisure and fitness bike for most.
With Shimano's 2x9-speed Sora shifting on board, maintenance and future servicing is pretty much taken care of, thanks to the reliability and cheap replacement of parts. The eSensium offers a decent range of gears, which will flatten even the worst of hills, while the X35 ebikemotion drive system uses a sophisticated pedal-assist sensor installed within the cassette, which provides intuitive assistance and smooth shifting.
Giant Entour E+ 3 Low Step Through
An excellent option for those with mobility issues
Specifications
Quoted range:
93 miles / 150 km
Motor:
Giant SyncDrive Core
Reasons to buy
+
Low step-through frame makes mounting and dismounting easier for the less mobile
+
Kitted out with mudguards, a rear rack and kickstand, ready for commuting
+
Smart Assist technology
+
Up to 300% assistance
Reasons to avoid
-
Battery back behind the saddle creates uneven weight distribution and makes the bike feel rear-heavy
Anyone who struggles with lifting a leg over a bike frame would do well to invest in a bike with a low step-through frame, just like this one. Giant's step-through electric city bike is designed to be as comfortable as possible, with plush, 45mm wide tyres and a short-travel front suspension fork to soak up the bumps in the road.
The fixed quill stem comes with a 30-degree rise, so as to put the rider in a more upright position, 'sit up and beg' style, while the 1x setup keeps shifting nice and simple.
Giant's own-brand SyncDrive Core motor is paired with a 400Wh battery pack to deliver a decent estimated range of 93 miles / 150km (when assist mode is used sparingly), meaning those who are forgetful when it comes to charging batteries will probably manage to get away with a fair few commutes or grocery trips before the need arises to plug in again.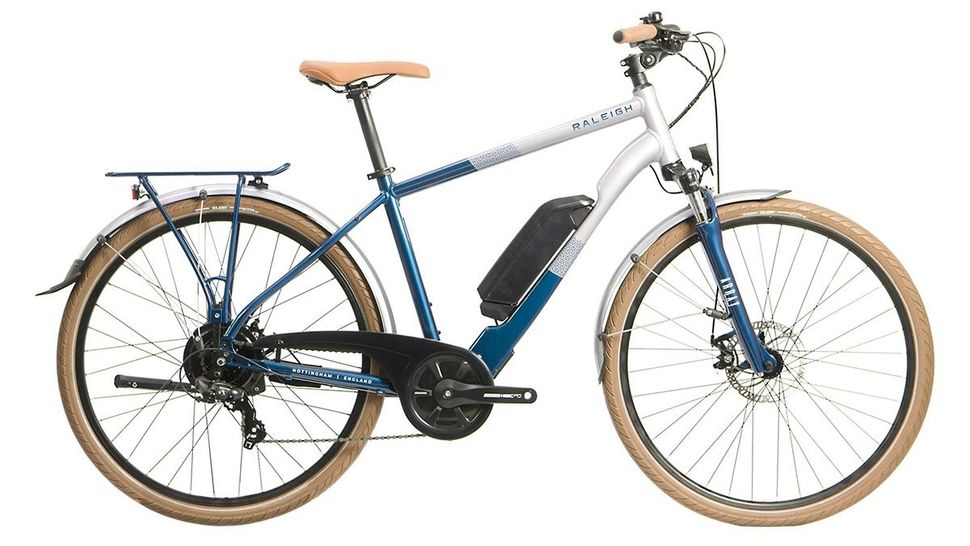 Raleigh Array
An entry-level e-bike with a classic aesthetic
Specifications
Quoted range:
60 miles / 96km
Motor:
Suntour Canbus E25
Reasons to buy
+
Comes complete with mudguards, front and rear lights, a kickstand and a rack
+
Fun retro aesthetic
+
Three frame shapes to choose from
Reasons to avoid
-
Relatively short range
-
Limited gearing
The Raleigh Array makes for a great entry-level e-bike, thanks to its simple and user-friendly build, as well as its affordable price tag. Available in three different frame shapes - a low step-through, a staggered top tube, or a horizontal top tube - there's something to suit most people's abilities and preferences.
Off the shelf it's ready to roll straight into its commuting and carrying duties, thanks to the inclusion of front and rear mudguards, a rear pannier rack, a kickstand and integrated front and rear lights. Just throw on your helmet and go.
Plus if you want a bike that looks good, it's hard to deny the fun and retro style of this bike from Raleigh, with its classic tan-coloured tyres and matching saddle and grips.
Meanwhile the Suntour e25 Hub Drive motor system at its core offers three different assist levels, combined with seven gears to help you conquer your local landscape.
Eovolt Confort
An affordable folding e-bike for commuting and storing
Specifications
Quoted range:
62 miles / 100 km
Reasons to buy
+
Folds down to compact size for easy storage and taking on public transport
+
Complete with front and rear lights, mudguards and a rear rack
+
Five power assist modes to choose from
Reasons to avoid
-
Small wheels make it less efficient on the roads
-
Limited gearing
Leaving the car at home to commute by bike is great for your health and for the environment, however it's not always practical for those who live too far away to make it feasible. Combining cycling with catching a bus or train certainly makes it more achievable, but doing so with a full-sized bike can be incredibly frustrating (or even impossible, thanks to some train companies' policies).
That's where a folding e-bike really gets to shine. You have all the benefits of riding a pedal-assisted bike to work, and you can also fold it down in mere seconds to hop on a train before finishing your journey on two wheels. Eovolt's folding mechanism is said to be so fast and user-friendly, you can fold it down in 10 seconds.
The Confort is ready for your commute, with a full set of mudguards, a rear rack and integrated front and rear lights. Its 20in wheels are shod with chunky, puncture-resistant tyres to help you tackle potholed streets, while the brand's proprietary motor offers five levels of assistance and up to 100km range.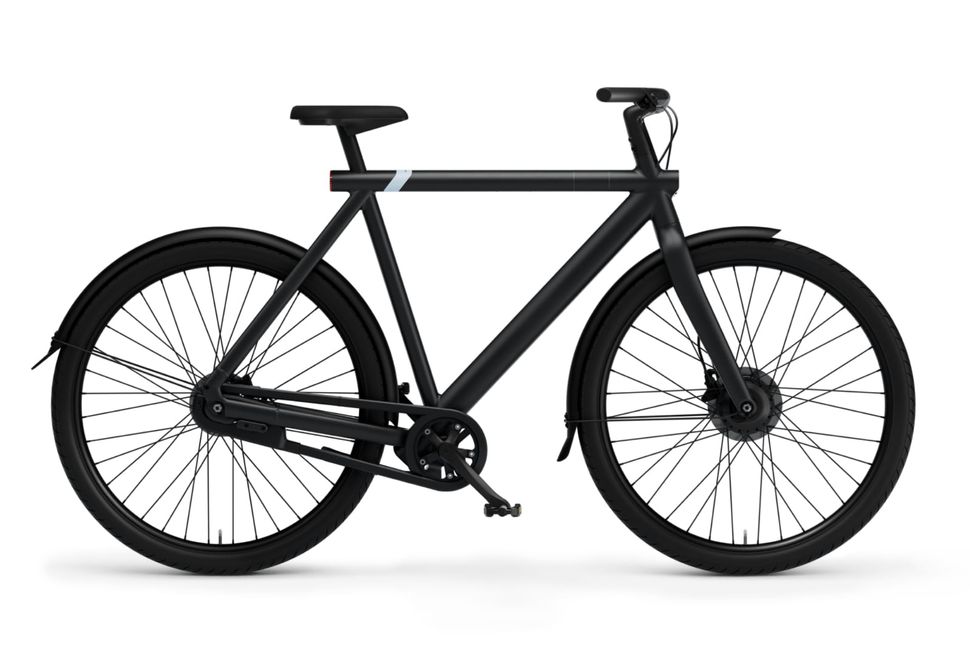 VanMoof S3
A clean and eye-catching design that's packed with tech and anti-theft features
Specifications
Quoted range:
93 miles / 150km
Reasons to buy
+
Automatic shifting
+
Hydraulic brakes
+
Theft deterrence
Reasons to avoid
-
It's a large bike (for riders who are 5ft 8- 6ft 8)
VanMoof is a brand that's seemingly everywhere. Its designs are some of the most eye-catching out there and it is a darling of those who love tech. Nothing about the VanMoof S3 looks like what you'd expect from an electric bike.
There is a display but it's hidden in the top tube until it comes to life. There's also a heavy emphasis on anti-theft features. Kick the button on the rear dropout and it engages a lock.
If anyone touches the bike it makes noise and if it gets stolen the built-in GSM phone connection allows it to report where it is. There's even available insurance that covers theft for three years.
However bear in mind that the S3 is built for the taller rider, specifically those over 5ft 8. Anyone looking for something smaller would be better off with the VanMoof X3 instead, which caters for people 5ft and above.
Things to consider when purchasing an electric bike
What are the different classes of electric bike?
For a detailed run down, check out our separate explanation of e-bike classes. For a broad overview, read on.
There are three classes of electric bikes in the US and each class operates a little bit differently. Along with different operating features comes different restrictions. Class 1, 2, and 3 do not represent good, better, and best. Some people may prefer one or the other but fundamentally they are different, not better. Find the one that fits your needs.
Class 1 electric bikes are pedal-assisted only. There is no throttle and they work by magnifying your input. Once you hit 20mph the electric motor will shut off. You can continue to pedal, and in the right circumstances you may continue to accelerate, but you won't have a motor to help you. Class 1 bikes get the same treatment as any other bike so go ahead and take them on bike paths and trails without worry.
Class 2 electric bikes operate like class 1 bikes but they also have a throttle. The throttle on a class 2 electric bike can operate with or without pedalling but most of the time you get both. Just like a class 1 bike when you reach 20mph the electric motor will stop helping but you can keep pedalling if you want. The throttle is useful when mixing with cars in traffic and for getting started from a stop. If you find yourself quickly needing to pass a stopped bus, for example, a bit of throttle can get you out of harm's way as quickly as possible.
The final class of electric bike is class 3. Class 3 bikes are subject to different rules in different locations. The biggest thing that defines them is pedal assist up to 28mph. They must also have a speedometer but most electric bikes do anyway. In some locations class 3 bikes don't have throttles and in others they do but it only works up to 20mph. There are also different rules about where you can take class 3 bikes. Often, they are not allowed on trails that prohibit motorized vehicles.
In Europe things are a little bit different. The easiest way to think about it is that you want something with a max speed of 25km/h and a motor of 250watts or less. You can also only have help from the motor while pedalling. Anything over those specs and it's no longer considered a bike in the way most people think of a bike. The upgraded status comes with a host of extra regulations and requirements.
Whatever class of bike sounds good to you remember that the class does not dictate the feeling of the ride. You may have to pedal but nothing says you have to pedal hard. Bike manufacturers handle the power delivery in different ways and each electric bike has its own take on it.
Should I just be looking at the numbers?
There is a lot of info out there about how to understand the specs presented on electric bikes. Be careful with that info. If you spend your time shopping based on the biggest numbers you are going to miss out on the nuances involved. Not only that but there are different ways to express the numbers. It can be hard to compare numbers that should be easy.
Instead of focusing only on the numbers try to understand the power delivery. Two bikes with similar numbers for their electric systems can deliver a very different riding experience. Some bikes amplify your pedalling. Everything seems a bit easier and it can be hard to even tell you are getting help. On other bikes, pedalling is almost a formality. As soon as you start pedalling the motor yanks the bike to speed based on the level of assist you've chosen. Keep gently spinning the cranks and the bike keeps you moving along.
If you look past the specs, what should you be looking for? There are a few things that tend to define the user experience and this is where you should pay attention.
What kind of pedal assist sensor is the bike using? A torque-based sensor makes for a much more natural feeling bike. A cadence-based sensor makes the ride less demanding. Some systems also use a speed sensor that matches assistance to how fast the bike is moving. Decide what sounds best to you and look for a match.
What is the quoted range? Every manufacturer quotes the best-case scenario for range. That means it's unlikely you will hit that number every ride but it at least gives you a sense of what to expect. Is the distance you are planning to cover possible? Do you need to charge every day or can you make it to work and back a few times before it's time to charge? Looking at the range instead of the size of the battery simplifies things. There's an interplay between the battery size and motor size but looking at the range takes that out of the equation.
Make sure you also look for quality-of-life features. If the battery isn't removable, it means you need to get the actual bike near a power source. Is that an issue for you? Are there lights built-in? What about fenders and is the payload capacity big enough for you? Are there smart features or anti-theft features? These kinds of features make a bike enjoyable to own, or not, in a way that motor specs won't capture.
If you've not found what you're looking for here, check out our guide to the best electric bikes under £1,000 / $1,000.
Get The Leadout Newsletter
The latest race content, interviews, features, reviews and expert buying guides, direct to your inbox!
Josh hails from the Pacific Northwest of the United States but would prefer riding through the desert than the rain. He will happily talk for hours about the minutiae of cycling tech but also has an understanding that most people just want things to work. He is a road cyclist at heart and doesn't care much if those roads are paved, dirt, or digital. Although he rarely races, if you ask him to ride from sunrise to sunset the answer will be yes.
Height: 5'9"
Weight: 140 lb.
Rides: Cannondale Topstone Lefty, Cannondale CAAD9, Enve Melee, Look 795 Blade RS, Priority Continuum Onyx
Get The Leadout Newsletter
The latest race content, interviews, features, reviews and expert buying guides, direct to your inbox!
Thank you for signing up to The Pick. You will receive a verification email shortly.
There was a problem. Please refresh the page and try again.