Best budget road bikes 2022 - Entry level road bikes to kick start your riding
The best budget road bikes benefit from trickle-down tech from more expensive options, but without the hefty price tag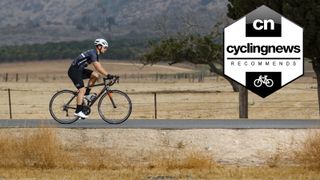 (Image credit: Giant)
Riding a bike should be a universal joy afforded to everyone, but here at Cyclingnews we're also not blind to the fact that the best road bikes regularly reach five figure sums, which puts them out of reach for the majority of consumers.
While the very best road bikes come equipped with the best road bike groupsets, such is the pace of change in the industry (and the speed at which innovation trickles down) that the entry level road bikes of today are built with components that would rival the top end race bikes of just a handful of years ago.
This means that while the performance envelope is being pushed at the top end of the range, the level at which you can access a reliable, high performance machine is also reducing.
We're going to take you through the best road bikes for those of you on a tighter budget, but if you're aiming to spend some time off road too then take a look at our best budget gravel bikes list.
Buying your first bike can be daunting from a technical standpoint too, so if you're not sure what you're looking for then we've included a handy guide at the bottom to take you through all you need to know before jumping in.
Best budget road bikes
USA: Best road bikes under $1,000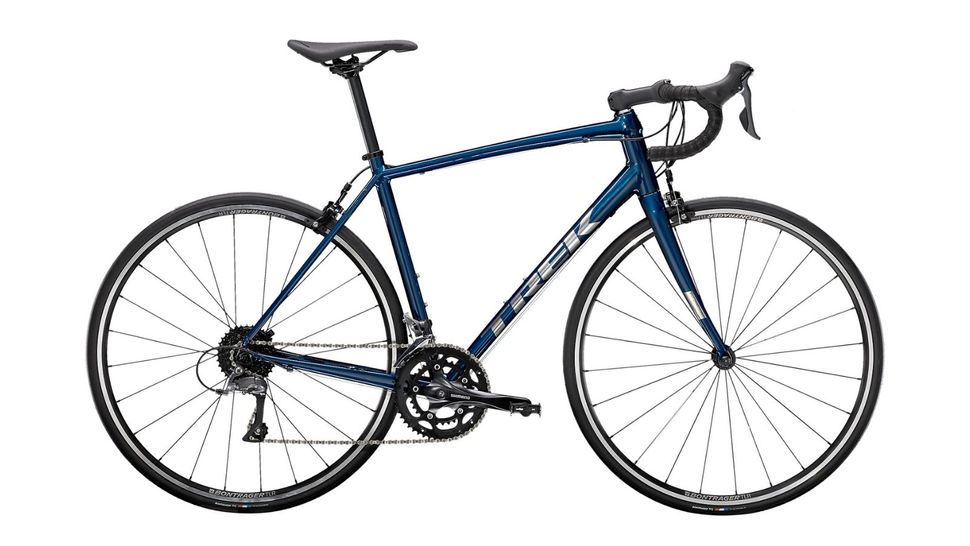 Trek Domane AL 2
The best budget road bike for mile munching
Specifications
Groupset:
Shimano Claris R2000
Wheels:
Bontrager Tubeless Ready rims on Formula Hubs
Reasons to buy
+
Great-looking with two colours to choose from
+
Huge range of sizes
+
28mm tyres on tubeless-ready wheels
+
IsoSpeed fork damps vibrations
+
Front and rear thru-axles
Reasons to avoid
-
There's an exposed section of cable along the chainstay that will need more maintenance
Usually known for its more pricey bikes, it's a surprise to us all that Trek has managed to make a road bike with this type of spec for under $1,000. It offers great value for money, considering the inclusion of the brand's IsoSpeed decoupler technology, which builds compliance into the carbon fork to absorb vibrations from the road and make for a more comfortable ride.
The Shimano Claris R2000 8-speed groupset, despite not being quite top of the range, offers a smooth shifting experience and is easy to maintain and fettle. Providing the stopping power is alloy dual-pivot rim brakes, while the Bontrager tubeless-ready wheels roll on 28mm wide Bontrager R1 Hard-Case tyres.
Finally, with eight sizes to choose from, plus two colour options, it should be plenty easy to find the right Domane for you without breaking the bank.
Head to our roundup of Trek road bikes if you want to know a bit more about the whole range.
Giant Contend 1
The best budget road bike for all round riding
Specifications
Groupset:
Shimano Sora R3000
Reasons to buy
+
Full carbon fork
+
D Fuse technology
+
Impressive sub 10kg weight
Pretty much everything on the Giant Contend 1 other than the groupset and brakes comes from Giant. That's no bad thing though, as it's all good quality stuff. You get a decent set of wheels and 28mm tyres from Giant, along with a D Fuse alloy seatpost, which Giant says increases comfort by allowing greater flex in desired directions, without sacrificing stiffness in others.
The frame is made from ALUXX-Grade aluminium, with Giant's iconic compact frame design and a full carbon OverDrive fork. The groupset is Shimano's Sora R3000, and you get an almost complete package of components – the only non-Shimano substitute is the Tektro TK-B177 rim brakes but these are good performers nevertheless, so it's not a huge loss.
It also has mounts for mudguards and a rack, extending its usefulness into the winter months or for commuting/touring. Our only criticism is that it's arguably a little bit dull, compared to some other bikes listed here.
Liv Avail AR 4
The best budget road bike for women
Reasons to buy
+
Designed using women's body dimension data
+
Tubeless-ready wheels
+
Good range of sizes
Reasons to avoid
-
Would benefit from a groupset upgrade
While some people are still asking the question, 'can women ride men's bikes?', Liv Cycling just goes ahead and creates high-performing bikes for women's specific needs. Designed by women, engineered by women, and tested by women, using women-only body dimensions data, it's fair to say that many women will find the Liv Avail AR 4 an incredibly comfortable road bike on a budget.
Liv's own ALUXX-Grade aluminium frame is a lot more compliant and comfortable than most would expect, while the Advanced-Grade carbon composite fork reduces the overall weight and keeps the front end of the bike light and snippy.
In terms of spec, the Avail AR 4 matches what many of the other bikes in this list have to offer, with Shimano Claris gearing, mechanical Tektro disc brakes, and tubeless-ready wheels.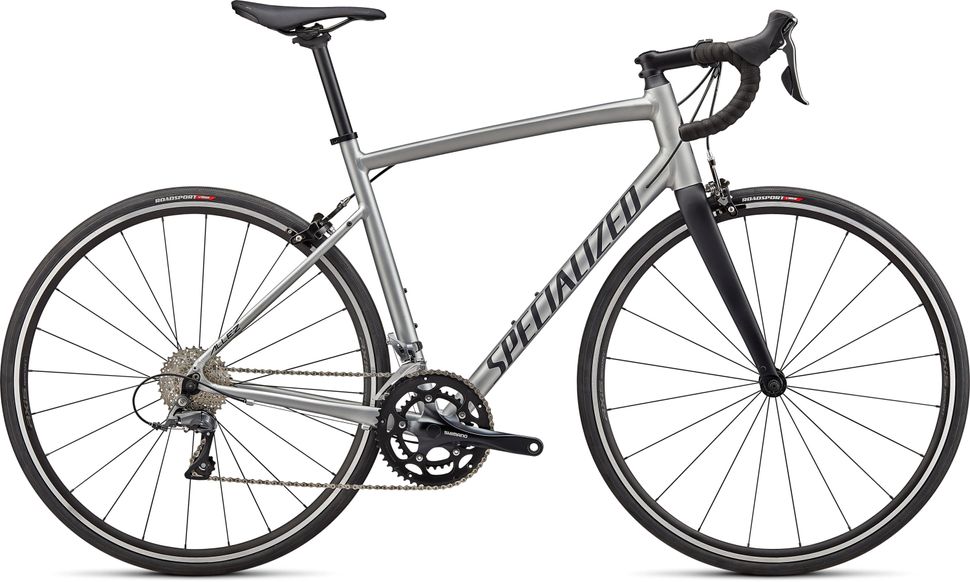 Specialized Allez
The best budget road bike for aspiring racers
Specifications
Groupset:
Shimano Claris R2000
Wheels:
Specialized Axis Sport
Reasons to buy
+
Well finished frame with a choice of colours
+
Good quality components
Reasons to avoid
-
Tektro brakes aren't quite as good as Shimano's
If you were inspired by the antics of riders such as Julian Alaphilippe or Mark Cavendish when watching the Tour de France, you might be lusting after a Specialized bike. Luckily, its entry-level Allez isn't as far removed from the S-Works Tarmac SL7 as you might expect.
Even at this price, Specialized still specs a full carbon fork and the E5 alloy frame has butted tubes to save weight, dropped seat stays and internal cable routing. It comes with a set of quality Specialized components and has a Shimano Claris R2000 groupset.
A choice of three paint options plus mounts for mudguards and a rack finish off a tidy, good-value package.
The range of Specialized road bikes can be a bit confusing, but we've got a guide to help you navigate it.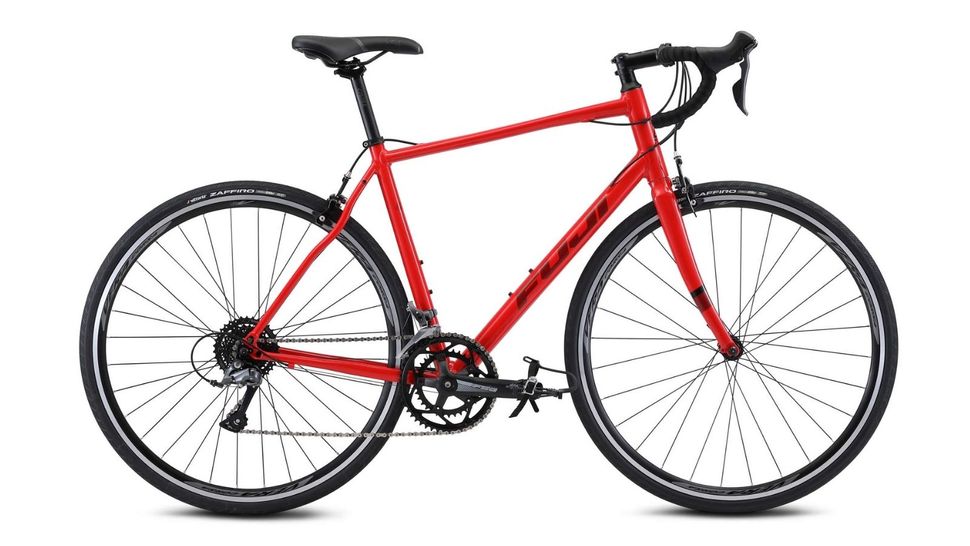 Fuji Sportif 2.3
The best budget road bike for smaller budgets
Specifications
Groupset:
Shimano Claris or microSHIFT R8
Wheels:
Alex Vera alloy rims with formula hubs
Reasons to buy
+
Surprisingly capable and comfortable over long mileage
+
Curved seat stays offer excellent compliance
+
Superb price
Reasons to avoid
-
Brakes aren't amazing
-
Fairly heavy compared to others listed here
If you're in the market for a mile-munching road bike with endurance geometry, compliance built into the frame, that costs significantly less than $1,000, look no further because you've found it.
Fuji's Sportif 2.3 costs less than $850, meaning you'll have plenty of spare change to spend on other road cycling essentials, yet it delivers a surprisingly comfortable all-day ride. It's built with a high front end, which will put the rider in a fairly relaxed and upright position, ideal for long hours in the saddle. Meanwhile Fuji's 'Wave' seat stays have a curve built into them, which adds some flex into the alloy frame to absorb some of the road chatter and smooth out the ride.
The frame offers internal cable routing for a tidier look, mounts for a rear rack and fenders, and comes with a choice of either a Shimano Claris groupset, or a microSHIFT R8 group instead.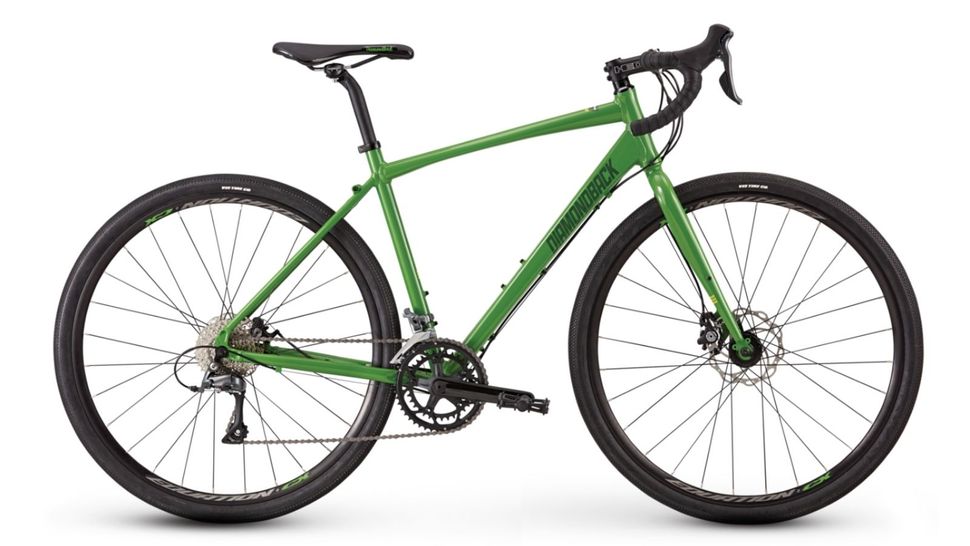 Diamondback Haanjo 2
The best budget road bike for versatility
Specifications
Weight:
11.34kg (claimed)
Wheels:
Diamondback Equation rims on unbranded hubs
Frame sizes:
XS/47 - XL/59
Reasons to buy
+
Super versatile for one bike to do it all
+
Gravel-capable
+
Lots of mounting options, including the fork
The Diamondback Haanjo 2 may appear to be a better fit for our guide to the best budget gravel bikes, and it certainly comes with gravel capabilities, but first and foremost it's designed to be a do-it-all bike that can perform all the main functions needed without the need to own a quiver. If you're short on storage space and need something affordable that can be used for road riding, commuting, touring and recreational off-road stints, the Haanjo is the one.
The aluminium frame is paired with a steel fork, which admittedly does put it at the heavier end of the spectrum. However, with plenty of mounting options including on the fork, you can set it up however you wish to, and switch things up whenever you need to take the Haanjo for a different kind of ride.
Driven by a Shimano Claris 2x8-speed drivetrain and controlled with Tektro Lyra mechanical disc brakes, the Haanjo 2 comes stock with plush 40mm Vee Rubber Speedster tyres for a super comfortable ride and reduced rolling resistance when fully inflated.
UK: Best road bikes under £1,000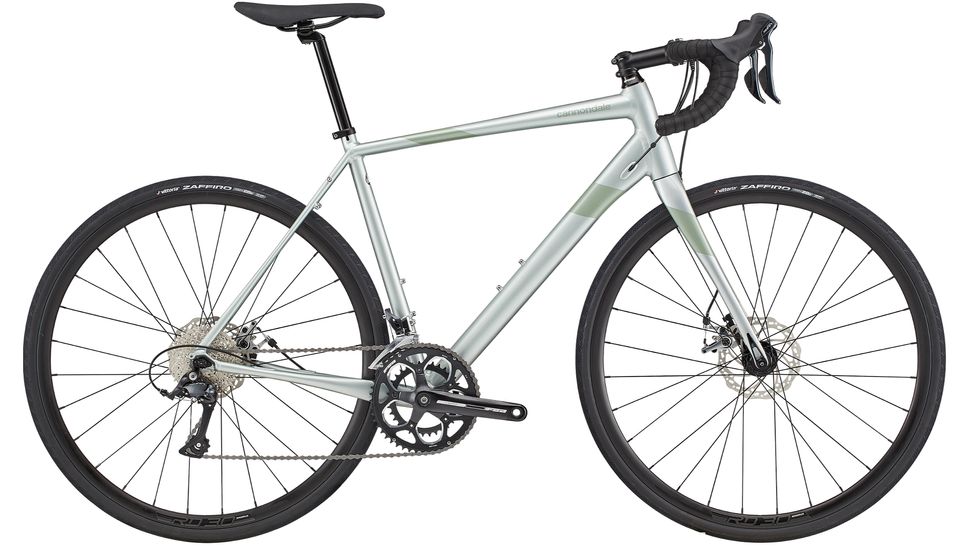 Cannondale Synapse Disc Sora
The best budget road bike for future upgrades
Specifications
Wheels:
RD rims on Formula Hubs
Reasons to buy
+
High-quality frame and full carbon fork
+
Front thru-axle
Reasons to avoid
-
Expensive when compared to other equally specced budget road bikes
At face value, the Cannondale Synapse Disc Sora might seem a little expensive in this company, and right at the top of the sub-£1,000 limit, but Cannondale is providing a high-quality platform that is capable of growing with you as a rider. The bike is built around a tidy SmartForm C2 alloy frame and full carbon fork, both of which have Cannondale's SAVE (Synapse Active Vibration Elimination) technology built-in to increase comfort.
The disc brakes are cable-actuated, but the frame has internal cable routing, through both the frame and fork. The Shimano Sora groupset borrows technology from the Shimano's previous top-end drivetrain generations, making for a high performing workhorse-like groupset. Likewise, the Vittoria Zaffiro tyres aren't the best road bike tyres on the market, but they are from a recognisable, well-regarded brand, and handily come in a 28mm size for extra grip and comfort.
Head to our guide to Cannondale road bikes to see where the Synapse sits in the range.
Cube Attain Pro
The best budget road bike for those who want to stand out
Specifications
Wheels:
Cube RA 1.9 Aero Disc
Reasons to buy
+
Full carbon fork
+
Colour matched finishing kit
+
Thru-axle front and rear
Reasons to avoid
-
Matte finish frame not as pretty as the competition
German brand Cube isn't the most well-known maker of road bikes but the company is known for its progressive designs – often bucking the trend for 'boring black bikes'. Weighing in a touch above 10kg is impressive for a bike that costs under £1,000 and has disc brakes, as is the fact that the Cube Attain comes with a full carbon fork, internal cable routing and nicely colour-matched finishing kit, meaning it looks more expensive than it is.
The durability of Shimano's Sora groupset makes for good value at this price; it all functions perfectly well, offering a slick shifting experience. Cube does a cheaper Attain model, however this Pro version offers some significant upgrades that make its £150 premium easily justifiable.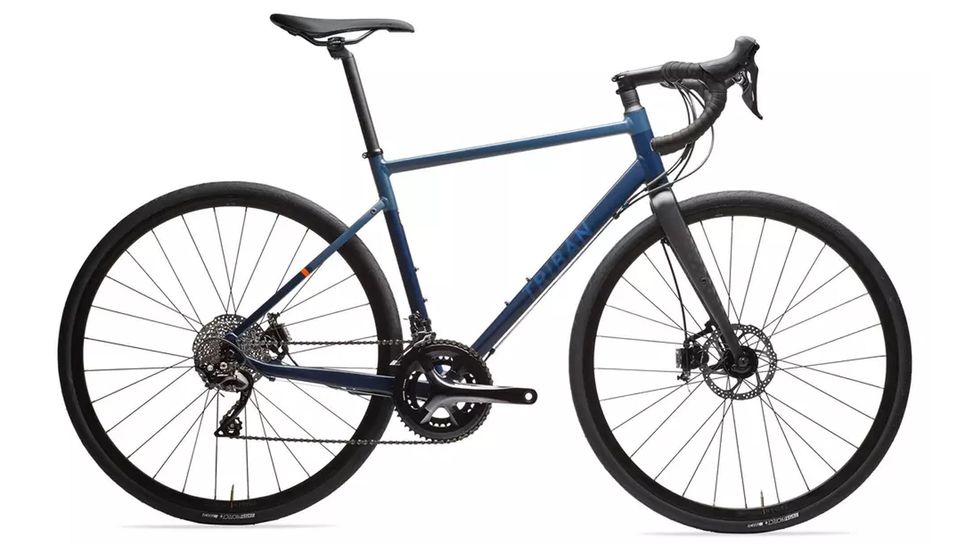 Triban RC 520 Disc
The best budget road bike for Shimano 105
Specifications
Groupset:
Shimano 105 R7000
Wheels:
Triban Tubeless Ready Light
Reasons to buy
+
Shimano 105 R7000 groupset
+
Tubeless-ready wheels and clearance for up to 36mm tyres
+
Cable-operated hydraulic disc brakes
It's pretty rare to see Shimano 105 R7000 on a bike that costs under £1,000, let alone one that comes in at under £850, but that's exactly what the Triban RC 520 Disc offers. And it's not just a pricey groupset at the expense of everything else either – you get a modern styled frame with dropped seat stays for extra comfort and heaps of tyre clearance (slick tyres up to 36mm will fit).
It's also got mounts for racks and mudguards, the wheels can be converted to tubeless, and Decathlon offers a lifetime warranty on the frame, stem and handlebars. Another interesting spec choice is the TRP HY/RD mechanical actuated hydraulic disc brakes. While most bikes at this price point get rim or mechanical disc brakes, the HY/RD offer a significant improvement in power and control. They do require a little more maintenance and certainly add on some weight but the performance benefit is worth it if you are frequently riding in poor weather conditions.
So what's the catch? Well, the looks are a little workhorse-like – not bad per se, but just nothing to set your heart fluttering. The externally routed cables also mean you need to be careful with keeping the exposed sections clean and in good condition, to keep everything working smoothly, though this does make for simple maintenance when the time comes.
Specialized Allez Sport
The best budget road bike for aspiring racers
Specifications
Wheels:
Specialized Axis Sport
Reasons to buy
+
Good-looking frame with two colour options
+
Comfortable contact points
+
Good quality spec
Reasons to avoid
-
Tektro brakes let it down a little
At the entry-level of its road range sits the Specialized Allez Sport, a sub-£1,000 road bike with an aluminium frame, carbon fork, rim brakes, and 9-speed Shimano Sora shifting. If you're looking to get into road cycling, whether it's for racing, sportives or just general enjoyment at the weekends, this would make an excellent first road bike.
Forget what you always thought you knew about aluminium road bikes, because Specialized's Allez Sport, with its FACT carbon fork and plush contact points, does a great job of absorbing road chatter and leaving you feeling comfortable as you munch up the miles.
If we had to complain about anything, we'd prefer to see Shimano brakes over the Tektro ones, which just aren't as a good.
Check out our guide to Specialized road bikes if you want to find out more about the full range of options.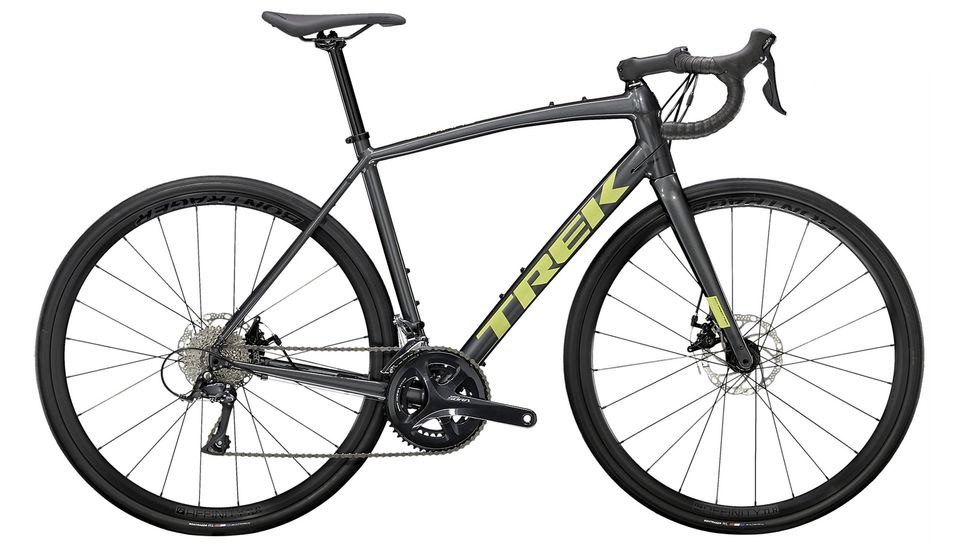 Trek Domane AL 3 Disc
The best budget road bike for mile munching
Specifications
Groupset:
Shimano Sora R3000
Wheels:
Bontrager Affinity Disc rims on Formula Hubs
Reasons to buy
+
Great-looking frame with a choice of colours and a large range of sizes
+
32mm tyres and tubeless-ready wheels
+
Vibration absorbing IsoSpeed fork
+
Front and rear thru-axles
Reasons to avoid
-
The exposed section of cable along the chainstay will require more maintenance
Trek is usually renowned for making bikes that are on the pricier end of the spectrum, so you might be surprised to see one on this list, especially at this price. The Trek Domane AL 3 packs in plenty of value though, with a nicely finished 100 Series Alpha Aluminium frame and Trek's clever IsoSpeed carbon fork – which swoops forward before the dropout to increase compliance without affecting wheelbase length.
The groupset is Shimano Sora R3000 with Tektro C550 dual-piston mechanical flat mount disc brakes. You get comfortable 32mm tyres and tubeless-ready Bontrager wheels, which is seriously impressive at this price point. There are also eight different size choices, so you can really narrow down the frame size to find the perfect fit.
Trek produce some other options if you suddenly want to expand your budget; head to our guide to Trek road bikes to find out more.
Liv Avail 1
The best budget road bike for women
Reasons to buy
+
Specifically built by women, for women
+
Comfortable and versatile
+
Accelerates quickly
No longer just a sister-brand to Giant, Liv Cycling stands on its own as a women-for-women cycling brand that focuses all its energy on creating bikes that women will love. The Avail 1 is its endurance road bike offering, which is versatile enough for long-distance rides as well as weekend sportives and Sunday club rides.
Rolling along with Shimano's Sora groupset and Giant S-R3 tubeless-ready wheels, the Avail 1 offers reliable and smooth shifting, with a decent range of gears to tackle most terrains.
The spec is excellent at this price point, making the Liv Avail 1 a choice entry-level road bike for anyone hoping to fall in love with the sport. The only drawback is that there's no size large available, so tall women will have to look elsewhere.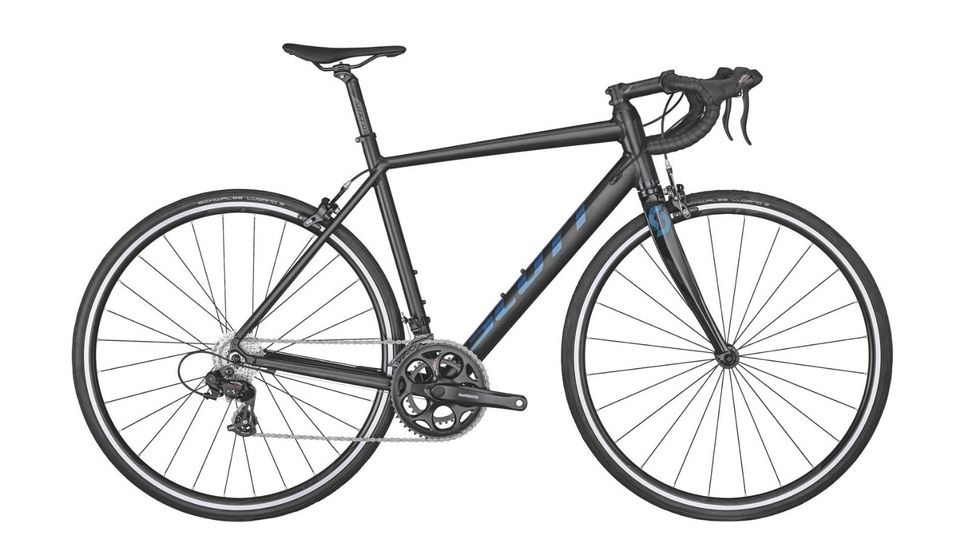 Scott Speedster 50
The best budget road bike for hard to find sizes
Specifications
Frame sizes:
XXS (47) - XXL (61)
Reasons to buy
+
Low price
+
Huge range of sizes to choose from
+
Beautiful paint job
+
Internal cable routing
Reasons to avoid
-
Cable rim brakes aren't great for steep gradients
For your first ever road bike, a Scott Speedster 50 is a cost-effective and good quality machine that will deliver a fun ride to get you hooked on the sport. The 6061 alloy frame and fork feature internal cable routing for a neat and clean aesthetic, and the 7-speed Shimano drivetrain with double chainset offers a decent number of gears to power you through most entry-level road rides and sportives.
Tektro rim brakes offer efficient stopping power and simple maintenance, while the Syncros Race 24 rims are paired with Formula Comp hubs and Schwalbe Lugano 700cx28mm tyres for smooth rolling and puncture resistance.
If you're willing to spend a little more, you can get Shimano brakes and a full, named groupset, however if you're on a tight budget and want something simple that will help you get out on the road to hone your skills, this is a great value option.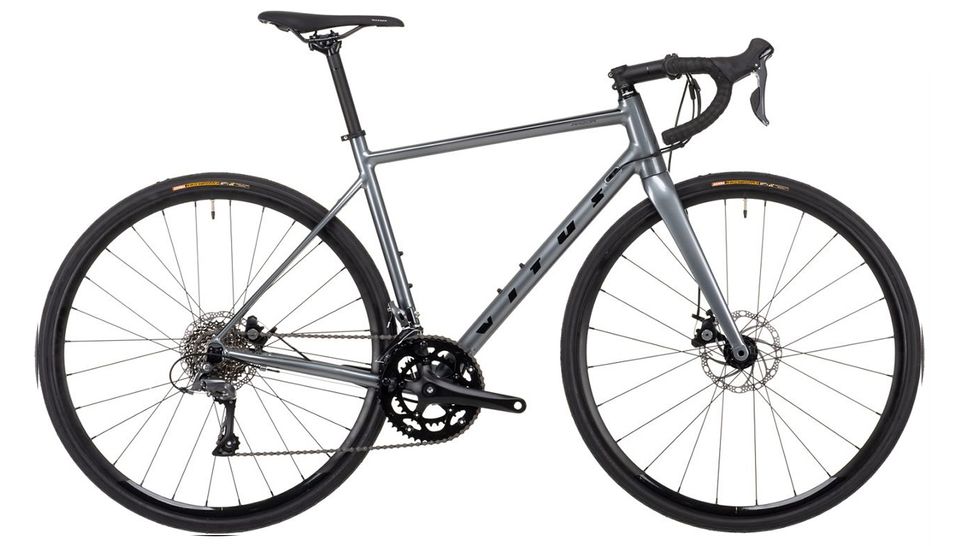 Vitus Razor Disc
The best budget road bike for year-round performance
Specifications
Groupset:
Shimano Claris R2000
Reasons to buy
+
Classy looks
+
Disc brakes, 28mm tyres and mudguard mounts
+
Front and rear thru-axles
Reasons to avoid
-
Heavier than other bikes listed here
-
Tyres are slow rollers
The Vitus Razor disc is one of the cheapest ways to get on the disc brakes bandwagon for road bikes.
It has a beautifully finished, double-butted aluminium frame and carbon fork with an anthracite paint job. The Vitus wheels are of a good standard and they also look the part with their all-black rims. The 28mm Kenda Kwick Roller tyres aren't particularly fast-rolling but should provide decent puncture protection, and can easily be upgrade.
The Shimano Claris R2000 groupset is a decent, well-performing kit but the 11-28T cassette could be slightly limiting if you live somewhere very hilly.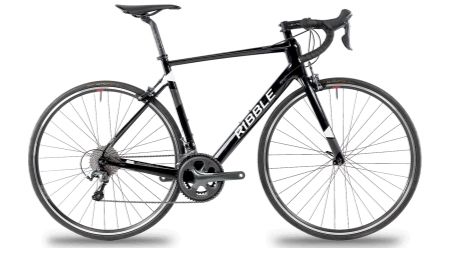 Ribble R872
The best budget road bike to stretch the budget a little
Specifications
Groupset:
Shimano Tiagra 4700
Wheels:
Raleigh Mach 1 CFX
Reasons to buy
+
Full carbon frame and fork
+
Lightweight
Yes we know, the Ribble R872 retails over the £1,000 budget but hear us out on this one. The recently updated Ribble R872 has a thoroughly modern frameset, and both the frame and fork are full carbon, and a chunky downtube and chainstays offer great pedalling stiffness, while slim, dropped seat stays increase compliance and comfort over rough roads.
If your budget can stretch a little over the £1,000 mark, then this is where we'd spend it.
At 9kg, it's decently lightweight (though there are lighter alloy bikes at this price point), but the Raleigh Mach 1 CFX wheels are more suitable for training rather than racing. You do get a full Shimano Tiagra 4700 groupset though, as well as a dependable finishing kit from Level, Ribble's new in-house brand.
If you absolutely have to have a carbon frame, the Ribble R872 is a great option. Ribble also offers a large degree of customisation through its BikeBuilder tool (opens in new tab) – meaning you can change key components for size, make upgrades or you go a step further and build a completely custom bike with a custom paint job - if your budget is really flexible.
How to choose the best budget road bike for you
Can beginners use road bikes?
We understand that drop bars, skinny tyres and clip-in pedals can be daunting for some riders, but if you can ride a bike then you can definitely ride a road bike. Getting used to the differences happens pretty swiftly, and if you're worried about clip in pedals then start off with some of the best flat pedals until you're confident enough to make the switch.
How much should I spend on a road bike?
If you pick a number it's pretty likely you can find a bike for that price, be it £20,000 or £20. The £1,000/$1,000 price point is, in our opinion, where you can start to find really high quality machines that will be reliable as well as able to give you a real performance boost.
What frame material do I need?
Carbon fibre reigns supreme at the top end of the performance pyramid, whereas aluminium framesets tend to occupy the lower end. There's nothing intrinsically worse about aluminium as a material, however, so don't be put off in this regard - we eve have a guide to the best aluminium road bikes that clearly shows they can mix it with the best.
Aluminium bikes will generally be heavier than carbon, but lighter than steel. For an entry level bike they make perfect sense as they're less fragile than their carbon siblings, but wont rust like those made of steel, so you can get a decent level of performance whilst still being able to leave it locked up outside if you need to.
We wouldn't recommend cheap carbon bikes that don't come from trusted manufacturers; good aluminium is better than cheap carbon.
How many gears do I need on my bike?
This will be a function of the groupset that comes with the bike you buy (all the drivetrain components). Budget road bikes will almost invariably come with Shimano components, which is no bad thing.
More expensive offerings may reach to 11speed, while more wallet friendly models may only have 9speed. More isn't necessarily better though, provided it has ample range for the terrain you're riding on - the more gears you have the finer the tolerances for smooth shifting. In short, fewer gears will be more forgiving if you're not the sort of person who takes the utmost care of their bike, and they're a little easier to learn basic bike maintenance on too.
Do I need disc brakes?
While discs have taken over at almost all price points, they haven't yet began to totally dominate those road bikes at the entry level. Discs are on the whole better, especially in the wet, but riders have been using rim brakes without issue for decades so they aren't the be all and end all. Rim brakes still occasionally feature underneath the best riders in the world at World Tour races, so if your budget cant stretch to discs then worry not, you'll still be able to stop.
Our top tip would be to invest in some quality brake pads, which can make lacklustre rim brakes a noticeable amount better.
What components should I get on my bike?
If you're buying with a set budget there will always be a compromise. A better frame will likely come with worse components, but this leaves it ripe for future upgrades. Conversely a less expensive frame can be built with higher quality componentry.
If quality build kits are what you're after then you can usually get a little more bang for your buck with direct to consumer brands like Ribble or Canyon, who cut costs by cutting out the middleman. Be sure on your sizing before you commit though!
What else should I look for?
If this is your first road bike you'll probably be looking to use it year round, so mudguard mounts will be particularly useful. Also, if you plan on using it for commuting then the ability to add a pannier rack to take your belongings to and from the office will also be of benefit to you. This will also mean you can use it for some light touring too, if the mood takes you.
How much maintenance does a bike need?
If this is your first bike then we have one tip for you that's likely more important than any other: keep it clean! A clean bike is a happy bike - it'll save you money, it'll run better, and it'll stop you getting filthy. We've got a guide on how to clean your bike if you've never done it before, as well as a guide to the best bike chain lube to keep your freshly washed chain running smoothly afterwards.
Once you've got it running smoothly you'd do well to make sure you've got the best bike insurance and one of the best bike locks just in case the worst happens and someone tries to steal your pride and joy.
Reviews Writer, Cyclingnews
Will joined the Cyclingnews team as a reviews writer in 2022, having previously written for Cyclist, BikeRadar and Advntr. There are very few types of cycling he's not dabbled in, and he has a particular affection for older bikes and long lasting components. Road riding was his first love, before graduating to racing CX in Yorkshire. He's been touring on a vintage tandem all the way through to fixed gear gravel riding and MTB too. When he's not out riding one of his many bikes he can usually be found in the garage making his own frames and components as a part time framebuilder, restoring old mountain bikes, or walking his collie in the Lake District.
Height: 182cm
Weight: 72Kg
Rides: Custom Zetland Audax, Bowman Palace:R, Peugeot Grand Tourisme Tandem, 1988 Specialized Rockhopper, Stooge Mk4, Falcon Explorer Tracklocross