Cannondale road bikes: All you need to know
All the key information you need to know about the the fast end of Cannondale's range: Road, time-trial, gravel, and cyclo-cross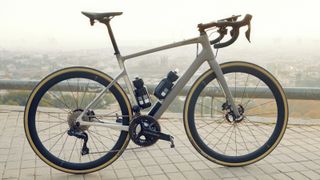 (Image credit: Cannondale)
Cannondale has always been a brand that prides itself on innovation. It introduced the BB30 bottom bracket standard at the turn of the new millennium, which very much caught on (no mean feat in the complex world of BB standards), and, whether its a Lefty fork or integrated tech, it continues to ignore the norms of the industry in pursuit of a performance advantage.
This hasn't always stood them in good stead, however, as in 2003 it declared bankruptcy after a foray into motorcycles, and was purchased by Dorel Industries who then sold them to PON group in 2021. Despite this hiccup, the U.S. brand continues to produce bikes that challenge for the top spot in their various categories, and you can see the top of the range models in the WorldTour beneath the riders of EF Education-EasyPost.
Scroll down to see the brand's offerings for road, gravel, time trial, and cyclo-cross, plus some jargon-busting at the end to clear up any confusion.
Cannondale bikes roundup
You can trust Cyclingnews Our experts spend countless hours testing cycling tech and will always share honest, unbiased advice to help you choose. Find out more about how we test.
Cannondale road bikes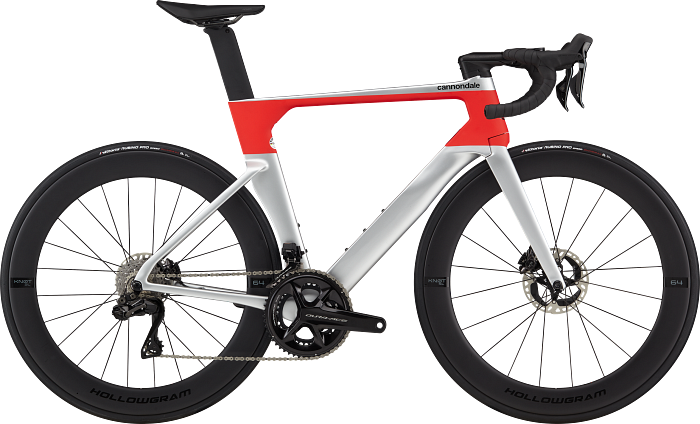 Cannondale SystemSix
Cannondale's out-and-out aero road bike offering
Reasons to buy
+
Aerodynamics
+
Sharp handling
Reasons to avoid
-
Weight
-
Power meter requires a fee to unlock
Unusually for Cannondale, it jumped onto the aero trend a little later than its competitors. What it lacked in punctuality, the SystemSix more than made up for in aerodynamic efficiency. It's a pure aero road bike, with every part designed to cheat the wind.
Cannondale claims it generates the least drag of any road bike on the market today, which alone is enough to get it into our list of the best aero road bikes. This isn't just on the flat either, as Cannondale claims the drag begins to become a significant factor at 15km/h, and so the SystemSix is faster than the SuperSix Evo on anything shallower than six per cent.
As is customary nowadays, the SystemSix is disc specific, with Hi-Mod (high modulus) and standard carbon options available, as well as build kits from Shimano and SRAM. Cable integration is total, and proprietary or in-house componentry feature throughout, including the extremely deep wheels, onto which you can fit 28mm tyres.
The Hi-Mod models feature a built-in crank-based power meter from Power2Max, but bizarrely you do have to pay a fee to have this unlocked. A women's specific build is available, which differs only in the contact points.
Cannondale's lightweight all-round road race bike
Reasons to buy
+
Sharp handling
+
Aero and comfort gains
Reasons to avoid
-
Power meter requires a fee to unlock
Older versions of the SuperSix are still going strong, and seem to be a particular favourite among hill climbers looking for the lightest possible frameset. The modern version however, post 2019 revamp, has followed the industry trends for a more holistic approach to performance, adopting truncated aerofoil tubes and dropped seatstays that are so often seen on the best road bikes. While the SystemSix is a pure aero racer, the SuperSix Evo aims to be a more general performance machine, just as happy tackling alpine hairpins as it is on the flat.
This pursuit of performance has earned it a five-star review from us and will save you 30W at 30mph over the previous version. It is also, according to Cannondale, faster than the competition too.
The lower-spec models are something of an endangered species, in that they're available in rim brake models, while the higher-spec ones are disc only. As with the SystemSix, an unlockable power meter is available on the very top end Hi-Mod models, and a women's specific build is also available.
Cannondale CAAD13
Cannondale's alloy road race offering
Reasons to buy
+
Shares geometry with SuperSix Evo
+
Aero tube shaping
+
Fender mounts
+
Speed-release axles
Reasons to avoid
-
Departure from double-diamond frame design may turn some away
For many of us, the best aluminium road bikes are our point of entry into the world of performance cycling. While carbon is king for many, there is still a significant portion of the riding population who opt for aluminium for both cost and performance benefits.
The CAAD line has a substantial heritage, and the 13th iteration takes the majority of its design cues from the SuperSix Evo, in both geometry and tube shapes through the use of hydroforming, and looks to create a high-performance platform at a lower price point than the carbon models in the range.
The CAAD13 features less cable integration than its carbon sibling, a welcome benefit to new cyclists looking to work on their own bikes at home, and a standard bar and stem. The range tops out at Ultegra/Rival level, with all Shimano options being available in a rim brake version.
None of the builds feature a power meter, but women's builds are available.
Cannondale Synapse
The brand's endurance road bike platform with clever tech integration to boot
Specifications
Frame:
Carbon and aluminium
Reasons to buy
+
Velvety smooth ride
+
Size specific geometry
Reasons to avoid
-
Could do with a bit of additional tyre clearance
For some of us, an all-out racer is neither what we need nor what we want. That's when we look to the best endurance road bikes for their more comfortable positioning, additional compliance, and more stable handling.
The Synapse has been a stalwart of this category for years, and with a new Synapse for this year it looks to cement itself as a truly versatile option for those with several bases to cover.
The frame can clear 35mm tyres without fenders, or 30 with them, and along with strategic flex zones to add compliance this sets the Synapse on an approach to being gravel-curious.
The latest selling point for the synapse, in an aim to attract both commuters and endurance riders to the model, is a system of integrated lights and rear-facing radar, to keep you safe in traffic and long after the sun sets should you forget to charge your main beams.
Cannondale Gravel Bikes
Cannondale Topstone
The brand's most rugged gravel bike, now available with suspension
Specifications
Frame:
Carbon and aluminium
Reasons to buy
+
Kingpin pivot based suspension
+
Nimble geometry
Reasons to avoid
-
Alloy models don't get Kingpin
If you've followed the hype around the new Cannondale Topstone, you'd have no doubt come across some scepticism about its Kingpin suspension. Employing a mechanical pivot at the seat-tube/chainstay junction, this clever piece of engineering, together with the Save seatpost, claims to add 30mm of forgiveness to the ride quality. Though bear in mind that only the carbon version gets the Kingpin treatment.
Not ones to rest on its laurels, Cannondale has upped the ante. Developing a gravel-specific suspension fork using its Lefty platform, it is one of a few brands offering a full-suspension gravel bike. The Lefty Oliver has 30mm of travel from the single-sided fork to provide a smoother ride over rough terrain.
The Topstone breaks away from the ultra-long wheelbase, low bottom bracket and slack head geometry found on most gravel bikes, with 415mm chainstays, a comparatively short trail figure and tall BB. All of this adds to agile ride quality, with reactive steering.
Keeping in mind this is a gravel bike there are mounts galore for racks, bottles and a top-tube bag to keep sugary snacks within reach.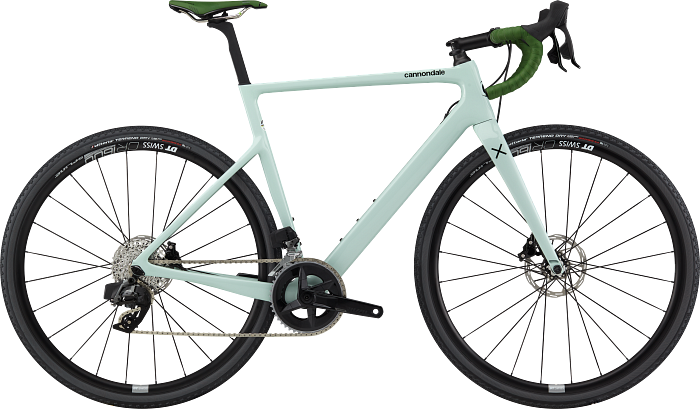 Cannondale SuperSix Evo SE & CX
Cannondale's race-ready gravel bike or cyclocross bike depending on your spec choice
Reasons to buy
+
Two for the price of one chassis
Reasons to avoid
-
Racy geometry could leave handling twitchy over rough ground
In any comments section at the bottom of a list of the best gravel bikes there is always one voice loudly insisting that gravel bikes are just cyclo-cross bikes. While we think the gravel genre has outgrown this argument, Cannondale at least thought there was something in it.
The SuperSix Evo SE and CX share the same frameset, with clearance for 45mm tyres and a very race-oriented geometry, but offer it in either a cyclo-cross specific groupset (1x, in this case), or a gravel build with two front chainrings. Carbon is the only material on offer, further nodding towards a very race-ready focus.
For those who are curious about cyclo-cross and the faster side of gravel, this could be an option that covers both bases.
Cannondale Cyclo-cross Bikes
Cannondale SuperX
Cannondale's purer cyclo-cross racing machine
Reasons to buy
+
Cross-specific cable routing
+
Tyre clearance
Reasons to avoid
-
Lacks high-speed stability
Originally introduced in 2016, Cannondale hasn't changed a whole lot about the SuperX. While there have been a few tweaks along the way - such as the addition of thru-axles and disc brakes, the DNA of the bike has remained mostly unchanged.
With short chainstays and a 71-degree front end, the handling is super sharp, and the bike is manageable on both rowdy descents and techy climbs. The compact rear allows you to rip it through hairpin corners with ease.
The bike will clear a 40mm tyre, indicating this is a pure 'cross machine as opposed to the gravel-capable SuperSix Evo CX, though cyclo-cross racers are limited by the UCI to 33mm rubber. The bike is compatible with a removable front derailleur mount and is made from the brand's Ballistec carbon fibre lay-up.
The SuperX also features in our list of the best cyclo-cross bikes.
Cannondale CAADX
The brand's alloy cyclo-cross bike suited to beginner riders and commuters
Reasons to avoid
-
Rear quick release
-
Same lack of high-speed stability as the SuperX
The CAADX shares the same geometry as the SuperX but trades a carbon frame for the brand's SmartForm C2 alloy. It also benefits from built-in SAVE micro-suspension designed to take the sting out of square edges.
The bike gets flat-mount disc brakes and sees a carbon fork complete with a thru-axle, the rear end still uses a quick release.
The bike has rack and fender mounts throughout, and even comes with a removable seat stay bridge should you be using it as a commuter and need full-coverage fenders. The CAADX is only available in Shimano 105 and Tiagra builds.
Cannondale Time Trial Bikes
Cannondale SuperSlice
The brand's time trial and triathlon race bike
Reasons to buy
+
Well balanced ride quality
Cannondale's SuperSlice was the first to integrate disc brakes onto a UCI-legal TT rig, a feature that's slow to trickle into all the models on our best time trial bike list. Yes, we can already hear the disc-brake critics tapping away in the comment section, but not only do discs vastly outperform TT-style rim brakes when it comes to power and modulation, according to Cannondale, removing the brake caliper minimises drag at low yaw angles where riders are spending the bulk of their time.
The frame is designed to make both roadies and triathletes happy with a sliding seat clamp to allow for heaps of seat angle adjustability. The frame also plays nice with top-tube storage and the handlebars are compatible with the FSA/Vision Metron hydration system.
Speaking of handlebars, Cannondale offers 93mm of pad adjustment three stem lengths while the base bar can be flipped for an additional 30mm of grip adjustment.
Cannondale Jargon Explained
Save Micro Suspension
SAVE (Synapse Active Vibration Elimination) micro-suspension features on the Synapse models. In essence, it's a fancy way of saying they've built compliance into the frame in strategic areas to improve comfort.
Ballistec and Hi-Mod carbon
Carbon products are produced by layering carbon fibres of differing strength in specific orientations to obtain the desired properties - Ballistec is Cannondale's name for their in-house method of layering.
Hi-Mod, short for high modulus, indicates that the frame in question is constructed from higher modulus (basically, stronger) carbon. As it is stronger you can use less material and shave weight.
CAAD
CAAD stands for Cannondale Advanced Aluminum Design and features as a moniker on the higher end of their aluminium frameset range. It nods to the use of computer aided design (CAD) in the process of creating a bike that performs at its optimum in a given scenario.
SmartForm
Modern aluminium frames are hydroformed, a process which shapes the tubes using high-pressure water forcing the aluminium into a mould. SmartForm is Cannondale's name for its own hydroforming processes, along with the post-form double welding and heat treatment that go into the construction of their aluminium framesets.
BB30 and BB30A
BB30 is a now industry-wide standard first pioneered by Cannondale, utilising a 30mm spindle and bearings pressed into a larger shell that that seen in BSA threaded systems.
As part of its constant drive for performance gains, Cannondale recently introduced the BB30a bottom bracket, which adds 5mm to the non-drive side at the BB shell in an effort to improve the stiffness of the pedalling platform.
Get The Leadout Newsletter
The latest race content, interviews, features, reviews and expert buying guides, direct to your inbox!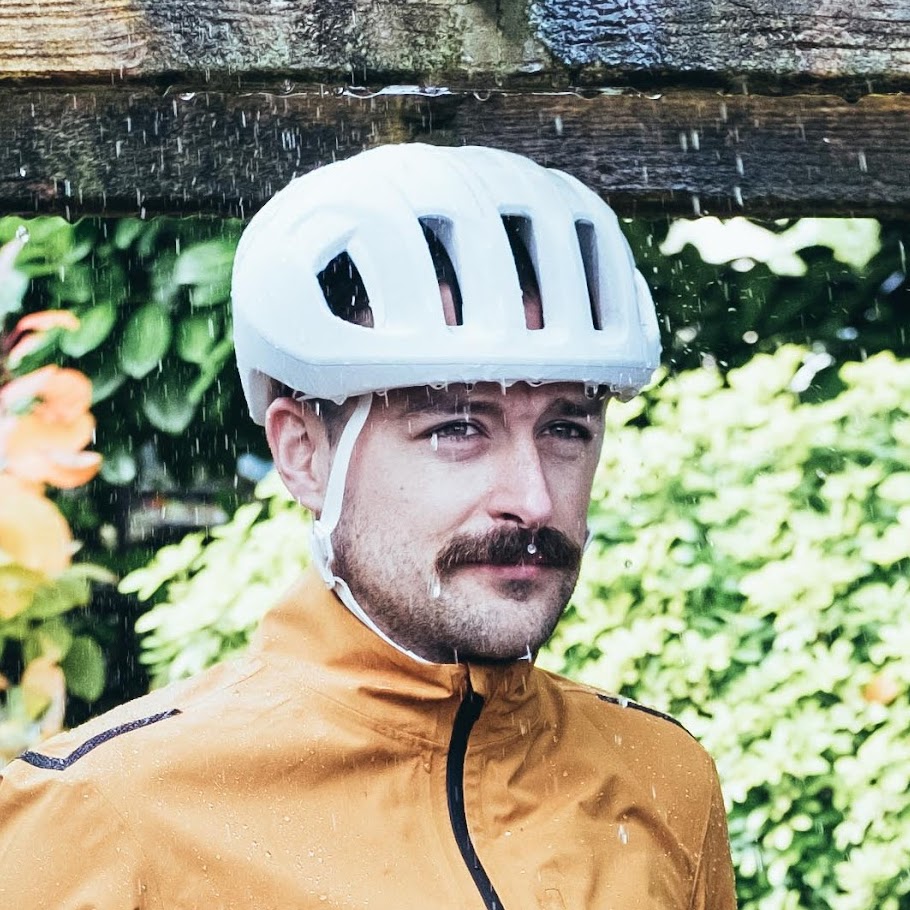 Will joined the Cyclingnews team as a reviews writer in 2022, having previously written for Cyclist, BikeRadar and Advntr. There are very few types of cycling he's not dabbled in, and he has a particular affection for older bikes and long lasting components. Road riding was his first love, before graduating to racing CX in Yorkshire. He's been touring on a vintage tandem all the way through to fixed gear gravel riding and MTB too. When he's not out riding one of his many bikes he can usually be found in the garage tinkering with another of them, or getting obsessive about tyres. Also, as he doesn't use Zwift, he's our go-to guy for bad weather testing... bless him.
Rides: Custom Zetland Audax, Bowman Palace:R, Peugeot Grand Tourisme Tandem, Falcon Explorer Tracklocross, Fairlight Secan & Strael