Trek road bikes: range, details, pricing and specifications
Cyclingnews' roundup of Trek road bikes available to buy this year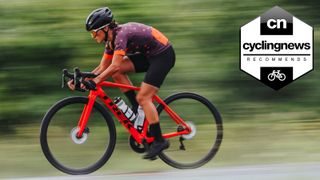 (Image credit: Trek)
With a history spanning some four decades, the Trek Bicycle Corporation has become one of the foremost bicycle makers in the world, and a perennial staple in our list of the best road bikes. What started out as a small steel frame-building company operating out of a carpet warehouse in Waterloo, Wisconsin, has grown enormously into a global leader of bicycle design and innovation. The Trek road bike range is based around three anagrammatic models; Domane, Madone, and Emonda - nominally the endurance, aero, and climbing bikes respectively. All are available in an array of build options, with the Domane and Emonda also available in both carbon and aluminium guises.
Trek has a history of innovating in the world of bicycle manufacture, with a particular emphasis on pioneering new materials. Bonded aluminium and carbon construction was lifted from the aerospace industry in the '80s, creating the 2000 and 2500 framesets. The lessons learned from bonded carbon were then poured into the manufacture of the brand's first full-carbon frameset, the 5000. Nowadays it has its own patented in-house carbon fibre, known as OCLV (optimum compaction low void) which is on a par with aerospace-specific alternatives
Trek continues to disrupt the industry from a manufacturing standpoint, but first and foremost it makes bikes for riders; the manufacturing innovation is only a means to an end. For some that means the very best commuter bikes, for others that means the best touring bikes, and for a lot of riders that means racing at the highest levels. It's no great surprise that Trek has become a big player in the world of gravel cycling too, and it also features on our list of the best gravel bikes. Whatever your interests in cycling, Trek has options. If you are thinking about something from the Trek road bike range, keep reading to see all the details about what's available.
Trek road bikes you can buy today
Trek Domane
The best Trek road bike for endurance riding
Specifications
Material:
Carbon, aluminium
Weight:
8.00 kg / 17.64 lbs (Domane SLR 9 eTap 56cm)
Reasons to buy
+
Compliance
+
Versatility
+
38c tyre clearance
The latest model of the Trek Domane has gone through a complete makeover. The comfort-enhanced model in the Trek road bike range picks up a number of aerodynamic details, along with an all-new Isospeed decoupler design (additional flex at the steerer and seat post) and space in the frame and fork for up to 38mm of the best road bike tyres you'd care to cram in. These are changes that make the Domane an incredibly versatile road bike. The lineup is perfect for all-day comfort and the new Domane+ LT, makes our list of the best electric road bikes too.
The Domane is available in three frame types. For the budget minded, you'll want to look at the aluminium Domane AL; it's the most accessible in terms of price, and the only option for fans of a rim brake. It's entry level but it doesn't leave off the performance and adds options for racks for commuters, though it can only fit 35mm tyres rather than the 38mm max on the carbon models.
Moving up the range, the next option is the mid-range Domane SL. Stepping up to the SL means a move to 500 series OCLV carbon fibre. That opens up access to a dual IsoSpeed decoupler system, not found on the alloy version, for comfort-enhancing vibration damping. It also means space for larger tyres and storage in the downtube. If you'd like to stick with rim brakes there aren't any options for a fully built bike in the SL range but you can still get a rim brake option of the frameset.
The top-tier Domane SLR is also carbon fibre but it's a lighter 700 series OCLV. It still carries the dual IsoSpeed decoupler, but it's an upgraded adjustable version also seen on the aero focussed Madone. Like the SL, there's no fully built rim brake option available but you can still get an SLR frameset in a rim brake format.
Depending on your taste, and budget, builds are available from Claris-level at one end, through to SRAM Red eTap at the other extreme, with most options in between available.
Trek Emonda
The best Trek road bike for all-round riding and climbing
Specifications
Material:
Carbon, aluminium
Type:
Climbing/lightweight
Weight:
6.75 kg / 14.89 lbs (Emonda SLR 9 eTap 56cm)
Reasons to buy
+
Weight
+
Aero optimisation
+
800 series OCLV available
For years, the Emonda had been the lightweight option in the Trek road bike lineup, and one of the usual suspects in our lineup of the best lightweight bikes. This is the bike to grab when you want to head to the mountains. As technology has progressed though the modern climber's bike has somewhat disappeared; brands have been slowly moving away from labelling their lightest offering as a 'climbing bike', and instead pivoting to selling it as an all-round option, for both up hill and down dale. Trek is no different in this regard, with the Emonda filling its all-rounder spot. It's no lump though, if weight is your concern.
While the Emonda is still the bike you'd want to turn to on the steep uphill segments, it's more than that now. Aero-optimisation and disc brakes take it away from a bike only for the mountains to a much more well-rounded option. In some ways it's defined more by what it isn't than what it is. It's not the all-out aero bike and it's not an endurance bike. The Emonda is the lightest of the options but it's also a bike that does a little bit of everything.
Available models for the Emonda still cover a wide range in much the same way as the Domane, with an aluminium option at one end, with a rim brake frameset option, and two tiers of carbon above it. The SL represents the middle ground with a carbon frame at a more affordable price. Then, at the top of the range, sits the SLR with a new ultralight 800 series OCLV carbon construction. There's even an SLR frameset with a more aggressive geometry available for those competing at the highest levels or fans of ultra-responsive handling.
Trek Madone
The best Trek road bike for fast and flat miles
Specifications
Weight:
7.65 kg / 16.87 lbs (Madone SLR 9 eTap 56cm)
Reasons to buy
+
Aerodynamics
+
Aesthetics
+
IsoSpeed Decoupler system
Reasons to avoid
-
Price
-
Small max tyre size
The Madone sits at the top of the range as Trek's most purebred race bike. It's aero optimised in every way, and features among our list of the best aero road bikes too. Being the range topper means that it's the most expensive option in the Trek lineup but that has more to do with a lack of low-end options rather than it necessarily being vastly more expensive. There are only SLR and SL models available, meaning no entry level aluminium choice to be had.
After years of aero bikes carrying a reputation for being harsh and uncomfortable, Trek went in a different direction. It was the first to market its aero bike as not just aerodynamically fast, but also fast because of its comfort, primarily thanks to the addition of the IsoSpeed decoupler system lifted from the Domane.
Of course, comfort isn't the only trick for the Madone; integrated cables feature heavily, along with fully integrated cockpits on the top end models. Even lower models, without an integrated cockpit, look to cheat the wind, with truncated aerofoil tube shapes and aerodynamically optimised disc brakes. Tyre width is however much more limited than with other models, topping out at 28mm.
Trek Speed Concept
The best Trek road bike for triathalons
Specifications
Weight:
8.70 kg / 19.19 lbs (Speed Concept SLR 9 medium)
Reasons to buy
+
Extensively adjustable
+
Storage and hydration integration
+
IsoSpeed for comfort
The Trek Speed Concept is the Trek solution for triathletes who want the very best. For years the design had been stagnant but that all changed at the end of 2021. The brand new 2022 Trek Speed Concept is all new and faster than it's ever been before. Compared to the previous version, Trek claims the new bike saves a full six minutes over the Kona full Ironman race course.
Moving away from a solely wind-tunnel focus, Trek has sought to create a bike that works as an entire system, rather than simply a lab-optimised object. The system approach means hydration and storage helps make not only the bike faster, but also the rider. There's an available between-the-arms (BTA) bottle that enhances aerodynamics by smoothing air between the arms and a clip allows you to drink without leaving the aero bars. It's also easy to refill during a race with a port on the top that accepts the nozzle of another bottle.
While the BTA bottle is a separate purchase, the downtube bottle comes with every Speed Concept bike. Capacity is 750 ml and, like the BTA bottle, it also enhances aerodynamics; the system is 14 per cent faster when the bottle is in place.
Outside of hydration there are two additional storage solutions onboard and included. The two bottles cover opportunities to enhance aerodynamics so the storage doesn't make the bike more aero. Instead, the bento box and the flat repair storage take advantage of the increased frame space to hide from the wind.
Trek's road bike range explained
The once-simple exercise of choosing a bicycle has become an appreciably complex decision owing to a plethora of new riding disciplines and technological advancements.
There are four different types of road bikes available in Trek's current catalogue — aero, endurance, time trial, and climbing/do-it-all, each of which differs based on design and function.
As the name suggests aero road bikes are designed for speed while still retaining some form of compliance and comfort. Climbing bikes are ideal for hilly/mountainous routes and are pretty decent all-rounders. Endurance bikes offer a combination of durability and comfort while time-trial bikes are more outlandish-looking in their appearance and built for speed.
Trek offers a wide selection of specifications for each of the models in its range. Most of the brand's road frames are available in three different types of carbon, as well as aluminium and denoted by SLR (Trek's lightest OCLV carbon), SL (mid-range OCLV carbon) or AL (Aluminium).
Different geometry options are also available on certain models, with the majority featuring regular H2 geometry and some offered in the more aggressive H1 geometry, designed specifically for racing.
The latest race content, interviews, features, reviews and expert buying guides, direct to your inbox!
Aaron was the Tech Editor Cyclingnews between July 2019 and June 2022. He was born and raised in South Africa, where he completed his BA honours at the University of Cape Town before embarking on a career in journalism. Throughout this career, Aaron has spent almost two decades writing about bikes, cars, and anything else with wheels. Prior to joining the Cyclingnews team, his experience spanned a stint as Gear & Digital editor of Bicycling magazine, as well as a time at TopCar as Associate Editor.
Now based in the UK's Surrey Hills, Aaron's life revolves around bikes. He's a competitive racer, Stravaholic, and Zwift enthusiast. He's twice ridden the Cape Epic, completed the Haute Route Alps, and represented South Africa in the 2022 Zwift eSports World Championships.

Height: 175cm
Weight: 61.5kg
Rides: Cannondale SuperSlice Disc Di2 TT, Cannondale Supersix Evo Dura-Ace Rim, Cannondale Supersix Evo Ultegra Di2 Disc, Trek Procaliber 9.9 MTB
The latest race content, interviews, features, reviews and expert buying guides, direct to your inbox!
Thank you for signing up to The Pick. You will receive a verification email shortly.
There was a problem. Please refresh the page and try again.