Best aluminium road bikes: high-performance at lower prices
A bike doesn't need to be carbon to go fast. Here's our pick of the best aluminium road bikes available this year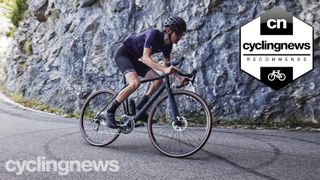 (Image credit: Canyon)
Carbon bikes have become synonymous with performance since they swept into the pro peloton in the late '90s, but the best aluminium road bikes continue to show impressive innovation and performance. They even outperform some of their carbon counterparts at lower price points, which is one reason alloy bikes get their own sub-section in our list of the best road bikes.
Aluminium previously had something of a reputation for harsh ride characteristics, but this is more of a hangover now than anything tangible. Thanks to developments in tube shapes, wall thicknesses, and componentry, aluminium bikes can easily be as smooth as their plastic counterparts.
As well as being light and stiff, aluminium is cheaper to produce than carbon fibre. As such aluminium bikes tend to fill the entry level bracket, and make up the lion's share of our best budget road bikes list. Given that the framesets tend to be cheaper, it also means that for a set budget you can often get higher tier groupset, better wheels and finishing kit, or all of the above.
Some of the bikes in this list are limited to certain countries, so please check before setting your heart on any of them.
Best aluminium road bikes you can buy today
Why you can trust Cyclingnews Our expert reviewers spend hours testing and comparing products and services so you can choose the best for you. Find out more about how we test.
The best aluminium road bike for racing
Specifications
Price:
£2,650 / $3,000 / €3,500
Reasons to buy
+
Extremely stiff
+
Exceptional handling
+
Aero
Reasons to avoid
-
Tyres too narrow for bad roads
While the previous iteration of the Allez Sprint modelled itself on the now-extinct Specialized Venge, focussing on fast and hard crit racing, the current model has mellowed and matured into a more all-round bicycle.
The geometry is based on the Tarmac SL7 (it's identical), rather than the Venge, so the handling is sublime but never twitchy. The new integrated downtube and bottom bracket make for an exceptionally efficient pedalling platform, and the Shimano 105 groupset is spot on for the money.
With a few componentry swaps the frameset provides a tempting platform for making the bike your own. Why not try some bigger tyres for endurance rides, or aero wheels for race day?
Interested? Our Specialized Allez Sprint Comp first ride review can give you more info.
Cannondale CAAD13 Ultegra
The best aluminium road bike for groupset performance
Specifications
Price:
£3,000 / $3,100 / AU$4,799
Reasons to buy
+
Sharp handling
+
Exciting ride characteristics
Cannondale's CAAD frames have long been considered the gold standard in aluminium race bikes, and the latest iteration the CAAD13 builds on that legacy.
The geometry matches the new SuperSix Evo, and the CAAD13 retains the light steering and crisp response to pedal input. Dropped chainstays and a D-shaped seatpost greatly improve comfort, and Cannondale has used hydroforming to incorporate truncated aerofoils to help the frame slice through the wind.
The American outfit is now only offering the CAAD13 in disc builds, either with Shimano 105, or Ultegra.
Check out our first look at the Cannondale CAAD13 Ultegra for more details.
Trek Emonda ALR 5
The best aluminium road bike for weight weenies
Specifications
Price:
£2,200 / $2,299/ AU$3,299
Reasons to avoid
-
Only available in H2 geometry
When you think Emonda, the first thing that comes to mind is the feathery light carbon frame that even gets lightweight paint in the name of shaving grams. While the ALR version is pudgier than its carbon companion, the bike is no slouch when it comes to performance.
With its lustrous purple paint job, Trek hydroforms its tubing into complex shapes which fit together like puzzle pieces so less material is needed to weld them together. The welds are so clean in fact that you could easily mistake this Emonda for the carbon version.
The Emonda ALR is one of those bikes that show alloy bikes don't have to be uncomfortable, and for the price, the performance is hard to beat. We just wish Trek would offer it in its H1 race geometry.
Giant Contend SL 1
Best aluminium road bike for value for money
Reasons to buy
+
Compliance and value for money
+
Ultra-low gearing
Giant has scaled back its alloy offerings, yet the Contend is one of the few survivors. Categorised as an 'all-rounder' the Contend occupies the entry-level of Giant's drop bar range.
With an upright geometry, Giant has used some of its manufacturing wizardry, and the D-Fuse seatpost to produce a surprisingly compliant frame. It's not a race bike, but the compact rear end gives it a snappy engaging feel, while the handling is manageable, even for inexperienced riders; the Contend could serve as both a commuter and weekend rider for those who need multi-purpose affordability.
Canyon Endurace AL
Best aluminium road bike for longer rides
Specifications
Price:
from £1,099 / AU$1,749
Reasons to buy
+
Price tag
+
Racy ride with an upright position
Reasons to avoid
-
No rack or fender mounts
By selling direct to the consumer, Canyon can offer prices that other brands struggle to match without sacrificing an ounce of quality. With a full Shimano 105 drivetrain and hydraulic brakes (if you opt for discs) on the top spec build, the Endurace rolls on DT Swiss E1850 wheels, with Canyon providing the rest of the finishing kit.
The Endurace features steep head and seat angles, however, the stack and reach plant the rider in a neutral riding position; making for a roadie that's agile and responsive, but won't leave your lower back and neck requiring attention from a physio.
The disc version has ample room for fat tyres, and the lack of a brake bridge also allows the chainstays to flex more freely. Both versions are noticeably devoid of fender mounts, so it might not slot in well if you live in a wet climate.
Mason Definition 2
Best aluminium road bike for boutique lovers
Specifications
Price:
From £3,045 / $TBC / AU$TBC
Reasons to buy
+
Ride quality
+
Wheels and finishing kit
Reasons to avoid
-
Overseas shipping can be tricky
Small UK frame builder Mason has been making waves for a few years now, offering high-quality frames with all-round geometries that don't require you to remortgage your home.
For the second generation of the Definition, Mason updated the frame to take 12mm thru-axles and flat mount disc brake calipers. This involved a complete redesign of the rear end for a new dropout that didn't add weight or change the ride quality. The frame itself is made from Dedacciai alloy tubing and is finished with the brand's Aperture 2 carbon fork.
Available in a range of 1x and 2x drivetrains, each Definition comes with Hunt 4Season V2 Disc wheels, a Deda cockpit and Fabric saddle.
Rose Pro SL Disc
Best aluminium road bike for confident handling
Reasons to buy
+
Comfortable ride
+
Confident handling
+
Top-end spec
Reasons to avoid
-
Quick release rear on the disc version
-
Hard to come by outside of Europe
Another consumer-direct brand, Rose, offers serious value for money with the Pro SL Disc. The frame itself is made from 7005 T6 alloy, and features triple-butted, hydroformed tubing throughout. The brake-bridge-free lowered seat stays afford the tubing oodles of vertical flex, while the carbon fork at the front does well to eat up vibration coming through the bars.
Labelled as a marathon bike, the Rose Pro SL disc offers steep angles and a relatively compact rear end for precise steering, while a few mm of stack are added in the front to relieve the pressure on your lower back and neck.
For the money, you get a full Shimano Ultegra drivetrain, DT Swiss P1800 Spline wheels and Ritchey finishing kit.
How to choose an aluminium road bike
What sort of bike to I need?
Race? Endurance? Something in between?
Alloy road bikes are a microcosm of bikes in general, as almost every genre of bike has at least one model made of aluminium. As such the same decisions that you'd make when choosing one of the best carbon road bikes, or best steel road bikes, apply here.
If you're planning on racing then go for something race-focussed; longer, lower, and with steeper angles. For longer days in the saddle then you might be better off with an endurance-focussed option, where a more upright position and more relaxed handling combined with wider tyres will allow you to pedal on for hours and hours in comfort.
If you're unsure then there are plenty of options which don't categorise themselves as one or the other, and fill a more 'general purpose' niche. Think of these as a choose your own adventure option.
Are all carbon forks the same?
All alloy road bikes will come with a carbon fork. Fork blades flex more than the frame, and the fatigue life of aluminium isn't sufficient to allow safe alloy forks without them being utterly unforgiving.
Carbon forks allow flex, and also save a few grams in the process. Higher spec models will also have a carbon steerer, while lower tier models will have a metal one. The only real difference here is weight, as the steerer itself provides no additional flex.
Should I get disc brakes or rim brakes?
The industry is moving towards discs being the standard with an inevitability that makes rim brakes harder to recommend from a future-proofing standpoint.
Disc brakes provide better stopping power and modulation, especially in the wet. However, it's not totally black and white. Rim brakes are significantly easier to maintain yourself, and likely cheaper too. They've worked perfectly well for decades, so if you are a budding home mechanic then perhaps they're the right choice for you.
Rim brakes will however limit your width of tyre, so for endurance bikes you're unlikely to have a decent rim brake offering nowadays.
Thru-axles or quick release?
For disc brake equipped bikes a thru-axle will always be the superior choice as it relocates the wheel, and therefore the disc rotor, in precisely the same place each time, reducing the risk of developing brake rub.
For rim brake aficionados the choice is less imperative. Thru-axles will be stiffer, and more future-proof, but the tolerances built into a rim brake system aren't so fine and so quick release is perfectly adequate if budget is a concern.
Reviews Writer, Cyclingnews
Will joined the Cyclingnews team as a reviews writer in 2022, having previously written for Cyclist, BikeRadar and Advntr. There are very few types of cycling he's not dabbled in, and he has a particular affection for older bikes and long lasting components. Road riding was his first love, before graduating to racing CX in Yorkshire. He's been touring on a vintage tandem all the way through to fixed gear gravel riding and MTB too. When he's not out riding one of his many bikes he can usually be found in the garage making his own frames and components as a part time framebuilder, restoring old mountain bikes, or walking his collie in the Lake District.
Height: 182cm
Weight: 72Kg
Rides: Custom Zetland Audax, Bowman Palace:R, Peugeot Grand Tourisme Tandem, 1988 Specialized Rockhopper, Stooge Mk4, Falcon Explorer Tracklocross
The latest race content, interviews, features, reviews and expert buying guides, direct to your inbox!
Thank you for signing up to The Pick. You will receive a verification email shortly.
There was a problem. Please refresh the page and try again.