Best road bike pedals: Our pick of the best clipless pedals for road cycling
The best road bike pedals can offer increased pedalling efficiency, a secure hold, and a more aerodynamic profile at a low weight. Here's a roundup of our favourites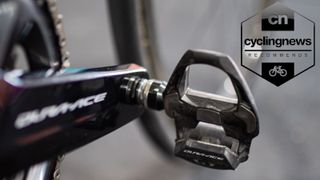 (Image credit: Colin Levitch)
The key contact points between your body and your bike are also the areas that can make the most difference when you upgrade them. The pedals are one such contact point, alongside the saddle and handlebars, so getting them right can greatly improve your comfort and performance on the road. The best road bike pedals don't necessarily need to be the most lightweight and expensive model available either, it's just important to be resting a significant portion of your body weight on a good quality, high-performing pair.
Unlike the best flat road bike pedals, which are designed for commuting convenience, the best road bike pedals are there to improve your performance on the road. Clipping into your pedals not only makes for a stable connection for laying down power, they also hold your feet in the correct position, help you maintain efficiency as your cadence increases, and can even reduce the potential for injury.
With so many clipless pedal options out there, choosing what's best for you can be difficult. That's why we've written this guide to help you narrow down your options and find what works best for your needs.
The most popular systems come from France, Japan and the USA, and we've group tested the big three's top-tier offerings in a Shimano vs Look vs Wahoo Speedplay pedals head-to-head to add more context to this debate, while discussing the pros and cons of each pedal setup.
But to really help you make your decision, we've compiled everything you need to know, including exactly what a clipless pedal is, in an overview that outlines all the key attributes to look out for when buying a pair, plus we give you a roundup of our favourites.
Jump to:

Best road bike pedals you can buy today
Image 1 of 5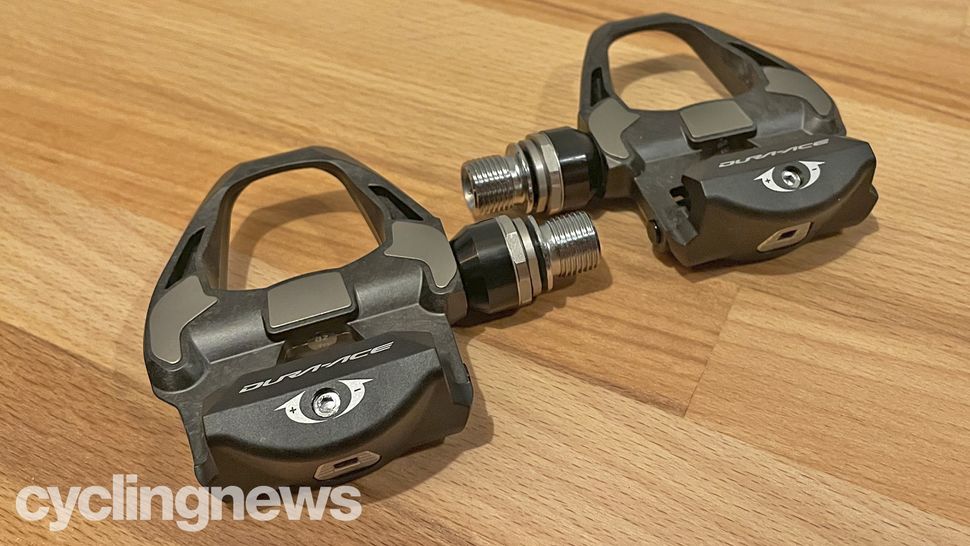 Image 2 of 5
Image 3 of 5
Image 4 of 5
Image 5 of 5
Hyper-smooth bearings and one of the lightest pedal-cleat combination of all the big players
Specifications
Weight:
234g (272g with cleats)
Float:
2 degrees (replaceable with 0 or 6)
RRP:
234.99 / $280.00 / €269.95 / AU$370.00
Reasons to buy
+

Super smooth, reliable and easy retention adjustment
+

Lightest pedal-and-cleat combo
+

Perfect balance means they're easy to clip into
+

Worldwide availability of spares
Reasons to avoid
-

High retail price (although regularly discounted)
-

Not the most boutique pedal available
-

SRAM and Campagnolo groupset owners mightn't want the Shimano 'clash'
On their own, the Dura-Ace pedals aren't the lightest around at 234g a pair (Wahoo's Speedplay Nano are an impressive 170g), however, once you factor in the cleat too, Shimano's top tier pedals become a real eyecatcher for weight weenies at 272g combined, while Wahoo tumbles down the table with a combined heft of 332g.
But it's not all about the weight. Based around a moulded composite body, the old screw on stainless steel plate is replaced with three smaller plates which are bonded on (as with Ultegra). The Dura-Ace pedals also get an extra needle bearing to provide better support and long term durability. This also results in a super smooth bearing and an improved balance, which means they always hang the correct way up, making the Dura-Ace pedals consistently easy to clip into. What's more, the stack height is roughly 2mm lower than the R8000 version, and the Dura-Ace pedals come in the standard and +4mm axle for those who need a slightly wider stance width (the lateral distance between your pedals).
It is worth mentioning that the top end Shimano pedals come with the brand's blue cleats as standard, which only offer two degrees of float instead of six. Dura-Ace also gets an extended warranty of three years, opposed to two years on other Shimano goods.
Image 1 of 4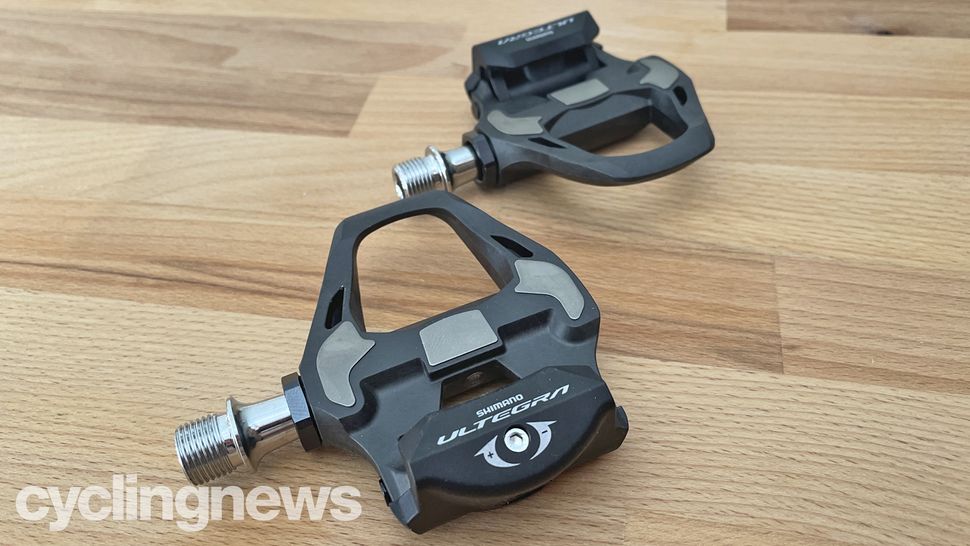 Image 2 of 4
Image 3 of 4
Image 4 of 4
A balance between price and performance, a popular pedal thanks to its durable performance
Specifications
Weight:
248g (284g with cleats)
Float:
6 degrees (replaceable with 0 or 2)
RRP:
£157 / $186 / €156 / AU$268
Reasons to buy
+

Weight at 248g
+

Price to performance ratio
+

Availability of spares
+

Indistinguishable ride performance vs Dura-Ace
Reasons to avoid
-

105 offers 95 per cent of the performance at an even cheaper price
Ultegra serves as the privateer racer product range in Shimano's lineup for its performance to price ratio, and the R8000 road bike pedals are no exception. They borrow heavily from the Dura-Ace pedals and feature a wide carbon composite body for a stable and supportive pedalling platform. With a stack height of 10mm, they are 0.7mm shorter than their predecessors and gone is the removable stainless steel plate; instead, you get three stainless steel pads bonded onto the pedal body to prevent wear.
Tipping the scales 37g lighter than the 105 version, the R8000 pedals are supplied with the six-degree-float yellow cleats and standard mounting hardware. They spin on a stainless steel axle and two bearings which don't require a break-in period and always settle with the spring down for easy clip-ins. As introduced with the 6800 version, the Ultegra pedals are also available in a +4mm axle version if your hips and knees need a bit of extra distance away from the crank.
Image 1 of 3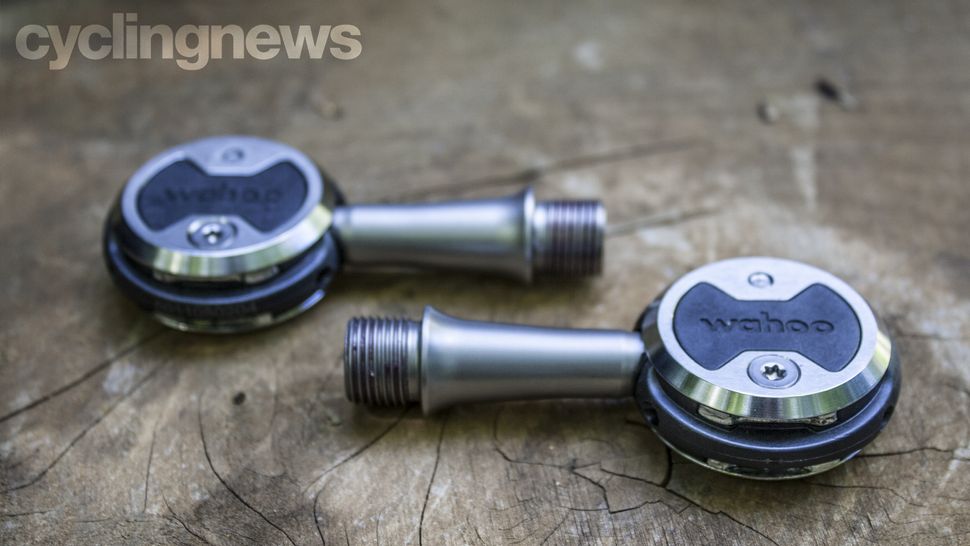 Image 2 of 3
Image 3 of 3
The lightest pedals, but undone by heavy cleats
Specifications
Weight:
170g (332g with cleats)
Float:
Adjustable to 15 degrees
RRP:
£379.99 / $449.99 / €449.99 / AU$699.95
Reasons to buy
+

Dual-side entry
+

Low stack height
+

Class-leading cleat adjustability
+

Micro-adjustable 15-degree float
Reasons to avoid
-

Cleat system takes time setting up correctly
-

Heavier than rivals when taking complete system weight into account
-

No release tension adjustability
The Wahoo Speedplay pedal has one of the most recognisable silhouettes in the world, with its lollipop-shaped double-sided clip-in design and incredibly comprehensive cleat adjustability. At just 170g for the pair, the Nano pedals are ridiculously lightweight, so it's no wonder it's garnered a cult following among weight-weenies, competitive amateurs, and WorldTour professionals alike. However, it is worth noting that while the pedals themselves are feather-light, the cleats add an extra 81g per side.
With that extra heft, the Wahoo cleat system does things very differently to Shimano and Look. Not only does the retention system reside within the cleat, it also provides an adjustable amount of float and allows you to move the cleat forwards, backwards, left and right without loosening the whole thing and potentially losing your position. However, there's no adjustment of the retention itself, so if you want to make getting out of them easier, you'll need to swap to the 'easy' cleats.
They come with a huge price tag, and initial set-up takes time, but once you're past those two hurdles, durability has been great, and it's hard to find any fault with the pedal system and how it all works.
Image 1 of 4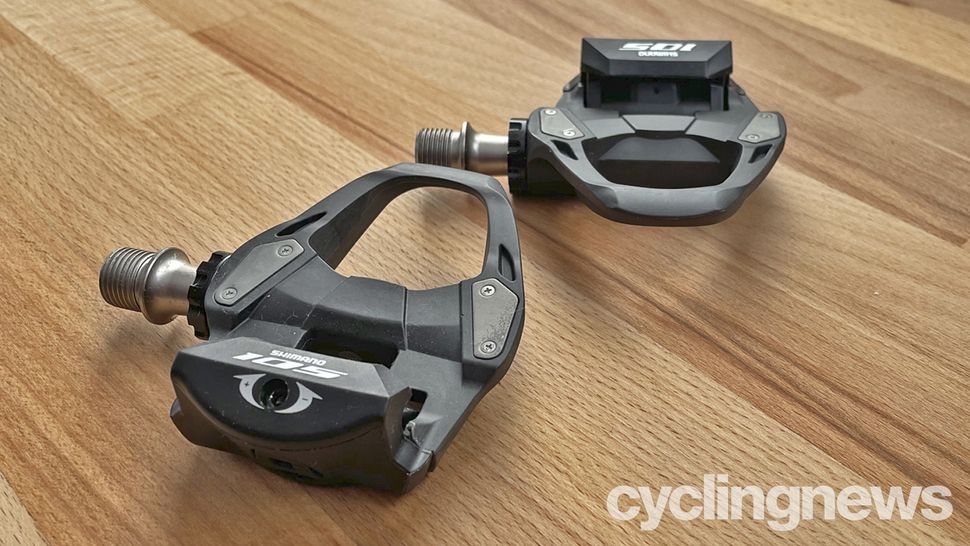 Image 2 of 4
Image 3 of 4
Image 4 of 4
The best road bike pedal for all-weather mile munchers, punching well above its weight considering the price
Specifications
Weight:
258g (296g with cleats)
Float:
6 degrees (replaceable with 0 or 2)
RRP:
£119.99 / $142.49 / €118.99 / AU$205
Reasons to buy
+

Prime example of trickle-down tech, offering almost the same performance as more expensive models
+

Tension adjustment is easy
+

Durable, and ease of servicing
Reasons to avoid
-

Centre stainless steel pad has been removed for the latest version
-

Can get lighter pedals for less money
Shimano road bike pedals have become some of the most popular on the market for good reason; they are some of the most user-friendly and reliable of the bunch. The silky smooth bearings will spin for ages before they get crunchy, they're easily serviceable when they do, and the retention mechanism on the rear of the body means they always hang right side up.
Using large plastic cleats available in 0, 2 or 6-degrees of float, Shimano road cleats are reasonably easy to walk in, don't break the bank, and last quite some time even without café covers.
When we are talking in terms of how we spend our hard-earned cash on bike components, for Shimano pedal users, the 105 pedals are the winning ticket because they borrow so much tech from the range-topping Dura-Ace pedals at a fraction of the cost. Yes, the higher-end models offer a slightly lower stack height, increased ground clearance and an extra set of bearings, but these have little effect on stability, security or durability. You still get the same wide pedalling platform, stainless steel plates on the top of the pedal body to prevent premature wear and plenty of adjustability through the cleats and release tension.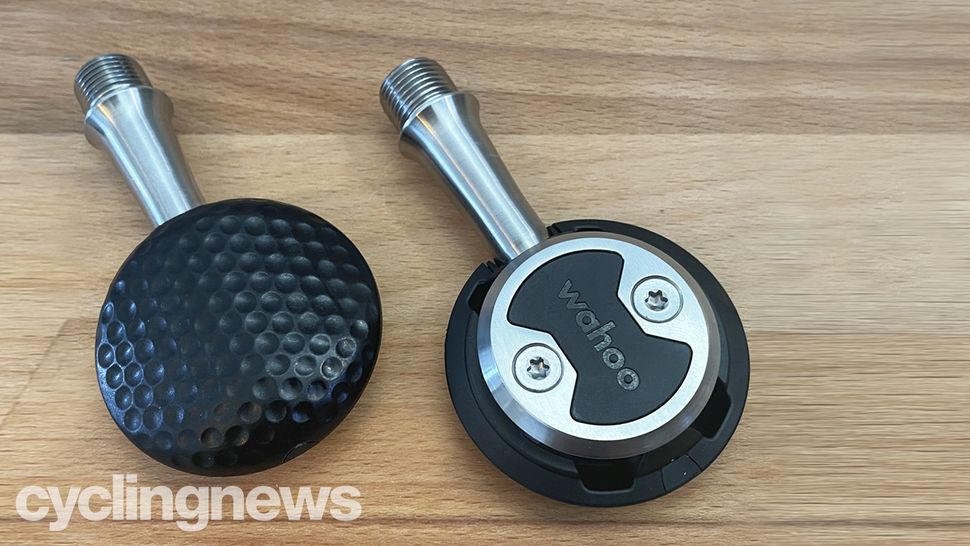 The most purposefully performance-orientated pedal around
Specifications
Float:
Adjustable to 15 degrees
RRP:
£239.99 / $279.99 / €279.99
Reasons to buy
+

Low stack height
+

Near infinite float adjustment
+

Aero performance
Reasons to avoid
-

Time-consuming and fiddly initial cleat setup
Another entry for Wahoo's Speedplay range, the Aero pedals are the only model in the line-up to not feature dual-sided entry. Instead, the underside is smooth with a dimpled surface to increase aerodynamism.
Since Wahoo's acquisition of Speedplay and the relaunch of the Speedplay pedal range this summer, it was always expected that the new line-up would come with updated technology and the Wahoo touch. The Speedplay Aero pedals, according to our reviewer, are very purposefully designed with performance in mind. Their low stack height of 11.5mm and increased steel surface area, result in an incredibly efficient and long-wearing piece of kit.
While we obviously weren't able to put all the aero claims to the test, it's always worth noting that Dan Bigham used them to break Sir Bradley Wiggins' British hour record time, and since Bigham is known to be meticulous in his attention to aerodynamic detail, his choice to use Wahoo's Speedplay Aero pedals in this attempt speaks volumes in favour of them.
Look Keo Blade Carbon
A simple design and solid hold, but with limited adjustability
Specifications
Weight:
232g (274g with cleats)
Float:
4.5 degrees (replaceable with 0 or 9)
RRP:
£129.99 / $155.99 / €147.99 / AU$227.49
Reasons to buy
+

Positive engagement
+

Lightweight
Reasons to avoid
-

Carbon blade easily damaged
-

Side to side rocking
Look pioneered the clipless pedal in 1984, and the Keo Blade is the brand's top-end offering. The French outfit has updated the design over the years, and the Keo Blade uses a carbon leaf spring in place of a traditional spring for cleat retention — opposite to Time's system.
In using a leaf spring, Look can make a pretty light pedal, with the lack of weight at the back, they don't always settle in the right position and can leave you pawing at the pedal when taking off from a stoplight.
Unfortunately, the carbon leaf spring design isn't conducive to tension adjustment; however, Look offers multiple versions at differing levels of release tension force. It's a job anyone who can hold an Allen key can complete, but it's more involved than the other road bike pedal systems. With the carbon blade located on the bottom of the pedal, it's also vulnerable to damage.
Look's cleats are available in 0-, 4.5- and 9-degree float options and the design is often 'borrowed' by offshoot pedals brands like Exustar and Ritchey. A common complaint with Keo clipless pedals is the lateral rocking, and once a bit of grit gets in there, they are also prone to creaking.
Wahoo Speedplay Zero
The best road bike pedals for racers, offering dual-sided entry, aero wins and low weight
Specifications
Float:
Adjustable to 15 degrees
RRP:
£199.99 / $247.00 / €227.99 / AU$379
Reasons to buy
+

Float adjustability
+

Dual-side entry
Reasons to avoid
-

No release tension adjustability
Speedplay's Zeros are commonly called lollipops because of their small circular pedal body. With dual side entry, the big difference in this system is that the tension adjustment is located in the cleat rather than on the pedal.
Speedplay was recently acquired by Wahoo, so there's now a brand new range of pedals. The design is more or less the same, with a couple of improved features. Mainly, the pedals don't require any maintenance like the previous ones did, thanks to the fact that they now use sealed bearings.
Speedplay's stand out because of the amount of float adjustability, which can be altered from 0 to 15-degrees. The release tension, however, cannot be adjusted on the pedal itself. The pedals come with 'standard' or 'easy' tension cleat options.
The new Speedplay range of pedals includes multiple models, including an aero one, which unlike the others features only a single side entry. The brand is also expected to release a pedal-based power meter around summer this year.
Look Keo 2 Max
A good all-rounder in terms of price, adjustability and weight
Specifications
Float:
4.5 degrees (replaceable with 0 or 9)
RRP:
£79.00 / $100.00 / €‌78.00 / AU$118.00
Reasons to buy
+

Adjustable release tension
+

Competitive price
The Keo Max follow the same design as the Keo Blade, but instead of a carbon leaf spring for cleat retention, you get a standard steel coil spring. While it adds a bit of weight and loses some cool factor, this system allows more release tension adjustability. The added weight at the back of the pedal also helps the body to settle in the right orientation for easy clip-ins.
It's available in carbon and non-carbon versions, the difference between them being about 10 grams.
They use the same cleats as the Keo Blades available in 0, 4.5 and 9-degrees of float.
Look Keo Blade Carbon Ceramic Ti
Range topping ceramic-smooth road bike pedals
Specifications
Float:
4.5 degrees (replaceable with 0 or 9)
RRP:
£290 / $375 / €301 / AU$452
Reasons to buy
+

Lightweight
+

Ceramic bearings
+

Titanium axle
Reasons to avoid
-

Expensive
-

Lacks adjustability
With all the buzzwords of a premium cycling product, the Keo Blade Carbon Ceramic Titanium pedal is, unsurprisingly, positioned at the very top of the French brand's pedal hierarchy.
Used extensively in the professional peloton by riders such as Romain Bardet, the Keo Blade Carbon Ceramic Ti uses the same 67mm wide platform from the Keo Blade Carbon, but adds a low-weight titanium axle and ceramic bearings.
The downside comes when adjusting the pedal tension away from the preset 16nm. To do this, you'll need to replace the carbon leaf blade with either the included 12nm, or the optional extra 20nm blade. It's easy enough to do, but not nearly as easy turning an Allen key bolt.
What are clipless pedals?
Road bike pedals feature a clipless system which refers to the lack of a 'toe clip', like those used exclusively before the mid-1980s.
These pedals allow you to 'clip' directly into the pedal for a mechanical connection to a cleat, which is bolted to the underside of a purpose-built shoe. Most shoes designed for road cycling feature three bolt holes in the sole, while mountain bike shoes rely on two — there are also four-bolt shoes explicitly designed for a specific pedal system.
While each pedal system varies slightly, the mechanics are more or less the same; step down on the pedal platform to clip in, and twist at the ankle to unclip. Where they do vary is the release tension, float, platform size, stack height and reliability.
Depending on your confidence and experience as a rider, what you're looking for in a pedal will vary slightly.
What to look for in road bike pedals
Which cleats should I use?
You'll need to use cleats that are compatible with the road bike pedals you choose, so you should factor your cleat preferences into your decision-making process.
Cleats come in different shapes and sizes, depending on the brand that makes them, as well as mounting method and adjustability. If you're new to clipless pedals, you might want to favour cleats with a good amount of adjustability so you can fine tune your fit and help you get used to them.
Each brand uses a slightly different cleat system, with some offering more refined adjustment than others. For example with Shimano and Look-style cleats, fore and aft, side-to-side and cleat angle are all adjusted at the same time, while Speedplay uses a separate set of bolts to modify each axis.
What are the easiest clipless pedals to get out of?
For beginners, being able to kick your foot out of a pedal in desperation when you misjudge the timing of a traffic light is vital to prevent not only a bruised ego but also a sore spot on your hip. At the same time, the last thing you want when responding to an attack in a road race or in a bunch sprint is for your foot to unclip.
Most pedals that use an actual spring will allow for the release tension to be adjusted with a pinch bolt, while others that use a carbon leaf spring for retention may offer some degree of adjustability, but often with a few extra steps. Your needs in this regard will dictate which are the best road bike pedals for you.
Does the size and shape of the pedal matter?
To a degree, yes, because it impacts the amount of surface area you have to lay your power into when you pedal.
When it comes to the best road bike pedals, each respective brand makes claims about their system offering the biggest pedalling platform or surface area. It is an essential factor to take into account, as a pedal with a larger surface area will distribute your pedalling force over a bigger section of your foot, meaning five hours into your all-day epic, you shouldn't get those uncomfortable hot spots in your feet.
What is pedal float?
Float refers to how many degrees your heel can move side to side when clipped into the pedal. Depending on your pedal brand of choice, you can buy fixed cleats with zero degrees of float all the way up to 15 degrees with Speedplay (which can also be adjusted).
While some pro riders talk about the benefits of being 'locked in' with a zero float cleat, the majority of people's joints benefit from some degree of movement. Most pedal systems will have a bit of friction built into the float while others have a resistance-free feel to them—which is right for you will depend on your personal preference, but the best road bike pedals will come with cleats that offer a middle-of-the-road float.
What about stack height?
Stack height refers to the distance between the pedal axle and the bottom of your foot. Ideally, you want your foot as close as possible because as the crank goes around it's easier to stay on top of the axle the smaller the distance, and it also reduces the loss of energy to twisting. It also sets you up for a lower overall position, aiding aerodynamics.
It's also essential to note stack height if you're swapping pedal systems because you may have to adjust your saddle height as well.
Which road bike pedals are the most reliable?
Pedals are often the most neglected and rarely maintained part of a bike, and with brands trying to shave weight anywhere they can, this often happens in the bushings and bearings. Some only require a squirt of grease here and there, while other's need to be fully disassembled with purpose-built tools.
Reliability also applies to cleats and how often you have to replace the hardware, with some lasting considerably longer than others.
Sign up to the Cyclingnews Newsletter. You can unsubscribe at any time. For more information about how to do this, and how we hold your data, please see our privacy policy
Thank you for signing up to Cycling News. You will receive a verification email shortly.
There was a problem. Please refresh the page and try again.