Best bike locks: Keep your bike safe wherever you lock it up
By Josh Croxton published
The best bike locks will ensure your bike stays where you left it and prevent thieves from stealing your pride and joy
Included in this guide:
1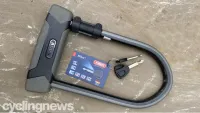 Abus
Granit XPlus 540
2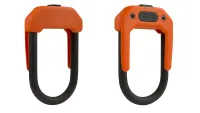 Hiplok
DX
3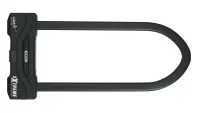 Abus
Granit Extreme 59
4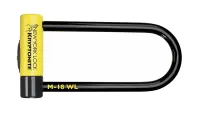 Kryptonite
New York M18
5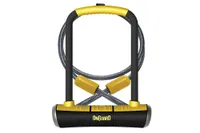 OnGuard
Pitbull DT Shackle U-Lock + Cable
6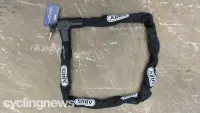 Abus
City Chain 1010
7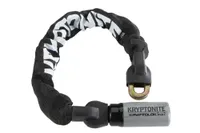 Kryptonite
Kryptolok Series 2 955 Mini Chain Lock
8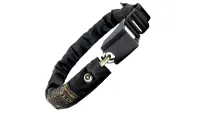 Hiplok
Gold
9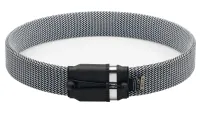 LiteLok
Gold
10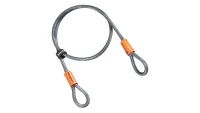 Kryptonite
Kryptoflex 410
11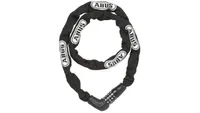 Abus
Steel-O-Chain 5805C
12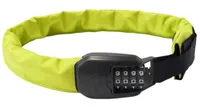 Hiplok
SPIN Wearable Chain Lock
13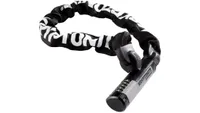 Kryptonite
KryptoLok 990 Combo Chain Lock
14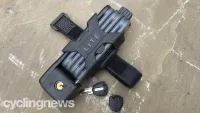 Abus
Bordo Lite 6055
15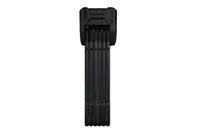 Abus
Bordo Granit 6500 X-Plus
16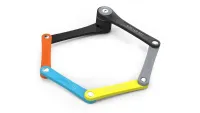 Seatylock
Foldylock Compact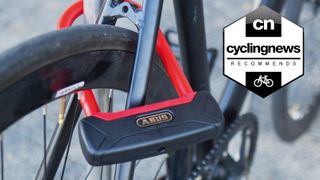 (Image credit: Abus)
The best bike locks don't just keep your bike secure, they also prevent thieves from trying their luck in the first place. Some of the most common methods, like rotating the bike to break the lock, can cause serious damage to the frame, so even if they don't make off with your pride and joy, they can still render it unrideable, which is just as bad as stealing it.
Thankfully, there are several bike locks on the market that perfectly demonstrate how to prevent bike theft because they've proven to be really proficient at deterring thieves from even trying to mess with a bike. Some locks are well-known amongst thieves and recognised as too heavy-duty to be worth the time and effort, while other types of locks can secure your bike in a way that doesn't give thieves the leverage they need to be able to do any damage to your frame.
So whether you're commuting to work, popping out for groceries, or leaving your bike latched to your car - even the best bike racks for cars can fall victim - make sure you're equipped with the best bike lock for the job, whether it's one of the heavy-duty locks we've listed here or one of the best lightweight bike locks that are easier to carry around.
You should also consider using more than one lock. It may seem like overkill, but the more time and effort required to steal your bike, the less likely a thief will bother trying. It might sound silly but even thieves do their research. Professional thieves know which locks are easy to crack and which aren't worth bothering to try, so if your bike lock has a weakness, they'll likely know from memory how to exploit it and, if they see your bike locked up with a lock that they know they can crack, it won't be long before they're riding off with your pride and joy. That's why having two locks - especially two different types - is more likely to deter them.
We've put together a handy guide on how to lock a bike, which shows you the proper way to secure your bike and its components using a D-lock for the frame and a connected chain or cable for the wheels. You should also consider taking out bike insurance, so that if the worst does happen, at least you're covered, and possibly even adding one of the best bike GPS trackers to give you a chance of locating it.
Skip to: How to buy the best bike lock for your bike
Best U bike locks
The best all-rounder bike lock
Specifications
RRP:
£119.99 / $154.99 / €114.95
Reasons to buy
+

Excellent multi-faceted security
+

Super smart sealed key
+

Relatively light
+

Quality frame mount
Reasons to avoid
-

There are Gold-rated locks a lot cheaper
-

Only comes with two keys
Th Abus Granit XPlus 540 D-lock isn't cheap but it does provide outstanding defence and deterrent against even determined attackers. Among the brand's 11 different D-locks, of which some even come with seven variants, the Granit XPlus 540 is undeniably the best on offer.
It deploys a 17mm hardened-steel square bar with a parabolic profile (as opposed to a more easily crushable circular one), and a cylinder lock that's hidden behind steel jaws that resist ice and freeze attacks. It's also designed to be pick-proof and has an outstanding reputation despite seeming thin. The square shackle is resistant to bolt croppers, and you can't swivel it to release the bike even if you do get through with an angle grinder.
Even after years on the street, it's fair to say that the Abus Granit XPlus 540 is still the benchmark for shackle-style security. It's a portable weight, too, even if it leaves your wallet a lot lighter.
Read our review of the Abus Granit X-Plus 540 for more information.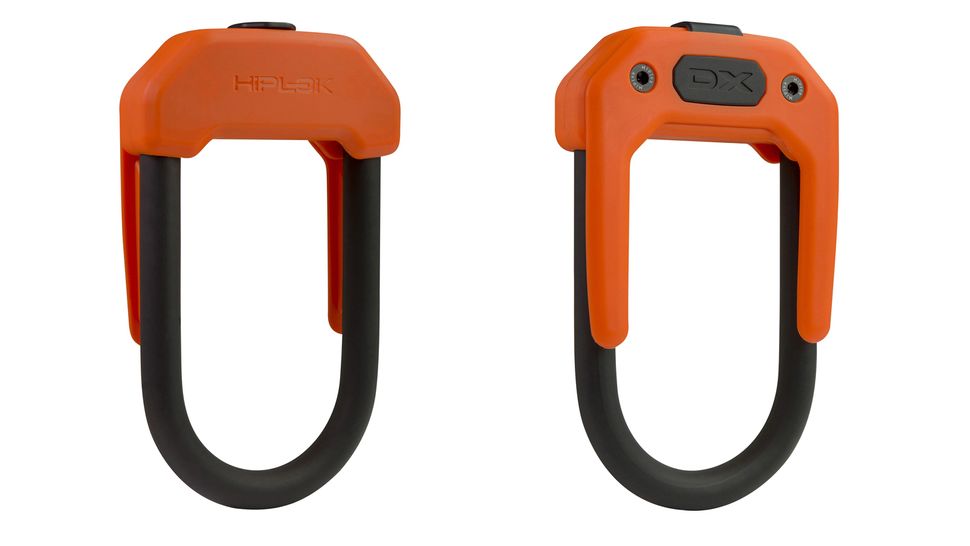 Hiplok DX
The best U lock for portable convenience
Specifications
RRP:
£79.99 / $89.99 / €84.99
Reasons to buy
+

If you own a commuter bike and use it daily, this won't burden your journey
+

Clever design and low weight
Reasons to avoid
-

Not the most overbuilt structure when measured in sheer diameter size
If you are concerned about lugging a heavy bike lock in your backpack while commuting, a lightweight solution that doesn't sacrifice security is the Hiplok DX. At only 1,098 grams, it will hardly bother you stowed in a backpack or attached to your belt, yet still offers significant safety.
An astute concept which merges the structural strength of a traditional D-lock with low mass and outstanding portability. The Hiplok DX does what its name implies, enabling a rider to secure this lock to their hip - via a belt - thanks to prongs moulded into its chassis.
Although the 14mm shackle diameter and 15 x 8.5cm locking space mightn't be as large as some rivals, few U locks can compete with the Hiplok DX's remarkably low weight. If you value portability and desire the security of a U-lock, this is a compelling alternative.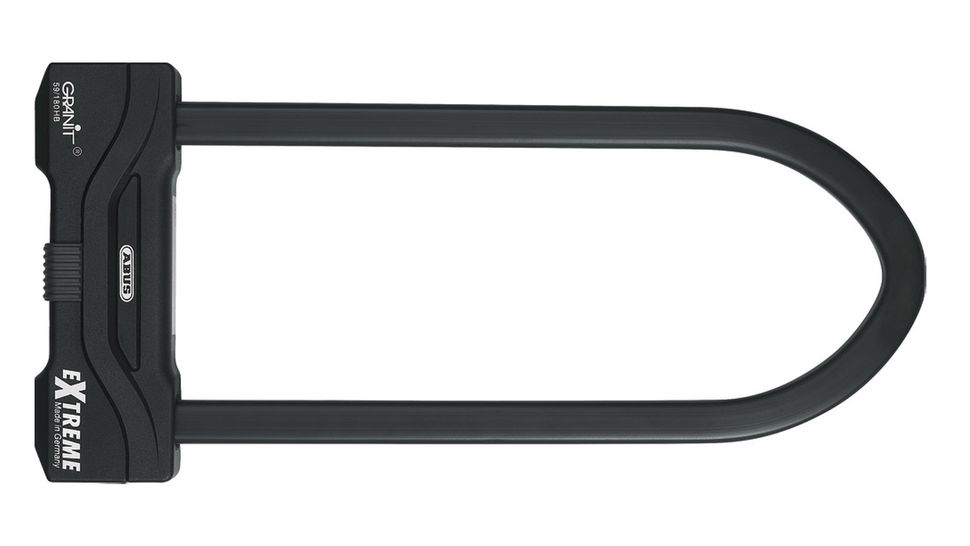 Abus Granit Extreme 59
The best Abus bike lock for maximum security
Specifications
RRP:
£199.99 / $279.99 / €199.99
Reasons to buy
+

Topflight product from the brand in bike security
+

Excellent weather sealing should increase longevity
Reasons to avoid
-

Not cheap, but what is your bike worth?
-

Weight makes it a less than ideal backpack commuting option
The bike lock market is dominated by German options, owing to the country's nurtured metalworking industry. Abus is the foremost brand in bike locks and has been fabricating metal preventative security systems since 1924.
All that experience has matured the company's product portfolio into a variety of options for cyclists wishing to ensure their bike does not have an involuntary change of ownership. Within the huge variety of Abus locks, the premium product is the Granit Extreme 59. This is a heavy piece of kit, but it is built to frustrate an opportunist bike thief no end.
Its substantial price premium over all other bike locks will certainly pique interest in this German product. But is the Abus worth the investment and its ranking on our list?
There are much lighter D-lock alternatives, but few feature the weather sealing of this Granit Extreme 59. If your bike is going to be in an exposed outdoor location, susceptible to rain, the Granit will last many years longer than most rivals.
It also possesses enormous structural strength, thanks to Abus using a square shackle profile – which has greater tensile resistance than a traditional round bar design.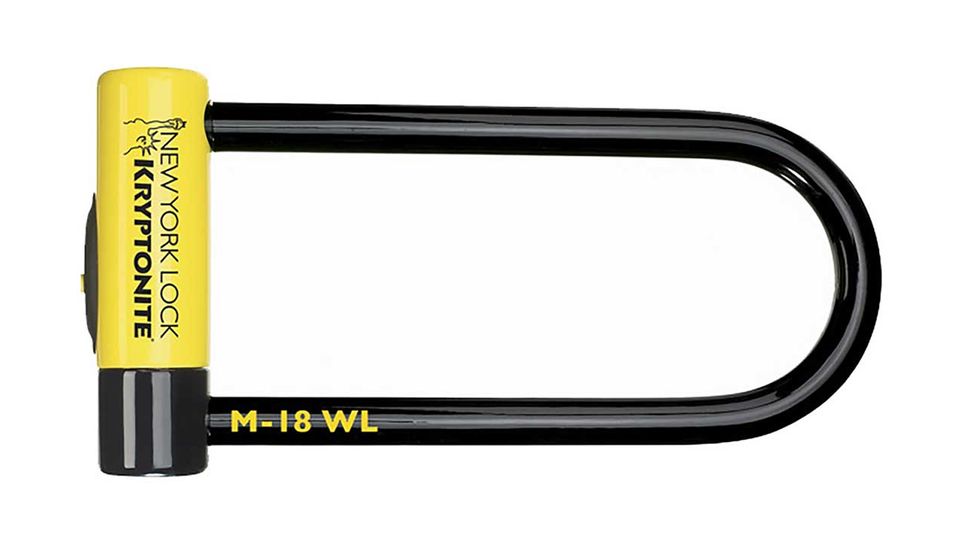 Kryptonite New York M18
An incredibly strong lock with the reputation to back it
Specifications
RRP:
£134.99 / $183.99 / €164.99
Reasons to buy
+

Large locking area
+

Hardened steel shackle is thick at 18mm
+

Includes a $5,000 / €4,500 / £3,000 theft guarantee
Reasons to avoid
-

It's heavy
-

Not the last word in weather sealing
For those who want the largest possible chassis to secure their bike, Kryptonite's New York M18 is the answer. Kryptonite is an American brand with nearly five decades of bike lock history and specialises in D-locks. The New York M18 features an 18mm diameter shackle body, which is at the thicker end of what's available. It is an incredibly strong lock and the only aspect where an Abus is superior would be weatherproofing.
Kryptonite is an American D-lock original, having been in business since the 1970s. Its designs are proven, prioritising strength and function above fashion. The result is a heavy lock, not suited to daily backpack commuting – but with stellar strength and security features. It would make for an ideal leave-at-work lock.
Despite featuring a bulkier 18mm shackle, the M18 manages to be slightly lighter than the largest Abus locks. Massively strong and genuinely affordable, you can't get more security for less. Ultimate weather sealing might not be comparable to the Abus, but this is an ideal home lock for your bikes.
OnGuard Pitbull DT Shackle U-Lock + Cable
The best Sold Secure Diamond lock for those on a budget
Specifications
RRP:
£52.99 / $64.95 / €N/A
Reasons to buy
+

Great value for money
+

Sold Secure Diamond security level
+

Includes a cable extension
+

Includes $2251 theft guarantee
Reasons to avoid
-

You'll need to lubricate the locking mechanism regularly
-

Plastic mount is poor quality
If you really don't want to spend a huge amount of money, you can get great value from the OnGuard Pitbull DT series. This U-lock comes with a Diamond Sold Secure level, making it suitable for high-risk areas like cities and town centres.
The hardened steel shackle is 14mm thick, which isn't quite bolt cutter-proof if you're going up against a pro, but it would certainly deter an opportunist with a small, concealable pair of cutters. The Pitbull uses OnGuard's X4P locking mechanism which secures the shackle in four different areas, so it stands up well to hydraulic and resist-twist attacks. For added value, you also get a 1.2m extension cable, so you can easily lock your rear wheel to the frame and loop the cable around your front wheel for some extra security.
It also comes with a bracket that allows you to mount the lock onto your bike frame. A silicone coating protects your paintwork from scratches, and in order to keep the overall cost down, the bracket is made of plastic. If you're mostly riding on smooth tarmac, you'll likely be fine with this, however if your bike has to trudge over rough roads, you might want to think of an alternative way to carry the lock, as the bracket isn't that robust.
Best chain bike locks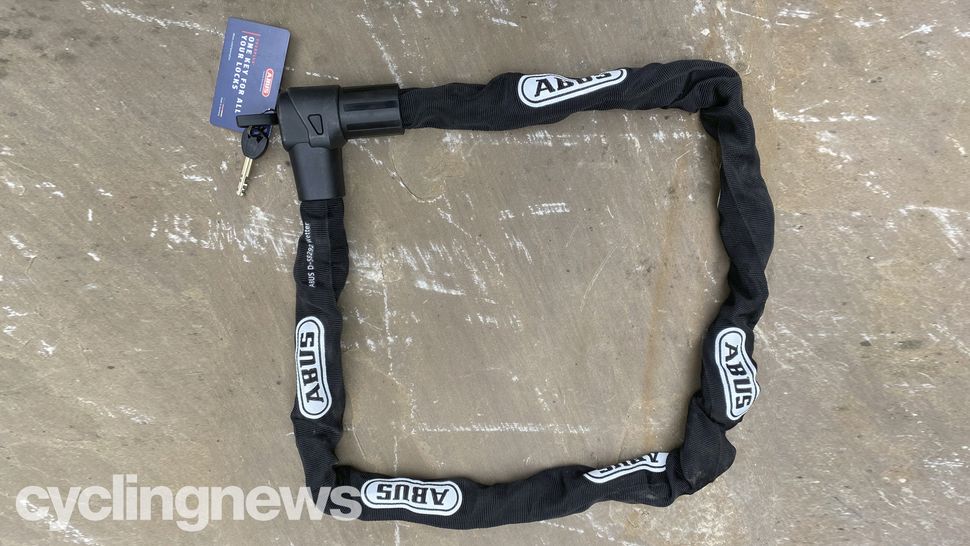 Flexible for awkward areas but very heavy and expensive for medium/high security rating
Specifications
RRP:
£129.99 / $149.99 / €N/A
Reasons to buy
+

Super flexible for easy locking
+

High level security
+

Full fabric cover
+

Relatively compact
Reasons to avoid
-

Heavy
-

Not as secure as XPlus version
For those looking for the most flexible, most portable answer to high-level bike security, then the super heavy duty City Chain 1010 is definitely one of the best.
While it gets a Gold 'sold secure' rating and a 12 out of 15 from Abus, it only scores 2 out of 5 from ART. The 9mm links are relatively easy to get through with grinder or large bolt croppers and while it's hard to pick, the lock can be vulnerable to a sledgehammer attack if the thief can get it onto the ground.
Nothing beats a chain lock for maximum flexibility and use in awkward spaces but the CityChain weighs a ton while still only offering mid/high security. There are better options around but be prepared to spend more.
Read our Abus City Chain 1010 review for more information.
Kryptonite Kryptolok Series 2 955 Mini Chain Lock
A compact but sturdy chain lock that weighs a little less
Specifications
RRP:
£44.99 / $70.00 / €N/A
Reasons to buy
+

Lighter than most other chain locks
+

Compact size leaves less room for leverage
Reasons to avoid
-

Vulnerable to bolt cutters if left too close to the ground
-

Short length limits routing capability
If you like the look of chain locks but a) don't want to carry something huge and heavy around, and b) don't have your wheels firmly bolted on, then this mini chain KryptoLok could be just the thing you need. When we say mini, we mean mini, at approximately 55cm long with a chain thickness of 9mm.
Its small size and flexibility makes it super versatile and opens a lot of locking opportunities that might not be available to a mini U-Lock like the Hiplok DX. However it will be limited to thinner bike racks and street signs, and won't work well with wider-based lampposts.
It's also pretty portable - you can easily put it in a backpack if you don't mind riding with the extra weight, or you could wrap it around the seat post or strap it to a rack.
It is worth bearing in mind however that although the KryptoLok is rated Sold Secure Gold, the 9mm chain links are vulnerable bolt cutters, especially if thieves can use the ground for leverage. Your best bet if using this, is to keep the lock as far from the ground as possible when locking up, to not give them the upper hand.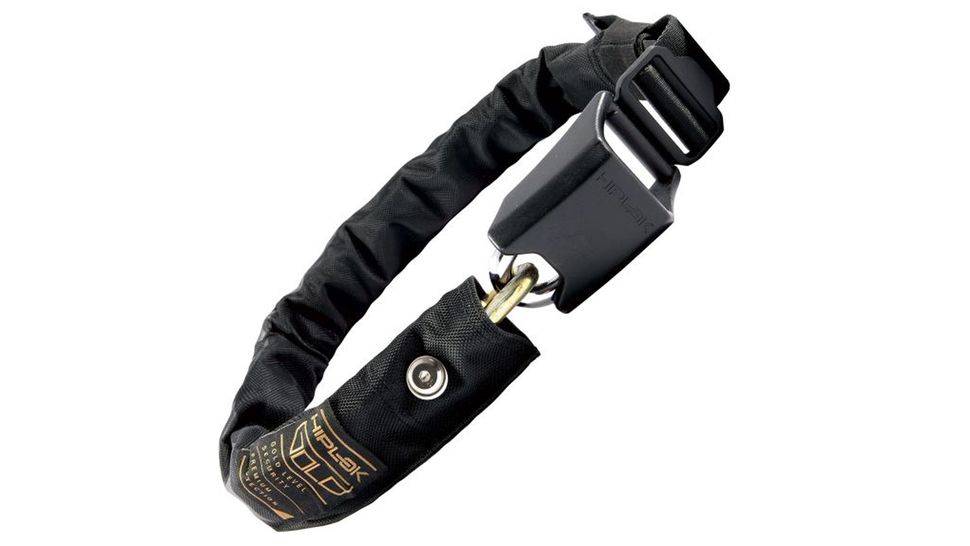 Hiplok Gold
Wearable design offers backpack-free Gold security
Specifications
RRP:
£84.99 / $129.99 / €109.99
Reasons to buy
+

Gold standard security rating
+

The wearable design allows for easy transportation
Reasons to avoid
-

Heavy
-

Might not fit riders with svelte waistlines
One of the biggest inconveniences with transporting locks is that unless you attach the lock to the frame, which can be inadvisable on some bikes, or you have a pannier rack fitted, then you will likely need to resort to carrying a backpack. The Hiplok Gold solves this with a simple buckle design that allows the lock to be worn as a belt when riding so you aren't subjected to a sweaty back when riding or left carrying an empty backpack around once your destination has been reached.

The Hiplok Gold is a sold lock as well, the 10mm chain and 12mm shackle construction has a Gold rating from the independent tester Sold Secure. The Hiplok has an 85mm locking diameter which should be enough to get around most street furniture to secure your frame and a wheel.
Best cable bike locks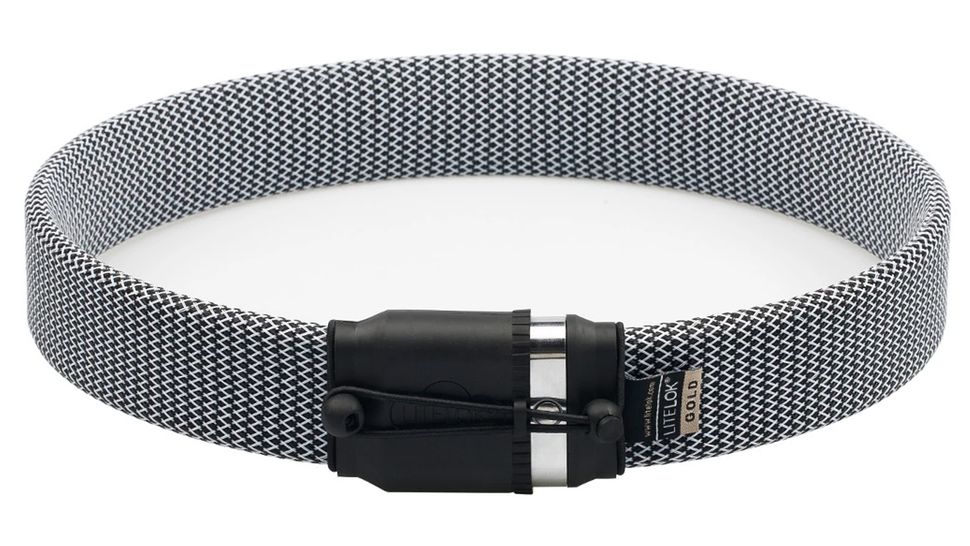 LiteLok Gold
A meticulous design blending lightweight construction and the combined cutting resistance of steel and nylon
Specifications
RRP:
£99.99 / $149.99 / €N/A
Reasons to buy
+

Impressively light and excellently suited for daily use
+

Considered design and array of colours make it a status lock of sorts
Reasons to avoid
-

The circular design is practical but not the ultimate in non D-lock flexibility
If a D-lock is too bulky for your lightweight cycling sensibilities, the next best solution is a fabric of plastic covered chain. Steel locks can damage your frame, even if you are meticulous when using them. British brand Litelok provides a circular lock, designed by company founder Neil Barron, a former Rolls-Royce aviation engineer.
The company's Gold model features steel cables covered by nylon, which makes it very light and flexible. That nylon finish also means that it plays nice with your bike frame and the resourceful circular design allows you the convenience of wearing it as a belt when riding.
With that belt design in mind, LiteLok is extremely commuter-friendly. It is an impressive product which manages to be both fashionable, practical and durable. A great choice for fashion-conscious commuters or children.
Kryptonite Kryptoflex 410
To be paired with any of the U-locks
Specifications
RRP:
£15.00 / $16.95 / €13.00
Reasons to buy
+

Ensures your whole bike is secured when using a D-lock
+

Super low cost addition
The Kryptonite Kryptoflex isn't a lock in its own right. It's simply a cable - approximately four feet in length - that you should use in conjunction with any of the D-locks featured here. While a U lock generally offers increased protection over a traditional chain or cable lock, they are limited in that they cannot be manipulated to thread between both wheels, through the frame, and then onto the anchor point. Leave the D-lock to do the heavy lifting of ensuring your frame remains bolted to its anchor, and pair it with this cable to keep your wheels from being taken.
Best combination bike locks
Abus Steel-O-Chain 5805C
Best lightweight, low-cost combination lock
Specifications
Chain link thickness:
5mm
RRP:
£32.99 / $N/A / €27.95
Reasons to buy
+

Chain wrapped in protective and security-increasing sleeve
+

Light weight and easy portability
Reasons to avoid
-

Thin 5mm shackles won't hold thieves at bay for long
The Abus 5805C is a lightweight, easily transportable chain lock with a four digit combination, removing the need to carry - or remember - your keys. It uses chain links that are 5mm thick, so it won't hold thieves at bay for too long, but will act as a strong deterrent and keep opportunists away and will even keep tooled up thieves at bay for a short while, making this a great lock for short stops or low-risk areas.
It's 75cm long, though it is available in longer lengths should you need it, and the chain is wrapped in a protective sleeve to protect paintwork on your bike or valuables that it might come into contact with inside your rucksack.
Hiplok SPIN Wearable Chain Lock
Best wearable combination lock
Specifications
Chain link thickness:
6mm
RRP:
£34.99 / $49.99 / €N/A
Reasons to buy
+

Easy portability
+

Adjustable waist fit from 26 to 44in
Reasons to avoid
-

6mm shackle chain won't keep thieves at bay for long
The Hiplok Spin is a 75cm-long chain lock, constructed using 6mm chain links, but as with all of Hiplok's offerings, it can be worn. In this case, it is designed to be worn around the waist like a belt and is sized to fit anyone between a 26in and 44in waist, so it's easy to carry, meaning you needn't carry a rucksack, buy a frame bag, or wrap it around your seatpost where it can cause damage.
Like other chain locks, it is wrapped in a weather- and attack-resistant sleeve that will mean it doesn't damage your paintwork on the bike, and it is lightweight enough to carry without being uncomfortable.
Kryptonite KryptoLok 990 Combo Chain Lock
Best combination lock for security
Specifications
RRP:
£68.99 / $74.95 / €70.00
Reasons to buy
+

Five-digit combination for extreme security
+

9.5mm chain shackle thickness
+

Weather- and attack-resisting sleeve
Just because you want the convenience of a combination lock, there's no reason why you would want to skimp on the security that it provides. To get higher levels of security, you usually need to opt for a keyed lock, but this Kryptolok 990 changes that. It is a chain lock, with 9.5mm chain link thickness and a length of 90cm, making it easier to wrap around larger posts or thread around more components.
What's more, it comes with a five-digit combination, which means 100,000 potential codes, making it nigh-on impossible to be guessed. At 2.7kg, it's far from lightweight, but that's an obvious consequence you'll have to take when increasing the security of your lock and your bike.
Best folding bike locks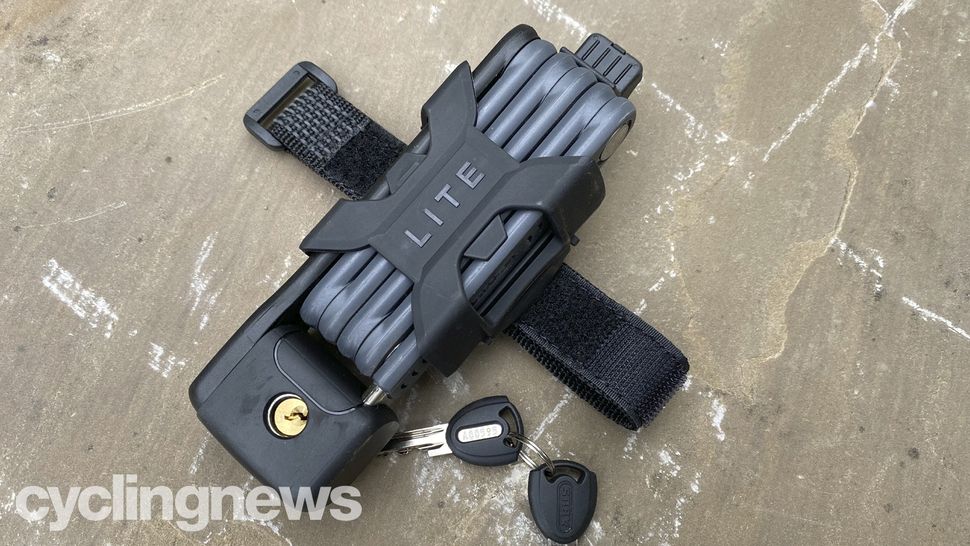 A neatly packaged deterrent against opportunist thieves but not proof against pros
Specifications
RRP:
£54.99 / $77.95 / €79.95
Reasons to buy
+

Super-neat folding design
+

Rubber coated to protect your bike
+

Light and easy to use
+

Neat carrying bracket
+

Hard to cut or burst
Reasons to avoid
-

Not too difficult to pick or split
The 440g folding lock from Abus is super convenient and still beats most cable locks for security, but it can't quite match the security of heavier D-locks and chains.
In terms of carrying and convenience, the Bordo Lite 6055 is brilliant. The mount is really well designed and it's small enough to slip into a pocket or bag and not so heavy it'll be too obvious if you do. Abus' rating of 7 out of 15 ranks it as more secure than all but one of its cable locks, too.
While it's vulnerable to tooled-up attackers, the Bordo Lite is certainly enough to stop an opportunist thief and its low weight, compact size, smart mount and general convenience make it a decent - if pricey - medium-security option.
Read our full review of the Abus Bordo Lite 6055.
Abus Bordo Granit 6500 X-Plus
A tough nut for bike thieves to crack
Specifications
RRP:
£129.99 / $179.99 / €115.00
Reasons to buy
+

Very robust, high security lock
+

Can withstand bolt cutter attacks
+

Easy to carry
Reasons to avoid
-

Fiddly to use if you're short on space
-

Heavy
-

Expensive
For a folding lock that comes with a huge amount of heft, the Abus Bordo Granit 6500 X-Plus the kind of beast you want. It takes a bit of getting used to, especially when trying to lock up in a crowded set of Sheffield stands, but once you've got the hang of its fiddly mechanism it will serve you well.
It's pretty heavy, however the beauty of folding locks is that it's very easy to mount them to your bike's frame without causing any damage to the paintwork or taking up too much precious real estate. The Abus Bordo Granit 6500 X-Plus comes with a bracket that attaches with two Velcro straps, which means you're not restricted in where you can mount it. Once the lock is tucked away in its case, it's enclosed by a thick rubber strap to keep it in place while you're moving.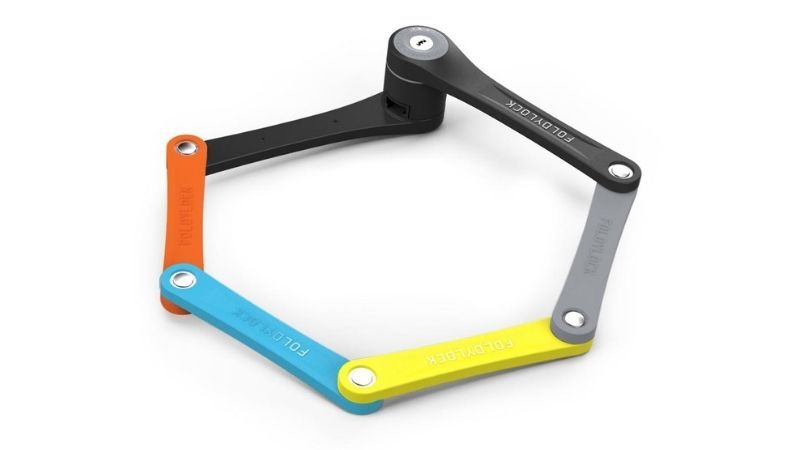 Seatylock Foldylock Compact
Portable, colourful and suitable for low-risk areas
Specifications
RRP:
£65.00 / $85.00 / €89.00
Reasons to buy
+

Compact, versatile and portable design
+

Easy to use
Reasons to avoid
-

Plastic outer offers little protection against your bike
This compact version of the original Foldylock from Seatylock is designed for commuters who are already weighed down by their belongings. Having said that, at around 1kg, the Foldylock is still pretty heavy compared to other folding locks we've included in this list.
Heavy is not a terrible thing though, when it comes to the best bike locks, because it often means strong materials that can withstand most attempts by the eager bike thief. The Foldylock's links are constructed from hardened steel, while the design includes several anti-theft technologies, including ultra protected rivets and anti-drilling components.
It's simple to use, mounts directly to your frame for easy portability, and protects your paintwork from being scratched thanks to the plastic-coated links.
What really makes the Foldylock stand out though, is the range of colours it comes in. There's nothing to say that a safe and secure bike lock shouldn't also look good, or match the colour of your bike, after all.
How to buy the best bike lock for your bike
Like any purchase, to buy a bike lock, you'll need to consider your circumstances, your needs, and balance that with your budget. If you want maximum security and don't mind carrying extra weight around, then a U lock will offer the best solution, however, if you don't want to lug around a bulky lock, then a folding lock or a chain lock might be a better fit.
In addition, if you want to secure the frame, both wheels, and your only anchor point is a large telephone pole, a small U lock probably won't suffice, while a long chain lock will easily thread through all of the above.
Take a minute to think about what's important to you. Consider the weight, portability, how much length/locking area you need, and whether you want a key or a combination. Once you have those in order, you'll be best placed to find what works best for you.
What is the strongest bike lock?
Typically, the strongest bike locks are U locks - also known as D locks. Their thick, hardened steel shackles are usually considerably thicker than chain or cable locks, and they are often built with squared edges that make them more resistant to tooled up thieves.
What is the difference between a U lock and a D lock?
U locks and D locks are the same thing. They are both named in relation to their shape. Without the brace fitted, the shape resembles that of the letter U, and when the brace is fitted, it resembles a letter D. The term 'U lock' is widely adopted in the USA, while D lock is used more in the UK.
What to do if your bike is stolen?
If your bike is stolen, the first thing you should do is contact the local police. They will be able to take your details and contact you if it is found. Hopefully, before this point, you will have made a note of your bike's serial number - usually located on the underside of the frame - and giving this to the police will help them identify it as yours.
You should then contact your insurer - if you have one - to notify them and begin the process of getting it back.
You can also keep an eye on local buy-and-sell marketplaces such as Facebook, eBay, Craigslist and Gumtree, in case the thief tries to sell it.
Where should I lock my bike?
It might seem sensible to lock your bike out of sight in a dark alley, but it's worth remembering that if your bike is hidden, so is the potential thief trying to break the lock. We recommend locking your bike in a well-lit area, ideally beneath CCTV cover, and near a frequent stream of passers-by.
However, with that said, locking it indoors in a secure building will offer increased security, if the option is available.
Our guide on how to lock a bike will offer further guidance on the subject.
How to lock your bike
You should ensure that, at the very least, your lock wraps around both the frame and your chosen anchor point before it is locked. If your lock has room, or you have an extension cable, you can thread this through the wheels too. You'd be surprised how many people accidentally lock the frame and the wheels, but fail to secure it to the anchor point.
You should also ensure that the anchor point is solid and secure at both ends - IE, you can't simply lift the bike up and slide it free, as this would allow the thief to take the bike home, where they will likely have more time, privacy, and better tools to remove the lock.
Our guide on how to lock a bike will offer further guidance on the subject.
What are the best bike lock brands?
While we would generally suggest looking beyond the brand name itself and instead look at the independent ratings from the likes of Sold Secure, there are definitely brands that dominate the best bike lock market. Abus and Kryptonite are key players that feature regularly in our guides and rate highly in our reviews.
Some brands even offer a theft guarantee, which promises that you will be reimbursed should a thief manage to bust their lock on the way to stealing your bike, though the terms and conditions are usually lengthy so make sure you read them thoroughly.
What are the different types of bike lock?
The best bike locks come in various shapes and sizes, including U-locks, foldable locks and more traditional chain or cable systems.
U-locks (also referred to as D-locks) tend to be heavier, they can offer a considerable amount of security but can be limiting in their operation. Without the flexibility or length of chains and cables, a U-lock is unable to be fed through multiple awkward routing points. On its own, a small U-lock will need a small anchor point - it won't have the breadth to wrap around a lamppost. A U-lock can be paired with a cable or chain to overcome its limiters, but be aware that any security claims offered by the U-lock itself could be forfeited by a weak cable, enabling a quick bolt-cutter snip, before the thief can tackle the sturdy U-lock in the privacy of their home. U-locks often come with a frame-mounted bracket which enables simple, secure transportation, and reduces the likelihood of leaving it at home.
Cable or chain locks both function comparably, but their construction differs, of course. Cables tend to be more compact, as they are often coiled by design, and occasionally also come with a frame-mounted bracket. Both are generally encased in either a plastic or fabric layer as a frame-damage preventative. A chain lock will often be heavier than its cable counterpart and can be noisy in transportation - for which wrapping around a section of the frame is sufficient but a rucksack may be preferred. Some brands go further and design locks to be wearable like a belt.
The length and thickness will vary depending on manufacturer and price-point. As expected, more thickness will invariably equal greater security, and length will dictate whether or not you can route via both wheels.
There are a few additional variations in construction, such as a fabric-based cable or even a basic zip-tie option for the very quick cafe stop.
Folding locks work similarly again, but are made from solid sections that are hinged at each end. This can be unfolded to create a loop, then folded again to create a 'brick-like' shape that is easy to transport.
Are key or combination bike locks better?
The two most common locking methods utilise either a key or a combination. Both have their merits, and both have their pitfalls.
A combination lock can be susceptible to prying eyes. If the wrong person knows your combination, expect your steed to bolt from the stable. At the cheaper end of the market, a combination lock can be hacked without the need for tools.
A key lock can be less prone to compromise, however, if ever you leave your keys on the train, you could be left having to 'steal' your own bike from the station.
No matter the variant, bike locks are like front door mechanisms: they work on the principle of very close mechanical tolerances and don't enjoy too much water or environmental contaminant ingress, which can lead to rust or jamming.
The best bike locks have weather-proof covers which protect the keyhole, but all bike locks can benefit from similar care to what you'd apply to any drivetrain chain or suspension stanchion in terms of preventative maintenance. Clean, dry and lube them – for longevity and frustration-free locking performance.
Insurance requirements
Most insurers have minimum locking requirements to ensure a bike is covered in the event of theft. This varies by insurer, so it's worth checking your own provider's minimum requirements before investing. Check out our guide to the best bike insurance companies for details, and ensure you read the small print, and shop around to compare bicycle insurance before you take out a policy.
Josh has been with us as Senior Tech Writer since the summer of 2019 and throughout that time he's covered everything from buyer's guides and deals to the latest tech news and reviews. On the bike, Josh has been riding and racing for over 15 years. He started out racing cross country in his teens back when 26-inch wheels and triple chainsets were still mainstream, but he found favour in road racing in his early 20s, racing at a local and national level for Team Tor 2000. He's always keen to get his hands on the newest tech, and while he enjoys a good long road race, he's much more at home in a local criterium.
Sign up to the Cyclingnews Newsletter. You can unsubscribe at any time. For more information about how to do this, and how we hold your data, please see our privacy policy
Thank you for signing up to Cycling News. You will receive a verification email shortly.
There was a problem. Please refresh the page and try again.