Best bike locks 2023 - Quality locks to keep your bike secure
The best bike locks will help you keep your bike safe when you leave it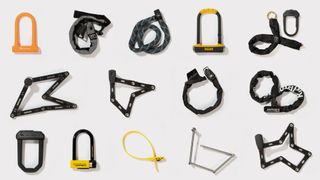 (Image credit: Josh Ross)
The best bike locks will increase the chances of your bike remaining where you left it when out and about.
It's a great idea to invest in a high quality bike lock and to make sure that you follow our advice on how to lock your bike. Read our top tips on how to prevent bike theft as well.
According to Statistica (opens in new tab), there were 77,465 bike thefts in England and Wales in 2021/22. The number may have exceeded 2 million in the US in 2019, according to research quoted by Cycling Industry News (opens in new tab).
It's a good idea to immobilise your bike when at home too. The latest stats from the UK's Office for National Statistics (opens in new tab) indicate that over 50 per cent of bike thefts occurred from homes, or places at home like sheds and garages. Thieves may take a bike because it's easy to remove, but there are also targeted thefts of high value bikes. Electric bikes are also prized targets because of their value and we've got a separate post on the best e-bike locks.
Here are our picks of the best bike locks, covering a variety of lock types. Lower down on the page, you'll find a buyer's guide to what to look for to find the best bike lock for your needs.
Best bike locks available today
You can trust Cyclingnews Our experts spend countless hours testing cycling tech and will always share honest, unbiased advice to help you choose. Find out more about how we test.
Best U-locks
A U-lock, also known as a D-lock in certain countries, is the easiest high security option to live with in a perfect world. That means if you have a bike with thin tubes, and something easy to lock to, they provide a high level of security for the price and are the easiest to transport. The challenge with this type of lock comes when you have unusual anchor points and bikes with large tubes.
Best bike lock for high protection from angle grinder attack
Specifications
Security Level:
Sold Secure Diamond
Reasons to buy
+
Double locking shackle
+
Soft coating to avoid scratches
+
Easy to mount on a bike
+
Hardened steel and ceramic core
We've taken an angle grinder to the Litelok X1 to see how much work it is to cut it open. As there's a double shackle, it needs two cuts to release the U piece, each of which wore through an angle grinder disc, so any thief needs to be patient and unobserved to get to your bike. The lock is Sold Secure Diamond rated.
The shackle's plastic coating slows down an attack with an angle grinder and there's a hardened steel core with a ceramic coating. A silicone cover protects the locking mechanism from the weather.
The Litelok's coating includes a reflective strip, so there's bonus visibility when riding at night and you can buy replacement keys if you lose the two supplied. The lock is easy to place rattle-free in the included frame mount.
Best bike lock for high lock barrel security
Specifications
Security Level:
Sold Secure Diamond
Included Keys:
Two, one with LED light
Reasons to buy
+
Square shackle to resist attack
+
High security lock barrel
+
Relatively lightweight
Reasons to avoid
-
No insurance offer
-
Only two keys
Abus's flagship bike lock has a whole range of security features, not all of which Abus reveals. The cylinder lock is protected against freeze attacks and pick-proof and the square shackle is designed to make it harder to attack and harder to release the bike if it is breached.
There are three size options and two different frame mounts available. We've tested the Granit XPlus out for a full review if you need more info.
3. Kryptonite New York Fahgettaboutit Mini
Best bike lock for high security without breaking the bank
Specifications
Security Level:
Sold Secure Diamond Gold & Kryptonite 10/10
Included Keys:
Three keys including one with a light
Reasons to buy
+
Double locking shackle design requires two cuts to defeat
+
Vinyl outer protects paint
+
Reasonable price
+
Keyhole cover
Reasons to avoid
-
Small internal size makes more than a frame tube difficult
-
No frame mount option
The New York Fahgettaboutit Mini has been, for years, the standard in high security U lock options. It manages to be as secure as it is with no special tricks other than a big 18mm hardened steel shackle. Unlike the D1000, cutting it with an angle grinder will only take a minute or two per cut. What makes it worth considering is that it costs less than half the price and still brings a considerable amount of security.
Much of the time you only have to secure your bike better than anyone else. The New York Fahgettaboutit Mini is probably more than enough security in most situations and you could even double them up when called for.
4. Ottolock Sidekick
Best budget U-lock
Specifications
Security Level:
Not listed
Reasons to buy
+
Inexpensive
+
Lightweight
+
Double locking shackle design requires two cuts to defeat
+
Silicone outer protects paint
Reasons to avoid
-
Not available outside the US
-
Lacks a weather cover for the key hole
This lock makes the list because it's small and inexpensive but still has the protection of a double-locking shackle. Inexpensive U locks often move to a bent foot design that only requires a single cut to break free of the bike.
This option from Ottolock still requires two cuts to open and while the 12mm shackle is less robust than other designs, cutting through it twice will make noise. It does lack an included frame mount, and it's too small to lock more than the frame, but if you need to keep costs low it will adequately protect your bike.
5. Onguard 8003 Pitbull STD U-Lock
Best bike lock for most situations
Specifications
Security Level:
Not listed
Insurance Offer:
Up to $2251 for bicycles
Included Keys:
5 laser-cut keys, 1 with micro-LED
Reasons to buy
+
Inexpensive
+
Protective plastic both top and bottom
+
Double locking shackle design requires two cuts to defeat
+
Lots of keys included
Reasons to avoid
-
Lots of room inside locking area is good for ease of use and bad for security
-
Lacks a weather cover for the key hole
This isn't the most secure on this list. It's also not the least expensive or the most. The Onguard Pitbull is the all-around kind of lock you can feel good using day in, day out. A 14mm hardened steel shackle is thick enough that bolt cutters are going to be ineffective and it locks on both sides requiring two cuts to break it free. It will fall to an angle grinder but not without making a lot of noise first.
The generous five keys included mean you can be less stressed with a lost key and the light on one key is a nice touch at this price level. The suggested version here is the standard version and there's enough room inside for the frame and a wheel. There are other versions of the same lock with different sizes but this makes for a secure and easy-to-use everyday lock.
Best bike lock when you want the highest security available
Specifications
Security Level:
Sold Secure Diamond rated
Lock Thickness:
20mm x 15mm square profile
Included Keys:
3 High Quality Coded Keys
Reasons to buy
+
Essentially impervious to an angle grinder
+
Double locking shackle design requires two cuts to defeat
+
Rubberized outer protects paint
+
Portable despite protection offered
+
Rubber keyhole cover
Reasons to avoid
-
Small internal size makes more than a frame tube difficult
-
No frame mount option
A thief can defeat just about every lock on the market with a portable angle grinder. It will make a lot of noise but that might not mean much even in a crowded area. If you want absolute peace of mind for an expensive e-bike then a lock that can resist an angle grinder attack is what you need.
There are other options on the market that are even harder to cut with an angle grinder but what sets the D1000 apart is that it remains portable. It's heavier than most U locks, and it does not come with a frame mount, but it's not that big and works well in a bag or strapped to a rack. The only downside is that the internal space is small enough that you'll struggle to get both a frame and a wheel locked up.
You can read more details about this lock in our full Hiplok D1000 review.
Best Folding Lock
Folding locks are less secure and more expensive than either chains or U-locks. What they bring to the table is an ease of use that's hard to beat. They've got the flexibility of a chain and are as easy to carry as a U-lock. If security is your biggest concern, then you'll want to look at a different section but if you are willing to give up some security for convenience this is a good place to look.
1. Abus Bordo Granit 6500 Folding Lock
Best bike lock for the highest security possible from a folding lock
Specifications
Security Level:
Sold Secure Gold and Abus 15/15
Lock Thickness:
5.5mm bars
Included Keys:
Two keys supplied with the lock, one LED lighted
Reasons to buy
+
Compact
+
Non-scratching
+
Easy to use frame holster
Reasons to avoid
-
Expensive
-
No keyhole cover
-
Heavy
U locks and chain locks each represent different ways to protect against different attacks. U locks are easier to carry but fall short in usability when you need extra flexibility to lock to larger objects. Folding locks offer something of an in-between. They are easy to carry but offer more flexibility in how you can use them. The problem that arises is that all the pieces make for more avenues of attack and less security.
That's where the Abus Bordo Granit comes in: it might not be the most secure lock overall but it's one of the most secure folding locks on the market. It's also got great features like a slick frame mount and plenty of rubber coating to keep it from scratching the bike.
2. Abus Bordo 6500a Smart X
Best bike lock if you want to add the convenience of smart unlocking
Specifications
Security Level:
Sold Secure Gold and Abus 15/15
Lock Thickness:
5.5mm bars
Included Keys:
Electronic opening and closing
Reasons to buy
+
Compact
+
Non-scratching
+
Keeps track of where you parked your bike
+
100db Alarm detects movement
+
USB-C charging
Reasons to avoid
-
Expensive
-
Heavy
-
Lacks a backup key option
The promise of a smart lock is never needing to think about keys or combinations. Naysayers will always point out that it's possible to hack the electronics but that's akin to picking a lock. Possible but unlikely given how specialized a skill it is and how much easier other options are. The real challenge with smart locks is that they add price and complexity, so if you are going to introduce smarts to a lock, it should solve a problem.
The Abus Bordo 6500a Smart X takes the standard Abus Bordo lock, already one of the best folding bike locks on the market, and adds an alarm. You gain the ease of use that comes along with not dealing with keys or combos but you also gain extra security. That kind of problem-solving is exactly what smart design brings to the table when implemented in a considered way.
3. Kryptonite KryptoLok 610 S
Best bike lock if you want a less expensive folding lock
Reasons to buy
+
Compact
+
Non-scratching
+
Lightweight
+
Clicktight transport bracket
+
Rotation at the lock head adds flexibility
Reasons to avoid
-
Price for security level
-
Lacks a keyhole cover
How much security do you really need? In many situations as long as you've got a quality lock then you will be safe. If that already sums up your thoughts then shouldn't your folding lock be easy to carry?
The Kryptonite 610s is a counter to the Abus folding lock options. There are similarities but with 5mm bars instead of 5.5mm, you save almost 600 grams. It's also longer and narrower which, again, adds to the ease of carrying. Rotation where the bars connect to the lock means it has a ton more flexibility in how you use the lock as well. You do lose some security but the advantages might be worth it depending on your needs.
4. Altor Apex Ti
Best bike lock when you want luxury to go with security
Specifications
Security Level:
Not listed
Lock Thickness:
13mm bars
Reasons to buy
+
Compact
+
Non-scratching
+
Lightweight
+
Rotation at the lock head adds flexibility
+
Beautiful
+
Modular design allows two locks to work together
Reasons to avoid
-
Price for security level
-
Lacks a keyhole cover
-
Bracket feels cheap
Every single lock on this page is function first. That makes sense because you need a lock that will keep your bike safe. That said, there's no reason that a lock can't also be beautiful.
The Altor Apex Ti is a beautiful lock, and it's also light and small enough to slip in a pocket. If you've got a stylish bike you'd rather not mar with an ugly lock, this is a product that will match. Also, you can't see it in pictures but there is a coating on the metal to help protect the frame from scratching. The downside to choosing a gorgeous, titanium lock is price. If you like the style though, it might be worth it.
5. Hiplok Z lok combo
Best bike lock for quick stops where the bike doesn't leave your sight
Specifications
Security Level:
Not listed
Lock Thickness:
9.2mm x 1.4mm
Included Keys:
Locks with a combination
Reasons to buy
+
Light
+
Easy to store
+
Non-scratching
Reasons to avoid
-
Only the most minimal security
The Hiplok Z Lok Combo is the answer for lightweight walkaway theft protection. Although it's not a folding lock, we've included it in this section because it also trades security for convenience.
In the world of lightweight bike locks this is one of the lightest out there. Don't be fooled into thinking it'll offer any form of real protection, any attack with a tool would easily cut through its steel core, but at under 70g, you'll never worry about carrying it in a jersey pocket or in your saddlebag, so it'll always be there when you need it.
It's the perfect solution to those line-of-sight pitstops at the cafe or fuel station, where you need to leave your bike out of reach, but never out of sight. It'll deter any opportunists, and delay anyone else for long enough for you to intervene.
Best Chain Lock
Chain locks are every bit as secure as U-locks, if they are as thick, but they have extra flexibility. If you've got a frame that's extra thick, like an ebike, or if you need to attach to thicker anchors that's where chains shine. The downside is that they are heavier and more difficult to carry.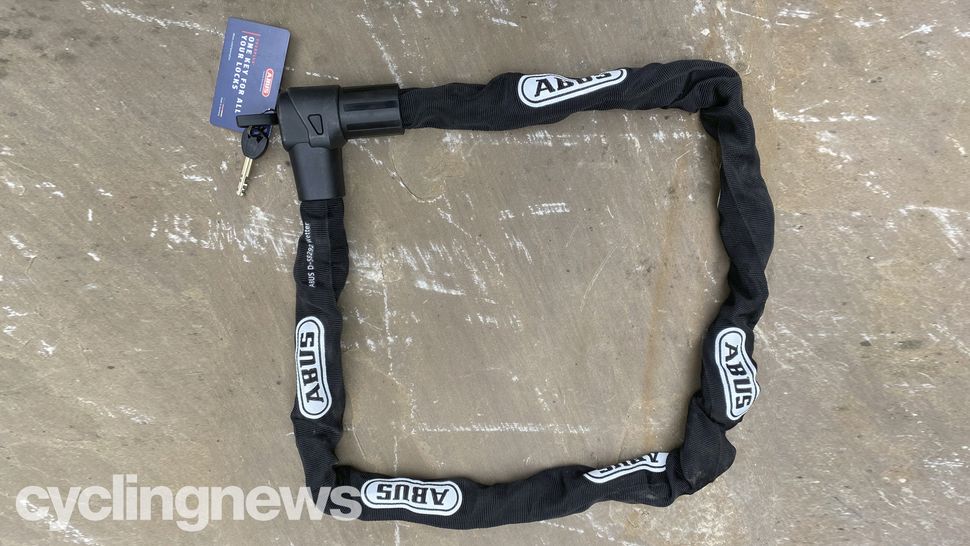 Best heavy duty chain bike lock
Specifications
Security Level:
Sold Secure Gold
Weight:
2,670g (140cm length)
Lock Thickness:
9mm chain links
Reasons to buy
+
Three length options
+
Protected lock cylinder
Reasons to avoid
-
Heavy
-
Links vulnerable to some attacks
The City Chain has 9mm thick hexagonal links and is available in 85cm, 110cm and 140cm lengths. It has an integrated lock barrel rather than a separate padlock. Although it's tough, there are still attacks that it's vulnerable to. It's also very heavy.
If you want more protection from a chain lock, we reckon that the Granit X Plus version might be a better bet for its upgraded lock and 10mm thick links. It's expensive though. Check out our Abus City Chain review for more.
2. Kryptonite Keeper 785
Best budget chain bike lock
Specifications
Security Level:
Sold Secure Bronze and Kryptonite 5/10
Lock Thickness:
7mm chain link
Reasons to buy
+
Square chain makes it slightly more resistant to bolt cutters
+
Non-scratching
+
Lightweight
+
Low price
The biggest advantage of chain locks, compared to U locks, is ease of use. You'll never have to fight to get the lock positioned just right so that it goes through the frame, the wheel, and around a sign or something that's thicker than a bike rack. The Kryptonite Keeper 785 is an inexpensive option that represents middle ground security. The sides of each link use a square profile that helps resist bolt cutters but 7mm still falls within what's possible for the right bolt cutters.
Make sure you keep the lock away from the ground and wrapped securely to help up the security level. If you've got a bike that costs less than $500/£500 make sure you follow all the rules for setting up the insurance then wrap the chain around the seat tube and you'll always have something reasonable for short stops.
Best bike lock if you want an easy to use and high security chain lock
Specifications
Security Level:
Sold Secure Gold
Lock Thickness:
10mm chain link
Included Keys:
3x Coded Replaceable Keys
Reasons to buy
+
Wearable without being locked
+
Non-scratching
+
Reflective option available
If you love the idea of a wearable lock but you want the serious security of a 10mm chain then the Hiplok Gold is your answer. The keeper 785 is lighter and less expensive but it's also less secure. The Hiplok Gold is a very secure option but that security means it's more difficult to carry. Hiplok mitigates that issue with a system that allows it to be carried without locking.
There's a bar on the lock side and a plastic buckle that snaps into the bar on the other side. When you are ready to lock a bike, take it off your waist, open the lock, and connect the lock to the chain that's on the other side of the waist bracket. The superbright version pictured here also adds visibility while riding. The only downside is all that security does mean you've got to deal with a bit of weight. We've got a full review of the Hiplok Gold if you need some further info.
4. Abus Ivera 7210
Best bike lock for using with a car rack
Specifications
Lock Thickness:
7mm links
Reasons to buy
+
120mm length
+
Non-scratching
Reasons to avoid
-
7mm links are not the most secure
-
Pricier than other chain options
When we talked to cyclists who'd had bikes stolen while locked, there was one story that stood out. A brand-new bike stolen off a rack while filling up gas on the way home. The integrated cable lock on the rack got clipped while the owner was inside buying a snack, so we set out to solve the challenge of locking a bike on a rack in a more secure way.
What we found was a need for a chain lock that won't scratch a frame and has a bit more length to loop around a rack and a frame. The Abus Ivera is 110cm in length and while you still should never keep a lock on a bike while driving, the exterior will keep you from scratching a bike when locking it. It's a well-designed lock that would work in a variety of situations but if you are looking to lock your bike to the rack when stopping this is a great option.
How to choose the best bike lock for your bike
We asked our audience for their experiences of having a bike stolen: where it happened, what type of lock they used and other details. Here are our findings.
What is riders' experience of theft?
We've asked our audience about their experience of bicycle theft and we've also interviewed a number of lock companies and law enforcement.
We found that often people lost a bike because it wasn't secured at all. A common theme was someone with one of the best commuter bikes having their bike walk away while they briefly popped into a store. There were also a lot of people who lost their bike when it was left unlocked in their home, garage, or supposedly secure bike room. The number of people who had a quality lock defeated was incredibly small.
How are bikes being stolen?
When you think about protecting a bike it's important to have an understanding of how bikes are being stolen. You can't protect against every attack in every situation so understanding what you need to worry about is step one. To that end we did a lot of research to try and understand the issue and present options that cover the bases. Keep in mind it's constantly evolving and it's not as well studied as we'd like it to be. Here's what we found though.
The most obvious tools are bolt cutters. They are inexpensive and low tech as well as silent and easy to hide. They've been around for a long time as a tool of choice but they are actually beginning to see less use.
The biggest reason that bolt cutters are seeing less use is the rise of inexpensive portable angle grinders. Bolt cutters are most effective against very low-security U lock designs, chains, and cable locks. Given that medium-security U locks are the most used type of lock it makes sense to invest a little money into an easy-to-carry angle grinder. They are just as effective against a cable lock and very fast at handling higher security options as well.
The other common tool in use is a breaker bar of some kind. Something like a steel pipe is common but really anything that's long enough to give leverage is ripe for use. The technique is to jam it into a lock and take advantage of the leverage to twist until it breaks open.
One attack method you might notice missing from this list is lock picking. If you are researching locks, you've no doubt stumbled on demonstrations of lock picking but the reality is that it's not a common attack method. It's a skill that requires a lot of technique and there are much easier ways to steal a bike. The people we interviewed to find out how bikes were being stolen were very clear that this was interesting to watch but uncommon in practice.
What is the right type of bike lock?
Deciding what type of lock you buy is all about understanding how bikes are being stolen, then applying that to your situation. What level of risk are you willing to take on? What situation are you defending against and what is actually going to be practical for you?
Through all of our research, the number one thing that continued to come up was that the large majority of bikes stolen weren't locked at all. That means it might be less important to worry about ultimate security than it is to worry about getting a lock that is convenient and practical for you to use every time you need to.
Here's some info to help make the decision though.
The most common choice for medium or high security is a U lock. They are very secure, easy to carry, and there are a lot of choices across a wide range of price points. One of the biggest challenges with U locks is the size. They are already heavy and a smaller lock will be more secure but it won't have much extra room to accommodate larger anchor objects.
U locks are most effective when you have access to a bike rack to lock against. The one important caveat when choosing a U lock is to always look for a double shackle. You want it to lock both sides of the U so that it takes two cuts to free the bike.
The second most common option for security is a chain. Chains tend to be more secure for less money. They are also very secure against angle grinders because they are hard to hold still. They are less secure against bolt cutters because individual links often don't match the diameter of a U lock.
They tend to be bigger and heavier than a U lock design and carrying them can be more difficult. Where they excel is in their flexibility: if you need to lock your bike to a signpost or any kind of non-standard anchor, chains are easier since they can thread around awkward shapes. We've got a separate guide to the best bike chain locks if you want more options and a comparison of chain locks vs U locks if you want help deciding.
Another common locking solution is a folding lock. Folding locks are less secure than chains or U locks because they've got a lot of pieces that allow for attack. Quality folding locks do their best to protect the hinges but there will always be vulnerability there.
The wide hardened steel makes them difficult to cut with bolt cutters so it's not like they are pushovers and they are convenient. They can be flexible enough for non-standard anchors and they fold up neatly to be easier to carry than other options.
Remember, don't get too caught up in the details of what lock is technically more secure. The Los Angeles Police Department summarised it nicely when they said "Many bikes that are stolen are NOT secured" and that's what we also found when polling cyclists.
Find a lock that you are going to use every single time and you've already got a huge leg up. Even the best budget bike locks will be better than no lock.
How are bike locks rated?
In the UK, Sold Secure is an independent testing organisation. Lock makers submit samples of their locks to Sold Secure, who then use a variety of methods to try to break them. They talk to the police to identify trends in bike theft methods and any novel approaches are incorporated into their test protocols.
Sold Secure will rate a lock on four levels from Bronze through to Diamond on the strength of protection it affords and lock brands will show the rating on the packaging for their locks. A very low security lock might be unrated.
What is the difference between a U lock and a D lock?
U locks and D locks are the same thing. They are both named in relation to their shape. Without the brace fitted, the shape resembles that of the letter U, and when the brace is fitted, it resembles a letter D. The term 'U lock' is widely adopted in the USA, while D lock is used more in the UK.
Why is there no cable lock on this list?
Chains, U locks, folding locks, why not cable locks? There are a lot of cable locks sold in the world so why don't we have any on this list? The easiest answer to that is that they aren't secure.
Cable locks use steel cables, not hardened steel. Cutting them is so trivial and so fast that they only provide the most minimal protection. When we polled cyclists who'd had a lock defeated it was almost universally a cable lock. In most of those situations, they understood the low security but they thought it would be enough for a quick stop and it wasn't. You can defeat other types of locks too but not as fast and rarely without making noise.
That only partially answers the question though. Not everyone needs a high-security solution all the time. There are plenty of situations where covering theft of opportunity, what you might call walk-away theft, is more than enough security.
Think about a long ride with a snack stop far away from the city. In those situations, you might get away with a low-security option but there are better low-security options. You can come close to matching the price of a cable lock and you can find options that are easier to carry while offering similar security.
Take a look at our guide to the best lightweight bike locks for some recommendations.
Are key or combination bike locks better?
The two most common locking methods utilise either a key or a combination. Both have their merits, and both have their pitfalls.
A combination lock can be susceptible to prying eyes. If the wrong person knows your combination, expect your steed to bolt from the stable. At the cheaper end of the market, a combination lock can be hacked without the need for tools.
A key lock can be less prone to compromise, however, if ever you leave your keys on the train, you could be left having to 'steal' your own bike from the station.
No matter the variant, bike locks are like front door mechanisms: they work on the principle of very close mechanical tolerances and don't enjoy too much water or environmental contaminant ingress, which can lead to rust or jamming.
The best bike locks have weather-proof covers which protect the keyhole, but all bike locks can benefit from similar care to what you'd apply to any drivetrain chain or suspension stanchion in terms of preventative maintenance. Clean, dry and lube them – for longevity and frustration-free locking performance.
How to lock your bike
We have a full article about how to lock a bike and there's more detail there. What's important to understand in this context is that you want to limit extra space between the lock and the bike. You also want to keep the lock farther from the ground.
These small changes in how you use the chosen lock will make it more secure. Keeping the lock farther from the ground makes it more difficult to use the ground as leverage on a bolt cutter. Limiting extra space between the lock and the bike means it's more difficult to get a tool positioned for a leverage attack.
Also make sure that the anchor point is robust and that you've passed your lock through your frame and wheels as well as the anchor.
It's not just wheels that get stolen either; saddles and seatposts and even handlebars and shift levers can be removed by a thief. Consider locking or non-standard bolts for all of these.
What about insurance?
Some bike locks come packaged with insurance offers. These are nice for peace of mind but there's a few details you should be careful about. The biggest thing to remember is that these are insurance offers and that means they are very specific. There is no wiggle room for not quite meeting some requirements. Make sure you follow the instructions exactly. In the case of both Kyrptonite and Onguard that means you need to have registered at the time you bought the lock so make sure you start there.
Another good option for insurance is to add your own bike specific insurance and we have an article covering the best bike insurance. More coverage is better than less so double up won't hurt.
Make sure you register your bike
While you are following the directions for registering your new lock, make sure you also register your bike. Bike Index (opens in new tab) is a US non-profit that works to register bikes then helps with recovery if something happens; in the UK Bike Register (opens in new tab) and in Australia the National Bike Register (opens in new tab) provide a similar service. There's no guarantee of anything but they are doing amazing work and it doesn't hurt.
If a bike goes missing you can access a community of people who will keep their eyes open and help you recover it. It's also a great opportunity to record the serial number of your bike and make sure you have it on hand. If law enforcement happens to recover a bike it will only come back to you if you've filed a police report and given them a serial number.
You can also have your bike indelibly marked, which helps to deter theft and makes identification easier if your bike is stolen then recovered by the police or others. It's part of the Bike Register service in the UK and some police forces will occasionally have free registration campaigns.
Consider a bike tracker
If your bike does get stolen, it's rare that you'll recover it. You can increase your chances by hiding a bike tracker somewhere in your bike. The best bike trackers include passive devices like an Apple Air Tag or Tile sticker, which rely on proximity to a Bluetooth-enabled phone.
There are also GPS-enabled devices that will broadcast their location over a mobile network, although you'll need to pay a recurring subscription for these.
How we tested the best bike locks
There is no perfect solution to bike theft. Particularly with the continued prevalence of portable angle grinders, every lock is vulnerable. With the exception of the Hiplok D1000 we haven't taken an angle grinder to these locks because we know without a doubt that it's possible to cut them.
The Hiplok is the exception because the technology rides on the ability to resist an angle grinder and they've provided public opportunities to give it a try.
Similarly, bolt cutters will defeat locks but it's dependent on the size of the tool and the size of the lock. There's no testing to be done because it's a mechanical fact with no room for error. Instead, what we've done is put these locks to the test from the standpoint of usability and helped set expectations. Locks that are low security are listed as such and everything here is a quality option that will work as expected.
Get The Leadout Newsletter
The latest race content, interviews, features, reviews and expert buying guides, direct to your inbox!
Josh hails from the Pacific Northwest of the United States but would prefer riding through the desert than the rain. He will happily talk for hours about the minutiae of cycling tech but also has an understanding that most people just want things to work. He is a road cyclist at heart and doesn't care much if those roads are paved, dirt, or digital. Although he rarely races, if you ask him to ride from sunrise to sunset the answer will be yes.
Height: 5'9"
Weight: 140 lb.
Rides: Cannondale Topstone Lefty, Cannondale CAAD9, Enve Melee, Look 795 Blade RS, Priority Continuum Onyx