Tour de France 2022 - Analysing the contenders
Ranking the form of the top contenders going into the final week of the Tour de France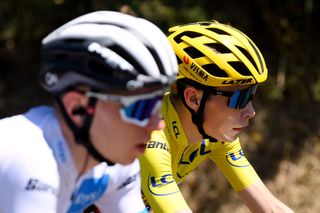 (Image credit: Getty Images)
After winning the previous two editions, Tadej Pogačar (UAE Team Emirates) was the overwhelming pre-race favourite for the 2022 Tour de France but his dominance was upended in the second week and now Jonas Vingegaard (Jumbo-Visma) carries the yellow jersey into the final week.
Pogačar had looked in control, carving out a 39-second lead, but he came undone after heavy fire from Vingegaard and his Jumbo-Visma teammates on a historic day to the Col du Granon on stage 11.
Pogačar has since hit back to show that there's life left in the Tour, but he hasn't been able to shake Vingegaard yet. There is a clear gap in quality between the top two and the rest, with Geraint Thomas leading the battle for the final podium spot as the riders below think about the top five and top 10.
With the Pyrenees still to come, it's all to play for and, as the race pauses for its final rest day, we check in on the progress of the pre-race favourites in our regular form ranking.
Pre-race Cyclingnews form ranking: 5th
Current GC position: 1st
Jonas Vingegaard was the surprise package of the 2021 Tour de France, heading to his debut Tour to support Roglič but ending up stepping into his shoes and stepping onto the second rung of the podium.
The Dane was given co-leader status this season ahead of the Tour and rose to the occasion, memorably dominating June's Critérium du Dauphiné alongside Roglič to record a team 1-2.
2022 Tour so far
The Dane has done what no one has managed since Tadej Pogačar burst onto the scene three years ago; he cracked the Slovenian. He didn't just put time into him on the Col du Granon, and he didn't just take the yellow jersey; he triggered a full-on meltdown - shoulders swinging, mouth agape, getting caught and passed by riders he'd usually leave behind at will.
Vingegaard can't take full credit, however. The seeds were sewn some 50km earlier on stage 11, as Jumbo-Visma opened the race on the Télégraphe and then he and co-leader Primož Roglič proceeded to take turns attacking the yellow jersey on the lower slopes of the Galibier. It was an extraordinary sequence, and Vingegaard delivered a lethal blow on the Granon, winning his first Tour stage and putting nearly three minutes into Pogačar. It was a day that turned the Tour on its head and it's no exaggeration to say it could be one that turns this cycling era on its head.
Vingegaard therefore heads into the final week of the 2022 Tour de France in yellow with a lead of 2:22 over Pogačar. What's more, he has shown absolutely no sign of weakness. Pogačar carved out a 39-second lead in the first week but largely thanks to bonus seconds and small gains in the time trial and cobbled stage. Vingegaard took a huge chunk out of him on the Granon and has proceeded to respond almost effortlessly to his attempts at a riposte on Alpe d'Huez and at Mende. So while Pogačar's bad day was evidently a blip, he faces a Jonas Vingegaard who can seemingly follow him wherever he goes, and with apparent ease.
The one question mark for Vingegaard surrounds his team, having lost Roglič and Steven Kruijswijk on Sunday, leaving just Sepp Kuss for the high Pyrenees. If he can avoid falling into any trapdoors, Vingegaard has the numerical and psychological advantages and, more importantly, appears to have the strength and form to last the course. It's far from over, but he's in the driving seat to win the 2022 Tour de France.
Watch Cyclingnews' video guide the favourites of the Tour de France 2022
Pre-race Cyclingnews form ranking: 1st
Current GC position: 2nd, at 2:22
Winner of the past two Tours, and still getting better at just 23 years of age, Pogačar was always going to enter the Tour as the pre-race favourite, and his 2022 results only strengthened his case.
He strolled to victory at the UAE Tour and Tirreno-Adriatico, as well as crushing the competition at Strade Bianche and utterly dominating his first Tour of Flanders, even if he left empty-handed. A post-spring break added an air of mystery but he allayed any doubts with his comeback at the Tour of Slovenia, where he literally toyed with the opposition.
2022 Tour so far
The Tour de France takes on a different hue for Pogačar. After that astonishing and unexpected smash and grab on his debut two years ago, followed by his effortless follow-up last year, he has now encountered adversity and must now set about fighting back.
The two-time champion had breezed through the opening week, picking up two stage wins - plus the resulting 20 bonus seconds - and taking time in the time trial and on the cobbles. However, he fell apart in the first proper high-mountain test in the Alps, losing nearly three minutes on the Col du Granon. Pogačar had predicted his own downfall in a podcast last winter, saying he can "crack really easily" and identifying long climbs, altitude, and long-range attacks from stronger teams as his areas of weakness. Jumbo-Visma followed the blueprint to the letter. Pogačar's response was arguably understandable for a rider who has encountered no real limits to his ability so far in his career. He responded to every attack and then, in a show of bravado, he dropped everyone on the upper slopes of the Galibier, minus Vingegaard. But maybe it was hubris. He has since admitted to doing too much and essentially unravelling himself.
It will go down as one of the most seismic days in recent Tour de France memory, but quite how it's consigned to the history books depends on what happens next. Pogačar dismissed any notion that it was a sign of general decline with a strong showing on L'Alpe d'Huez the following afternoon. He couldn't shake Vingegaard, but every time he accelerated, he dropped the rest of the field. At Mende he was back at it, and the result was the same again. It must inspire mixed emotions. He knows he's good enough to drop anyone at will, apart from Vingegaard, who seems to have his number and, crucially, has a two-minute head-start.
Either way, Pogačar has come out fighting but you sense he'll come out swinging in the Pyrenees. With Jumbo now weakened, it could well be that he looks to expose Vingegaard and launch some long-range fireworks of his own. One thing's for sure: he won't go down quietly.
Pre-race Cyclingnews form ranking: 7th
Current GC position: 3rd, at 2:43
In the early part of this season, after a winter interrupted by shoulder surgery and COVID-19, the 2018 Tour de France champion seemed to have been edged into an almost pastoral role at Ineos, serving as a totem for the team's influx of young British riders at races like the Volta ao Algarve and Settimana Coppi e Bartali.
All the while, Thomas politely insisted that he aimed to hit his best form in time for July and he was as good as his word, delivering his strongest display since his runner-up finish at the 2019 Tour to win June's Tour de Suisse. As such, he suddenly lined up for the Tour as a contender, as Ineos leadership duo of Adam Yates and Dani Martínez expanded to a trio.
Thomas turned 36 in May and only one rider in history, Firmin Lambot, has won the Tour at that age.
2022 Tour so far
Despite the upheaval on the Col du Granon, the following stage to Alpe d'Huez and the finish t Mende on Sunday both suggested that this Tour de France has become a two-horse race. Pogačar has launched repeated accelerations, and only Vingegaard has been able to follow. It's only the subsequent lulls that have stopped the pair sailing away from the rest. In that respect, Geraint Thomas has already become the subject of various memes, one of them being him in a kebab shop, eating his Doner and watching videos on his phone, and minding his own business as a brawl between Pogacar, Vingegaard, and Jumbo-Visma breaks out by the counter.
Thomas, aware he cannot match the pair's vicious accelerations, has been wise enough to ride his own race and stay within the confines of his own threshold. It may make a second Tour title seem an increasingly distant possibility, but it has been a truly impressive ride from the Welshman to put himself on the podium with a week to go.
Quite where Thomas' Tour goes from here remains to be seen. Ineos have spoken about taking risks, and Pogačar has apparently made approaches over an alliance to topple Jumbo-Visma, but you sense that a podium finish is now a result that Thomas and the British team would gladly sign for.
4. Romain Bardet (Team DSM)
Pre-race Cyclingnews form ranking: N/A
Current GC position: 4th, at 3:01
The Frenchman was on our list of outsiders in our pre-race ranking, given the uncertainty surrounding his ambitions. Bardet finished on the podium of the 2016 and 2017 Tours but since lost his way. He had a breath of fresh air at DSM in 2021 and looks to be getting better and better. He was a genuine contender at this year's Giro until a vomiting bug knocked him out. As such, it wasn't known whether he'd be coming to the Tour ready to mount a GC bid, or whether he'd be hunting stages.
2022 Tour so far
The Frenchman is having his best Tour for years and that's without making a target of it at the start of the season. He looked like a genuine contender for the Giro before having to leave with illness and he came to the Tour with the stated ambition of chasing stages. But he finds himself fourth overall with a week to go.
Bardet's star has waned slightly since the Col du Granon, where he was an attacking presence and moved up to third overall. At Alpe d'Huez the next day he had slipped back off the podium and at Mende on Saturday he lost some more seconds to Thomas. As such, there are major question marks over whether, given his build-up, this unexpected GC bid is something that can be sustained.
Even if he does manage to shine again in the Pyrenees, Baret's path to a first Tour podium since 2017 is complicated by the 40km penultimate-day time trial, where he'd need around 90 seconds on Thomas.
5. Adam Yates (Ineos Grenadiers)
Pre-race Cyclingnews form ranking: 10th
Current GC position: 5th, at 4:06
In the absence of Egan Bernal, Adam Yates was earmarked as Ineos' leader for the 2022 Tour de France. The British rider finished a breakthrough fourth at the 2016 Tour and, after a tough couple of years, found his feet in his debut 2021 season at Ineos, with fourth at last year's Vuelta.
Yates' stock fell in our final pre-race ranking due to his exit from the Tour de Suisse through COVID-19, and fell even further when he revealed ahead of the start that he'd been in bed with fever and chills. However, Yates has shaken it off to emerge as a podium contender.
2022 Tour so far
The British rider has been consistent enough to put himself in the mix in fourth overall but has also been consistently off the pace of those above him, and at times some of those below him. He did well to stay in contention on the Col du Granon, having been well dropped on the Galibier, but he lost more ground on Alpe d'Huez and a few more seconds at Mende. For all his calm, almost motionless climbing style, he doesn't appear to quite have the spark needed to really be considered a podium contender.
It remains to be seen how Ineos play things in the final week and how Yates fits into that. He could try and support Thomas, but then again Thomas has been doing a good job of riding his own race and gone are the days when Ineos dictate the terms at the Tour. If things get chaotic, he could even be used inventively as an early attacker in the Pyrenees. Either way, Yates has made huge improvements in his time trialling in the last couple of years and, come the penultimate day, should be confident of making it two Ineos riders in the top five, if not better.
Pre-race Cyclingnews form ranking: 11th
Current GC position: 7th, at 4:15
Quintana's hopes of winning the Tour de France - his 'yellow dream', as he used to call it - appear to be over, but the Colombian hasn't fallen off the GC cliff completely. He had a remarkable start to life at second-division Arkéa in 2020 until the pandemic hit, and had a similarly strong start to 2022.
2022 Tour so far
Colombian hopes went through the roof when Quintana wound back the clock on the Col du Granon. His early attack on the final climb had all the hallmarks of a doomed and ill-advised roll of the dice but he made it stick and only a flying Vingegaard deprived him of the stage win. However, those hopes were dashed just 24 hours later when Quintana was dropped early on Alpe d'Huez and lost 1:20 to Vingegaard, Pogačar, and Thomas.
Quintana remains a contender for the top five but, especially considering the penultimate-day time trial, that looks like the ceiling of his hopes.
7. Louis Meintjes (Intermarché-Wanty-Gobert
Pre-race Cyclingnews form ranking: N/A
Current GC position: 7th, at 4:24
The South African was a top-10 Tour finisher in 2016 and 2017 but has faded from view in the past few years. Still, he has been coming back to form in 2022 and came into the Tour on the back of sixth place at the Critérium du Dauphiné
2022 Tour so far
The breakaway GC comeback trail has been increasingly worn in recent years and Louis Meintjes plotted a perfect course along it on Saturday to propel himself into the top 10. The South African started the day 13th overall but slipped into the day's break and ended up taking back 11 minutes on all the other GC riders. It was a very clever move indeed.
By Meintjes is not just clever, he's also strong. He may not be back to the level that took him to back-to-back top 10s at the 2016 and 2017 Tours but, after years in the wilderness, he is showing signs of life once again. His emotions after finishing second on Alpe d'Huez - another breakaway display - were telling, and among the highlights of the second week. Meintjes lost time on the cobbles and then had a bad day on the explosive day in the Alps on stage 11, but, having placed 6th at the Dauphiné, his form is good, and he'll now be inspired to dig in and fight for a top 10 finish in Paris.
Pre-race Cyclingnews form ranking: 12th
Current GC position: 8th, at 4:24
The French climber signalled his potential with victory at the Tour de l'Avenir back in 2016 and has been steadily improving ever since. An eye-catching ride in support of Thibaut Pinot at the 2019 Tour saw him emerge as a successor to the French favourite and even though he had some disappointing days last year, he still managed 11th overall. With Pinot hunting stage wins this time around, the stage is set for Gaudu to take another step up.
2022 Tour so far
This has been another trying Tour for the former Tour de l'Avenir winer and the successor to Thibaut Pinot. He ended the first week in a solid position, fifth overall, but has since struggled and has even revealed his confidence is shot.
He had mixed results not he pivotal stage 11 to the Col du Granon. Dropped early, he feared for his whole Tour, but his teammates saved the day and kept him in the picture, before he suddenly found his legs on the Granon and picked off a number of riders, including Pogačar. At Alpe d'Huez the following day, however, he was dropped before the Jumbo-Visma mountain train had even reached full tilt. He'd go on to say that he doesn't trust himself and is afraid to make efforts he'd feeling capable of ordinarily.
Gaudu has been touted as a Grand Tour contender but this doesn't look to be the year of his breakthrough and, after heat cost him some places on Mont Ventoux last year, he won't be overly confident in this heatwave. Still, he remains a classy enough climber at heart to make the top-five not an unrealistic prospect.
9. Tom Pidcock (Ineos Grenadiers)
Pre-race Cyclingnews form ranking: N/A
Current GC position: 9th, at 8:49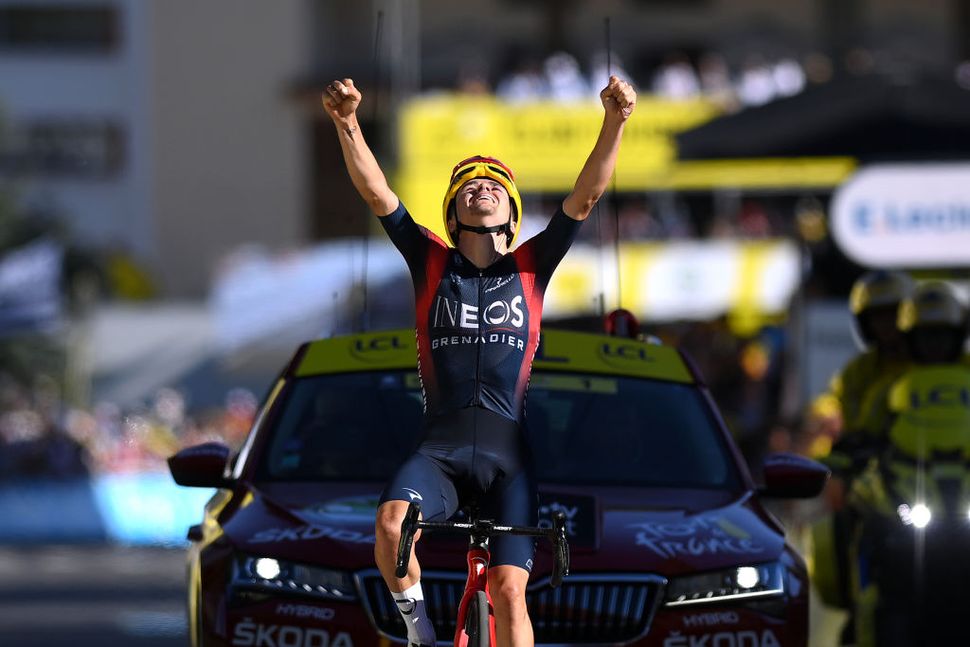 The British all-rounder makes his Tour de France debut in the next phase of his progression. A GC bid was certainly not on his radar and he'll likely fall away in the high mountains but he nevertheless makes it three Ineos riders in the top 10 going into the second week.
Pidcock is the cyclo-cross world champion and a contender across the Classics but also has a bright Grand Tour future, after winning the U23 Giro in 2020.
2022 Tour so far
The British rider had lost enough time by the Alpe d'Huez stage to be able to slip into the breakaway, although the way he went down the Galibier to join the day's escape, there wasn't much anyone could do about it. His victory atop the fabled finishing climb confirmed that he can go mountains nearly as well as he can go down them, and it was very much a formative day in Pidcock's career. As someone who can do almost anything on any bike, there are real question marks over where the 22-year-old focuses his talents, but stage 12 seemed to confirm talk of future Grand Tour contention was not unfounded.
The victory propelled Pidcock back into the top 10 and that's an incredibly impressive position for a mountain bike Olympic champion, cyclo-cross world champion, and Classics contender to be in. Again, the consistency only underlines his future prospects. Whether Pidcock can stay there to Paris is another matter. More high-mountain tests await in the Pyrenees, and then there's the matter of this being only his second three-week race. Still, Pidcock's Tour debut is already a success and whatever happens next - and don't rule out another breakaway exploit - is a bonus.
10. Enric Mas (Movistar)
Pre-race Cyclingnews form ranking: N/A
Current GC position: 10th, at 9:58
The Spaniard broke through with runner-up at the 2018 Vuelta and although he has faded slightly from the spotlight, he has quietly become one of the most consistent Grand Tour presences since joining Movistar in 2020. He finished fifth at the Tour and Vuelta in 2020, before going sixth and second in the same races in 2021.
2022 Tour so far
The Spaniard has finished in the top six at the past two Tours but that now looks beyond him due to a bad day on stage 11, which exploded the race and left him down in the dumps. Was lost eight minutes to Vingegaard that day, and around six to most other GC contenders. It was a hammer blow to his hopes.
Still, Mas responded very well the following day, as the only one apart from Thomas who could stay close to Vingegaard and Pogacar at Alpe d'Huez. He lost a few more seconds at Mende but it wasn't a finish that suited him. Mas has shown consistency in the third week of his recent Grand Tours and you'd back him to come good again, but there is now a huge gulf to the top five. Hunting stages in the breakaways might become an option but the decision could be influenced by the relegation battle and whether Movistar feel his current position is something that actually cannot be risked.

Thank you for reading 5 articles in the past 30 days*
Join now for unlimited access
Enjoy your first month for just £1 / $1 / €1
*Read any 5 articles for free in each 30-day period, this automatically resets
After your trial you will be billed £4.99 $7.99 €5.99 per month, cancel anytime. Or sign up for one year for just £49 $79 €59

Join now for unlimited access
Try your first month for just £1 / $1 / €1