Oakley deals: Huge savings on Oakley sunglasses, helmets and clothing
By Cyclingnews
Snag some new shades, clothing, or a helmet from Oakley, and don't spend a bundle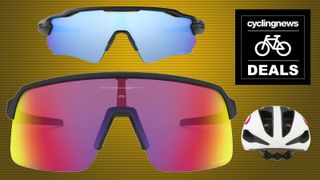 (Image credit: Oakley)
Oakley sprang to life when James Janard started selling custom motorcycle grips out of the back of his car at motocross events. The rubber used on these grips was soft and tacky and maintained its purchase even in the wet, and it's still used on the earstocks of Oakley sunnies today.
Now the brand makes everything from sunglasses with highly tuned lenses, designed to help enhance colour and contrast in a given environment, to helmets and clothing too.
If you're unsure which Oakley sunglasses will be the best fit for you, head over to our Oakley cycling sunglasses guide that lists the pros and cons of every model, or if you want to see what else is out there and what to look for, check out our rundown of the best cycling sunglasses on the market.
So, if you're on the lookout for some Oakley swag, keep scrolling because we've found the best deals available today.
Oakley deals: Sunglasses
Oakley deals: Helmets
Best deals on Oakley Clothing and Accessories
Check out out other deals roundups
Where to find even more cycling deals
Sign up to the Cyclingnews Newsletter. You can unsubscribe at any time. For more information about how to do this, and how we hold your data, please see our privacy policy
Thank you for signing up to Cycling News. You will receive a verification email shortly.
There was a problem. Please refresh the page and try again.