Best cycling sunglasses: comfortable eyewear that blends form and function
By Aaron Borrill published
The best cycling sunglasses do a lot more than just shield your eyes from the sun. Here is a round-up of our top picks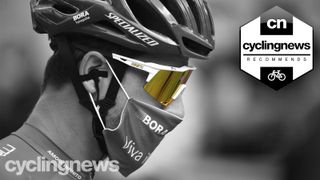 (Image credit: Getty Images)
The best cycling sunglasses have long played a pivotal role when it comes to keeping your vision clear. While their name suggests their sole focus is to keep the sun out of your eyes, they can offer a lot more besides, like keeping your eyes free of grit, debris and rain.
As a consequence, the lenses of cycling sunglasses seem to be growing in size with each iteration as manufacturers increase coverage to improve both protection and field of view.
However, lenses aren't only growing in size. Their technological performance is also advancing as innovative techniques are introduced to increase clarity in varying light conditions, maximise impact protection, and aid with ventilation.
When it comes to choosing the best cycling sunglasses for you, there are various factors to consider. Of course, the price will lead your decision, and the lens will be one of the first things to think about. Some are designed for bright daylight, others to enhance brightness for clarity, and others even come with clear lenses for night riding. Sunglasses that offer the interchangeability of lenses means an increase in versatility, but it regularly comes at an extra cost.
As with any cycling accessory that you wear, comfort is a key factor, durability is important, and the way the best cycling sunglasses actually look will undoubtedly weigh in on the decision process.
For a detailed rundown on what you should consider when picking your next pair of sunglasses, you can find our guide on what to look for below.
Jump to: Cycling sunglasses, frames and lenses explained
Our pick of the best cycling sunglasses you can buy today
Basic in function but brilliant in form, these are the best cycling sunglasses for the fashion conscious
Specifications
Lens type:
Prizm (various tints)
Reasons to buy
+

Visual clarity of Oakley's Prizm lenses is fantastic
+

Large lens means good field of view
+

Cheap price for premium Oakley brand
Reasons to avoid
-

Irreplaceable lens
-

Fixed-length arms
-

Geometry and goggle style doesn't suit all face types
The Oakley Sutro is one of the brand's most popular pairs of cycling sunglasses, offering various tints with its Prizm technology.
They offer unrivalled clarity, an unobstructed field of view and never fog up, no matter the conditions - an added bonus is the secure and stable fit, which is a nice surprise given the Sutro lacks any form of adjustability.
However, this lack of adjustment has resulted in the Sutro being available at a competitive price. At £130, they're significantly cheaper than rivals from within the Oakley range, as well as competitors POC and 100%.
However, what sets the retro-styled Sutros apart from the segment staples are not merely its performance credentials but rather its adaptability as a product - not only is it suited to the elite-level cyclist and recreational rider but it also doubles up a casual option, too.
Oakley Sutro sunglasses review
100% S3
Coming in well below the £150 threshold, the performance-honed 100% S3 ranks as the best bang-for-your-buck option on the market
Specifications
Lens type:
HiPER, Hydrophobic, oleophobic and standard
Interchangeable lens:
Yes
Adjustable fit:
Replaceable nose pads
Reasons to buy
+

Great value for money
+

Clarity offered is excellent
+

Large field of view
+

Clear lens included for increased winter visibility
Reasons to avoid
-

Large lens prone to smudging
There's only one individual responsible for the meteoric rise of 100% sunglasses at local group rides across the world: Peter Sagan.
The former three-time World Champion worked closely with the American company to create the new S3 sunglasses, which combine the endearing qualities of the Speedcraft and S2 models for a better fit and unobstructed view.
Its biggest drawcard is without a doubt the large wrap-around scratch-resistant lens which also benefits from hydrophobic/oleophobic-coating properties. The S3 offers a comfortable fit, and while the arms are restricted to one length, which is slightly longer than many of its competitors, they are designed to be bent to aid fit and compression and the replacement nose pad offers two fit options.
Unbridled sophistication coupled with a Carl Zeiss-fettled lens makes for one serious set of sunnies
Specifications
Lens type:
Nylon lens by Carl Zeiss Vision
Adjustable fit:
Adjustable temples
Reasons to buy
+

Carl Zeiss lens
+

High quality design
+

Rubber nosepiece remains grippy in wet
Reasons to avoid
-

Slightly heavy compared to competition
-

Peripheral vision is lacking
POC's Aspire cycling sunglasses represent the brand's move into a more premium and performance-focused space with an elegant colour palette comprising white, yellow, black and even tortoiseshell frame colour options.
The one-piece Clarity lens, developed in collaboration with Carl Zeiss Vision, provides enhanced contrast and colour definition across the spectrum. While the lens is decently sized, it doesn't offer much of a wrap-around effect which does limit peripheral vision to a certain extent.
What it does possess in spades, however, are superior ergonomic qualities – particularly when it comes to fit and comfort thanks to the sizeable nose piece and flexibility of the Grilamid frame and arms.
POC Aspire Solar Switch sunglasses review
Oakley Flight Jacket
Cutting-edge lens technology meets variable airflow and endless adjustment
Specifications
Lens type:
Prizm, Prizm Polarised, Photochromic and standard
Adjustable fit:
Interchangeable temples, advancer nose bridge
Reasons to buy
+

High quality design
+

Excellent performance
Reasons to avoid
-

The Advancer switch is a great but unnecessary addition
-

Lenses aren't interchangeable
While the Oakley Flight Jacket retains a similar lens shape to the Oakley Jawbreaker model, the absence of an upper frame has improved the field of view and boosted the ventilation properties in the process.
The fit is excellent, thanks to interchangeable temples of differing lengths. The visual clarity is excellent, too, thanks to the vast range of lens options available, which includes all of Oakley's Prizm and Photochromic variants.
These particular shades also ushered in the all-new Oakley Advancer feature (now also available on the Radar EV), which is an adjustable nose piece that tilts the frame and lens away from the face to increase airflow and prevent the lens from fogging up. This is a nice trick, but in reality, we didn't find ourselves needing to use it.
In terms of comfort, we think the Defenders are the best cycling sunglasses on the market
Specifications
Lens type:
ImpactX 2 Photochromic Black
Interchangeable lens:
Yes
Frame type:
Full frame (two-piece, removable)
Adjustable fit:
Adjustable nosepiece and temples, interchangeable lower frame 'bumpers'
Reasons to buy
+

Vented lenses means minimal fogging
+

Lens clarity is impressive
+

Interchangeable lenses and bumpers
It may appear as though Rudy Project is following in the footsteps of the larger-is-better lens philosophy currently doing the rounds, but the company's new Defender model is in actual fact based on the RP Aggressor sunglasses from the early '90s. Available in a host of different frame, bumper and lens colour combinations, the Defender does appear to pander to the needs of the modern cycling fashionista but that's not exactly a bad thing.
Perhaps the Defender's most impressive feature is its photochromic lens. Offering a combination of superb transitional performance regardless of the light conditions, not to mention stellar anti-fog properties thanks to the Powerflow Ventilation System. In addition, they offer a good range of fit adjustment without the need to replace parts, thanks to a bendable nosepiece and temples.
Rudy Project Defender sunglasses review
Modern aesthetics with decent adjustment and a good selection of interchangeable lenses
Specifications
Lens type:
Hydrophobic, smudge and oil resistant, HiPER, high impact resistance
Interchangeable lens:
Yes
Adjustable fit:
Alternative-fit nosepiece included
Reasons to buy
+

Visual clarity of the lenses is fantastic
+

Large lens means good field of view
+

Two lenses included in the box
Reasons to avoid
-

Longer than average temples can interfere with helmets on smaller heads
-

Temples are fixed-length
The 100% Glendale sunglasses are bang on the fashionable large lens trend. They feature a full-frame construction that, from the front, hides the lower half to form a three-quarter frame style that, aesthetically, just works.
The lens is replaceable, and they come with a single extra lens in the box. This usually covers both high- and low-light situations, but the included lenses do vary depending on the colour you choose, so be sure to double-check this at the point of purchase.
They offer impressive levels of comfort, however it's worth mentioning that they could well interfere with helmets for those with smaller heads, as the arm stems are about 15mm longer than average, and while they can bend laterally for added compression, they cannot bend downwards behind the ears.
The lens itself is impressively tough, to the level that during our first test ride, it withstood a hefty stone flicked up from a passing car, resulting in little more than a surface blemish. Venting is only taken care of by a single small mesh plate, so misting can be an issue if you're riding in rainy weather for more than an hour or so.
An out-and-out performance offering that favours function over form
Specifications
Lens type:
ImpactX 2 Photochromic Black
Interchangeable lens:
Yes
Frame type:
Rimless, with interchangeable bumpers
Adjustable fit:
Adjustable nosepiece and temples, interchangeable lower frame 'bumpers'
Reasons to buy
+

Comprehensive wraparound fit
+

Refined, unique aesthetics
+

Interchangeable bumpers and lenses
Reasons to avoid
-

Only comes with one lens
The Rudy Project Cutline is a great pair of cycling sunglasses for those who crave performance and favour function over style kudos. That's not to say the Cutlines are devoid of any style - in fact, with eight frame and lens colours to choose from they can be matched with most wardrobe and colour palettes.
It's in the performance stakes where the Cutline edges ahead of its rivals though. Strategic venting means we experienced zero lens fogging during testing, and the tailorable fit and the unobstructed visual clarity means it wasn't long before we'd forgotten we were wearing them at all, and that's something that only the best cycling sunglasses can boast to have done.
Rudy Project Cutline full review
Scicon Aeroshade
With a double-click nose bridge design and military-grade lens, Scicon's foray into eyewear marks an impressive, albeit pricey first attempt
Specifications
Interchangeable lens:
Yes
Adjustable fit:
Adjustable temples, three interchangeable nosepieces
Reasons to buy
+

Good levels of fit adjustability, including adjustable rigidity of temples
+

Large-coverage single-piece lens
Reasons to avoid
-

Only misses the ability to adjust the temple length
-

High price RRP at £170
The Aeroshade is unique in that it features a height-adjustable nose piece, a technology Scicon calls Horizon Adapt which can tailor the field of vision based on your preferred riding position. Together with the Horizon Adapt feature, Scicon has also modified the frame to accommodate a raised top bar - dubbed Panorama Arch - to provide an unobstructed and commanding view ahead.
Visually, they're on trend as far as cycling sunglasses go with a large-coverage single-piece lens, which is available in six colour options. The lenses are interchangeable and are rated at 100 per cent in terms of UV protection. The frame can be had in four colours - black, white, yellow and crystal, and the frame can be adjusted in multiple planes. In addition to the adjustable nosepiece, the temples can be adjusted to offer increased rigidity, and the temple tips can be bent both vertically and laterally to conform to your head shape and prevent them interfering with your helmet.
The best cycling sunglasses benchmark performer
Specifications
Lens type:
Prizm, prescription
Interchangeable lens:
Yes
Adjustable fit:
Interchangeable nosepiece, length-adjustable temples
Reasons to buy
+

Superb fit and helmet compatibility
+

Excellent range of frame colour and lens options
Reasons to avoid
-

Peripheral vision slightly limited
The Oakley Jawbreaker sunglasses have been around for many years now, but despite countless attempts from brands to overthrow them, including a range of newer options from Oakley itself, they still maintain a position as some of the best cycling sunglasses available today. They're incredibly popular as a result, which means you probably won't be alone in wearing them on your club ride, but that's no bad thing.
They are available in hundreds of different colour variations, with various tints of Oakley's Prizm range, including Road, Trail, Low-light and even Prizm Snow. The price varies depending on the lens you choose, and unfortunately, in most cases, you only get a single lens. They can be interchanged, but you'll need to go and buy the replacement.
Their fit is almost universally excellent, as proven by their popularity, and this is aided by length-adjustable temples and a replaceable nosepiece.
A smaller lens cycling sunglasses option with a unique fold
Specifications
Lens type:
Carl Zeiss technology: Ultra White, clear 16% VLT Ultra White, clear 16% VLT
Interchangeable lens:
Yes
Adjustable fit:
Adjustable nosepiece, angle-adjustable temples
Reasons to buy
+

Unique folding style means they effectively lock shut
+

The field of view is good, despite smaller lens style
+

Superb fit and helmet compatibility
+

Array of frame colour and lens options
Reasons to avoid
-

Unique folding style makes it harder to fold away whilst riding
-

Dated style
In much the same way as Rudy Project, the Open Cubes follow the same Italian way of doing things by trading the contemporary goggle-like appearance of its peers for a more traditional lens arrangement. The entire Open Cube range adopts a subtle colour palette with 12 stylish pastel hues to choose from.
The glasses come in two size types - standard and Asian, both of which can be further broken down into small or medium options. Our medium pair offers an impressive fit and wide range of eye coverage despite the somewhat smaller lens shape. The Open Cube's party trick, however, is the way in which the arms fold away. In this case, a special pivot joint allows the arms to rotate inwards rather than fold in the traditional manner.
The arms feature a 'Micrometrical Arm Adjustment' mechanism giving the sunglasses a three-way positioning system to tailor the fit to suit myriad helmet styles - no interference here. There's also an adjustable nose piece (available in two sizes) to further bolster comfort. They might not be the cheapest option in the segment but the original design, superb lens coverage and quality, fit and style will undoubtedly appeal to many cyclists.
Koo Open Cube sunglasses full review
How to choose the best cycling sunglasses for you
Recently, the design and shape of cycling sunglasses have come full circle and back to where it all started – large, goggle-style lenses are presently the flavour of the month. Despite the influx of newer and trendier upstarts, Oakley remains a major force in the industry as the eyewear war continues to blur the lines between style and function.
Cycling sunglasses are as much about fashion as they are function, but their main purpose still hinges around the primary role of protection, be it from bugs, debris, rain or the harmful UV rays of the sun.
It's easy to get lost in all the marketing jargon and the sheer number of choices available when shopping for a new pair of cycling sunglasses so it's important that you know your hydrophobics from photochromics – we'll explain later.
Frames
The most important part of any pair of cycling sunglasses is the frame geometry and fit. After all, what's the point of having the best cycling sunglasses in the world if the fit is uncomfortable?
Most of the major players offer built-in flexibility and adjustability around the arms and nose bridge for a somewhat tailored fit. There are three distinct frame types: full frame, half frame and frameless, each of which has a substantial bearing on lens size, eye coverage and field of view.
Lenses
No matter the brand, nearly all of the best cycling sunglasses are available with various lens types designed for specific conditions and environments. Some are designed for bright daylight, some for enhancing the clarity of road imperfections, others specifically for off-road trails, and some sunglass lenses are literally designed for nighttime, contradicting the word 'sunglasses' almost entirely.
Most reputable brands offer a variety of special lenses designed to enhance vision and performance, these include photochromic (change from clear to dark in the light), hydrophobic (repel water), polarised (reduce glare), oleophobic (smudge resistant) and prescription variety of lenses.
Most sunglasses offer interchangeability of lenses, and with that, some even come with a selection of lenses to switch between, while for others, the lenses are an aftermarket extra purchase. Those that don't offer interchangeability lose out on the versatility, but it does often mean they cost less in the first place.
Price
As with any purchase, price is going to dictate your decision as much as, if not more than anything else here. The roundup here is for the best cycling sunglasses on the market, and as a result, many of them are reasonably high cost investments. However, as well as the outright cost of purchase, it's worth considering the value for money that you're getting.
If you find that all of the options here are stretching your budget a little too far, we also have a guide to our favourite cheap cycling sunglasses.
As we've mentioned, those that forego adjustability and interchangeable lenses typically cost less, however, you may eventually need to buy a second pair if you need to wear them in alternative conditions.
Spending £100 / $100 on a pair that cannot accept a new lens might mean a second £100 / $100 purchase down the line. Could you have been better off spending £120 / $120 on a different pair that came with multiple lenses straight out of the box?
But consider your needs before anything else. Do you only ever wear them during the daytime? It's all good and well having three spare lenses, but if they only ever sit in the box they came in, it probably wasn't worth the extra you paid.
Also, if you are worried about how they will fit, a pair with adjustment will help ensure you don't end up disappointed, but don't forget that retailers are obliged to offer returns.
Answering these questions will help you get more value for money out of your sunglasses.
UV Protection
The very purpose of the best cycling sunglasses - or any sunglasses for that matter - is to protect your eyes from the sun. Sunglasses are regulated by law and must block UV radiation, and therefore, all of the recommendations here offer UV protection to the necessary levels.
Where they differ is in offering varying levels of brightness, which leaves a decision to be made based on your usual riding conditions.
Aesthetics
As with any cycling accessory that you wear, you want it to look good, and this is perhaps most relevant to cycling sunglasses.
For some, it will be the major deciding factor, whereas for others it'll be insignificant.
Aaron is Cyclingnews' tech editor. Born and raised in South Africa he completed his BA honours at the University of Cape Town before embarking on a career in journalism. As the former gear and digital editor of Bicycling magazine and associate editor of TopCar, he's been writing about bikes and anything with wheels for the past 16 years. A competitive racer and Stravaholic, he's twice ridden the Cape Epic and completed the Haute Route Alps. When not riding, racing or testing bicycles in and around the UK's Surrey Hills where he now lives, he's writing about them for Cyclingnews and Bike Perfect.
Height: 176cm
Weight: 61.5kg
Rides: Cannondale SuperSlice Disc Di2 TT, Cannondale Supersix Evo Dura-Ace Rim, Cannondale Supersix Evo Ultegra Di2 Disc, Trek Procaliber 9.9 MTB
Sign up to the Cyclingnews Newsletter. You can unsubscribe at any time. For more information about how to do this, and how we hold your data, please see our privacy policy
Thank you for signing up to Cycling News. You will receive a verification email shortly.
There was a problem. Please refresh the page and try again.