Best cycling glasses 2023 - Protection from the elements with heaps of style
The best cycling glasses not only protect your eyes, but they fit well, are comfortable, and look great too. Here are our top picks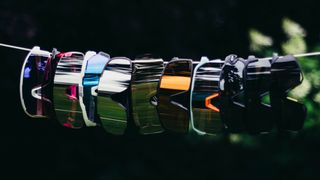 (Image credit: Will Jones)
For me, the best cycling glasses are the cherry on top of the cake of cycling fashion. They're a chance to present yourself to the world. All about speed? Then don something hyper-performance. Going for a casual ride? Throw on something with a little more style.
But of course, the cycling sunglasses in this list not only look good, but they also perform excellently, because as well as being a fashion statement, cycling glasses have a job to do. They need to shield your eyes from the sun, keep things visible in low light, keep debris at bay, and protect you from high winds. Even on a windless day if you descend at 70km/h, that's an enormous breeze to contend with.
Previously, in the era of Coppi et al, cycling sunglasses were just sunglasses, or if your name was Laurent Fignon, actual spectacles. Nowadays however, they have evolved into performance-enhancing products far removed from their forebears. Even the best prescription cycling glasses look nothing like the glasses you wear for the rest of your day.
The large monolens has become the de facto standard for today's best cycling glasses, with variations on a theme. If you're new to cycling you may think these designs look a little outlandish, a little brash, or ostentatious, and while visually you may be right, the large singular lens provides benefits over two smaller lenses. Firstly you get a much bigger field of view, noticeably less obstructed by the frame, and secondly, you are afforded (on the whole) greater wind protection. And sure, if you're wearing jeans and a T-shirt and you're off out to your anniversary dinner they may well look ridiculous, but in context, with your favourite jersey and over the straps of the best road bike helmets, you're going to look great.
As with all tech, there is a dizzying array of jargon, some of it useful and a lot of it not so much. Worry not though, as we've got a guide at the bottom to help you sort your Prizm from your Clarity and make sure you get the right pair for your needs, whether that's the most comfortable, the best optics, or just something that looks cool as heck.
What glasses are best for bike riding? Well, let's find out.
The best cycling glasses available today
Why you can trust Cyclingnews Our expert reviewers spend hours testing and comparing products and services so you can choose the best for you. Find out more about how we test.
The best cycling sunglasses for perfect optics
Specifications
Adjustable fit:
Replaceable nosepieces
Reasons to buy
+
Brilliant optics
+
Excellent in low light
+
Comfortable and secure
Reasons to avoid
-
Nosepiece encroaches on view
The Oakley Encoder takes a lot of design cues from the slightly more radical-looking Oakley Kato but is a marked improvement over the more eye-catching model. The Prizm Road lens is the real star of the show here, offering exceptional clarity across a huge array of light conditions. You can wear these happily in bright sunlight all the way through to overcast and almost into twilight, meaning that the annoyance of not shipping with a spare clear lens is somewhat alleviated.
What's more, they're extremely comfortable and have excellent retention, mostly thanks to having a fold in the upper portion of the lens adding rigidity. They feel a little bulky compared to the feathery 100% Hypercraft and Poc Elicit, but they also feel more secure than them too.
If you want to see more about what we liked and didn't like then head to our Oakley Encoder review.
POC Aspire
The best looking cycling glasses
Specifications
Interchangeable lens:
Yes (not included)
Adjustable fit:
Tuneable arms
Reasons to buy
+
Great field of view
+
Good neutral lens
Reasons to avoid
-
Quite chunky
-
Doesnt play well with helmets
Poc has a very distinctive style, and the Aspire is probably the most established, and least outlandish pair of cycling sunglasses in the brand's range. It features the trademark extra wide lens with organically curved edges, in this case, set in a stylish tortoiseshell frame. We've listed them as a full frame as, despite appearing that the lenses are attached only at the edges, there is a frame behind adding structural rigidity.
As well as looking wonderful (though I'll concede that beauty is in the eye of the beholder), particularly when used with a POC helmet, the Aspire offers excellent lens clarity thanks to Carl Zeiss optics, and bendable arms to get the perfect fit. They feel a little heavy compared to many others on this list, primarily because they are, but with that comes a dependable build quality too.
We've reviewed the POC Aspire Solar Switch, which is now discontinued, but is worth a read as it shares many traits with the standard Aspire.
100% Hypercraft
The best cycling glasses for hot weather
Specifications
Interchangeable lens:
Yes (clear included)
Adjustable fit:
Replacement nosepieces
Clear lens option:
Yes - included
Reasons to buy
+
Brilliant peripherals
+
Excellent lens shape
+
Airy for humid riding
+
Wonderfully light
Reasons to avoid
-
Slightly flexible
-
HiPER lens would be better
The large monolens style glasses started with the Oakley Jawbreaker (this is of course up for discussion as it actually started back in the '80s with the Oakley Eyeshade). Lenses previously were fairly similarly shaped in that they were a curved oval with the odd cutout or sculpt.
The Hypercraft from 100% is a much more angular beast. It sits quite high on the face, which is excellent for more aggressive riding positions, and the lenses have been shaped in such a way as to produce brilliant peripheral vision free from obstruction. Its real selling point for me though is the airflow. It's not as breezy as the Kato, which was airy to a fault, but for hot riding, it allows a lot of air in behind to keep your face cool and also avoid fogging better than any I've tested.
What's more, the retention is surprisingly good for a frameless pair. Not as good as the Encoder, but probably the second best. The lenses are OK, but not incredible, in terms of clarity and range, so opt for 100%'s HiPER options instead if you can. They do ship with a clear lens too for after-dark riding.
One drawback we did notice was that the lenses, because they sit quite far out from the face, are prone to producing internal reflections when the sun is either to the side or behind.
Rapha Pro Team
Surprisingly good value, and stylish too
Specifications
Interchangeable lens:
Yes (clear included)
Adjustable fit:
Replacement nosepiece
Clean lens option:
Yes - included
Reasons to buy
+
Stylish
+
Good retention
+
Close to face for wind protection
Reasons to avoid
-
Not the most comfortable
Rapha has a bit of a reputation for high prices compared to the competition, so it's refreshing here to see it coming in at the more affordable end of the spectrum. These glasses are by no means cheap, but they are at least not the most expensive option.
In terms of performance, the Pro Team full frame glasses have a pretty tenacious grip on even the smallest heads. For longer rides, they may well dig in a little on big heads so be warned, but if you struggle to find cycling glasses that stay on your head these may be a good option.
The lenses are decent, but not exceptional when compared to Oakley's Prizm Road for example, but for the price, and considering a clear lens is included, they're more than adequate if the style is up your street. They also sit very close to the face, so if you need absolute wind protection then these may well be a good choice, especially for smaller heads.
Great on the bike, acceptable off it too
Specifications
Clean lens option :
Yes - Photochromic
Reasons to buy
+
Stylish
+
Brilliant lens for bright sunshine
+
Distortion-free optics
Reasons to avoid
-
No adjustability
-
Poor retention on smaller heads
Oakley produces a tonne of new models all the time. Some flash in and out of existence, while others stick around in the collective psyche. The Oakley Sutro has proved to possess some pretty decent staying power, thanks to a combination of excellent optics but also a style that's good both on and off the bike.
The lenses are enormous, some of the biggest out there, only second to the POC Devour, which gives a pretty uninterrupted field of view. A lot of the size sits below the eyeline though, so for hugely aggressive riding positions we'd recommend a lens with more coverage above the eyeline.
The Prizm 24k lenses here are exceptional, probably unparalleled, for the brightest days, but they lack the low light clarity of the Prizm Road as seen in the Oakley Encoder. If you live somewhere that only gets bright sun then brilliant, but for everyone else we'd opt for the Prizm Road.
The main drawback to the Sutros is the lack of adjustability. The arms have no grippers, in line with Oakley's lifestyle models, and the nosepiece is swappable but a smaller version isn't included. This means on smaller faces they tend to slide forwards. Oakley do make the Sutro S for smaller faces now, so if you are like me I'd opt for that model. If you want to find out more about how we rated them then read our Oakley Sutro review, or the Oakley Sutro Lite review, if half frames and better arm grippers are your thing.
Scicon Aeroshade Kunken
Best cycling glasses for a tuneable fit
Specifications
Lens type:
Multimirror Blue
Interchangeable lens:
Yes (clear included)
Adjustable fit:
Arms and nose
Clear lens option:
Yes - Photochromic
Reasons to buy
+
Bold euro style
+
Excellent adjustability
Reasons to avoid
-
Feel cheap compared to others
What glasses does Tadej Pogačar wear? Yeah, I want to be like him too. These cycling glasses from Scicon won't make you as fast as the former Tour de France champion, but you'll at least look a bit more like him.
The bold, angular, euro-style of the glasses will split opinion but aesthetics aside the Aeroshade Kunken offer a widely adjustable nosepiece and bendable arms, resulting in an absolutely perfect fit and retention.
The Multimirror Blue lens we've been using is good, but not entirely distortion-free, though it is very minor. The shape is excellent for aggressive positions too. Our main criticism is that for such a premium-priced pair of cycling sunglasses the build quality feels a little cheap compared to the other options on this list.
The best cycling glasses for a not-there lightweight feel
Specifications
Interchangeable lens:
Yes (clear included)
Adjustable fit:
Replaceable nosepiece
Clear lens option:
Yes - included
Reasons to buy
+
Insanely light
+
Unobstructed field of view
Reasons to avoid
-
Retention not amazing on small faces
While these are a whole gram heavier than the 100% Hypercraft they feel lighter, both in the hands and on the face. I think it's because of the simple shape of the lenses; it screams a king of acetic minimalism that you can't really find anywhere else.
The skeletal arms are removable when it comes to swapping to the included clear lens, though the main Clarity lens is excellent for most conditions. The clear plastic, in this case in hot pink, not only shouts lightweight but also reminds me of my Tamagotchi from the late '90s.
Frameless glasses just don't grip as well, with the exception of the Oakley Encoder, but if that's not an issue for you (if you have a larger head for example) and you want a pair of cycling glasses you may very well forget you're wearing, then the POC Elicit are the option to go for. If you want a little more info then head to our POC Elicit Clarity review.
Oakley Jawbreaker
The original modern monolens can still mix it with the best
Specifications
Interchangeable lens:
Yes (not included)
Adjustable fit:
Replaceable nosepiece (not included)
Clear lens option:
Yes - Photochromic
Reasons to buy
+
Lens shape excellent
+
Adjustable arm length perfect for small heads
+
Distinctive aesthetics
Reasons to avoid
-
Field of view not the best now
When Mark Cavendish partnered with Oakley to develop the Jawbreaker it was a watershed moment in cycling sunglasses. Immediately there was an explosion of very keen cyclists nationwide suddenly rocking what were then shockingly large sunglasses. Times have moved on since the launch of the Jawbreakers, with lenses getting even bigger, but this means you can now pick up a pair for extremely competitive prices.
The field of view compared to the Sutros is not as good, but the retention is far superior, especially on smaller heads, and you can swap lenses too, making them even better value. They're no longer the best performing pair of Oakleys, but I think they may well be the best value.
The wind protection is excellent, as is the lens height for riding in the drops, and if you get the Prizm Road lenses the clarity is just as good as any other top-flight glasses. The Prizm Black we've got here is a good all-around option, especially if you're an all black everything kind of rider, but the low-light performance isn't as good.
100% S3
A brilliant all-rounder
Specifications
Lens type:
HiPER Silver Mirror
Interchangeable lens:
Yes (included)
Adjustable fit:
Replaceable nosepiece (not included)
Clear lens option :
Yes - included
Reasons to buy
+
Soft touch frame feels very premium
+
HiPER lens very good in low light
+
Muscular aesthetic
Reasons to avoid
-
Quite prone to fingermarks
-
Not adjustable
The 100% S3 is to my mind the brand's direct competitor to the Oakley Sutro in terms of form. A large lens, half frame in this case but bolstered by an extended nose reinforcement, and mostly free from vents. The S3 though has rubberised arms and a more tight fit, so will be a better choice for those with small heads, and the lens sits a little higher on the face for aggressive riding positions.
The HiPER Silver Mirror lens has a distinctly orange tint, which is then boosted in terms of light transmission by the addition of a silver mirror coating on the front. This means that, like the Prism Road lens, it is good in high sun and low light too, although as with all 100% glasses, the S3 ships with a clear lens too for riding at night.
The aesthetics, especially in this homage to gulf racing, are evocative of American motorsport, which is where 100% started. There are however a tonne of options if you don't like the orange and blue combo.
One thing we did find was that the lenses are quite keen to hold onto fingerprints, but that can be avoided by not touching the lenses or lending them to toddlers.
The best cycling glasses for absolute coverage
Specifications
Interchangeable lens:
Yes (included)
Adjustable fit:
Adjustable arms
Clear lens option :
Yes - included
Reasons to buy
+
Enormous lens
+
Adjustable arms
+
Quality construction
Reasons to avoid
-
Aesthetics wont be to everyone's taste
-
A little heavy
Let's not beat around the bush, if you need an enormous pair of cycling glasses these are the set for you. The POC Devour features a gargantuan monolens that's more akin to a pair of ski goggles than cycling sunglasses, but it results in a feeling of being shielded from the elements that is unmatched. With the clear lens, they'd make an excellent companion for those rides in atrocious weather.
The lenses are excellent, as per the Elicit and Aspire models, though despite having a larger lens, the field of view isn't that much greater as the frame actually sits inbound of the edge of the lenses.
For small heads, the adjustable arms are perfect, though having a better gripper on the arms would be of benefit to reduce them moving around, as would the inclusion of a narrower nosepiece.
To hear all about what we loved and what we didn't like head to our POC Devour review.
Bolle C-Shifter
The best cycling glasses for budget performance
Reasons to buy
+
Understated style
+
Very secure fit
+
Comfortable
When compared to models like the 100% Hypercraft or the POC Devour the Bolle C-Shifter appears pretty plain, but not everyone wants a pair of cycling glasses that yell from the rooftops.
The Bolle C-Shifter quietly does the job it's asked to do, at a good price. They're an extremely comfortable pair of sunglasses, and despite lacking any adjustability they're extremely secure, even on small heads. If you did want to be a little more garish then there are more colourful options too.
The quality of construction felt like that of much more premium models too, so if you're looking for a bargain then these are one to definitely consider. The lens optics are good, perhaps not up to the gold standard of the Prizm Road, but for a black lens, they do well thanks to the Volt+ lens technology that adds a little more contrast to the mix.
How to choose the best cycling glasses for you
You've scrolled through all the models and have ended up with more questions than answers? Worry not, hopefully we can answer them all. Cycling glasses have evolved greatly in the last couple of decades to the point now where there are competing proprietary lens technologies, baffling shapes, and a mix of frame styles too.
We'll go into what makes a good lens, what makes a good frame, some things to look out for in terms of fit and a few more things besides.
If you're torn between two pairs, or even more, you don't necessarily need to break it down to stats though: All the cycling glasses in this list will provide the legally required UV protection or more as they are from reputable manufacturers, so if you've got a gut feeling that you just like a pair then go for it. None of the pairs included here will let you down, that's why they're on the list.
Why do cyclists wear big glasses?
In a word: Protection. And also in another few words: Field of vision. Bigger lenses protect your eyes from debris and high winds, and allow you to see more of what's going on around you without being obstructed by the frame, or having to peer over or under the lenses.
If you're descending at 70km/h, that's a 70km/h wind that you need to block out, more if you have a headwind to contend with too. The best cycling glasses can basically nullify the effect of even the strongest gusts to keep your eyes tear-free and able to focus on the road ahead.
What colour lens is best for cycling?
Orange, purple, gold? What's this Prizm thing all about, and HiPER too?
In days gone by cycling glasses came with a black, often mirrored lens for bright sunshine, a yellow or orange lens for low light, and a clear lens for night time. Now things have moved on, and a single lens can often cope with both bright sun and very low light too. Red and orange base tints, as can be found in the Prizm Road from Oakley and the and the HiPER Silver Mirror from 100% provide the contrast needed for low light, and a reflective outer coating improves their performance in bright sunshine.
If you had to choose one lens only, the Prizm Road is the cream of the crop, but most brands have a proprietary lens technology now and they are all significantly better than a plain black lens.
For night time, a clear lens is really the only choice, so if you're going to be riding in the dark then make sure your glasses ship with a clear lens, or at least come with the option of swapping to one.
Are polarised glasses better for cycling?
Polarised lenses are excellent for watersports, and as they're more expensive it's easy to assume they're better, but we wouldn't recommend them for cycling.
The polarised nature of the lenses cuts down on surface reflections, which allows wearers to see below the water surface. While it may indeed reduce road glare on sunny days it will also reduce your ability to notice surface water, and could well lead to you hitting a puddle at speed without realising, which could get messy.
What sort of frame do I need?
Full, partial, or frameless?
Frameless cycling glasses offer the most unimpeded view, provided they have the same size lens as the equivalent full frame option. A massive full-frame pair like the POC Devour will have a better field of view than a diminutive frameless set.
It mostly comes down to an aesthetic choice, and in our experience, the main difference comes not in terms of field of view but in terms of retention. Without a frame, frameless glasses are less rigid and so can't grip your temples so securely. This is more of an issue with small heads.
Half-frames offer a halfway house, adding rigidity to the upper portion of the lens without adding the bulk of a full frame, but in most cases, it makes very little difference.
Are cycling sunglasses worth it?
If you're on a budget then cheap cycling sunglasses will provide much of the benefits of more expensive options at a far more reasonable price.
That being said, more premium options have advantages in terms of adjustability, field of view, build quality and optical clarity. Simply put they'll just do the job better; comparing a cheap pair and an expensive pair back to back is eye opening sometimes (pun intended), but if you just want something to block out the sun and no more then don't feel you have to spend big bucks.
We get asked this a lot, so we put together a full piece on cheap vs expensive cycling glasses to answer it comprehensively once and for all.
Do I need UV protection?
UVA? UVB? How much do I need, if any?
Beyond fashion, field of view, and fit, the very purpose of any pair of sunglasses is to protect your eyes from harmful UV radiation. Sunglasses are regulated by law and must block UVA and UVB, and all the glasses here will meet the minimum required protection.
While the tint of each lens may allow varying levels of visible light through, darker lenses don't necessarily offer increased UV protection, so if you're concerned then check the manufacturers' specifications for more details.
Am I going to look cool?
Let's be honest, aesthetics are as much a factor as anything else.
Taste is a very personal thing. Yours will vary from your friends, but rest assured that if you buy any of these and they don't feel quite right, either from a style or fit point of view, then you have a right to return them to the retailer.
How do we test for the best cycling glasses?
Each of the reviews you can delve into on this page is the result of a significant number of hours hands-on with each pair of cycling glasses. We ride them in all weathers, in bright sun and on overcast days. We make sure to try them in the cold to see how they resist fogging, and we make sure they fit nicely in various helmet vents too. In short, we test them comprehensively so you can be sure you're making the right choice when it comes to spending your hard-earned cash.
Other cycling glasses we rate
Here at Cyclingnews, we spend a lot of time using, testing and reviewing all cycling glasses to get a feel for which are the best, and by association, which we want to include in this guide.
Many of them perform well but are outranked by competitors that are so similar in their intent that it makes no sense to include both in this list. To that end, if you've not found the sunglasses you like so far in this guide, here are a few more options.
The latest race content, interviews, features, reviews and expert buying guides, direct to your inbox!
Reviews Writer, Cyclingnews
Will joined the Cyclingnews team as a reviews writer in 2022, having previously written for Cyclist, BikeRadar and Advntr. There are very few types of cycling he's not dabbled in, and he has a particular affection for older bikes and long lasting components. Road riding was his first love, before graduating to racing CX in Yorkshire. He's been touring on a vintage tandem all the way through to fixed gear gravel riding and MTB too. When he's not out riding one of his many bikes he can usually be found in the garage making his own frames and components as a part time framebuilder, restoring old mountain bikes, or walking his collie in the Lake District.
Height: 182cm
Weight: 72Kg
Rides: Custom Zetland Audax, Bowman Palace:R, Peugeot Grand Tourisme Tandem, 1988 Specialized Rockhopper, Stooge Mk4, Falcon Explorer Tracklocross
The latest race content, interviews, features, reviews and expert buying guides, direct to your inbox!
Thank you for signing up to The Pick. You will receive a verification email shortly.
There was a problem. Please refresh the page and try again.