Cheap cycling sunglasses: High-quality, low-cost shades
The best cheap cycling sunglasses to protect your eyes from sun and debris without breaking the bank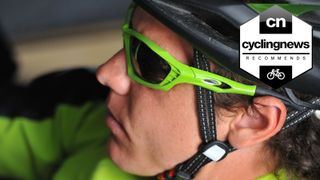 (Image credit: Endura)
The idea of buying cheap cycling sunglasses is one that appeals to many. After all, a range-topping pair will easily cost a three-figure sum.
No matter how much you spend, the basic function of even the cheapest cycling sunglasses is to shield your eyes from the UV rays of the sun, and the barrage of bugs, debris and rain that comes your way. Luckily, you don't need to spend a lot to get just that.
As the price grows, so does the list of added features on offer: interchangeable lenses with included spares, adjustability, and vision-boosting lens tech are just a few, but what if you just want a simple pair of cheap cycling sunglasses without the bells, whistles and behemothic price tags?
The best cycling sunglasses are rarely a cheap investment, but if you want a simple design that offers protection from the sun, coverage against debris, all-day comfort and perhaps even a touch of trickle-down technology, you're in the right place. We have listed the best cheap cycling sunglasses available below.
Best cheap cycling sunglasses available today
Why you can trust Cyclingnews Our expert reviewers spend hours testing and comparing products and services so you can choose the best for you. Find out more about how we test.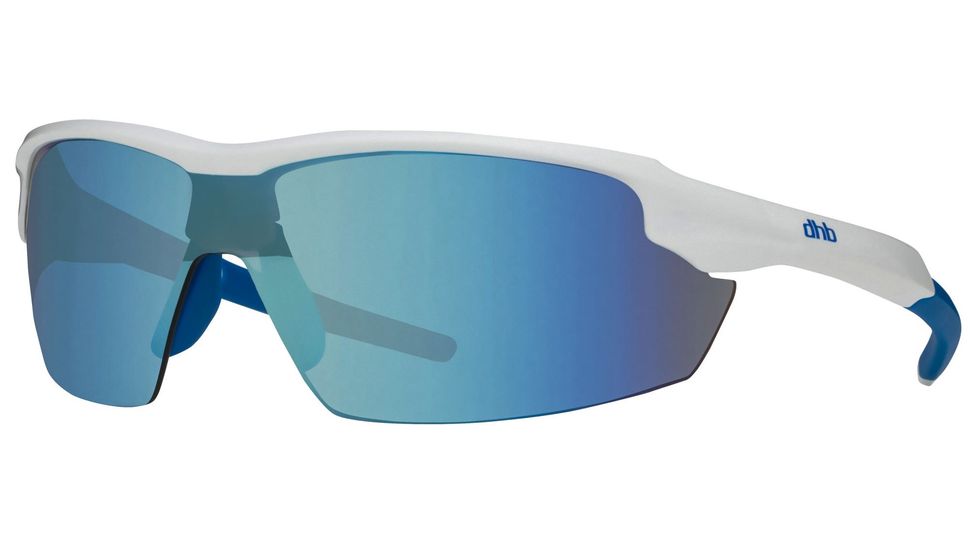 dhb Omnicron
Three interchangeable lenses included
Reasons to buy
+
Multiple lens options for all riding conditions
+
Good ergonomics and fit
Reasons to avoid
-
No vent ports to deal with fogging
The Omnicron sunglasses are light and feature a trendy half frame structure.
Shaped with thin arms, they should not trigger any riding discomfort and offer three lens types. There is a clear lens for riding at night or commuting in fog. For those bright summer weekend training rides, there are also lenses that block a lot more light transmission.
The frame arms are adjustable, to allow correct fit tension, no matter the size or shape of your head. A shaped nose piece keeps the Omnicron stable when riding, even if you are rolling on a particularly badly surfaced road.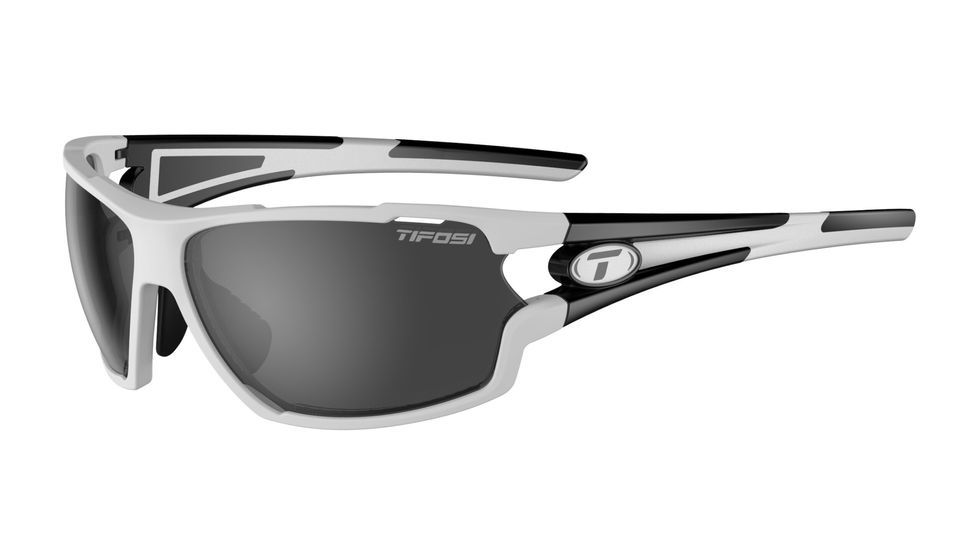 Tifosi Amok
Outrageous American style
Reasons to buy
+
The secure fit and feel of a full frame configuration
Reasons to avoid
-
Busy styling could be too much, for some
These Tifosi Amok sunglasses use a full-frame construction and generous fit to accommodate larger heads, while the classic smaller-lens shape will attract those who dislike the modern large-lens pro styling as found in the dhb Vector below.
Glare reduction is enhanced by Tifosi's glare guard technology with UV protection, while the lenses are also ventilated to prevent fogging in cold conditions. If you prefer the feel of full-frame riding eyewear, these Amoks are a good choice.
Tifosi Swick Single Lens Sunglasses
Adaptable for riding or casual use
Reasons to buy
+
Great deal if you need one pair of sunglasses for bikes and casual use
Reasons to avoid
-
Without vents, they might fog a bit on cold mornings
Another full-frame option for riders who like eyewear that can easily be repurposed for the more casual walkaround role. These snug-fitting Tifosi Swick sunglasses have a classic style and although they lack the ventilation for autumn and winter morning riding, the optics are good.
Their Grilamid TR-90 frame is lightweight and durable, offering all-day comfort, while the hydrophilic rubber nose pieces become even more grippy as you sweat. The polycarbonate lenses are shatterproof and scratch-resistant for long-lasting wear, while they're optically decentred for optimum clarity.
At this retail price they're not pro-level but they offer simple performance and great value for money.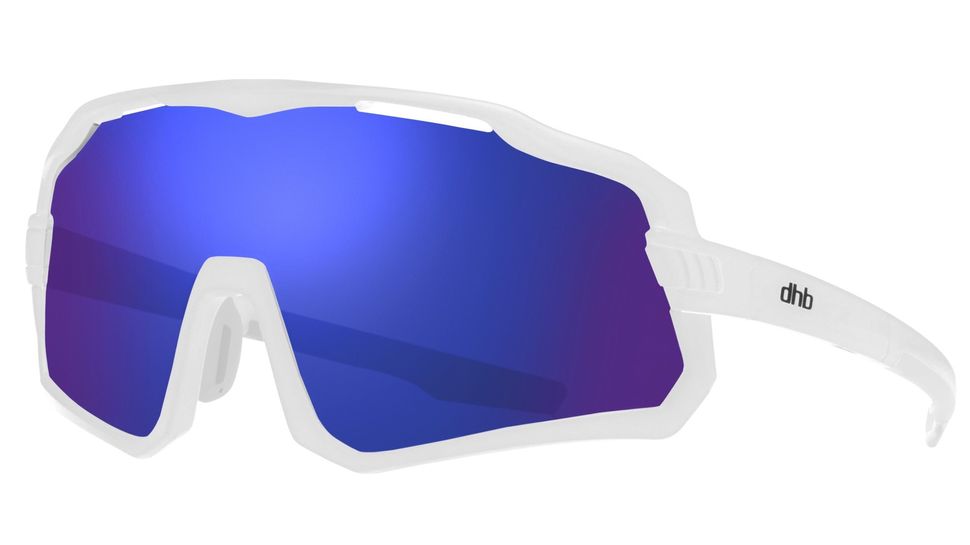 dhb Vector
Best looking cheap cycling sunglasses
Reasons to buy
+
Has that pro visor style
+
Adjustable nosepiece offers ventilation for no fogging
Reasons to avoid
-
Visor's curve might not work for all eyesight types
-
Lens is irreplaceable
If you desire the bold look of a visor-type lens, then the dhb Vector offers a great way to get pro styling without premium prices. They're available in five different colours to match any kit, and while their 34g weight is the heaviest on this list, they're still comfortable and well balanced on the face.
But they're not all style with no substance, the lens lets in just 8 - 18% of light, while the large lens means plenty of physical coverage against debris. They are also available with a photochromatic lens for low-light situations, but unfortunately, you can't swap between the two, since the lens is fixed.
B'Twin ST 100
By far the cheapest cycling sunglasses we've seen
Reasons to avoid
-
They're pretty dull looking
At under £5 / $8, these sunglasses are straight away going to be the best choice for anyone with a tight budget. They are available in three colours, which are black, clear and yellow. Each colour comes with a different purpose: Black is category three, letting in just 8 - 18 per cent of light and blocking 100 per cent of harmful UV rays. Clear offers no light protection, making them suitable for nighttime riding. Yellow is category one, with 100 per cent of harmful UV rays while increasing contrast, helping on cloudy days.
Aesthetically, they're not the prettiest cycling sunglasses out there, but if you want UV and debris protection on a budget, look no further.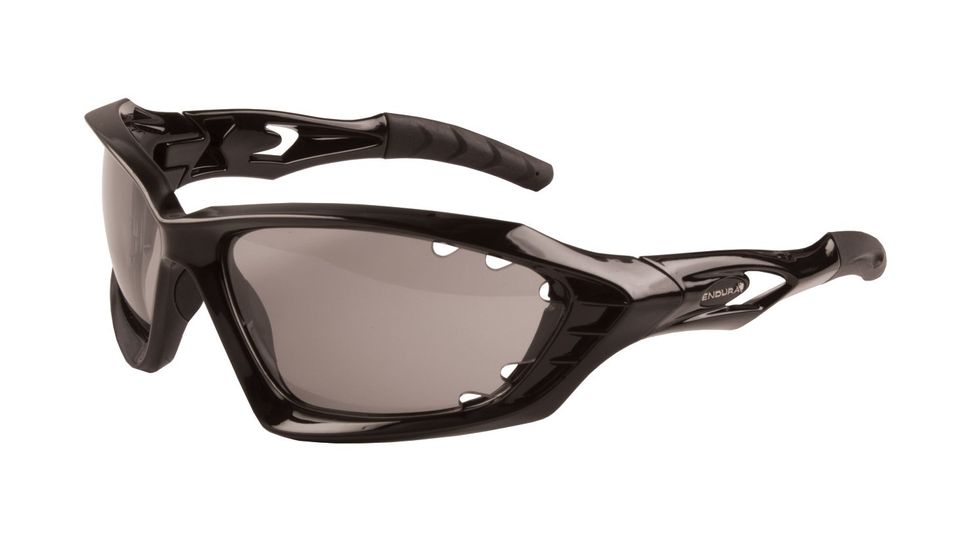 Endura Mullet sunglasses
Aggressively styled but ergonomically refined
Reasons to buy
+
Secure full frame design will appeal to those with larger features
+
Ample vent ports to keep your sight clear on a cold morning or evening
Reasons to avoid
-
Heavyset design might look awkward on thinner faces
A slightly more expensive option, the Endura Mullet is an aggressively styled full-frame design housing two individual lenses. Comfort and ergonomics are assisted by rubber touch surfaces on the frame's arms and a moulded nose piece, to ensure the Mullets remain comfortably in place, even on a long gravel ride.
Photochromatic lenses give you adequate protection when riding in bright sunlight whilst a collection of six tiny vent ports along the outer edge of each lens facilitate airflow.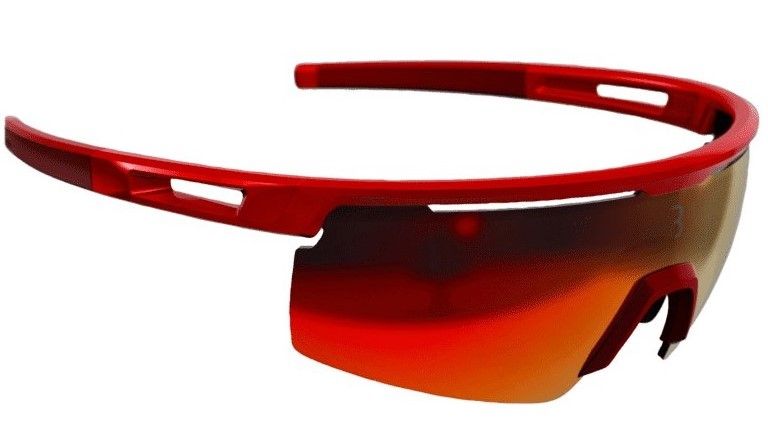 BBB Avenger
Bold design at bargain price
Reasons to buy
+
Striking styling and design
+
Flow slats to helps with defogging
Reasons to avoid
-
Design could be a bit too daring for conservative riders
The BBB Avenger is futuristically styled, but it is not merely for show. You'll notice the slight ventilation clearance between lens and frame, a deliberate design to avoid the annoyance of fogging. This is an elementary comfort feature for riders who are committed to venturing outdoors for their training in even the worst conditions.
BBB's design team has managed to create a uniquely styled frame, that is both light and ergonomically what you would expect from sunglasses at twice the price. The Avenger comes with three interchangeable lenses and offers 100 per cent UV protection.
How to choose the right cheap cycling sunglasses
What should you prioritise and what can you compromise?
Is colour more important than comfort? Is style superior to adjustability? Where can you save some cash?
When buying sunglasses, there are plenty of features and variables to consider that will make one pair better for you than another. Things like adjustability, weight, style, size, colour, and added features like replacement lenses will all carry a certain amount of weight, and by understanding how each will affect your ride, you can make an informed decision on what's the best.
Near the top of anyone's priority list will likely be how comfortable the cheap cycling sunglasses are, so if you're unsure about sizing and cannot try them on, then adjustability should be near the top of the pecking order. It doesn't matter what they look like, how many pairs of free lenses they come with and whether they're made using fancy materials, if they're not comfortable, you'll stop wearing them, and that ultimately means poor value for money. The best cycling sunglasses are those you hardly notice. Nose pads and adjustable arms can increase fit comfort, and both of these are features worth having. If you are on a budget, seek a frame that prioritises adjustability before style.
The difference between a lightweight and 'heavy' pair of sunglasses is only a few grams, so unless you're going after the national hill climb championships, you probably won't need to worry about weight.
Interchangeable and/or spare lenses such as clear night-time lenses definitely add value, but only if you actually use them, so be honest with yourself about your needs.
Alternatively, you might simply put more value in getting the correct colour - or a neutral colour - to match your kit.
Are all cheap cycling sunglasses equally safe?
At a budget price point, you aren't going to get the best optics in terms of contrast and glare reduction. The kind of lenses that vividly enhance every detail on your ride in all light conditions cost a lot of money.
Luckily, even cheap cycling sunglasses are equipped with lenses that will provide protection against debris and sunlight, however, it's worth bearing in mind that bigger brands like Oakley put in countless hours of research and development to increase the quality of this protection.
What are the cycling sunglass categories?
You might see Category 0 to Category 4 quoted in specs and descriptions, but what do they mean?
Category 0 lenses are either clear or have a very light tint, letting in between 80 and 100 per cent of light. They are best for night riding when light is already low.
Category 1 lenses let in 43 to 80 per cent of light. They are regularly coloured lenses, such as bright yellow, that aim to increase contrast on cloudy days.
Category 2 lenses let in between 18 and 43 per cent of light, and are usually coloured in slightly darker hues, meaning they are best for days where weather is intermittently sunny.
Category 3 lenses let in 8 to 18 per cent of light and as such, they are often black, grey or similar in colour. They are very common in cycling sunglasses and are great for sunny days.
Category 4 lenses let in just 3 to 8 per cent of light. They are rarely used in cycling sunglasses since they are just too dark for normal cycling use. They are most commonly found in mountain sports such as skiing and snowboarding where light and glare is intense.
Lance Branquinho is a Namibian born media professional, with 15-years of experience in technology and engineering journalism covering anything with wheels. Being from Namibia, he knows a good gravel road when he sees one, and he has raced some of Africa's best-known mountain bike stage races, such as Wines2Wales and Berg&Bush.
The latest race content, interviews, features, reviews and expert buying guides, direct to your inbox!
Thank you for signing up to The Pick. You will receive a verification email shortly.
There was a problem. Please refresh the page and try again.