Best endurance road bikes: Drop-bar bikes for all-day comfort
The best endurance road bikes have relaxed geometry, disc brakes and plenty of tyre clearance, making them a great choice for long days and rough roads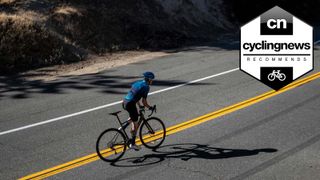 (Image credit: Giant)
The best endurance road bikes are some of the most versatile bikes on the market today. The main focus is obviously on long days and paved roads but that's only a part of what an endurance road bike is all about. The category has long been an obvious choice for fondo and sportive riders but they've also been the choice for the adventurous types and they definitely don't hold back the racers.
To understand the modern endurance road bike it's worth taking a look at the history of the category. Endurance road bikes have a more relaxed geometry with a longer wheelbase and upright seating position, they are stable and comfortable and were some of the first road bikes to make the switch to disc brakes and wider tyres.
Those same features that make for a comfortable all-day ride made for a fun bike to take off the road. Over time the gravel bike became its own thing with even greater specialisation but that history continues to influence the category. Many of today's endurance road bikes have, in turn, benefited from the gravel bike category. Choose the right endurance road bike and you can ride whatever road looks interesting without worrying if it's paved or not.
The other place endurance road bikes have traditionally shown up is on rough races like Paris-Roubaix. For the same reasons that an endurance bike is good for riding all day and good on unpaved roads, they are good for racing when you need a little more compliance.
These are the bikes that have the capacity to stick with you no matter where your cycling interests go. They are also a great choice if you've been riding race bikes for years but are ready for something a bit more comfortable. You can be a casual rider and use them when you feel like it but they won't hold you back if you want to get really serious. Short distances or long distances, paved roads or unpaved roads, there's an option for you in this excellent all-around category, so keep reading for our picks of the best endurance road bikes available today.
However, it's worth stating that just because endurance road bikes are great, that doesn't mean they are for everyone. If you are thinking about another category of bike, take a look at our separate guides covering the best road bikes, as well as the best gravel bikes, the best hybrid bikes and best electric bikes.
Best endurance road bikes
Why you can trust Cyclingnews Our expert reviewers spend hours testing and comparing products and services so you can choose the best for you. Find out more about how we test.
Giant Defy Advanced Pro 1
Best overall: Carbon wheels and electronic shifting make for a bike that'll compete with the best
Specifications
Frame:
Advanced-grade composite carbon
Reasons to buy
+
Front and rear D-Fuse tubing increases compliance
+
Wireless shifting
+
Carbon-fibre wheels
+
Tubeless-ready wheels and tyres from the factory
Reasons to avoid
-
Second-tier carbon layup
The Giant Defy has been around since 2009, but that doesn't mean this bike is old. The Defy was the first disc-brake-only bike on the market and it's continued to see improvements over the years, many bordering on major.
Giant designed the D-Fuse seat post and handlebar system to absorb shocks and vibrations from the road. In the Defy Advanced Pro 1 the system shows up at both the front and rear of the bike and it's customisable. Rotating the bar in the stem adjusts the amount of flex to match whatever your preference is. Additionally, the oversized and tapered OverDrive 2 steerer tube improves cornering precision while the MegaDrive downtube and PowerCore bottom bracket are responsible for precise handling and efficient pedalling.
The only major downside is Giant's choice to use its second-tier carbon. It's a choice that adds weight but it's been somewhat mitigated with the inclusion of carbon fibre wheels. In the UK, the Advanced Pro 1 is shod with SRAM Force eTap, while in other territories it's complete with Shimano Ultegra Di2. They each have their pros and cons, but they are both fantastic groupsets with impeccable shifting performance.
Image 1 of 4
Best all-rounder: An aero endurance road bike that can handle the rough stuff
Specifications
Frame:
Cervelo Caledonia-5
Reasons to buy
+
Good spec level
+
Included power meter
+
Rugged capability
+
Mudguard mounts
The Caledonia 5 is a jack of all trades. The tube shapes are aero optimised but Cervelo keeps the geometry suitable as an option for the best endurance road bike. Making it even more adaptable is the clearance for 34mm tyres and the ruggedness to handle gravel roads.
The challenge with an all-round bike is that there's always the risk of being only okay at everything. There are more aerodynamic aero bikes, there are more comfortable endurance bikes, and there are more capable gravel bikes, but ask yourself if you really need the best in a particular category at the expense of versatility.
If you'd rather not have to have a fleet of bikes for every use, the Caledonia 5 is a very capable bike in a variety of categories. There's very little it can't do and when we recently reviewed the Cervelo Caledonia 5 we were very impressed.
Cube Agree C:62
Best value: One of the best all-round endurance road bikes on the market, the Agree is ready to handle anything you can throw at it
Specifications
Frame:
C:62 Advanced Twin Mold Technology
Reasons to buy
+
Feels like a road racing bike
+
Lightweight
+
Good value for money
+
Carbon wheels
Reasons to avoid
-
Polarising looks
-
Carbon layup is Cube's second-tier
-
Limited tyre clearance
The Cube Agree C:62 is one of the best value endurance road bikes on the market. It's got a carbon-fibre frame, Shimano's renowned Ultegra groupset and Newmen carbon fibre wheels. There's not much we'd upgrade. Fast, agile, and comfortable, the C:62 is a great endurance machine. It doesn't even look like an endurance frame – outfitted with aerodynamic tube shapes and a tapered head tube. The C:62 is fast, too, but the downside is an aesthetic that you'll either love or hate.
A carbon seatpost will absorb road buzz like so many of the other frames on this list, and the price of the Cube Agree C:62 is quite reasonable. Cube designed the frame and handlebar setup to match an endurance road bike fit, but even so, it handles like a dream. If you were so inclined, you could happily race on the Agree C:62, or take it for a six-hour spin in the mountains. Either way, the Agree C:62 will be up to the task, and outperform other bikes at even higher price points.
Liv Avail Advanced 1
Best for women: Great road feel, with plenty of tyre clearance for serious off-road adventures
Specifications
Frame:
Advanced-Grade Composite
Brakes:
Shimano 105 hydraulic
Reasons to buy
+
Comfortable fit
+
Fantastic handling and ride feel
+
Tubeless-ready wheels and tyres from the factory
Reasons to avoid
-
Large tyres for a road bike
The first thing the Liv Avail Advanced 2 represents is a great all-round machine and an excellent addition to the best endurance road bikes list. It also happens to be a women-specific bike. Although women can find comfort in a men's bike - as explained in our article: Can women ride men's bikes? - and many brands are moving to a gender-neutral line-up, Liv offers a women-specific option. The Liv Avail Advanced 2 is a bike designed by women, specifically for women, and it's our pick as the best endurance road bike in that category.
When it comes to the spec, Liv starts with a carbon fibre frame. Building from there you find a complete Shimano 105 groupset including hydraulic disc brakes and gearing that's great for climbing. When you find yourself out of the saddle on those climbs the OverDrive steerer helps add some stiffness and when it's time to sit down, the composite D-Fuse seatpost helps absorb vibrations from the road.
If you decide to adventure off paved roads, the Liv Avail Advanced 2 won't let you down there either, thanks to the Giant Gavia Fondo 1 tubeless tyres in a 700x32c size. It's a nice balance of comfort and capability and there's enough room to go up to 35mm tyres if you need more grip.
Specialized S-Works Roubaix Dura-Ace
Best money-no-object: An adjustable future shock creates a balanced and comfortable ride atop one of Specialized's best endurance race frames
Reasons to buy
+
Adjustable Future Shock that can be locked out
+
Compliant seat post
+
Lightweight
Reasons to avoid
-
High price
-
Maintenance complicated by Future Shock
First launched in 2004, the Specialized Roubaix was the first commercially available endurance road bike. Earlier versions used Zertz inserts to absorb road buzz, and the same goal has stuck with the bike. Current innovation has moved beyond a passive system though and current models use Future Shock. Future shock is active suspension providing up to 20mm of travel inside the head tube. Riders can even adjust the compression and rebound damping, tailoring their ride to be as comfortable as possible no matter the terrain.
Befitting its status as one of the best endurance road bikes, the S-Works Roubaix uses a relaxed geometry. It's comfortable over rough terrain such as rough city streets, dirt trails, and somewhat famously, cobblestones (as the Roubaix name suggests). With all that said, the S-Works Roubaix is not a slow bike, by any means. According to Specialized, it tested faster (more aerodynamic) in its 'Win Tunnel' versus the Tarmac SL6.
You'll have to spend a pretty penny in order to get one and that's why the Specialized S-Works Roubaix is our pick of the best endurance road bike where money is no object. The top model has some great features but there are also other options. If the S-Works version is out of reach, the more budget-friendly models come close in the performance department without the big price tags.
Fuji Sportif 1.3 Disc Road Bike
Best budget: Perfect for beginner cyclists and those looking to increase their weekly mileage
Reasons to buy
+
Affordable
+
Durable components
Reasons to avoid
-
Mechanical disc brakes
-
It's quite heavy
Fuji is one of those brands that continually flies under the radar. It makes excellent bikes that come attached to value pricing and the Fuji Sportif is yet another in this line-up. It's not a fast bike but it is a comfortable bike design for more people.
The frame is aluminium but it does benefit from a carbon fork. More importantly, the geometry has comfort front and centre. There's a nice tall headtube and a long wheelbase to make sure you are sitting comfortably and feeling stable. When it's time to start climbing the gearing will keep you just as comfortable, the Shimano Tiagra groupset is a 2x10 option but Fuji has been smart to spec a setup that makes sure you have at least a 1:1 option with a 34T inner chainring paired with a 34T largest cassette sprocket, so when there's one more hill at the end of a long day, you'll have the gears to keep moving forward.
The one downside to the Fuji Sportif is the choice of brakes. Most bikes on this list come with hydraulic disc brakes, whereas the Sportif 1.3 comes with cable-actuated disc brakes. That means an excellent price but it also means more ongoing maintenance. There are those that appreciate the simplicity of a cable-driven system but they can be prone to brake drag and the need for adjustments. If you've got to go with cable-driven brakes though, TRP is the best in the business so at least you are getting quality parts.
Trek Domane SL 6
Best for comfort: With an eye on both performance and durability, the Domane SL 6 will keep you comfortable, even after the road ends
Specifications
Frame:
500 Series OCLV Carbon
Reasons to buy
+
Enormous tyre clearance
+
Internal storage built into the down tube
+
IsoSpeed decouplers front and rear offer loads of bump absorption
Reasons to avoid
-
Seat mast limits adjustability
-
Lightweight doesn't mean it's fast uphill
The Trek Domane SL6 offers many of the features available on the top-end Domane SLR 9 for a whole lot less money. The main differentiation between the two bikes comes down to weight. Part of that is a different grade of carbon but a lot of that is the equipment choice. That means you can buy into the spirit of the more expensive bike today. If you want to upgrade things later you can come very close to duplicating the best Trek offers.
Perhaps more importantly, what you get walking out the door with the Domane SL6 is an amazing bike. The groupset comes from Shimano in the form of 11-speed Ultegra. To keep things comfortable, you'll find front and rear IsoSpeed decouplers along with Trek's H2 endurance fit. If you want to head off the paved road, there's room for tyres up to 38mm. There's even in the frame storage to make sure when you get far from civilisation, you'll always have the tools you need to get home.
BMC Roadmachine One
Best for racing: The Roadmachine One is ideal for those looking for a race bike dressed like a Gran Fondo rider
Specifications
Frame:
TCC Endurance Premium Carbon
Reasons to buy
+
More aggressive geometry resembling a traditional road bike
+
Mounts for handlebar bag built into integrated cockpit
+
Lightweight
Reasons to avoid
-
Tyre clearance limited to 33mm
-
High price
The BMC Roadmachine enters our list as the best endurance road bike that doesn't look like an endurance road bike. Some might mistake the Roadmachine for the race-ready Teammachine that you'll see on the start line of pro races. But upon closer inspection, the Roadmachine has a shorter reach and a higher stack - meaning the handlebars are closer and higher up - and more tyre clearance compared to the BMC Teammachine. Put that all together, and you'll have a much softer ride.
The Roadmachine might look like a race bike but it's got a variety of technologies to make it comfortable. TCC (Tuned Compliance Concept) Endurance lay-up material and Angle Compliance technology are the base everything builds from. You can feel the effects of flex built into the fork, seatstays, and seatpost. From the outside though the integrated cockpit makes the Roadmachine as 'pro-looking' as it gets, without the slammed stem and extended reach. There are also mounts for a top tube bag in case you need more supplies for long rides.
The downside of the racy focus is less off-road capability. The Roadmachine can only fit up to 33mm wide tyres, putting it on the lower end of the spectrum for an endurance road bike. It's worth noting that for years people did plenty of off-road riding with less than 33mm but in modern terms, it's on the low side for this category. If you're looking to really push the envelope of off-road capability, the Roadmachine might come up short. But if you want a pro look and capable endurance bike that's ready to race, the pricey BMC Roadmachine One is a great option to have.
Cannondale Synapse Carbon 3L
Best integrated bike: a smart bike with everything you need already on-board
Reasons to buy
+
Integrated front light
+
Fender mounts
+
On-board battery
+
Ready for Smart-Sense radar
The Cannondale Synapse was already an iconic endurance road bike. Cannondale has always positioned the Synapse not as a second-tier option but rather as a premier bike with a different focus. For 2022 they've gone over the top with a complete, and radical, redesign.
Smartsense is a complete smart bike system. Instead of needing to source your own front light, rear light, and radar everything comes as part of the bike. There's one central battery to power everything and an app that controls the system and even allows you to set the lights to react to braking or the radar.
Along with the smart systems there's plenty to love about the standard bike as well. The 3L model comes with a Shimano 105 system that features hydraulic brakes and plenty of climbing gears. For those looking to ride through the winter there's fender mounts and for those looking to carry more, there's rack mounts. There's also tyre clearance up to 35mm for those looking to head off the paved path.
How to choose the best endurance road bike for you
While traditional road bikes and endurance road bikes look nearly identical, they are different. The details add up across a whole design and there is a difference. An endurance road bike is a more capable all-around machine that feels completely different from the most race focused machines available.
As we have seen throughout this list, endurance road bikes start with a more relaxed, and stable geometry. From there designers add endurance focused details like wider tyre clearance. Also, while modern road bikes of all kinds have almost completely eliminated rim brakes, endurance road bikes were the first to start that trend. These are the bikes ready to take on long rides and even head well-off the beaten path.
We covered a wide range with options for everyone but people are different. Everyone has different riding habits, tastes, budgets and requirements from their bike. The best endurance road bike for you is unlikely to be the same for the next person. Let's see if we can narrow down what is going to work best for you.
Do I need an endurance road bike?
This might seem like an odd question given how far we are into a guide for the best endurance road bikes. It's a valid question though. Maybe you read something somewhere that started you down the path but is it really the right choice for you?
The answer will depend on you and your riding habits. There are bikes that are the right tool for the job covering whatever you want to do on two wheels. In most cases there is more than one bike that would do the job but if you choose the specialised option it will excel in a particular way.
For example, if your riding is 90 per cent off-road and you enjoy tackling rougher terrain, then you'll probably find a more suitable steed among the best gravel bikes. Similarly, if you're only ever going to ride on tarmac, and you can comfortably do so in a more aggressive position, then you might find the best aero road bikes offer a better match.
The place where the best endurance road bikes excel is as all-around bikes. Specialising means that there are some things a bike just won't do. It can be limiting and if your preferences change down the road you might be shopping for a new bike. If you ride a mix of terrain, like to dabble in gravel, prefer a more relaxed position on the bike, or want a bike that can do a bit of everything, then the best endurance road bikes are a great option.
How much tyre clearance does my endurance road bike need?
The answer is always going to be it depends but there's a clear trend in modern bikes of all kinds. Larger tyres are generally a good idea. In the past braking performance was dependent on a stiff rim brake calliper. The larger wheels and tyres a bike used the less responsive the braking performance would be. This engineering reality paired with a believe that narrower, harder, tires were faster meant that road bikes had very thin tyres.
Modern road bikes have introduced disc brakes and research into tyres and aerodynamics has disproved the narrow is fast theory. Realistically a tyre in the 25-28mm is plenty for road riding. Still, a 30mm or even a 32mm tyre means less pressure and a more comfortable ride on the road. Even bigger only adds capability for off the road and there's no downside.
Bigger tyres are heavier tyres and that can make for a sluggish feel if you don't need the width. If you've got the clearance and don't like big tyres you can always switch to a smaller tyre. On the other hand, if you don't have the clearance then there's nothing you can do to add it.
So, to answer the original question, go for more clearance if there are two similar bikes but it's not the only consideration. Look at the whole bike and make the choice that best fits you if you can get extra clearance, it's a good thing.
My budget is limited, what should I not compromise on?
In this list alone, we've seen a huge range of prices. From afar, all of these endurance road bikes do basically the same thing. They have wide tyre clearance, disc brakes, and endurance-specific geometry. What you get on the more expensive options tends to come down to lighter weights and more technology.
If, like most of us, you don't have the unlimited pockets of cash to spend on an endurance road bike, you'll need to make compromises to save money. Knowing which compromises to make is always the trick but don't despair. Modern bikes of all kinds are incredibly capable. You aren't going to make a bad choice but we do have some suggestions.
Many people think about saving money in terms of what they can change later. That's a reasonable idea but make sure when you start riding your new bike you are happy with what you have. Later upgrades are a great way to continue enjoying your bike. We even have guides such as the best road bike wheels and the best road bike groupsets to help you make those upgrades. You want to make sure though that you are happy with what you have from the beginning.
With that out of the way, we tend to tackle this with a list of 'needs', 'wants', and 'nice-to-haves', and then check those off when shopping. For example, if you're looking to ride the bike off road, your 'needs' column might include wide tyre clearance and bump-absorption technology. Conversely, if you're a cycle-commuter, your 'needs' column will probably have mounts for fenders and perhaps even a pannier rack.
A carbon frame, electronic shifting and carbon wheels will fit into the 'wants' column for most of us. However, also consider future upgrades and whether that's something you're likely going to want to do. It's much easier to upgrade to carbon wheels down the line than it is to swap out a groupset.
What size endurance road bike do I need?
With the different geometries and sizing cut-offs offered by each brand, it's not always as simple as needing the same size across all brands. However, the manufacturer of all of the best endurance road bikes will offer some sort of size guide or geometry chart on their website. These guides will help you decide the best size for that specific bike for your body's proportions.
To help you make sense of the geometry charts, check out our handy explainer, aptly entitled 'what size bike do I need?'. From there, to dial in the bike's fit, you might need to make some adjustments such as saddle height, and perhaps even swap out components to adjust the fit. Our bike fit guide explains how to do this and what to expect.
How do we choose the best endurance road bikes?
To arrive at our selection of the best endurance road bikes, we mapped what we think the various use cases are for someone looking in this segment. For example, some are looking for the best of the best and don't care what it costs, while others are looking for something functional, well-specced and affordable.
Armed with these different persona types, we hand-picked a selection of bikes that fit into each and set to work comparing each bike against its peers, looking at specs, geometries, materials, build quality, brand reputation, warranties and more to arrive at what we decided were the best bikes within the endurance road category.
We are constantly monitoring the market for new additions, applying the same criteria to the new models to see if they fit the bill for inclusion.