Best gravel tyres 2023 and a guide on how to choose the right ones for you
From dusty to dirty, here's everything you need to know about the best gravel tyres available right now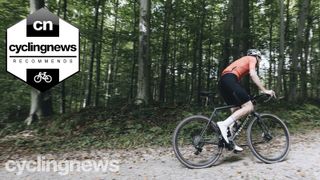 (Image credit: Etienne Schoeman)
Unfortunately, for anyone looking at this guide for a quick and simple answer, we don't have one, as there is no such thing as one single 'best gravel tyre' for everyone. There are certainly best gravel tyres for different types of riding, and there are plenty of very good options catering to each sub-genre within the wider concept of gravel riding, but to choose the best gravel tyre, it will help to have an idea of the type of riding you want to do.
When searching, you will be faced with a number of decisions to make. Do you want them to be heavily treaded or slick? Do you want 700c or 650b diameter? How wide do you want them - 38mm or 50mm? Do you want black or 'tan' sidewalls? And what is the best tubeless sealant to put inside them?
It's not easy, so let us help you narrow down your options.
With the variety of terrain you're likely to roll on during any given gravel ride, choosing the best gravel tyres is about as simple as neatly folding a fitted sheet. A single gravel outing may see pavement, hard-packed dirt, loose gravel and even loamy singletrack. With that, you'll need to find the right balance between grip, rolling resistance and puncture protection.
You can go to all the trouble of hunting down the best gravel bikes, upgrade the stock hoops with the best gravel wheels, switch out to the best gravel bike pedals, and potentially spend thousands on your setup, but the enjoyment of a ride can be completely undone with the wrong choice of tyres, so it's imperative you get it right.
To make things more complicated, there are stacks of tyres ranging from fat road bike tyres aimed more at the best gravel race bikes, all the way to what essentially amounts to mountain bike tyres, the sheer number of choices can be intimidating. Luckily, the buyer's guide below explains all.
Best gravel tyres you can buy today
You can trust Cyclingnews Our experts spend countless hours testing cycling tech and will always share honest, unbiased advice to help you choose. Find out more about how we test.
Best gravel tyre for hardpack surfaces
Specifications
Width:
32-50mm (700c) / 1.75-2.1in (650b)
Reasons to buy
+
Light but tough, puncture-resistant and with a long tread life
+
Mid-sized skin wall versions ride well
+
Predictable gravel grip without growl on the road
+
Reasonable price
Reasons to avoid
-
Smaller and larger versions can't match premium competitors for speed and smoothness
-
Blocks quickly in muddy conditions
-
Side rails slip easily on roots
Not every gravel ride involves deep gravel or singletrack ripping and, for a lot of riders, a spin on their gravel bike likely means pounding a lot of smoother roads. If this is you, we think the best tyre you can buy is the Panaracer Gravelking SK.
With a dot-dash tread not dissimilar to morse code, they offer acceptable grip in sand and loose dirt, but are best suited to hardpack surfaces like fireroads and manmade trail centres. And every once in a while they come in crazy limited edition colourways like orange, ivory and blue.
Read our Panaracer Gravelking SK review for the comprehensive verdict.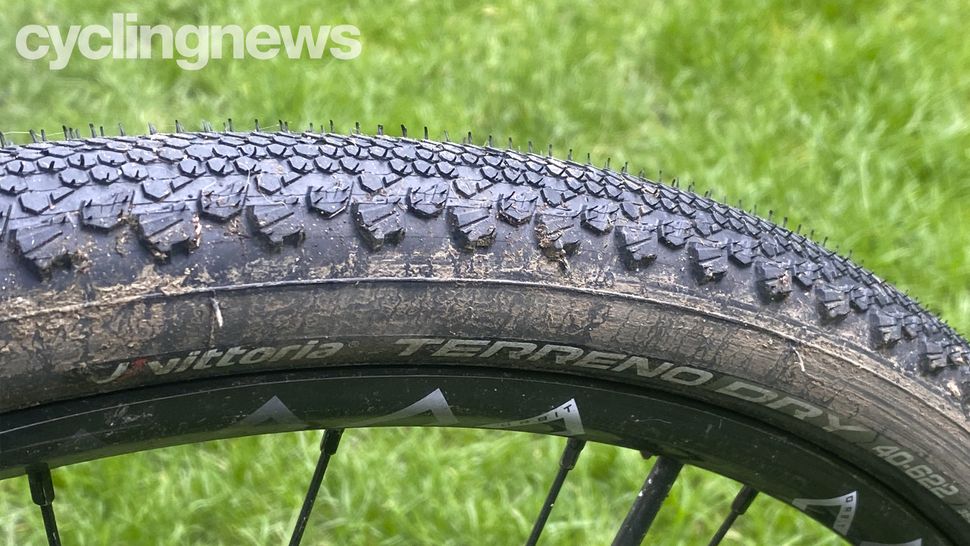 Best gravel tyre for fast rolling and great braking
Reasons to buy
+
Graphene infused rubber
+
Mud clearing
+
Braking traction
Vittoria has been adding graphene into its tyres for some time now. While some of the claims made about durability, grip and rolling resistance seem like marketing mumbo jumbo, in our experience the G2.0 tyres seem to ride like lightweight, supple rubber but don't shred when you pit them against sharp rocks.
The Terreno Dry has a unique centre tread, using ramped hexagons instead of traditional file tread. Vittoria calls them scales and the spacing pattern is conducive to flinging mud, while framing offers a bit of braking bite without adding too much rolling resistance.
Moving towards the shoulders, the tread blocks grow until they reach the well-supported knobbies on the edge. With a relatively square profile, the Terreno Dry tyres hook up well in the corners across a range of conditions.
For more details, read our Vittoria Terreno Dry review.
A good mix of durability and speed, with easy set up to boot
Reasons to buy
+
Super-easy tubeless setup
+
Bombproof construction
+
Good straight-line speed on all surfaces
+
Decent corner grip
+
Good mud-shedding ability
Reasons to avoid
-
They can feel wooden at medium-high pressures
The Goodyear Connector Ultimate are tough tyres that will happily handle lower tyre pressures than Goodyear recommends, which is a good thing, since they can feel a little wooden at those recommended pressures. Even after you drop them down to more comfortable pressures, they still manage to offer a fast ride, meaning they are another good all-rounder option for those who want one pair of tyres for various surfaces.
They are easy to set up and, despite being seemingly bombproof, they are also competitively lightweight. Their centreline speed is reasonably good, too, so as long as you ignore Goodyear's pressure recommendations, gravel all-rounders will be happy with the Connector Ultimates.
Read the full review Goodyear Connector Ultimate gravel tyre for my insight into how they performed on the trail.
Chunky tractor-like gravel tyres for mixed terrain riding
Reasons to buy
+
Good all-round wet and loose grip
+
Centreline still rolls fast
+
Stable and surefooted at low pressures
+
Tank tough and impressively puncture proof
Reasons to avoid
-
The sturdy build takes some accelerating
-
Relatively slow off-road
Since 'gravel riding' in the UK often consists of muddy fields and slipping through slosh (especially during the winter months), then you'll need some rubber that can hold steadfast and keep you upright. Pirelli's Cinturato Gravel M tyres are seriously tough and grippy all-rounders that make light work of loose and wet terrain.
The widely spaced and chunky arrow-head tread pattern on the shoulders results in surefooted cornering, and while the Gravel Ms feel sluggish on the tarmac, if your priority is having a bombproof set of tyres that won't puncture easily, and will cushion some of the rockier surfaces, then they're a great shout. If speed is more important, turn to the Pirelli Cinturato Gravel H tyres instead.
Otherwise, check out our review of the Pirelli Cinturato Gravel M tyres for a full breakdown of why we think these are a great addition to your bike.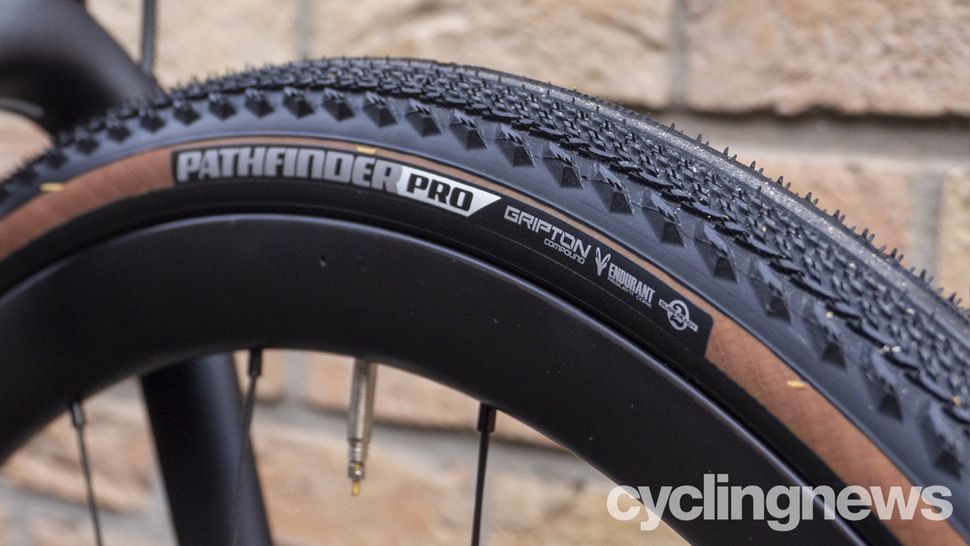 Specialized Pathfinder Pro
The best gravel tyre for dry-weather riding or racing
Reasons to buy
+
Good levels of puncture protection
+
Fast-rolling on road
Reasons to avoid
-
Not the best in muddy conditions
If your gravel riding is more 'all road' than 'off road', then the Pathfinder Pro tyres will serve you very well. Throughout the past few years, we've used Pathfinder Pro tyres in wet, dry, mud and dust, in various sizes and on various bikes, and each time they've performed amicably. They take a little bit of extra care when riding in the mud, since the tight tread pattern can clog up when the going gets really sticky, but they hold their own much better than expected.
Their slick central strip makes them super fast on the road, while the progressively-wider knobs mean good off-road grip, even on natural trails better suited to mountain bike tyres.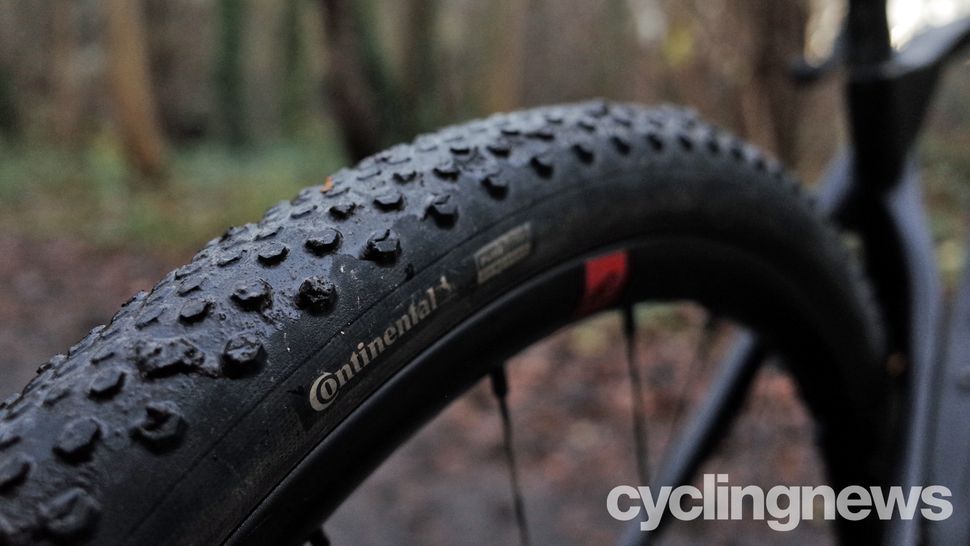 Continental Terra Trail
A great choice for all-round riding, with impressive grip and mud-shedding ability
Reasons to buy
+
Impressive grip on all surfaces
+
Good puncture resistance
+
Easy to set up tubeless
Continental took a while to jump into the gravel game, but when it finally arrived, it made a big splash with the Terra Speed and Terra Trail tyres. They benefit from the BlackChili compound and ProTection casing, which means they roll incredibly well, although the lack of a slick central stripe means a little bit of extra noise compared to a slick tyre.
They are available in black-wall, tan-wall, or even yellow, and in both 650b and 700c diameters.
Michelin Power Gravel TLR
Robust gravel tyres for those who prioritise speed
Reasons to buy
+
Directional tread blocks keep forward progress brisk
+
Large edge blocks help give bite during cornering
+
High TPI keeps a relatively supple feel
If you're looking for something that rolls fast and stands up to more technical terrain, then Michelin's Power Gravel TLR could be just what you need. Featuring a triple-layer 120tpi casing, it's a robust option that can handle mixed terrain that includes large rocks and loose shale.
Its low rolling resistance can be credited to the mostly triangular-shaped tread blocks created by Michelin's engineers, which line the tyre's contact patch and reduce drag. At the edge, the blockier tread adds some width and height to offer stable cornering and predictable handling.
Specialized Rhombus Pro
The tyre that puts the 'grrr' in 'gravel'
Reasons to buy
+
Great value for money
+
Fast-rolling
+
Edge grip is outstanding
Reasons to avoid
-
Only available in one size
-
Fairly heavy
Specialized's Rhombus Pro tyre is what comes specced on the Diverge Evo, the brand's flagship gravel bike in its flat-bar guise. It makes use of Specialized's 2Bliss technology, which features a 60tpi carcass to prevent damage to the sidewall, and allows for an easy tubeless setup as an added bonus.
The tread is tightly packed with a forward-facing arrow point throughout the centre, while at the edge the more prominent square-shaped knobs offer excellent traction while cornering. The Rhombus Pro is a great choice of tyre if you're riding on variable off-road conditions, and can even hold its own on a bit of singletrack if that's your jam.
For more information, check out the Specialized Rhombus Pro tyre review over at our sister site, Bike Perfect.
Hutchinson Touareg
The best fast-rolling gravel tyre
Reasons to buy
+
Tread pattern offers low rolling resistance
+
Picks up speed easily
Reasons to avoid
-
Could be a tight fit on some frames
Whether you're racing cyclo-cross or gravduro, Hutchinson's Touareg tyres are marketed as multi-use for off-road, and they offer low rolling resistance to help you pick up and maintain speed when you need it.
The tyre edges are lined with large tread blocks to maintain traction on tight turns, while the centre tread consists of smaller blocks arranged in a chevron pattern.
The 127tpi casing not only keeps the rolling resistance at bay, but also offers a supple feel. The 60 ShA durometer grade rubber compound is durable, while a textile grid embedded in the casing provides good puncture protection.
The only thing to bear in mind is that the large sizes won't work with every gravel bike, so it's worth checking your frame's maximum clearance before committing.
Challenge Gravel Grinder
Best gravel tyre for a super supple ride feel
Specifications
Casing:
Pro, Pro Handmade TLR, Race, Race Vulcanized TLR
Reasons to buy
+
Weight
+
Fast rolling
+
Soft casing
Reasons to avoid
-
Variation in manufacturing tolerance
-
Grip in the wet
The Challenge Gravel Grinder is one of the most supple gravel tyres you can buy and, at 365g, it's pretty light too in the 700x38mm size. They are some of the fastest gravel tyres we've come across and the flexible casing dampens vibration.
With the brand's chicane file tread up the middle and small triangular shoulder knobbies, it's a fast-rolling option that excels on hard-packed dry surfaces. The transition from the centre strip to the shoulder tread is pronounced, and you can feel when the bigger knobs engage.
With the minimal tread don't expect this specific Challenge tyre to act like a pig in mud when the rain begins to fall. The tyre is available in both Pro Handmade and Race Vulcanised versions as well as tubeless and non-tubeless versions. Be warned, we have found some variance in how easy or difficult it is to get these tyres on the rim, some slip right on and others have ended the life of a few tyre levers.
Donnelly X'Plor MSO
Best gravel tyre for puncture resistance
Reasons to buy
+
Fast rolling
+
Well supported shoulder tread
Reasons to avoid
-
Doesn't clear mud well
-
Stiff sidewall
A few years ago, Clement rebranded itself as Donnelly, but the relabelled X'Plor MSO tyres still prove to be fast rolling and puncture-resistant with oodles of traction all in one tyre.
The key to achieving this unicorn characteristic is in the tread pattern. With a tightly packed centre strip, the tread opens up as it moves into the transition and shoulder blocks. The transition knobs are siped and provide a bit of additional confidence over loose surfaces, while the round shoulder tread manages to poke through sand over hardpack. At the same time, the larger blocks on the edge have enough support to hold their shape as the bike leans over.
Unfortunately, there is no such thing as a free lunch in the bike industry, and the trade-off of the above is the X'Plor MSOs are a bit heavy (532g, 700 x 40mm), and the sidewall is about a supple as a tile floor.
Maxxis Rambler
Best gravel tyre for grip
Maxxis makes arguably the most popular off-road tyre on the market (the Minion) and although the Rambler was its first attempt at a gravel tyre it has nailed the brief.
The centre tread is tightly packed and ramped to minimise drag, while the shoulder blocks are more substantial to hook up on loose surfaces. In spite of the proximity of the knobbies, they dig their claws in surprisingly well and the round profile makes cornering traction predictable.
Maxxis has also impressed with a durable sidewall that doesn't succumb to slashes and slices, but remains supple enough to take the bite out of square edges.
WTB Resolute
Best gravel tyre for do-everything rough-surface capability
Reasons to buy
+
Loads of grip
+
Dampening and ride quality
Reasons to avoid
-
Presents bigger than the number on the sidewall
Serving as WTB's do-everything gravel tyre, the Resolutes see a more substantial tread pattern than the popular Horizon and Byway rubber.
With small, square tread blocks throughout, the centre of the tyre is crowded to limit rolling resistance with the intermediate and shoulder knobs spaced further apart for surefooted cornering on loose surfaces. With this aggressive pattern the Resolute is a pure gravel tyre, don't expect to be rolling turns on a road ride — the tread hums like a mountain bike tyre.
But after the blacktop is well behind you, the Resolute is confident on everything from sand over hardpack, gravel, to rooty and rocky singletrack. The tread pattern is also conducive to clearing mud and sand, but the casing presents a bit wider than marked so be wary if your frame suffers from tyre clearance constraints.
Kenda Flintridge Pro
Best gravel tyre for a party mix of tread that is comfortable in most conditions
Reasons to buy
+
Easy setup
+
Puncture protection
Named after the jagged rocks found in the hills around the Dirty Kanza, the Kenda Flintridge features a party mix of different tread patterns. Down the centre are long rectangular blocks designed to spin right along on pavement, the transition blocks are siped and grippy while outer knobs provide predictability in loose rocks and mud — furthered by the round tyre profile.
They offer a low 30-50 PSI range, but the stiff sidewall prevents a floaty ride quality, and they perform better at the lower end of the tyre-pressure spectrum. That said, the Flintridge isn't deterred by the rocks it's named after and while the GTC sidewall may ride a bit stiff, it sure is robust.
Schwalbe G-One All Round
Best gravel tyre for mixed surface riding
Specifications
Casing:
Microskin TL Easy, SnakeSkin TL Easy V-Guard, Race Guard TLE
The G-Ones are notoriously fast and supple, and are the kind of tyres that can transform and improve the ride quality of any gravel bike. They are lightweight and the small, round, siped knobs don't add much in the way of rolling resistance, making them best suited to hard pack dirt roads.
They are also some of the easiest tubeless tyres to set up and we've yet to break a lever trying to get one over the bead.
The trouble with the G-Ones is they are so lightweight that they are prone to flats. We think they are one of the best tyres you can buy if your gravel routes have interspersed pavement sectors with tracks that are more soil than gravel. If not, consider one of the other tyres in this roundup.
Vee Rail
Best gravel tyre for confident cornering
Reasons to buy
+
Price
+
Corner hookup
+
Not overly draggy
Vee Tire uses a dual-compound rubber throughout the Rail, with the centre tread using a harder rubber to limit rolling resistance, while the shoulders are a much softer compound to help them hook up when you lean the bike over. Down the centre are siped arrow-shaped knobbies which get progressively taller out to the ramped blocks on the edge.
The Rail is available in Vee's Synthesis Sidewall casing, which is both lighter and more puncture resistant than the standard version, and the Rail is super supple out on the road.
Starting at £40 / $35 / AU$80, the Rails cost a few bucks less than their competition but don't sacrifice any performance.
How to buy the right gravel tyre
When buying gravel tyres, you will be faced with a number of decisions, each of which we will run through below, before explaining what the pros and cons of each of the solutions are, so that you can feel suitably equipped to make the decision on what are the best gravel tyres for you.
Do I need 700c or 650b gravel tyres?
This is likely the first question you'll run into. It's quite possibly the most important, but also the easiest to answer. The question pertains to the size of the tyre's circumference, and the answer will be dictated by the size of your bike's wheels.
The easiest way to think about it is that 700c is equal to approximately 29 inches, while 650b is 27.5 inches. You won't be able to get a 27.5-inch tyre onto a 29-inch rim, or vice versa, so if your bike is fitted with 700c wheels, then you'll need 700c tyres.
How wide do you want your gravel tyres?
The width of gravel bike tyres is usually measured and displayed in millimetres, although sometimes, when looking at 650b tyres, it is displayed in inches. An inch is 25.4mm, so you can convert if needs be.
Exactly what width gravel tyres will work best for you will depend on the type of riding you'll do, and the amount of clearance afforded by your bike's frame. Frame clearance is an all-important factor in choosing tyre size. It's all good and well getting a 50mm tyre for your off-road adventures, but if the rubber doesn't fit, your wheels won't turn and the adventure will be disappointingly short-lived. Your frame will come with a specified amount of clearance, but if you cannot find it, you can measure the narrowest point, and then remove 8mm, to allow for 4mm space on either side - the number you're left with will be the maximum size you should choose.
The general rule is that a wider tyre will provide more traction and cushioning over rough surfaces, to increase grip and comfort. However, a narrower tyre will usually be more nimble, and roll slightly faster on smoother surfaces - though this can be affected by the tread you choose. Your tyre width again comes down to your route and what kind of terrain you'll be riding. If the majority of the ride is on the tarmac with a few gravel sectors, aim for something between 28-32mm. If we are talking 50/50 gravel-to-tarmac, between 32-36mm seems to work pretty well for us. Anything that is majority gravel, 36mm and up will be the ticket.
If you're riding in thick mud, then narrower tyres will mean more clearance between tyre and frame to prevent your wheels from being clogged up and grinding you to a halt.
What sort of tread do you want?
When it comes to gravel bike tyres, there are dozens of different tread types to choose from. At one end of the spectrum, there are those that are almost entirely slick, and at the other end, there are tyres that resemble tractor treads.
Tread is also affected by the road surface, as well as your skill and confidence on the bike. A good general rule is the rougher the road surface, the bigger tread required. Hardpack roads don't require much tread, while loose gravel or mud need bigger, and wider-spaced knobs. Don't just throw on the gnarliest tyre available, though, tailor your choice to your riding surface to get the most out of your ride.
Borrowing a trick from our mountain bike friends over at Bike Perfect, consider mounting a more aggressive tyre on the front for additional grip, while retaining a bit of speed out-back.
What is TPI?
TPI stands for Threads Per Inch, and relates to the number of threads that cross through one square inch of a single ply of the tyre's casing. A lower number usually means better puncture and cut resistance, but a tyre with more threads per inch will conform to the terrain better, making for a smoother and more supple ride.
Tan wall or black?
This question pertains to the colour of the tyre's sidewall. It's purely an aesthetic decision, so pick what you most like the look of.
Tubeless or inner tubes?
We think all gravel tyres should be tubeless. If not, spend your money on something else.
Once you've chosen your new gravel tyres, you'll want to fill them with sealant. Choose wisely with help from Bike Perfect's roundup of the best tyre sealant, and make punctures a thing of the past.