Track Worlds: Great Britain's Elinor Barker secures world title in women's Points Race
By Cyclingnews
Denmark claims men's Madison, Harrie Lavreysen wins men's Sprint, Emma Hinze wins women's Keirin
Day 5: Points Race, Keirin - Women - Madison, Sprint - Men
Image 1 of 19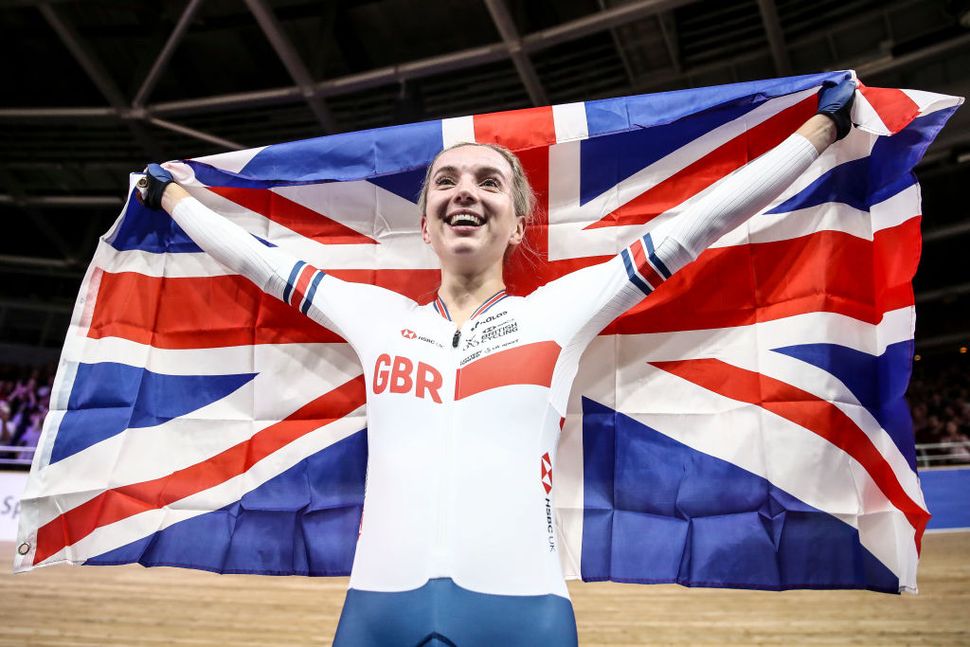 Image 2 of 19
Image 3 of 19
Image 4 of 19
Image 5 of 19
Image 6 of 19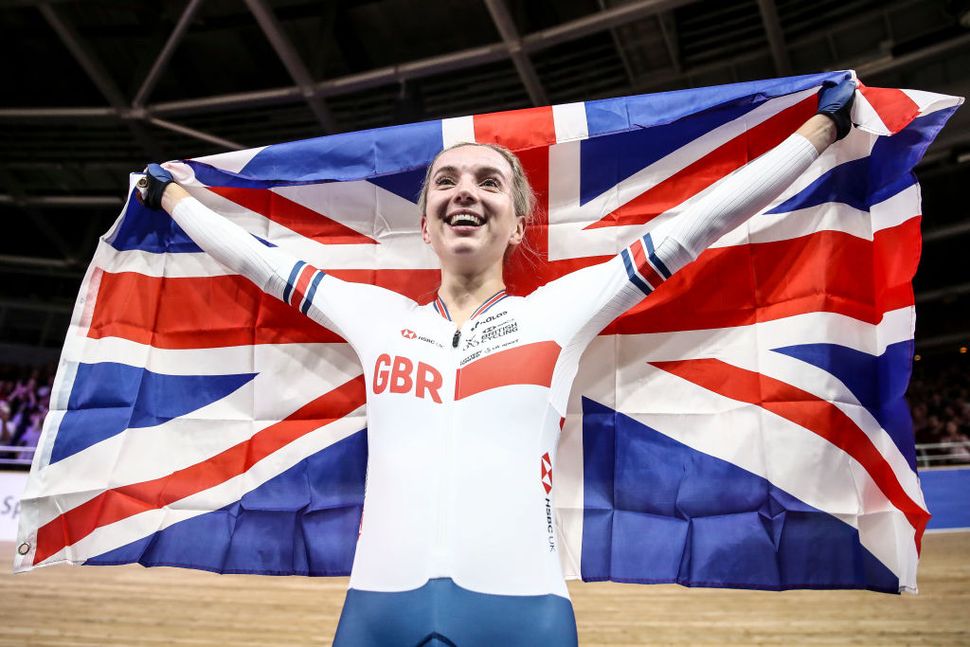 Image 7 of 19
Image 8 of 19
Image 9 of 19
Image 10 of 19
Image 11 of 19
Image 12 of 19
Image 13 of 19
Image 14 of 19
Image 15 of 19
Image 16 of 19
Image 17 of 19
Image 18 of 19
Image 19 of 19
The women's Keirin closed out the fifth and final day at the UCI Track World Championships in Berlin on Sunday. Emma Hinze (Germany) secured the world title in the event, racing to victory in the final round ahead of silver medallist Hyejin Lee (Republic of Korea) and bronze medallist Stephanie Morton (Australia).
The day started with the a continuation of the men's Sprint, which had started the previous day. Harrie Lavreysen (Netherlands) won the world title in the gold-medal-round against Jeffrey Hoogland (Netherlands), who took home silver, while Mohd Azizulhasni Awang (Malaysia) earned bronze.
Elinor Barker of Great Britain won the women's Points Race with 50 points to top Jennifer Valente (United States of America) with 34 points, and Anita Yvonne Stenberg (Norway) with 33 points.
Denmark's team of Lasse Norman Hansen and Michael Morkov secured 63 points to win the men's Madison. They beat New Zealand's team of Campbell Stewart and Aaron Gate that took 33 points and the silver medal, while Germany's Roger Kluge and Theo Reinhardt finished with 32 points and the bronze.
Results
Men's Sprint
Men's Sprint - Semifinals, Heat 1

| Pos. | Rider Name (Country) Team | Result |
| --- | --- | --- |
| 1 | Harrie Lavreysen (Netherlands) | |
| 2 | Mohd Azizulhasni Awang (Malaysia) | |
Men's Sprint - Semifinals, Heat 2

| Pos. | Rider Name (Country) Team | Result |
| --- | --- | --- |
| 1 | Jeffrey Hoogland (Netherlands) | |
| 2 | Mateusz Rudyk (Poland) | |
Men's Sprint - Finals for gold

| Pos. | Rider Name (Country) Team | Result |
| --- | --- | --- |
| 1 | Harrie Lavreysen (Netherlands) | |
| 2 | Jeffrey Hoogland (Netherlands) | |
Men's Sprint - Finals for bronze

| Pos. | Rider Name (Country) Team | Result |
| --- | --- | --- |
| 3 | Mohd Azizulhasni Awang (Malaysia) | |
| 4 | Mateusz Rudyk (Poland) | |
Women's Keirin
Women's Keirin - First round, heat 1

| Pos. | Rider Name (Country) Team | Result |
| --- | --- | --- |
| 1 | Katy Marchant (Great Britain) | |
| 2 | Wai sze Lee (Hong Kong, China) | |
| 3 | Liubov Basova (Ukraine) | |
| 4 | Simona Krupeckaite (Lithuania) | |
| 5 | Anastasiia Voinova (Federation Russian) | |
Women's Keirin - First round, heat 2

| Pos. | Rider Name (Country) Team | Result |
| --- | --- | --- |
| 1 | Nicky Degrendele (Belgium) | |
| 2 | Hyejin Lee (Republic of Korea) | |
| 3 | Riyu Ohta (Japan) | |
| 4 | Urszula Los (Poland) | |
| 5 | Hoi yan yan Jessica Lee (Hong Kong, China) | |
Women's Keirin - First round, heat 3

| Pos. | Rider Name (Country) Team | Result |
| --- | --- | --- |
| 1 | Shanne Braspennincx (Netherlands) | |
| 2 | Stephanie Morton (Australia) | |
| 3 | Martha Bayona Pineda (Colombia) | |
| 4 | Natasha Hansen (New Zealand) | |
| 5 | Helena Casas Roige (Spain) | |
Women's Keirin - First round, heat 4

| Pos. | Rider Name (Country) Team | Result |
| --- | --- | --- |
| 1 | Lea Sophie Friedrich (Germany) | |
| 2 | Ellesse Andrews (New Zealand) | |
| 3 | Kelsey Mitchell (Canada) | |
| 4 | Mathilde Gros (France) | |
| 5 | Daria Shmeleva (Federation Russian) | |
Women's Keirin - First round, heat 5

| Pos. | Rider Name (Country) Team | Result |
| --- | --- | --- |
| 1 | Emma Hinze (Germany) | |
| 2 | Madalyn Godby (United States of America) | |
| 3 | Yuka Kobayashi (Japan) | |
| 4 | Lauriane Genest (Canada) | |
| 5 | Charlene du Preez (South Africa) | |
| 6 | Olivia Podmore (New Zealand) | |
Women's Keirin - First Round Repechage, heat 1

| Pos. | Rider Name (Country) Team | Result |
| --- | --- | --- |
| 1 | Lauriane Genest (Canada) | |
| 2 | Mathilde Gros (France) | |
| 3 | Liubov Basova (Ukraine) | |
| 4 | Daria Shmeleva (Federation Russian) | |
Women's Keirin - First Round Repechage, heat 2

| Pos. | Rider Name (Country) Team | Result |
| --- | --- | --- |
| 1 | Laurine van Riessen (Netherlands) | |
| 2 | Natasha Hansen (New Zealand) | |
| 3 | Riyu Ohta (Japan) | |
| 4 | Charlene du Preez (South Africa) | |
| 5 | Simona Krupeckaite (Lithuania) | |
Women's Keirin - First Round Repechage, heat 3

| Pos. | Rider Name (Country) Team | Result |
| --- | --- | --- |
| 1 | Anastasiia Voinova (Federation Russian) | |
| 2 | Martha Bayona Pineda (Colombia) | |
| 3 | Urszula Los (Poland) | |
| 4 | Olivia Podmore (New Zealand) | |
Women's Keirin - First Round Repechage, heat 4

| Pos. | Rider Name (Country) Team | Result |
| --- | --- | --- |
| 1 | Kelsey Mitchell (Canada) | |
| 2 | Helena Casas Roige (Spain) | |
| 3 | Yuka Kobayashi (Japan) | |
| 4 | Hoi yan yan Jessica Lee (Hong Kong, China) | |
Women's Keirin - Quarterfinals, heat 1

| Pos. | Rider Name (Country) Team | Result |
| --- | --- | --- |
| 1 | Lea Sophie Friedrich (Germany) | |
| 2 | Hyejin Lee (Republic of Korea) | |
| 3 | Katy Marchant (Great Britain) | |
| 4 | Laurine van Riessen (Netherlands) | |
| 5 | Anastasiia Voinova (Federation Russian) | |
| 6 | Helena Casas Roige (Spain) | |
Women's Keirin - Quarterfinals, heat 2

| Pos. | Rider Name (Country) Team | Result |
| --- | --- | --- |
| 1 | Emma Hinze (Germany) | |
| 2 | Stephanie Morton (Australia) | |
| 3 | Natasha Hansen (New Zealand) | |
| 4 | Nicky Degrendele (Belgium) | |
| 5 | Martha Bayona Pineda (Colombia) | |
| 6 | Lauriane Genest (Canada) | |
Women's Keirin - Quarterfinals, heat 3

| Pos. | Rider Name (Country) Team | Result |
| --- | --- | --- |
| 1 | Wai sze Lee (Hong Kong, China) | |
| 2 | Madalyn Godby (United States of America) | |
| 3 | Ellesse Andrews (New Zealand) | |
| 4 | Mathilde Gros (France) | |
| 5 | Shanne Braspennincx (Netherlands) | |
| 6 | Kelsey Mitchell (Canada) | |
Women's Keirin - Semifinals, heat 1

| Pos. | Rider Name (Country) Team | Result |
| --- | --- | --- |
| 1 | Stephanie Morton (Australia) | |
| 2 | Hyejin Lee (Republic of Korea) | |
| 3 | Lea Sophie Friedrich (Germany) | |
| 4 | Mathilde Gros (France) | |
| 5 | Natasha Hansen (New Zealand) | |
| 6 | Laurine van Riessen (Netherlands) | |
Women's Keirin - Semifinals, heat 2

| Pos. | Rider Name (Country) Team | Result |
| --- | --- | --- |
| 1 | Emma Hinze (Germany) | |
| 2 | Wai sze Lee (Hong Kong, China) | |
| 3 | Ellesse Andrews (New Zealand) | |
| 4 | Katy Marchant (Great Britain) | |
| 5 | Nicky Degrendele (Belgium) | |
| 6 | Madalyn Godby (United States of America) | |
Women's Keirin - Finals 1-6

| Pos. | Rider Name (Country) Team | Result |
| --- | --- | --- |
| 1 | Emma Hinze (Germany) | |
| 2 | Hyejin Lee (Republic of Korea) | |
| 3 | Stephanie Morton (Australia) | |
| 4 | Wai sze Lee (Hong Kong, China) | |
| 5 | Ellesse Andrews (New Zealand) | |
| 6 | Lea Sophie Friedrich (Germany) | |
Women's Keirin - Finals 7-12

| Pos. | Rider Name (Country) Team | Result |
| --- | --- | --- |
| 7 | Laurine van Riessen (Netherlands) | |
| 8 | Katy Marchant (Great Britain) | |
| 9 | Mathilde Gros (France) | |
| 10 | Madalyn Godby (United States of America) | |
| 11 | Nicky Degrendele (Belgium) | |
| 12 | Natasha Hansen (New Zealand) | |
Women's Point Race
Women's Points Race

| Pos. | Rider Name (Country) Team | Result |
| --- | --- | --- |
| 1 | Elinor Barker (Great Britain) | 50 |
| 2 | Jennifer Valente (United States of America) | 34 |
| 3 | Anita Yvonne Stenberg (Norway) | 33 |
| 4 | Olga Zabelinskaya (Uzbekistan) | 31 |
| 5 | Maria Giulia Confalonieri (Italy) | 30 |
| 6 | Kirsten Wild (Netherlands) | 29 |
| 7 | Maria Novolodskaya (Federation Russian) | 25 |
| 8 | Trine Schmidt (Denmark) | 22 |
| 9 | Tatsiana Sharakova (Belarus) | 12 |
| 10 | Lotte Kopecky (Belgium) | 8 |
| 11 | Ganna Solovei (Ukraine) | 7 |
| 12 | Victoire Berteau (France) | 5 |
| 13 | Amber Joseph (Austria) | 5 |
| 14 | Jarmila Machacova (Czech Republic) | 4 |
| 15 | Alexandra Manly (Australia) | 3 |
| 16 | Maria Martins (Portugal) | 2 |
| 17 | Qianyu Yang (Hong Kong, China) | |
| 18 | Lena Mettraux (Switzerland) | |
| 19 | Verena Eberhardt (Austria) | |
| 20 | Wiktoria Pikulik (Poland) | |
| 21 | Alice Sharpe (Ireland) | |
| 22 | Irene Usabiaga Balerdi (Spain) | |
| 23 | Sofia Arreola Navarro (Mexico) | -19 |
| 24 | Tereza Medvedova (Slovakia) | -40 |
Men's Madison
Men's Madison

| Pos. | Rider Name (Country) Team | Result |
| --- | --- | --- |
| 1 | Denmark | 63 |
| | Lasse Norman Hansen | |
| | Michael Morkov | |
| 2 | New Zealand | 33 |
| | Campbell Stewart | |
| | Aaron Gate | |
| 3 | Germany | 32 |
| | Roger Kluge | |
| | Theo Reinhardt | |
| 4 | Netherlands | 29 |
| | Jan Willem van Schip | |
| | Yoeri Havik | |
| 5 | Belgium | 23 |
| | Kenny de Ketel | |
| | Robbe Ghys | |
| 6 | France | 14 |
| | Benjamin Thomas | |
| | Donavan Vincent Grondin | |
| 7 | Italy | 11 |
| | Elia Viviani | |
| | Simone Consonni | |
| 8 | Switzerland | 9 |
| | Thery Schir | |
| | Robin Froidevaux | |
| 9 | Great Britain | 9 |
| | Ethan Hayter | |
| | Oliver Wood | |
| 10 | Spain | 5 |
| | Sebastian Mora Vedri | |
| | Albert Torres Barcelo | |
| 11 | Ireland | 3 |
| | Mark Downey | |
| | Felix English | |
| 12 | Poland | 2 |
| | Daniel Staniszewski | |
| | Wojciech Pszczolarski | |
| 13 | Austria | |
| | Andreas Graf | |
| | Andreas Muller | |
| 14 | Portugal | |
| | Iuri Leitao | |
| | Ivo Oliveira | |
| 15 | Australia | |
| | Cameron Meyer | |
| | Sam Welsford | |
| 16 | United States | |
| | Daniel Holloway | |
| | Adrian Hegyvary | |
| 17 | Hong Kong, China | |
| | King lok Cheung | |
| | Chun Wing Leung | |
Sign up to the Cyclingnews Newsletter. You can unsubscribe at any time. For more information about how to do this, and how we hold your data, please see our privacy policy