US women qualify fastest in Minsk World Cup
By Cyclingnews
Denmark leads men's rankings in first Track World Cup
Day 1: Team Pursuit Qualifying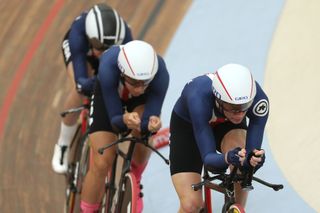 (Image credit: Getty Images Sport)
The US women set the fastest qualifying time in the opening round of the 2019-2020 UCI Track World Cup in Minsk, Belarus on Thursday.
The result marks the return of former Olympian and world champion Chloe Dygert to the formation after a year away due to injuries. Dygert was joined by fellow Rio silver medalist Jen Valente and newcomers Ellen White and Christina Birch.
The quartet will now face Great Britain in the first round. The British squad led by the decorated Olympian Laura Kenny fell ten seconds short of their world record, finishing fourth fastest behind Italy and Germany.
Denmark led the men's rankings, topping Italy by a wide margin. France were third best ahead of Switzerland.
The US men's squad that won the Pan American Games struggled against the international field and failed to qualify for the first round.
Elite Women Team Pursuit Qualifying

| Pos. | Rider Name (Country) Team | Result |
| --- | --- | --- |
| 1 | United States | 0:04:15.505 |
| | Jennifer Valente | |
| | Christina Birch | |
| | Chloe Dygert | |
| | Emma White | |
| 2 | Italy | 0:04:17.474 |
| | Letizia Paternoster | |
| | Elisa Balsamo | |
| | Marta Cavalli | |
| | Vittoria Guazzini | |
| 3 | Germany | 0:04:17.985 |
| | Franziska Brausse | |
| | Lisa Brennauer | |
| | Lisa Klein | |
| | Mieke Kroger | |
| 4 | Great Britain | 0:04:20.605 |
| | Laura Kenny | |
| | Megan Barker | |
| | Josie Knight | |
| | Emily Nelson | |
| 5 | France | 0:04:22.292 |
| | Clara Copponi | |
| | Marion Borras | |
| | Coralie Demay | |
| | Valentine Fortin | |
| 6 | Belgium | 0:04:22.546 |
| | Jolien d'Hoore | |
| | Annelies Dom | |
| | Shari Bossuyt | |
| | Lotte Kopecky | |
| 7 | Ireland | 0:04:25.389 |
| | Lara Gillespie | |
| | Mia Griffin | |
| | Kelly Murphy | |
| | Alice Sharpe | |
| 8 | Poland | 0:04:26.523 |
| | Daria Pikulik | |
| | Justyna Kaczkowska | |
| | Karolina Karasiewicz | |
| | Nikol Plosaj | |
| 9 | Russian Federation | 0:04:27.357 |
| | Tamara Dronova | |
| | Daria Malkova | |
| | Mariia Miliaeva | |
| | Mariia Novolodskaya | |
| 10 | Belarus | 0:04:29.410 |
| | Alena Amialiusik | |
| | Palina Pivavarava | |
| | Ina Savenka | |
| | Karalina Savenka | |
| 11 | Ukraine | 0:04:35.153 |
| | Kseniia Fedotova | |
| | Yuliia Biriukova | |
| | Oksana Kliachina | |
| | Ganna Solovei | |
Elite Men Team Pursuit Qualifying

| Pos. | Rider Name (Country) Team | Result |
| --- | --- | --- |
| 1 | Denmark | 0:03:50.723 |
| | Lasse Norman Hansen | |
| | Julius Johansen | |
| | Frederik Rodenberg Madsen | |
| | Rasmus Pedersen | |
| 2 | Italy | 0:03:53.145 |
| | Simone Consonni | |
| | Filippo Ganna | |
| | Francesco Lamon | |
| | Davide Plebani | |
| 3 | France | 0:03:53.528 |
| | Thomas Denis | |
| | Corentin Ermenault | |
| | Valentin Tabellion | |
| | Benjamin Thomas | |
| 4 | Switzerland | 0:03:54.111 |
| | Claudio Imhof | |
| | Valere Thiebaud | |
| | Stefan Bissegger | |
| | Robin Froidevaux | |
| 5 | Huub Wattbike Test Team | 0:03:54.562 |
| | John Archibald | |
| | Daniel Bigham | |
| | William Perrett | |
| | Jonathan Wale | |
| 6 | Russian Federation | 0:03:54.820 |
| | Nikita Bersenev | |
| | Lev Gonov | |
| | Ivan Smirnov | |
| | Kirill Sveshnikov | |
| 7 | Germany | 0:03:55.187 |
| | Felix Gross | |
| | Theo Reinhardt | |
| | Leon Rohde | |
| | Domenic Weinstein | |
| 8 | Great Britain | 0:03:56.425 |
| | Matthew Walls | |
| | Mark Stewart | |
| | Steven Burke | |
| | Ethan Vernon | |
| 9 | Belgium | 0:03:57.722 |
| | Kenny de Ketele | |
| | Robbe Ghys | |
| | Rune Herregodts | |
| | Fabio van den Bossche | |
| 10 | United States | 0:03:59.008 |
| | John Croom | |
| | Gregory Daniel | |
| | Gavin Hoover | |
| | Ashton Lambie | |
| 11 | Belarus | 0:04:00.062 |
| | Raman Tsishkou | |
| | Hardzei Tsishchanka | |
| | Yauheni Akhramenka | |
| | Yauheni Karaliok | |
| 12 | Poland | 0:04:01.684 |
| | Bartosz Rudyk | |
| | Filip Prokopyszyn | |
| | Szymon Sajnok | |
| | Daniel Staniszewski | |
| 13 | Lokosphinx | 0:04:02.195 |
| | Savva Novikov | |
| | Sergey Malnev | |
| | Arseny Nikiforov | |
| | Alexandr Smirnov | |
| 14 | Ukraine | 0:04:05.866 |
| | Volodymyr Dzhus | |
| | Vitaliy Hryniv | |
| | Vladyslav Shcherban | |
| | Maksym Vasyliev | |
| 15 | Track Team Brandenburg | 0:04:13.864 |
| | Richard Banusch | |
| | Franz Gross | |
| | Pierre-Pascal Keup | |
| | Sebastian Schmiedel | |
Sign up to the Cyclingnews Newsletter. You can unsubscribe at any time. For more information about how to do this, and how we hold your data, please see our privacy policy