Tour of Denmark: Colin Joyce wins stage 4 from the breakaway
American quickest from the escape after holding off the sprinters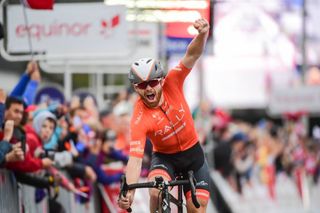 (Image credit: ARN/Pauline Ballet)
Colin Joyce (Rally Cycling) won stage 4 of the PostNord Danmark Rundt, beating his breakaway rivals in Kalundborg after they managed to hold off the hesitant peloton and impose their collective strength and bravery.
Joyce gave Rally Cycling their third win of the week after Kyle Murphy and Ben King won stages at the Volta a Portugal.
The 27-year-old American had tried several attacks in the final kilometres but when the six-rider break came back together, he proved to be by far the fastest in the sprint to the line, beating Sebastian Nielsen (Restaurant Suri-Carl Ras) and Martin Salmon (Team DSM).
Giacomo Nizzolo (Qhubeka NextHash) won the bunch sprint ahead of Mads Pedersen (Trek-Segafredo) and Mark Cavendish (Deceuninck-QuickStep) after a late chase from the Jumbo-Visma team but the peloton left it too late and finished six seconds down on a jubilant Joyce.
Remco Evenepoel (Deceuninck-QuickStep) finished safely in the peloton to maintain his 1:33 lead on fellow Belgian Tosh van der Sande (Lotto Soudal).
The prodigious Belgian is now the absolute favourite to win the PostNord Danmark Rundt when it ends with a 10.8km time trial around the Frederiksberg suburb of the Danish capital Copenhagen on Saturday.
The 188.4km stage was expected to finish in a sprint but the peloton was always going to have to work for their opportunity and whoever went in the break knew they had a sniff of victory on the narrow roads across the Zealand island and then the testing roads and short hills of the 19.5km finishing circuit.
Joyce, his teammate Nickolas Zukowsky, Nielsen, Salmon and Aaron Van Poucke (Sport Vlaanderen-Baloise), Mads Østergaard Kristensen (ColoQuick), Emil Toudal (BHS-PL Beton Bornholm) and Anders Foldager (Denmark) formed the early break and pushed their lead out to 3:00 after a fast 70km of racing.
The peloton upped the pace as the six laps of the 19.5km circuit began but the short climbs forced the sprinters' teams to ease ands control their pace to ensure their protected rider stayed in the wheels.
That gave the attackers their chance and they worked together and then carefully chased each other down on the final lap, holding on to fight for the stage win.
Deceuninck-QuickStep rode diligently to protect Evenepoel's lead but also tried to set-up Cavendish for the sprint but were offered little support by other teams.
Iljo Keisse, then Shane Archbold and Jannik Steimle rode on the front but other teams hesitated, perhaps playing bluff, perhaps concerned about their sprinters surviving, as cross winds added another factor to the racing.
Evenepoel and Cavendish joined an attack by Pedersen with six kilometres to go as the peloton fell apart. Jumbo-Visma finally took over with five kilometres to go, however it was too little, too late, giving Joyce his deserved win.
Swipe to scroll horizontally
Full Results

| Pos. | Rider Name (Country) Team | Result |
| --- | --- | --- |
| 1 | Colin Joyce (USA) Rally Cycling | 4:22:44 |
| 2 | Sebastian Nielsen (Den) Restaurant Suri Carl Ras | |
| 3 | Martin Salmon (Ger) Team DSM | |
| 4 | Magnus Bak Klaris (Den) Denmark | |
| 5 | Aaron Van Poucke (Bel) Sport Vlaanderen-Baloise | |
| 6 | Mads Kristensen (Den) Team Coloquick | 0:00:02 |
| 7 | Giacomo Nizzolo (Ita) Qhubeka NextHash | 0:00:06 |
| 8 | Mads Pedersen (Den) Trek-Segafredo | |
| 9 | Mark Cavendish (GBr) Deceuninck-QuickStep | |
| 10 | Michael Mørkøv (Den) Deceuninck-QuickStep | |
| 11 | Cees Bol (Ned) Team DSM | |
| 12 | Milan Menten (Bel) Bingoal Pauwels Sauzen WB | |
| 13 | Arvid de Kleijn (Ned) Rally Cycling | |
| 14 | Kenneth Van Rooy (Bel) Sport Vlaanderen-Baloise | |
| 15 | Mike Teunissen (Ned) Jumbo-Visma | |
| 16 | Dylan Groenewegen (Ned) Jumbo-Visma | |
| 17 | Filippo Fiorelli (Ita) Bardiani CSF Faizane' | |
| 18 | Gerben Thijssen (Bel) Lotto Soudal | |
| 19 | Nick van der Lijke (Ned) Riwal Cycling Team | |
| 20 | Tosh Van Der Sande (Bel) Lotto Soudal | |
| 21 | Rasmus Tiller (Nor) Uno-X Pro Cycling Team | |
| 22 | Lucas Eriksson (Swe) Riwal Cycling Team | |
| 23 | Timothy Dupont (Bel) Bingoal Pauwels Sauzen WB | |
| 24 | Julien Bernard (Fra) Trek-Segafredo | |
| 25 | Louis Bendixen (Den) Denmark | |
| 26 | Søren Kragh Andersen (Den) Team DSM | |
| 27 | Remco Evenepoel (Bel) Deceuninck-QuickStep | |
| 28 | Edoardo Affini (Ita) Jumbo-Visma | 0:00:13 |
| 29 | Mattias Skjelmose (Den) Trek-Segafredo | 0:00:18 |
| 30 | Jeppe Aaskov Pallesen (Den) Team Coloquick | |
| 31 | Jakub Kaczmarek (Pol) Mazowsze Serce Polski | |
| 32 | Ruben Apers (Bel) Sport Vlaanderen-Baloise | |
| 33 | Antonio Puppio (Ita) Qhubeka NextHash | |
| 34 | Pier Andre Cote (Can) Rally Cycling | |
| 35 | David Lozano Riba (Spa) Team Novo Nordisk | |
| 36 | Anthon Charmig (Den) Uno-X Pro Cycling Team | |
| 37 | Davide Orrico (Ita) Vini Zabu' Brado KTM | 0:00:21 |
| 38 | Andreas Stokbro (Den) Qhubeka NextHash | |
| 39 | Thimo Willems (Bel) Sport Vlaanderen-Baloise | |
| 40 | Enrico Battaglin (Ita) Bardiani CSF Faizane' | 0:00:24 |
| 41 | Rick Pluimers (Ned) Jumbo-Visma | |
| 42 | Kasper Andersen (Den) Team Coloquick | |
| 43 | Thomas Sprengers (Bel) Sport Vlaanderen-Baloise | |
| 44 | Jesper Hansen (Den) Riwal Cycling Team | |
| 45 | Nickolas Zukowsky (Can) Rally Cycling | 0:00:29 |
| 46 | Timo Roosen (Ned) Jumbo-Visma | 0:00:31 |
| 47 | Riccardo Stacchiotti (Ita) Vini Zabu' Brado KTM | 0:00:34 |
| 48 | Robin Carpenter (USA) Rally Cycling | |
| 49 | Fabio Mazzucco (Ita) Bardiani CSF Faizane' | 0:01:09 |
| 50 | Rasmus Bøgh Wallin (Den) Denmark | |
| 51 | Anders Skaarseth (Nor) Uno-X Pro Cycling Team | |
| 52 | Nils Lau Broge (Den) BHS-PL Beton Bornholm | |
| 53 | Mathias Bregnhøj (Den) BHS-PL Beton Bornholm | 0:01:12 |
| 54 | Tim van Dijke (Ned) Jumbo-Visma | 0:01:24 |
| 55 | Alexander Salby (Den) Team Coloquick | |
| 56 | Tobias Kongstad (Den) Riwal Cycling Team | |
| 57 | Sébastien Grignard (Bel) Lotto Soudal | |
| 58 | Kamil Malecki (Pol) Lotto Soudal | |
| 59 | Jannik Steimle (Ger) Deceuninck-QuickStep | |
| 60 | Joris Nieuwenhuis (Ned) Team DSM | 0:01:27 |
| 61 | Dorian De Maeght (Bel) Bingoal Pauwels Sauzen WB | 0:01:43 |
| 62 | Mattia Bevilacqua (Ita) Vini Zabu' Brado KTM | |
| 63 | Frederik Jensen (Den) BHS-PL Beton Bornholm | 0:01:48 |
| 64 | Mads Rahbek (Den) BHS-PL Beton Bornholm | 0:01:51 |
| 65 | Emil Toudal (Den) BHS-PL Beton Bornholm | 0:01:52 |
| 66 | Tim Naberman (Ned) Team DSM | 0:01:54 |
| 67 | Samuele Zoccarato (Ita) Bardiani CSF Faizane' | 0:04:00 |
| 68 | Mirco Maestri (Ita) Bardiani CSF Faizane' | |
| 69 | Chris Harper (Aus) Jumbo-Visma | 0:04:20 |
| 70 | Shane Archbold (NZl) Deceuninck-QuickStep | |
| 71 | Laurenz Rex (Bel) Bingoal Pauwels Sauzen WB | |
| 72 | Jordi Warlop (Bel) Sport Vlaanderen-Baloise | |
| 73 | Jonas Castrique (Bel) Bingoal Pauwels Sauzen WB | 0:06:30 |
| 74 | Pawel Bernals (Pol) Mazowsze Serce Polski | |
| 75 | Rasmus Quaade (Ned) Riwal Cycling Team | 0:08:09 |
| 76 | Michael Gogl (Aut) Qhubeka NextHash | 0:08:33 |
| 77 | Alexander Kamp (Den) Trek-Segafredo | |
| 78 | Adam Holm Jørgensen (Den) BHS-PL Beton Bornholm | |
| 79 | Andrea Peron (Ita) Team Novo Nordisk | 0:11:36 |
| 80 | Simon Bak (Den) Denmark | |
| 81 | Sam Brand (GBr) Team Novo Nordisk | |
| 82 | Simone Bevilacqua (Ita) Vini Zabu' Brado KTM | |
| 83 | Declan Irvine (Aus) Team Novo Nordisk | |
| 84 | Morten Hulgaard (Den) Uno-X Pro Cycling Team | |
| 85 | Nicolai Brochner (Den) Team Coloquick | |
| 86 | Daniel Stampe (Den) Denmark | |
| 87 | Norbert Banaszek (Pol) Mazowsze Serce Polski | |
| 88 | Adrian Banaszek (Pol) Mazowsze Serce Polski | |
| 89 | Adam De Vos (Can) Rally Cycling | |
| 90 | Morten Nørtoft (Den) Riwal Cycling Team | |
| 91 | Jakob Egholm (Den) Trek-Segafredo | |
| 92 | Rasmus Pedersen (Den) Denmark | |
| 93 | Frederik Muff (Den) Team Coloquick | |
| 94 | Péter Kusztor (Hun) Team Novo Nordisk | |
| 95 | Lasse Norman Hansen (Den) Qhubeka NextHash | |
| 96 | Nathan Vandepitte (Bel) Bingoal Pauwels Sauzen WB | |
| 97 | Umberto Poli (Ita) Team Novo Nordisk | |
| 98 | Matteo Pelucchi (Ita) Qhubeka NextHash | |
| 99 | Iljo Keisse (Bel) Deceuninck-QuickStep | |
| 100 | Jelle Declerck (Bel) Bingoal Pauwels Sauzen WB | |
| 101 | Adrian Kurek (Pol) Mazowsze Serce Polski | |
| 102 | Mads Andersen (Den) Team Coloquick | |
| 103 | Mathias Larsen (Den) Restaurant Suri Carl Ras | |
| 104 | Jakub Mareczko (Ita) Vini Zabu' Brado KTM | 0:15:14 |
| 105 | Christian Lindquist (Den) Restaurant Suri Carl Ras | |
| 106 | Anders Foldager (Den) Denmark | 0:19:13 |
| DNF | Mihkel Räim (Est) Mazowsze Serce Polski | |
| DNF | Matteo Moschetti (Ita) Trek-Segafredo | |
| DNF | Michel Ries (Lux) Trek-Segafredo | |
| DNF | Mauro Schmid (Swi) Qhubeka NextHash | |
| DNF | Marco Frapporti (Ita) Vini Zabu' Brado KTM | |
Swipe to scroll horizontally
Sprint 1

| Pos. | Rider Name (Country) Team | Result |
| --- | --- | --- |
| 1 | Aaron Van Poucke (Bel) Sport Vlaanderen-Baloise | 5 |
| 2 | Emil Toudal (Den) BHS-PL Beton Bornholm | 3 |
| 3 | Sebastian Nielsen (Den) Restaurant Suri Carl Ras | 1 |
Swipe to scroll horizontally
Sprint 2

| Pos. | Rider Name (Country) Team | Result |
| --- | --- | --- |
| 1 | Sebastian Nielsen (Den) Restaurant Suri Carl Ras | 5 |
| 2 | Colin Joyce (USA) Rally Cycling | 3 |
| 3 | Martin Salmon (Ger) Team DSM | 1 |
Swipe to scroll horizontally
Hill sprint 1

| Pos. | Rider Name (Country) Team | Result |
| --- | --- | --- |
| 1 | Anders Foldager (Den) Denmark | 12 |
| 2 | Emil Toudal (Den) BHS-PL Beton Bornholm | 8 |
| 3 | Mads Kristensen (Den) Team Coloquick | 4 |
Swipe to scroll horizontally
Hill sprint 2

| Pos. | Rider Name (Country) Team | Result |
| --- | --- | --- |
| 1 | Emil Toudal (Den) BHS-PL Beton Bornholm | 12 |
| 2 | Martin Salmon (Ger) Team DSM | 8 |
| 3 | Mads Kristensen (Den) Team Coloquick | 4 |
Swipe to scroll horizontally
Young riders

| Pos. | Rider Name (Country) Team | Result |
| --- | --- | --- |
| 1 | Sebastian Nielsen (Den) Restaurant Suri Carl Ras | 4:22:44 |
| 2 | Remco Evenepoel (Bel) Deceuninck-QuickStep | 0:00:06 |
| 3 | Mattias Skjelmose (Den) Trek-Segafredo | 0:00:18 |
| 4 | Antonio Puppio (Ita) Qhubeka NextHash | |
| 5 | Rick Pluimers (Ned) Jumbo-Visma | 0:00:24 |
| 6 | Kasper Andersen (Den) Team Coloquick | |
| 7 | Fabio Mazzucco (Ita) Bardiani CSF Faizane' | 0:01:09 |
| 8 | Tim van Dijke (Ned) Jumbo-Visma | 0:01:24 |
| 9 | Sébastien Grignard (Bel) Lotto Soudal | |
| 10 | Frederik Jensen (Den) BHS-PL Beton Bornholm | 0:01:48 |
| 11 | Tim Naberman (Ned) Team DSM | 0:01:54 |
| 12 | Laurenz Rex (Bel) Bingoal Pauwels Sauzen WB | 0:04:20 |
| 13 | Adam Holm Jørgensen (Den) BHS-PL Beton Bornholm | 0:08:33 |
| 14 | Simon Bak (Den) Denmark | 0:11:36 |
| 15 | Declan Irvine (Aus) Team Novo Nordisk | |
| 16 | Morten Nørtoft (Den) Riwal Cycling Team | |
| 17 | Rasmus Pedersen (Den) Denmark | |
| 18 | Nathan Vandepitte (Bel) Bingoal Pauwels Sauzen WB | |
| 19 | Jelle Declerck (Bel) Bingoal Pauwels Sauzen WB | |
| 20 | Mads Andersen (Den) Team Coloquick | |
| 21 | Mathias Larsen (Den) Restaurant Suri Carl Ras | |
| 22 | Anders Foldager (Den) Denmark | 0:19:13 |
Swipe to scroll horizontally
Combativity

| Pos. | Rider Name (Country) Team | Result |
| --- | --- | --- |
| 1 | Emil Toudal (Den) BHS-PL Beton Bornholm | 12 |
| 2 | Nickolas Zukowsky (Can) Rally Cycling | 8 |
| 3 | Martin Salmon (Ger) Team DSM | 4 |
Swipe to scroll horizontally
Teams

| Pos. | Rider Name (Country) Team | Result |
| --- | --- | --- |
| 1 | Team DSM | 13:08:19 |
| 2 | Rally Cycling | 0:00:03 |
| 3 | Deceuninck-QuickStep | 0:00:11 |
| 4 | Sport Vlaanderen-Baloise | 0:00:14 |
| 5 | Team Jumbo Visma | 0:00:18 |
| 6 | Trek-Segafredo | 0:00:23 |
| 7 | Riwal Cycling Team | 0:00:29 |
| 8 | Team ColoQuick | 0:00:37 |
| 9 | Qhubeka NextHash | 0:00:38 |
| 10 | Team PostNord | 0:01:08 |
| 11 | Uno-X Pro Cycling Team | 0:01:26 |
| 12 | Lotto Soudal | 0:01:29 |
| 13 | Bardiani CSF Faizane' | 0:01:32 |
| 14 | Bingoal WB | 0:01:48 |
| 15 | Vini Zabu' Brado KTM | 0:02:31 |
| 16 | BHS - PL Beton Bornholm | 0:04:02 |
| 17 | Mazowsze Serce Polski | 0:18:17 |
| 18 | Team Novo Nordisk | 0:23:23 |
| 19 | Restaurant Suri - Carl Ras | 0:26:31 |
Swipe to scroll horizontally
General classification after stage 4

| Pos. | Rider Name (Country) Team | Result |
| --- | --- | --- |
| 1 | Remco Evenepoel (Bel) Deceuninck-QuickStep | 17:07:04 |
| 2 | Tosh Van Der Sande (Bel) Lotto Soudal | 0:01:33 |
| 3 | Mads Pedersen (Den) Trek-Segafredo | 0:01:36 |
| 4 | Nick van der Lijke (Ned) Riwal Cycling Team | 0:01:38 |
| 5 | Mike Teunissen (Ned) Jumbo-Visma | 0:01:40 |
| 6 | Anthon Charmig (Den) Uno-X Pro Cycling Team | 0:02:16 |
| 7 | Milan Menten (Bel) Bingoal Pauwels Sauzen WB | 0:03:31 |
| 8 | Rasmus Tiller (Nor) Uno-X Pro Cycling Team | 0:03:33 |
| 9 | Lucas Eriksson (Swe) Riwal Cycling Team | |
| 10 | Mattias Skjelmose (Den) Trek-Segafredo | 0:03:43 |
| 11 | Søren Kragh Andersen (Den) Team DSM | 0:03:45 |
| 12 | Julien Bernard (Fra) Trek-Segafredo | 0:03:46 |
| 13 | Jeppe Aaskov Pallesen (Den) Team Coloquick | 0:04:04 |
| 14 | Pier Andre Cote (Can) Rally Cycling | 0:04:17 |
| 15 | Jannik Steimle (Ger) Deceuninck-QuickStep | 0:05:37 |
| 16 | Mads Rahbek (Den) BHS-PL Beton Bornholm | |
| 17 | Rick Pluimers (Ned) Jumbo-Visma | 0:09:51 |
| 18 | Michael Mørkøv (Den) Deceuninck-QuickStep | 0:10:30 |
| 19 | Colin Joyce (USA) Rally Cycling | 0:12:35 |
| 20 | Kenneth Van Rooy (Bel) Sport Vlaanderen-Baloise | 0:12:46 |
| 21 | Giacomo Nizzolo (Ita) Qhubeka NextHash | 0:13:09 |
| 22 | Mark Cavendish (GBr) Deceuninck-QuickStep | 0:13:14 |
| 23 | Mads Kristensen (Den) Team Coloquick | 0:13:18 |
| 24 | Arvid de Kleijn (Ned) Rally Cycling | 0:13:22 |
| 25 | Louis Bendixen (Den) Denmark | |
| 26 | Davide Orrico (Ita) Vini Zabu' Brado KTM | 0:13:23 |
| 27 | Thimo Willems (Bel) Sport Vlaanderen-Baloise | |
| 28 | Magnus Bak Klaris (Den) Denmark | 0:13:34 |
| 29 | Timothy Dupont (Bel) Bingoal Pauwels Sauzen WB | 0:13:38 |
| 30 | Antonio Puppio (Ita) Qhubeka NextHash | 0:13:50 |
| 31 | Robin Carpenter (USA) Rally Cycling | |
| 32 | Nils Lau Broge (Den) BHS-PL Beton Bornholm | 0:13:52 |
| 33 | Kasper Andersen (Den) Team Coloquick | |
| 34 | Dylan Groenewegen (Ned) Jumbo-Visma | 0:13:54 |
| 35 | Gerben Thijssen (Bel) Lotto Soudal | 0:13:59 |
| 36 | Nickolas Zukowsky (Can) Rally Cycling | |
| 37 | Jesper Hansen (Den) Riwal Cycling Team | |
| 38 | Thomas Sprengers (Bel) Sport Vlaanderen-Baloise | 0:14:48 |
| 39 | Timo Roosen (Ned) Jumbo-Visma | 0:14:56 |
| 40 | Sébastien Grignard (Bel) Lotto Soudal | 0:14:59 |
| 41 | Cees Bol (Ned) Team DSM | 0:15:39 |
| 42 | David Lozano Riba (Spa) Team Novo Nordisk | 0:16:04 |
| 43 | Edoardo Affini (Ita) Jumbo-Visma | 0:16:17 |
| 44 | Tim van Dijke (Ned) Jumbo-Visma | 0:16:29 |
| 45 | Mathias Bregnhøj (Den) BHS-PL Beton Bornholm | 0:16:54 |
| 46 | Enrico Battaglin (Ita) Bardiani CSF Faizane' | 0:17:00 |
| 47 | Anders Skaarseth (Nor) Uno-X Pro Cycling Team | 0:17:18 |
| 48 | Jordi Warlop (Bel) Sport Vlaanderen-Baloise | 0:17:39 |
| 49 | Sebastian Nielsen (Den) Restaurant Suri Carl Ras | 0:17:55 |
| 50 | Dorian De Maeght (Bel) Bingoal Pauwels Sauzen WB | 0:18:28 |
| 51 | Aaron Van Poucke (Bel) Sport Vlaanderen-Baloise | 0:18:53 |
| 52 | Andreas Stokbro (Den) Qhubeka NextHash | 0:19:05 |
| 53 | Michael Gogl (Aut) Qhubeka NextHash | 0:19:13 |
| 54 | Kamil Malecki (Pol) Lotto Soudal | 0:19:24 |
| 55 | Joris Nieuwenhuis (Ned) Team DSM | 0:19:44 |
| 56 | Jakub Kaczmarek (Pol) Mazowsze Serce Polski | 0:20:20 |
| 57 | Fabio Mazzucco (Ita) Bardiani CSF Faizane' | 0:20:23 |
| 58 | Frederik Jensen (Den) BHS-PL Beton Bornholm | 0:20:41 |
| 59 | Ruben Apers (Bel) Sport Vlaanderen-Baloise | 0:21:07 |
| 60 | Filippo Fiorelli (Ita) Bardiani CSF Faizane' | 0:21:23 |
| 61 | Mattia Bevilacqua (Ita) Vini Zabu' Brado KTM | 0:21:28 |
| 62 | Alexander Kamp (Den) Trek-Segafredo | 0:22:45 |
| 63 | Tim Naberman (Ned) Team DSM | |
| 64 | Tobias Kongstad (Den) Riwal Cycling Team | 0:23:47 |
| 65 | Chris Harper (Aus) Jumbo-Visma | 0:24:09 |
| 66 | Laurenz Rex (Bel) Bingoal Pauwels Sauzen WB | 0:24:12 |
| 67 | Mirco Maestri (Ita) Bardiani CSF Faizane' | 0:24:15 |
| 68 | Morten Hulgaard (Den) Uno-X Pro Cycling Team | 0:24:52 |
| 69 | Rasmus Pedersen (Den) Denmark | 0:26:47 |
| 70 | Simon Bak (Den) Denmark | 0:27:12 |
| 71 | Samuele Zoccarato (Ita) Bardiani CSF Faizane' | 0:27:15 |
| 72 | Daniel Stampe (Den) Denmark | 0:27:18 |
| 73 | Mathias Larsen (Den) Restaurant Suri Carl Ras | 0:27:35 |
| 74 | Morten Nørtoft (Den) Riwal Cycling Team | 0:27:36 |
| 75 | Emil Toudal (Den) BHS-PL Beton Bornholm | 0:28:39 |
| 76 | Pawel Bernals (Pol) Mazowsze Serce Polski | 0:28:43 |
| 77 | Rasmus Bøgh Wallin (Den) Denmark | 0:28:51 |
| 78 | Adam Holm Jørgensen (Den) BHS-PL Beton Bornholm | 0:28:55 |
| 79 | Adam De Vos (Can) Rally Cycling | 0:29:10 |
| 80 | Adrian Banaszek (Pol) Mazowsze Serce Polski | 0:31:22 |
| 81 | Riccardo Stacchiotti (Ita) Vini Zabu' Brado KTM | 0:31:46 |
| 82 | Shane Archbold (NZl) Deceuninck-QuickStep | 0:31:57 |
| 83 | Alexander Salby (Den) Team Coloquick | 0:32:03 |
| 84 | Jonas Castrique (Bel) Bingoal Pauwels Sauzen WB | 0:32:14 |
| 85 | Martin Salmon (Ger) Team DSM | 0:33:20 |
| 86 | Jelle Declerck (Bel) Bingoal Pauwels Sauzen WB | 0:34:14 |
| 87 | Nicolai Brochner (Den) Team Coloquick | 0:35:22 |
| 88 | Andrea Peron (Ita) Team Novo Nordisk | 0:35:33 |
| 89 | Iljo Keisse (Bel) Deceuninck-QuickStep | 0:35:39 |
| 90 | Rasmus Quaade (Ned) Riwal Cycling Team | 0:35:53 |
| 91 | Lasse Norman Hansen (Den) Qhubeka NextHash | 0:36:43 |
| 92 | Jakub Mareczko (Ita) Vini Zabu' Brado KTM | 0:38:39 |
| 93 | Simone Bevilacqua (Ita) Vini Zabu' Brado KTM | 0:38:43 |
| 94 | Declan Irvine (Aus) Team Novo Nordisk | 0:39:57 |
| 95 | Jakob Egholm (Den) Trek-Segafredo | 0:40:59 |
| 96 | Norbert Banaszek (Pol) Mazowsze Serce Polski | 0:41:42 |
| 97 | Sam Brand (GBr) Team Novo Nordisk | 0:41:50 |
| 98 | Umberto Poli (Ita) Team Novo Nordisk | 0:41:58 |
| 99 | Nathan Vandepitte (Bel) Bingoal Pauwels Sauzen WB | 0:42:39 |
| 100 | Frederik Muff (Den) Team Coloquick | 0:43:07 |
| 101 | Adrian Kurek (Pol) Mazowsze Serce Polski | 0:43:27 |
| 102 | Matteo Pelucchi (Ita) Qhubeka NextHash | 0:44:35 |
| 103 | Mads Andersen (Den) Team Coloquick | 0:45:00 |
| 104 | Christian Lindquist (Den) Restaurant Suri Carl Ras | 0:45:39 |
| 105 | Péter Kusztor (Hun) Team Novo Nordisk | 0:49:36 |
| 106 | Anders Foldager (Den) Denmark | 0:54:10 |
Swipe to scroll horizontally
Points classification

| Pos. | Rider Name (Country) Team | Result |
| --- | --- | --- |
| 1 | Mads Pedersen (Den) Trek-Segafredo | 42 |
| 2 | Giacomo Nizzolo (Ita) Qhubeka NextHash | 29 |
| 3 | Dylan Groenewegen (Ned) Jumbo-Visma | 25 |
| 4 | Tosh Van Der Sande (Bel) Lotto Soudal | 21 |
| 5 | Mike Teunissen (Ned) Jumbo-Visma | 19 |
| 6 | Colin Joyce (USA) Rally Cycling | 18 |
| 7 | Sebastian Nielsen (Den) Restaurant Suri Carl Ras | 18 |
| 8 | Mark Cavendish (GBr) Deceuninck-QuickStep | 16 |
| 9 | Remco Evenepoel (Bel) Deceuninck-QuickStep | 15 |
| 10 | Aaron Van Poucke (Bel) Sport Vlaanderen-Baloise | 15 |
| 11 | Arvid de Kleijn (Ned) Rally Cycling | 15 |
| 12 | Norbert Banaszek (Pol) Mazowsze Serce Polski | 13 |
| 13 | Jannik Steimle (Ger) Deceuninck-QuickStep | 12 |
| 14 | Nick van der Lijke (Ned) Riwal Cycling Team | 11 |
| 15 | Rasmus Tiller (Nor) Uno-X Pro Cycling Team | 11 |
| 16 | Martin Salmon (Ger) Team DSM | 11 |
| 17 | Cees Bol (Ned) Team DSM | 10 |
| 18 | Milan Menten (Bel) Bingoal Pauwels Sauzen WB | 9 |
| 19 | Mattias Skjelmose (Den) Trek-Segafredo | 9 |
| 20 | Magnus Bak Klaris (Den) Denmark | 9 |
| 21 | Rasmus Bøgh Wallin (Den) Denmark | 9 |
| 22 | Michael Mørkøv (Den) Deceuninck-QuickStep | 8 |
| 23 | Anthon Charmig (Den) Uno-X Pro Cycling Team | 7 |
| 24 | Mads Kristensen (Den) Team Coloquick | 7 |
| 25 | Timothy Dupont (Bel) Bingoal Pauwels Sauzen WB | 7 |
| 26 | Jakub Kaczmarek (Pol) Mazowsze Serce Polski | 6 |
| 27 | Rasmus Quaade (Ned) Riwal Cycling Team | 6 |
| 28 | Kenneth Van Rooy (Bel) Sport Vlaanderen-Baloise | 5 |
| 29 | Adrian Banaszek (Pol) Mazowsze Serce Polski | 5 |
| 30 | Gerben Thijssen (Bel) Lotto Soudal | 5 |
| 31 | Mads Rahbek (Den) BHS-PL Beton Bornholm | 4 |
| 32 | Jeppe Aaskov Pallesen (Den) Team Coloquick | 3 |
| 33 | Louis Bendixen (Den) Denmark | 3 |
| 34 | Ruben Apers (Bel) Sport Vlaanderen-Baloise | 3 |
| 35 | Emil Toudal (Den) BHS-PL Beton Bornholm | 3 |
| 36 | Nathan Vandepitte (Bel) Bingoal Pauwels Sauzen WB | 3 |
| 37 | Lucas Eriksson (Swe) Riwal Cycling Team | 1 |
| 38 | Søren Kragh Andersen (Den) Team DSM | 1 |
| 39 | Daniel Stampe (Den) Denmark | 1 |
| 40 | Mads Andersen (Den) Team Coloquick | 1 |
Swipe to scroll horizontally
Mountains classification

| Pos. | Rider Name (Country) Team | Result |
| --- | --- | --- |
| 1 | Rasmus Bøgh Wallin (Den) Denmark | 40 |
| 2 | Emil Toudal (Den) BHS-PL Beton Bornholm | 40 |
| 3 | Frederik Jensen (Den) BHS-PL Beton Bornholm | 32 |
| 4 | Jannik Steimle (Ger) Deceuninck-QuickStep | 16 |
| 5 | Julien Bernard (Fra) Trek-Segafredo | 12 |
| 6 | Jesper Hansen (Den) Riwal Cycling Team | 12 |
| 7 | Daniel Stampe (Den) Denmark | 12 |
| 8 | Norbert Banaszek (Pol) Mazowsze Serce Polski | 12 |
| 9 | Anders Foldager (Den) Denmark | 12 |
| 10 | Jakub Kaczmarek (Pol) Mazowsze Serce Polski | 12 |
| 11 | Mads Kristensen (Den) Team Coloquick | 8 |
| 12 | Aaron Van Poucke (Bel) Sport Vlaanderen-Baloise | 8 |
| 13 | Martin Salmon (Ger) Team DSM | 8 |
| 14 | Lucas Eriksson (Swe) Riwal Cycling Team | 4 |
| 15 | Pawel Bernals (Pol) Mazowsze Serce Polski | 4 |
| 16 | Adrian Banaszek (Pol) Mazowsze Serce Polski | 4 |
Swipe to scroll horizontally
Young riders classification

| Pos. | Rider Name (Country) Team | Result |
| --- | --- | --- |
| 1 | Remco Evenepoel (Bel) Deceuninck-QuickStep | 17:07:04 |
| 2 | Mattias Skjelmose (Den) Trek-Segafredo | 0:03:43 |
| 3 | Rick Pluimers (Ned) Jumbo-Visma | 0:09:51 |
| 4 | Antonio Puppio (Ita) Qhubeka NextHash | 0:13:50 |
| 5 | Kasper Andersen (Den) Team Coloquick | 0:13:52 |
| 6 | Sébastien Grignard (Bel) Lotto Soudal | 0:14:59 |
| 7 | Tim van Dijke (Ned) Jumbo-Visma | 0:16:29 |
| 8 | Sebastian Nielsen (Den) Restaurant Suri Carl Ras | 0:17:55 |
| 9 | Fabio Mazzucco (Ita) Bardiani CSF Faizane' | 0:20:23 |
| 10 | Frederik Jensen (Den) BHS-PL Beton Bornholm | 0:20:41 |
| 11 | Tim Naberman (Ned) Team DSM | 0:22:45 |
| 12 | Laurenz Rex (Bel) Bingoal Pauwels Sauzen WB | 0:24:12 |
| 13 | Rasmus Pedersen (Den) Denmark | 0:26:47 |
| 14 | Simon Bak (Den) Denmark | 0:27:12 |
| 15 | Mathias Larsen (Den) Restaurant Suri Carl Ras | 0:27:35 |
| 16 | Morten Nørtoft (Den) Riwal Cycling Team | 0:27:36 |
| 17 | Adam Holm Jørgensen (Den) BHS-PL Beton Bornholm | 0:28:55 |
| 18 | Jelle Declerck (Bel) Bingoal Pauwels Sauzen WB | 0:34:14 |
| 19 | Declan Irvine (Aus) Team Novo Nordisk | 0:39:57 |
| 20 | Nathan Vandepitte (Bel) Bingoal Pauwels Sauzen WB | 0:42:39 |
| 21 | Mads Andersen (Den) Team Coloquick | 0:45:00 |
| 22 | Anders Foldager (Den) Denmark | 0:54:10 |
Swipe to scroll horizontally
Combativity classification

| Pos. | Rider Name (Country) Team | Result |
| --- | --- | --- |
| 1 | Rasmus Bøgh Wallin (Den) Denmark | 24 |
| 2 | Emil Toudal (Den) BHS-PL Beton Bornholm | 20 |
| 3 | Daniel Stampe (Den) Denmark | 12 |
| 4 | Jakub Kaczmarek (Pol) Mazowsze Serce Polski | 8 |
| 5 | Nickolas Zukowsky (Can) Rally Cycling | 8 |
| 6 | Ruben Apers (Bel) Sport Vlaanderen-Baloise | 8 |
| 7 | Norbert Banaszek (Pol) Mazowsze Serce Polski | 4 |
| 8 | Rasmus Quaade (Ned) Riwal Cycling Team | 4 |
| 9 | Mirco Maestri (Ita) Bardiani CSF Faizane' | 4 |
| 10 | Martin Salmon (Ger) Team DSM | 4 |
Swipe to scroll horizontally
Teams classification

| Pos. | Rider Name (Country) Team | Result |
| --- | --- | --- |
| 1 | Trek-Segafredo | 51:30:17 |
| 2 | Deceuninck-QuickStep | 0:05:36 |
| 3 | Riwal Cycling Team | 0:09:46 |
| 4 | Team Jumbo Visma | 0:10:48 |
| 5 | Uno-X Pro Cycling Team | 0:11:09 |
| 6 | Rally Cycling | 0:20:50 |
| 7 | Lotto Soudal | 0:20:59 |
| 8 | Team ColoQuick | 0:21:34 |
| 9 | Team PostNord | 0:23:16 |
| 10 | Qhubeka NextHash | 0:24:07 |
| 11 | Team DSM | 0:25:19 |
| 12 | Bingoal WB | 0:25:51 |
| 13 | BHS - PL Beton Bornholm | 0:27:15 |
| 14 | Sport Vlaanderen-Baloise | 0:29:31 |
| 15 | Bardiani CSF Faizane' | 0:46:26 |
| 16 | Vini Zabu' Brado KTM | 0:48:31 |
| 17 | Mazowsze Serce Polski | 1:03:58 |
| 18 | Restaurant Suri - Carl Ras | 1:22:01 |
| 19 | Team Novo Nordisk | 1:22:29 |

Thank you for reading 5 articles in the past 30 days*
Join now for unlimited access
Enjoy your first month for just £1 / $1 / €1
*Read any 5 articles for free in each 30-day period, this automatically resets
After your trial you will be billed £4.99 $7.99 €5.99 per month, cancel anytime. Or sign up for one year for just £49 $79 €59

Join now for unlimited access
Try your first month for just £1 / $1 / €1