Brand solos to women's Omloop Het Nieuwsblad victory
Blaak and Van Vleuten round out all-Dutch podium.
Image 1 of 13
Image 2 of 13
Image 3 of 13
Image 4 of 13
Image 5 of 13
Image 6 of 13
Image 7 of 13
Image 8 of 13
Image 9 of 13
Image 10 of 13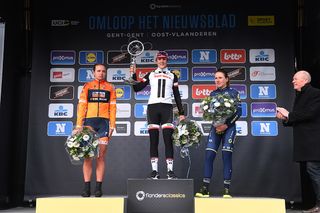 Image 11 of 13
Image 12 of 13
Image 13 of 13
Lucinda Brand (Team Sunweb) soloed in to win the Women's Omloop Het Nieuwsblad Saturday in Ghent. She topped an all Dutch podium, as Chantal Blaak (Boels Dolmans) and Annemiek van Vleuten (Orica-Scott) finished second and third, respectively.
Ellen Van Dijk (Sunweb) and Elisa Longo Borghini (Wiggle-High 5) were the first to attack in the finale, exploding the field. Brand, Blaak and Van Vleuten caught them, and then Brand then attacked twice, with her second attempt succeeding. She rode the final kilometres alone to take the win.
"It was a really good day. The team were great and supporting me really well by keeping me out of the headwind," Brand said. The girls kept me in a great position, and we were in a perfect situation with Ellen up the road and good support behind. They helped me to maintain a good position ahead of the cobbles and climbs, so I didn't have to do anything which was great.
"I started the Molenberg first and when the attacks went we got away in a small group. Ellen's gap held well in front which was good for me then I bridged across on the cobblestones when the gap came down. Then we were six with a few strong sprinters so we wanted to get away. With about 10 kilometres to go we started attacking. I had my final attack with about five kilometres to go - this was really hard but Ellen did a great job behind reacting to everything."
Demmy Druyts (Sport Vlaanderen-Etixx) was the first to go in an early break on a chilly, windy morning in Flanders. When her lead got up to 3:30, the other teams started giving chase. She was caught on the Kluisberg, and things started over.
Eventually Van Dijk and Longo Borghini took off together. The two time trial specialists were a danger to go all the way, and built up a lead of more than a minute over their chasers before beginning to lose ground. Blaak and Brand were ultimately able to bridge up to them, with Van Vleuten and Amanda Spratt (Orica-Scott) finally making the catch as well.
Brand and Van Vleuten both initiated attacks from the select front group. Neither could get clear at first, though the aggressive riding saw Spratt dropped off the back.
Brand's second attack proved decisive. The 27-year-old quickly opened up a gap of 10 seconds to the chasers, and only increased the advantage as the kilometres ticked down into Ghent, with teammate Van Dijk helping mark those behind. Brand crossed the line with plenty of time to celebrate her first victory of the season.
15 seconds later, Blaak won the sprint to claim runner-up honors for the second straight year ahead of Van Vleuten, with Van Dijk and Longo Borghini just behind. Spratt finished 11 seconds later, with the rest of the field more than a minute and a half down. Jolien D'Hoore led the next group across the line 1:47 behind Brand.
"It was a great victory by Lucinda and for the whole team – it's a really good feeling," said Sunweb coach Hans Timmermans. "The plan was to have Lucinda as the leader and use Ellen van Dijk and Leah Kirchmann in the breaks from Paterberg onwards. This worked perfectly as Ellen was away with one other and they stayed clear for a long time.
"Then Lucinda was in the chase over the Molenberg which is where we expected the split to go. When she was in the chase she didn't have to ride with Ellen up the road and Ellen could wait for her to bridge. They both were great in the final and were always in control. The rest did a strong ride too. Their positioning was always good and the teamwork was fantastic so we can be very happy all round."
Full Results
| # | Rider Name (Country) Team | Result |
| --- | --- | --- |
| 1 | Lucinda Brand (Ned) Team Sunweb Women | 3:19:58 |
| 2 | Chantal Blaak (Ned) Boels Dolmans Cyclingteam | 0:00:15 |
| 3 | Annemiek Van Vleuten (Ned) Orica Scott Women | |
| 4 | Ellen Van Dijk (Ned) Team Sunweb Women | |
| 5 | Elisa Longo Borghini (Ita) Wiggle High5 | |
| 6 | Amanda Spratt (Aus) Orica Scott Women | 0:00:28 |
| 7 | Jolien D'Hoore (Bel) Wiggle High5 | 0:01:47 |
| 8 | Sheyla Gutierrez (Spa) Cylance Pro Cycling | |
| 9 | Dani King (GBr) Cylance Pro Cycling | |
| 10 | Gracie Elvin (Aus) Orica Scott Women | |
| 11 | Lotte Kopecky (Bel) Lotto Soudal Ladies | |
| 12 | Katarzyna Niewiadoma (Pol) WM3 Pro Cycling | |
| 13 | Elena Cecchini (Ita) Canyon SRAM Racing | |
| 14 | Ann-Sophie Duyck (Bel) Drops Cycling Team | |
| 15 | Alena Amialiusik (Blr) Canyon SRAM Racing | 0:02:00 |
| 16 | Lisa Brennauer (Ger) Canyon SRAM Racing | |
| 17 | Roxane Fournier (Fra) FDJ Nouvelle Aquitaine Futuroscope | 0:02:37 |
| 18 | Lotta Lepistö (Fin) Cervelo Bigla Pro Cycling Team | |
| 19 | Christina Siggaard (Den) Team Veloconcept Women | |
| 20 | Sofie De Vuyst (Bel) Lares-Waowdeals | |
| 21 | Megan Guarnier (USA) Boels Dolmans Cyclingteam | |
| 22 | Valerie Demey (Bel) Sport Vlaanderen-Etixx | |
| 23 | Christine Majerus (Lux) Boels Dolmans Cyclingteam | |
| 24 | Amy Pieters (Ned) Boels Dolmans Cyclingteam | |
| 25 | Chloe Hosking (Aus) Alé Cipollini | |
| 26 | Lauren Kitchen (Aus) WM3 Pro Cycling | |
| 27 | Tatiana Guderzo (Ita) Lensworld-Kuota | |
| 28 | Sarah Roy (Aus) Orica Scott Women | |
| 29 | Janneke Ensing (Ned) Alé Cipollini | |
| 30 | Alice Barnes (GBr) Drops Cycling Team | |
| 31 | Shara Gillow (Aus) FDJ Nouvelle Aquitaine Futuroscope | |
| 32 | Malgorzata Jasinska (Pol) Cylance Pro Cycling | |
| 33 | Audrey Cordon Ragot (Fra) Wiggle High5 | |
| 34 | Floortje Mackaij (Ned) Team Sunweb Women | |
| 35 | Eider Merino (Spa) Lointek | |
| 36 | Karol-Ann Canuel (Can) Boels Dolmans Cyclingteam | |
| 37 | Kelly Van Den Steen (Bel) Sport Vlaanderen-Etixx | |
| 38 | Lisa Klein (Ger) Cervelo Bigla Pro Cycling Team | 0:02:43 |
| 39 | Leah Kirchmann (Can) Team Sunweb Women | 0:02:45 |
| 40 | Stephanie Pohl (Ger) Cervelo Bigla Pro Cycling Team | 0:02:46 |
| 41 | Cecilie Uttrup Ludwig (Den) Cervelo Bigla Pro Cycling Team | 0:02:37 |
| 42 | Claudia Lichtenberg (Ger) Wiggle High5 | 0:03:47 |
| 43 | Anouska Koster (Ned) WM3 Pro Cycling | 0:07:02 |
| 44 | Amalie Dideriksen (Den) Boels Dolmans Cyclingteam | 0:07:37 |
| 45 | Camilla Pedersen (Den) Team Veloconcept Women | |
| 46 | Moniek Tenniglo (Ned) WM3 Pro Cycling | |
| 47 | Riejanne Markus (Ned) WM3 Pro Cycling | |
| 48 | Alexis Ryan (USA) Canyon SRAM Racing | 0:07:40 |
| 49 | Jeanne Korevaar (Ned) WM3 Pro Cycling | |
| 50 | Kaat Hannes (Bel) Lensworld-Kuota | |
| 51 | Marta Bastianelli (Ita) Alé Cipollini | 0:07:42 |
| 52 | Tiffany Cromwell (Aus) Canyon SRAM Racing | |
| 53 | Charlotte Becker (Ger) Hitec Products | |
| 54 | Clara Koppenburg (Ger) Cervelo Bigla Pro Cycling Team | |
| 55 | Julia Soek (Ned) Team Sunweb Women | |
| 56 | Jessica Allen (Aus) Orica Scott Women | |
| 57 | Jenelle Crooks (Aus) Orica Scott Women | |
| 58 | Rozanne Slik (Ned) Team Sunweb Women | |
| 59 | Trixi Worrack (Ger) Canyon SRAM Racing | |
| 60 | Kirsten Wild (Ned) Cylance Pro Cycling | |
| 61 | Allie Dragoo (USA) Cervelo Bigla Pro Cycling Team | |
| 62 | Roxane Knetemann (Ned) FDJ Nouvelle Aquitaine Futuroscope | 0:09:14 |
| 63 | Natalie Van Gogh (Ned) Parkhotel Valkenburg-Destil Cycling Team | 0:09:21 |
| 64 | Maaike Polspoel (Bel) Lensworld-Kuota | |
| 65 | Trine Schmidt (Den) Lotto Soudal Ladies | |
| 66 | Annelies Dom (Bel) Lotto Soudal Ladies | |
| 67 | Abby-Mae Parkinson (GBr) Drops Cycling Team | |
| 68 | Kaat Van Der Meulen (Bel) Lotto Soudal Ladies | |
| 69 | Ilaria Sanguineti (Ita) BePink Cogeas | |
| 70 | Daniela Reis (Por) Lares-Waowdeals | |
| 71 | Jessie Daams (Bel) Lotto Soudal Ladies | |
| 72 | Wiebke Rodieck (Ger) Germany | |
| 73 | Sara Penton (Swe) Team Veloconcept Women | |
| 74 | Sarah Inghelbrecht (Bel) Lares-Waowdeals | |
| 75 | Daiva Tuslaite (Ltu) Alé Cipollini | |
| 76 | Julie Leth (Den) Wiggle High5 | |
| 77 | Sarah Rijkes (Aut) Lares-Waowdeals | |
| 78 | Katia Ragusa (Ita) BePink Cogeas | |
| 79 | Rossella Ratto (Ita) Cylance Pro Cycling | |
| 80 | Sara Mustonen Lichan (Swe) Team Veloconcept Women | |
| 81 | Eugénie Duval (Fra) FDJ Nouvelle Aquitaine Futuroscope | 0:09:24 |
| 82 | Pernille Mathiesen (Den) Team Veloconcept Women | 0:10:15 |
| 83 | Thea Thorsen (Nor) Hitec Products | 0:14:13 |
| 84 | Alison Jackson (Can) BePink Cogeas | |
| 85 | Isabelle Beckers (Bel) Lotto Soudal Ladies | |
| 86 | Kelly Druyts (Bel) Sport Vlaanderen-Etixx | |
| 87 | Kim De Baat (Bel) Lensworld-Kuota | |
| 88 | Paola Munoz (Chi) Bizkaia-Durango | |
| 89 | Ine Allaert (Bel) | |
| 90 | Ilona Hoeksma (Ned) Hitec Products | |
| 91 | Gilke Croket (Bel) Sport Vlaanderen-Etixx | |
| 92 | Laura Vainionpää (Fin) | |
| 93 | Tetiana Riabchenko (Ukr) Lensworld-Kuota | |
| 94 | Anna Trevisi (Ita) Alé Cipollini | |
| 95 | Astrid Gassner (Aut) Colavita/Bianchi | |
| 96 | Jessica Mundy (Aus) Colavita/Bianchi | |
| 97 | Esther Van Veen (Ned) Parkhotel Valkenburg-Destil Cycling Team | |
| 98 | Nathalie Verschelden (Bel) Lensworld-Kuota | |
| 99 | Amelie Rivat (Fra) Lares-Waowdeals | |
| 100 | Esra Tromp (Ned) Parkhotel Valkenburg-Destil Cycling Team | |
| 101 | Demi De Jong (Ned) Parkhotel Valkenburg-Destil Cycling Team | |
| 102 | Estefania Pilz (Arg) | |
| 103 | Joelle Numainville (Can) Cylance Pro Cycling | |
| DNF | Demmy Druyts (Bel) Sport Vlaanderen-Etixx | |
| DNF | Fien Delbaere (Bel) Sport Vlaanderen-Etixx | |
| DNF | Lucy Garner (GBr) Wiggle High5 | |
| DNF | Romy Kasper (Ger) Alé Cipollini | |
| DNF | Olga Dobrynina (Rus) BePink Cogeas | |
| DNF | Margarita Syrodoeva (Rus) BePink Cogeas | |
| DNF | Maria Vittoria Sperotto (Ita) BePink Cogeas | |
| DNF | Spela Kern (Slo) Bizkaia-Durango | |
| DNF | Lourdes Oyarbide (Spa) Bizkaia-Durango | |
| DNF | Roos Hoogeboom (Ned) Bizkaia-Durango | |
| DNF | Yessica Pérez (Spa) Bizkaia-Durango | |
| DNF | Lorena Llamas (Spa) Bizkaia-Durango | |
| DNF | Whitney Allison (USA) Colavita/Bianchi | |
| DNF | Kendelle Hodges (Aus) Colavita/Bianchi | |
| DNF | Abigail Mickey (USA) Colavita/Bianchi | |
| DNF | Amber Pierce (USA) Colavita/Bianchi | |
| DNF | Annabel Simpson (GBr) Drops Cycling Team | |
| DNF | Rebecca Womersley (GBr) Drops Cycling Team | |
| DNF | Susanna Zorzi (Ita) Drops Cycling Team | |
| DNF | Greta Richioud (Fra) FDJ Nouvelle Aquitaine Futuroscope | |
| DNF | Charlotte Bravard (Fra) FDJ Nouvelle Aquitaine Futuroscope | |
| DNF | Nina Kessler (Ned) Hitec Products | |
| DNF | Cristina Martinez (Spa) Lointek | |
| DNF | Beatriu Gomez (Spa) Lointek | |
| DNF | Ziortza Isasi (Spa) Lointek | |
| DNF | Belen Lopez (Spa) Lointek | |
| DNF | Alba Teruel Ribes (Spa) Lointek | |
| DNF | Chanella Stougje (Ned) Parkhotel Valkenburg-Destil Cycling Team | |
| DNF | Anna Knauer (Ger) Parkhotel Valkenburg-Destil Cycling Team | |
| DNF | Doris Schweizer (Swi) Team Veloconcept Women | |
| DNF | Inga Rodieck (Ger) Germany | |
| DNF | Gudrun Stock (Ger) Germany | |
| DNF | Laura Süßemilch (Ger) Germany | |
| DNF | Lisa Küllmer (Ger) Germany | |
| DNF | Kathrin Hammes (Ger) Germany | |
| DNF | Lensy Debboudt (Bel) | |
| DNF | Evelien Debboudt (Bel) | |
| DNF | Stefanie Deceuninck (Bel) | |
| DNF | Brenda Goessens (Bel) | |
| DNF | Claudia Jongerius (Ned) | |
| DNF | Dorottya Kanti (Hun) | |
| DNF | Pia De Quint (Bel) | |
| DNF | Mie Bjørndal Ottestad (Nor) | |
| DNF | Laura Van Geyt (Bel) | |
| DNF | Emmy Andersson (Swe) | |
| DNF | Kelly Lambrechts (Bel) | |
| DNF | Chane Jonker (RSA) | |
| DNF | Megan Chard (GBr) | |
| | | |
Cyclingnews Newsletter
Sign up to the Cyclingnews Newsletter. You can unsubscribe at any time. For more information about how to do this, and how we hold your data, please see our privacy policy