Tour de Langkawi: Saleh wins stage 5 sprint
Malaysian beats Walscheid and Pelucchi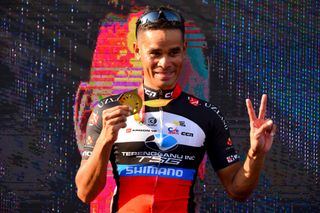 (Image credit: Bettini Photo)
Already the second Malaysian stage winner in the 25 years of history of Le Tour de Langkawi last year, Harrif Saleh of TSG Terengganu doubled up as he outsprinted Max Walscheid (NTT Pro Cycling) and Matteo Pelucchi (Bardiani-CSF) in a bunch gallop in Ipoh. Danilo Celano (Sapura) retained the overall lead.
"I wasn't scared of sprinting against a rider of the calibre of Walscheid", Saleh said. "I know when I'm on a good day, I'm a good sprinter. I took the last bend in first position and that was the key for winning today. It makes me very happy and I'm grateful to my team for having put me in the situation to repeat my victory from last year."
This time out, the 31-year-old from Terengganu, the hotbed of Malaysian cycling on the East Coast of the Peninsula, faced fierce competition but he handled the pressure of having to deliver after his climbing specialists teammates lost their battle for the yellow jersey against arch-rivals Sapura atop Genting Highlands. Saleh suffered an eye stroke in October last year and almost became half blind, but he recovered on time to become the first Malaysian to win two stages in the country's favourite bike race.
His former team-mate Anuar Manan, now riding his 13th Le Tour de Langkawi and thus equalling the participation record of Iran's Ghader Mizbani, also made the top 10 (9th) in Ipoh despite recently coming out of retirement and carrying some extra kilogrammes. Manan was the first Malaysian to win a stage in Le Tour de Langkawi in Port Dickson in 2010, beating Michael Matthews, among others, in a bunch finish.
It was always going to be a sprint finish in Ipoh but it took fifty kilometres for the breakaway of the day to be formed. 49km were covered in the first hour with constant skirmishes taking place. Mattia Bevilacqua (Vini Zabù-KTM), Johan Le Bon (B&B Hotels-Vital Concept), Amirul Mazuki (TSG Terengganu), Kent Ross (Wildlife Generation), Yuzuru Suzuki (Utsunomiya Blitzen) and Nik Zulkiflie (Malaysia national team) got a maximum advantage of 3:10 after 75km of racing. Sapura and NTT Pro Cycling, later helped by Bardiani-CSF, brought them with the regrouping occurring 7km before the end.
"We did a pretty good performance as a team once again", Walscheid said. "I'm also quite happy with my sprint. One rider was just faster. Hats off to him because he sprinted really well. He was on our list of potential contenders this morning."
Celano enjoyed his first day in the yellow jersey on a flat stage, being aware that stage 6 to the island of Penang will be a more complicated one in the defence of his leadership.
Image 1 of 4
Results
Swipe to scroll horizontally
Stage result

| # | Rider Name (Country) Team | Result |
| --- | --- | --- |
| 1 | Mohd Harrif Saleh (Mas) Terengganu Inc. TSG Cycling Team | 3:39:42 |
| 2 | Maximilian Richard Walscheid (Ger) NTT Pro Cycling Team | |
| 3 | Matteo Pelucchi (Ita) Bardiani – CSF – Faizane | |
| 4 | Andre Looij (Ned) SSOIS Miogee Cycling Team | |
| 5 | Taj Jones (Aus) Ara Pro Racing Sunshine Coast | |
| 6 | Luca Pacioni (Ita) Androni Giocattoli - Sidermec | |
| 7 | Ahmet Orken (Tur) Team Sapura Cycling | |
| 8 | Tristan Ward (Aus) Team Bridgelane | |
| 9 | Anuar Manan (Mas) Malaysia | |
| 10 | Gleb Brussenskiy (Kaz) Vino - Astana Motors | |
| 11 | Ryu Suzuki (Jpn) Utsunomiya Blitzen | |
| 12 | Kakeru Omae (Jpn) Aisan Racing Team | |
| 13 | Riccardo Minali (Ita) Nippo Delko One Provence | |
| 14 | Alexander Cowan (Can) Wildlife Generation Pro Cycling | |
| 15 | Georgios Bouglas (Gre) SSOIS Miogee Cycling Team | |
| 16 | Keigo Kusaba (Jpn) Aisan Racing Team | |
| 17 | Giovanni Lonardi (Ita) Bardiani – CSF – Faizane | |
| 18 | Jamalidin Novardianto (Ina) PGN Road Cycling Team | |
| 19 | Michael Carbel Svendgaard (Den) NTT Pro Cycling Team | |
| 20 | Kyoungho Park (Kor) KSPO Professional | |
| 21 | Sarawut Sirironnachai (Tha) Thailand Continental Cycling Team | |
| 22 | Pierpaolo Ficara (Ita) Team Sapura Cycling | |
| 23 | Jaehyun Kim (Kor) KSPO Professional | |
| 24 | Juan-Pierre Van der Merwe (RSA) Team Bridgelane | |
| 25 | Siu Wai Ko (HKg) HKSI Pro Cycling | |
| 26 | Quentin Pacher (Fra) B&B Hotels - Vital Concept | |
| 27 | Muhammad Ameer Ahmad Kamal (Mas) Malaysia | |
| 28 | James Harvey (NZl) St George Continental Cycling Team | |
| 29 | Kota Sumiyoshi (Jpn) Aisan Racing Team | |
| 30 | Ahmad Yoga Ilham Firdaus (Ina) PGN Road Cycling Team | |
| 31 | Alexandr Semenov (Kaz) Vino - Astana Motors | |
| 32 | Lucas De Rossi (Fra) Nippo Delko One Provence | |
| 33 | Simone Bevilacqua (Ita) Vini Zabu – KTM | |
| 34 | Soonyeong Kwon (Kor) KSPO Professional | |
| 35 | Ho San Chiu (HKg) HKSI Pro Cycling | |
| 36 | Yevgeniy Fedorov (Kaz) Vino - Astana Motors | |
| 37 | Alex Hoehn (USA) Wildlife Generation Pro Cycling | |
| 38 | Lorenzo Fortunato (Ita) Vini Zabu – KTM | |
| 39 | Jeroen Meijers (Ned) SSOIS Miogee Cycling Team | |
| 40 | Francesco Manuel Bongiorno (Ita) Vini Zabu – KTM | |
| 41 | Carlos Julian Quintero Noreña (Col) Terengganu Inc. TSG Cycling Team | |
| 42 | Leonardo Tortomasi (Ita) Vini Zabu – KTM | |
| 43 | Dusan Rajovic (Srb) Nippo Delko One Provence | |
| 44 | Peerapol Chawchiangkwang (Tha) Thailand Continental Cycling Team | |
| 45 | Thurakit Boonratanathanakorn (Tha) Thailand Continental Cycling Team | |
| 46 | Metkel Eyob (Eri) Terengganu Inc. TSG Cycling Team | |
| 47 | Artem Ovechkin (Rus) Terengganu Inc. TSG Cycling Team | |
| 48 | Danilo Celano (Ita) Team Sapura Cycling | |
| 49 | Hideto Nakane (Jpn) Nippo Delko One Provence | |
| 50 | Cristian Raileanu (Mda) Team Sapura Cycling | |
| 51 | Mohamad Izzat Hilmi Abdul Halil (Mas) Malaysia | |
| 52 | Sandy Hasan (Ina) PGN Road Cycling Team | |
| 53 | Matvey Nikitin (Kaz) Vino - Astana Motors | |
| 54 | Daniel Savini (Ita) Bardiani – CSF – Faizane | |
| 55 | Ka Hoo Fung (HKg) HKSI Pro Cycling | |
| 56 | Thanakhan Chaiyasombat (Tha) Thailand Continental Cycling Team | |
| 57 | Dylan Sunderland (Aus) NTT Pro Cycling Team | |
| 58 | Louis Meintjes (RSA) NTT Pro Cycling Team | |
| 59 | Bernard Benyamin Van Aert (Ina) PGN Road Cycling Team | |
| 60 | Pierre Rolland (Fra) B&B Hotels - Vital Concept | |
| 61 | Fabio Mazzucco (Ita) Bardiani – CSF – Faizane | |
| 62 | Michael Vink (NZl) St George Continental Cycling Team | |
| 63 | Igor Chzhan (Kaz) Vino - Astana Motors | |
| 64 | Rylee Field (Aus) Team Bridgelane | |
| 65 | Cyril Gautier (Fra) B&B Hotels - Vital Concept | |
| 66 | Masakazu Ito (Jpn) Aisan Racing Team | |
| 67 | Drew Morey (Aus) Terengganu Inc. TSG Cycling Team | |
| 68 | Hiu Fung Choy (HKg) HKSI Pro Cycling | |
| 69 | Nariyuki Masuda (Jpn) Utsunomiya Blitzen | |
| 70 | Burr Ho (HKg) HKSI Pro Cycling | |
| 71 | Jihun Kim (Kor) KSPO Professional | |
| 72 | Wan Yau Vincent Lau (HKg) HKSI Pro Cycling | |
| 73 | Dominic Perez (Phi) SSOIS Miogee Cycling Team | |
| 74 | Kevin Rivera Serrano (CRc) Androni Giocattoli - Sidermec | |
| 75 | Sofian Nabil Omar Mohd Bakri (Mas) Malaysia | |
| 76 | Nik Mohd Azwan Zulkiflie (Mas) Malaysia | |
| 77 | Cormac Mcgeough (Irl) Wildlife Generation Pro Cycling | |
| 78 | Muhammad Danieal Haikkal Edy Suhaidee (Mas) Malaysia | |
| 79 | Nur Amirull Fakhruddin Mazuki (Mas) Terengganu Inc. TSG Cycling Team | |
| 80 | Aiman Cahyadi (Ina) PGN Road Cycling Team | |
| 81 | Ariya Phounsavath (Lao) Thailand Continental Cycling Team | |
| 82 | Alexandr Ovsyannikov (Kaz) Vino - Astana Motors | |
| 83 | Serghei Tvetcov (Rom) Team Sapura Cycling | |
| 84 | Jay Dutton (Aus) St George Continental Cycling Team | |
| 85 | Mattia Viel (Ita) Androni Giocattoli - Sidermec | |
| 86 | Navuti Liphongyu (Tha) Thailand Continental Cycling Team | |
| 87 | Nicola Venchiarutti (Ita) Androni Giocattoli - Sidermec | |
| 88 | Justin Mottier (Fra) B&B Hotels - Vital Concept | |
| 89 | Carter Bettles (Aus) St George Continental Cycling Team | |
| 90 | Mathew Zenovich (NZl) St George Continental Cycling Team | |
| 91 | Edgar Nohales Nieto (Spa) SSOIS Miogee Cycling Team | |
| 92 | Muhamad Nur Aiman Mohd Zariff (Mas) Team Sapura Cycling | |
| 93 | Fabricio Ferrari Barcelo (Uru) SSOIS Miogee Cycling Team | |
| 94 | Alessandro Pessot (Ita) Bardiani – CSF – Faizane | |
| 95 | Hayato Okamoto (Jpn) Aisan Racing Team | |
| 96 | Jamal Hibatullah (Ina) PGN Road Cycling Team | |
| 97 | Kaito Nakamura (Jpn) Utsunomiya Blitzen | |
| 98 | Mattia Bevilacqua (Ita) Vini Zabu – KTM | |
| 99 | Samuele Battistella (Ita) NTT Pro Cycling Team | |
| 100 | Stuart Shaw (Aus) Ara Pro Racing Sunshine Coast | |
| 101 | Hiroki Nishimura (Jpn) Utsunomiya Blitzen | |
| 102 | Alessandro Iacchi (Ita) Vini Zabu – KTM | 0:00:33 |
| 103 | Kent Ross (USA) Wildlife Generation Pro Cycling | 0:00:36 |
| 104 | Jérémy Lecroq (Fra) B&B Hotels - Vital Concept | |
| 105 | Kookhyun Kim (Kor) KSPO Professional | |
| 106 | Johan Le Bon (Fra) B&B Hotels - Vital Concept | |
| 107 | Gwangho Shin (Kor) KSPO Professional | 0:00:46 |
| 108 | Ben Van Dam (Aus) Team Bridgelane | 0:00:54 |
| 109 | Matthew Rice (Aus) Ara Pro Racing Sunshine Coast | 0:01:01 |
| 110 | Alistair Donohoe (Aus) Ara Pro Racing Sunshine Coast | 0:01:53 |
| 111 | Amarni Drake (Aus) Ara Pro Racing Sunshine Coast | |
| 112 | Samuel Boardman (USA) Wildlife Generation Pro Cycling | |
| 113 | Zack Gilmore (Aus) Ara Pro Racing Sunshine Coast | |
| 114 | Masahiro Ishigami (Jpn) Nippo Delko One Provence | 0:02:11 |
| 115 | Yuzuru Suzuki (Jpn) Utsunomiya Blitzen | |
| 116 | Shotaro Iribe (Jpn) NTT Pro Cycling Team | 0:04:46 |
| 117 | Alessandro Monaco (Ita) Bardiani – CSF – Faizane | 0:06:13 |
Swipe to scroll horizontally
Points

| # | Rider Name (Country) Team | Result |
| --- | --- | --- |
| 1 | Mohd Harrif Saleh (Mas) Terengganu Inc. TSG Cycling Team | 18 |
| 2 | Maximilian Richard Walscheid (Ger) NTT Pro Cycling Team | 12 |
| 3 | Matteo Pelucchi (Ita) Bardiani – CSF – Faizane | 9 |
| 4 | Taj Jones (Aus) Ara Pro Racing Sunshine Coast | 8 |
| 5 | Andre Looij (Ned) SSOIS Miogee Cycling Team | 7 |
| 6 | Luca Pacioni (Ita) Androni Giocattoli - Sidermec | 5 |
| 7 | Ahmet Orken (Tur) Team Sapura Cycling | 4 |
| 8 | Tristan Ward (Aus) Team Bridgelane | 3 |
| 9 | Dusan Rajovic (Srb) Nippo Delko One Provence | 3 |
| 10 | Nik Mohd Azwan Zulkiflie (Mas) Malaysia | 3 |
| 11 | Kent Ross (USA) Wildlife Generation Pro Cycling | 2 |
| 12 | Anuar Manan (Mas) Malaysia | 2 |
| 13 | Kookhyun Kim (Kor) KSPO Professional | 2 |
| 14 | Mohamad Izzat Hilmi Abdul Halil (Mas) Malaysia | 1 |
| 15 | Leonardo Tortomasi (Ita) Vini Zabu – KTM | 1 |
| 16 | Gleb Brussenskiy (Kaz) Vino - Astana Motors | 1 |
| 17 | Mattia Bevilacqua (Ita) Vini Zabu – KTM | 1 |
Swipe to scroll horizontally
General classification after stage 5

| # | Rider Name (Country) Team | Result |
| --- | --- | --- |
| 1 | Danilo Celano (Ita) Team Sapura Cycling | 17:48:10 |
| 2 | Yevgeniy Fedorov (Kaz) Vino - Astana Motors | 0:00:30 |
| 3 | Artem Ovechkin (Rus) Terengganu Inc. TSG Cycling Team | 0:00:35 |
| 4 | Quentin Pacher (Fra) B&B Hotels - Vital Concept | 0:01:13 |
| 5 | Pierpaolo Ficara (Ita) Team Sapura Cycling | |
| 6 | Cristian Raileanu (Mda) Team Sapura Cycling | 0:01:36 |
| 7 | Hideto Nakane (Jpn) Nippo Delko One Provence | 0:01:52 |
| 8 | Lorenzo Fortunato (Ita) Vini Zabu – KTM | 0:01:56 |
| 9 | Carlos Julian Quintero Noreña (Col) Terengganu Inc. TSG Cycling Team | 0:02:03 |
| 10 | Francesco Manuel Bongiorno (Ita) Vini Zabu – KTM | 0:02:16 |
| 11 | Louis Meintjes (RSA) NTT Pro Cycling Team | 0:02:22 |
| 12 | Dylan Sunderland (Aus) NTT Pro Cycling Team | 0:02:40 |
| 13 | Jeroen Meijers (Ned) SSOIS Miogee Cycling Team | 0:03:22 |
| 14 | Ka Hoo Fung (HKg) HKSI Pro Cycling | 0:03:54 |
| 15 | Jamal Hibatullah (Ina) PGN Road Cycling Team | 0:04:29 |
| 16 | Alex Hoehn (USA) Wildlife Generation Pro Cycling | 0:04:33 |
| 17 | Thanakhan Chaiyasombat (Tha) Thailand Continental Cycling Team | 0:04:44 |
| 18 | Peerapol Chawchiangkwang (Tha) Thailand Continental Cycling Team | 0:04:51 |
| 19 | Drew Morey (Aus) Terengganu Inc. TSG Cycling Team | 0:05:05 |
| 20 | Igor Chzhan (Kaz) Vino - Astana Motors | |
| 21 | Hiu Fung Choy (HKg) HKSI Pro Cycling | 0:05:46 |
| 22 | Serghei Tvetcov (Rom) Team Sapura Cycling | 0:06:00 |
| 23 | Lucas De Rossi (Fra) Nippo Delko One Provence | 0:06:25 |
| 24 | Alexander Cowan (Can) Wildlife Generation Pro Cycling | 0:06:31 |
| 25 | Matvey Nikitin (Kaz) Vino - Astana Motors | 0:07:28 |
| 26 | Nariyuki Masuda (Jpn) Utsunomiya Blitzen | 0:08:17 |
| 27 | Metkel Eyob (Eri) Terengganu Inc. TSG Cycling Team | 0:08:27 |
| 28 | Giovanni Lonardi (Ita) Bardiani – CSF – Faizane | 0:08:32 |
| 29 | Daniel Savini (Ita) Bardiani – CSF – Faizane | |
| 30 | Ho San Chiu (HKg) HKSI Pro Cycling | 0:09:02 |
| 31 | Masakazu Ito (Jpn) Aisan Racing Team | 0:09:13 |
| 32 | Cyril Gautier (Fra) B&B Hotels - Vital Concept | 0:09:36 |
| 33 | Pierre Rolland (Fra) B&B Hotels - Vital Concept | 0:09:38 |
| 34 | Ahmad Yoga Ilham Firdaus (Ina) PGN Road Cycling Team | 0:10:06 |
| 35 | Kevin Rivera Serrano (CRc) Androni Giocattoli - Sidermec | 0:10:36 |
| 36 | Muhammad Danieal Haikkal Edy Suhaidee (Mas) Malaysia | 0:11:19 |
| 37 | Yuzuru Suzuki (Jpn) Utsunomiya Blitzen | 0:11:28 |
| 38 | Ariya Phounsavath (Lao) Thailand Continental Cycling Team | |
| 39 | Leonardo Tortomasi (Ita) Vini Zabu – KTM | 0:11:47 |
| 40 | Muhamad Nur Aiman Mohd Zariff (Mas) Team Sapura Cycling | 0:12:18 |
| 41 | Kota Sumiyoshi (Jpn) Aisan Racing Team | 0:12:37 |
| 42 | Sandy Hasan (Ina) PGN Road Cycling Team | 0:12:53 |
| 43 | Muhammad Ameer Ahmad Kamal (Mas) Malaysia | 0:13:16 |
| 44 | Aiman Cahyadi (Ina) PGN Road Cycling Team | 0:13:50 |
| 45 | Thurakit Boonratanathanakorn (Tha) Thailand Continental Cycling Team | 0:14:04 |
| 46 | Cormac Mcgeough (Irl) Wildlife Generation Pro Cycling | 0:14:45 |
| 47 | Sofian Nabil Omar Mohd Bakri (Mas) Malaysia | 0:14:56 |
| 48 | Samuele Battistella (Ita) NTT Pro Cycling Team | 0:15:20 |
| 49 | Burr Ho (HKg) HKSI Pro Cycling | 0:15:28 |
| 50 | Gleb Brussenskiy (Kaz) Vino - Astana Motors | 0:15:50 |
| 51 | Kent Ross (USA) Wildlife Generation Pro Cycling | 0:15:51 |
| 52 | Nik Mohd Azwan Zulkiflie (Mas) Malaysia | 0:15:58 |
| 53 | Juan-Pierre Van der Merwe (RSA) Team Bridgelane | 0:16:27 |
| 54 | Jamalidin Novardianto (Ina) PGN Road Cycling Team | 0:16:38 |
| 55 | Bernard Benyamin Van Aert (Ina) PGN Road Cycling Team | 0:18:58 |
| 56 | Dominic Perez (Phi) SSOIS Miogee Cycling Team | 0:19:08 |
| 57 | Nur Amirull Fakhruddin Mazuki (Mas) Terengganu Inc. TSG Cycling Team | 0:19:49 |
| 58 | Amarni Drake (Aus) Ara Pro Racing Sunshine Coast | |
| 59 | Edgar Nohales Nieto (Spa) SSOIS Miogee Cycling Team | 0:19:52 |
| 60 | Sarawut Sirironnachai (Tha) Thailand Continental Cycling Team | 0:20:34 |
| 61 | Tristan Ward (Aus) Team Bridgelane | 0:21:25 |
| 62 | Fabio Mazzucco (Ita) Bardiani – CSF – Faizane | 0:21:48 |
| 63 | Michael Carbel Svendgaard (Den) NTT Pro Cycling Team | 0:22:36 |
| 64 | Ahmet Orken (Tur) Team Sapura Cycling | 0:24:31 |
| 65 | Georgios Bouglas (Gre) SSOIS Miogee Cycling Team | 0:24:37 |
| 66 | Mohamad Izzat Hilmi Abdul Halil (Mas) Malaysia | 0:24:41 |
| 67 | Mattia Bevilacqua (Ita) Vini Zabu – KTM | |
| 68 | Luca Pacioni (Ita) Androni Giocattoli - Sidermec | 0:24:42 |
| 69 | Hiroki Nishimura (Jpn) Utsunomiya Blitzen | 0:25:17 |
| 70 | Michael Vink (NZl) St George Continental Cycling Team | 0:25:30 |
| 71 | Maximilian Richard Walscheid (Ger) NTT Pro Cycling Team | 0:25:37 |
| 72 | Justin Mottier (Fra) B&B Hotels - Vital Concept | 0:25:59 |
| 73 | Rylee Field (Aus) Team Bridgelane | 0:26:30 |
| 74 | Alexandr Semenov (Kaz) Vino - Astana Motors | 0:27:18 |
| 75 | Johan Le Bon (Fra) B&B Hotels - Vital Concept | 0:27:24 |
| 76 | Fabricio Ferrari Barcelo (Uru) SSOIS Miogee Cycling Team | 0:27:29 |
| 77 | Samuel Boardman (USA) Wildlife Generation Pro Cycling | 0:27:36 |
| 78 | Alessandro Monaco (Ita) Bardiani – CSF – Faizane | 0:28:27 |
| 79 | Riccardo Minali (Ita) Nippo Delko One Provence | 0:28:47 |
| 80 | Dusan Rajovic (Srb) Nippo Delko One Provence | |
| 81 | Kaito Nakamura (Jpn) Utsunomiya Blitzen | 0:30:39 |
| 82 | Alessandro Pessot (Ita) Bardiani – CSF – Faizane | 0:30:40 |
| 83 | Ben Van Dam (Aus) Team Bridgelane | 0:31:02 |
| 84 | Alessandro Iacchi (Ita) Vini Zabu – KTM | 0:31:23 |
| 85 | Taj Jones (Aus) Ara Pro Racing Sunshine Coast | 0:31:30 |
| 86 | Siu Wai Ko (HKg) HKSI Pro Cycling | 0:31:58 |
| 87 | Mathew Zenovich (NZl) St George Continental Cycling Team | 0:32:07 |
| 88 | Mohd Harrif Saleh (Mas) Terengganu Inc. TSG Cycling Team | 0:33:12 |
| 89 | Mattia Viel (Ita) Androni Giocattoli - Sidermec | 0:33:24 |
| 90 | Simone Bevilacqua (Ita) Vini Zabu – KTM | 0:33:27 |
| 91 | Navuti Liphongyu (Tha) Thailand Continental Cycling Team | |
| 92 | Soonyeong Kwon (Kor) KSPO Professional | 0:33:31 |
| 93 | Alexandr Ovsyannikov (Kaz) Vino - Astana Motors | 0:33:39 |
| 94 | Jihun Kim (Kor) KSPO Professional | 0:34:42 |
| 95 | Andre Looij (Ned) SSOIS Miogee Cycling Team | 0:34:44 |
| 96 | Kakeru Omae (Jpn) Aisan Racing Team | 0:35:49 |
| 97 | Anuar Manan (Mas) Malaysia | 0:35:55 |
| 98 | Carter Bettles (Aus) St George Continental Cycling Team | 0:36:04 |
| 99 | Jay Dutton (Aus) St George Continental Cycling Team | |
| 100 | Alistair Donohoe (Aus) Ara Pro Racing Sunshine Coast | 0:36:45 |
| 101 | Ryu Suzuki (Jpn) Utsunomiya Blitzen | 0:37:02 |
| 102 | Wan Yau Vincent Lau (HKg) HKSI Pro Cycling | 0:37:18 |
| 103 | Nicola Venchiarutti (Ita) Androni Giocattoli - Sidermec | 0:38:43 |
| 104 | Jaehyun Kim (Kor) KSPO Professional | 0:39:53 |
| 105 | Masahiro Ishigami (Jpn) Nippo Delko One Provence | 0:40:41 |
| 106 | Shotaro Iribe (Jpn) NTT Pro Cycling Team | 0:41:14 |
| 107 | Kookhyun Kim (Kor) KSPO Professional | 0:41:32 |
| 108 | James Harvey (NZl) St George Continental Cycling Team | 0:41:39 |
| 109 | Hayato Okamoto (Jpn) Aisan Racing Team | 0:44:18 |
| 110 | Matteo Pelucchi (Ita) Bardiani – CSF – Faizane | 0:44:37 |
| 111 | Kyoungho Park (Kor) KSPO Professional | 0:44:58 |
| 112 | Matthew Rice (Aus) Ara Pro Racing Sunshine Coast | 0:45:32 |
| 113 | Keigo Kusaba (Jpn) Aisan Racing Team | 0:46:36 |
| 114 | Jérémy Lecroq (Fra) B&B Hotels - Vital Concept | 0:46:48 |
| 115 | Gwangho Shin (Kor) KSPO Professional | 0:51:40 |
| 116 | Zack Gilmore (Aus) Ara Pro Racing Sunshine Coast | 0:53:18 |
| 117 | Stuart Shaw (Aus) Ara Pro Racing Sunshine Coast | 0:59:27 |
Swipe to scroll horizontally
Points

| # | Rider Name (Country) Team | Result |
| --- | --- | --- |
| 1 | Maximilian Richard Walscheid (Ger) NTT Pro Cycling Team | 46 |
| 2 | Taj Jones (Aus) Ara Pro Racing Sunshine Coast | 36 |
| 3 | Mohd Harrif Saleh (Mas) Terengganu Inc. TSG Cycling Team | 27 |
| 4 | Ahmet Orken (Tur) Team Sapura Cycling | 25 |
| 5 | Yevgeniy Fedorov (Kaz) Vino - Astana Motors | 23 |
| 6 | Georgios Bouglas (Gre) SSOIS Miogee Cycling Team | 20 |
| 7 | Matteo Pelucchi (Ita) Bardiani – CSF – Faizane | 20 |
| 8 | Riccardo Minali (Ita) Nippo Delko One Provence | 19 |
| 9 | Thurakit Boonratanathanakorn (Tha) Thailand Continental Cycling Team | 16 |
| 10 | Kevin Rivera Serrano (CRc) Androni Giocattoli - Sidermec | 15 |
| 11 | Danilo Celano (Ita) Team Sapura Cycling | 12 |
| 12 | Luca Pacioni (Ita) Androni Giocattoli - Sidermec | 12 |
| 13 | Muhamad Nur Aiman Mohd Zariff (Mas) Team Sapura Cycling | 11 |
| 14 | Artem Ovechkin (Rus) Terengganu Inc. TSG Cycling Team | 9 |
| 15 | Giovanni Lonardi (Ita) Bardiani – CSF – Faizane | 9 |
| 16 | Jérémy Lecroq (Fra) B&B Hotels - Vital Concept | 9 |
| 17 | Tristan Ward (Aus) Team Bridgelane | 8 |
| 18 | Pierpaolo Ficara (Ita) Team Sapura Cycling | 7 |
| 19 | Andre Looij (Ned) SSOIS Miogee Cycling Team | 7 |
| 20 | Dusan Rajovic (Srb) Nippo Delko One Provence | 6 |
| 21 | Bernard Benyamin Van Aert (Ina) PGN Road Cycling Team | 6 |
| 22 | Quentin Pacher (Fra) B&B Hotels - Vital Concept | 6 |
| 23 | Cristian Raileanu (Mda) Team Sapura Cycling | 5 |
| 24 | Alexander Cowan (Can) Wildlife Generation Pro Cycling | 5 |
| 25 | Hideto Nakane (Jpn) Nippo Delko One Provence | 4 |
| 26 | Jamalidin Novardianto (Ina) PGN Road Cycling Team | 4 |
| 27 | Rylee Field (Aus) Team Bridgelane | 4 |
| 28 | Nik Mohd Azwan Zulkiflie (Mas) Malaysia | 3 |
| 29 | Lorenzo Fortunato (Ita) Vini Zabu – KTM | 3 |
| 30 | Mohamad Izzat Hilmi Abdul Halil (Mas) Malaysia | 3 |
| 31 | Mattia Viel (Ita) Androni Giocattoli - Sidermec | 3 |
| 32 | Cyril Gautier (Fra) B&B Hotels - Vital Concept | 2 |
| 33 | Kent Ross (USA) Wildlife Generation Pro Cycling | 2 |
| 34 | Johan Le Bon (Fra) B&B Hotels - Vital Concept | 2 |
| 35 | Ben Van Dam (Aus) Team Bridgelane | 2 |
| 36 | Alessandro Iacchi (Ita) Vini Zabu – KTM | 2 |
| 37 | Anuar Manan (Mas) Malaysia | 2 |
| 38 | Kookhyun Kim (Kor) KSPO Professional | 2 |
| 39 | Carlos Julian Quintero Noreña (Col) Terengganu Inc. TSG Cycling Team | 1 |
| 40 | Leonardo Tortomasi (Ita) Vini Zabu – KTM | 1 |
| 41 | Muhammad Ameer Ahmad Kamal (Mas) Malaysia | 1 |
| 42 | Aiman Cahyadi (Ina) PGN Road Cycling Team | 1 |
| 43 | Samuele Battistella (Ita) NTT Pro Cycling Team | 1 |
| 44 | Gleb Brussenskiy (Kaz) Vino - Astana Motors | 1 |
| 45 | Michael Carbel Svendgaard (Den) NTT Pro Cycling Team | 1 |
| 46 | Mattia Bevilacqua (Ita) Vini Zabu – KTM | 1 |
| 47 | Michael Vink (NZl) St George Continental Cycling Team | 1 |
| 48 | Fabricio Ferrari Barcelo (Uru) SSOIS Miogee Cycling Team | 1 |
| 49 | Keigo Kusaba (Jpn) Aisan Racing Team | 1 |
| 115 | Metkel Eyob (Eri) Terengganu Inc. TSG Cycling Team | -1 |
| 116 | Nariyuki Masuda (Jpn) Utsunomiya Blitzen | -3 |
| 117 | Alexandr Ovsyannikov (Kaz) Vino - Astana Motors | -3 |
Swipe to scroll horizontally
Mountain

| # | Rider Name (Country) Team | Result |
| --- | --- | --- |
| 1 | Muhamad Nur Aiman Mohd Zariff (Mas) Team Sapura Cycling | 29 |
| 2 | Kevin Rivera Serrano (CRc) Androni Giocattoli - Sidermec | 15 |
| 3 | Rylee Field (Aus) Team Bridgelane | 14 |
| 4 | Danilo Celano (Ita) Team Sapura Cycling | 12 |
| 5 | Artem Ovechkin (Rus) Terengganu Inc. TSG Cycling Team | 10 |
| 6 | Quentin Pacher (Fra) B&B Hotels - Vital Concept | 10 |
| 7 | Pierpaolo Ficara (Ita) Team Sapura Cycling | 8 |
| 8 | Drew Morey (Aus) Terengganu Inc. TSG Cycling Team | 6 |
| 9 | Juan-Pierre Van der Merwe (RSA) Team Bridgelane | 6 |
| 10 | Cristian Raileanu (Mda) Team Sapura Cycling | 4 |
| 11 | Alistair Donohoe (Aus) Ara Pro Racing Sunshine Coast | 3 |
| 12 | Hideto Nakane (Jpn) Nippo Delko One Provence | 2 |
| 13 | Carlos Julian Quintero Noreña (Col) Terengganu Inc. TSG Cycling Team | 2 |
| 14 | Samuele Battistella (Ita) NTT Pro Cycling Team | 2 |
| 15 | Georgios Bouglas (Gre) SSOIS Miogee Cycling Team | 2 |
| 16 | Lorenzo Fortunato (Ita) Vini Zabu – KTM | 1 |
| 17 | Bernard Benyamin Van Aert (Ina) PGN Road Cycling Team | 1 |
| 18 | Johan Le Bon (Fra) B&B Hotels - Vital Concept | 1 |
| 19 | Fabricio Ferrari Barcelo (Uru) SSOIS Miogee Cycling Team | 1 |
| 20 | Jérémy Lecroq (Fra) B&B Hotels - Vital Concept | 1 |
| 116 | Metkel Eyob (Eri) Terengganu Inc. TSG Cycling Team | -1 |
| 117 | Alexandr Ovsyannikov (Kaz) Vino - Astana Motors | -2 |
Swipe to scroll horizontally
Teams

| # | Rider Name (Country) Team | Result |
| --- | --- | --- |
| 1 | Team Sapura Cycling | 53:27:25 |
| 2 | Terengganu Inc. TSG Cycling Team | 0:04:52 |
| 3 | Thailand Continental Cycling Team | 0:09:20 |
| 4 | Vino - Astana Motors | 0:10:24 |
| 5 | Vini Zabu – KTM | 0:13:05 |
| 6 | HKSI Pro Cycling | 0:15:47 |
| 7 | NTT Pro Cycling Team | 0:17:28 |
| 8 | B&B Hotels - Vital Concept | 0:17:34 |
| 9 | PGN Road Cycling Team | 0:17:52 |
| 10 | Wildlife Generation Pro Cycling | 0:18:48 |
| 11 | SSOIS Miogee Cycling Team | 0:29:41 |
| 12 | Nippo Delko One Provence | 0:30:04 |
| 13 | Utsunomiya Blitzen | 0:32:08 |
| 14 | Bardiani – CSF – Faizane | 0:34:25 |
| 15 | Malaysia | 0:36:37 |
| 16 | Aisan Racing Team | 0:51:04 |
| 17 | Androni Giocattoli - Sidermec | 0:55:10 |
| 18 | Team Bridgelane | 0:56:22 |
| 19 | St George Continental Cycling Team | 1:17:29 |
| 20 | Ara Pro Racing Sunshine Coast | 1:18:54 |
| 21 | KSPO Professional | 1:31:09 |

Thank you for reading 5 articles in the past 30 days*
Join now for unlimited access
Enjoy your first month for just £1 / $1 / €1
*Read any 5 articles for free in each 30-day period, this automatically resets
After your trial you will be billed £4.99 $7.99 €5.99 per month, cancel anytime. Or sign up for one year for just £49 $79 €59

Join now for unlimited access
Try your first month for just £1 / $1 / €1