Kabush doubles up in Carson City
Canadian tops Sonntag, Wells wraps up the Epic Rides series title
Elite Men XC: Carson City -
Image 1 of 31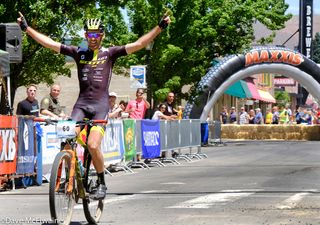 Image 2 of 31
Image 3 of 31
Image 4 of 31
Image 5 of 31
Image 6 of 31
Image 7 of 31
Image 8 of 31
Image 9 of 31
Image 10 of 31
Image 11 of 31
Image 12 of 31
Image 13 of 31
Image 14 of 31
Image 15 of 31
Image 16 of 31
Image 17 of 31
Image 18 of 31
Image 19 of 31
Image 20 of 31
Image 21 of 31
Image 22 of 31
Image 23 of 31
Image 24 of 31
Image 25 of 31
Image 26 of 31
Image 27 of 31
Image 28 of 31
Image 29 of 31
Image 30 of 31
Image 31 of 31
In one of the best endurance battles on US soil this year, veteran World Cup racer Geoff Kabush won the 50-mile Carson City Off-Road by 1:09 over Ben Sonntag (Clfff Bar), who finished second in a sprint with Todd Wells (SRAM-TLD-Scott) and Russell Finsterwald (SRAM-TLD-Scott).
Wells finished third, while his younger team-mate, Finsterwald, finished fourth. Jeremy Martin (Focus Bikes) finished fifth in what was perhaps his best mountain biking performance to date.
The course, which included an initial climb of up to 20 miles and total climbing of 7,225 feet, was brutally difficult. However, racers were treated to spectacular trails such as the Tahoe Rim Trail and The Flume. The oxygen was a bit thin at times as the course reached 9,000 feet elevation. Kabush raced to the top of the mountains in a select group that included Wells, Sonntag, Martin and Finsterwald.
Kabush recounted the racing: "I knew I had a chance if I got over the top of that climb, but man I was doubting myself...it was an hour and forty-five (minutes) to the top. I was feeling my legs twinge. I had ridden the Secret Trail and I knew it was super loose and super dusty, so my plan was to lead into there."
However, Finsterwald obviously had the same plan and attacked the group there. Only Kabush was able to go with him, and then pass Finsterwald on the final four-mile climb.
Kabush added: "I knew the last climb was not as steep of a gradient...but man it went on forever. I had to dig deep and keep focusing on pushing those pedals."
Wells added his view: "Today's race was awesome. Ben Sonntag, 'The German', and Jeremy Martin were definitely the strongest guys on the hills. They were pushing the pace and blowing the group apart. Then on the second-to-last descent, Finsty took off and Kabush went with him. The German and I were chasing, and he passed me and got a small gap. I was able to bring him back by the top (of last climb), then Finsty came back to us...and we all rode together until the finish."
The Epic Ride Series is now the richest mountain biking series in the country. The pro men and women equally spilt $90,000 in the three-race series, which also includes the Whisky Off-Road and the Grand Junction Off-Road. The winners take home $5,000 checks for each event.
Results
| # | Rider Name (Country) Team | Result |
| --- | --- | --- |
| 1 | Geoff Kabush (SCOTT-3Rox Racing) | 3:18:15 |
| 2 | Benjamin Sonntag (Clif Bar) | 0:01:09 |
| 3 | Todd Wells (SRAM TLD Scott) | 0:01:10 |
| 4 | Russell Finsterwald (SRAM | TLD Racing Team) | |
| 5 | Jeremy Martin (Focus Bikes - Smith MTB - iWill Pro Cycling) | 0:03:57 |
| 6 | Payson Mcelveen (Team RideBiker p/b Sho-Air) | 0:04:26 |
| 7 | Spencer Paxson | 0:05:13 |
| 8 | Troy Wells (Team CLIF Bar) | 0:07:02 |
| 9 | Bryan Dillon (Topeak-Ergon) | 0:07:11 |
| 10 | Carl Decker (Giant Bicycles) | 0:08:25 |
| 11 | Adam Bucklin (Team Rwanda) | 0:08:27 |
| 12 | Jamey Driscoll (Raleigh) | 0:09:39 |
| 13 | Kyle Trudeau (CZ Racing) | 0:09:40 |
| 14 | Justin Lindine (Apex / Hyperthreads / Vittoria) | 0:09:41 |
| 15 | Nic Beechan (Trek Test Team) | 0:11:52 |
| 16 | Brian Matter (Team Wisconsin) | 0:15:47 |
| 17 | Pablo Fernandez (Jarritos) | 0:16:05 |
| 18 | Menso De Jong (Clif Bar) | 0:18:36 |
| 19 | Kerry Werner | 0:18:37 |
| 20 | Adam Craig (Giant Factory Off-Road) | 0:19:07 |
| 21 | Justin Thomas (TCI Wealth Advisors / Great Basin Bike Shop / Yeti) | 0:19:59 |
| 22 | Jorge Munoz Jr. | 0:20:06 |
| 23 | Eric Bostrom (Ridebiker/Specialized) | 0:22:31 |
| 24 | Tim Racette (McDowell Mountain Cycles) | 0:23:27 |
| 25 | Barry Wicks (Kona) | 0:24:16 |
| 26 | Kris Sneddon | 0:24:35 |
| 27 | Stephan Davoust (Giant Bicycles/SRAM/Schwalbe Tires) | 0:24:41 |
| 28 | Mark Flis (Squadra) | 0:25:32 |
| 29 | Weston Rassmussen (CZ Racing) | 0:28:59 |
| 30 | Ricky Creel (CZ Racing) | 0:29:02 |
| 31 | Cody Kaiser (LangeTwins Winery) | 0:29:46 |
| 32 | Tyler Jones (parents) | 0:30:14 |
| 33 | Ian Wilkey (Az Devo) | 0:36:05 |
| 34 | Bryan Little (Giant Co-Factory) | 0:36:06 |
| 35 | Scott Chapin (Santa Cruz Bicycles / FOX SHOX / GIRO) | 0:38:55 |
| 36 | Kurt Wolfgang | 0:39:07 |
| 37 | Nick Thomas (AZ Devo) | 0:39:08 |
| 38 | Cody Schwartz (Folsom Bike) | 0:39:25 |
| 39 | Daniel Sturm (MTBPHD) | 0:41:28 |
| 40 | Nathan Miller (Roca Roja) | 0:43:33 |
| 41 | Ian Stowe (Giro) | 0:48:35 |
| 42 | Joseph Williams (Giant) | 0:57:20 |
Cyclingnews Newsletter
Sign up to the Cyclingnews Newsletter. You can unsubscribe at any time. For more information about how to do this, and how we hold your data, please see our privacy policy