Clarke takes sprint win at Clarendon Cup
Stephens takes solo win in the women's race
Image 1 of 31
Image 2 of 31
Image 3 of 31
Image 4 of 31
Image 5 of 31
Image 6 of 31
Image 7 of 31
Image 8 of 31
Image 9 of 31
Image 10 of 31
Image 11 of 31
Image 12 of 31
Image 13 of 31
Image 14 of 31
Image 15 of 31
Image 16 of 31
Image 17 of 31
Image 18 of 31
Image 19 of 31
Image 20 of 31
Image 21 of 31
Image 22 of 31
Image 23 of 31
Image 24 of 31
Image 25 of 31
Image 26 of 31
Image 27 of 31
Image 28 of 31
Image 29 of 31
Image 30 of 31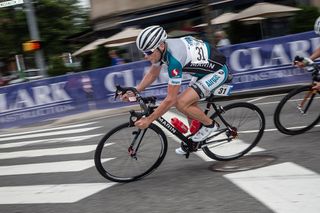 Image 31 of 31
Lauren Stephens (Tibco-SVB) took a solo win at the Air Force Association Cycling Classic's Clarendon Cup on Saturday in Arlington, Virginia. Coryn Rivera (UnitedHealthcare) sprinted in ahead of the main field for second place ahead of US criterium champion Kendall Ryan (Tibco-SVB.
In the men's race there were several attacks and reshuffling moves, one that included UnitedHealthcare's Carlos Alzate and Argentine sprinter Sebastian Haedo (Jamis-Hagens Berman). UnitedHealthcare took control of the race and brought that move back preferring instead to rely on their Australian sprinter Hilton Clarke, who rode into a new breakaway that lapped the field.
He took the win ahead of Ryan Aitcheson (Astellas) took second place on the day and Bobby Lea (Custom Velo pb Altamira) was third.
"We don't really like to chase our own teammates but Carlos was in a move with one of the most dangerous riders in Sebastian Haedo, so we made a call to chase it back, and I told them that I would be ready for the next move once it comes back. We trusted each other, we've been doing it a long time, but that was a hard race."
The Air Force Association Cycling Classic will continue with the Crystal Cup on Sunday. You can watch the live streaming of the women's and men's races here on Cyclingnews.
Brief Results
Women

| # | Rider Name (Country) Team |
| --- | --- |
| 1 | Lauren Stephens (USA) Tibco-SVB |
| 2 | Coryn Rivera (USA) UnitedHealthcare |
| 3 | Kendall Ryan (USA) Tibco-SVB |
Men

| # | Rider Name (Country) Team |
| --- | --- |
| 1 | Hilton Clarke (Aus) UnitedHealthcare |
| 2 | Ryan Aitcheson (USA) Astellas |
| 3 | Bobby Lea (USA) Custom Velo pb Altamira |
Cyclingnews Newsletter
Sign up to the Cyclingnews Newsletter. You can unsubscribe at any time. For more information about how to do this, and how we hold your data, please see our privacy policy