Best cargo bib shorts 2022 - Extra storage for on and off road
The best cargo bib shorts take take all that is good about the best bib shorts and add a load of pockets to carry your gear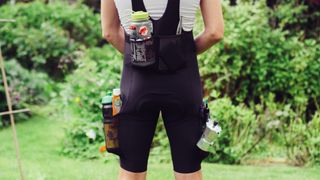 (Image credit: Will Jones)
Cycling shorts have remained more or less unchanged in their form since they made the swap en masse from wool and leather to lycra and synthetic pads. Recently though, the bib shorts space has been shaken up with the arrival of cargo bib shorts. The best cargo bib shorts basically take a base of a standard set of bibs and then add, courtesy of stretchy mesh, a load of exterior pockets.
The additional storage was originally targeted at gravel riders, to either add auxiliary capacity for long rides or simply replace the storage of a jersey and allow the rider to wear an oh-so-fashionable baggy t-shirt. More recently though they've found favour with a wider audience, and you're as likely to see them on your local Sunday club ride as you are in the Atlas Mountain race.
Just like searching for the best cycling shorts, there's no magic formula to finding the perfect cargo bibs for you, but the best of the bunch will combine a comfortable fit and straps, the right leg length, and pockets that are big enough and actually useable. The chamois (say: 'shammy') pad will be a matter of personal preference, just like the best gravel bike saddles, so make sure you are abreast of the returns policy before you commit.
If you're a little confused as to what to look for then worry not, we've put together a handy guide at the bottom of this page to help you find the right pair for you.
The best cargo bibs you can buy today
Why you can trust Cyclingnews Our expert reviewers spend hours testing and comparing products and services so you can choose the best for you. Find out more about how we test.
The best cargo bib shorts for mixed surface riding
Specifications
UV Protection:
Unpublished
Reasons to buy
+
Snag resistant fabric
+
Quality chamois
+
Decent price
Reasons to avoid
-
Rear pocket placement isn't as useful as other designs
Castelli's Unlimited design is all about riding wherever it makes sense. The design uses the same chamois and fabrics from the Castelli road-focused bib shorts and really just adds pockets to proven designs. This is a great approach for a heavy emphasis on mixed surface riding.
The chamois is the same Kiss Air2 found on the Competizione Bib short while the fabrics come from the Free Protect Race Bib short. For the Unlimited bib shorts, small pockets get added to the area of the lower back under the space jersey pockets occupy. On the outer thigh, the dual-layer construction helps reduce injury if you experience a slide on gravel, or pavement. In the case of the Unlimited bib shorts, the two pieces of fabric have a flap instead of a seam at the top. The design allows for storage between the layers.
For more info check out our full Castelli Unlimited bib shorts review.
The best cargo bib shorts for style fans
Specifications
Colours:
Coffee, Olive, Black
Reasons to buy
+
High compression
+
Quality construction
+
Visually excellent
Reasons to avoid
-
Run a little small
-
Expensive
For some roadies who've mistakenly taken the satirical The Rules seriously, wearing anything other than black bib shorts is a criminal offence. The world of gravel is much freer of such aesthetic constraints, and if you're after a pair of cargo bib shorts to make you stand out from the crowd then these Alt_Road bibs from MAAP should be on your list, especially in the coffee colour. Brown bibs aren't just for AG2R!
As well as looking fly, these are a premium pair of bibs with a lot of thought gone into the design details. Unlike most offerings, these have a zippered pocket on one leg rather than the standard two open pockets, which limits the storage somewhat.
The fit is a little small, partially because of the high levels of compression offered, and a touch longer in the leg too. If you're between sizes usually we'd suggest going down but here we'd be inclined to go up a size. The heavily sculpted chamois performed well on long rides and short alike, and the wide straps devoid of stitching are extremely comfortable.
These are an expensive pair of cargo bibs though, surpassing most others on the list. If you want to know how they fared in more detail then have a read of our MAAP Alt_Road Cargo Bib shorts review.
Rapha Cargo Bib Shorts
The best cargo bib shorts for multi-day epics
Specifications
UV Protection:
Unpublished
Colours:
Black, dark grey, dark navy, sky captain/birch
Reasons to buy
+
Quick drying and water resistant
+
Lots of storage
+
Reflective details
Reasons to avoid
-
Narrow leg gripper can be a bit aggressive
No discussion of cargo bib shorts would be complete without including something from Rapha. They weren't the inventors of cargo bib shorts but Rapha, arguably, was the brand to bring the idea to the forefront of modern cycling.
The Rapha Cargo Bib Shorts work hard to cover a wide range of different needs. The style is close to the Brevet bib shorts and if you choose to wear them on their own with a traditional jersey they won't look out of place. If you prefer a more casual style instead, there are pockets on the low back so you can just chuck a t-shirt on and head out without sacrificing any storage. Another bonus is a decent smattering of reflective details, though some of them being effectively inside the pocket may mean they're obscured by cargo.
The fit is 'regular', with noticeably less compression than that of the MAAP bibs; for multi-day comfort, these may well be a better bet. One thing we've found is the leg grippers, being relatively narrow, can be a little aggressive. On the flip side, they absolutely don't shift at all, even after 12hrs in the saddle.
Santini Gravel Bib Shorts
The best cargo bib shorts for compression
Specifications
UV protection:
Unpublished
Reasons to buy
+
Compression support
+
Wide shoulder straps and leg grippers
+
Easy to use pockets
Reasons to avoid
-
Sizes up small
-
Leg pockets could be bigger
Santini's very simply named Gravel Bib Shorts are designed for use over long gravel and off-road adventures, with abrasion-resistant gabardine fabric that feels soft against the skin for added comfort. The wide leg grippers keep everything firmly in place while also offering lightweight compression support, to help stimulate blood flow to the muscles and prevent fatigue setting in. Meanwhile the bib straps are also particularly wide and sit very comfortably and flat. They're also spaced wider than other options like the Rapha Cargo, which allows the stomach a little more room to expand, especially in conjunction with the low cut front.
One issue with the cut might occur for taller, skinnier riders: If you're tall but wear an XS jersey as an extreme scenario you may find the jersey isn't long enough to cover the front of these bibs, resulting in some tummy poking out while in an upright position. They do also, like many Italian brands, come up a little small.
The Santini bibs come with four pockets in total: two on the lower back, and one on each leg. The Leg pockets are easy to use thanks to a curved entry, but could be deeper in our opinion. In contrast the pockets in the small of the back are particularly roomy.
The shorts come with Santini's C3 insert, its most durable, lightweight performance chamois, designed to keep you comfortable after long hours in the saddle.
Poc Rove cargo bib shorts
The best cargo bib shorts for the road
Specifications
UV Protection:
Unpublished
Reasons to buy
+
Performance-oriented design
+
Easy-entry pockets
Reasons to avoid
-
Rear pockets too high for easy access
Of all the cargo bib shorts we've had in for this list the POC Rove cargo bibs are perhaps the pair that feel most like a 'traditional' pair of road bibs. The wide leg grippers and understated, all black aesthetic, besides a POC logo on one leg, are very roadie.
The leg pockets are plenty roomy enough to store your gear, and the upper hem of each is stitched in a rollover fashion, which enables you to slide your hand in without ever snagging the mesh itself - It's a small detail but it's a really classy touch.
The fit is pretty true to size, and there's a modicum of compression in the legs. Not as much as the MAAP, but more so than the Rapha pair. The Chamois is longer than the standard road one that POC normally use, for longer rides and gravelly adventures, and features silicone inserts for some extra bump-resistance.
One thing we weren't so keen on is the placement of the back pockets; they're a little too high to be easily accessed on the move. We'd rather see them moved down so the base sits just above the hips.
Pearl Izumi Expedition PRO cargo bib shorts
The best cargo bib shorts for luxury
Specifications
UV Protection:
Unpublished
Colours:
Black, Dark Ink Floral
Reasons to buy
+
Sustainable production practices
+
Lots of compression
+
Soft straps
+
Invisible leg grippers
The Pearl Izumi Expedition Pro cargo bibs are an extremely lovely feeling pair of shorts. The fabric, nearly half of which is recycled, feels almost silky to the touch. The leg pockets in this case are constructed from stretch fabric rather than the mesh that is most commonly seen in this segment, and in combination with the invisible leg grippers it's hard to tell these are cargo bibs at all from first glance. To be honest, in the floral print option they're closer to some upmarket LA Yoga shorts than a pair of cycling bibs, but there's a black option for the more conservative riders.
The compression is similar to the Santini, but the fit is pretty true to size with moderate compression. Of all of the bibs on test here they are the most comfortable out of the box.
The leg pockets themselves aren't as roomy as those from Rapha, and the single pocket in the back isn't cavernous either, but plenty big enough for a phone. One novel feature is the 'drop tail' construction, whereby the small of the back is covered by a strip of fabric but the straps themselves attach much lower down, enabling 'nature breaks' without having to take your jersey off.
Pearl Izumi Expedition cargo bib shorts
The best cargo bib shorts for more affordable performance
Specifications
UV Protection:
Unpublished
Colours:
Black, Green, Navy Autumn Gold Erode
Reasons to buy
+
Sustainable production practices
+
Soft straps
+
True to size
While the standard, non-PRO, Expedition cargo bibs from Pearl Izumi lose some of that top end luxury feeling, they're still a great option with premium features at a more reasonable price.
They feature the same general layout as the PRO version, with the same laser cut straps which are extremely comfortable. The pockets have a hem on the top in this case, and to be honest it makes them feel a little more secure, though a little less aesthetic. The leg grippers are more visible, and a little less grippy, though this is mostly due to the reduced compression on offer.
They also differ in the chamois used, but this is a very personal preference and there's nothing to say you wouldn't get on better with the cheaper one. Finally there's no dropped tail here, so if you need a nature break you'll have to undress first.
100% Revenant bib short liner
The best cargo bib shorts for wearing under baggies
Specifications
UV Protection:
Unpublished
Reasons to buy
+
Super breathable mesh construction
+
Extra pockets
Reasons to avoid
-
Sizing comes up small
-
Very little stretch in straps
Gravel riding has allowed riders to break some of the established fashion norms inherited from the road world, one of which is lycra shorts being required. As riders from both road and MTB converge on gravel, it's just as common to see a rider in baggy shorts nowadays as it is lycra ones. Baggy shorts can be whichever pair you like, and naturally most have a host of pockets. What they nearly all lack though is a chamois, so for longer rides a set of bib liners is what's needed to add some extra comfort.
As they're not designed to be worn without shorts over the top they can be made of mesh for increased breathability. These Revenant bib liners from 100% are totally constructed from mesh, with the exception of the chamois pad and the wide, extremely comfortable leg grippers. There is even a pair of leg pockets and the lower back due too, to keep extra valuables or snacks in under your baggies.
They do come up rather small though, and while some materials can accommodate a certain degree of flex the shoulder straps especially are rather unforgiving, so if you're between sizes then we suggest going a size up in this case.
Sportful Supergiara
The best cargo bib shorts for gravel racing
Specifications
UV Protection:
Unpublished
Colours:
Black, Cacao, Galaxy Blue
Reasons to buy
+
Rear pockets positioned below jersey pockets
+
Gravel-specific chamois design
Reasons to avoid
-
Missing a cargo pocket on the right leg
The Sportful SuperGiara are the best cargo bib shorts for anyone planning on doing some gravel racing. Some designs are looser to match the laid-back style of off-road riders. Sportful has gone in the opposite direction with highly compressive fabrics matched to all-out efforts. If you are comfortable with road-focused bib shorts, the Supergiara will be a good match.
Along with the highly compressive fabric choice is a pocket design with considerations for a pocketed jersey. By positioning the pockets far down the back Sportful makes it possible to use both the pockets in the bibs and the pockets in a jersey. It's a smart design that adds pockets instead of replacing them. It also makes the inclusion of a pocket on only one leg a little easier to deal with.
A gravel-specific chamois, which Sportful calls the DMS seat pad, shifts the padding rearward to offer increased comfort in the slightly more upright position that gravel riding tends to require.
7mesh Mk3 Cargo Bib Short
The best cargo bib shorts for lots of pockets
Specifications
UV Protection:
Unpublished
Reasons to buy
+
Plenty of sizes to fit every body type
+
Lots of storage space
+
Soft straps
Cargo bib shorts encompass a huge range of end uses and every company is trying to carve out their little piece. 7Mesh has targeted endurance road cycling and built a product that fits the needs of this audience.
The 7Mesh Mk3 Cargo bib shorts start from a base of the regular Mk3 bib shorts. There's an elastic interface chamois designed for long-distance riding day after day and 45mm wide shoulder straps. Added for the cargo bib shorts are large pockets on each thigh as well as three large pockets in the rear. If you decide to go with a technical t-shirt instead of a jersey, there's plenty of storage in the mk3 cargo bib shorts.
Alé Stones Cargo Bib Shorts
The best cargo bib shorts for UV protection
Reasons to buy
+
Performance-oriented design
+
Generous pocket space on the thighs
Reasons to avoid
-
Sizing might be tight for some
The Alé Stones Cargo bib shorts fall under the Alé Off Road collection but make no mistake these are a road-oriented product. The fit and feel is the same as the Alé road bib shorts. The fabric is thick and compressive, making for a product that looks good and feels good as long as it fits your body style.
Pockets on the Alé Stones Cargo bibs include a total of four. The pockets on the low back are small and under any jersey pocket. These aren't going to hold a lot but will help with organization in conjunction with a cycling jersey. Over the thigh the pockets take advantage of all the space available and provide a lot of storage.
How to choose the best cargo bib shorts for you
Are cargo bibs just normal bibs with pockets?
Essentially, yes, but there's more to it than that.
Normal bib shorts were almost exclusively designed for the road, so while they may perform perfectly well on gravel they weren't specifically designed for it.
The best cargo bib shorts are more aimed at either endurance riding, gravel riding, or both. They'll probably have a chamois that's a little more padded, and some will have a chamois that's designed for a slightly more upright position. The chamois in the POC Rove bibs for example is longer, with silicone inserts to help over rough surfaces and while riding in multiple positions.
Can I wear cargo bibs for road riding?
Absolutely. Some of us here at Cyclingnews choose cargo bibs over non-cargo for most things nowadays just for the extra storage. Anyone who says you can't is just being a snob, and they'll be jealous when you whip out a chocolate bar from your leg.
How tight should cargo bib shorts be?
This mostly depends on how much compression you want. More compression can help fight muscle fatigue, but some riders find it uncomfortable over long durations. The fit should be snug, but no sausage legs, and definitely no loss of circulation!
You should be absolutely free to move as if you were wearing nothing at all. Some brands size up small, so pay attention on that front if you're between sizes.
Can I wear normal shorts over cycling shorts?
Sure you can, and there are some that are specifically designed for this use case. Just be aware that if you have full pockets in your cargo bib shorts it may be a bit uncomfy under baggy shorts, and might also be a bit hotter - short liners tend to be mostly mesh to counteract this.
How we test
Bib shorts are a personal choice, so comfort is a slightly subjective metric. However, we thoroughly test each pair with plenty of miles to see how they fair in terms of durability, compression, fit, and, in the case of cargo bibs, whether the pockets are any good too.
Reviews Writer, Cyclingnews
Will joined the Cyclingnews team as a reviews writer in 2022, having previously written for Cyclist, BikeRadar and Advntr. There are very few types of cycling he's not dabbled in, and he has a particular affection for older bikes and long lasting components. Road riding was his first love, before graduating to racing CX in Yorkshire. He's been touring on a vintage tandem all the way through to fixed gear gravel riding and MTB too. When he's not out riding one of his many bikes he can usually be found in the garage making his own frames and components as a part time framebuilder, restoring old mountain bikes, or walking his collie in the Lake District.
Height: 182cm
Weight: 72Kg
Rides: Custom Zetland Audax, Bowman Palace:R, Peugeot Grand Tourisme Tandem, 1988 Specialized Rockhopper, Stooge Mk4, Falcon Explorer Tracklocross