Best cycling jerseys 2022 - get kitted out for summer
We round up the best cycling jerseys to keep you cool while you are cruising now the warm weather has arrived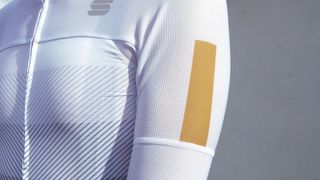 (Image credit: Josh Croxton)
Summer is here and it is time to check out the best cycling jerseys for staying cool and comfortable on glorious warm-weather rides.
So much research and design goes into modern cycling clothing and, arguably, where the advantages of this can be most clearly seen are in the jersey – surely the most worn and most carefully chosen of all a cyclist's garments.
Gone are the days when the best cycling jerseys were little more than a shirt with a quarter-zip and some handy pockets sewn into the back to keep your tools and snacks. Now they are packed with technological advances, wind-tunnel tested and made from aero-optimised fabrics with moisture-managing properties that wick sweat from the body to keep you cool and dry.
We have divided this guide into our pick of the most technical aero jerseys – using technology that has seeped down from the pro peloton to maximise marginal gains – and then the best lightweight jerseys for long days under the blazing sun.
We also know the weather can be a fickle beast and the latest technology on offer in jersey design means that windproofing, waterproofing and insulation are no longer the sole domain of the best winter cycling jackets and gilets, so were have also included sections on jerseys that can keep you comfortable in colder conditions.
The products that we've highlighted have been tested by our staff. That has usually involved many weeks of riding in different conditions, so we've got a real feel for how they perform, how comfy they are, whether the pockets are well located and whether that superlight mesh jersey is going to fall apart in a week or not. Collectively we've got tens of thousands of miles of experience, so we know how to pick out the best from the rest.
If you want more advice, we've also included a buyer's guide at the bottom of the page to help you make your choice from the best cycling jerseys.
Best aero cycling jerseys
Since the majority of bike racing occurs during the summer months, the best aero cycling jerseys are typically closely related to summer jerseys, but with a close fit and an unwavering focus on going fast. These jerseys incorporate technologies found in time trial skinsuits, but with the comfort and convenience of keeping the jersey and shorts separate, so you'll find features like pockets at the rear designed to be out of the airstream, and aero-tested fabrics.
Fast, aero-optimised jersey with high-performance pockets
Specifications
Material:
22% Polyamide (Nylon), 66% Polyester, 12% Elastane
Reasons to buy
+
Aero optimised
+
Headphone routing in the pocket
+
The zipper is comfortable at the neck without the need for a flap of fabric
+
Excellent zipper pull
Reasons to avoid
-
Lacks the bold style of the competition
Assos have updated their flagship jersey and while the focus remains on all-out speed, it still holds up as a fashion item, with performance not coming at the expense of looks or usability.
The front panels use a 3D knit miniCheck Tex fabric with a dimpled texture that helps keep the air attached for better aero efficiency, while a Push Pull warp knit fabric gives a high level of ventilation on the lower back.
There is also a pleasing attention to detail on the pockets, which tick all the right boxes for placement and stability, making them among the best available on any jersey.
The one negative is the design and colours are a little on the bland side but, for many, that will not be a reason to pass on a high-quality option.
Check out our full review to find out why we gave the Assos Equipe RS Jersey S9 Targa a five-star rating.
The best race-ready aero jersey that will remain comfortable all day long
Reasons to buy
+
Breathability
+
Well fitted
Reasons to avoid
-
No zippered pocket
-
Limited colour options
With the Aero Race 6.0, Castelli has developed a jersey that promises real-world aero gains. While this is hard to prove without access to a wind tunnel, there is no doubt the Italian brand has put a lot of thought into its design and material choice.
Castelli has focused on creating a jersey that fits close to the body while remaining comfortable for the duration of a ride, using its stretchy Velocity Rev2 material for the front and elbow-length sleeves. The back of the jersey uses a 3D mesh that is extremely breathable.
A dropped tail features a silicone gripper around the hem, keeping the jersey in place while riding and allowing for optimal pocket placement. The pockets aren't quite as good as the Assos Equip, above, but the Castelli certainly beats its counterpart in the aesthetics department – it's a jersey that is sure to catch the eye of fellow cyclists.
Read how the Castelli Aero Race 6.0 earned four and a half stars in our recent review.
Skinsuit tech in a fast, comfortable and stylish jersey
Specifications
Material:
86% Polyester, 14% Elastane
Reasons to buy
+
Comfortable
+
Form-fitting
+
Classy designs
Reasons to avoid
-
Price is high
-
Sleeves are slightly too long
The Rapha Pro Team Aero is a race jersey that owes much of its design to Rapha's WorldTour winning skinsuit development.
To enhance aerodynamics, Rapha has used multiple materials. Unlike the Assos Equip, which has a dimpled fabric at the front, the Rapha jersey has a lightweight, silky-smooth texture at the front which is bonded to a dimpled fabric over the shoulders and back of the arms. The majority of the back is covered with yet another material that appears pinstriped. Unsurprisingly, the Pro Team Aero is aggressively cut and Rapha has lengthened the sleeves, which may divide opinions.
It's not all-out race orientated, three slim-gusseted rear pockets offer storage for essentials, a fourth zippered pocket provides security and Rapha has added some reflective detailing to help with visibility.
Read our review to learn what makes the Rapha Pro Team Aero one of our favourite jerseys.
Best budget aero jersey
Specifications
Material:
Main: 92% Polyester, 8% Elastane; Panels: 76% Nylon, 24% Elastane
Reasons to buy
+
Pockets have plenty of reinforcement at the seams
+
Aero-optimised
+
The large plastic zipper is easy to use and won't corrode
Reasons to avoid
-
Pockets are narrow and lack stretch
The dhb Aeron Lab Raceline aero jersey is a pure race-day option with little consideration for anything else. Its main body is constructed from just eight per cent elastane, which means there's very little stretch to it, which contributes to the smooth and aero profile.
The downside to this is that the pockets don't have much space for anything more than a couple of gels, and their ability to stretch leaves a lot to be desired.
The slightly pricier Assos and Rapha options we have included offer a few more thrills. However, if you're looking for a jersey that will save watts on your next criterium, chain gang or drop ride, then dhb's offering is a great-value choice that's all about going fast.
Check out our dhb Aeron Lab Raceline jersey review for more information.
Best summer cycling jerseys
A no-doubt self-explanatory category, the best summer cycling jerseys are designed for warm weather above everything else. As a result, they come with short sleeves, lightweight materials and an ability to wick away sweat with ease. They'll also often have a high UPF factor to help protect you from the bright summer sun.
The trade-off is a somewhat limited window of use, especially if you live in more temperate climes, but pair them with the best arm warmers and the best cycling base layers and these summer jerseys will continue to shine even when it's cooler out.
Affordable, well-balanced reversible suitable for outdoor and indoor use
Specifications
Material:
83% Polyester, 17% Elastane
Reasons to buy
+
Body-hugging fit
+
Breathable fabric helps with cooling
+
Unique reversible configuration
+
Affordable price point
Reasons to avoid
-
Only one colour combo (for now)
With great ventilation and moisture management, and an ultra-light fabric that weighs just 99g, this is a premium summer jersey at an excellent price point that is also a great indoor option.
It is not the most utilitarian, perhaps falling down against some of its rivals with its basic pockets, and it would not be suitable when the temperatures drop. But it makes up for that with its unique reversible design that gives you two jerseys in one.
Read our review of the Invani Slim-Fit Summer Jersey to get a detailed look at why it made our best cycling jerseys list.
Great if sustainability is of high importance to you
Specifications
Material:
Nylon (recycled) 90% / Elastane 10%
Reasons to buy
+
Good performance for the price
+
More sustainable fabrics
Reasons to avoid
-
Finish on sleeves not the best
We found the Giro Chrono Elite jersey to be worthy of a mention in a conversation alongside offerings from more established performance clothing brands like Assos and Castelli. The fit is excellent, and the only real things we marked the jersey down on were a less-than-premium waist gripper and sleeves, and a front panel that's a little heavier than we'd like from a summer jersey.
That being said, a real selling point is the sustainable credentials of this jersey, alongside the performance, so if that's a factor for you then it's definitely an excellent option. To find out a bit more about what we thought you can read our Giro Chrono Elite summer jersey review.
Endura Pro SL
Understated looks but high on performance
Specifications
Material:
Nylon 56% / Polyester 28% / Elastane 16%
Reasons to buy
+
Comfortable fit
+
Simple styling
Reasons to avoid
-
On the long side for riders with short bodies
While Endura is no longer participating in the WorldTour circuit, its Pro SL range continues and offers high performance at a great price. The Pro SL jersey has a race cut that uses close-fitting lycra and with raw edge hem to keep airflow moving smoothly over the body. The design around the collar is particularly well-shaped and comfortable. The fabric has wicking qualities to manage sweat as well as UPF50 for protection from the sun.
The three rear pockets are deep and provide ample space for securely storing everything needed on a ride, giving it a bit of an advantage over the Invani we've reviewed above – if that's an important factor to you. To keep your valuables accounted for, there is a zipped pocket as well.
Endura's Pro SL is available in six simple colours and a Lite version for when it's really hot or a long sleeve for when there's a bit of a chill.
Rapha Brevet Lightweight
Best summer cycling jersey for versatility and storage
Reasons to buy
+
Endurance orientated hot-weather jersey
+
Loads of pockets
+
Plenty of colour options
Reasons to avoid
-
Material lacks stretch so the fit is more casual than some would prefer
Most lightweight summer jerseys focus on cooling at the sacrifice of durability, but for endurance riders who ride in hot weather, a jersey must be cool and comfortable whilst still tough enough to handle day after day of riding. Rapha has taken its Brevet endurance jersey and increased the ventilation and cooling to cater for riders who spend all day under the roasting sun.
The jersey is made from 105gsm fabric on the back to enhance sun protection and 85gsm on the front to aid cooling. Lightweight mesh side panels are used to further aid dumping heat on long days. Due to the lightweight material, Rapha says the jersey can be washed and dried quickly so it's fresh for the next day. The fit is also a lot more relaxed than most other lightweight jerseys, so if race fit isn't your style, this is the jersey to get.
The Brevet Lightweight has all the features you would expect from an endurance-related jersey too. There is plenty of reflective detailing to help visibility and the jersey features six pockets to help organise and transport everything you might need on a ride. Plus, unsurprisingly being a Rapha product, it scores more highly in the style stakes than most of the other jerseys on this list.
Assos MILLE GT Summer Jersey c2
Relaxed fit jersey for warm-weather weekend and training rides
Specifications
Material:
91% Polyester, 6% Elastane, 3% Polyamide
Reasons to buy
+
UPF 30 protection
+
Relaxed fit with racey aesthetic
+
Keenly priced for Assos
Reasons to avoid
-
No zipped valuables pocket
Assos brings racy features like raw-cut sleeves and high-tech fabrics with a relaxed fit that's great for a do-it-all summer weekend and training jersey. Assos has used its Type.112 Dual Tex fabric for the front and back panels to wick moisture from the body and provide UPF30 protection as well. The arms are made from bi-stretch Push Pull fabric that increases sun protection for the top of the arms to UPF50. This is the same material Assos uses on the Equipe RS Jersey S9 Targa we included in our aero section, and the stitching and tailoring are all influenced by the performance jerseys.
There are three colour options which all have Assos' trademark super clean aesthetic. Assos also does some special colourways from the Shifter and Voganski ranges.
Best cycling jerseys for Spring and Fall
Spring and Autumn (or Fall, for our American readers) can be the most difficult time to dress appropriately for a ride. The weather forecast often feels like a bit of a shot in the dark, and it could just as easily rain all day as it could be sunny and warm. During these rides, the best cycling jerseys offer versatility, warmth and weather resistance without being bulky and too hot.
The best cycling jersey for long days in the saddle
Specifications
Material:
61% Polyester, 39% Merino wool
Reasons to buy
+
Comfortable
+
A tonne of storage space
+
Durable
+
Many colour options
Reasons to avoid
-
Not as breathable as racier jerseys
The Brevet jersey is designed with versatility in mind. Whether you're riding gravel or road, for an hour or 10, the Brevet jersey is a comfortable, high-performance option that has more pocket space than you'll likely need. There are, in fact, five pockets. The three traditional pockets are larger than average, there's a fourth 'ballast' pocket across the lumbar of the back for larger items like spare clothing or a whole bunch of bananas, a fifth chest pocket that we didn't find hugely useful, and a sixth zippered valuables pocket which includes routing for headphones.
It differs from the 100-per cent polyester Brevet Lightweight, which we included in the summer section, due to its merino wool blend construction. The inclusion of natural fibres means gives it more versatility to regulate temperature effectively in different conditions and also to fight off bad smells should your riding be a multi-day affair. Its high-vis detailing helps with those early starts or late finishes.
To find out how we got on with it after wearing it for four days straight head to our Rapha Brevet jersey review.
Castelli Gabba RoS
Best jersey for rainy days, but with short sleeves for warm-weather versatility
Specifications
Material:
GoreTex Infinium Windstopper
Reasons to buy
+
Weather resistant
+
Pump sleeve in pocket
The weather isn't always sunshine so it's important to have a jersey that will keep performing well even when the clouds roll in. This is where the Castelli Gabba RoS comes in.
Made from Gore Infinium Windstopper 205 fabric upfront, the Gabba RoS offers superb wind protection and a water-resistant finish to protect against showers, however, this doesn't come at the expense of fit or heat management, thanks to the Infinium Windstopper 203 at the rear, which is stretchier and more breathable.
The tail of the Gabba RoS is extended to provide a storm flap to protect from wheel-spray. Even the pockets feature drain holes in case the weather gets very unpleasant.
Le Col Pro Rain
The best cycling jersey for warm showery days
Specifications
Material:
80% Polyester, 10% Nylon, 10% Polyurethane Fibre
Reasons to buy
+
Additional waterproof pocket
+
Cam-lock zipper
+
Aerodynamic fit
Reasons to avoid
-
Sizes up small
-
Limited material stretch
For those days where the weather isn't exactly cold, but there's a high chance of rain, then Le Col's Pro Rain jersey is the answer. It's designed purely with racing in mind, featuring an aerodynamic cut and sizes up relatively small, so if you're between sizes or prefer a looser fit, we recommend going bigger.
Up front, a waterproof zipper keeps the water at bay, reflective detailing helps to increase visibility and four pockets will store your belongings – but, at its core, this jersey is for racing.
Best long sleeve cycling jerseys
Extremely versatile jersey for unpredictable spring conditions
Specifications
Material:
88% Polyester, 12% Elastane
Reasons to buy
+
Excellent fit
+
Huge temperature comfort range
+
Waterproof
Reasons to avoid
-
No zipped valuables pocket
-
No women's version
The PSN LS Rain jersey is constructed using a three-layer windproof and waterproof fabric, which La Passione claims has a waterproof rating of 20,000mm: quite impressive for a softshell layer. Under the arms, there are two panels of thermo-fleece fabric to enhance ventilation in this key area. The material itself is soft to the touch and has a decent level of stretch to help with fit. The deep laser-cut thermo-fleece cuffs and significantly dropped storm flap at the back stop rain and drafts sneaking through the gaps
What's most impressive about the PSN Rain jersey is the wide range of temperatures that the jersey is comfortable in. Spring conditions can change dramatically even on a short ride and we found the jersey perfect for temperatures between eight to 12 degrees (with a merino vest base layer) and the low end could be pushed further down to around six degrees with a long sleeve base layer for nippy spring mornings or chilly evening rides. The race fit means it could be worn under an outer shell as well and ridden even further into the single digits. The storm laser-cut cuffs have a close fit and play very well with gloves, creating a great seal from the cold around the wrist.
We've got a full La Passione PSN Rain review if you want to learn more.
Paired with the right jacket and base layer, there might not be anything warmer on the market
Specifications
Material:
55% Polyamide, 27% Polyester, 16% Elastane, 2% Polypropylene
Reasons to buy
+
Low bulk makes it possible to layer more heavily
+
Integrated face cover and hood
+
Incredibly warm
Reasons to avoid
-
Zipper uses small teeth and isn't offset
-
Very aggressive fit is hard to get right
This isn't your usual run-of-the-mill long-sleeve jersey, but we'd be remiss to leave Assos' Equipe RS Winter L/S mid-layer off this list. If you're heading out into chilling weather, layering up is your best option and this long-sleeved mid-layer from Assos is designed to keep you toasty and warm when paired with the right jacket and base layer.
Constructed from the same Osmos material used in its Equipe RS S9 winter bib tights, this top benefits from the fabric's dual nature, feeling soft against the skin inside, while the outer face acts as a shell against the elements.
An interesting extra feature that gives it a point of difference from La Passione's PSN Rain jersey is the addition of a hood with an integrated face covering, so you can use this layer well into the depths of winter and adapt it for your needs as the weather does its thing.
Read more about it in our in-depth Assos Equipe RS Winter Long Sleeve Mid Layer review.
A perfect fit goes a long way and the innovative pocket system is a nice addition
Reasons to buy
+
Large tooth plastic zipper
+
Perfect placement of the shoulder seam
+
Excellent fit
The Sportful Escape Supergiara Thermal Jersey is a great-looking and well-thought-out piece of kit for when the mercury drops. It's got a great, comfortable fit, and works best as a layer of insulation when combined with a shell to keep the rain out. It can also be used alone if all you need is a little extra warmth.
One of its key selling points is the innovative pocket system, with six pockets in total in the back. While their layout means they don't actually offer a huge amount of extra space over the traditional three-pocket system, they do make it super easy to organise your belongings, which will appeal to many. In contrast, the La Passione Rain Jersey has the standard three pockets and the Assos Equipe Mid Layer has just one, positioned at the front.
Read our review of the Sportful Escape Supergiara Thermal Jersey to get the full lowdown on how it stacks up.
Gore C5 Thermo Long Sleeve Jersey
Functional autumn/winter jersey with a focus on core insulation
Specifications
Material:
85% Polyamide, 15% Elastane
Reasons to buy
+
Mesh insert to prevent sagging pockets
+
Zippered pocket for valuables
+
Core insulation
+
Reflective details
Reasons to avoid
-
Plain colour options
-
Pockets sit high on the back
-
Zipper has small teeth
This cold-weather jersey from Gore features extra thermal insulation around the torso in order to keep your core warm, while the thermal lining is soft to the touch, providing next-to-skin comfort. The fit is fairly relaxed to accommodate a base layer, while remaining aero cut with long sleeves and a dropped tail. A partially elastic gripper on the hem keeps everything in place as you pedal.
At the rear, there's a mesh insert that stops the back pocket from sagging when it's packed full, which is a really thoughtful detail. Three compartment pockets, plus a fourth zippered pocket provide ample space for storing snacks, while a close-fit collar helps keep the chill locked out. Reflective details help with low-light visibility, making this a functional autumn and winter jersey for commuters and roadies alike.
Like the Sportful above, if the wind and rain picks up, this is better used as an insulating mid-layer.
Read our full review of the Gore C5 Thermo Long Sleeve Jersey to get the complete picture.
Velocio Signature Long Sleeve
Lightweight, breathable and insulated cool-weather jersey
Specifications
Material:
61% Polyamide, 25% Polyester, 14% Elastane
Reasons to buy
+
Additional zippered pocket
+
Fleece-lined collar and cuff
Reasons to avoid
-
No water-resistance
-
High retail price
The Velocio Signature Long Sleeve jersey is suitable for those chillier spring mornings where the sun is shining but the frost still lies on the grass. The mid-weight material is highly stretchy, meaning the fit will be racy and aerodynamic. It is soft to the touch, and the fleece-lined collar and cuffs help keep the wind out on breezier days, but there's no wind or waterproofing, so it's best paired with a gilet on bad-weather days.
With its high-wicking design, it makes for a versatile addition to your wardrobe, in that it can be worn as a standalone long-sleeve jersey or as a mid-layer on colder days. Four pockets will keep your belongings safe, one of which can be zipped up for extra security.
dhb Merino Long Sleeve Jersey
Blends natural performance of Merino with modern fabric technology
Specifications
Material:
40% Nylon, 35% Merino Wool, 25% Polypropylene
Reasons to buy
+
Excellent thermoregulation
+
Antibacterial and odour resistant
This three-season jersey from dhb is designed for autumn, winter and spring cycling. It combines a mid-weight merino wool blend with polyamide for stretch and a comfortable fit, while an additional polypropylene lining feels soft to the touch and provides incredible hydrophobic qualities to quickly wick moisture away from the skin.
Thanks to the merino blend, this long-sleeved jersey is lightweight, soft and durable, offers superior temperature regulation and is naturally antibacterial and resistant to odours. In order to provide the sweat-wicking performance it offers, it sits close to the body for a snug fit, but isn't at all restrictive. Finally, at the rear there's a mesh ventilation strip designed to release any excess heat, while silicone grippers on the sleeves and hem stop everything from moving out of place.
Endura Pro SL L/S Jersey II
Eco-friendly race-fit thermal jersey
Specifications
Material:
80% Recycled Nylon, 20% Elastane
Reasons to buy
+
Eco-friendly recycled materials
+
Race cut
+
Secure zipper pocket
Reasons to avoid
-
Sleeves may be too long for some
-
Tight wrist cuffs
This form-fitting performance-cut thermal jersey from Endura is constructed from 100 per cent recycled thermal stretch fabric, delivering winter warmth in an environmentally-friendly package.
It's an ideal outer layer in cool weather, thanks to its insulation properties, moisture-wicking fabric and subtle reflective details for low-light visibility. As the temperature drops and rain starts looming, it's also a great mid-layer jersey to be worn with a base layer and waterproof jacket, a combination that locks in the heat while remaining breathable.
With three compartment pockets and a fourth zippered pocket at the rear, three colours to choose from and a lightweight internal elastic hem paired with a silicone gripper, this performance-focused cold weather jersey should see you through the best of autumn and the worst of winter.
Rapha Men's Brevet Long Sleeve Windblock Jersey
The ultimate versatile cold-weather jersey, protecting against a huge range of conditions
Specifications
Material:
89% Merino wool, 11% Nylon
Reasons to buy
+
Five pockets, two zippered
+
High merino content
+
Incredibly versatile
Inspired by the Rapha Brevet credo of 'pack light, travel far', the Long Sleeve Windblock Jersey is designed to combine the performance qualities of a merino jersey with the wind protection of a good gilet, making it a hugely versatile garment in your winter cycling wardrobe.
The material has a much greater ratio of merino wool in the blend than the dhb option above – 89 per cent compared to the dhb's 35 per cent – for quick-drying and ultimate comfort when your body temperature rises, while the wind-resistant polyester panels that cover the front of the torso and arms provide much-needed protection on chilly descents.
It comes in a Rapha Classic fit, which is close but relaxed, making it easy to wear a base layer underneath. Meanwhile, five pockets – three compartments and two zipper pockets – provide plenty of storage space for snacks, tools and valuables.
Finally, providing that beautiful Rapha aesthetic are reflective and high-vis Brevet stripes on the front and back, which double up as an excellent way to stay visible in low-light conditions.
How to choose the best cycling jersey for you
What is the best material for a cycling jersey?
Most performance jerseys will be constructed from a synthetic material such as nylon or polyester. These materials offer superb wicking and breathability to move sweat away from the body so it quickly evaporates leaving you dry and comfortable when you are working hard. Thin mesh style materials are incorporated to maximise breathability where it is needed the most, such as under the arms, which further helps with cooling.
High levels of stretch both two-way and four-way can be engineered into synthetics for a perfect close fit to reduce bunching and maximise aerodynamic properties, while two-way stretch fabrics are useful to help keep pockets in place and avoid sag.
That's not to say natural materials such as merino wool don't have their advantages. Companies like Rapha have been developing high-performance merino-blend materials that are still extremely breathable and well-fitting. Both soft and hardwearing, merino will keep you warm even when soaked and the natural material resists odour build-up. Thanks to these properties, natural fibres lend themselves well for long days in the saddle where comfort trumps super-aggressive aero designs.
How should a cycling jersey fit?
Fit is key, so it is important to choose a jersey that suits your intended style of riding. Aggressive race-fit jerseys are designed to be ridden in the drops and to cut through the air with maximum efficiency. They feature shorter torsos and longer arms to optimise fit while in a more aggressive position. Slim-fit and relaxed-fit jerseys are a little looser and longer to improve comfort for longer or more relaxed rides, when you might be sitting more upright more often.
How your jersey should fit is very much dependent on your riding preferences. If you're planning on racing or riding hard for an hour or two, then an aero cut will probably be the preference, but if you're riding all day long and average speed doesn't matter, then a more relaxed fit will likely be more comfortable.
Do all cycling jerseys have a zipper?
While cycling jerseys of old would have a quarter- or half-length zipper, today's best cycling jerseys use a full-length zip so when it's very warm the front can be unzipped to help regulate temperature, and quickly removed at the end of the ride. To reduce irritation, a flap on the collar - commonly known as a zip garage - houses the zip so it doesn't rub while riding.
Some jerseys feature a metal zipper, while others are made using plastic. Metal is invariably going to be tougher, but if you're riding in hot conditions, then a plastic zipper might be a better choice.
Some also integrate a cam-lock in the zipper itself, which means when the puller is down, it locks in place, and then when the puller is folded up, you can pull the jersey open with one hand.
How many pockets should my cycling jersey have?
It's the norm for the best cycling jerseys to come with three rear pockets across the lower back for storing the basics such as multi-tools, snacks and any other mid-ride essentials. There are variations on this with some companies adding a loop inside one of the pockets to secure a pump or a handy fourth secure, zipped pocket to keep valuables secure.
Aero cycling jerseys will often have narrower pockets that are arranged more towards the back of the jersey and that sit close to the skin, rather than being baggier and stretching around to your sides. That keeps them out of the airstream and also ensures that they don't act like windsocks and capture the airflow as it passes, slowing you down. The flip side is that an aero jersey may limit your carrying capacity if you're off on a longer ride.
However, if you're planning on riding for more than a few hours, or the weather forecast looks suspect, then you might need to carry more on your ride, including extra layers and more food. You can achieve this in various ways, including a saddlebag, a handlebar bag, or by wearing the best cargo bib shorts, but some endurance-focused jerseys offer extra pockets at the front or sides for even more storage.
Do I need to wear a base layer with my jersey?
Most cyclists wear a base layer under their jersey. That's because the fabric of the best cycling base layers will be highly wicking, helping to transport sweat away from your body to the inner surface of your jersey, so that it can evaporate and help keep you drier.
The best cycling base layers come in different weights and it's a good idea to have a range that will work at different temperature ranges.
In summer, a short-sleeved or vest-style base layer helps keep you cool. A lightweight base layer may also add a little more sun protection, although if it's really hot many riders will dispense with theirs.
In cooler weather, a long-sleeved base layer can add more warmth, meaning that you don't need to add less-breathable outer layers over your jersey and will stay more comfortable. If you're building up moisture on the inside of your clothing, you can soon feel chilled and uncomfortable, and a base layer will help prevent this.
What extra features should I look for?
As with most things, this depends on your likely riding habits and preferences, but there are a few common added features that separate the best cycling jerseys from the rest.
For example, reflective details improve visibility when riding in poor light. This might not be a consideration when choosing race-orientated wear, but for riders who are going on all-day epics and training rides, this is an important aspect to consider to help keep you safe on the road.
Of course, having a well-fitting jersey is key, but looking good is also important to most of us. Jerseys are available in a wide range of colours and patterns to suit all riders' styles whether you want a subtle classy look or to stand out from the crowd.
How do we test to find the best cycling jerseys?
In short: Lots of riding time. Any jersey that comes through our doors gets many miles in the saddle to see how it fits, how it feels, how well it's made, how aero it is, whether the pockets are useable, does the label rub your back, is it comfy... We test summer jerseys on the hottest days and indoors to see how they manage the thermal load, and it also falls to us to go and test winter options in grim weather so you don't have to.
We also test cycling jerseys outside of their stated ranges too to see if there is crossover that can potentially save you money; maybe that shoulder season jersey is actually perfectly good in the summer too?