Best cycling jerseys for men in 2023: Top-level performers for the top half of your body
The best cycling jerseys for all four seasons, for both on- and off-road use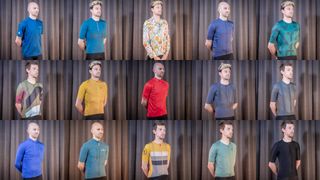 (Image credit: Future)
The best cycling jerseys will be the cornerstone of your cycling wardrobe. They're a chance to show off your style, keep you protected from the elements - in whatever form they take, hot or cold - and store all of your ride essentials and valuables. While they're less important to comfort as the best cycling shorts are, and perhaps less hotly debated over coffee as the best cycling socks, they are an absolute staple, and if you're just getting into cycling they should be high up on your kit list.
Within the team we've worn countless jerseys, some brilliant, some not so great, in all conditions. Personally, I've got 27 on the test rail at the moment, and plenty more besides in a crate in the cupboard! Below are our absolute favourites; they're what we'd tell you to buy over a coffee halfway through a Sunday club run, and we've broken them down into a few key categories to help you navigate. As ever, if you're not absolutely sure what you're after we've got a guide at the bottom of the page to answer all the burning questions you might have.
Editors' picks: Best cycling jerseys
The full list of the best cycling jerseys you can buy today
You can trust Cyclingnews Our experts spend countless hours testing cycling tech and will always share honest, unbiased advice to help you choose. Find out more about how we test.
The best aero cycling jerseys
Aerodynamics has infiltrated every aspect of our cycling lives. We've got aero road bikes, aero wheels, aero helmets, and even aero sunglasses. If absolute speed is your aim then it makes sense to kit yourself out with one of the best aero cycling jerseys. You can save great handfuls of watts with a race-fit jersey that will invariable feature longer sleeves, lower profile pockets, and materials designed to manipulate the air in your favour. Thanks to the tech and cut they do tend to be more expensive, but as we've shown in the guide on how to get aero for less, aero clothing represents the more cost-effective end of the spectrum by a considerable margin.
The best aero cycling jersey overall
Reasons to buy
+
Breathability
+
Well fitted
Reasons to avoid
-
No zippered pocket
-
Limited colour options
The Castelli Aero Race 6.0 is our top choice overall in the aero department based on its balance between comfort, style, how good the pockets are, price, and how it holds its shape after a few months of regular use and wash cycles.
In our experience, the AeroRace 6.0 is a jersey that fits close to the body while remaining comfortable for the duration of a ride, thanks in part to its stretchy Velocity Rev2 material for the front and elbow-length sleeves. The back of the jersey also uses a 3D mesh that is extremely breathable, making it better suited to warmer days, unlike the Le Col Pro Aero below.
A dropped tail features a silicone gripper around the hem, keeping the jersey in place while riding and allowing for optimal pocket placement. The pockets aren't quite as good as the Assos Equipe Targa jersey, nor as big as the Ashmei Infinity, but it certainly beats its counterparts in the aesthetics department – it's a jersey that is sure to catch the eye of fellow cyclists.
Read our full Castelli Aero Race 6.0 jersey review.
Best money-no-object aero jersey
Specifications
Material:
22% Polyamide (Nylon), 66% Polyester, 12% Elastane
Reasons to buy
+
Aero optimised
+
Headphone routing in the pocket
+
The zipper is comfortable at the neck without the need for a flap of fabric
+
Excellent zipper pull
Reasons to avoid
-
Simplistic, dull styling won't please everyone
The flagship Assos jersey is very similar in performance to the Castelli, doing all things pretty darn well, but in our experience has an ever-so-slightly more premium feel to the fabric and slightly easier-access pockets. It's not necessarily enough to warrant the £40 price difference, but if you want the best of the best and are happy to pay for it, then Assos wins out.
The front panels use a 3D knit miniCheck Tex fabric with a dimpled texture that Assos claims helps to keep the air attached for better aero efficiency, while a Push Pull warp knit fabric gives a high level of ventilation on the lower back. We can't verify aero performance, so have assumed all are equal in that regard when making this list, but can attest to noticing the additional breathability.
There is also a pleasing attention to detail on the pockets, which tick all the right boxes for placement and stability, making them among the best available on any jersey.
The one negative is the design and colours are a little on the bland side but, for many, that will not be a reason to pass on a high-quality option.
Read our full Assos Equipe RS S9 Targa jersey review.
The best aero cycling jersey for comfort
Specifications
Material:
86% Polyester, 14% Elastane
Reasons to buy
+
Comfortable
+
Form-fitting
+
Classy designs
Reasons to avoid
-
Price is high
-
The sleeves are slightly too long
Rapha's Pro Team Aero jersey is another high-performing aero option, and as you'll see in the image above, is worn by the EF team, among a select few other pro teams.
Unlike the Assos Equipe, which has a dimpled fabric at the front, the Rapha jersey has a lightweight, silky-smooth texture at the front which is bonded to a dimpled fabric over the shoulders and back of the arms. The majority of the back is covered with yet another material that appears pinstriped. Unsurprisingly, the whole jersey is aggressively cut, but thanks to the material stretch, it's really comfy to wear; the comfiest among the aero options on this list.
It's not all-out race orientated; three slim-gusseted rear pockets offer storage for essentials, a fourth zippered pocket provides security and Rapha has added some reflective detailing to help with visibility.
Read our Rapha Pro Team Aero jersey review.
4. Le Col Pro Aero
The best aero cycling jersey for racing
Specifications
Colours:
Black, red, yellow, navy, sage
Material:
Nylon, elastane, polyester
Reasons to buy
+
Evident aero detailing
+
Zippered pocket
+
Good sleeve length and fit
Reasons to avoid
-
Dense material bunches up
-
Isn't very comfortable
It took quite some time before I warmed up to the Le Col Pro Aero jersey. At first, it felt a little cumbersome for an aero jersey, with its thick material bunching up and feeling anything but aero, its black-on-black design not earning it any style points and its deep pinstripe finish actually taking some away (though I do understand they're not purely aesthetic)
But after a few rides, some thinking, and even wearing it around the house for an afternoon, I began to understand it. It's not an aero jersey that is comfortable for hours on end like the options above. It's more like the dhb below in that it has chosen to specialise. I have no data to back up the aero performance, but based on its fit, it's my pick as the best for racing. That does put it in the firing line of road suits and speed suits, but if your preference is to wear shorts and jersey, this is a good option.
The elbow-length arms are an excellent fit, with inch-thick grippers at the ends holding them securely. The four pockets, of which one is zipped, are stable enough when fully loaded, but more importantly, they're easy to get to when you need to grab a gel in a hurry.
As I said, though, the material is fairly thick in comparison to the rest of the aero jerseys here, so it's best saved for your evening criterium rather than a four-hour hilly road race in a heatwave.
The best budget aero jersey
Specifications
Material:
Main: 92% Polyester, 8% Elastane; Panels: 76% Nylon, 24% Elastane
Reasons to buy
+
Pockets have plenty of reinforcement at the seams
+
Aero-optimised
+
The large plastic zipper is easy to use and won't corrode
Reasons to avoid
-
Pockets are narrow and lack stretch
The dhb Aeron Lab Raceline aero jersey is another 'pure race-day option with little consideration for anything else. Its main body is constructed from just eight per cent elastane, which means there's very little stretch to it, helping to contribute to the smooth and aero profile.
The downside to this is that the pockets don't have much space for anything more than a couple of gels, and their ability to stretch leaves a lot to be desired.
The slightly pricier Assos and Rapha options we have included offer a few more frills. However, if you're looking for a jersey that will save watts on your next criterium, chain gang or drop ride, then dhb's offering is a great-value choice that's all about going fast.
Check out our dhb Aeron Lab Raceline jersey review for more information.
6. Endura Pro SL Race
The best aero cycling jersey for budget comfort
Specifications
Colours:
Deep teal, ink blue, mustard (yellow), pomegranate (red)
Material:
Elastane, polyester
Reasons to buy
+
Comfortable fit
+
3D mesh sleeves are comfy and exacerbate a premium feel
+
Recycles fabrics
+
Good balance of aero and breathability
Reasons to avoid
-
Sleeves could be longer, as they ride up a little when riding
In out-and-out performance terms, the Endura Pro SL Race jersey falls a little short when compared to the Castelli, Assos or Rapha above. But when you consider how much cheaper it is (at RRP, it's £70 less than the Rapha jersey), it suddenly looks like an exciting proposition.
The sleeves are made with a 3D mesh material that's similar in feel to MAAP's Pro Fit jersey below (although MAAP's don't ride up as much in use). The three pockets at the back are stable when fully loaded, and the overall construction is breathable enough to be comfortable when used on the indoor trainer.
I'm not a massive fan of the bright yellow colourway shown here, but Endura has done a good job of offering a mix of styles, including a subtle plain navy if that's more your speed.
The best summer cycling jerseys
Not so much lightweight in terms of grams, like the best lightweight bikes, but more lightweight in terms of fabric. The best lightweight cycling jerseys are there for the summer days. They are also great for days with plenty of climbing, not because they weigh very little, but because they allow you to stay cool without the added benefit of wind chill. Expect some mesh panelling in places, so be prepared to slap on the suncream or you could be in for some very interesting tan lines, especially if you're rocking a heart rate monitor.
1. MAAP Emerge Ultralight
The best cycling jersey for the hottest of days
Specifications
Colours:
Grass, Black, Magenta
Material:
94% Polyester / 4% Elastane
Reasons to buy
+
Incredible next-to-skin comfort
+
Sleeves are a perfect length and they don't move when riding
+
Breathability is excellent
Reasons to avoid
-
Not everyone will appreciate the translucent aesthetic
I'm just going to put it out there straight away: the MAAP Emerge Ultralight jersey is the best I've ever worn. Ignoring the price for a moment (which I'll admit is high), it fits me perfectly, is incredibly comfortable, and is genuinely excellent in every regard.
I have fairly skinny long arms, and the sleeves couldn't be better if they were custom tailored. They finish just above the elbow, without any grippers, and they stay put purely because of the shape of the panels that make them, despite only using 4% elastane.
The Bluesign-approved mesh material offers excellent breathability, and while you'd think it would be fragile, I accidentally thrashed my left arm through a thornbush last night while riding my mountain bike. I came out with 15 scratches up my arm, but the jersey came out unscathed.
The reason it hasn't won 'best overall' in this guide is that it's a fairly specialist jersey (it's so 'lightweight' that you can only really wear it when the temperatures hit 20C/68F degrees or above) and the price is bordering silly.
2. Sportful Bodyfit Pro Evo
The best value summer cycling jersey (if you can find one)
Specifications
Colours:
Navy, green, white
Material:
Polyester, elastane
Reasons to buy
+
Lightweight mesh
+
Comfortable over the shoulders
+
I personally love the aesthetic
Reasons to avoid
-
Now discontinued so hard to find
I've been using the Sportful Bodyfit Pro Evo jersey for around 3 years at this point and despite having a regular stream of newer options through the door, it has remained in rotation and is still one of the first I'll pick when the weather is warm.
That's because it's genuinely just a great warm-weather all-rounder. Its pockets are easy to access, and stable when fully loaded. There's no zippered pocket, which is a slight downside, but not something that puts me off using it. The neck is a good height, and despite a lack of added material at the top of the zip, it doesn't chafe my neck or cause discomfort. The sleeve length is decent, and they remain stable when riding.
The biggest problem (but also an opportunity) with the Sportful Bodyfit Pro Evo jersey is that Sportful no longer makes it. If you can find it, it'll almost certainly be at a great price. If you can't, my tip is to buy the Supergiara 'gravel' jersey shown below, because it's basically the same, just with a slightly taller centre pocket for your, uh, gravel accessories (banana).
3. Ashmei Infinity
The best summer cycling jersey for pocket space
Specifications
Colours:
Olive, Mustard, Blue, Silver
Material:
Polyester, Elastane
Reasons to buy
+
Large, easy-access pockets
The Ashmei has made the cut in this list because alongside being an all-around decent jersey, it stands out for its excellent pockets; namely their size. They are easy to access, and genuinely around twice the size of some others on this list. The jersey is also made from a high-stretch material, that exaggerates the pocket storage by allowing you to stuff them full. I managed four-hours worth of food, a spare bottle, a multi-tool, a Silca Tattico mini-pump, a tubeless plug kit, my phone, keys, wallet, and a Rapha Shakedry, and there was still space to spare.
There is one downside, which was immediately noticeable, in that the sleeves have a habit of riding up when you stretch your arms out in a road cycling position. This isn't a major issue, but it's not as comfortable (or aero, I expect) as the sleeves on the MAAP or Rapha jerseys above.
4. Pearl Izumi Attack Air
A reasonably-priced great all-rounder
Specifications
Colours:
Nightfall (blue), Pale Pine (green)
Material:
82% recyled polyester, 13% elastane, 5% polyester
Reasons to buy
+
Hidden zippered pocket
+
The lightweight material is comfortable and breathable
Reasons to avoid
-
Only two (similar) colours available
The Pearl Izumi Attack Air is your jack-of-all-trades summer jersey. It doesn't specialise in any one thing, but does everything reasonably well, while also not costing the earth.
It is made entirely from one material; a mix of polyester with 13% elastane that creates a high-stretch, super-thin fabric that is really breathable and seemingly very good at wicking away moisture. Of the material used, 82% is recycled, too.
Pearl Izumi also says the jersey uses 'In-R-Cool' infrared technology that reduces the intensity of the sun's rays reaching the skin. This is a marginal difference that's too small to notice in the moment, but certainly a positive for anyone prone to sunburn or living in hotter climates.
5. Pearl Izumi Pro Mesh
If you must wear a jersey for indoor cycling
Specifications
Material:
64% recycled polyester, 26% polyester, 10% elastane
Reasons to buy
+
Really breathable and cool
+
Hidden zippered pocket
Reasons to avoid
-
Translucency won't please everyone
The Pro Mesh jersey from Pearl Izumi is best likened to the MAAP Emerge Ultralight above, in that it's designed for the absolute hottest of days thanks to its translucent 'mesh' construction.
If you're going to buy the MAAP jersey, you don't need this one too. That'll do everything this one can. However, if you want a jersey for indoor cycling, or you want a hot-weather jersey and don't want to spend quite as much as the MAAP will set you back, then this is a good alternative.
It's made using recycled materials, is nice and comfortable throughout, and even though the colour choice totals one option, it's an inoffensive finish that shouldn't put anyone off.
The best budget cycling jerseys
Cycling kit is expensive, but the relationship between price and performance isn't proportional. If you search around you can find options that mix it with the premium offerings for a much lower retail price. Or, instead of searching around, you could just scroll down, because we've put in the leg work to find those hidden gems. If you're on the hunt for bargains then we've got a page of cheap cycling clothing deals where we collate all the best savings as and when we find them.
1. dhb Classic jersey
The best budget cycling jersey for training and riding on the road
Specifications
Colours:
Autumn glory, Ocean depths, Thyme, Black, Navy, Red
Pockets:
Three open, one zippered
Reasons to buy
+
Polyester is super soft
+
Full-length Zipper
+
Wide range of colours
Reasons to avoid
-
Polyester may get sweaty on hot days
The dhb classic jersey is an affordable road jersey that does everything well. Like a lot of dhb kit that offers a lot for the price, the classic jersey is no exception.
Though it's constructed from polyester, it's super soft and incredibly comfortable to wear. There are also perforated mesh side panels to aid cooling and prevent you from getting too sweaty on hot days. It's a slightly more fitted cut than the Endura offering below and the arms are a nice length for a more budget offering.
The pockets are a good size which is something that can be limiting on aero, race fit jerseys and hold their load well when packed without too much-unwanted movement which I always find a little frustrating.
2. Endura XTRACT II
The best budget cycling jersey for doing a bit of everything in
Specifications
Colours:
Red, Hi Viz Yellow, Black
Material:
Polyester 30%, 70% recycled Polyester
Pockets:
Three open, One Zipped
Reasons to buy
+
Versatile cut
+
Quality zippers
+
Soft and comfortable
Reasons to avoid
-
Sleeves do ride up a bit
The Xtract II jersey comes in full zip and ⅔ rd zip version from Endura. We've tested out the full-length zip option.
The Xtract is just a no-nonsense, comfortable cycling jersey. It ticks a lot of boxes and has three good-sized pockets, including a zippered one, reflective features and quality zips with easy-to-find pullers. It's a slightly more relaxed fit so don't expect an aero race cut here, but if you want a quality jersey that will last but won't break the bank the Xtract will do this with ease.
I'd be happy road riding, mountain biking and wearing the Xtract for long, relaxed riding days it's cut is functional, but as mentioned relaxed enough to make it feel that little more versatile. There's also a really bright Hi-Viz yellow version that's perfect for commuting.
3. Galibier Grand Tour Sentinel
The best budget cycling jersey for foul weather
Specifications
Material:
75% Nylon, 25% Spandex
Pockets:
Three Rear, Zippered pocket on chest
Reflective details:
3M Reflective trim
Reasons to buy
+
Lots of 3M protective detailing
+
Handy zippered chest pocket
+
Comfy, soft fit
Reasons to avoid
-
Sleeves ride up a little bit
The Grand Tour Sentinel is Galibier's foul-weather jersey offering. It's designed for use in the colder months or spring as a protective outer layer when you don't want as much bulk but still want protection from the elements.
Galibier has packed a decent amount into an affordable package here. You get what Galibier call their pressure-fit fabric which is stretchy and a little thicker for protection, this has a DWR coating. The inside is soft and the neck and front hem are seam-free which makes for a really clean fit. Elsewhere there's a lot of reflective 3M detailing to help with visibility and a handy front zippered pocket and raised neck.
I wore the Sentinel on plenty of cool to cold spring days with a combination of long sleeve winter base layer underneath and or arm warmers. It offers good protection and warmth and the thicker material gives a feeling of protection. If you want to layer up with a thinner jersey or use it as a protective top layer it's solid for the price point.
The best merino cycling jerseys
Merino is hailed by many as a wonder material, especially for those embarking on multi-day rides. It has claimed antibacterial properties which make it more stink resistant, though in my experience there's only so much it can keep at bay a few days into a bikepacking trip. What it can offer is a more natural construction (though synthetics almost always feature too), and an ability to operate over a much wider temperature range than man-made fabrics of the same thickness. Basically, it'll keep you warm, but won't be nearly so sweaty if the mercury rises.
Merino is simply a more expensive material to produce and work with than man-made fabrics, so there will be a premium to pay, but with that also usually comes an improvement in durability too. Pair with some Merino socks for the ultimate overnight setup.
1. Velocio Concept merino
The best merino cycling jersey for a performance fit
Specifications
Colours:
Moonrock, Rust, Army, Navy, Black
Material:
75% Merino Wool,18% Polyamide,7% Elastane
Pockets:
Three rear, One zippered
Reasons to buy
+
Excellent fit
+
Stylish design and colours
+
Nice arm length and performance-focused cut
Reasons to avoid
-
Slightly saggy pockets when loaded
The Velocio Concept Merino jersey is a premium Merino Wool short-sleeved jersey with a performance-focused cut and fit. High a high 71% merino content, the Concept is a lovely jersey that's super soft. The long arm length and collarless neck are standout features for me and the jersey does feel a little bit special when you zip it up. The fight is tighter and racier than the 7mesh offering below, but there is give and stretch thanks to the merino.
I reached for the Concept a lot during early spring weekend rides when I'd ride to our local chain gang a little bit cold, get a hard sweat on for 90 minutes and then cool down and ride for another few hours. It helped regulate my temperature, deal with sweat and keep me comfortable and aero when paired with base layers and arm warmers and I wanted to wear a bit less.
The Concept is perfect for early-season or cooler riding when you want to stay comfortable but want to wear a little less and have a performance fit.
2. 7MESH Ashlu
The best merino cycling jersey for pocket space and all round riding
Specifications
Colours:
Bottle Blue, Cinnamon, Black
Material:
89% Merino wool, 11% nylon
Pockets:
Five rear pockets, two zippered
Reasons to buy
+
A clever pocket system with loads of space
+
'All road' fit suits a range of riding
+
UPF50+ Protection
Reasons to avoid
-
Two hands are needed to undo the zipper on the bike
The Ashlu long sleeve Merino jersey from 7Mesh is a slightly more relaxed, long-sleeve alternative to the Velocio Concept. The jersey has a high 81% merino content and is super soft and comfortable. What 7mesh calls an 'All road' fit means the jersey is cut a little more comfortably, it's not baggy by any stretch but there's a touch more room across the board. It's ideal for a range of riding from on-road training in cooler weather to gravel, touring, bike-packing or just whatever you like.
There's a really interesting pocket system which gives you five pockets in total, again really handy for big days out where you may be carrying a lot. Called the 'anything' system. A tube of material (polyester and nylon) is sewn onto the rear of the jersey to create the pockets. There are three regular open pockets, but thanks to the clever stitching of the 'tube' the additional zippered left-hand pocket extends the length of two whole pockets and sits underneath them. There's also a second smaller zippered pocket on the right that does the same thing. You can fit a hell of a lot into the pockets, the only limit may be how much pocket bulge you want.
The best gravel cycling jerseys
I hear 'The Spirit of Gravel' bandied about a lot, and nobody has ever really tied down what it means. Generally, though it seems to touch on the fact that gravel cycling is free from quite so many unwritten rules as road riding. All this aside, if you're off out on one of the best gravel bikes your jersey demands may be a little different; perhaps it's more storage for snacks and spares, or maybe it is just looking rad.
Whatever you're after for your off-road outfit, presumably to compliment a pair of the best cargo bib shorts, these are my favourites from across the gravel spectrum.
1. Pactimo Range Aero Cargo
The best all round gravel cycling jersey
Specifications
Colours:
Red, White, Yellow, Green, Blue
Reasons to buy
+
Great sleeves
+
Extremely comfy
+
Two valuable pockets
Reasons to avoid
-
Odd pattern styling on some colours
The Pactimo Range Aero Cargo Jersey is something of a goldilocks option. It's cut and looks like a normal, but not quite race, road jersey, with modern length sleeves that end in a raw cuff, making them extremely comfortable. It's got five well-sized pockets, two of them zippered with long, easy-to-pull tabs, and it's breathable without being too meshy.
It's quickly become one of my go-to jerseys for just about anything, road or gravel, and while I never found having two valuables pockets particularly useful (maybe I don't take many valuables with me while riding) their presence was so unobtrusive I effectively forgot they were there. The zip tabs are long but rarely do they get in the way. Given the stretchy nature of the material though they are still a two-hand operation; more achievable on the move than normal valuables, but not easy.
Another thing I rather like about it is that it's cut a little longer in the body than some others. As a tall and slender man, I often find some jerseys effectively put my tum on show unless I'm in a riding position, but that wasn't an issue here.
I don't really have a bad word to say about it, to be honest. It's not necessarily the best for any one type of gravel riding, but the flipside of that is that it's quite good for more or less anything, at a relatively reasonable price. If I was being picky then maybe the styling of some of the colour options might not be to everyone's tastes, but that' scraping the barrel.
2. Rapha Brevet/Brevet Lightweight
The best gravel cycling jersey for multi day riding
Specifications
Colours:
Green, Black, Sage, Blue (Brevet) / Black, Red, All Black, Teal
Material:
Merino Blend (Brevet) / Polyester (Lightweight)
Reasons to buy
+
Cavernous pocket space
+
Roomy fit
+
Great reflective details
Reasons to avoid
-
Classic sleeve length a bit dated
-
Reflective bands aren't so stretchy
The Brevet and Brevet lightweight jerseys from Rapha are basically interchangeable, just condition dependent, so it makes sense to include them both. They fit identically to the perennial Rapha Classic Jersey but have been modified to make them ideally suited to long days out, and from my point of view, multi-day riding. The Brevet Jersey is my go-to for any touring, and this is primarily down to the pockets.
Many gravel-specific options have extra pockets, which are sometimes handy, sometimes useless. The Brevet however has three standard pockets at the back and a chest pocket at the front (technically for a brevet card but I found it was ideal for a credit card). The party piece though is that behind the three normal pockets there is a full-width mesh pocket accessed by a large zip, within which you could store more or less anything; I've happily carried a whole bunch of bananas in there.
The fit is looser than any race jersey, but for touring/bikepacking duties I don't necessarily think that's a bad thing; it's definitely comfy, especially in the heavier weight option. Don't be tempted to size down though, as you can do with more stretchy jerseys; while the Merino blend or polyester fabrics will stretch, the reflective bands on the chest and back are noticeably less yielding, meaning if you go too tight they can constrict your breathing. The reflective bands are good from a visual standpoint however, far more than a token gesture, which brings a sense of security after dark.
The sleeves are a little short by modern standards, but they are classically styled so they're definitely in keeping with the rest of the design.
3. Endura GV500 Reiver Jersey
The best budget gravel cycling jersey
Specifications
Colours:
Red, Black, Grey, Green, Yellow
Material:
Polyester, Nylon, Elastane
Reasons to buy
+
Good fit and materials
+
Good pockets
+
Recycled fabric content
Reasons to avoid
-
Fit less racy than more premium options
While this isn't necessarily as 'budget' as some options in the budget category, for something gravel specific, with added mod cons, it's a great value offering. As per many gravel offerings, it offers up more than the usual three back pockets, adding two smaller hip pockets and a zipped chest valuables pocket to go along with the rear valuables one.
I was initially a bit sceptical of the hip pockets. They're not elasticated at the top in the same way as the rear ones, so the security of anything in there felt a little doubtful. They are however absolutely perfect for a banana, with the bonus advantage of making you feel like an old-timey gunslinger with a revolver on your hip. Yes, I did pretend, and no I don't feel any shame.
The rest of the jersey is well-appointed with a noticeably wide array of fabrics. The main front and back panels are a lightly perforated polyester material that's plenty breathable enough for summer use, along with a similar but lighter fabric on the hips and down the spine to add a bit more stretch. To be honest, the spine strip feels more like an aesthetic affectation, but it certainly isn't a drawback. The best bit of the construction is the fabric of the rear pockets and upper sleeves; it's much more solid and keeps the shape and position of the sleeves in check very effectively, as well as adding a bit of structure where you need it if you're stuffing all sorts in your pockets for a big day out on gravel.
The fit, as per a lot of Endura jerseys, is a little more roomy than other options. It's similar to the Brevet, to be honest, but as the fabric is lighter it feels more baggy. It's no bad thing for a day on the bike, but if you want it skin-tight you could go a size down I suspect.
Another great bikepacking option
Reasons to buy
+
Extremely comfortable
+
Longer sleeves
+
Surprisingly breathable
Reasons to avoid
-
High RRP for the performance
The Alt_Road 1/2 Zip Jersey from MAAP is a bit of a throwback in many ways. It's wool-based, for one, with a blend of merino and polyester. The merino here though takes the form of a super soft lining inside the polyester outer fabric, and it's by far and away the softest, most comfortable jersey I've got in my collection. The comfort factor is aided by a looser fit too, not so loose that it looks like a T-shirt, but not race fit by any means.
The 1/2 zip, which is more of a 1/4 zip if we're being honest, does limit temperature regulation options as you can't just unzip the whole thing, but the material is breathable enough for this to rarely be an issue. It's not an option for high summer, but outside of that environment, it's going to do you just fine. It's also handy if you ride with a bum bag, as the bag's strap won't then press any zipper into your stomach.
Despite being comfy, good-looking, and breathable, it's also quite an expensive option for what it brings to the table. It is at the time of writing reduced, which makes it a far more attractive package, but it's one of those jerseys where you're likely to want it for aesthetic reasons rather than performance, and that's totally fine.
I found it ideal on bikepacking trips, where the extra warmth helped on cooler mornings and evenings, but the pockets, while large, lack the structure and retention to hold nearly so much as the Rapha Brevet.
5. Rapha Pro Team Gravel
The best gravel cycling jersey for racing
Specifications
Material:
Polyester, Elastane
Reasons to buy
+
Race fit
+
Stable pockets
+
Super breathable
Although this is again technically a gravel jersey I'd wager it's a great option for any high-tempo riding. It's very similar to the Rapha Crit Jersey in fact, but with some tweaks that make it more suited to off-road use. The main talking point is the 3/4 zip, truncated at something reminiscent of a gravel-specific cummerbund. The pockets sit on a band of supportive fabric at the lower hem that isn't bisected by the zip. This means that even if you open the zip all the way, whatever is in the pockets doesn't bounce around. The pockets are low profile, as is the norm for racing options, but there are two additional ones on the outer pockets to store gels etc for quick access.
It feels like it should be a bit of a gimmick but it does work, and another bonus is that, as you can't undo the jersey completely, you'll never end up struggling to do it up no handed over bumpy ground. The front panel is an extremely breathable mesh, the shoulders feature the same aero fabric as the Crit Jersey, and importantly the back is a UV-protective fabric and features a high collar to counteract the effects of the sun on long days out.
All in all it's a really solid option for fast gravel riding. It is very race-oriented though, with a very tight fit, and coupled with the less stretchy lower hem and no zip it is tricky to get in and out of.
6. Ostroy Resort Shirt
The best gravel cycling jersey for chill rides
Reasons to buy
+
Fun
+
Breathable
+
Very comfortable
Reasons to avoid
-
Rear pocket basically useless
Gravel is, to some people, about wearing something a little different to the norm. Sure, you could wear a T-shirt, cycling branded or otherwise, but Ostroy has a slightly different proposal... What if you could get a shirt made from the same material jerseys are made from?
If you want something a bit different then this is probably your go-to option, but it'll need to be paired with some on-bike storage or a pair of cargo bib shorts as the singular rear pocket isn't really much use for anything beyond a credit card. Anything heavier like a phone isn't held in place thanks to the loose fit and stretchy material.
Comfort, especially on a scorching day, is delightful. Sure, you'll lose a few watts flapping about, but you gain a much more breezy experience and look fabulous at the same time. It may also be one you have to call based on your office clothing policy, but it could be a great option for a commute, and things like trips to the pub.
How to choose the best cycling jersey for you
Along with a pair of cycling shorts, a cycling jersey is usually the first bit of kit that people buy. Yes, you can wear a T-shirt, or a cycling-specific T-Shirt for gravel (no, really), but having a cycling jersey offers you better aerodynamics thanks to a close fit, and at least three pockets in the small of your back within which you can stash snacks, valuables, and tools.
All jerseys aren't created equal, however, so let's dive into how to pick a good one. As always, it's a case of fit, form, function, and any added extras (and importantly whether you even need them).
Do cycling jerseys make a difference?
In almost all metrics you can consider, a cycling jersey is going to be objectively better than even a basic sports top. Cycling jerseys are cut for life on the bike, often with a lower rear hem and a more cropped front so that your lower back is covered when you're bent over, and so as to avoid any material bunching up.
At even moderate speeds a loose top will flap annoyingly, while a cycling jersey will be much more form-fitting. Not only is this less annoying, but it also makes cycling easier as you'll have noticeably lower air resistance.
Lastly, there isn't a great deal of storage space on a bike, unless you strap some fashionable bags to it. The standard three back pockets mean you can store food, repair tools, a phone, some cash, and everything else you need for a big day out. As the load rests on your back it doesn't flap about.
Do I wear anything under a cycling jersey?
Unlike cycling shorts, which are definitely designed to be worn without underwear, what you wear under a cycling jersey is less important. Don't wear cotton though, as it'll just soak up sweat, stay soggy, and stink. I tend to only wear a cycling base layer in the winter, but many riders prefer to wear a mesh layer next to their skin to avoid the feeling of the jersey sticking to them.
What is the best material for a cycling jersey?
Variations on polyester are the norm, with thicker or more mesh-y options depending on temperature. The majority of cycling jerseys will be made of synthetic materials, but for some riders, there's no beating Merino.
Wool may sound like it'll be roasting, but thin merino can be extremely breathable, but somehow also able to keep you warmer in the event that the temperatures drop. It's relatively common to also see a blend of merino and polyester, to get the best of both worlds.
How should a cycling jersey fit?
Variations on 'tight'. You don't want it to be baggy or it'll flap, and whatever is in your pockets will wallow about. On the flip side, if it's too tight it can be uncomfortable. You should be able to pull the material away from your skin.
The more race-oriented a jersey is (aero jerseys, primarily) the more like a second skin it'll be designed to fit, so pick your fit based on the kind of riding you want to do.
Do all cycling jerseys have a zipper?
Until recently this would be a simple 'yes'. The vast majority have a zip in some form, whether a full zip, a half zip, or a quarter zip. Some very racy options though have no zip and are effectively a skin-tight T-shirt, but cut for cycling and with some pockets. As a zip helps vent heat, zipperless jerseys tend to be made of more breathable materials to avoid overheating.
How many pockets should my cycling jersey have?
The standard is three across the lower back, but treat that as a minimum. Ideally, you'll have a zipped pocket for valuables like keys and a credit card, but some jerseys now offer double-stacked pockets for extra capacity, internal mesh pockets, and a chest one for other small items. These help if you gave a specific purpose, and don't cause any hindrance, but for general riding they're not always necessary.
What extra features should I look for?
There isn't a great deal of room for adding bells and whistles, especially at the racy end of the market. You can look for more pockets and things like that, but the extra features tend to come in the form of more advanced materials. More aerodynamic fabrics that help the airflow detach, or more breathable fabrics for the hottest days. Even compressive fabrics to support your muscles can be found if you want to pay the premium for the claimed benefits.
How do we test the best cycling jerseys?
Time in the saddle is the short answer. Across the tech team we've worn countless jerseys in all conditions, often outside the realms of what they were designed for to see how the cope with wet weather, high or low temperatures, and on long days to see if they remain comfy.
What's more, given how much riding we all do, they get washed regularly to see how they hold up longer term too.
Get The Leadout Newsletter
The latest race content, interviews, features, reviews and expert buying guides, direct to your inbox!