Madigan Munro wins junior women's US cyclo-cross title
Pan American champion beats Thompson and Gunsalus
Image 1 of 5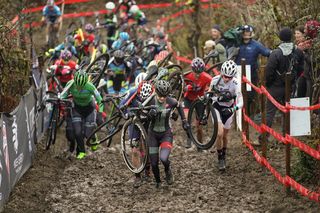 Image 2 of 5
Image 3 of 5
Image 4 of 5
Image 5 of 5
Madigan Munro (Boulder Junior Cycling) soloed to victory in the junior women's race at the USA Cycling Cyclo-cross National Championships in Lakewood, Washington on Sunday.
The Pan American champion dominated the race, opening up a massive lead early in the race, before going on to taking the win ahead of her teammate Michaela Thompson (Boulder Junior Cycling) and Lizzy Gunsalus (Cannondale p/b Cyclocrossworld).
"It was a really fun race," Munro said in a post-race interview. "I definitely want to take cyclo-cross seriously. I love racing bikes and especially cyclo-cross. I want to keep learning as much as I can."
Results

| Pos. | Rider Name (Country) Team | Result |
| --- | --- | --- |
| 1 | Madigan Munro (Boulder Junior Cycling) | 0:44:00 |
| 2 | Michaela Thompson (Boulder Junior Cycling) | 0:03:17 |
| 3 | Lizzy Gunsalus (Cannondale p/b Cyclocrossworld) | 0:03:39 |
| 4 | Cassidy Hickey (Unattached) | 0:03:49 |
| 5 | Lauren Zoerner (Alpha Bicycle Co - Groove Suba) | 0:04:05 |
| 6 | Kaia Schmid (New England Devo p/b Cadence We) | 0:04:20 |
| 7 | Meredith Sierpina (JA King Cyclocross) | 0:04:52 |
| 8 | Bridget Tooley (Easton-Giant p/b Transitions Li) | 0:05:02 |
| 9 | Anna Katnik (Boulder Junior Cycling) | 0:07:38 |
| 10 | Aubrey Drummond (SPCX p/b RK Black) | 0:07:44 |
| 11 | Skylar Bovine (CXHAIRS DEVO : TREK BIKES) | 0:07:50 |
| 12 | Abigail Yates (Matrix/Richardson Bike Mart) | 0:07:53 |
| 13 | Taylor Johnson (Boulder Junior Cycling) | 0:08:07 |
| 14 | Eleanor Dyas (Blue Ridge Cross p/b JA King) | 0:09:12 |
| 15 | Tea Wright (Boulder Junior Cycling) | 0:09:36 |
| 16 | Rowan Leary (Baltimore Youth Cycling) | 0:11:58 |
| 17 | Allison Mccurry (Marian Univerity Cycling) | |
| 18 | Emma Herschbach (Reno Devo) | |
| 19 | Sarah Gibertoni (Killington Mountain School) | |
| 20 | Jade Gundersen (WENATCHEE VALLEY VELO) | |
| 21 | Ella Dishong (Guipago Custom Cycles) | |
| 22 | Alyssa Hargis (TCNF Legal Racing Team) | |
| 23 | Ciara Wing (Truckee TNT) | |
| 24 | Audrey Baker (Midwest Devo) | |
| 25 | Kylie Eckert (Cascadia Junior Cycling) | |
| DNF | Ryley Mosher (Wheelworks) | |
Cyclingnews Newsletter
Sign up to the Cyclingnews Newsletter. You can unsubscribe at any time. For more information about how to do this, and how we hold your data, please see our privacy policy