Schurter wins elite men's mountain bike world title
Kerschbaumer second, Van der Poel third
Image 1 of 20
Image 2 of 20
Image 3 of 20
Image 4 of 20
Image 5 of 20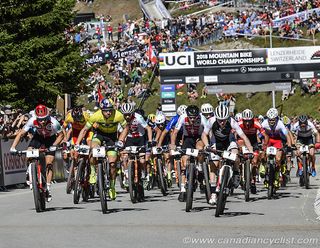 Image 6 of 20
Image 7 of 20
Image 8 of 20
Image 9 of 20
Image 10 of 20
Image 11 of 20
Image 12 of 20
Image 13 of 20
Image 14 of 20
Image 15 of 20
Image 16 of 20
Image 17 of 20
Image 18 of 20
Image 19 of 20
Image 20 of 20
The final day of XCO competition in Lenzerheide, Switzerland, at the 2018 UCI Mountain Bike World Championships presented by Mercedes Benz, saw Swiss hero Nino Schurter delight the home crowd with a victory in the elite men. The Swiss finished the XCO portion of the world championships with four wins in seven races.
Schurter came into the elite men's race with six world titles already, but this was a chance to win before a home crowd, and he did not disappoint. The Swiss rider, who lives only 20 minutes away from Lenzerheide, attacked on the opening lap, and only Gerhard Kerschbaumer of Italy was able to go with him.
The pair rode together at the front for the entire race, until Schurter attacked with a lap and half to go. At the start of the final lap, his lead was a slim six seconds, but Schurter continued to push the pace and Kerschbaumer could not respond, finishing 11 seconds back as Schurter rolled across the finish line to the cheers of thousands of Swiss fans. Mathieu van der Poel of the Netherlands came back from a slow start to move into third on the fourth lap, and held it to the finish line for the final podium spot.
"This is definitely a special win, and I would say the best one," said Schurter. "Getting to race here with so many people out there cheering for me was incredible. It was so loud out on the course. I didn't have the freshest legs today after the Team Relay [won by Switzerland], so I was suffering quite a bit. I tried to wait, and my plan was to attack in the last lap, but I saw in the second last one that he started to struggle in the technical sections, so I just pushed as hard as I could, and the people were cheering me to the finish line."
Full Results
| # | Rider Name (Country) Team | Result |
| --- | --- | --- |
| 1 | Nino Schurter (Switzerland) | 1:29:21 |
| 2 | Gerhard Kerschbaumer (Italy) | 0:00:11 |
| 3 | Mathieu Van Der Poel (Netherlands) | 0:01:14 |
| 4 | Henrique Avancini (Brazil) | 0:01:53 |
| 5 | Florian Vogel (Switzerland) | 0:01:54 |
| 6 | Mathias Flueckiger (Switzerland) | 0:02:00 |
| 7 | Titouan Carod (France) | 0:02:16 |
| 8 | Jordan Sarrou (France) | 0:02:38 |
| 9 | Daniele Braidot (Italy) | 0:02:45 |
| 10 | Thomas Litscher (Switzerland) | 0:03:04 |
| 11 | Stephane Tempier (France) | 0:03:36 |
| 12 | Luca Braidot (Italy) | 0:03:44 |
| 13 | Andri Frischknecht (Switzerland) | 0:03:47 |
| 14 | Maxime Marotte (France) | 0:04:02 |
| 15 | Howard Grotts (United States Of America) | 0:04:24 |
| 16 | Ondrej Cink (Czech Republic) | 0:04:25 |
| 17 | Jens Schuermans (Belgium) | 0:04:30 |
| 18 | Carlos Coloma Nicolas (Spain) | |
| 19 | Kevin Panhuyzen (Belgium) | 0:04:31 |
| 20 | Jan Škarnitzl (Czech Republic) | |
| 21 | Victor Koretzky (France) | 0:04:47 |
| 22 | Karl Markt (Austria) | 0:04:48 |
| 23 | Maximilian Foidl (Austria) | 0:04:50 |
| 24 | Gregor Raggl (Austria) | 0:04:52 |
| 25 | Anton Sintsov (Russian Federation) | 0:04:53 |
| 26 | Leandre Bouchard (Canada) | |
| 27 | Catriel Soto (Argentina) | 0:05:12 |
| 28 | Gioele Bertolini (Italy) | 0:05:19 |
| 29 | Reto Indergand (Switzerland) | 0:05:23 |
| 30 | Ben Zwiehoff (Germany) | 0:05:33 |
| 31 | Anton Cooper (New Zealand) | 0:05:51 |
| 32 | Sergio Mantecon Gutierrez (Spain) | 0:06:06 |
| 33 | Georg Egger (Germany) | 0:06:15 |
| 34 | Andrea Tiberi (Italy) | 0:06:16 |
| 35 | Martin Loo (Estonia) | 0:06:29 |
| 36 | Lars Forster (Switzerland) | 0:06:41 |
| 37 | Carlos Herrera Arroyo (Costa Rica) | 0:06:51 |
| 38 | András Parti (Hungary) | 0:06:59 |
| 39 | Nicola Rohrbach (Switzerland) | 0:07:16 |
| 40 | Bartlomiej Wawak (Poland) | 0:07:24 |
| 41 | Hugo Drechou (France) | 0:07:34 |
| 42 | Guilherme Gotardelo Muller (Brazil) | 0:07:36 |
| 43 | Marek Konwa (Poland) | 0:07:37 |
| 44 | Jaroslav Kulhavý (Czech Republic) | |
| 45 | Martins Blums (Latvia) | 0:07:47 |
| 46 | Luke Vrouwenvelder (United States Of America) | |
| 47 | Keegan Swenson (United States Of America) | 0:07:48 |
| 48 | Raphael Gagne (Canada) | 0:07:56 |
| 49 | Peter Disera (Canada) | |
| 50 | Kohei Yamamoto (Japan) | 0:07:57 |
| 51 | David Valero Serrano (Spain) | 0:08:35 |
| 52 | Manuel Fumic (Germany) | 0:08:47 |
| 53 | Martin Gluth (Germany) | 0:09:08 |
| 54 | Nadir Colledani (Italy) | 0:09:42 |
| 55 | Marco Aurelio Fontana (Italy) | 0:10:17 |
| 56 | Shlomi Haimy (Israel) | Lap |
| 57 | Fabio Hernando Castañeda Monsalve (Colombia) | |
| 58 | Grant Ferguson (Great Britain) | |
| 59 | Timofei Ivanov (Russian Federation) | |
| 60 | Andrew L'esperance (Canada) | |
| 61 | Luiz Henrique Cocuzzi (Brazil) | |
| 62 | Jhonatan Botero Villegas (Colombia) | |
| 63 | Daniel Mcconnell (Australia) | |
| 64 | Matthias Wengelin (Sweden) | |
| 65 | Guy Sessler (Israel) | |
| 66 | Juan Fernando Monroy (Colombia) | |
| 67 | Michael Olsson (Sweden) | |
| 68 | Ivan Seledkov (Russian Federation) | |
| 69 | Sebastian Alejandro Miranda Maldonado (Chile) | |
| 70 | Jorge Alvaro Macias (Argentina) | |
| 71 | Mário Costa (Portugal) | |
| 72 | Martin Haring (Slovakia) | |
| 73 | Sebastian Jayne (Australia) | |
| 74 | Sebastian Fini Carstensen (Denmark) | |
| 75 | Dario Gasco (Argentina) | |
| 76 | Lucian Logigan (Romania) | |
| 77 | Patricio Maximiliano Farias Diaz (Chile) | |
| 78 | Jose Gabriel Marques De Almeida (Brazil) | |
| 79 | Seiya Hirano (Japan) | |
| 80 | Eyair Francisco Astudillo Gallardo (Chile) | |
| 81 | Till Drobisch (Namibia) | |
| 82 | Keerati Sukprasart (Thailand) | |
| 83 | Gareth Mckee (Ireland) | |
| 84 | Peerapol Chawchiangkwang (Thailand) | |
| DNF | Jan Vastl (Czech Republic) | |
| DNF | Arnis Petersons (Latvia) | |
| DNF | Kirill Kazantsev (Kazakhstan) | |
| DNF | Ingvar Omarsson (Iceland) | |
| DNS | Dmytro Titarenko (Ukraine) | |
| DNS | Viktor Vodolaga (Ukraine) | |
Cyclingnews Newsletter
Sign up to the Cyclingnews Newsletter. You can unsubscribe at any time. For more information about how to do this, and how we hold your data, please see our privacy policy