Tour of the Gila: Doebel-Hickok wins stage 1 atop Mogollon
EF Education-TIBCO-SVB rider takes first leader's jersey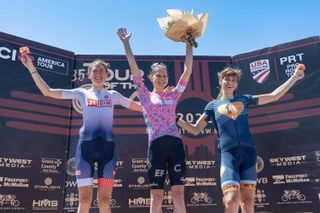 (Image credit: Snowy Mountain Photography)
Krista Doebel-Hickok (EF Education-TIBCO-SVB) won the opening stage atop the iconic Mogollon ascent at the Tour of the Gila. Doebel-Hickok was the first to reach the summit of the 10km climb ahead of Emily Marcolini (3T/Q+M Cycling) and Austin Killips (Amy D Foundation).
Doebel-Hickok will wear the event's leader's jersey into the second stage on Thursday, a 120km race at Fort Bayard.
The women's field contested 114.3km from Silver City to the summit of Mogollon for the opening stage. The route included two intermediate sprints at 26km into the stage and at 59km, followed by undulating terrain headed toward the 10km ascent of Mogollon.
The peloton remained intact for much of the stage with Maggie Coles-Lyster (DNA Pro Cycling) claiming full points at the first sprint ahead of EF Education-TIBCO-SVB teammates Sara Poidevin and Emma Langley.
Heidi Franz (InstaFund Racing) took full points on the second sprint with Coles-Lyster taking second and Rylee McMullen (InstaFund Racing) third. Coles-Lyster secured enough points to take the lead in the event's sprint classification.
Setting up for the final ascent, it was 3T/Q+M Cycling that set the pace through the feed zone inside 14km to go, followed by EF Education-TIBCO-SVB into the base of the climb with the field reduced to just a handful of riders.
Only three riders, Doebel-Hickok, Marcolini and Killips, emerged as the leaders on the slopes of Mogollon. Doebel-Hickok proved the strongest climber taking a solo victory at the summit.
Results powered by FirstCycling

Thank you for reading 5 articles in the past 30 days*
Join now for unlimited access
Enjoy your first month for just £1 / $1 / €1
*Read any 5 articles for free in each 30-day period, this automatically resets
After your trial you will be billed £4.99 $7.99 €5.99 per month, cancel anytime. Or sign up for one year for just £49 $79 €59

Join now for unlimited access
Try your first month for just £1 / $1 / €1