Dubai Women's Tour: Samah Khaled wins stage 2 and takes overall lead
Lucy van der Haar moves down to second place overall after placing second in The Springs Souk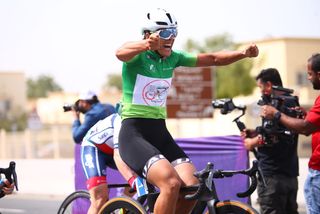 (Image credit: Dubai Women's Tour)
Samah Khaled (Team UAE) won the second stage at he Dubai Women's Tour on Tuesday, sprinting to victory ahead of stage 1 winner and overnight leader Lucy van der Haar (Hitec Products-Birk Sport) and Kim de Baat (Team Ciclotel).
Khaled picked up a 15-second time bonus and moved into the overall lead as runner-up Van der Haar now trails by nine seconds and Tatsiana Sharakova (Minsk Cycling Club) is 16 seconds back.
It was a chaotic sprint finale where the organiser funnelled the peloton from a wide-four-lane road down to two lanes in the last 150 metres. Volunteers waving flags stood in front of the charging peloton to try and re-direct the riders to the far right side of the road where the finish line banner was located.
The women will race 90km on stage 3 from Wadi Hatta Park to Hatta Dam.
🇦🇪 UAE's Samah Khaled wins stage 2 of the @dubaiwomenstour in a hectic finale 🏆Yesterday's winner, @Lucygarner94 takes 2nd #DubaiWomensTour pic.twitter.com/bPk9UxBpthFebruary 18, 2020
Swipe to scroll horizontally
Full Results

| Pos. | Rider Name (Country) Team | Result |
| --- | --- | --- |
| 1 | Samah Khaled (Jor) Team UAE | 2:51:29 |
| 2 | Lucy van der Haar (GBr) Hitec Products-Birk Sport | |
| 3 | Kim de Baat (Bel) Team Ciclotel | |
| 4 | Tatsiana Sharakova (Blr) Minsk Cycling Club | |
| 5 | Sofia Collinelli (Ita) Aromitalia Basso Bikes Vaiano | |
| 6 | Anastasia Carbonari (Ita) Aromitalia Basso Bikes Vaiano | |
| 7 | Kirstie van Haaften (Ned) Team Ciclotel | |
| 8 | Maëva Paret Peintre (Fra) Team Auvergne-Rhone-Alpes | |
| 9 | Katherin Steisy Montoya Zuluaga (Col) Colnago CM Team | |
| 10 | Aigul Gareeva (Rus) Cogeas Mettler Look Pro Cycling Team | |
| 11 | Line Marie Gulliksen (Nor) Andy Schleck Cycles-Immo Losch-MIX | |
| 12 | Carmela Cipriani (Ita) Aromitalia Basso Bikes Vaiano | |
| 13 | Marta Tagliaferro (Ita) Hitec Products-Birk Sport | |
| 14 | Alina Sarkulova (Kaz) Olympic Training Centre U23 | |
| 15 | Ebtissam Zayed Ahmed (Egy) Team UAE | |
| 16 | Daniela Atehortua Hoyos (Col) Colnago CM Team | |
| 17 | Natalya Saifutdinova (Kaz) Kazakhstan National Team | |
| 18 | Alina Abramenka (Blr) Minsk Cycling Club | |
| 19 | Emilia Matteoli (Ita) Aromitalia Basso Bikes Vaiano | |
| 20 | Hanna Tserakh (Blr) Minsk Cycling Club | |
| 21 | Olga Zabelinskaya (Uzb) Cogeas Mettler Look Pro Cycling Team | |
| 22 | Andrea Ramírez Fregoso (Mex) Agolico BMC | |
| 23 | Amalie Lutro (Nor) Hitec Products-Birk Sport | |
| 24 | Annabel Fisher (GBr) Cogeas Mettler Look Pro Cycling Team | |
| 25 | Marina Uvarova (Rus) Cogeas Mettler Look Pro Cycling Team | |
| 26 | Maria Antonieta Gaxiola Gonzalez (Mex) Agolico BMC | |
| 27 | Désirée Ehrler (Swi) Andy Schleck Cycles-Immo Losch-MIX | |
| 28 | Christina Schweinberger (Aut) Doltcini-Van Eyck Sport | |
| 29 | Alana Forster (Aus) Andy Schleck Cycles-Immo Losch-MIX | |
| 30 | Kathrin Schweinberger (Aut) Doltcini-Van Eyck Sport | |
| 31 | Nicole Steigenga (Ned) Doltcini-Van Eyck Sport | |
| 32 | Carolina Upegui Quevedo (Col) Colnago CM Team | |
| 33 | Assem Tolemissova (Kaz) Olympic Training Centre U23 | |
| 34 | Zsófia Szabó (Hun) Doltcini-Van Eyck Sport | |
| 35 | Mae Lang (Est) Andy Schleck Cycles-Immo Losch-MIX | |
| 36 | Julieta Lledias Villegas (Mex) Agolico BMC | |
| 37 | Daniela Giraldo Marin (Col) Colnago CM Team | |
| 38 | Adrienn Szabo (Hun) Pannonia Regional Team | |
| 39 | Sophie Almeida (Fra) Team Auvergne-Rhone-Alpes | |
| 40 | Zhanerke Sanakbayeva (Kaz) Kazakhstan National Team | |
| 41 | Lola Bernigaud (Fra) Team Auvergne-Rhone-Alpes | |
| 42 | Hana He_manovská (Cze) Andy Schleck Cycles-Immo Losch-MIX | |
| 43 | Callie Swan (Can) Macogep-Tornatech-Girondins de Bordeaux-MIX | |
| 44 | Beate Zanner (Ger) Wheel Divas Cycling Team | |
| 45 | Taisa Naskovich (Blr) Minsk Cycling Club | |
| 46 | Eszter Temela (Hun) Pannonia Regional Team | |
| 47 | Aoife Ryan (Irl) Team UAE | |
| 48 | Svenja Betz (Ger) Wheel Divas Cycling Team | |
| 49 | Darya Dziakola (Blr) Minsk Cycling Club | |
| 50 | Erika Milena Botero Lopez (Col) Colnago CM Team | |
| 51 | Greta Richioud (Fra) Hitec Products-Birk Sport | |
| 52 | Smith Megan Sarah (RSA) Team UAE | |
| 53 | Lorraine Mullarkey (Irl) Team UAE | |
| 54 | Basma el Ghouate (Mar) Macogep-Tornatech-Girondins de Bordeaux-MIX | |
| 55 | Ingvild Gåskjenn (Nor) Hitec Products-Birk Sport | |
| 56 | Sara van de Vel (Bel) Team Ciclotel | |
| 57 | Giulia Marchesini (Ita) Aromitalia Basso Bikes Vaiano | |
| 58 | Laura Milena Toconas Ruiz (Col) Colnago CM Team | |
| 59 | Lotta Schoenemeyer (Ger) Wheel Divas Cycling Team | |
| 60 | Mia Berg (Lux) Andy Schleck Cycles-Immo Losch-MIX | |
| 61 | Marcela Elizabeth Prieto Castañeda (Mex) Agolico BMC | |
| 62 | Olivia Baril (Can) Macogep-Tornatech-Girondins de Bordeaux-MIX | |
| 63 | Makhabbat Umutzhanova (Kaz) Kazakhstan National Team | |
| 64 | Dilyxine Miermont (Fra) Team Auvergne-Rhone-Alpes | |
| 65 | Ariadna Gutierrez Arzaluz (Mex) Agolico BMC | |
| 66 | Anastassiya Lynnik (Kaz) Olympic Training Centre U23 | |
| 67 | Nastassia Kiptsikava (Blr) Minsk Cycling Club | |
| 68 | Luce Bourbeau (Can) Macogep-Tornatech-Girondins de Bordeaux-MIX | |
| 69 | Jasmin Corso (Ger) Wheel Divas Cycling Team | |
| 70 | Faina Potapova (Kaz) Kazakhstan National Team | |
| 71 | Valeriya Kononenko (Ukr) Team Ciclotel | |
| 72 | Ingrid Lorvik (Nor) Hitec Products-Birk Sport | |
| 73 | Stegehuis Annemiek Irene (Ned) Team UAE | |
| 74 | Kelly Markus (Ned) Doltcini-Van Eyck Sport | |
| 75 | Emeline Eustache (Fra) Team Auvergne-Rhone-Alpes | |
| 76 | Emilie Fortin (Can) Macogep-Tornatech-Girondins de Bordeaux-MIX | |
| 77 | Nora Zsuzsanna Hideg (Hun) Pannonia Regional Team | |
| 78 | Svetlana Pachshenko (Kaz) Kazakhstan National Team | |
| 79 | Daniela Reis (Por) Team Ciclotel | |
| 80 | Olha Kulynych (Ukr) Team Ciclotel | |
| 81 | Audrey Weingarten (Fra) Team Auvergne-Rhone-Alpes | |
| 82 | Elena Lucchinelli (Ita) Aromitalia Basso Bikes Vaiano | |
| 83 | Maria Jose Vargas Barrientos (CRc) Agolico BMC | |
| 84 | Viktoriya Pastarnak (Kaz) Kazakhstan National Team | |
| 85 | Sandra Klotz (Ger) Wheel Divas Cycling Team | |
| 86 | Amer Latefa Alyaseen (Kuw) Kuwait National Team | |
| 87 | Noura Alomairi (Kuw) Kuwait National Team | |
| 88 | Iuliia Galimullina (Rus) Cogeas Mettler Look Pro Cycling Team | |
| 89 | Marie Lagershausen (Ger) Wheel Divas Cycling Team | |
| 90 | Jade Lenaers (Bel) Doltcini-Van Eyck Sport | 0:00:24 |
| 91 | Dorka Jordán (Hun) Pannonia Regional Team | |
Swipe to scroll horizontally
General classification after stage 2

| Pos. | Rider Name (Country) Team | Result |
| --- | --- | --- |
| 1 | Samah Khaled (Jor) Team UAE | 5:21:25 |
| 2 | Lucy van der Haar (GBr) Hitec Products-Birk Sport | 0:00:09 |
| 3 | Tatsiana Sharakova (Blr) Minsk Cycling Club | 0:00:16 |
| 4 | Kathrin Schweinberger (Aut) Doltcini-Van Eyck Sport | 0:00:17 |
| 5 | Hanna Tserakh (Blr) Minsk Cycling Club | 0:00:19 |
| 6 | Kim de Baat (Bel) Team Ciclotel | 0:00:21 |
| 7 | Sara van de Vel (Bel) Team Ciclotel | 0:00:22 |
| 8 | Sofia Collinelli (Ita) Aromitalia Basso Bikes Vaiano | 0:00:23 |
| 9 | Kirstie van Haaften (Ned) Team Ciclotel | 0:00:24 |
| 10 | Ebtissam Zayed Ahmed (Egy) Team UAE | |
| 11 | Christina Schweinberger (Aut) Doltcini-Van Eyck Sport | |
| 12 | Maëva Paret Peintre (Fra) Team Auvergne-Rhone-Alpes | 0:00:25 |
| 13 | Anastasia Carbonari (Ita) Aromitalia Basso Bikes Vaiano | |
| 14 | Line Marie Gulliksen (Nor) Andy Schleck Cycles-Immo Losch-MIX | |
| 15 | Carmela Cipriani (Ita) Aromitalia Basso Bikes Vaiano | |
| 16 | Olga Zabelinskaya (Uzb) Cogeas Mettler Look Pro Cycling Team | |
| 17 | Aigul Gareeva (Rus) Cogeas Mettler Look Pro Cycling Team | |
| 18 | Amalie Lutro (Nor) Hitec Products-Birk Sport | |
| 19 | Katherin Steisy Montoya Zuluaga (Col) Colnago CM Team | |
| 20 | Natalya Saifutdinova (Kaz) Kazakhstan National Team | |
| 21 | Carolina Upegui Quevedo (Col) Colnago CM Team | |
| 22 | Marta Tagliaferro (Ita) Hitec Products-Birk Sport | |
| 23 | Alina Abramenka (Blr) Minsk Cycling Club | |
| 24 | Andrea Ramírez Fregoso (Mex) Agolico BMC | |
| 25 | Daniela Atehortua Hoyos (Col) Colnago CM Team | |
| 26 | Zhanerke Sanakbayeva (Kaz) Kazakhstan National Team | |
| 27 | Nicole Steigenga (Ned) Doltcini-Van Eyck Sport | |
| 28 | Mae Lang (Est) Andy Schleck Cycles-Immo Losch-MIX | |
| 29 | Maria Antonieta Gaxiola Gonzalez (Mex) Agolico BMC | |
| 30 | Marina Uvarova (Rus) Cogeas Mettler Look Pro Cycling Team | |
| 31 | Taisa Naskovich (Blr) Minsk Cycling Club | |
| 32 | Adrienn Szabo (Hun) Pannonia Regional Team | |
| 33 | Alina Sarkulova (Kaz) Olympic Training Centre U23 | |
| 34 | Assem Tolemissova (Kaz) Olympic Training Centre U23 | |
| 35 | Annabel Fisher (GBr) Cogeas Mettler Look Pro Cycling Team | |
| 36 | Alana Forster (Aus) Andy Schleck Cycles-Immo Losch-MIX | |
| 37 | Beate Zanner (Ger) Wheel Divas Cycling Team | |
| 38 | Zsófia Szabó (Hun) Doltcini-Van Eyck Sport | |
| 39 | Svenja Betz (Ger) Wheel Divas Cycling Team | |
| 40 | Erika Milena Botero Lopez (Col) Colnago CM Team | |
| 41 | Greta Richioud (Fra) Hitec Products-Birk Sport | |
| 42 | Désirée Ehrler (Swi) Andy Schleck Cycles-Immo Losch-MIX | |
| 43 | Valeriya Kononenko (Ukr) Team Ciclotel | |
| 44 | Julieta Lledias Villegas (Mex) Agolico BMC | |
| 45 | Lola Bernigaud (Fra) Team Auvergne-Rhone-Alpes | |
| 46 | Darya Dziakola (Blr) Minsk Cycling Club | |
| 47 | Makhabbat Umutzhanova (Kaz) Kazakhstan National Team | |
| 48 | Sophie Almeida (Fra) Team Auvergne-Rhone-Alpes | |
| 49 | Aoife Ryan (Irl) Team UAE | |
| 50 | Ingvild Gåskjenn (Nor) Hitec Products-Birk Sport | |
| 51 | Anastassiya Lynnik (Kaz) Olympic Training Centre U23 | |
| 52 | Olha Kulynych (Ukr) Team Ciclotel | |
| 53 | Eszter Temela (Hun) Pannonia Regional Team | |
| 54 | Hana He_manovská (Cze) Andy Schleck Cycles-Immo Losch-MIX | |
| 55 | Laura Milena Toconas Ruiz (Col) Colnago CM Team | |
| 56 | Daniela Giraldo Marin (Col) Colnago CM Team | |
| 57 | Emilia Matteoli (Ita) Aromitalia Basso Bikes Vaiano | |
| 58 | Iuliia Galimullina (Rus) Cogeas Mettler Look Pro Cycling Team | |
| 59 | Marcela Elizabeth Prieto Castañeda (Mex) Agolico BMC | |
| 60 | Ingrid Lorvik (Nor) Hitec Products-Birk Sport | |
| 61 | Giulia Marchesini (Ita) Aromitalia Basso Bikes Vaiano | |
| 62 | Olivia Baril (Can) Macogep-Tornatech-Girondins de Bordeaux-MIX | |
| 63 | Basma el Ghouate (Mar) Macogep-Tornatech-Girondins de Bordeaux-MIX | |
| 64 | Ariadna Gutierrez Arzaluz (Mex) Agolico BMC | |
| 65 | Smith Megan Sarah (RSA) Team UAE | |
| 66 | Callie Swan (Can) Macogep-Tornatech-Girondins de Bordeaux-MIX | |
| 67 | Lotta Schoenemeyer (Ger) Wheel Divas Cycling Team | |
| 68 | Nastassia Kiptsikava (Blr) Minsk Cycling Club | |
| 69 | Faina Potapova (Kaz) Kazakhstan National Team | |
| 70 | Emeline Eustache (Fra) Team Auvergne-Rhone-Alpes | |
| 71 | Mia Berg (Lux) Andy Schleck Cycles-Immo Losch-MIX | |
| 72 | Lorraine Mullarkey (Irl) Team UAE | |
| 73 | Dilyxine Miermont (Fra) Team Auvergne-Rhone-Alpes | |
| 74 | Luce Bourbeau (Can) Macogep-Tornatech-Girondins de Bordeaux-MIX | |
| 75 | Emilie Fortin (Can) Macogep-Tornatech-Girondins de Bordeaux-MIX | |
| 76 | Jasmin Corso (Ger) Wheel Divas Cycling Team | |
| 77 | Daniela Reis (Por) Team Ciclotel | |
| 78 | Svetlana Pachshenko (Kaz) Kazakhstan National Team | |
| 79 | Viktoriya Pastarnak (Kaz) Kazakhstan National Team | |
| 80 | Marie Lagershausen (Ger) Wheel Divas Cycling Team | |
| 81 | Stegehuis Annemiek Irene (Ned) Team UAE | |
| 82 | Audrey Weingarten (Fra) Team Auvergne-Rhone-Alpes | |
| 83 | Maria Jose Vargas Barrientos (CRc) Agolico BMC | |
| 84 | Dorka Jordán (Hun) Pannonia Regional Team | |
| 85 | Noura Alomairi (Kuw) Kuwait National Team | |
| 86 | Sandra Klotz (Ger) Wheel Divas Cycling Team | |
| 87 | Kelly Markus (Ned) Doltcini-Van Eyck Sport | 0:00:45 |
| 88 | Elena Lucchinelli (Ita) Aromitalia Basso Bikes Vaiano | |
| 89 | Amer Latefa Alyaseen (Kuw) Kuwait National Team | |
| 90 | Jade Lenaers (Bel) Doltcini-Van Eyck Sport | |
| 91 | Nora Zsuzsanna Hideg (Hun) Pannonia Regional Team | |

Thank you for reading 5 articles in the past 30 days*
Join now for unlimited access
Enjoy your first month for just £1 / $1 / €1
*Read any 5 articles for free in each 30-day period, this automatically resets
After your trial you will be billed £4.99 $7.99 €5.99 per month, cancel anytime. Or sign up for one year for just £49 $79 €59

Join now for unlimited access
Try your first month for just £1 / $1 / €1