Best women's cycling shorts - Padded bib shorts for day-long comfort
Don't make-do with men's, the best women's cycling shorts are designed specifically for the female anatomy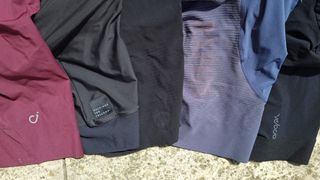 (Image credit: Mildred Locke)
Whether you're new to road cycling or you're sick of uncomfortable unisex kit, investing in the best women's cycling shorts can make a huge difference to your ride. Unlike their unisex counterparts, women's specific bib shorts are designed to fit around hips and curves, and they feature a chamois (the pad, pronounced 'shammy') that is engineered for the female anatomy.
It's true that choosing the best cycling shorts can be an absolute minefield. When selecting a pair of bib shorts to purchase, there are so many different elements to consider to determine what is right for you. Pads, straps, compression and comfort all play their part, and all of these elements can be quite personal and subjective to each individual.
We've gone through and tested our picks of the best women's cycling shorts on the market. Of course, everyone is different, every body is built differently, and what works for one person may not work for the next. So while we're recommending these women's cycling shorts based on our testers' experiences, it's worth bearing in mind that your experience of them may differ greatly.
That's why we'd always recommend trying on a pair before you buy them, or at least buy online where there's free exchange and return postage available. If you're still unsure what to look for we've included a handy guide at the bottom of the page to answer any questions you might have.
How we test
For information on Cyclingnews' testing protocol and how our scoring system works, see our how we test page.
Mildred has been testing women's cycling kit for around six years, and has tried out offerings from a huge variety of brands. She's an all-round cyclist who dabbles in road, gravel, mountain biking and bikepacking, and has a keen eye for what matters when it comes to women's specific cycling kit.
Best women's cycling shorts
Why you can trust Cyclingnews Our expert reviewers spend hours testing and comparing products and services so you can choose the best for you. Find out more about how we test.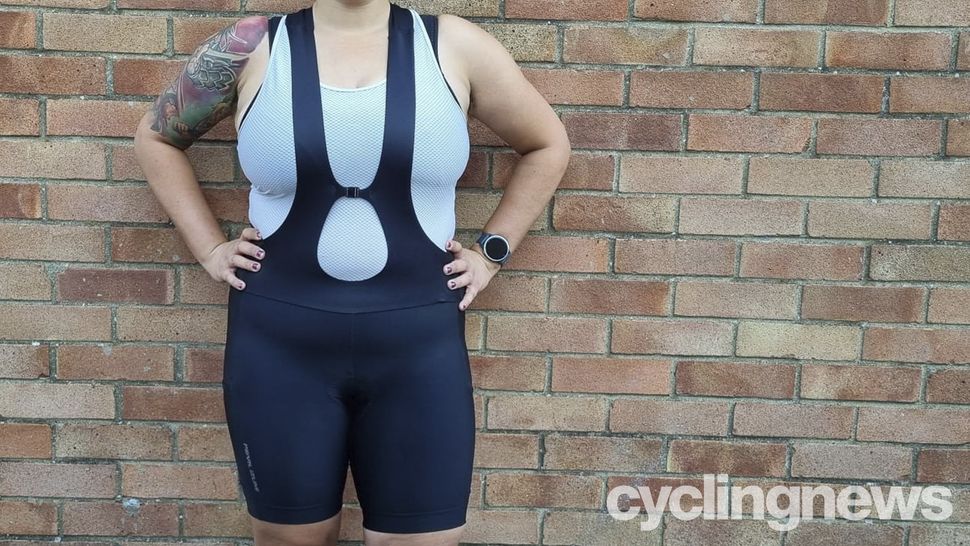 Best for long-distance cycling
Specifications
Pad measurements:
23cm (length), 18cm (max width)
Reasons to buy
+
Super comfortable chamois
+
Drop tail design makes nature breaks a breeze
+
Two cargo pockets provide ample storage
+
Lightweight and airy
+
Designed by a woman
Reasons to avoid
-
The straps are fiddly to get into position and lay flat
These cargo bib shorts from Pearl Izumi are designed for going the distance. With their super stretchy, lightweight fabric, they're ideal for wearing in hot weather, they're excellent at wicking away sweat and keeping you feeling fresh and dry.
Most importantly, the chamois is super comfortable and our tester was able to ride in it for all-day rides and multiple day trips without experiencing any discomfort.
As any long-distance bib shorts should be, these are nature break-friendly, thanks to the drop tail design at the back that allows you to pull them down and do your business without having to disrobe - something that's extremely important to women.
Finally, as an added bonus, these Expedition shorts also come with a spacious pocket on each leg, so you've got extra room to carry your essentials.
For more details, read our Pearl Izumi Women's Expedition Cargo Bib Short review.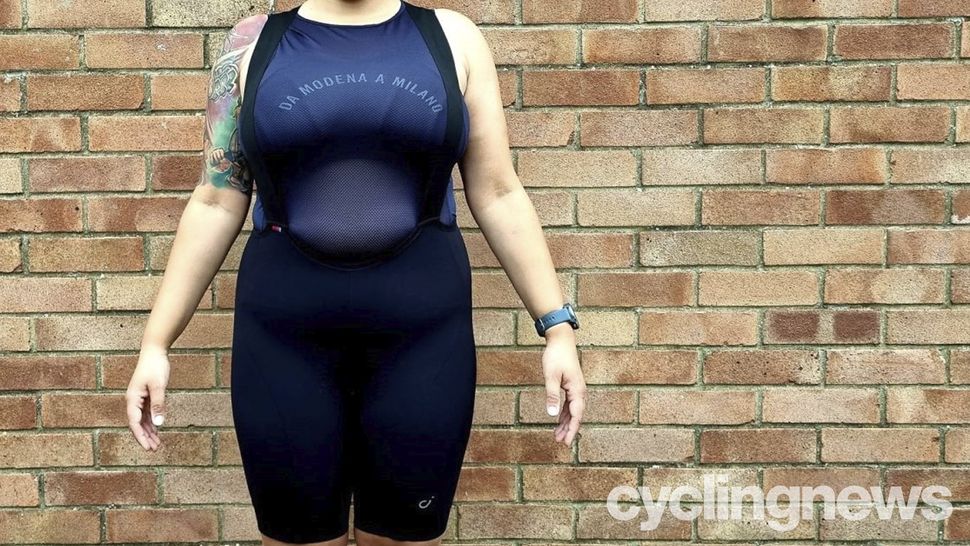 Best for a second-skin fit
Specifications
Pad measurements:
23cm (length), 18cm (max width)
Reasons to buy
+
Breathable, moisture-wicking and super-lightweight fabric
+
FlyFree construction eases mid-ride toilet breaks
+
Flat-sitting leg bands prevent 'sausage leg'
+
Light compression helps with blood flow
+
Great range of sizes
Reasons to avoid
-
Not made from recycled or natural materials (unlike much of Velocio's range)
Perfect for those sweltering rides, Velocio's Ultralight bib shorts are made from a thin, woven fabric that feels slightly papery between the fingers as offers ultra high-gauge stretch. That means a super comfortable fit, lightweight fabric, yet full opacity.
Inside is the brand's proprietary EIT chamois that's luxuriously soft and contains varying foam density in strategic zones to provide support exactly where it's needed.
Velocio is another brand that has perfected the art of women's cycling shorts by adding its own FlyFree design, which essentially equates to a stretch panel at the rear, allowing you to pull the shorts down and pee, without needing to remove your jersey. It works exceptionally well and makes these another great option for all-day riding.
Due to their thin and lightweight nature, we also find these shorts to work very well for indoor cycling, too, thanks to their ability to wick moisture away from the skin and allow it to breathe.
For an in-depth look at these, be sure to read our Velocio Women's Ultralight bib shorts review.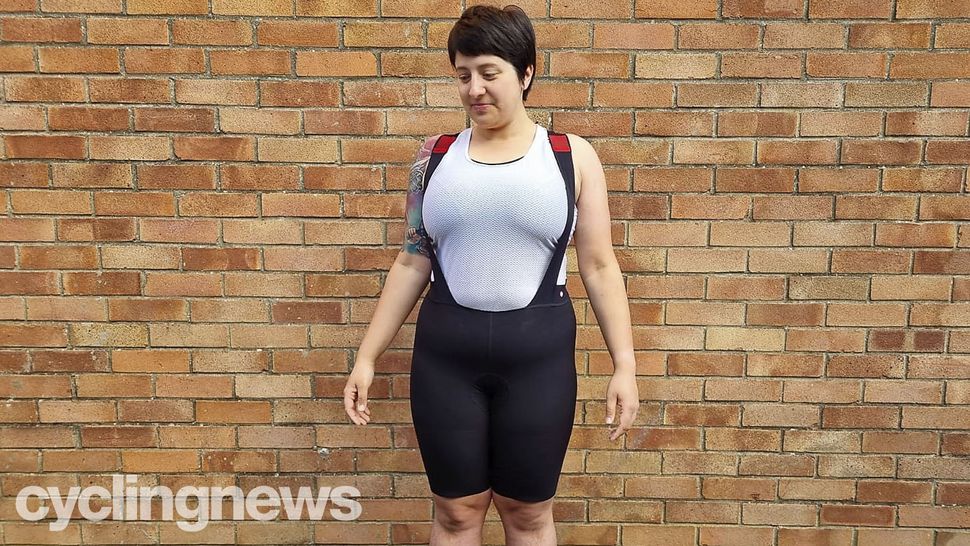 Best for moisture management
Specifications
Pad measurements:
27cm (length), 18cm (max width)
Reasons to buy
+
Ridiculously comfortable with a flattering fit
+
Excellent moisture and heat management
+
Classy aesthetic that will go with anything
+
Progetto X2 Air chamois offers great support
Reasons to avoid
-
Waist would benefit from being a bit higher-cut
-
Italian sizing comes up small
Earlier we alluded to the benefits of woven fabrics as opposed to the more traditional knitted ones, and it's in Castelli's Premio All Black bib shorts that the woven fabric gets to shine. Essentially, it comes down to having a higher density gauge, which makes the material completely opaque, while retaining stretch and reducing bulk. The resulting bib shorts from Castelli are super lightweight, thin, comfortable and deliciously airy when it's hot.
The women's Progetto X² Air Seamless chamois is great as well, with varying levels of foam density to offer targeted support where it's needed, namely under the sit bones and perineal area, without over-cushioning the soft tissues at the front that need room to breathe.
Check out our review of the Castelli Premio Black bib shorts, written by a male reviewer but with input from our female tester.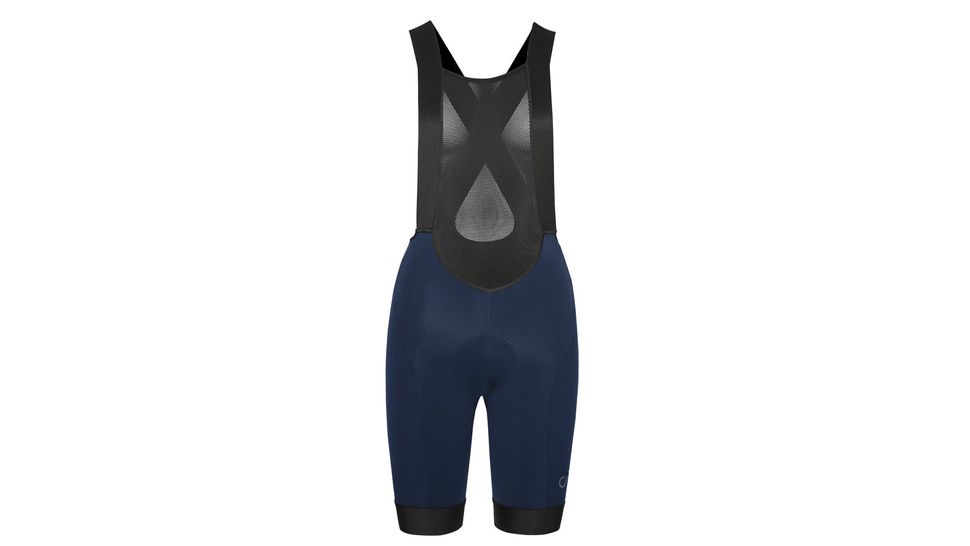 Best for fuss-free nature breaks
Specifications
Pad measurements:
22cm (length ), 18cm (max width)
Colours:
5 (black, navy, dark olive, charcoal and black cherry)
Reasons to buy
+
Eco friendly
+
Nature break functionality
+
Minimal logos and simple aesthetic
+
Luxurious against the skin
+
Great range of sizes available
Velocio is one of the market leader's for women's focused brands. The Luxe shorts are designed to be an all-day short, and they definitely live up to it. It's hard to even explain the fabric in words: a soft touch, almost brushed finish, the fabric feels silky, smooth, and soft, while maintaining high levels of compression. We found the shorts some of the most flattering over the hip area. The design of the upper part of the shorts is unique on the market, too.
A solid mesh front ensured no pressure on the chest, (and almost doubles as a base layer) whilst their 'fly free' back design leads to ease of nature breaks. Minimal seams across the product reduce chafing points, and after a few hours, we can indeed say we had no chafing. The compression was really noticeable (a good thing) on our test rides, giving support to key muscle groups and keeping everything feeling fresh with good blood flow.
The pad is the company's Signature chamois, the latest iteration is a dual-density pad, incorporating an anti-vibration super-high-density layer with a supportive high-density layer to create all-day comfort and support. The only minus to the shorts was the smidge too tight banding on the legs- we noticed mainly on our first ride, which after speaking to them, they've mentioned they will have options next year without it, and options in multiple lengths. That said, as with most tight banding on the legs, a few runs through the wash and some extra hours on the bike loosen these up nicely.
While it was written by a male tester, it's well worth checking out our review of the Velocio Luxe bib shorts.
Best for plus size cyclists
Specifications
Pad measurements:
25cm (length), 18cm (max width)
Reasons to buy
+
Incredibly comfortable and highly supportive
+
Hardy and durable fabric
+
Great range of sizes available
+
Moisture-wicking and breathable
+
Two inseam length options
Reasons to avoid
-
No mechanism for nature breaks
-
Can be a real struggle to put on at first
Machines For Freedom's Endurance Bib Shorts offer an incredibly supportive and flattering fit, thanks to their high mesh waist and large panelling that smooths out curves and holds everything in place. Admittedly, because they offer a lot of compression, you do have to do a bit of dancing to get in them, but once they're on they fit like a second skin.
If you prefer your chamois to be a bit thicker, then these are the shorts for you, as the one used here is slightly bulkier than many of the others listed here. The shorts are designed for long-distance riding, so the chamois is also designed for long-term comfort in mind.
The only downside of these otherwise lovely shorts is the fact that you have to completely disrobe when nature calls. Naturally, this is due to all the compression support around the hips - adding in a stretch panel like Velocio and Pearl Izumi do would negate that, but still, it's a shame there's no easy way of pulling them down without getting undressed.
Be sure to check out our Machines For Freedom Endurance bib shorts review for more detail.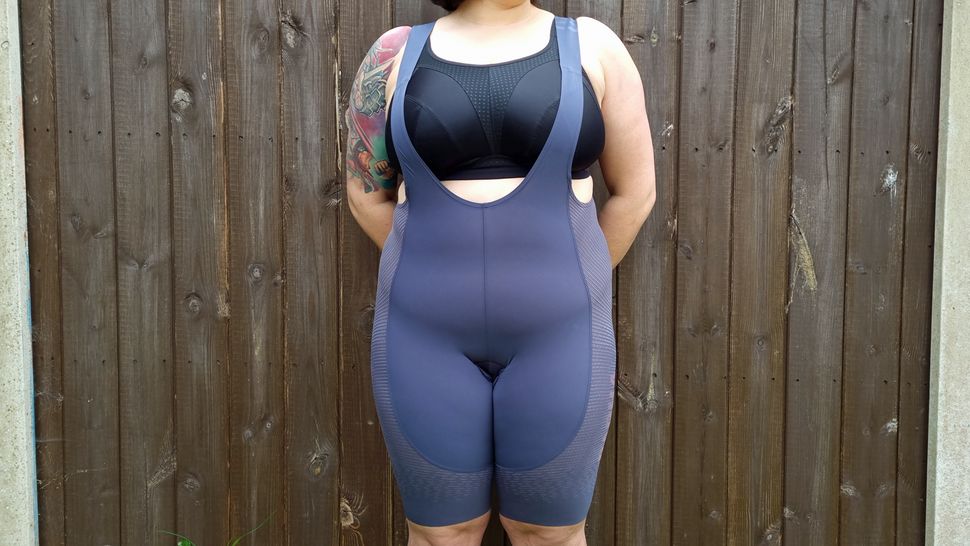 Rapha Women's Pro Team Powerweave Bib Shorts
Best for high-intensity race efforts in mild to hot conditions
Specifications
Pad measurements:
26cm (length), 18cm (max width)
Reasons to buy
+
Extremely lightweight and low-bulk Powerweave fabric
+
Highly breathable and moisture-wicking
+
Integrated radio pocket
+
Open-structured central back panel aids temperature control
Reasons to avoid
-
Eye-wateringly expensive
Rapha's Pro Team Powerweave Bib Shorts are the brand's top-end race-ready offering. They are made from the brand's proprietary Powerweave fabric, which is woven rather than knitted (the more traditional material for bib shorts), similarly to the Castelli Premio Black bib shorts listed above.
They offer decent compression, supporting fast recovery and helping to prevent fatigue, while there's less bulk to weigh you down on race day. Since they are designed for high-intensity race efforts in summer, they offer high breathability and moisture wicking. In fact, Rapha claims they wick away moisture twice as fast than with knitted fabrics.
Other features include ergonomic laser-cut bib straps, an integrated radio pocket, and a brand new race chamois pad that Rapha says is more breathable, quicker drying, slimmer and lighter than its predecessors.
However they are incredibly expensive, so think of them as more of a long-term investment in your racing success.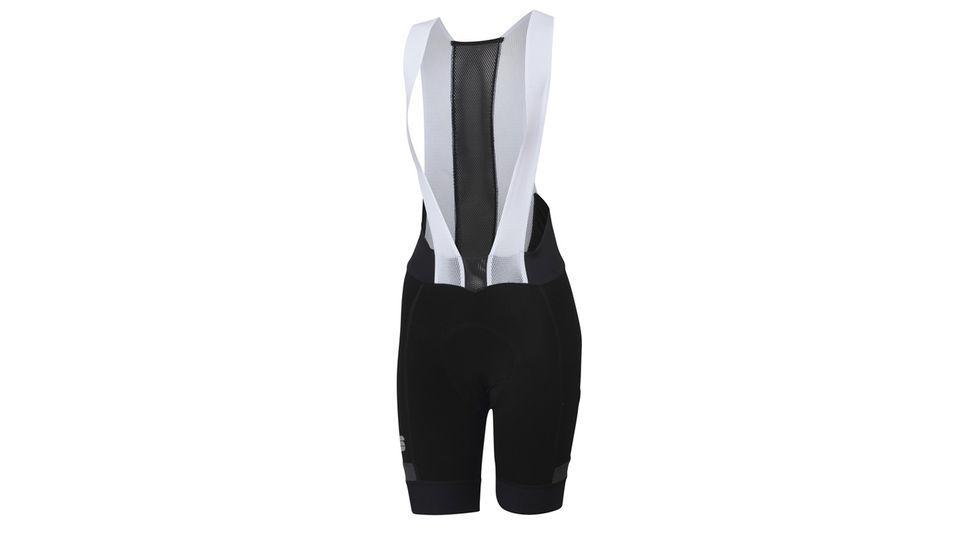 Sportful Supergiara
Best for off-road adventures
Specifications
Front rise:
1cm above belly button
Pad measurements:
24cm (length), 18cm (max width)
Reasons to buy
+
Cargo pockets
+
Reflective details on outer thighs
+
Mesh straps aid breathability
Reasons to avoid
-
Only one colour is available
The Sportful Supergiara bib shorts are tailored with off-road and gravel rides in mind while staying in line with the road heritage. The company claims an ergonomic fit, and it was definitely true. When we talk about ergonomics, these shorts are designed to be comfortable and correctly fitted when in a gravel cycling position. Sportful has gone all-in on this, meaning the shorts, unfortunately, do lack a bit of comfort when off the bike (if that is important) but are engineered to sit close to the body on the bike.
We found the pad extremely comfortable: it is the TC Pro Seat-Pad, its dimpled and perforated for good moisture management, allowing airflow to keep the pad relatively dry and in turn stopping any irritation. The pad has a slight taper on it, which will stop the bunching up of excess padding when riding on the drops or hoods. The straps are a wide mesh, lay flat bib-straps, and quick-drying, but their placement anchoring near the centre of the stomach could be an issue for larger bust sizes. The outer leg pocket was super handy, adding in a nice element of accessibility beyond the three jersey pockets I had, and the reflective detailing is well placed, modest but effective. The fabric is on the stiffer end of what is on the market, due to its abrasion resistance, but if you are looking for a well-priced, versatile, off-road short that can take a beating, these bibs are for you.
Le Col Women's Pro
A reliable pick for mixed weather days
Specifications
Pad measurements:
24.5cm (length), 18.25cm (max width)
Colours:
2 (black and navy)
Reasons to buy
+
Comfortable pad
+
Multi-season versatility
The British brand Le Col makes some really popular products so we were keen to try its women's Pro bib shorts. The biggest plus of these is the super comfortable chamois (although the pink is a questionable colour option). The fabric was robust enough to be warm on a 14-degree dry day, making the Le Col shorts a good option for the transition seasons.
The shorts lacked compression though, although balanced perhaps by a more comfortable feel with soft wide straps. There is a rear embroidered logo, which I could feel on my lower back, but if you wear a base layer normally you wouldn't notice. The Dolomiti gel chamois is recommended for two to three hours rides, although we had no issues with it at any point in the test. If you are looking to buy just one pair of bibs, the Le Col women's pro is a great choice for a versatile pair of shorts.
How to choose the best women's cycling shorts for you
What's the best chamois pad?
Finding the best women's cycling shorts for your body will be most dependent on finding a pad that you find comfortable, and that is a very personal affair. It depends largely on your individual anatomy and preferences.
If you've been cycling for a while and have a pair of shorts you are super happy with, stick with that company, or at least that pad. Luckily, many pad manufacturers tend to be third-party, so you'll find different brands using the same chamois. Most companies have a range of different options all using the same pad as well, so you can have some variety and range whilst ensuring performance and comfort.
If you're brand new to padded shorts and don't even know where to start, the best thing you can do is try a few different brands and see what feels right to you. It's a good idea to check the returns policies, as some companies allow you to return a product if you don't like it, which gives you the option to try lots of options before you commit. Some will also have crash replacement discounts and warranties.
How tight should women's cycling shorts be?
The best women's cycling shorts should be skin tight but not uncomfortable. You want to be able to breathe, and you don't want to be cutting off your circulation or experiencing bulging 'sausage legs'. However you also don't want them to be too loose, otherwise the chamois pad is more likely to shift from side to side as you pedal, causing unwanted friction and making it more likely that you'll develop saddle sores.
If you measure up between sizes, it's the best bet to go for the smaller size, however if you're unsure you should always try them on first before you commit, so either visit your local bike shop, or check different companies' returns policies first.
Why does cycling hurt your bum?
When you think about it, it makes a lot of sense that you might feel sore downstairs after a day on the bike, because you're resting all your body weight on a small object (your saddle). There are so many reasons you could be experiencing discomfort, so if this is a real problem for you, we'd first of all recommend you check out our saddlesores feature, which details how to prevent and treat all undercarriage-related discomfort.
Wearing padded shorts can help ease this discomfort, as it creates a cushioned barrier between your sensitive skin and the firm surface of a saddle. This pad is called a chamois (pronounced 'shammy') and there are lots of different types to choose from, depending on which brand and style of women's cycling shorts you opt for.
It's also down to your choice of saddle, so be sure to take a look at our guide to the best women's road bike saddles too.
Do you wear underwear beneath cycling shorts?
Absolutely not! It may seem strange if you're new to cycling shorts, but one of the key jobs of the chamois pad is to absorb and wick away moisture, keeping your downstairs area clean and free of harmful bacteria build-up. If you wear underwear underneath, then the chamois cannot do its job, you'll experience more sweating and bacteria as a result of the extra layer, and are at a higher risk of developing saddle sores and/or a yeast infection.
What's more, the best women's cycling shorts are usually designed with minimal seams to prevent any rubbing or friction. Adding elasticated underwear into the mix will likely cause irritation.
I'm overwhelmed by all the choices. How do I choose the best shorts?rts for me?
If all else fails, wear what you like and what you like yourself in. There's absolutely nothing wrong with opting for the shorts that are flattering over the ones with maybe the slightly better pad. If you feel good and confident, you will want to spend more time on the bike, and ultimately that's the goal. There are enough high-end women's cycling shorts out there that performance, comfort and style can all work hand in hand, and at least we can know it's not our shorts stopping us from going the distance.