Best arm warmers for cycling in 2023: Versatile protection for changeable conditions
Get versatile protection against the cold, wind and rain with the best arm warmers for cycling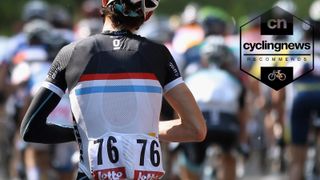 (Image credit: Getty)
Finding a pair of the best arm warmers for cycling is a little more difficult than you might originally think. Not only do you need to consider the performance of the product in itself, but you also need to ensure it will fit correctly without being too compressive or too loose. There's also a style consideration, and of course, it's all got to come within budget.
Balancing all of those needs can be difficult, but there are lots of reasons why you should spend the time on it. In my opinion, a decent pair of arm warmers is something that every cyclist should add to their kit list. Not only will it offer versatile protection against the elements, but in the same way that the best leg warmers can allow you to get more use out of your bib shorts, a pair of arm warmers will also extend the season of your best cycling jerseys. There's an economic benefit to this too, in that the best arm warmers can even replace more expensive items of clothing entirely. For example, I own one long-sleeve jersey, but I've worn it just once in the past two years. I will wear my short sleeve jersey and arm warmers right until the point that winter jackets are needed, choosing the best cycling base layer for the conditions, and potentially adding one of the best gilets for cycling on the most frigid of days.
The reason for this is that I value the versatility that it offers. On days when the weather is unpredictable or likely to change mid-ride, I can be ready to add or remove the arm warmers in response.
But to go back to the start of this intro, in order to help you decide which pair of arm warmers will meet your needs, whilst also fitting correctly, the Cyclingnews test team has spent months in odd arm warmers, pitting them head to head - or arm to arm - to work out which are best for warmth, water resistance, comfort and more.
Best arm warmers for cycling
Why you can trust Cyclingnews Our expert reviewers spend hours testing and comparing products and services so you can choose the best for you. Find out more about how we test.
Best overall with premium feel and excellent water resistance
Specifications
Water-resistant treatment:
Yes
Gripper:
No, but they stay up
Reasons to buy
+
Super-soft fleece material
+
Angled cut at the top covers extra skin on triceps
+
Water-resistance is excellent
Reasons to avoid
-
Left right specific means they can be a little tougher to get on whilst riding
The Assos Evo 7 arm warmers are hands down the best arm warmers on the market today, in my opinion. When it comes to warmth, wind resistance, waterproofing or breathability, they perform as well as - if not better than - the competitors below, but the premium feel and softness of the material are seriously next level.
It also feels ever so slightly thinner than that of the competition, which means they fold up a fraction smaller when it's time to stuff them in your pocket. It doesn't mean a lack of warmth though, as they are just as warm, wind-proof and water-resistant as the also impressive Castelli's Nano Flex 3G.
Where they differ from many of the competitors is that the upper arm is cut at an angle to cover extra skin at the tricep. This in turn means they are left-right specific. There is no silicone gripper at the top but the elasticated band seems to hold them up just fine.
Usually, Assos has a reputation for being expensive, but what really makes these the best cycling arm warmers around is that they perform so well while also being cheaper than many of their closest competitors.
As concluded in my Assos Evo 7 arm warmer review, there is only one reason not to buy these arm warmers: their left-right specific design requires slightly more mental energy to put them on whilst riding. For every other reason, they are the ones you should buy.
The runner up in performance but with another colour and a gripper
Specifications
Water-resistant treatment:
Yes
Reasons to buy
+
Hydrophobic treatment
+
The double-sided gripper holds against sleeve as well as arm
Reasons to avoid
-
Narrow gripper can be pinchy on some people's arms
As highlighted in my recent Castelli Nano Flex 3G arm warmer review, they performed just as well as the Assos pair above in waterproofing, windproofing and warmth stakes, making them some of the best arm warmers for cycling. The premium softness earned Assos the top spot in this roundup, but a few alternative factors might actually make the Nano Flex 3G the best arm warmers for your needs.
The first of those is the symmetrical shape which means you can easily get them on quickly without having to worry about finding the correct arm. However, the 'Castelli' and 'Nano Flex' wordmarks would be upside down if you got them the wrong way round. The availability of a navy colour is another possible selling point, and a third is that the Nano Flex 3G warmers also have a double-sided gripper around the top so it can grab onto your arm and jersey to prevent them from falling down.
If any of those are dealmakers for you, then you won't be unhappy with Castelli's Nano Flex 3G arm warmers instead of the Assos option above.
Gore M Windstopper
Best for those in windy climates
Specifications
Water-resistant treatment:
Yes
Reasons to buy
+
Silicone-free gripper
+
Incredible wind resistance
Reasons to avoid
-
Shorter in length than average
The Gore Windstopper material needs no introduction, its name makes clear its intention and its highly-respected reputation proves its credentials. By integrating the material into the Gore M Windstopper arm warmers, the result is complete windproof protection. But more than that, they do so whilst being breathable, and the DWR coating means they're water-resistant, too.
They also possess a unique take on the gripper. Instead of silicone grippers, the wide elastic cuff on the wrist and bicep are made from a lighter fabric and seem to hang on pretty well.
Just beware of the length, as they come up a few centimetres shorter than average.
dhb Merino
Best arm warmers for those on a budget
Specifications
Water-resistant treatment:
No
Reasons to buy
+
Luxurious soft finishing
+
Resistance to odour
Reasons to avoid
-
Not as warm as Roubaix fabric
-
Not very water resistant
Wiggle's in-house brand, dhb, continues to up the quality of its gear, and the Merino arm warmers are more than just a budget option, their construction, material choice and fit makes for great value for money.
Using a super-fine 18.5-micron grade of Australian merino yarn, they are seamless and soft on the skin. While they aren't as warm as options made from Roubaix fabric they are perfect for moderate temperatures where fleece-lined fabric is overkill.
There is plenty of stretch built-in, and with the wool's natural propensity to stave off odour, they can be used for plenty of consecutive rides without getting funky. At the top, dhb has also added a silicone gripper to keep them from creeping down your arm. They're not DWR coated though, so they're best saved for dry days.
Best for added warmth and a tighter fit
Specifications
Water-resistant treatment:
Yes
Reasons to buy
+
Slightly thicker than most for extra warmth
+
Extra length
Reasons to avoid
-
Bulky material and extra length can cause bunching
-
Silicone band can cause pinching at upper arm
As the name suggests, the Sportful NoRain warmers receive a DWR treatment to keep moisture from soaking into the fabric, although to be clear, they are not waterproof and you'll need one of the best waterproof cycling jackets for that kind of protection. Even with this treatment, the Assos and Castelli options both kept the water out for longer in our test under the tap.
However, as highlighted in my Sportful Fiandre NoRain arm warmer review, there are a couple of reasons to still include the Fiandre NoRain among the best cycling arm warmers. First, they are a little longer than the rest, allowing for extra coverage at the wrist and upper arm. They are also a little thicker, which means a slight increase in warmth, and more compressive, which is a possible symptom of the thickness. However, in testing, the thickness did result in a slight overcompression at the silicone gripper, leaving indentations on my skin.
Endura FS260-Pro Thermo
Best arm warmers for those battling colder temperatures on a budget
Specifications
Water-resistant treatment:
Yes
Gripper:
Yes, double-sided
Reasons to buy
+
Thicker fabric for more warmth
+
Reflective details
+
Great price
The Endura FS260-Pro Thermo arm warmers are on the thicker end of the spectrum with the 'Thermoroubaix' fabric treated with a PFC-free DWR treatment to help repel water and rain. Even with the heavier material they aren't restrictive and don't bind or pinch at any point. The lower portion of the warmer also sees a reflective logo for extra visibility.
If these arm warmers tickle your fancy, be aware that Endura has employed some interesting sizing, and they seem to run a bit small, even on our scrawny arms.
Rapha Classic Thermal
Best for overnighters and bikepackers
Specifications
Water-resistant treatment:
No
Reasons to buy
+
Merino blend brings qualities of natural fibres verging on the warmth of Roubaix fabric
Reasons to avoid
-
Bicep opening is a bit tight
Made with a plush merino-polyester blend, Rapha's Classic Thermal arm warmers see a terry-brushed interior for a bit of added warmth. They aren't as toasty as Roubaix fabric but they dry faster and also don't pick up an odour anywhere near as fast, so they're the best arm warmers for overnighters or bikepackers planning on wearing them day after day.
With an articulated left and right arm-specific cut, Rapha has placed all the seams on the outside and back of the arm to prevent pinching. The top elastic band features silicone dots to keep them in place and the logos near the wrist are reflective for added visibility.
Rapha Pro Team Arm Screens
Perfect if you burn easily in the sun
Specifications
Water-resistant treatment:
No
Reasons to buy
+
Super lightweight
+
SPF40 without adding heat
Reasons to avoid
-
Beware they size up larger than average
The Rapha Pro Team arm screens mightn't even belong on this list. Rapha itself doesn't even consider them as arm warmers, instead titling them arm screens in reference to their SPF rating of 40. However, protection against the elements doesn't limit itself to the cold, wind or rain.
For those of us fortunate enough to live in warmer climates and looking to block out the sun's harmful UV rays - or for those of us who burn easily when the sun does shine - the Pro Team Arm Screens are a convenient addition to your kit-list that prevent the need to lather up the sun cream each morning.
The reflective Rapha stripes add a little visibility, and the best part is their sheer lack of bulk, making for an incredibly lightweight, packable addition to every ride.
The thin construction does make for an under-compressed fit on your upper arms, and they size up a little larger than expected. When worn under a race-fit jersey, there seems to be enough adhesion to keep them from falling, but if you have skinny arms, we recommend going a size down.
How to choose the best arm warmers for you
What size arm warmers do I need?
Ideally you'll be in a position to try a pair on, which certainly take some of the guesswork out of things. However, this isn't always possible, not least for those shopping for cheap cycling clothing online.
Generally speaking, your arm warmers will match your jersey size if the manufacturer doesn't have specific size guides for their arm warmers. The fit should be snug, so as to reduce the risk of irritating slippage, but not so tight as to reduce range of movement or cut off the circulation. Pay particular attention to the articulation at the elbow, as this is where most issues arise.
One thing to consider though is if you're tall but with a particularly slim build then the smaller sizes will tend to come up short. This can be easily overcome if you or a friend are handy with a sewing machine, as you can take in the hem at the upper gripper of a larger pair. Conversely, there isn't a way to make them longer, and as keeping your wrists insulated is key to keeping your hands warm we'd suggest sizing up and getting some minor alterations done if you can't find the perfect size for you.
Which fabric is best for arm warmers?
The majority of arm warmers combine a fleece-lined inner and a stretchy Lycra outer into what is known as 'Roubaix' fabric. Given that they're designed to add insulation on cold days it's usually the ideal choice.
If you want a pair for high-tempo racing then there are some available in uninsulated fabrics, so opt for these for race-day, or if you run particularly hot and just want something to take the worst of the wind chill away.
Merino options are rare, but available. These will be more breathable while maintaining insulating properties, so perhaps a better option if you don't want to be constantly taking them on and off throughout the day.
Are arm warmers waterproof?
None will be truly be waterproof, as that would require the use of a membrane, resulting in a very crinkly pair of tubes. Many do however come covered in a durable water repellent (DWR) coating. This effectively makes water bead up and run off the surface, rather than soaking in.
It's not a permanent treatment and will eventually wear off any product, but it is easy to top-up with commercially available wash-in or spray-on treatments.
It's also possible to simply add your own DWR to any set you like with these products at home, so if one pair fits you perfectly but they aren't water resistant, then you can easily change that to suit your needs.
Will my arm warmers fall down?
If they fit correctly, they shouldn't do. Most will be equipped with an elasticated hem at the top covered in tacky silicone in some form or another to grip your arm and stop them descending into a frustrating bundle around your wrists.
Some offer gripper on both sides of the hem to also resist the tendency of your jersey sleeves to ride up. As mentioned above, if you do find yours keep falling down then a quick play with the sewing machine can work wonders, or even a pair of safety pins if you're in a pinch, to reduce the diameter of the hem.
What is the point of arm warmers?
Particularly in spring and autumn, the beginning of a ride can be noticeably colder than the middle, or of you're setting out late then things can rapidly cool down when the sun dips below the horizon.
Having a set of arm warmers to throw on allows you to account for these smaller changes in temperature easily, without resorting to donning a jacket and risking a boil in the bag situation.
Are arm warmers worth it?
If you consider the cost of a long sleeve jersey, they do offer excellent value for money, considering they effectively turn any short sleeve option into a long sleeve one.
While for winter a dedicated long sleeve jersey is going to be the ideal choice in most cases, if you rarely ride in the very coldest conditions a set of arm warmers may sleet you against the elements at a much more palatable price point.
How tight should arm warmers be?
When trying on arm warmers, there's a balance to strike between being tight enough that they stay in place without falling down, but not so tight that they dig in, cause discomfort, or worse, cut off circulation. The whole point is to warm your arms, and restricting blood flow is the fastest way to achieve the opposite.
They should sit something like a second skin, with enough compression to stay in place when you move your arm around.
How do we test arm warmers?
Testing of arm warmers usually begins the moment they arrive through my letterbox. I'll make note of the packaging for environmental friendliness, before switching off the lights and checking the brightness of the reflective details. I'll also check the label for washing instructions and flag any complexities here.
As part of the waterproof testing, I simply put on an arm warmer, set the tap running at a medium flow, and see which ones let the water in first. Most of the DWR coated pairs survive this test for a very long time, so I also up the ante with a heavier flow of water to see which break first.
The rest of my testing is done on the bike, and rarely will I wear the same pair of arm warmers on both arms. Almost every ride I've done this spring has left me looking like I got dressed in the dark, and the benefit of this is an ability to really compare two different products in consistent conditions.
I will make note of how the material feels, how well it breathes, and how secure they feel at the upper arm, combining those opinions into an overall rating against the competition.
The latest race content, interviews, features, reviews and expert buying guides, direct to your inbox!
As the Tech Editor here at Cyclingnews, Josh leads on content relating to all-things tech, including bikes, kit and components in order to cover product launches and curate our world-class buying guides, reviews and deals. Alongside this, his love for WorldTour racing and eagle eyes mean he's often breaking tech stories from the pro peloton too.
On the bike, 30-year-old Josh has been riding and racing since his early teens. He started out racing cross country when 26-inch wheels and triple chainsets were still mainstream, but he found favour in road racing in his early 20s and has never looked back. He's always training for the next big event and is keen to get his hands on the newest tech to help. He enjoys a good long ride on road or gravel, but he's most alive when he's elbow-to-elbow in a local criterium.
The latest race content, interviews, features, reviews and expert buying guides, direct to your inbox!
Thank you for signing up to The Pick. You will receive a verification email shortly.
There was a problem. Please refresh the page and try again.